A 2019 non-gender specific study found that 76% of travelers had gone on a solo trip or were considering going. Among women, the interest is even higher and searches for the term "solo female travel" had increased 6 fold during the 4 years preceding the beginning of the COVID 19 pandemic (according to Google trends. Pandemic woes further propelled this type of travel and cemented the interest in independent and individual travel.
These numbers are in stark contrast with the challenges, worries and experiences of women traveling solo. Concerns for safety, misleading advertising or lack of an offer that is sensitive to their needs present relevant opportunities for travel companies who take the lead.
Why solo female travelers should matter to your travel business
The solo female travel segment is large and booming. Women make the overwhelming majority of travel bookings, for themselves, for their families, for their parents, for their colleagues and for their friends, and represent 70% of the hotel website visits. They are the real travel influencers.
Building trust with women offers opportunities to connect at a deeper level with the decision maker in travel beyond the solo trip. A positive experience with a brand as a solo female traveler will open the doors to future purchases as a family, couple, group of friends or even business.
In the travel industry, women occupy the majority of jobs, yet they make up only a small percentage of the executive positions.
Male key decision-makers in tourism cannot understand or relate to the challenges women traveling solo face resulting in the segment being neglected and underserved.
Survey respondent: "Employ more women in executive roles at travel companies so they actually know what it's like to travel as a woman. Without a seat at the table, decisions are made about us, not with us."
The narrative in travel is focused on couples and families and does not speak to the solo traveler, let alone the solo female traveler. Therein lies an enormous opportunity for savvy brands to get to know us better and to offer products that understand our challenges.
Run by Solo Female Travelers (FIRST FB group for women who travel solo) and Shefari, the Solo Female Travel Survey was launched at the end of 2020 to bridge the gap between decision makers, the travel industry and women traveling solo.
It is the largest, most comprehensive and only global research study on solo female travel trends, preferences and behaviors published, and aims to shed more light on the solo female travel experience in an effort to provide a platform for dialogue and a path towards normalizing solo travel as a woman.
The survey will be run annually to track changes in perceptions, attitudes, behaviors and preferences over time.


Participants in the Solo Female Travel Survey
We wanted to compare the preferences and attitudes of solo female travelers versus those of women who had not traveled solo yet but wanted to, in order to better understand perceptions and barriers.
Respondents were split between women who had traveled solo and those who had not traveled solo before but wanted to, and each was asked to fill a unique list of questions, with the objective to:
Provide the travel industry with accurate, updated and detailed solo travel insights, specifically of the needs, preferences, behaviors and challenges of solo female travelers;
Shed more light into the attitudes of solo female travelers across the world, globally and by region, age group and experience solo traveling, towards marketing efforts, travel providers and destinations.
Understand the travel preferences of solo female travelers and help the travel industry make data-based decisions on product launches, product details and pricing with solo travel statistics and facts.
The survey for women who have already traveled solo had 29 questions, which covered socio-demographic indicators, travel preferences, solo travel preferences, behaviors and attitudes. Survey respondents were from all age groups, nationalities, income levels, solo travel experience, marital statuses and profiles.
Details of the participants can be found below.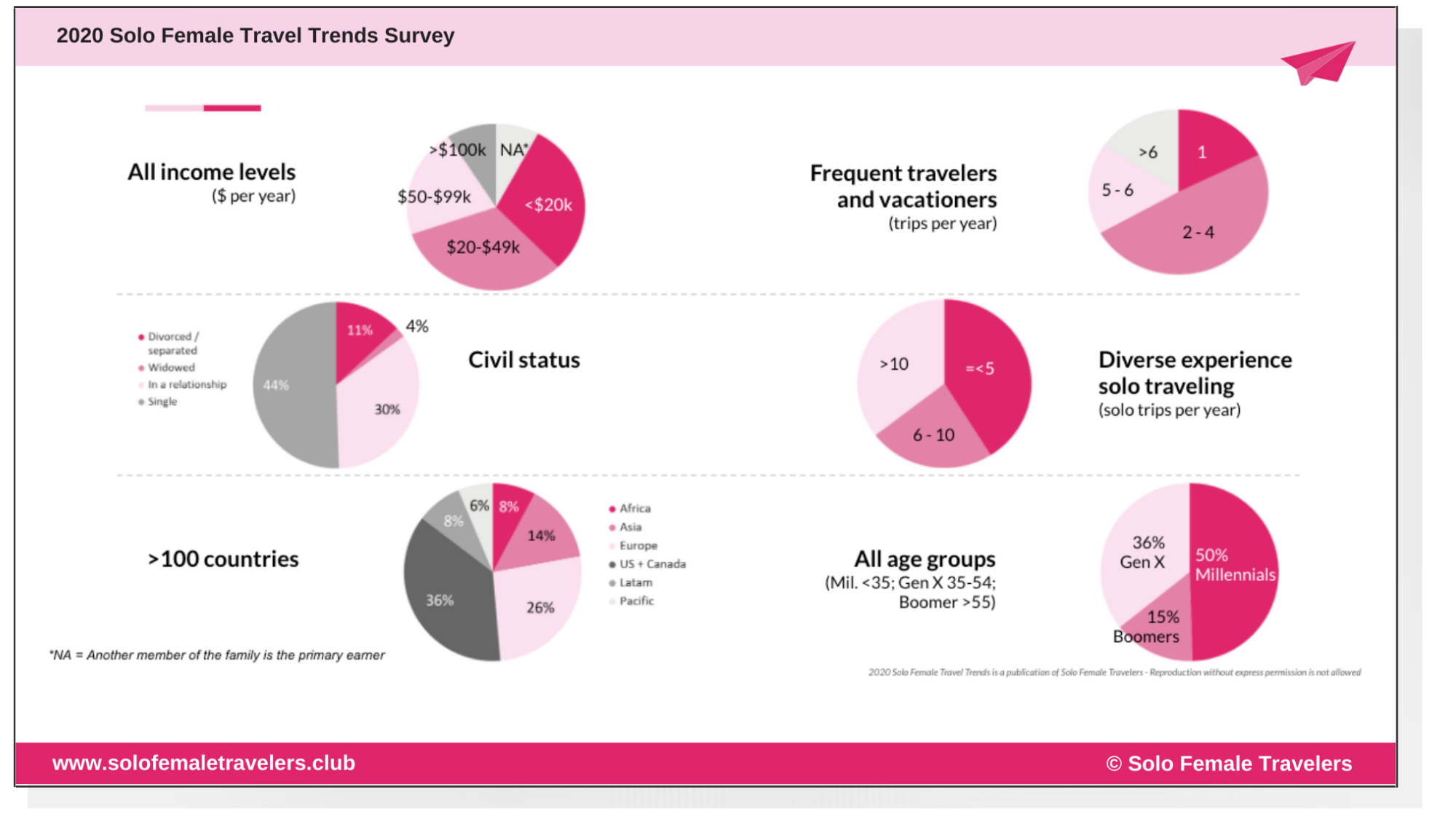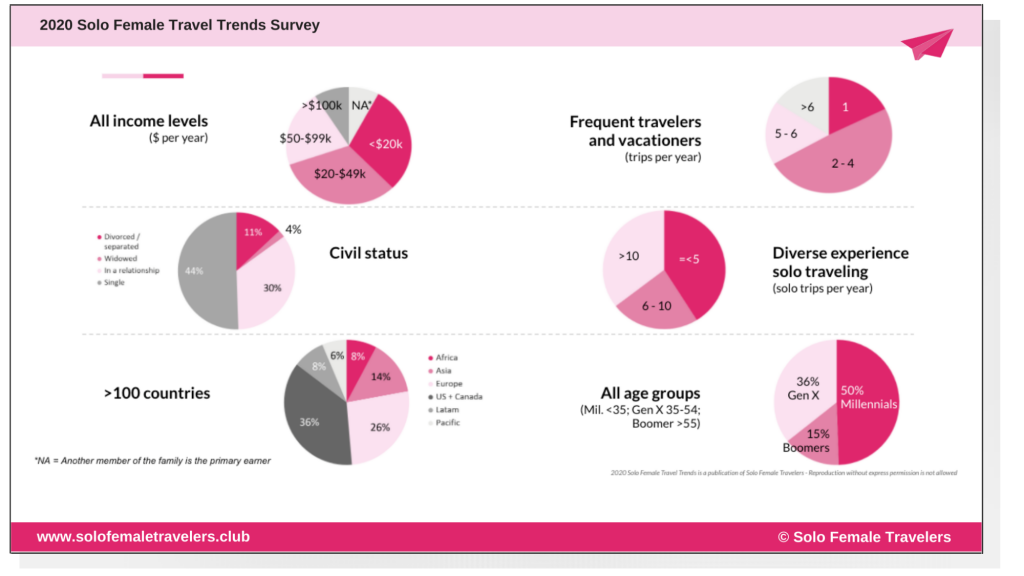 The survey for women who had not traveled solo yet consisted of 15 questions covering socio-demographic indicators, travel preferences and barriers to solo traveling.
Insights from the survey have been split across three different reports. This page will be updated with the second and third releases on the dates below.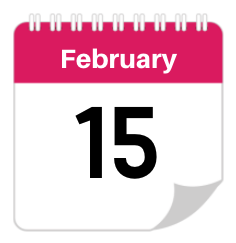 1 Motivations and challenges for women traveling solo
Understanding the challenges and motivations of women who travel on their own, particularly around safety, and the sources considered most trustworthy for travel advice. Available below.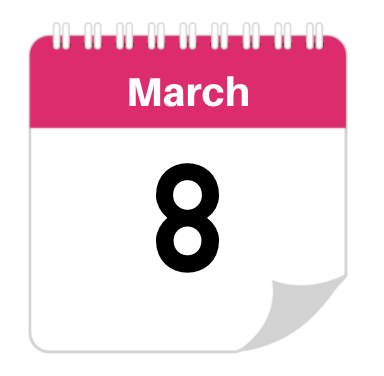 2 Purchasing behaviors of solo female travelers
The top bucketlist destinations of solo female travelers, how she chooses a destination, and what factors influence her purchasing decisions.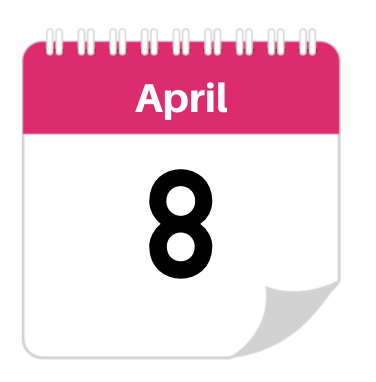 3 Who Solo Female Travelers are and what they care about
A travel profile with avatars of who the Solo Female Traveler is, what she cares about, what she spends money on, and what she wants from the travel industry.
When questions on recent travel were asked, respondents were asked to refer to the 12 months pre-COVID.
Also on this page: Purchase the detailed reports I Learn how you can better serve solo female travelers
---
Solo Female Travel Survey – Part I: Motivations and challenges for women traveling solo
There are countless stereotypes and misconceptions around women traveling solo. One of our main objectives with this survey was to dispel them and to normalize solo travel for women.
While the solo female travel segment is incredibly diverse, there are common challenges all women traveling solo face and which are unique to the female experience.
Key Findings:
1. 73% of women traveling solo worry about their safety, even experienced solo travelers do (64%). This is a universal concern across geography and age groups.
2. Women travel solo for many reasons, particularly for freedom and flexibility (56%), to challenge themselves (38%), enjoy me-time (23%) and met new people (22%).
3. Women traveling solo trust the advice from solo female travel Facebook groups (73%), blogs (66%), distrust influencers (23%) more than they distrust the travel brands who hire them (16%).
4. Top destinations for first-time solo travelers: Spain, UK, Thailand, Japan, Italy and Australia.
1. Traveling solo is a choice not necessarily a lifestyle
For 22% of respondents, solo travel is a lifestyle and the only way they traveled in the previous 12 months.
However, for the majority, solo travel is a way to explore the world that is a personal choice and has many advantages, but is not the exclusive way to travel. Sometimes, women prefer to travel solo and other times solo travel is just a means to discovering a destination rather than the goal in itself.
When traveling solo, women have different preferences, worries and motivations than when they travel with someone, and are in a different state of mind.
Ashley: "I would like to see that the ability to travel as a woman becomes a norm rather than something shocking."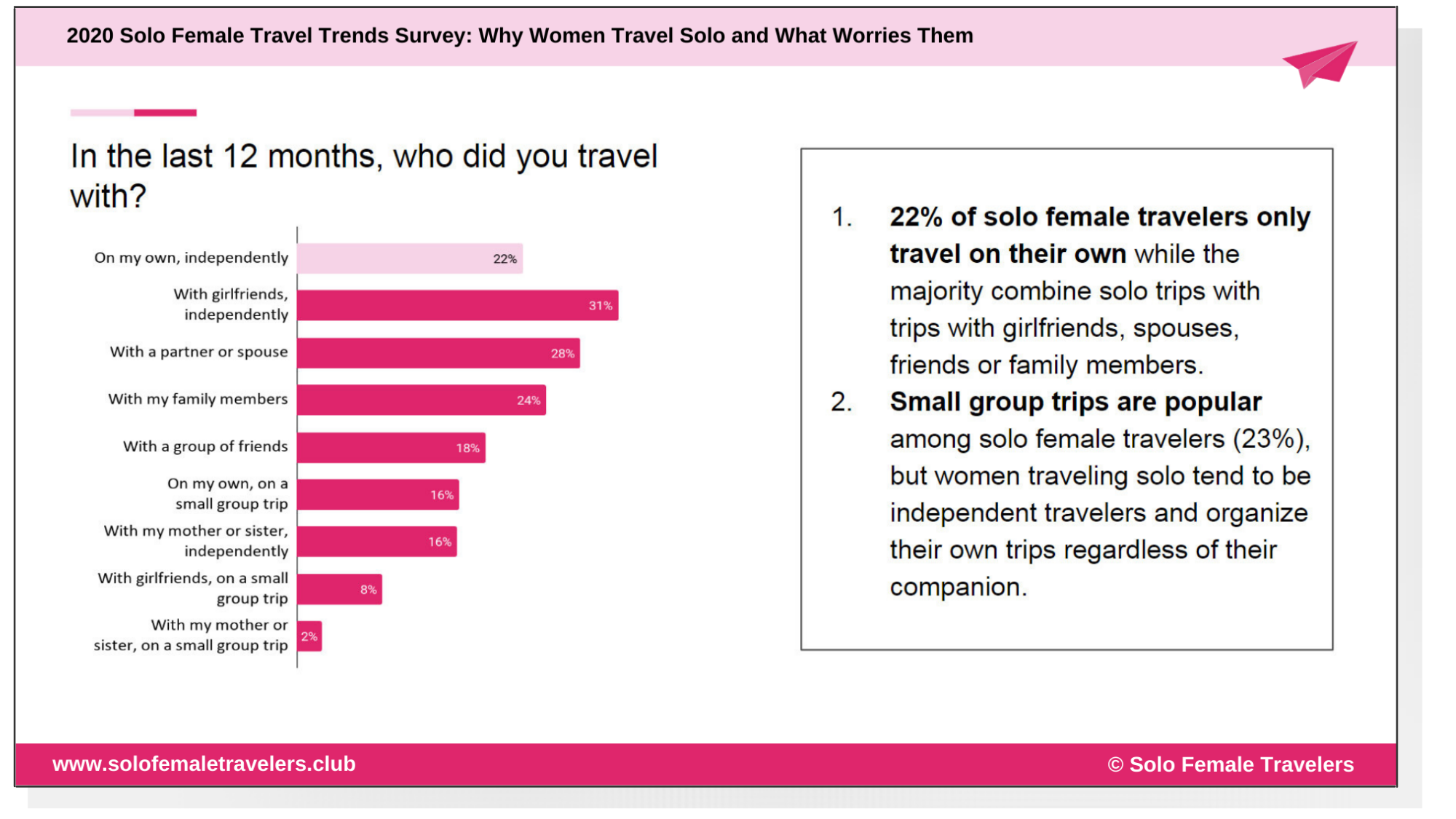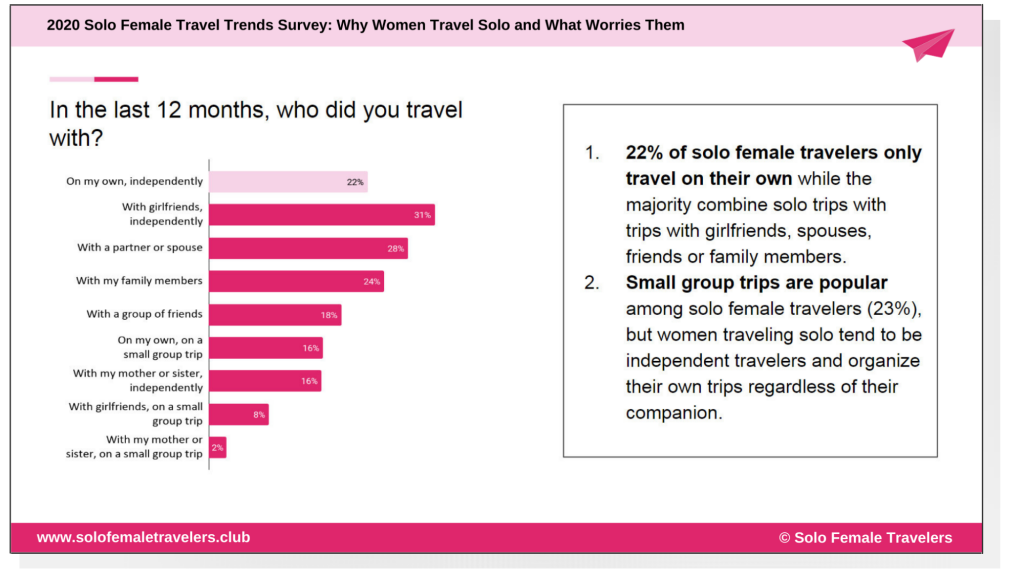 Findings / Key Insights
78% of solo female travelers combine various travel styles and companions depending on the destination and type of trip. This means that she is not exclusively a Solo Female Traveler, but she likes to take trips on her own and with others. Women traveling solo may go on a road trip with friends or if they are not available, will head out alone.
A third of solo female travelers also travel with their spouses. 24% of them traveled with their families and 18% traveled with a group of friends in the same period.
17% of solo female travelers also joined a small group trip in the last 12 months. Small group trips are a safe, affordable and convenient way to visit challenging destinations or to test solo travel in a predefined way.
Opportunities for the travel industry
Launch products tailored at the solo female travel niche, considering her needs and wants and her challenges and worries. Reach out to us to discuss how we can help.
Offer products that cater to women who like traveling solo, rather than to exclusively solo female travelers and understand that, for 78%, solo travel is a travel style and state of mind but not a type of traveler.
If your company focuses on the solo niche, understand the motivations behind taking a trip alone and tailor the message accordingly.
2. No partner, no problem.
Sometimes, solo travel is a personal choice over traveling with a companion, other times it is consequence of not having a travel companion for the trip. Either way, solo female travelers are not letting the lack of a travel companion stand in the way of a trip.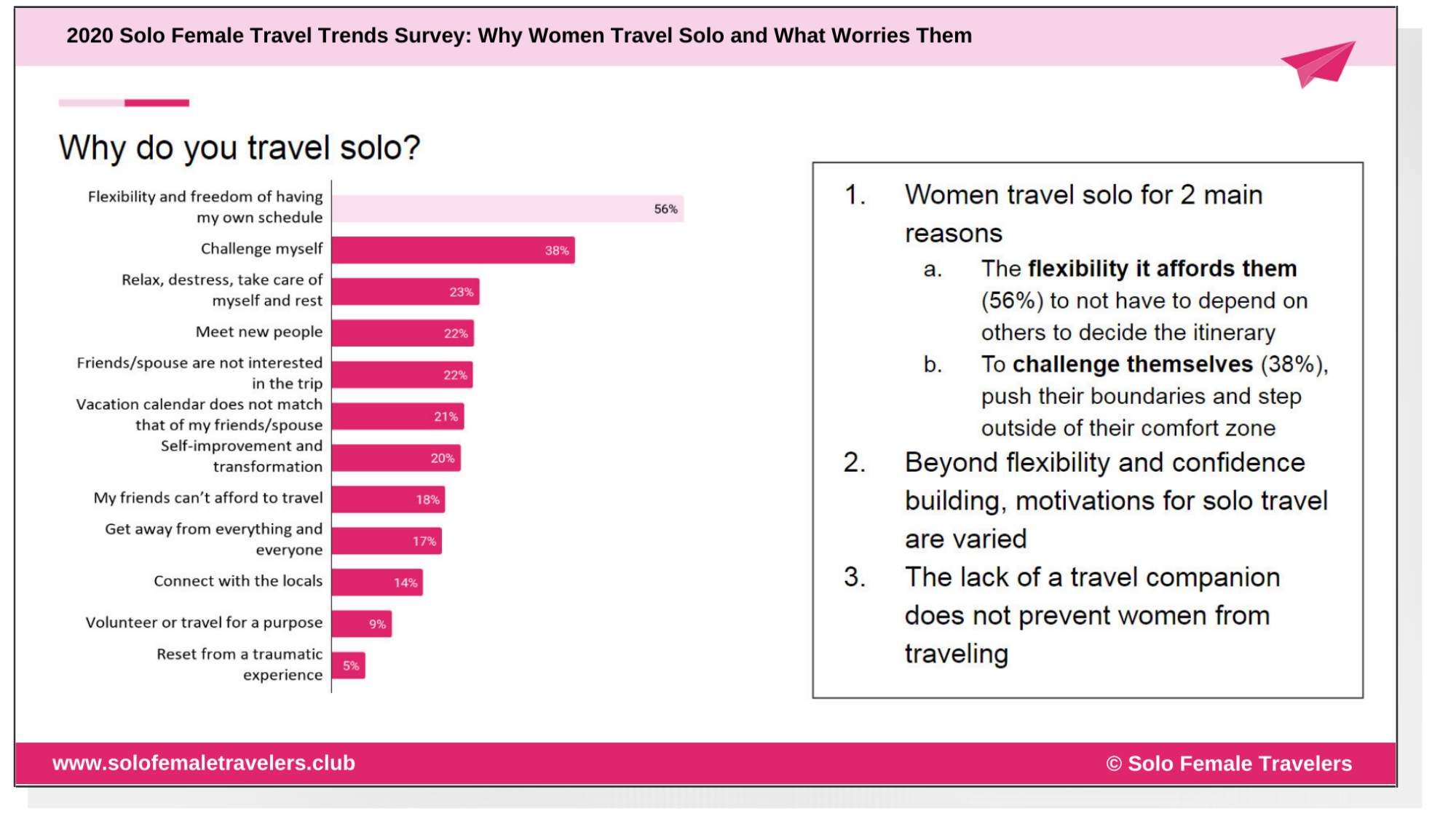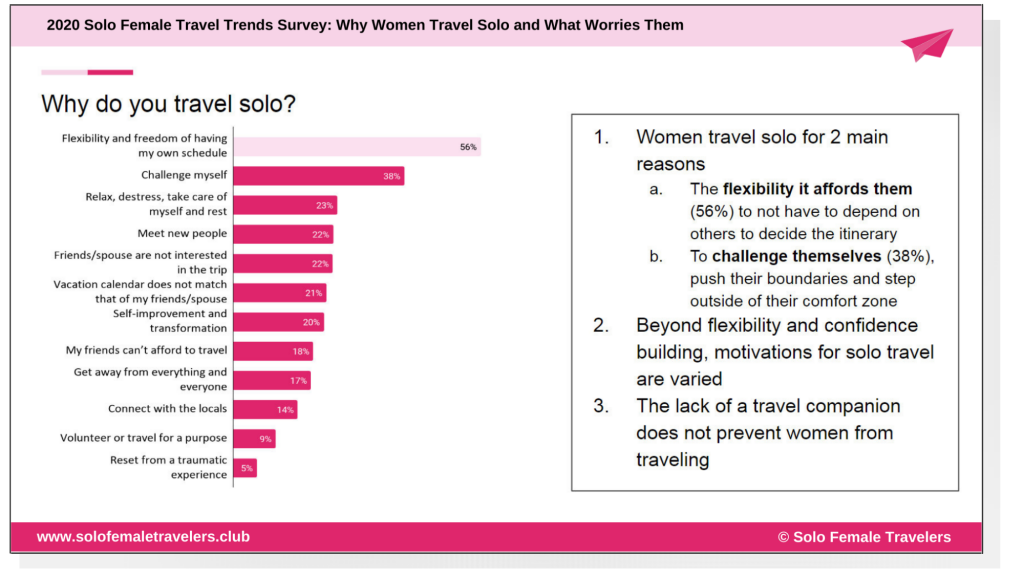 Findings / Key Insights
56% prefer traveling on their own because of the flexibility it affords to explore without having to rely on other opinions and preferences. This is particularly true of women in committed relationships (60%) and for Boomers (58%).
38% of respondents travel solo to challenge themselves. Transformative travel is on the rise, and more so when traveling solo. Travel is a way to discover ourselves and step out of our comfort zone. Millennials are twice as likely to travel for this reason than Boomers.
23% travel on their own to relax and get away from it all. Travel is one of the best ways to spend a vacation, re-energize and recharge, and solo travel gives that extra layer of quietness that does not depend on others. This is particularly true of women in the Middle East (22% vs. 13%).
18% travel for self-improvement and self-actualization. Traveling solo is one of the most rewarding ways to discover oneself. This motivation decreases significantly with age from 23% for Millennials to 9% for Boomers.
Anonymous: "Moving away from stereotypes of what women like to do while traveling"
No partner, no problem! Women are not letting the lack of company stop them from traveling. 20% said they travel solo because their partner is not interested in the trip or because they cannot find a travel companion with a similar vacation schedule.
22% travel solo to meet new people. This is especially true for those who are not in a committed relationship (25%) as opposed to those who are (15%).
Opportunities for the travel industry
Tours focused on solo travelers without single supplement offer a way for women to meet new people, and travel even if their travel companions are not available / interested.
Solo female travelers would be more likely to join a small group trip that offered flexibility and free time along with pre-programmed activities that save money and facilitate logistics / guides.
Group tours that have a component of personal fulfilment and personal challenge are particularly appealing to Millennials.
3. Safety is the indisputable worry of solo female travelers.
Women are extremely worried about their safety when traveling solo. Experience traveling solo reduces this fear, however it still remains alarmingly high at 64% for those who have traveled solo more than 10 times.
Concerns over safety are unique to the female experience regardless of how experienced a solo traveler is. Respondents specifically worry about the lack of credible sources on real safety data per destination and the travel industry's marketing efforts to make a destination look safer than it actually is.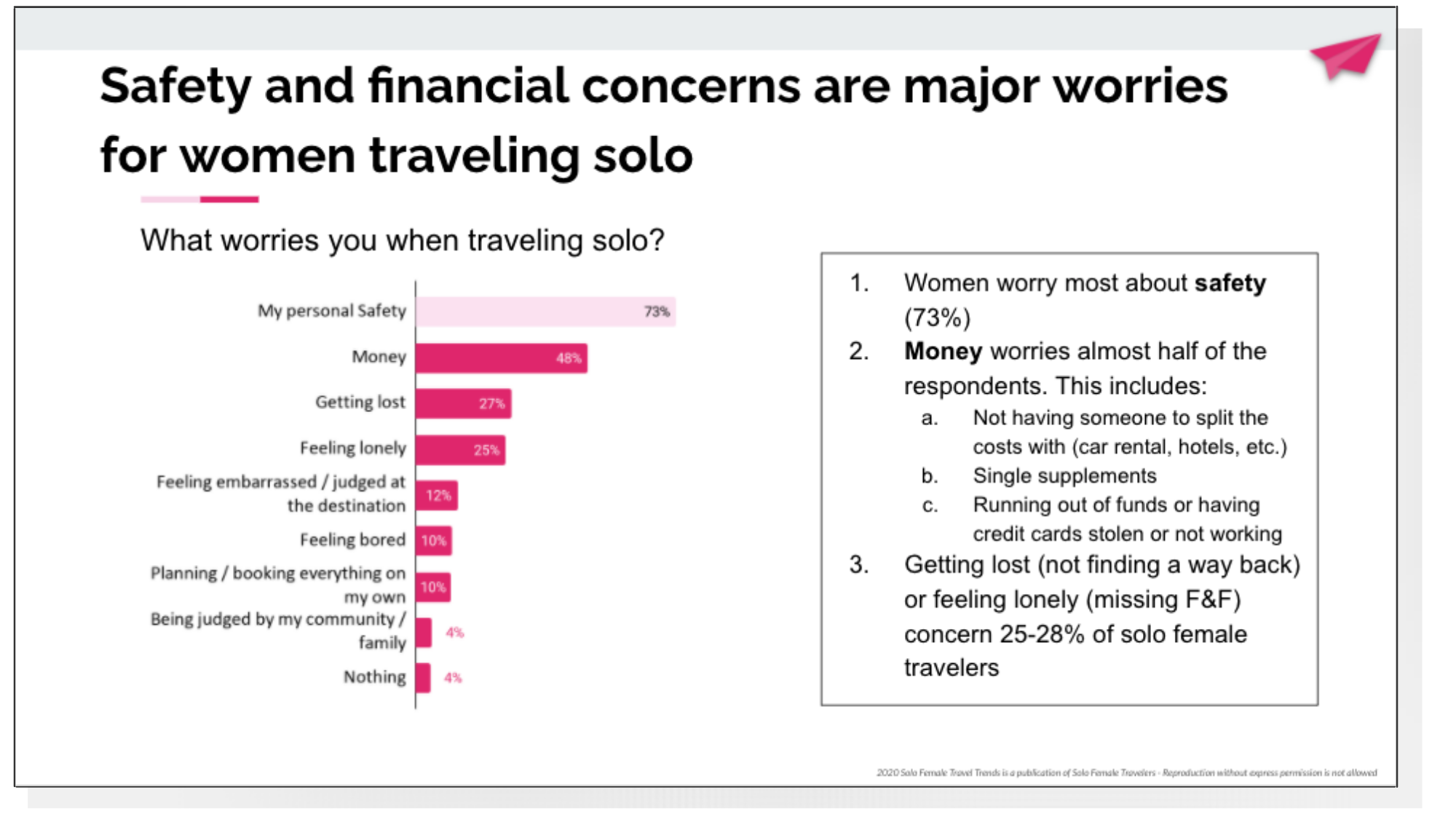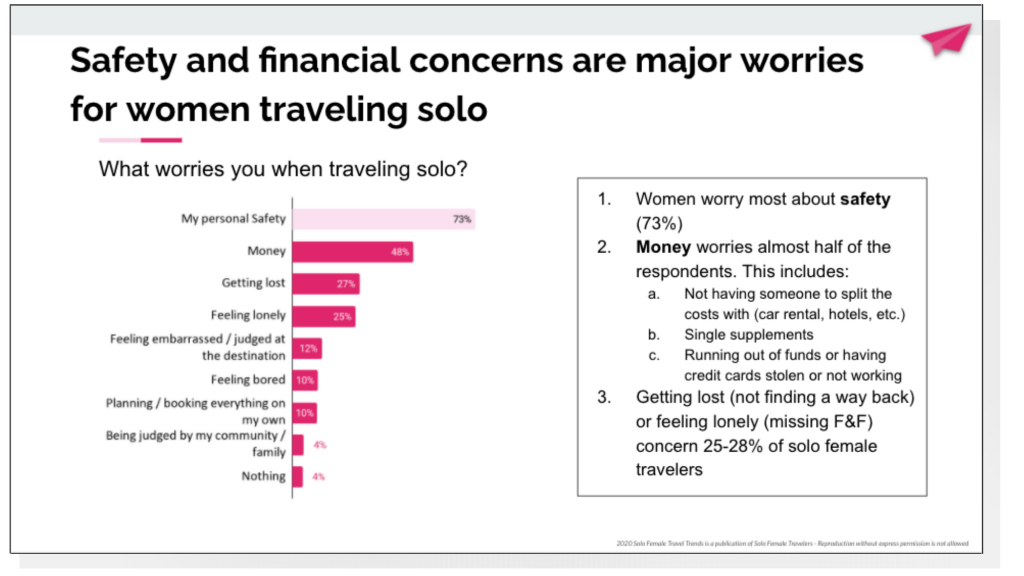 Findings / Key Insights
73% of solo female travelers worry about their safety. Experience traveling solo reduces this fear from 79% among women who have traveled solo less than 5 times to 64% for those who have traveled more than 10 times on their own.
Beyond safety, solo female travelers most worry about the higher costs of traveling solo due to single supplements charged (47%), of getting lost (27%) or of feeling lonely (25%).
Cheryl: "Give detailed and very specific info about dangers and incidents, what to do, and where to go if an emergency happens"
Safety is also a barrier for women to go on a solo trip. 42% of women who haven't traveled on their own yet cite the

fear of something happening to them as the reason for not doing it.
Removing single supplements is the number one request from solo female travelers to the travel industry. 10% of the respondents mentioned this in an unprompted question.
Women who have taken between 6 and 10 trips worry about safety, loneliness and getting lost the most. They already have limited experience traveling solo and know what to expect and what can happen, but have not yet build the confidence for safety to be less of a worry.
Opportunities for the travel industry
The issue of safety is multi-faceted and women traveling solo need: reliable, accurate and actionable safety data from a relevant source and the practical tools to keep themselves safe.
Our Safety Index for solo female travelers to share their safety advice and experience traveling solo with others. The resource allows any solo female traveler to rate their experience at a destination based on 4 factors: Risk of scam, Risk of theft, Risk of harassment and Attitudes towards women. These are the factors that we know are important in understanding how safe or unsafe a destination is so the solo female traveler can better prepare.
Solo female travelers now have the opportunity to learn everything they need to stay safe when traveling on their own thanks to Empowerful, a Solo Female Travel Safety, Wellness and Sexual Wellbeing Festival aimed at equipping women with the tools they need to stay safe when traveling.
4. Small group trips are a great solution for solo female travelers
When asking women who haven't traveled solo yet what is stopping them from embarking on their first solo journey beyond safety concerns, the reasons are varied:
44% said they can't afford the higher price.
30% mentioned the fear of feeling lonely.
19% said their partner does not approve of them traveling alone
17% indicated they would feel guilty leaving their family or husband behind
13% of women are also concerned about racism and discrimination because of race or religion.
5% said their society does not approve of them traveling on their own.
Small group trips help women overcome their safety and financial concerns to travel solo.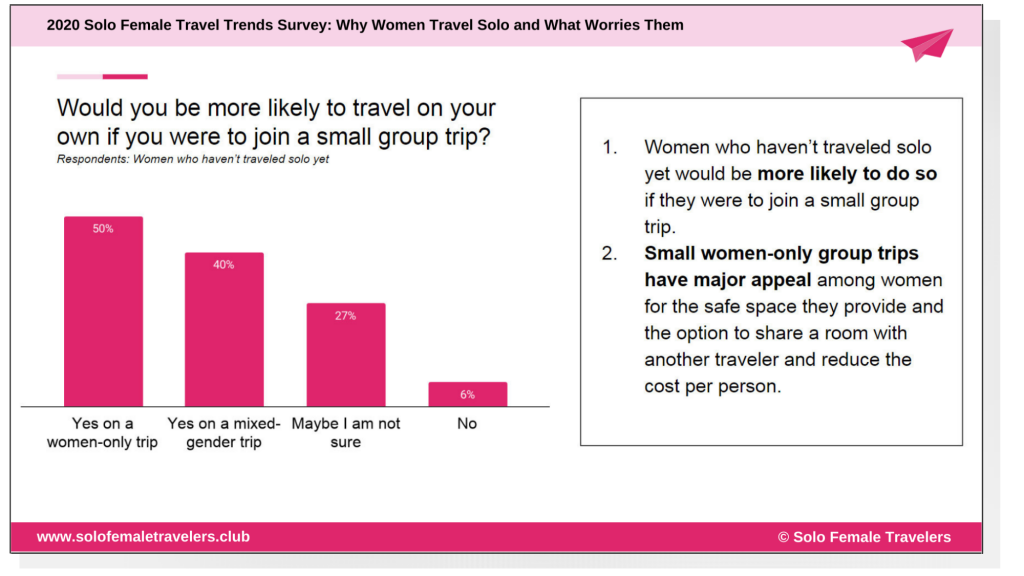 Findings / Key Insights
Half of the women who have not traveled solo yet would be more likely to do so in a group tour, particularly if it is a women-only group tour (50% vs 40% for mixed gender group tour).
Opportunities for the travel industry
Small women-only group trips have major potential among women for the safe space they provide and the option to share a room with another traveler and reduce the cost per person. They tackle all concerns and worries of women traveling solo and are a great way for them to dip their toes into the world of solo travel.
Female-only tours targeted at solo travelers have an additional level of comfort and offer an option to women who want to travel solo to share room costs and meet people without the stigma of being alone.
5. The ideal first-time solo travel destination is your own country or in Europe
Solo female travelers should start off either in Europe or in the travelers country of origin, where the culture shock is lower (same country, language, similar culture and traditions, etc.).
It is also worth noting that, while there are some universally recommended options for the ideal destination a first time solo traveler should start with, there isn't a one-size-fits-all choice and each traveler should consider their own personal circumstances when deciding.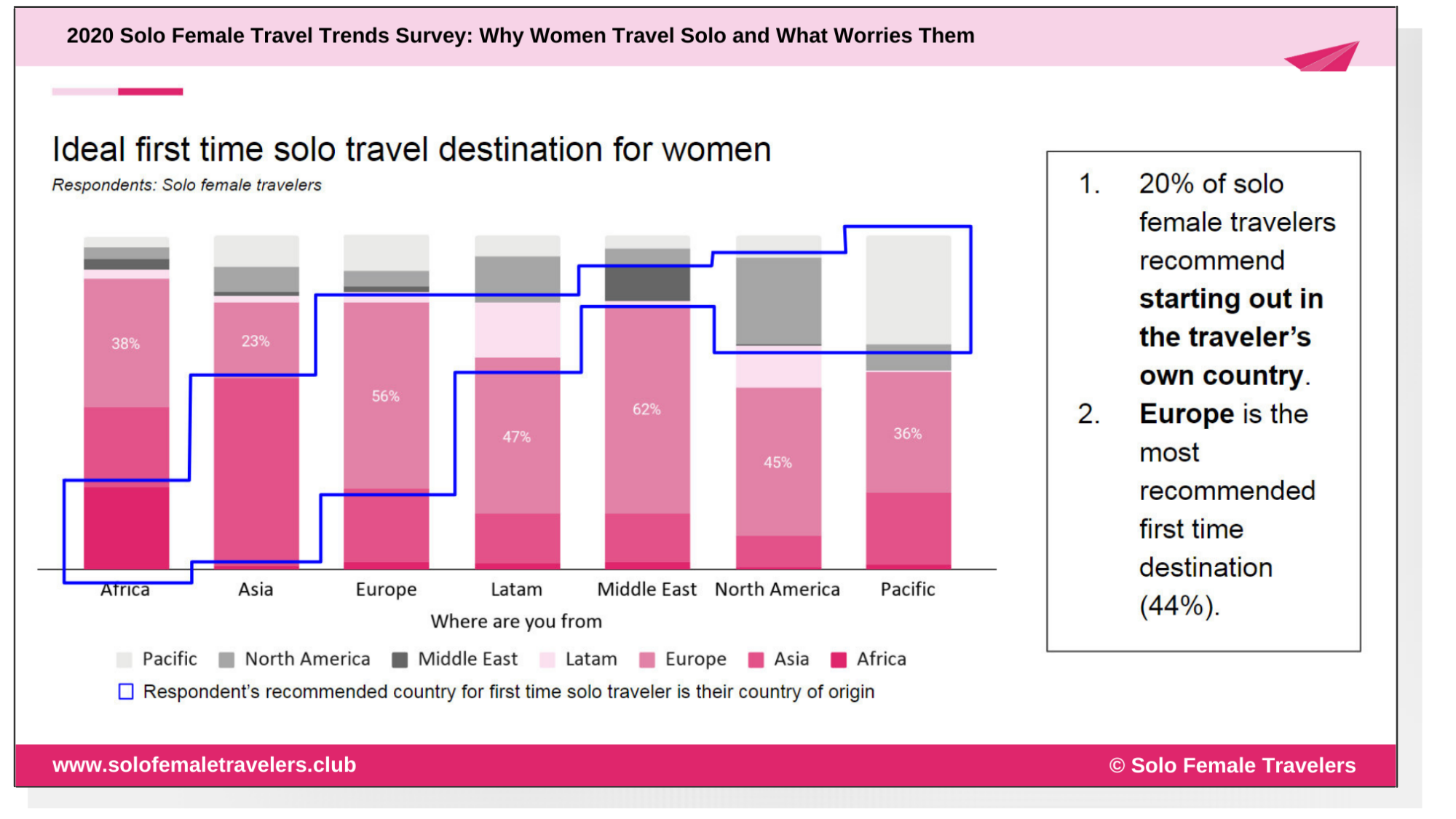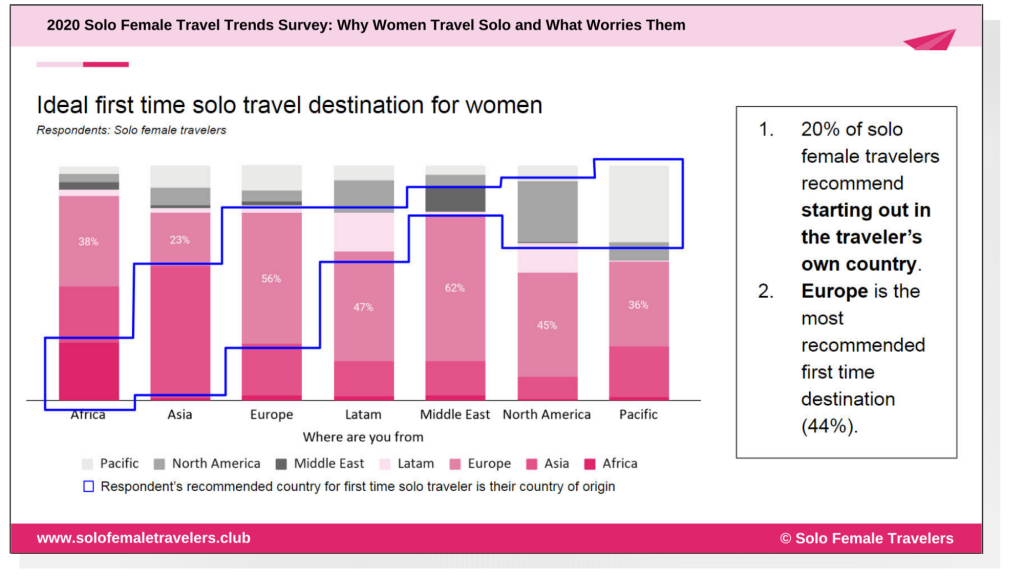 Findings / Key Insights
20% of solo female travelers recommend the travelers country of origin as the best destination for a first time solo trip.
44% of solo female travelers recommend Europe as the ideal first time solo travel destination for women.
The top countries for solo female travelers are the UK, Australia, Italy, Thailand, Spain and Japan, be it because:

They are major tourism destinations (Spain, UK, Italy).
They enjoy really high levels of safety (Japan, Thailand).
They have great tourism infrastructure (Spain, Thailand, Italy).
They are affordable (Thailand, Spain).
They have friendly locals (Australia, Thailand, Italy, Spain).
They see a constant stream of solo travelers to beat loneliness and boredom (Spain, Thailand).
Women who haven't traveled solo yet consider Italy, Greece, France, Australia and Japan ideal first solo travel destinations while Americans and Canadians prefer their own countries for a first solo trip. 11% of women are not sure what the ideal first time destination would be.
Opportunities for the travel industry
Provide transparent and reliable safety information at the granular level of the neighbourhood or city with actionable, practical and solo female focused tips to stay safe to complement our Solo Female Travel Safety Index.
Training hospitality staff members to better cater to solo female travelers. Our experienced team can arm your team with the right resources and mindset to help your business become solo female travel trusted.
6. Friends and Family and SFT online communities are the most trusted sources of advice. Influencers are not trustworthy
When planning a solo trip as a woman, getting trustworthy and relevant advice is critical and can make or break a trip, especially when it comes to safety tips and recommendations for things to do or places to stay.
Recommendations from Friends and family are most trustworthy across age groups, closely followed by recommendations from other solo female travelers in Facebook groups with likeminded individuals.
Context and relatability matter, and solo female travelers want to hear from other women who travel solo within the safe environment of an online community of like minded individuals. This reinforces the previous finding that safety is a multi-faceted issue and women traveling solo demand reliable, accurate and actionable safety data from a relevant source and the practical tools to keep themselves safe.
Anonymous: "Move away from influencers, it is not genuine and influencers are just a different from of advertising"
Recommendations and advice from Influencers are mostly distrusted, especially by Millennials. They remain a source of information but their trustworthiness is almost as high as their untrustworthiness.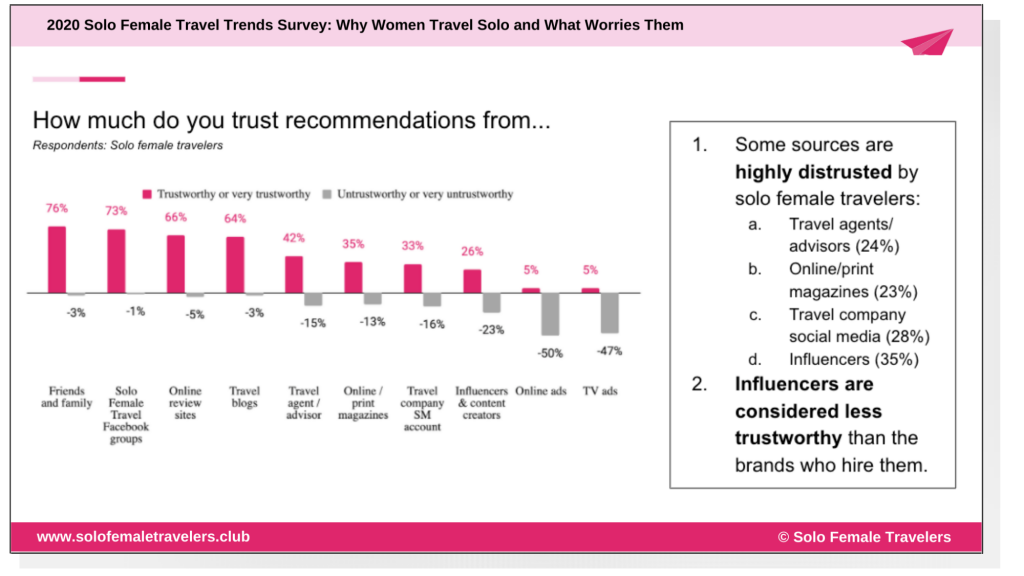 Findings / Key Insights
Solo female travelers trust relatable (who have been there), reliable (honest) and relevant (like them) sources. Friends and family, solo female travelers, online review sites and blogs are most trusted.
Influencers are considered less trustworthy than the brands who hire them. Influencers, Instagrammers, YouTubers and other content creators have very low trust levels with only one quarter of respondents considering them trustworthy or very trustworthy sources, this is a lower level of trust than enjoyed by travel brands' social media networks (31%). More worrisome is the percentage of respondents who find influencers not trustworthy or very untrustworthy (21%), which is higher than the lack of trust towards travel brands' social media channels (15%).
Online and TV ads are not trusted by solo female travelers with over 40% of respondents considering them as untrustworthy sources.
Trustworthiness of digital marketing / social media channels varies significantly by age group. Millennials trust online channels, particularly Facebook groups, online review sites and blogs the most. However, they are more weary of more traditional channels. On the other hand, Boomers are generally skeptical of any online marketing channels and a relevant percentage have either a neutral opinion or no opinion with regards to their trustworthiness.
Opportunities for the travel industry
Reconsider the role of each marketing channel when targeting solo female travelers and adapt the strategy to the trustworthiness level and the objectives.
Add Facebook groups and bloggers to the marketing mix and use them as a trusted source of research insights, product development and sales.
Use content creators, Instagrammers, YouTubers and other influencer higher up in the sales funnel. They are a go-to resource for content creation (photos, videos) and for awareness but not for advice.
Reach out to us if you would like a tailored report by geographical region, age group or income level to better understand your target market.
---
Purchase the Full Reports
For more detailed insights on the findings shared above, including breakdowns by geography, age, income level and travel experience, as well as actionable recommendations from respondents on how they can be better served, our full report is available for purchase.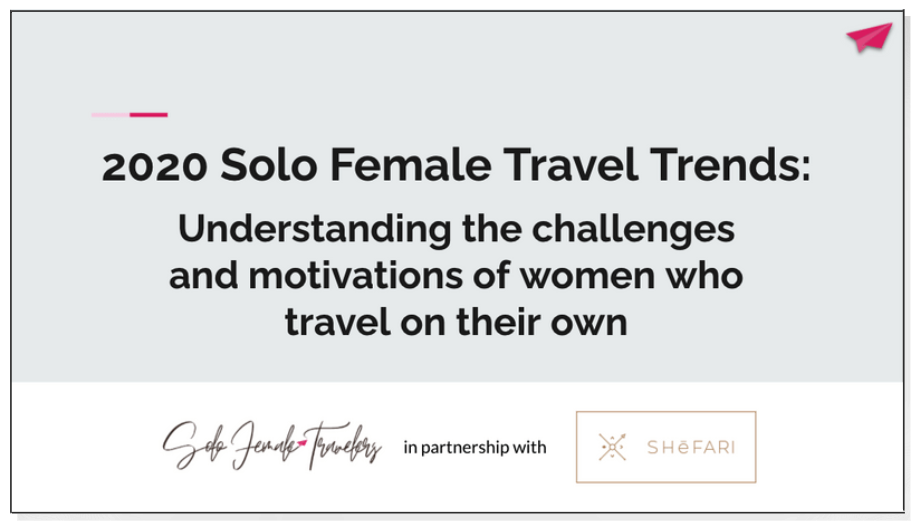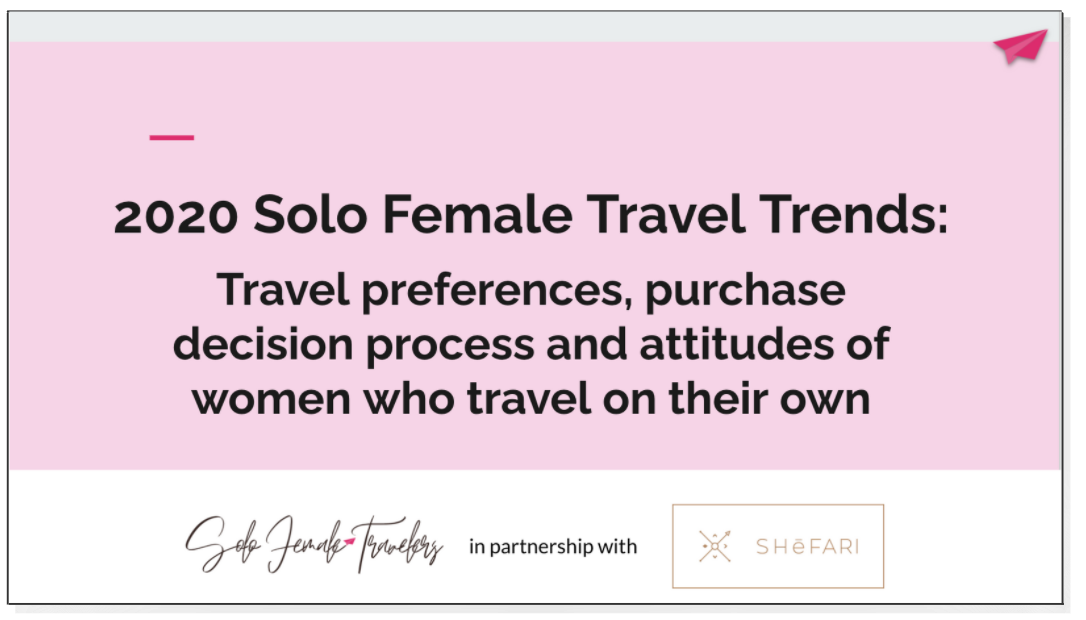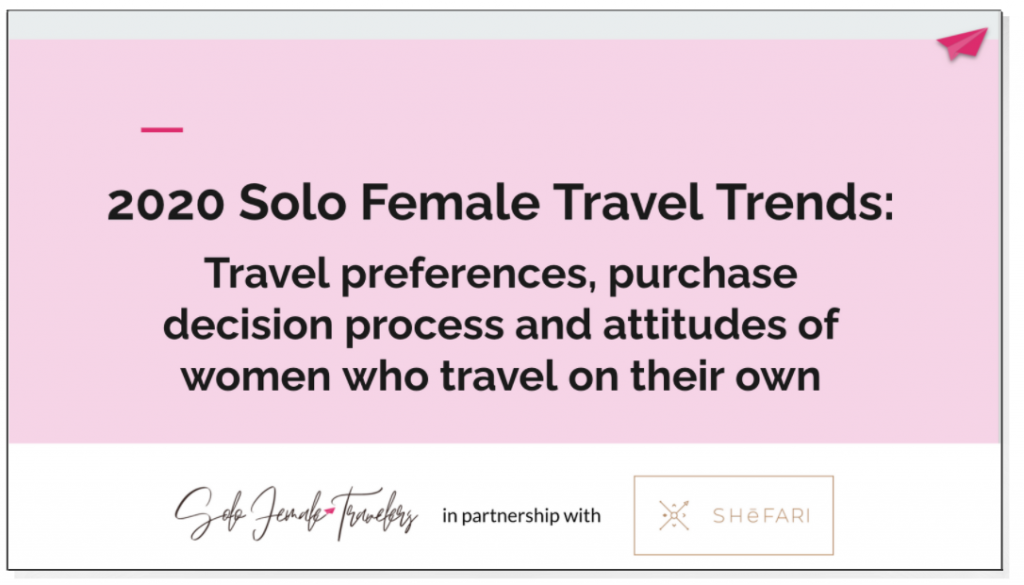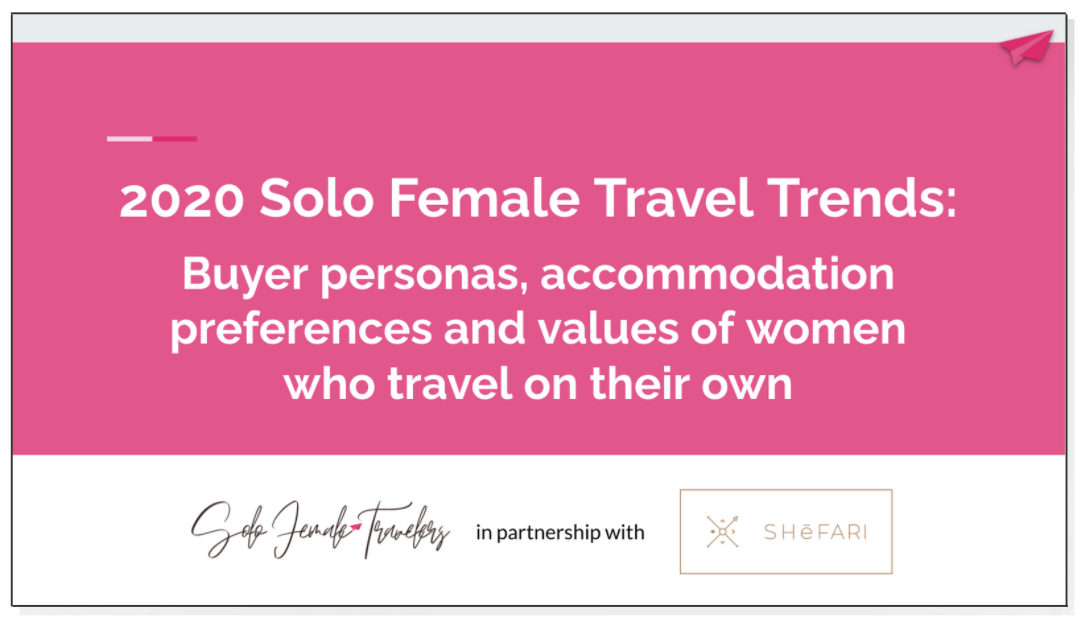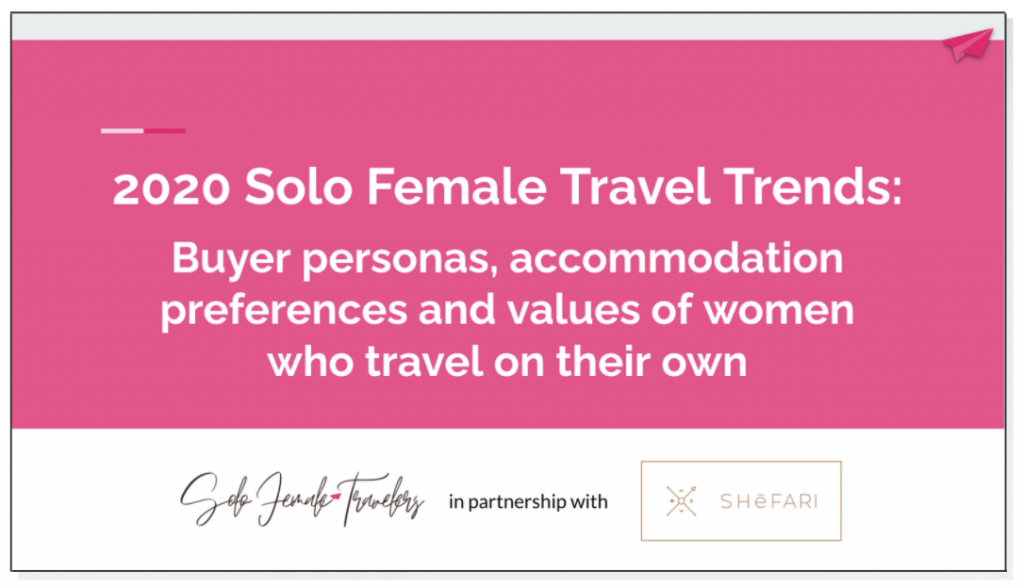 ---
How We Can Help You: Our Services
Are you looking to better tailor your offer to Solo Female Travelers? Do you want to better understand this segment to adapt your offer? Are you a hospitality leader who wants to train their team to be more aware of the needs and challenges of women who travel solo?
Reach out to us to discuss how we can help you with in-depth data or with our in-depth expertise.
1 Request a bespoke report

Have a query that our published research didn't cover? Would you like a tailored report looking at a specific solo female traveler segment?
Contact us to request a bespoke report, cutting / segmenting the data in a way that makes a difference to you. Click here to view a list of our variables.
2 Become a solo female friendly travel provider

We provide consultancy services on how your business can better serve / cater to Solo Female Travelers, based on our annual survey insights.
Learn how to adapt and enhance your product to perfectly suit the type of solo female traveler you want to target.
3 Staff training for Female Travelers

We provide corporate and staff training to equip your employees with the knowledge and skills to properly serve Solo Female Travelers.
We offer a range of learning options and can help you adapt your guest welcome processes or your concierge service.
Copyright Notice & Disclaimer
2020 Solo Female Travel Trends is a publication of Solo Female Travelers. Reproduction of this page / report without express permission is not allowed, except in the case of brief quotation. To quote or reference the survey results, it must be accompanied by a link back to this page as the original source.
This article contains information about Solo Female Travel. The information is not advice, and should not be treated as such. There are no representations or warranties, express or implied, about the completeness, accuracy, reliability, suitability, or availability with respect to the information provided. We do not represent, warrant, undertake or guarantee that the use of guidance in the report will lead to any particular outcome or result. The authors do not assume and hereby disclaims any liability to any party for any loss, damage, or disruption due to use (or misuse) of information, conclusions and insights.