We're all for solo travel, and we encourage everyone to try it at least once, especially women (warning: it's addictive!).
But we also recognize that there is immense learning and perspective to be earned from finding a travel buddy with similar interests, or in making new friends for travel. Such connections are made in our community every day.
Travel buddies can make a trip better through shared experiences, making some parts of that solo trip all the more memorable.
They are also one of the best ways to fight the anxiety that comes with doing something alone, the fear of boredom and the loneliness that may sometimes strike on a solo trip.
Traveling is important, and traveling solo is a wonderful experience, but making meaningful connections with people is one of the most important benefits of travel and one of the many reasons why women travel solo.
Deep connections are more easily built when we are on vacation somewhere far away from home. That traveler you met in Antigua and with whom you went on a 2 day volcano hike could end up being one of your best friends.
You can look for opportunities to meet people when traveling, but in this article we will explore ways in which you can make friends for travel before going on a trip, maybe even planning a trip together before departure.
Everyone needs travel friends with whom to go on some of the life changing adventures that are better shared.
Find your ideal travel buddy with the help of our tips.
Facebook groups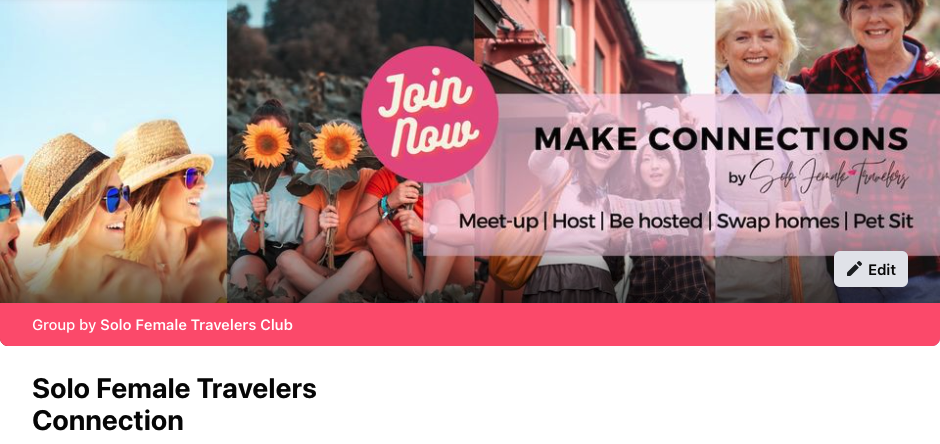 Social media is after all, social 🙂
Facebook is full of various travel groups for people with all kinds of interests. You can look for groups that match your particular hobby or interest, there are ride sharing groups, meetup and couchsurfing groups and we have even created our very own group for meeting solo female travelers on the road.
You can join our group and meet other solo female travelers who are exclusively interested in meeting up, finding a female travel buddy, swapping homes or getting a pet sitting engagement or a pet sitter.
Another group to join is Host a Sister which follows the same logic and is also exclusively for women. You can also search for more specific groups by typing on Facebook's search box "travel buddies over 50", "Black travel buddies", etc.
Recent posts from members who met up using our group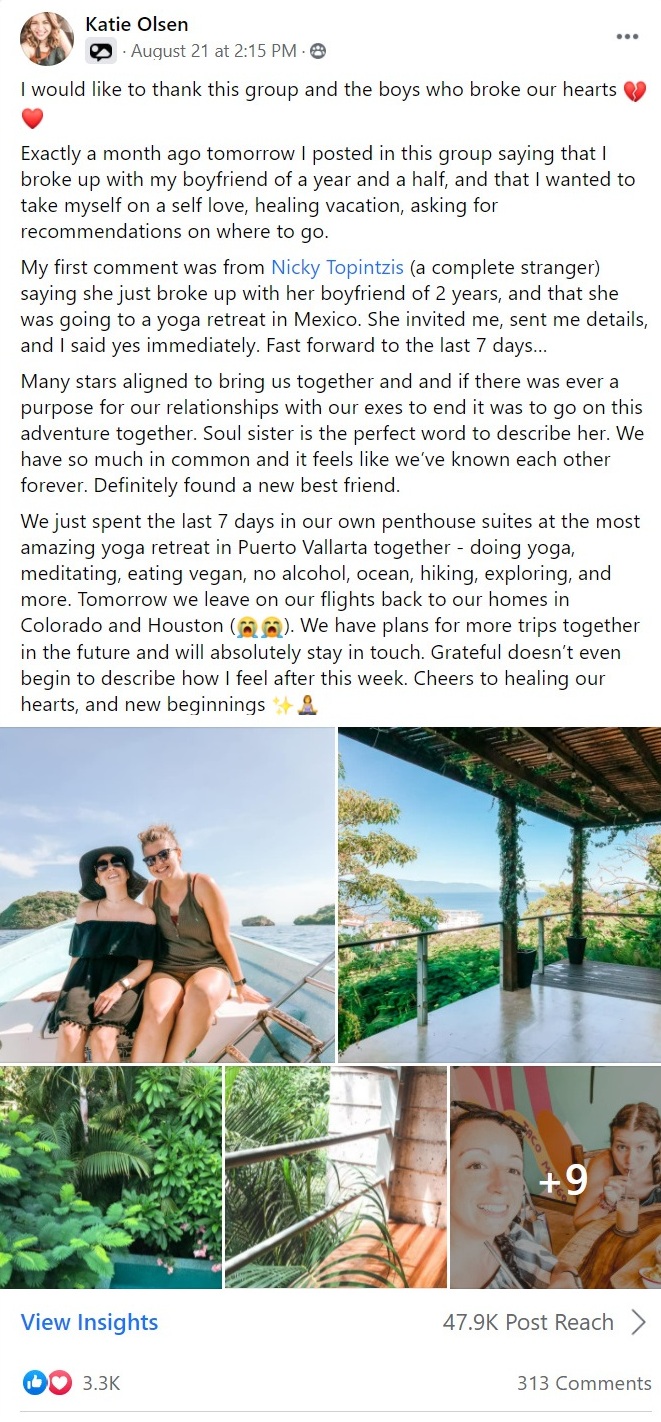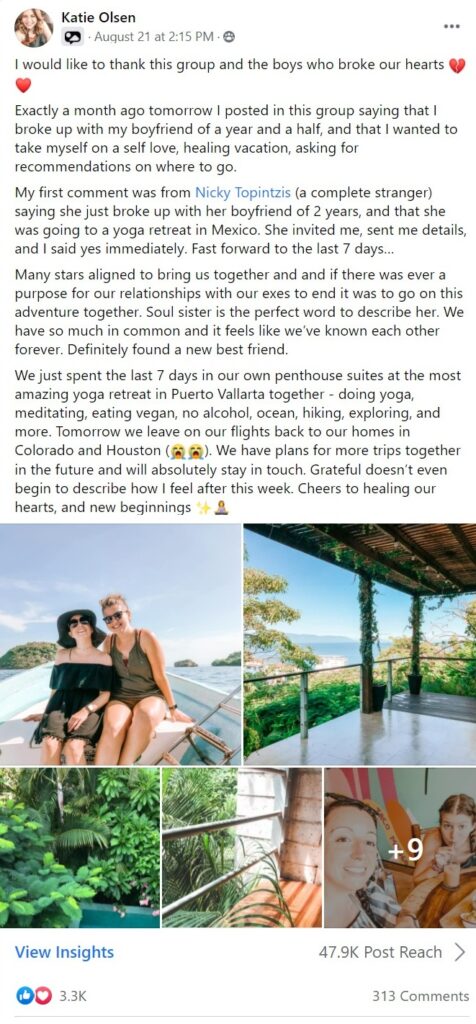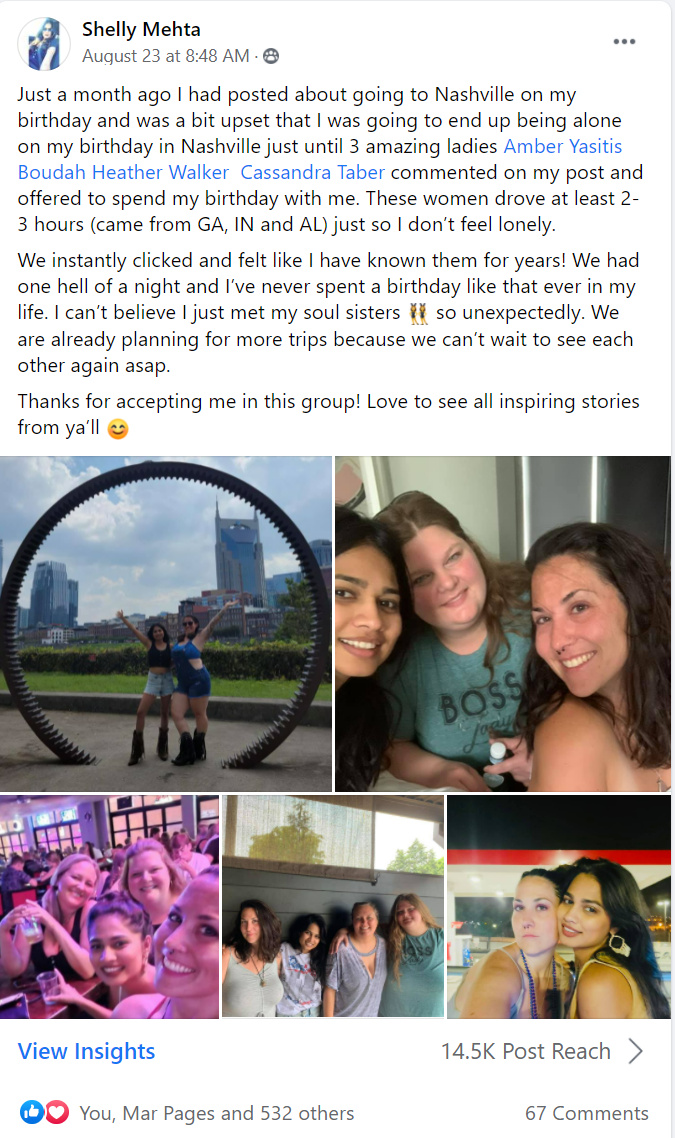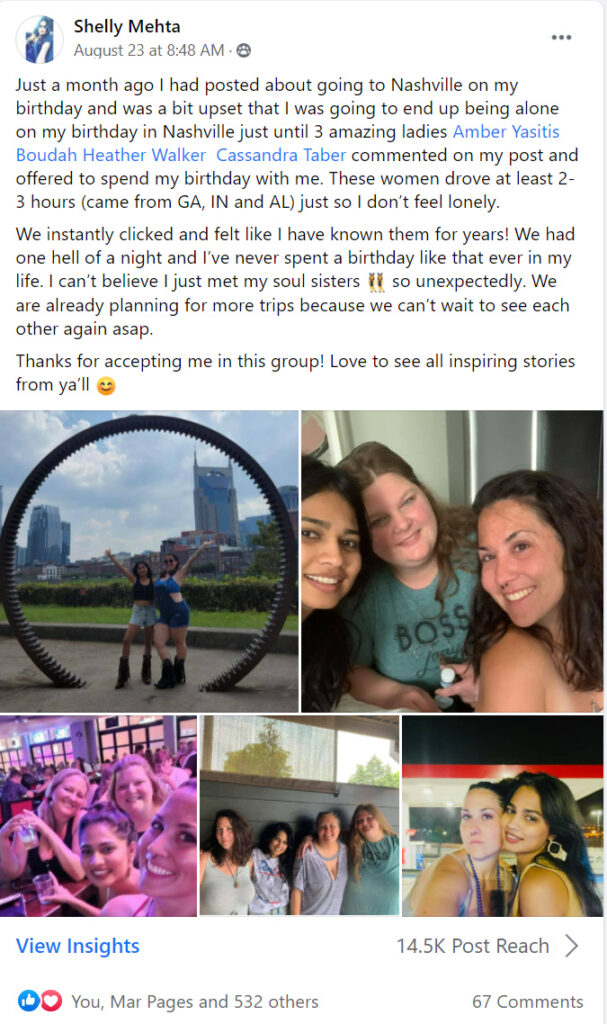 Join a solos vacation
All our Solo Female Travel Tours are designed by women and for women who travel solo, and 85%+ of our guests do come on their own.
We pair travelers to avoid the single supplement and most of our guests come without a travel partner, so everyone is ready to mingle and get to know one another. There is no awkwardness in talking to the rest of the group and everyone's openness makes it a great way to make travel friends.
While the majority of the tour activities are planned out, there is often free time and we put all guests in touch with each other before the trip so they can connect and decide if they want to extend the trip and travel together.
Many friendships flourish during these trips and lifetime travel buddies are often found. We love seeing guests book trips together again after meeting during one of our tours.
Workaway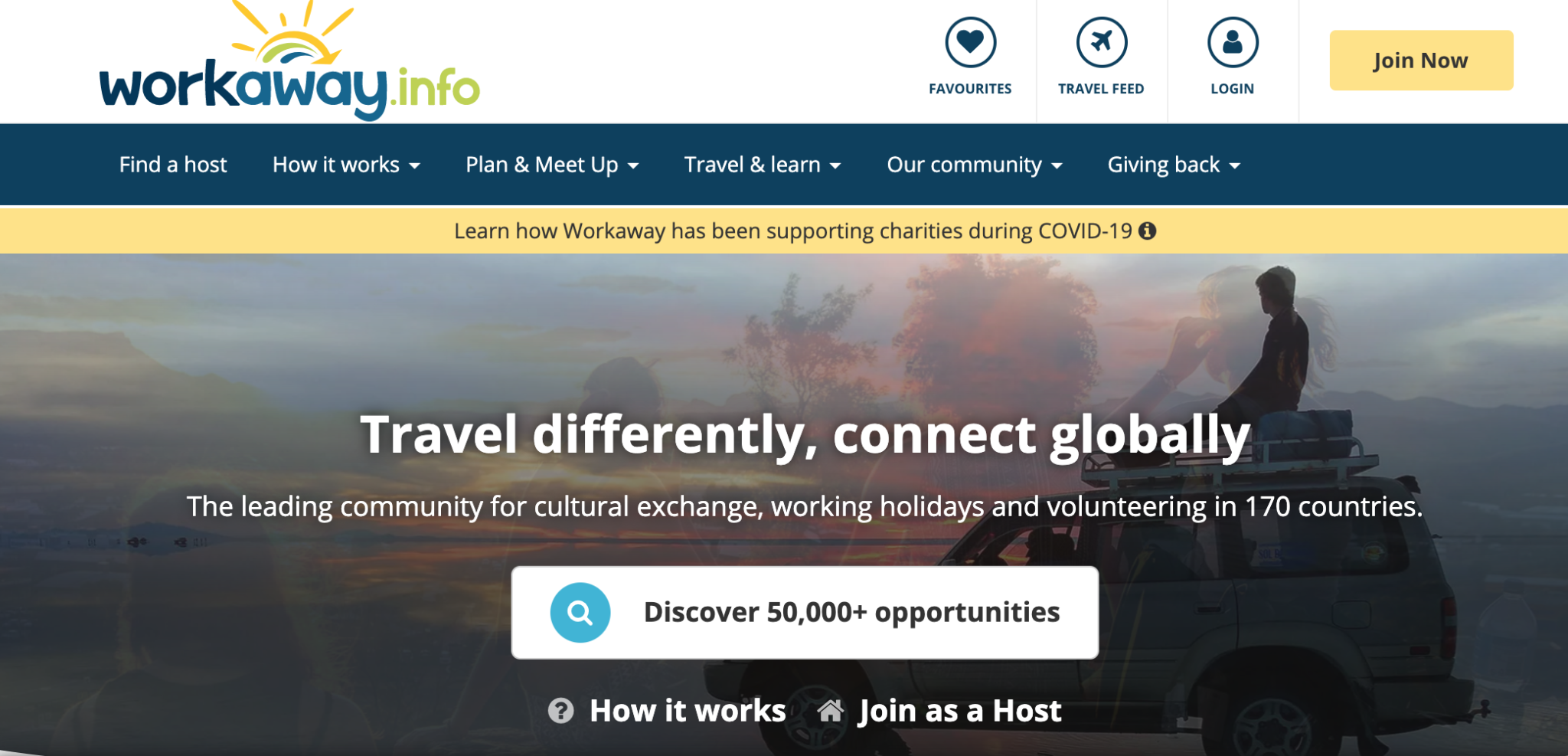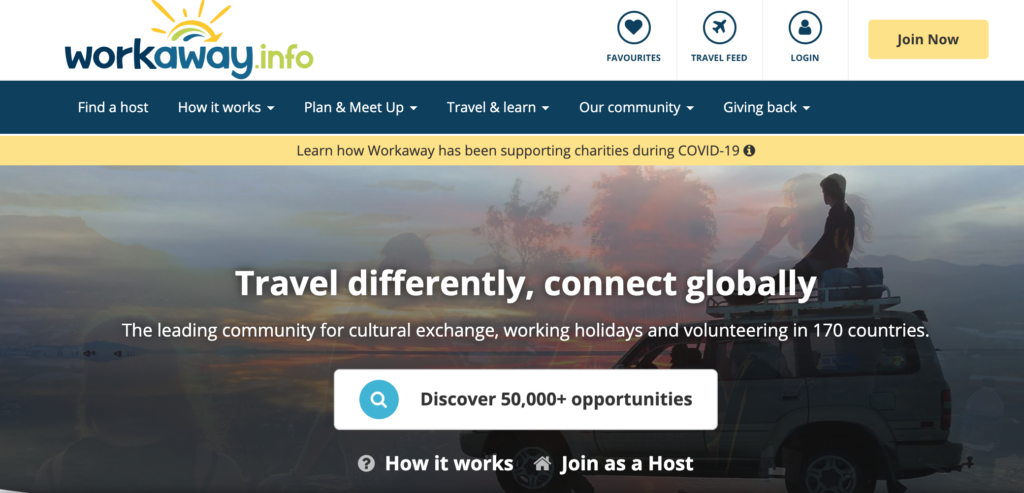 Workaway is all about giving back to the community you're traveling to by contributing your time and skills to a host of your choice.
You pick a destination you are interested in visiting and then look for available opportunities. The intention is to immerse yourself in the local way of living, enhancing your travel experience through cultural immersion. 
The most common opportunities are volunteering and working holidays where you are expected to help out during a few hours every day in exchange for accommodation and sometimes meals.
Workaway also has a "Travel Buddy" section, where, instead of finding a host, you look for someone who is traveling in the same region you're in so that you can connect, meetup or even travel together.
You can see where people are traveling, the dates they intend to be there and the reason why they're traveling and see if they match up with what you are looking for. 
Couchsurfing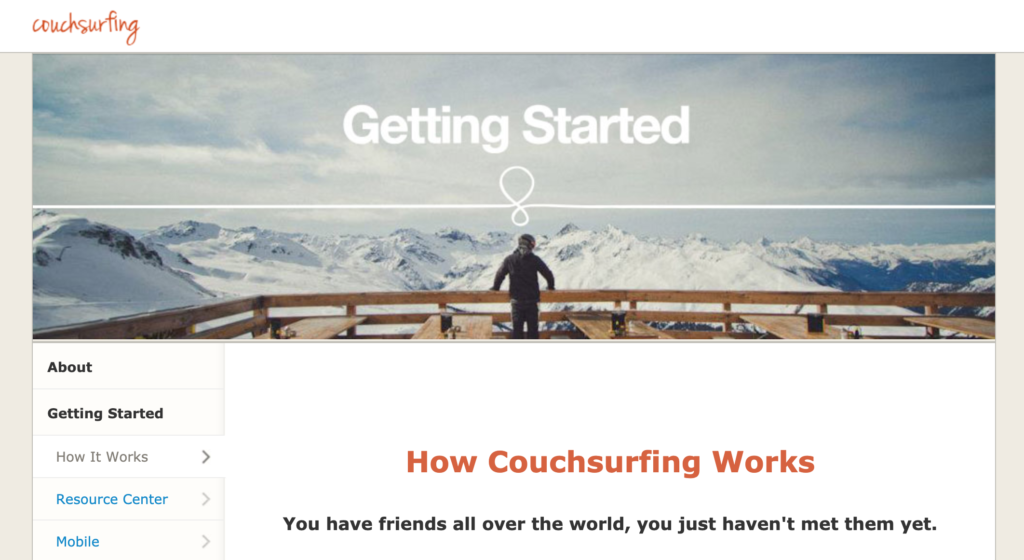 Couchsurfing is a free version of Airbnb, or shall we say Airbnb is a paid version of Couchsurfing since they were first!
The idea is to live like a local by staying in someone's house sleeping for free on their couch, bed or a mattress. Some hosts have proper guest bedrooms. There is no expectation of payment but you should offer to cook for your host, bring a small gift or take them out for a meal to appreciate their hospitality.
Like Workaway, Couchsurfing offers a meetup feature where you can either meet with another traveler one-on-one or you can create a group meetup for similarly-minded people who like to do the same activities as you, from hiking to wine tasting. 
Internations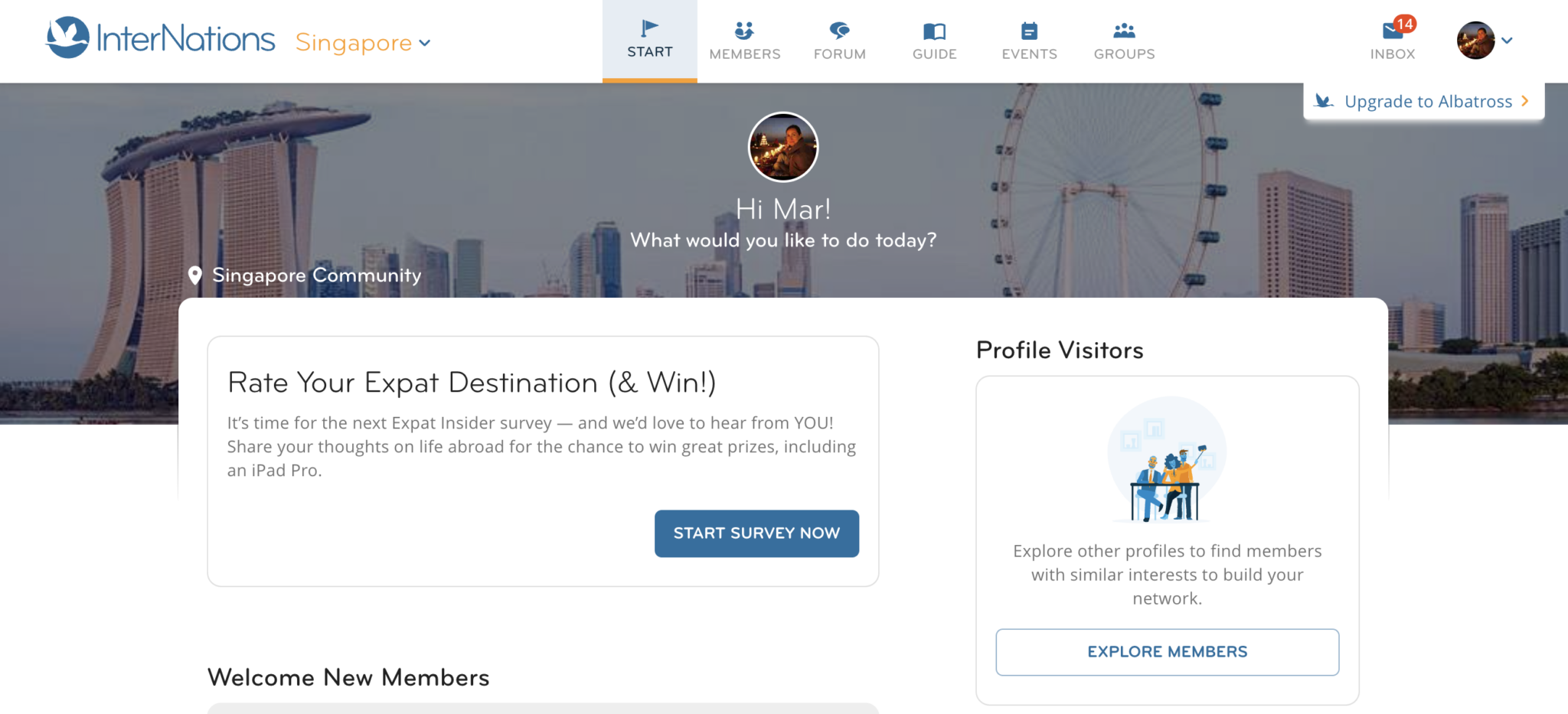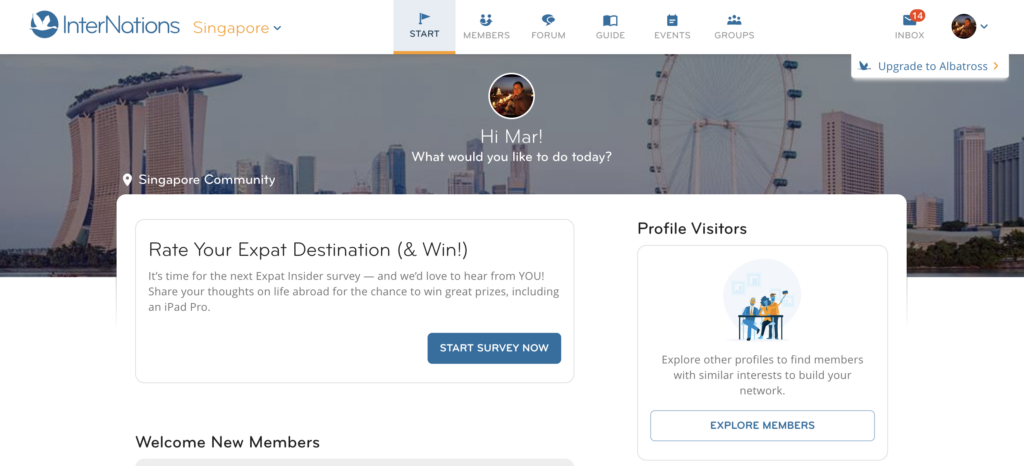 Meeting people is particularly difficult when you move to a new city and know nobody. In the years before social media became as pervasive as it now it, I used Internations as my go-to place for weekly meet-ups, parties and events.
This social media networking site is a cross between LinkedIn and Facebook in that it has a more professional, expat-y target but it is all about meeting new people and mingling, for fun and for business connections.
The average user is an educated professional in their 20-40 age range. The site has local guides with things to do and lots of events that are social in nature and where new people are warmly welcomed by the designated hosts.
You can share your travel plans, meet locals where you will be for a work trip or make new friends at a new destination. It is especially useful for the bigger cities where there is a larger base.
Base entry level is free but to access more benefits you need to pay a fee.
Join My Trip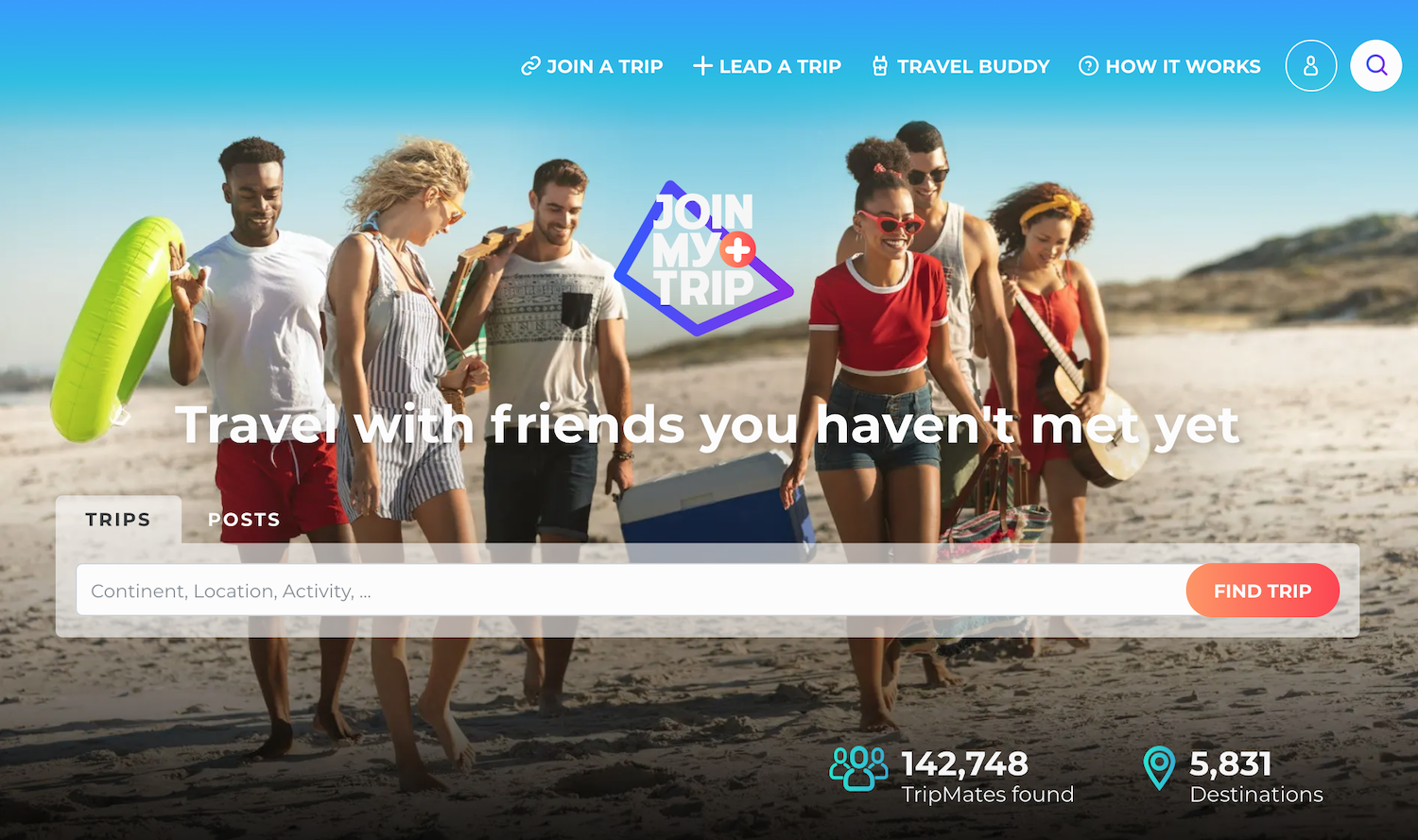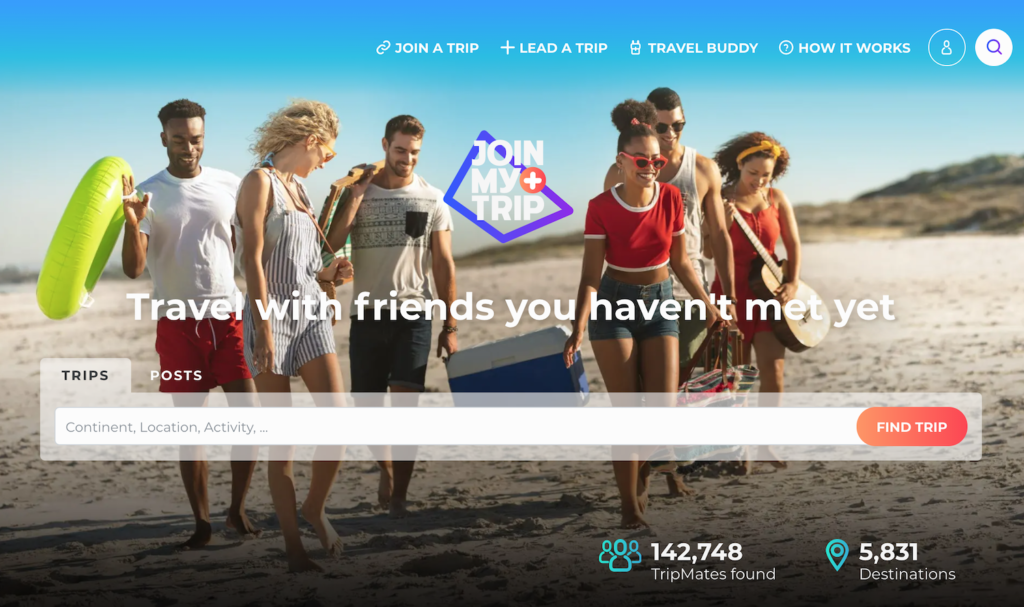 Join My Trip is sort of like a local, guided experience where you can tag along with other travelers on a local journey around a specific part of the world. Anyone can create a trip and let others join.
The trips vary in price as some are with professional guides while others are just for tagging along with other solo travelers who want to share transportation fare (what they call a "seat filler"). The trip leader can charge a small fee to organize the entire trip.
They also have a "Global Greeter Network" where you pay the annual membership and then can request someone to pick you up at a designated spot. You can then go on for a guided tour, a walk around the city, or just be dropped off somewhere.
In this way, you get to find out more about the area from a local without worrying about having to find a taxi. Other categories include "Travel buddies", "Group Travel", and "Female Travel".
Meetup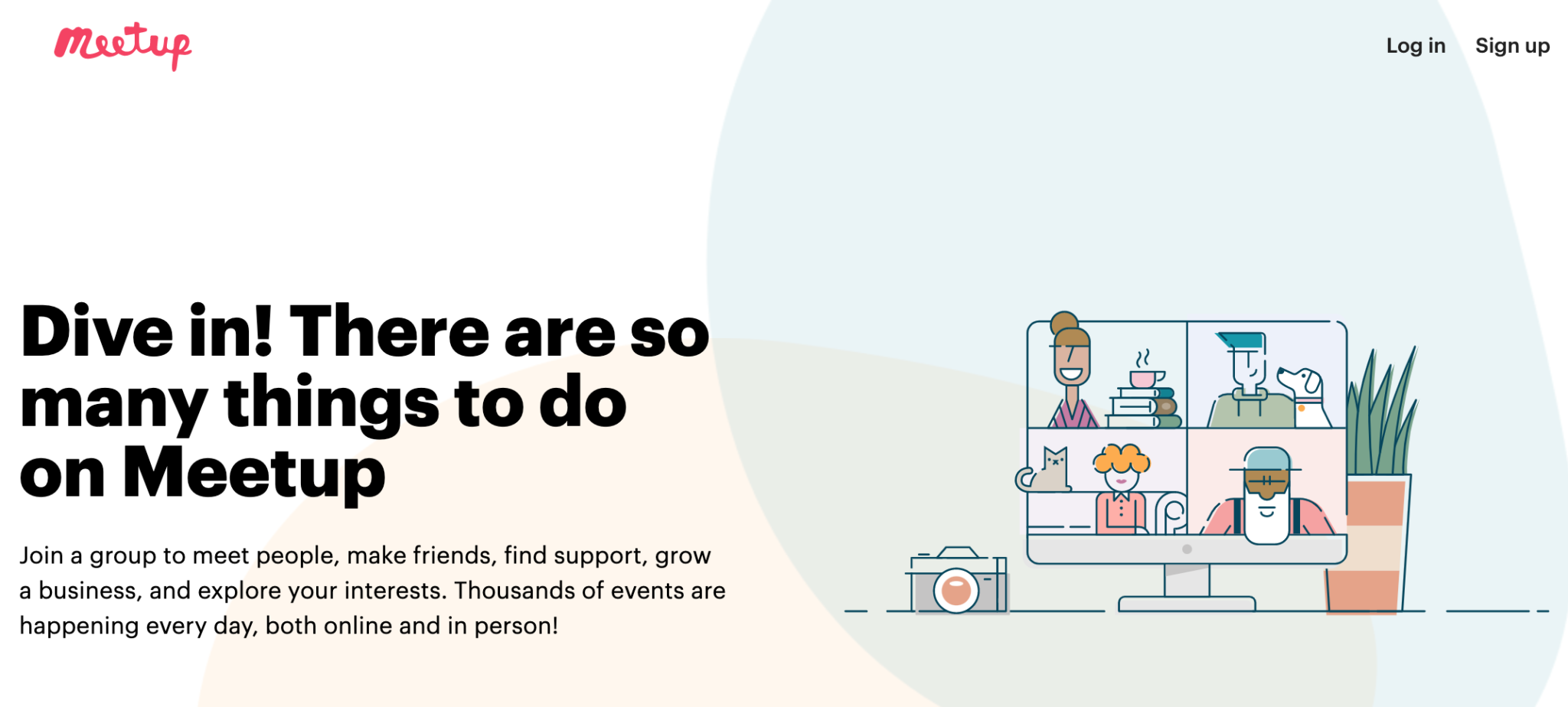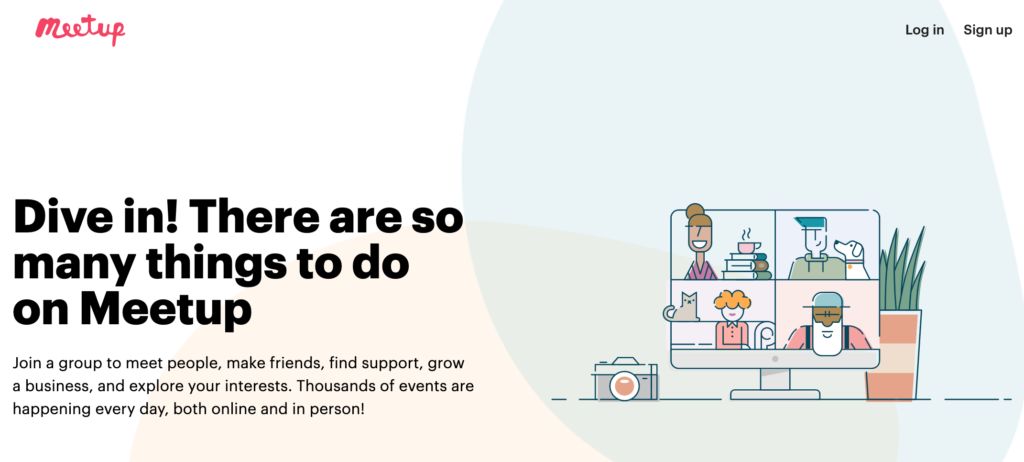 Have you ever tried Meetup?
This is an awesome app to use while traveling that isn't only for global travel, but is also a great way to meet people where you live who share your interests.
You join a meetup in the area you're situated, which is basically an event or activity, and meet people for anything, from sunrise yoga to kayaking.
Travel-related Meetup groups are a great way to find a travel buddy as you can connect with people who have shared interests and friendships may form. And remember meetups are for anyone, both locals and international travelers, so you never know who you're going to meet.
BeWelcome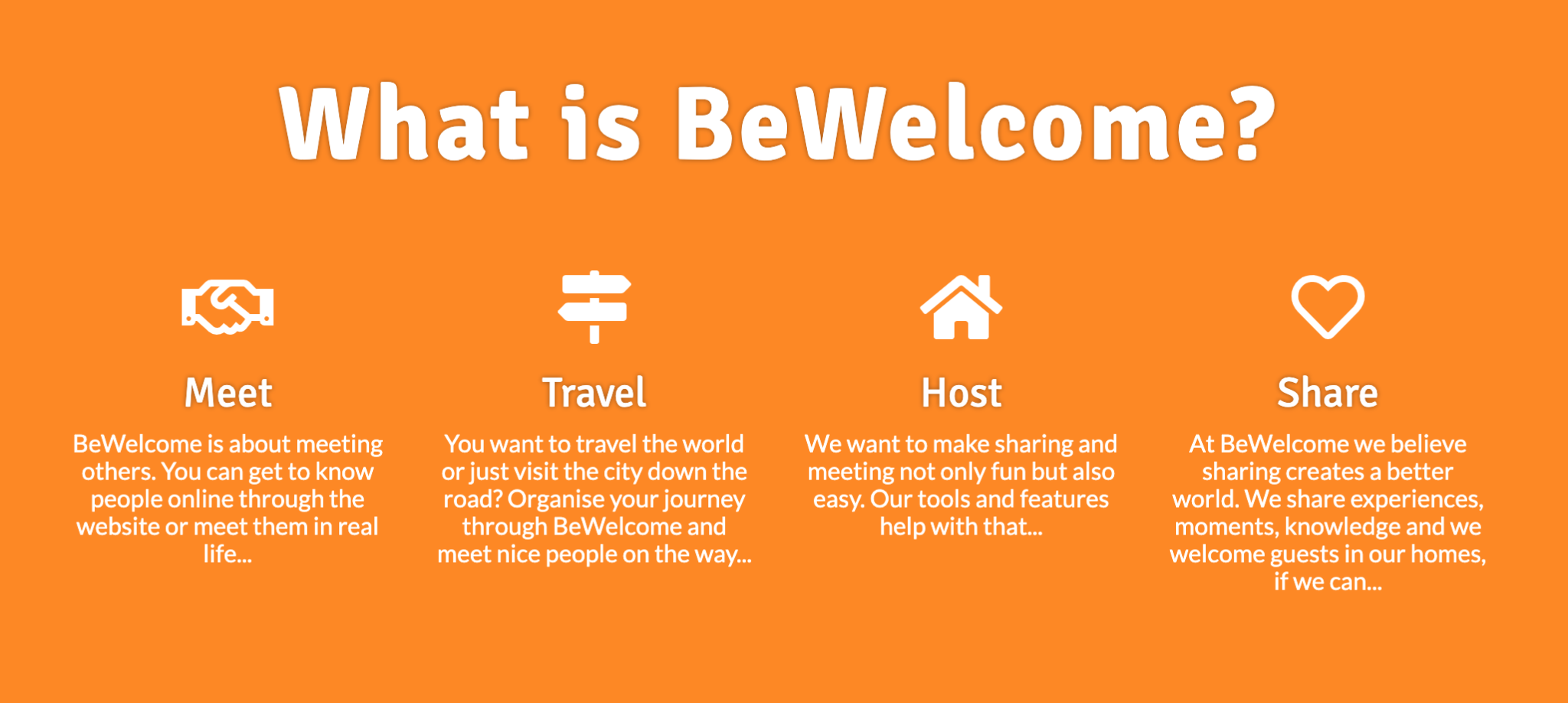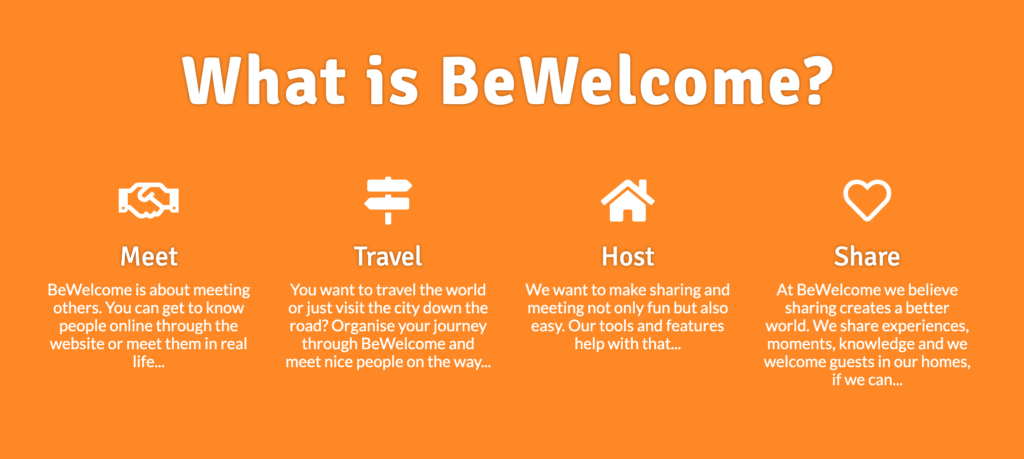 Just like Couchsurfing, BeWelcome is a site where you can find a place to stay, connect with other travelers, create or join meetups.
Unlike the others, which are paid options, BeWelcome is a free, open source, not-for-profit site that works on volunteers and donations.
Just create an account and then search the world for open-minded individuals looking to share their local knowledge with all those who are interested in listening.
Travel Buddies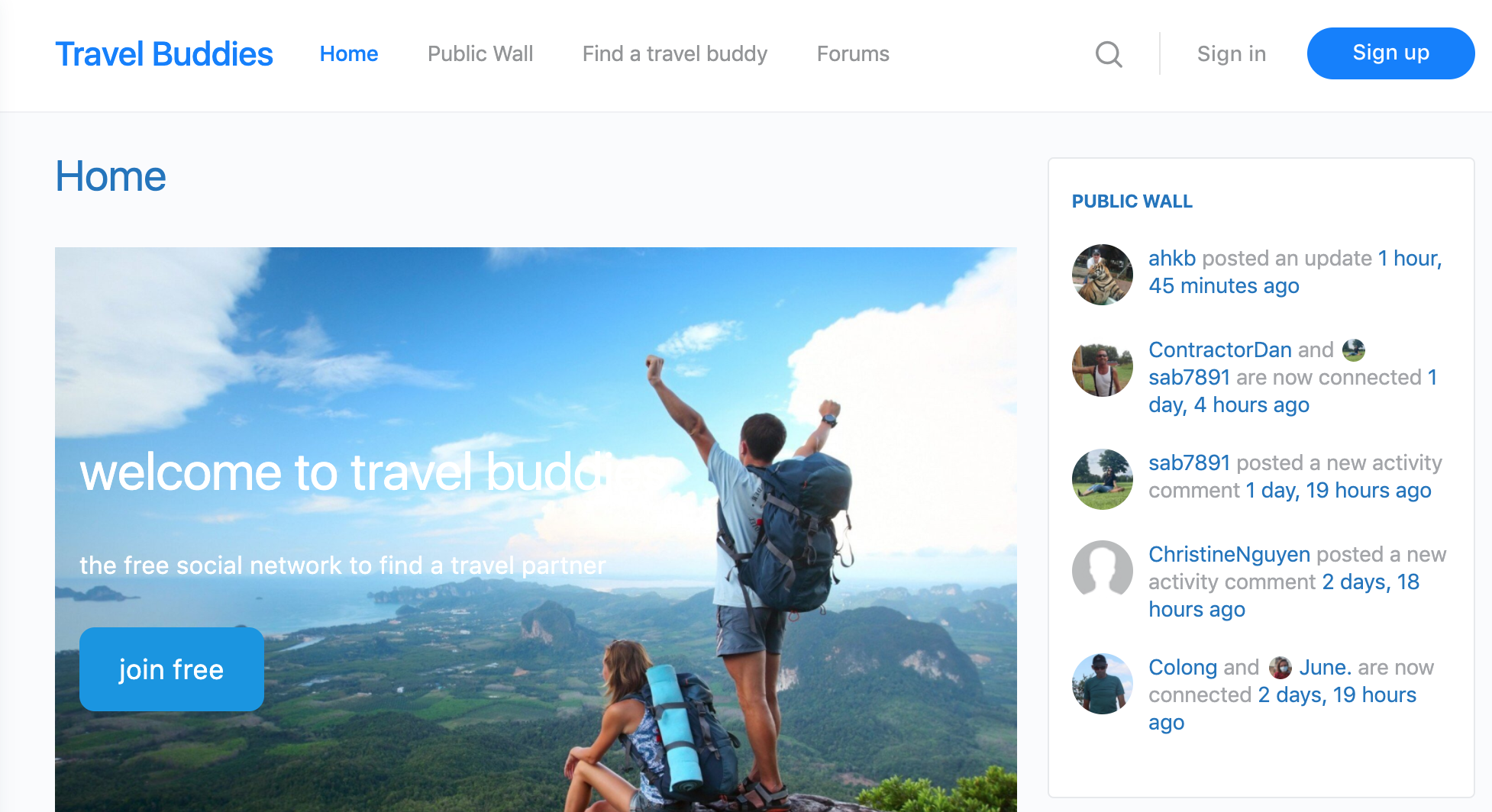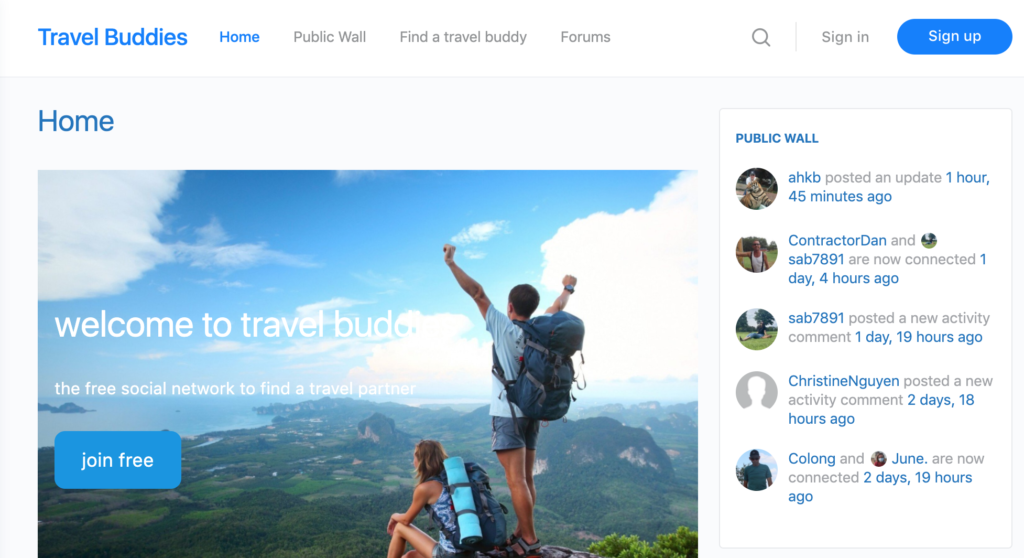 Travel Buddies is a simple and straightforward site to share your upcoming trip and hopefully find someone who will be traveling to the same area and at the same time.
It's a similar setup to a forum site like Reddit, so you can view other people's posts and chat to them directly, and there is no social linking or vetting so it feels less safe than other options.
There's a Home "Public Wall" if you'd like to ask a general question to the community or a "Find a travel buddy" where you can filter by your destination. You don't even need to login to see other people's plans and profiles, everything is open.
GAFFL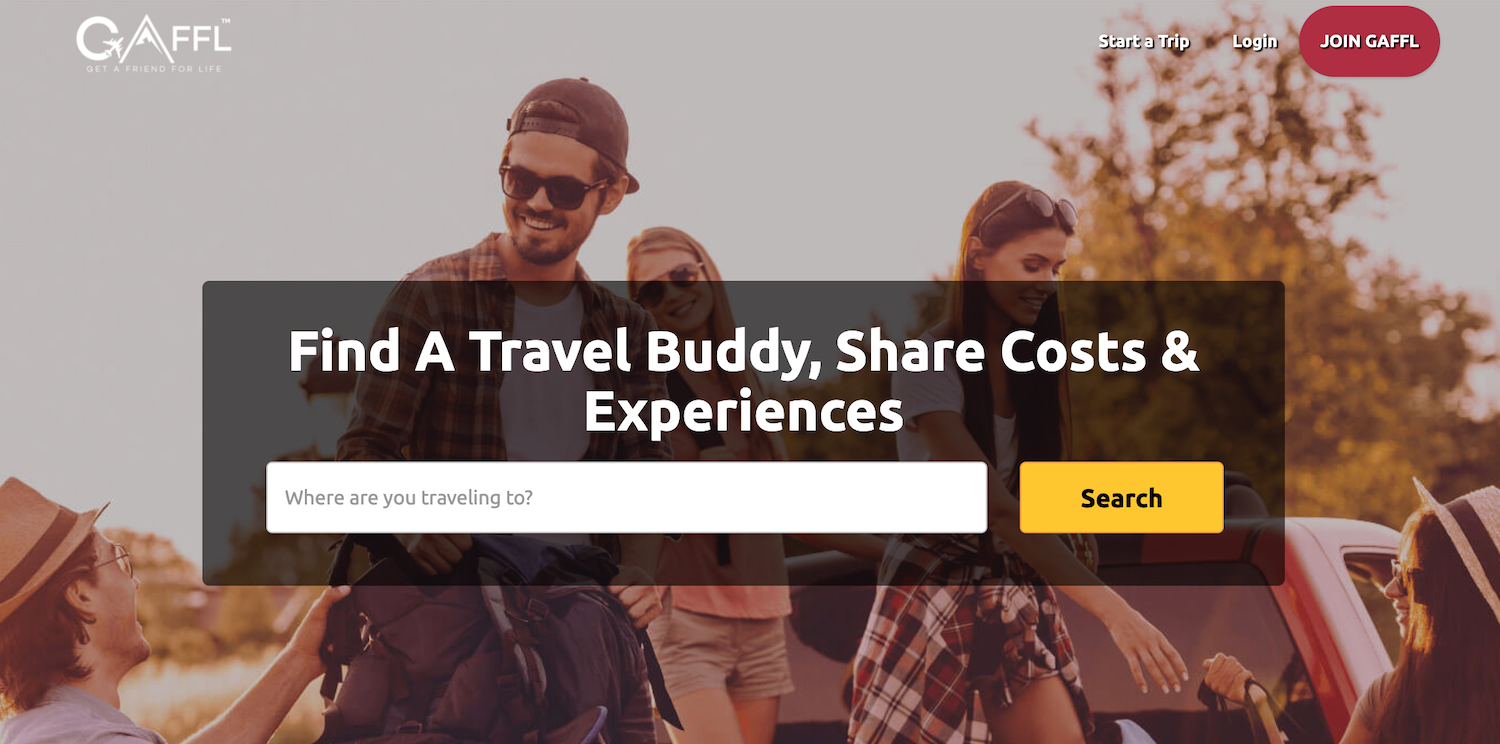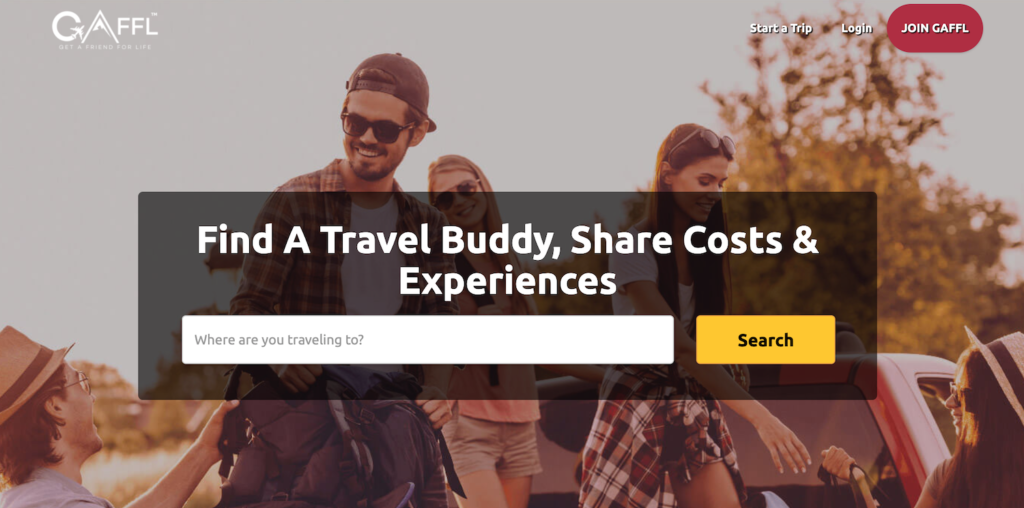 GAFFL is a website that connects travelers with similar travel plans and you can even share the costs of transport or accommodation.
The name is quite cute as it stands for "Get a Friend for Life". The site is separated into "Travel Buddy", "Stays" and "Flights". So you can either find someone to travel with, or share the cost of a stay so you don't have to pay the full room rate.
There's quite some inbuilt safety on GAFFL, as you can split costs using their payment system, join other travelers, start your own trip, invite others and even control who can join you.
Find other travelers in your destination with the "Discover", so that you can connect instantaneously.
There is also a four step verification process, travel partner reviews and ID verification. GAFFL is not free but their prices work per month ($7), 6 months ($20) or a year ($30).
Lonely Planet's ThornTree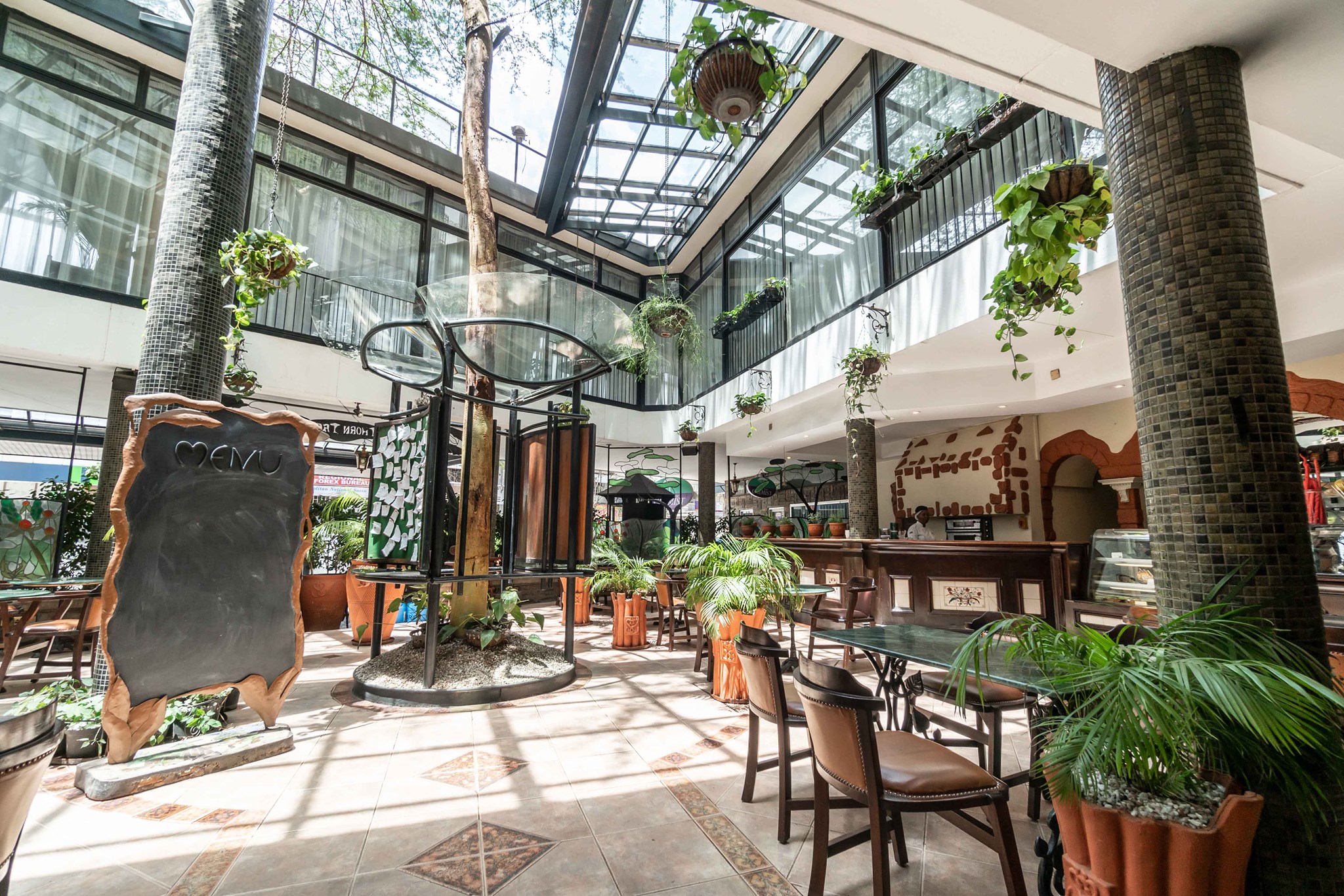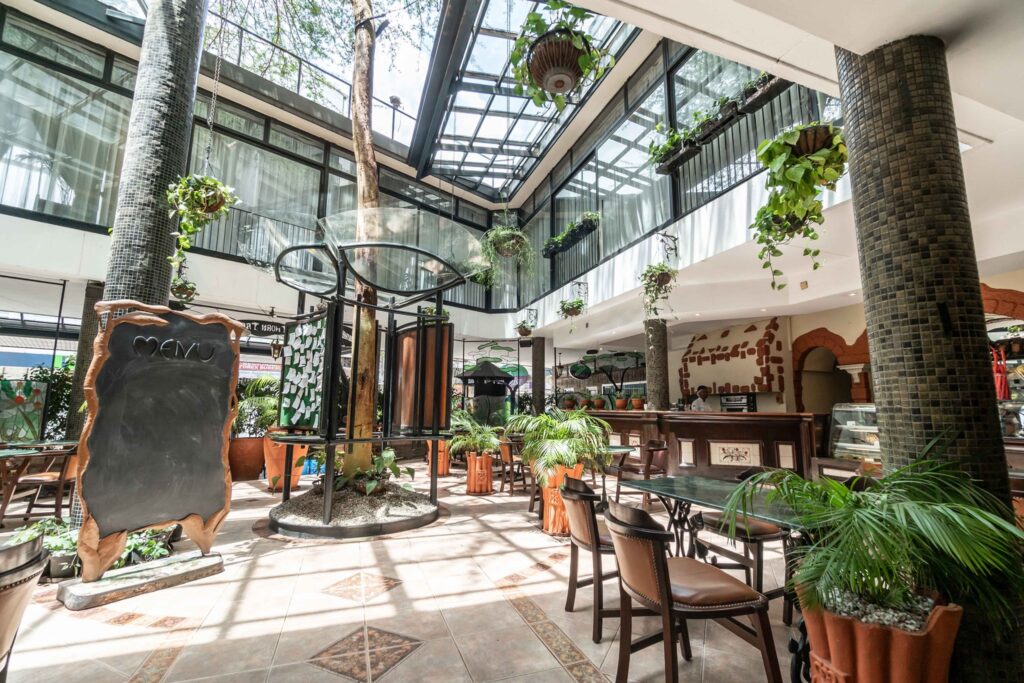 Thorn Tree is Lonely Planet's dedicated forum board that's been active since 1996 and has a really great track record and an expansive community.
Did you know that their name comes from an actual acacia tree at one of the colonial hotels in Nairobi?
The Sarova Stanley was where travelers would look for other travelers to share transportation or a trip with by posting notes on the tree's trunk. The tree and the message board still exists and you can see it if you head over to the hotel's cafe.
Reddit
Reddit is another great place to find male or female travel buddies, although unlike Facebook groups (or anything out of social media) the ability to vet the person via their social proof is very limited and thus you should tread carefully.
Scroll through the various subreddits. Some good ones for finding travel buddies include Travel Partners and Solo Travel.
Your colleagues
Do you know someone who loves to travel as much as you do?
Maybe they are not a close friend but someone who you share a passion for travel with. Ask them if they are keen to go on a trip, but start small to make sure that you are compatible.
I have been on a multitude of trips with colleagues at my various jobs, be it at Google or as a Management Consultant. Because we would be traveling for work together, adding a few days of leisure travel at either end was easy and worked well.
Plus, I already knew them and the professional bond made it more likely that we would all be more accommodating and get along better.
Find someone on the road
Meeting someone on the road could turn into a lifelong friendship and some of the best travel buddies could end up being that person you met at a hostel somewhere and with whom you went on a week-long trip.
Like with other travel buddies you do not know well, you may want to start with a day trip somewhere and then extend if you click and travel well together.
If the connection is not there and they turn out to be a bit irritating, just have the confidence to decline further adventures. You'll likely never see them again after your stay anyway, so don't feel bad. And it's much better to feel bad than struggling along with someone you don't like. 
Take a guided tour or class
A surefire way to meet a travel buddy that shares your interests is to take a guided tour or class in your destination.
There are many different types of tours that you can book these days from cooking and market tours to bicycle, segway or walking tours. You can also book a day trip somewhere or join one of the free walking tours that are available in most cities and which work on donations / tips.
Select a small group tour and even possibly reach out to the tour guide or company to find out if any other singles will be joining. Female-only tours will allow you to connect with other ladies who are either traveling alone or in couples which makes connections easy.
If you enjoy the tour guide and they are open to it, you even can ask to connect over drinks or a coffee after the official tour has ended. They may know some friends who would be willing to take you out and explore the area through the eyes of a local.
As one of our members says:
"Oftentimes, you can strike a conversation with a fellow traveler, perhaps by offering a compliment on their dress or their accessories, and a friendship may flourish."
I always use GetYourGuide to book any tours and activities when traveling. They have a wide range of options, especially in Europe and North America. For Asia, I also check KKDay (Japan and Korea) and Klook, which has a wide array of options beyond the typical tours (eg. making mochi in Japan).
While Airbnb is known throughout the world as an accommodation app where you get to live like a local, they now offer Airbnb experiences too.
These are, as the name suggests, experiences and activities that you can take part in with a local in the area. From pasta making in Italy to Music history and culture tour with a DJ in Cuba, there are so many amazing and culturally specific experiences to be had. 
They can be one-on-one or in groups, so you can learn about your destination's culture, food and history and have the possibility of meeting a new travel buddy.
Meet up with a local
We have already mentioned browsing apps and websites above to find a travel buddy, but there are also specific travel sites that allow you to meet up with a local.
International Greeter Association
The International Greeter Association, for instance, is a non-profit organization that allows greeters to meet with international travelers. They show you around their city, volunteering their time to give free personal walking tours. 
You can sign up to the platform by entering your details as well as your interests and they will connect you to a greeter. This process can take a while, especially if you're going to a more remote destination and have very unique interests. So plan for this.
The tours are free but you will have to pay for your own transportation, food and drinks. If you hit it off with the greeter, maybe you can see them again to find out more about the place and possibly travel with them.
Female Only Meet-up Options
A female-only option to meet locals in an authentic way is to join 5W or Women Welcome Women Worldwide.
This is a non-profit institution that's been fostering female empowerment since 1984 and has grown to an international community of over 2,000 members  in over 80 countries. 
After completing the prerequisites, you can find locals in various countries who want to welcome other women into their homes for a cup of tea and a chat.
While all ages are welcome, you won't find any motorcycle tours or base jumping excursions here. What you will find is a group of honest local women who want to share their culture, history and a chat with other open-minded individuals.
If you're more of a party goer, join a local meet up, festival or bar to engage with the locals. Join Facebook groups to find out where female-only or female-friendly parties are happening in the area you're traveling.
Hostels
Women have been using hostels to meet male and female travel buddies ever since they existed. Why are hostels such a great place to meet other travelers?
The answer is that the setup is very social, and the number of solo travelers is high, making it the perfect place for serendipitous interactions where random conversations are bound to happen among likeminded people. 
There are dormitory-style bedrooms where you will be sharing bunk beds with a few other people, the kitchen is open plan and the lounge or pool area is also open with social seating arrangements.
This takes the effort out of trying to make conversation, as spontaneous chit-chat is expected. We have a special article with more tips for staying in a hostel.
If you hate the idea of sharing a room, some hostels offer private rooms at a higher price. It means you can use the social areas to meet people and then escape to your own room when needed. There are also female-only dorms if you worry about your safety.
You can also stay in a hotel and spend the day or night at a hostel to meet people from all over the world. Even if you're not traveling, you can visit a hostel in your own city to meet potential travel buddy candidates all in the comfort of your own hometown.
Remember that hostels do vary, from raucous party ones to tranquil meditative ones, so read the reviews and pick the right one for you to attract the right travel buddy. 
Work Exchange Programs
We mentioned Workaway above as an option to solve the issue of how to find travel buddies, but there are so many more legit work exchange programs you can go on to find someone to travel with.
Workaway is more a place where you can exchange small jobs for accommodation and friendship.
What we explore here is the option to actually work in another part of the world for an extended period of time from volunteering to actual paid work. 
Through these platforms you get to work in an area that you are passionate about with people who are passionate about the same thing.
Maybe you want to help once captured elephants adapt to the wild again in Cambodia, or maybe you'd like to do your part in the fight against global warming through volunteer work in the Amazon. Perhaps you'd like to learn about sustainable and organic farming methods in India. 
Joining a work exchange program is a great way to learn a new skill, help the environment, immerse yourself in a new culture and of course, meet plenty of new friends, both local and international.
However, compared to other options, this is more of a long term commitment as the requirements are typically for a few weeks or months.
The other volunteers working there are likely to be just like you, and could make for great travel friends you can continue exploring with when the assignment ends.
Top options for work exchange programs include WWOOF, Worldpackers, and HelpX. Workaway also provides longer term work exchanges and is a popular choice.
Volunteering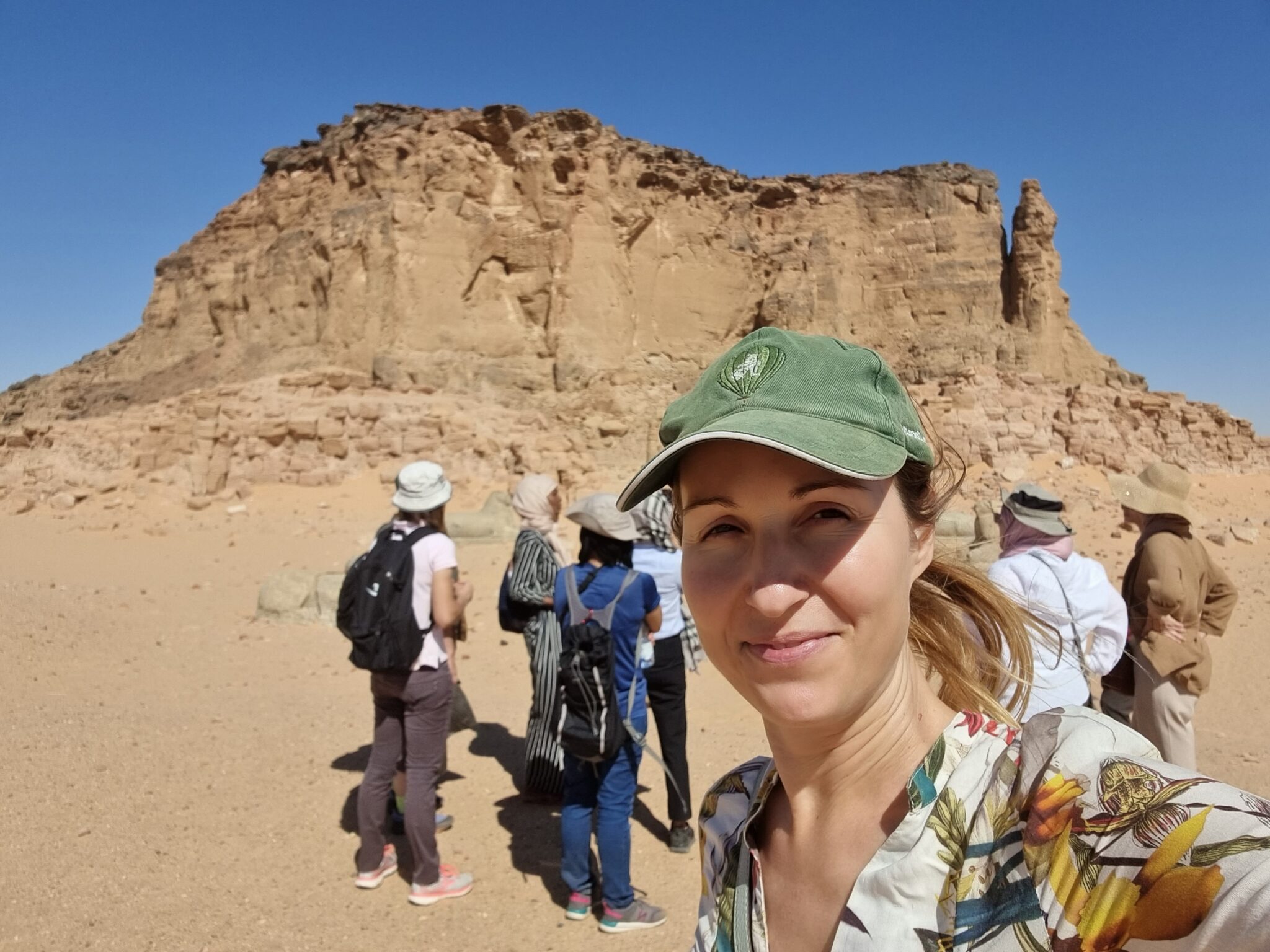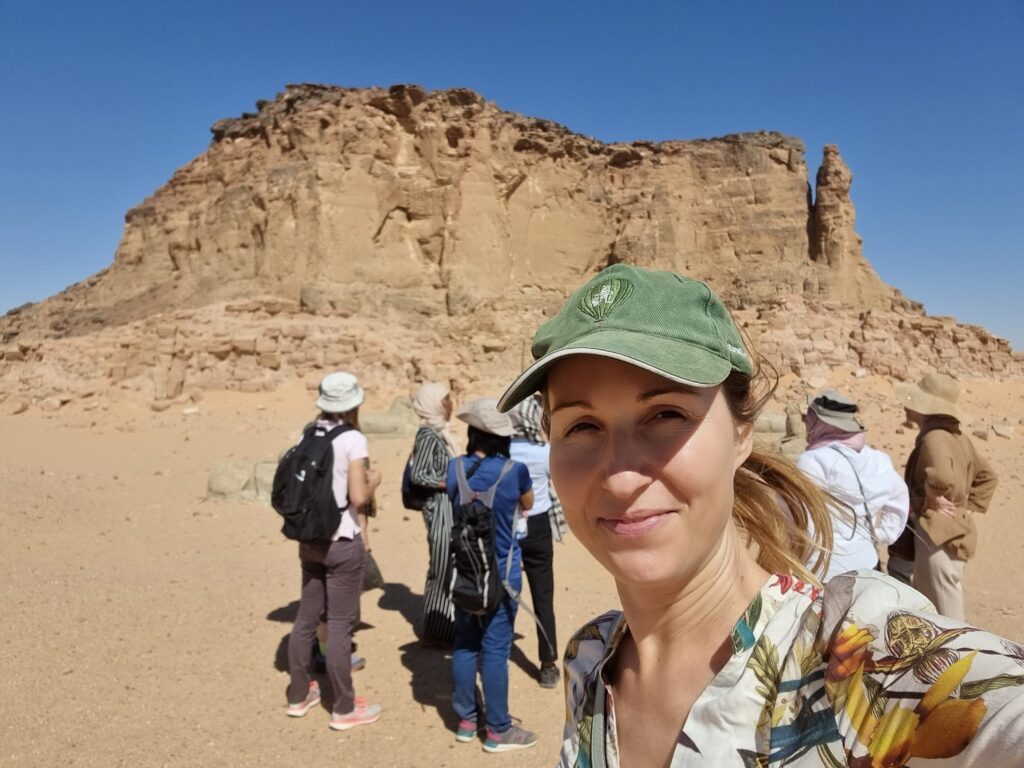 Volunteering abroad is one of the best ways to travel with others and meet people who you have a shared interest with. You will find that those who chose the same volunteering opportunity you did already have a common ground and similar travel style.
However, it is important to do your due diligence and make sure that the organization you will be volunteering with is legitimate, ethical and does good rather than harm.
Unfortunately, this is not always obvious or easy to spot which is why we wrote an entire article on Volunteering programs that also includes a list of considerations you need to put each volunteering opportunity through before committing.
On a plane or train
Transportation and waiting for transportation can be the most amazing places to meet your future travel buddies. You could be riding the train in India, a bus in South Africa or traveling by plane to Australia and you are guaranteed to be surrounded by other travelers like you. 
Scout the area and see if anyone stands out to you as being a solo journey enthusiast. Go strike up a conversation with the usual, "So, where are you from?" and let the discussion flow.
Sometimes people just want to be left alone as they're going home or are introverts trying to enjoy their much needed solo time but if you see another fellow traveler (and they do tend to be easy to spot) give it a go and simply say "Hi, what takes you to xxx?".
Pro tip: For safety, don't say that you're traveling solo up front and wait until you've got to know them a bit better.
Safety tips for meeting travel buddies
While finding travel buddies on the road can be an easy and rewarding experience, you will need to use your common sense in order to know if the person is genuine or not.
Trust your instincts. If something feels off about the situation or the person, get out of there. Either just call a taxi and go or gently excuse yourself saying that you're not feeling too good and need to lay down. Don't worry about hurting anyone's feelings, your safety is more important. 
Don't share personal details from the get-go: It is better to not overshare too many personal details when you first meet someone. Don't let them know that you're traveling solo or at least state that your friend is meeting up with you soon. 
Always let someone know your itinerary. Let a family member, or even the hotel staff, know where you will be and at what time you're expecting to be back at the hotel. This doesn't mean that you can't be flexible.

Plans change and it's okay to go along with them, just make sure you know the exact location you're headed to if you do change course. There are travel apps to help you set up your complete itinerary and share it with your loved ones.
Take a photo of the person you want to travel with and post it on social media so that everyone knows what they look like. If they're on the same social platform, tag them so that they know your followers have seen them. And if you get their number, send it to someone you know and trust. 
When drinking, don't overdo it. Go slow and steady and do not to leave your drink unattended. After a few nights out with the person, you can build trust, but at first be on the lookout for any odd behavior.
Remember, you always have the option of joining one of our small group, women-only tours!