Search engines seem to have the answer to almost every question, but when it comes to travel, we prefer to ask friends and family for advice first. If your circle of friends does not travel much or can't help with an upcoming trip, Facebook travel groups are a great way to find your tribe and get useful tips and recommendations from fellow travelers like you.
There are many kinds of Facebook travel groups; some are specific to a destination (eg. the US), a travel style (eg. backpacking) or a segment (solo female travel).
In these groups, people share useful information, advice and recommendations that are unfiltered, based on personal experience and free from personal agendas bloggers or content creators may have.
Our annual survey showed that we trust recommendations from friends & family and Facebook group members much more than we trust recommendations from brands, content creators, bloggers or influencers. First hand unbiased opinions are much more useful than those we know may be staged.
Because there are millions of travel groups on Facebook, finding the best ones is not easy and this is where this list comes in handy. We have done the hard work for you and distilled the thousands of options down to the best Facebook travel groups to join.
Enjoy!
5 reasons to join Facebook travel groups
You may be wondering why join a Facebook travel group for advice, and that is a fair question, but here's why they are a great complement to Google searches or a guide book.
Facebook travel groups are a useful place to interact with like minded people with a shared interest for travel who have experience at a destination or who live there and are happy to share their tips with you.
Here are some of the specific benefits from joining them:
Get specific answers. Avoid spending hours Googling and get a to-the-point answer to your specific question such as the fastest way from the airport or where to see the sunset. In COVID times, they can also help locate a testing facility.
Discover hidden gems. Diverse Travel groups are very resourceful and will often give you original ideas that are not commonly found in mainstream articles written by a person with a determined travel style. Locals also add an additional layer by offering ideas to get past the typical touristy stuff and enjoy a place like the locals do.
Get updated information. Has it ever happened to you that you visit a place following the recommendations from a blog or travel website written by someone who does not live there only to realize the recommendation was outdated? Facebook travel groups are a great way to get advice from recent trips or directly from locals.
Give back. You can also help others by sharing information that has helped you in previous trips so they can benefit from your learnings too. They say that helping others is the most selfish of acts and that it is more rewarding for the giver than the taker, and Facebook groups are a great way to channel some of that positive karma.
Find your tribe. Do you dream of traveling but get caught on the what ifs and the things that could go wrong? All you need is a little push! Facebook travel groups can be a source of inspiration with all the amazing testimonials and stories that people share, which can have an impact on your life. You have a chance to get a boost of confidence, motivation and set off on that trip once and for all.
Best Facebook travel groups to join
Now that you know the reasons why Facebook travel groups are awesome, let's take a look at our selection of the best Facebook travel groups to join. See you there!
General travel groups
Perfect for the wanderer souls out there looking for inspiration, tips and recommendations from fellow travelers. These are some of the best Facebook groups for solo travelers and offer general advice based on travel experiences by members from all over the world.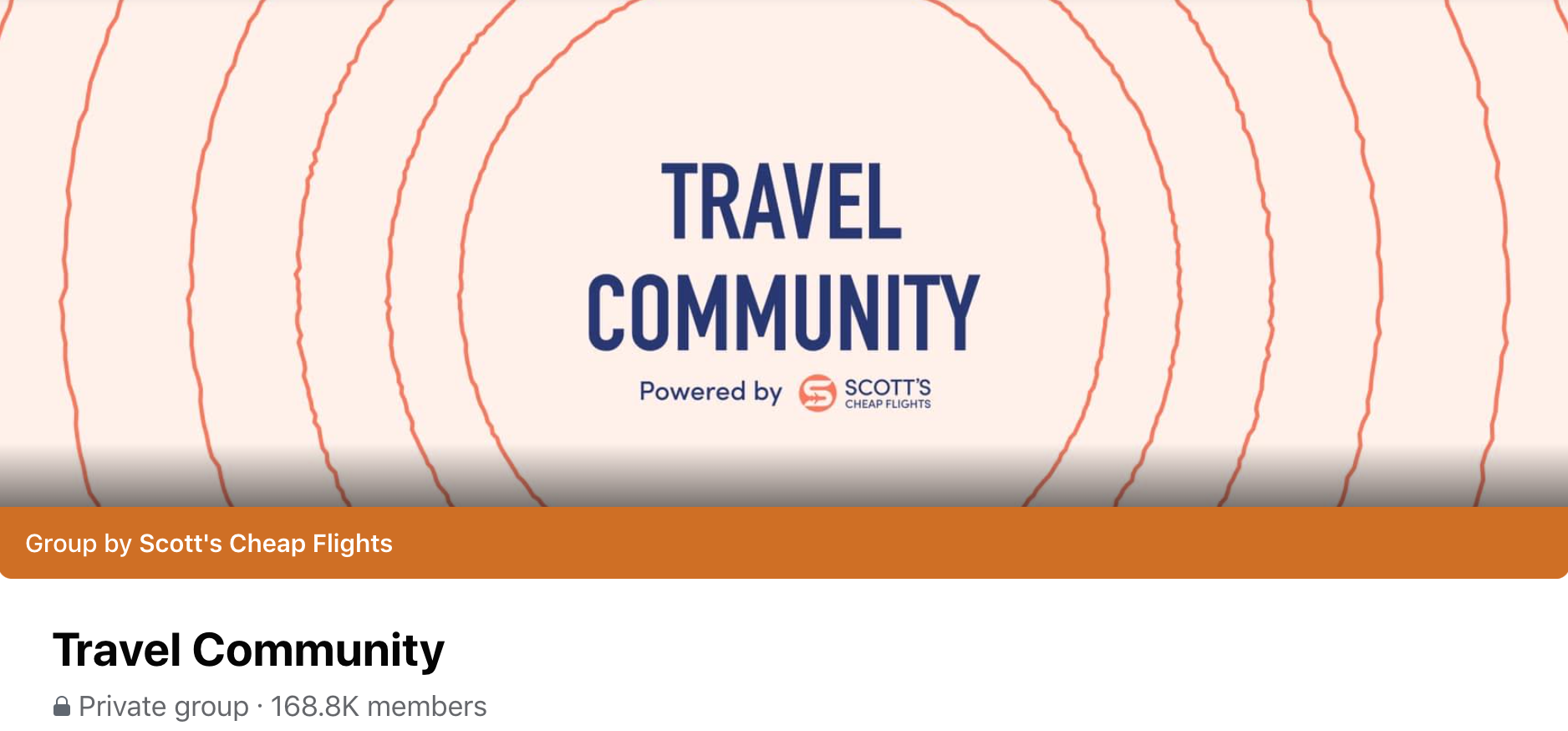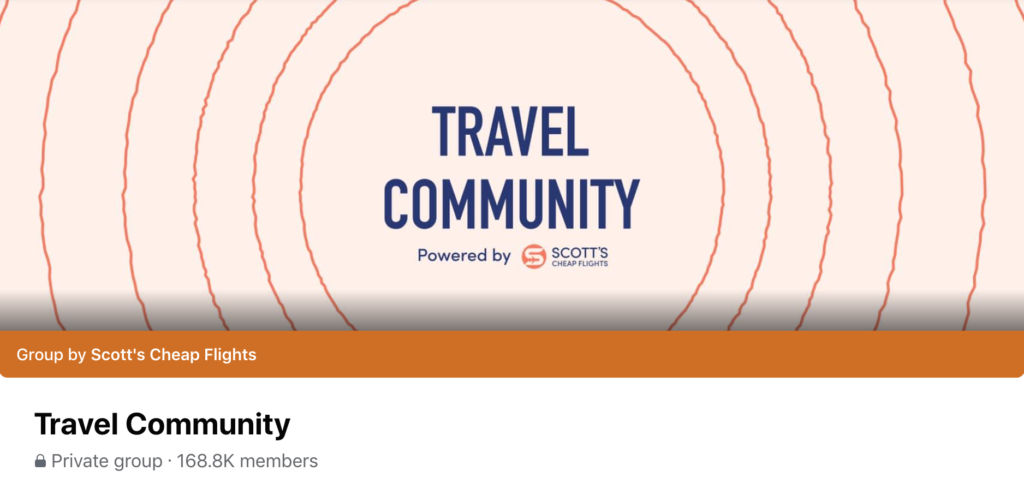 This group was created by Scott's Cheap Flights, a company that delivers amazing flight deals to your inbox. Besides signing up and receiving flight deal alerts when prices go down, you could join their Travel Community Facebook group.
The group is very well run by a group of expert moderators that contribute to keep the posts that are going to add value or answer questions from the community. The group members are very interactive and engaged, almost every post has dozens of comments.
Also, the posts are relevant and range from many topics like travel tips, how to find great deals and discounts, personal experiences, itinerary suggestions, among many other travel related topics. The group is often updated on news from Scott's Cheap Flights and how to take advantage of their website.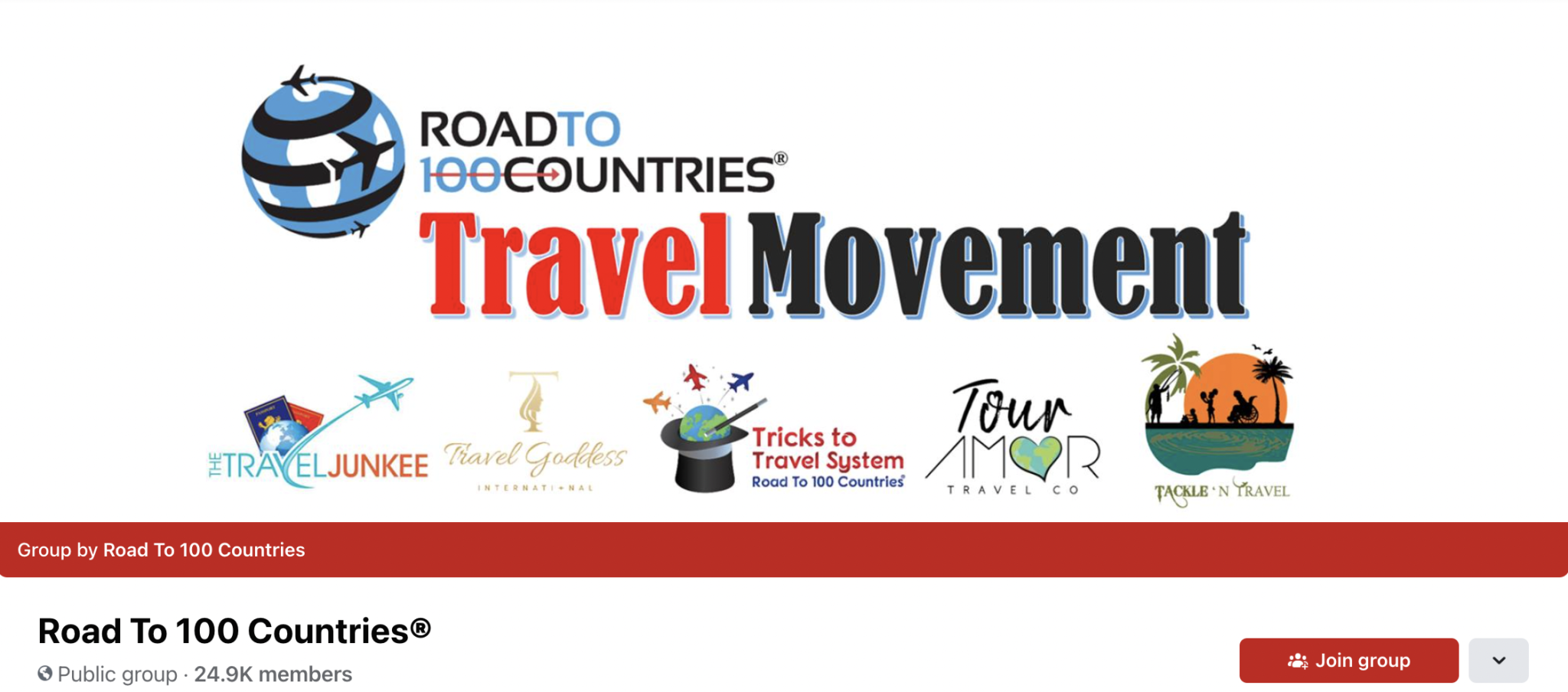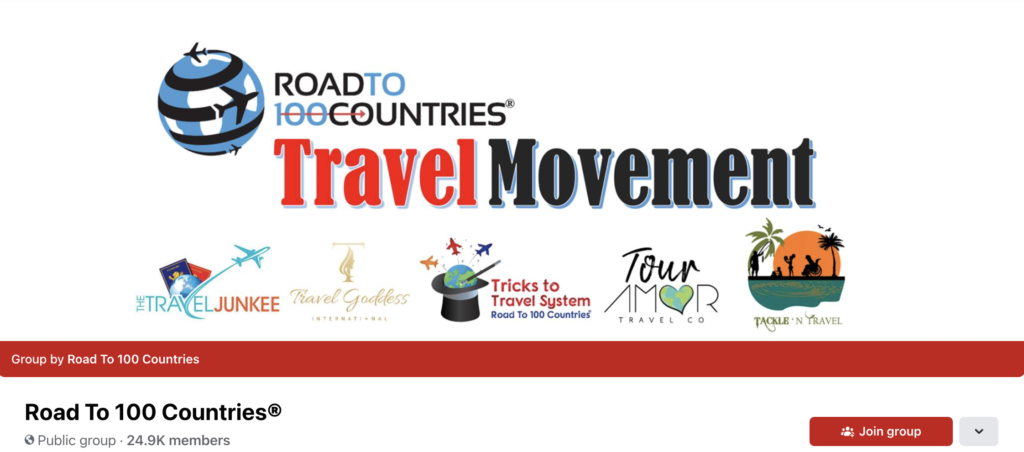 This group discusses everything related to travel. Road To 100 Countries is a very active public group where every traveler can share their travel stories and photos, ask for travel tips and tricks, get recommendations on destinations and things to do, and even promote tour packages for the community.
Join this group if you want to know a little bit of everything (travel related), plus news about what's trending now in the travel industry. If you're looking for a tour company, this is a good place to look for suggestions, as many companies promote their group trips and give some discounts and deals.
The group also promises lots of travel experiences and inspiration for your next trip.
Solo female travel groups
Groups for women who travel solo (or who are looking for inspiration to do it!). These groups are one of a kind and have special communities of like-minded women who choose to travel solo and have an enriching experience in their lives.
Women share their stories, recommendations, advice and safety tips in the unique and safe space and within the context of traveling solo which comes with its own set of challenges.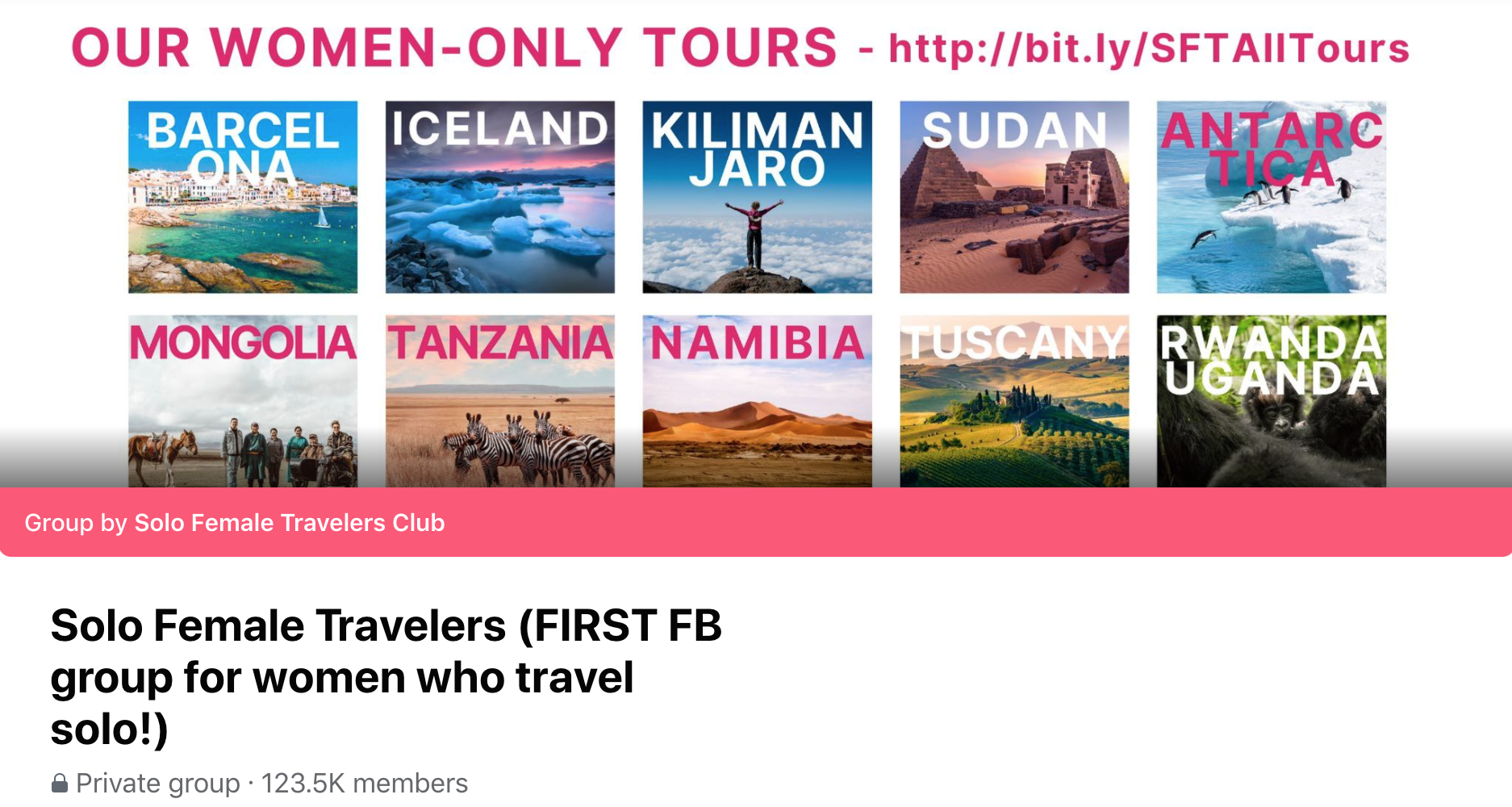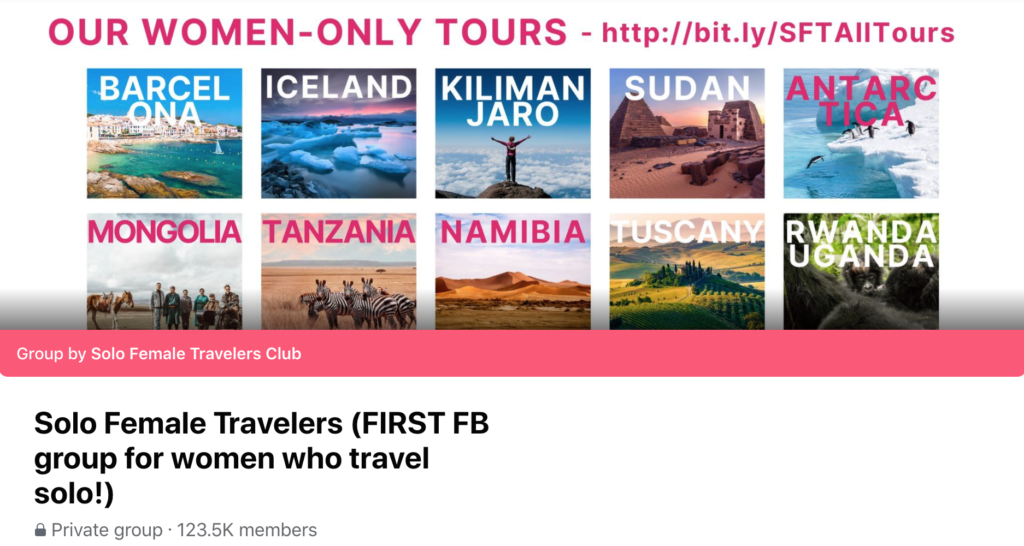 This is our group and consists of well over 272,000+ member community of brave, fearless and independent women with a shared passion for traveling solo.
Our Facebook Group is the heart of our community, where women are empowered to explore the world solo, safely and on their own terms. In this group you will find meaningful conversations, travel tips and resources to make solo travel as a woman rewarding, enriching and safe.
If you love to travel solo, dream of doing it in the future or just want to get travel inspiration from diverse women from all around the globe, this group is for you.
We strictly enforce our values of inclusion, open-mindedness, courage, positive impact, and union and keep the group free from spam and trolls. We love to travel solo, but we also meet up for women-only tours to travel together.
Women travel groups
Groups exclusive for women who love to travel. Being a member of these groups lets you join conversations about travel experiences, advice, recommendations and tips from female travelers. Unlike the previous category for solo travelers, here we are talking about women traveling and the travel companion is less relevant.
We recommend the following women travel groups:
Women Who Travel by Condé Nast Traveler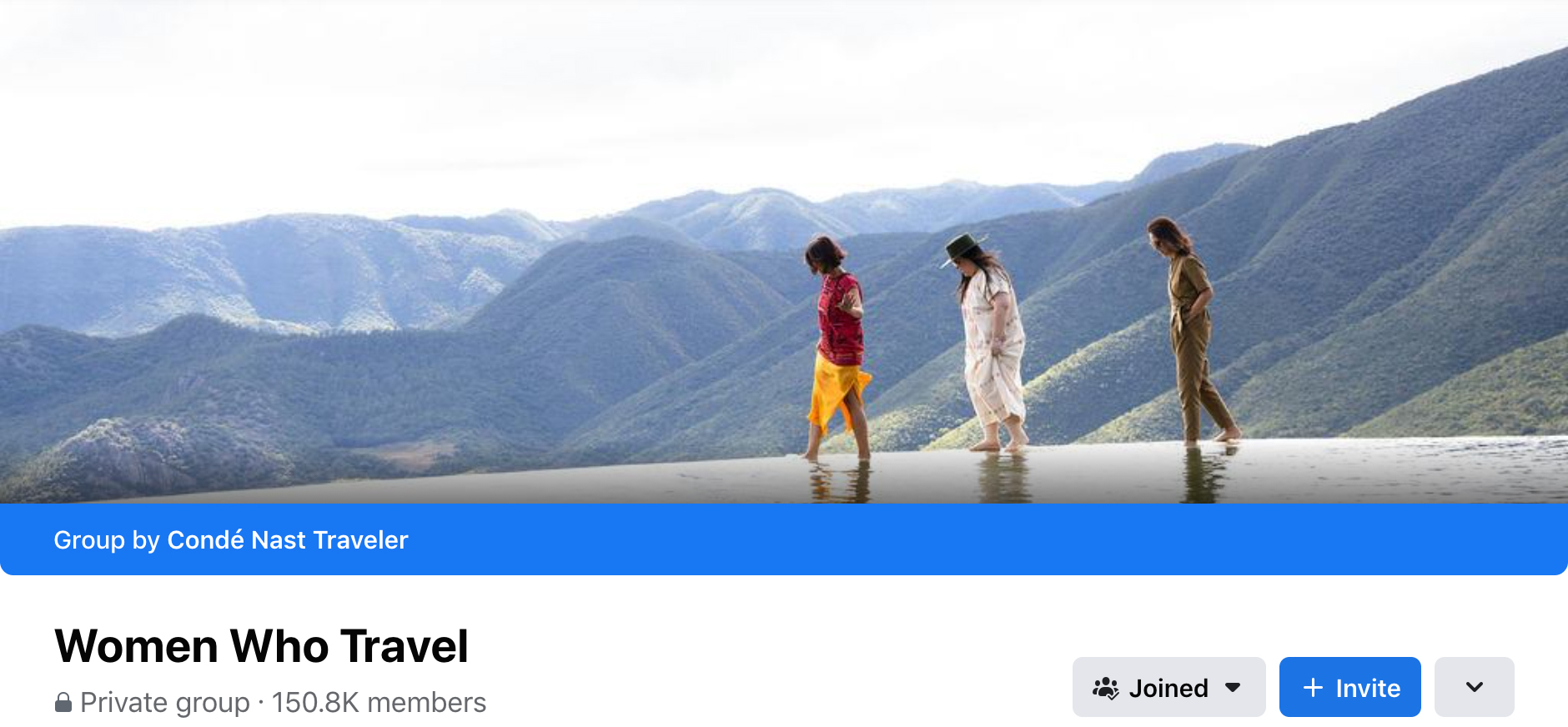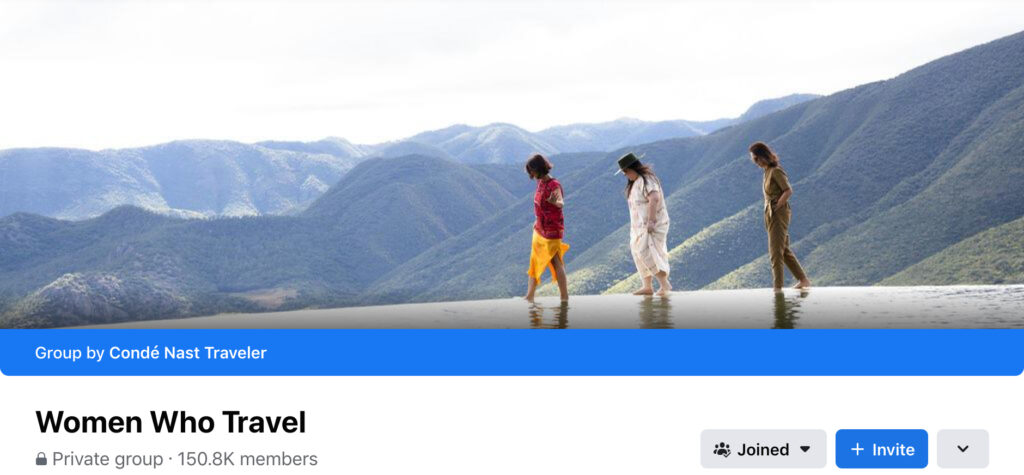 A unique group created by Condé Nast Traveler to celebrate women's love for travel, share stories and experiences traveling solo, with a partner, as a mom, daughter or with friends. The audience here is the same as the magazine and so it tends to err on the premium, luxury travel side.
Members ask questions about each other's countries and cultures and moderators work well in making this group a respectful space in which you can find recommendations, advice and suggestions for your specific travel inquiries.
Condé Nast takes inspiration from the group and has a Women Who Travel podcast, as well as its own website with articles and a column in which editors answer travel questions made by women. They also offer women-only group tours to Mexico, Colombia and Cuba.
Her adventures | An Inclusive Community For Women And Girls Who Travel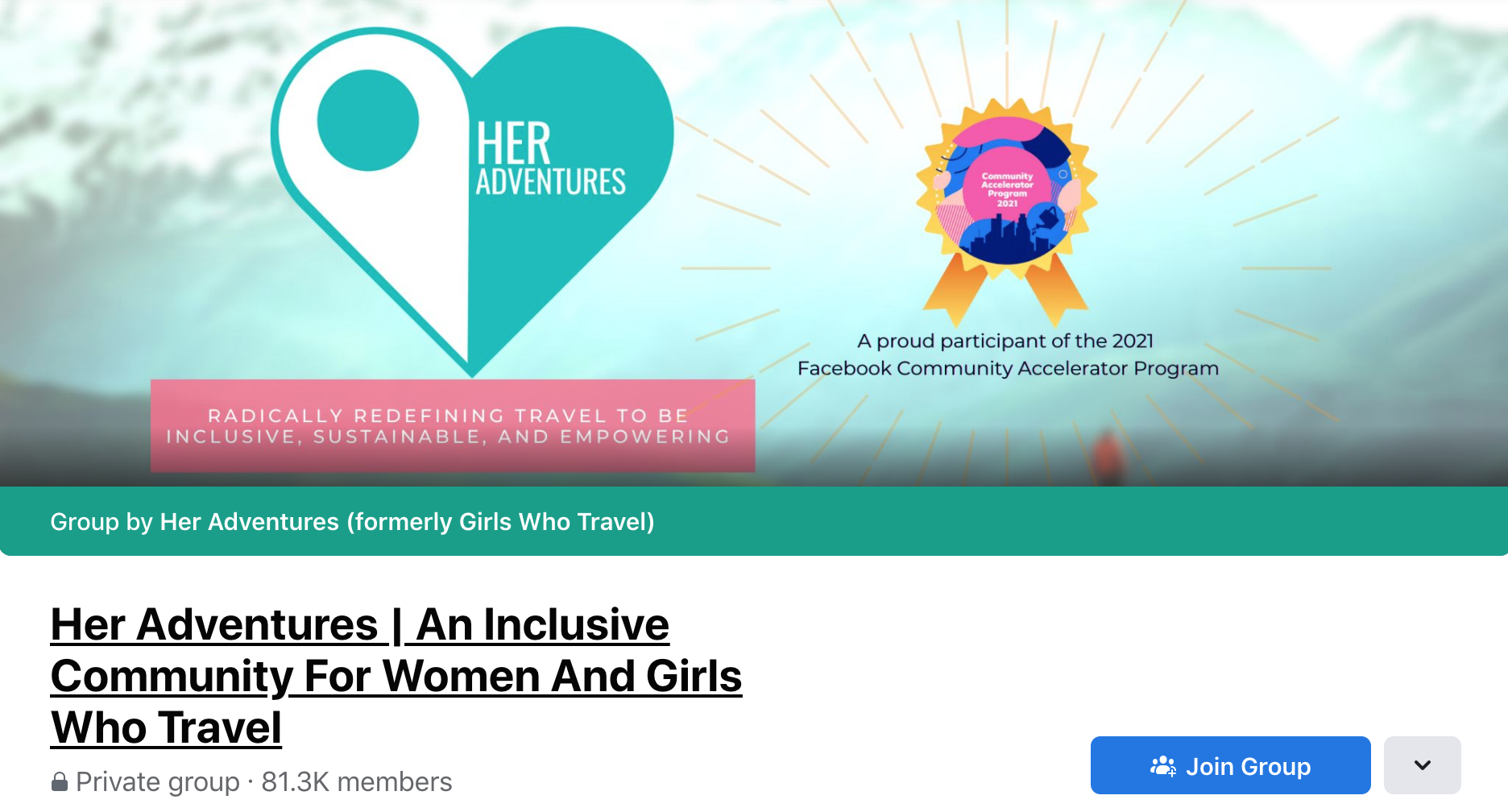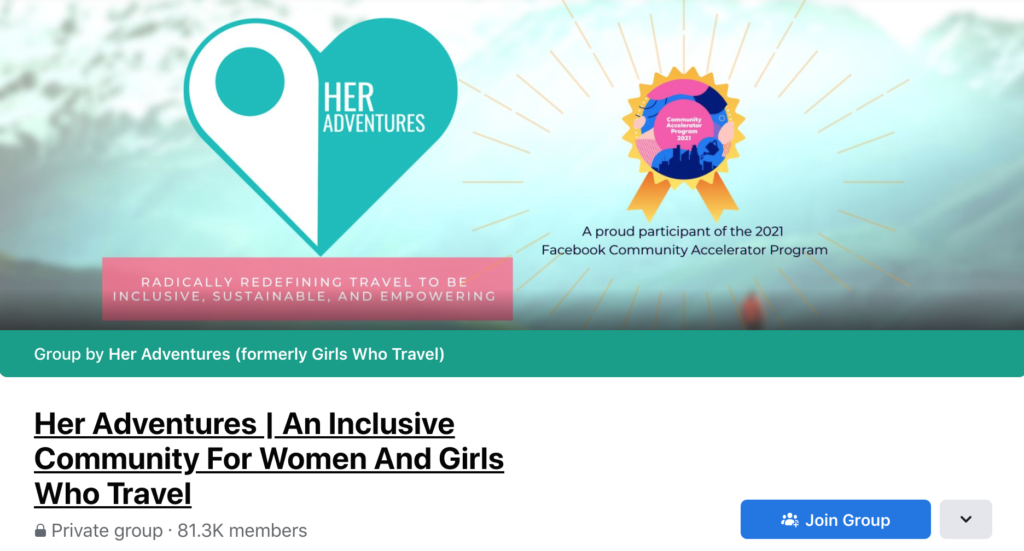 An inclusive community of women from all over the world with a shared passion for travel. This group seeks to empower women and redefine female travel with sustainable values.
Her Adventures has many moderators from all over the world who often recommend articles and offer useful resources answering the members' questions. Also, the group members are engaged and answer the posts about their cities or countries with their valuable suggestions as locals.
The group is quite active beyond the community level with Book and Gift exchanges (in which they send a gift with stuff from their home countries to another group member from another part of the world) and many other activities to keep strong bonds.
This community also has a podcast and a website with articles, guides on destinations, travel tips and inspirational stories. They cover various approaches regarding female travel like first time travelers, traveling solo, with kids and as a woman of color.
Single travel groups
If you're single and want to share your love for travel with a community of single fellow travelers, single travel groups are ideal for you to join. In there you'll find people in your same relationship status and open to meeting others.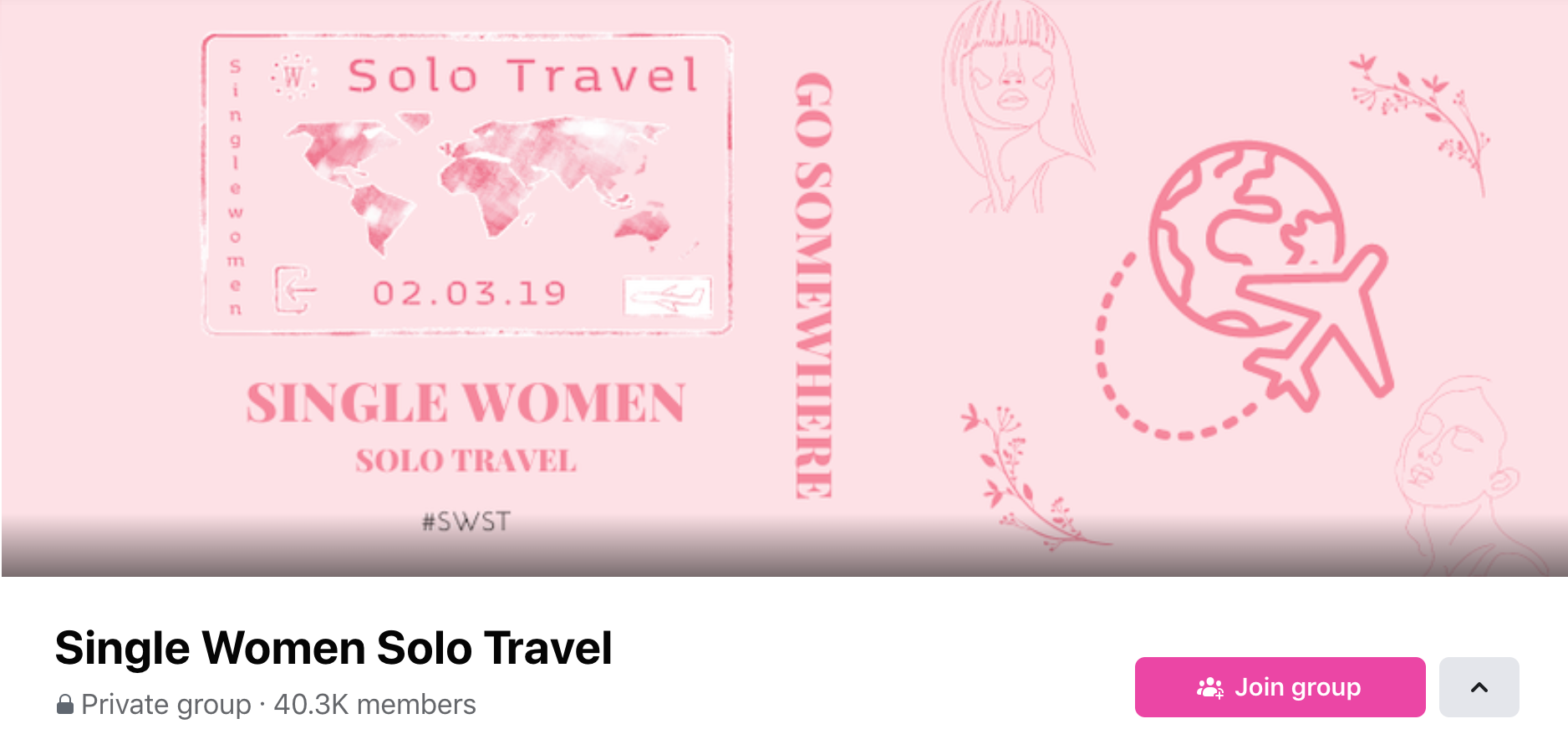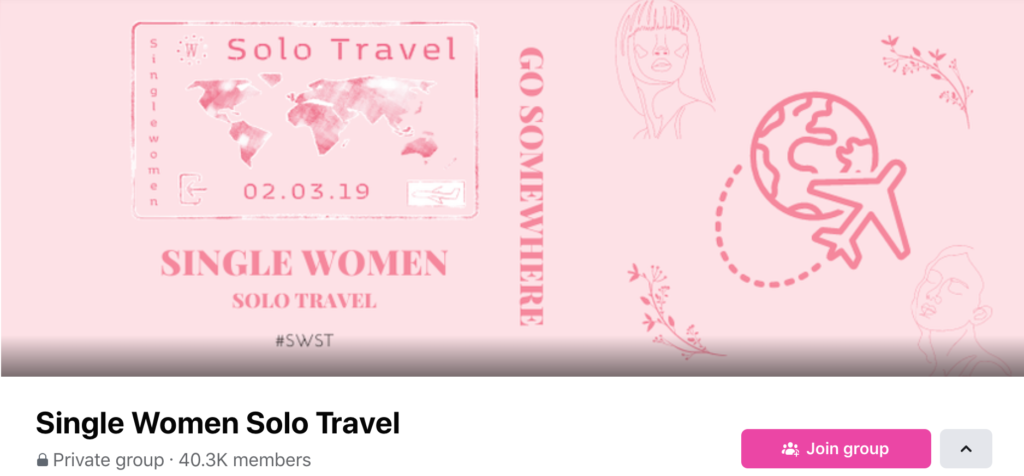 Single Women Solo Travel is a private group of single women who encourage and empower each other to travel solo. This community focuses on women independent travel. It's a moderated group by volunteer moderators that help to review group posts and make sure they are safe and genuine.
Group members engage in different posts, giving advice, sharing wise tips and their own personal experiences. Female travelers share useful recommendations about many relevant topics like travel related apps, insurance, guides and things to do in specific destinations. They also have a subgroup about food in which they share food stories and recommendations.
Digital nomads groups
If you are a digital nomad or remote worker, or aspiring to be one, these travel groups are a great option to get advice and interact with the digital nomad community.
Traveling the world alone as a digital nomad is a bucket list item for many but can also make you very lonely so an online community of like minded people is often your best way to find support, a virtual community of like minded people and ideas for your next base.
If you dream of a job that allows you to travel, check out our Work & Travel Resource Page.
Digital Nomads Around the World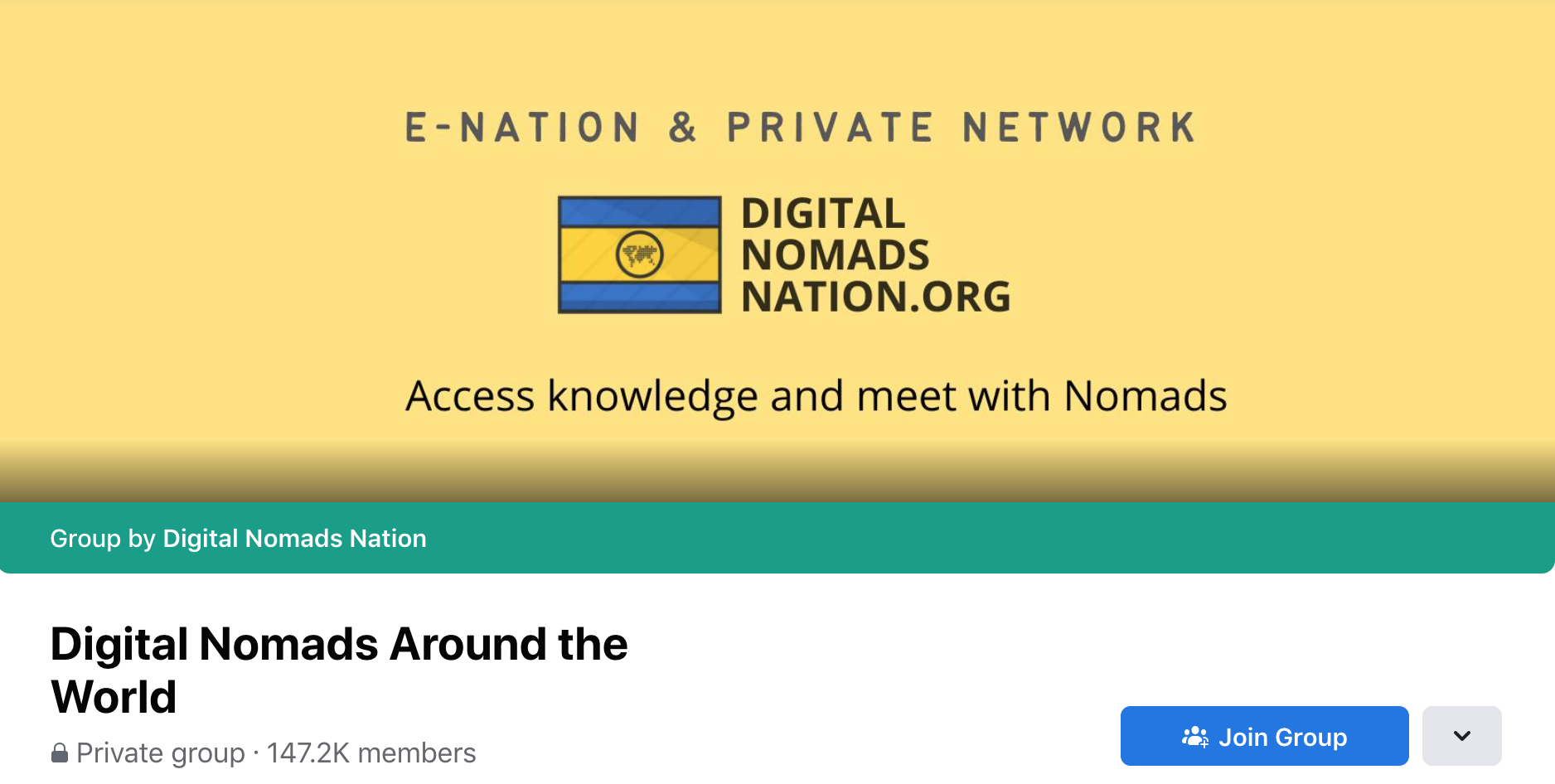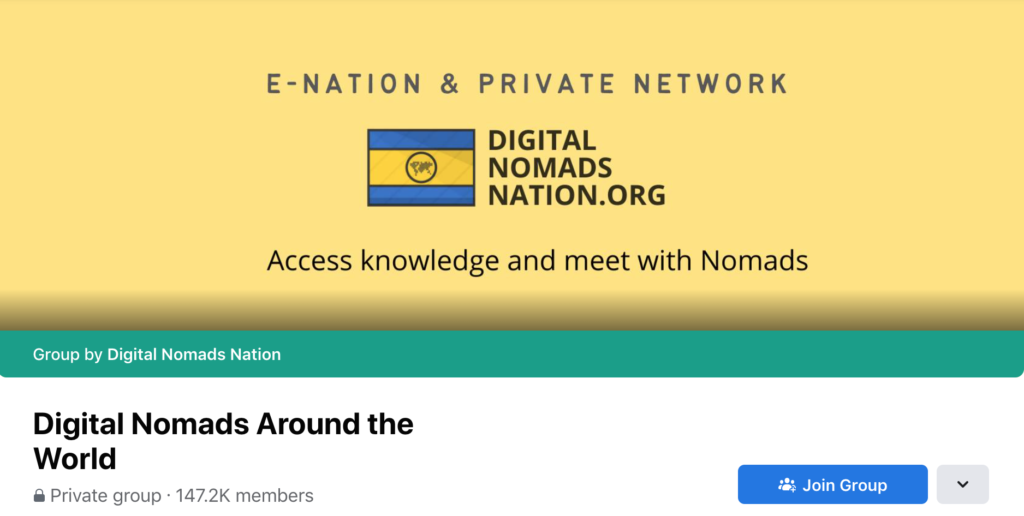 Digital Nomads Around the World is an amazing group by Digital Nomads Nation, which is the world's first e-nation, connecting global digital nomads with the shared passion of working remotely as a lifestyle and traveling the world.
You can go to their website and navigate the company's resource platform, where you'll be able to do research on career opportunities and access their talent database and find remote job opportunities from worldwide companies.
The Digital Nomads network offers a lot of perks and benefits like attending on and offline talks and events or doing networking with fellow professionals. They have taken the idea of a virtual digital nomad community further with a range of services and resources that are specifically targeted at those without a fixed lifestyle.
Join this Facebook group where fellow travelers share their insights around digital nomad life, whether you are an experienced digital nomad or are looking to get started, the group will give you knowledge based on the experience and advice of members.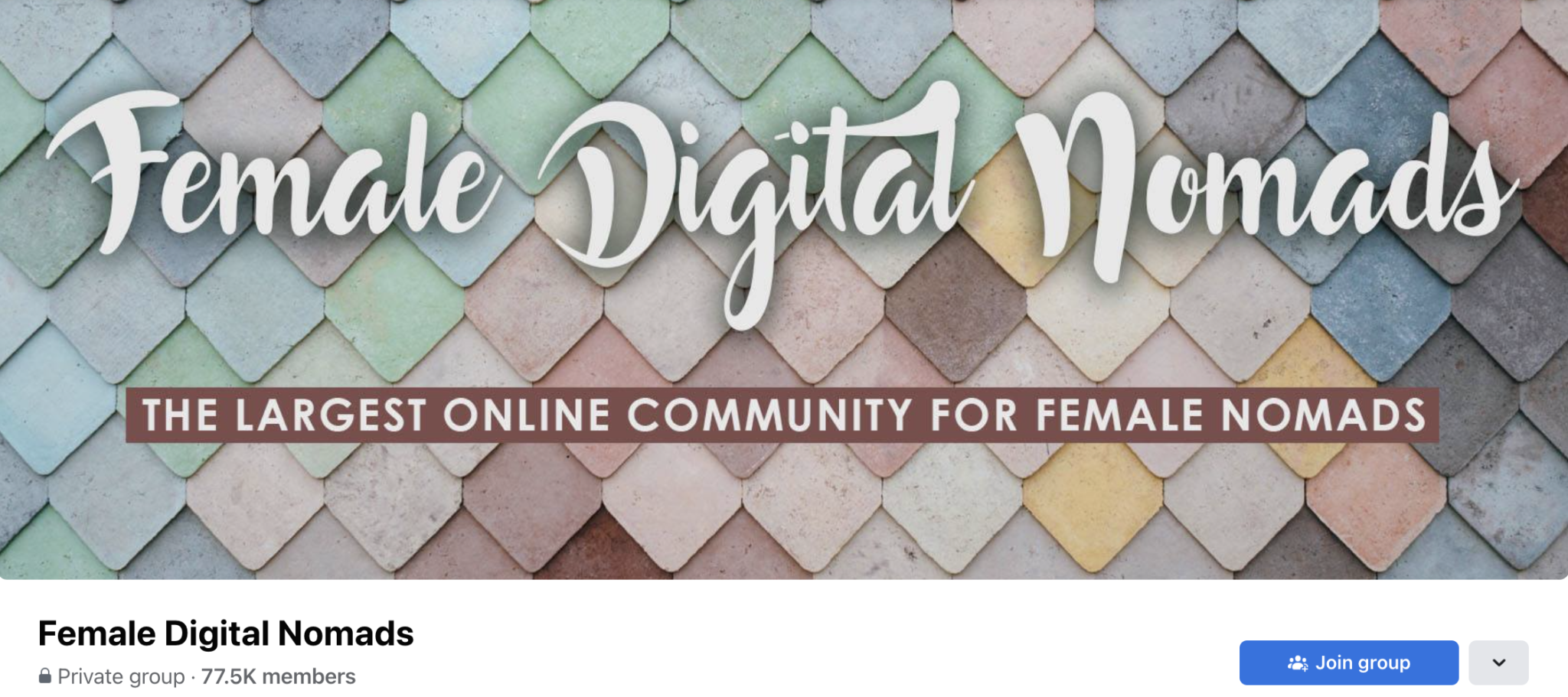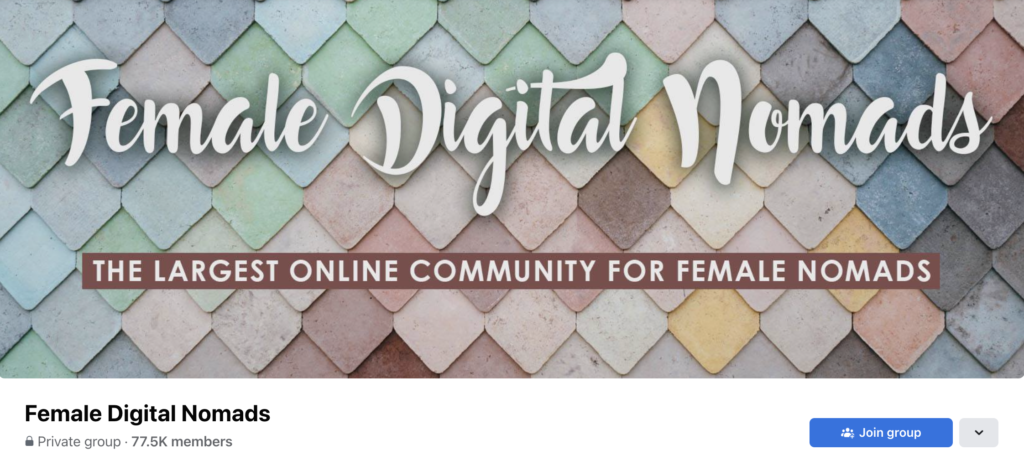 Female Digital Nomads is a resourceful group created with the purpose of inspiring, uniting and informing female digital nomads traveling across the globe.
This group is the perfect place to meet fellow digital nomads, share your experience, ask for tips from people that really understand what it's like to be a digital nomad, inform yourself with the latest trends and meet up with like-minded women wandering in the same place as you.
Don't be afraid to ask any questions such as: How to run a travel blog? How can you set up an online business? Which are the best places in the world for digital nomads? How can you get a digital nomad visa? Etc.
Vanlife groups
Facebook travel groups around vanlife are for the adventurous souls who want to have an alternative lifestyle on wheels.
If you're passionate about traveling in a van or other vehicle, check out these Facebook Vanlife groups to connect with a community that will give you advice and enrich your experience. Not to mention they can help you find a way to fit it all inside a vehicle on wheels.
Van Life: Dwellers, Nomads & Vagabonds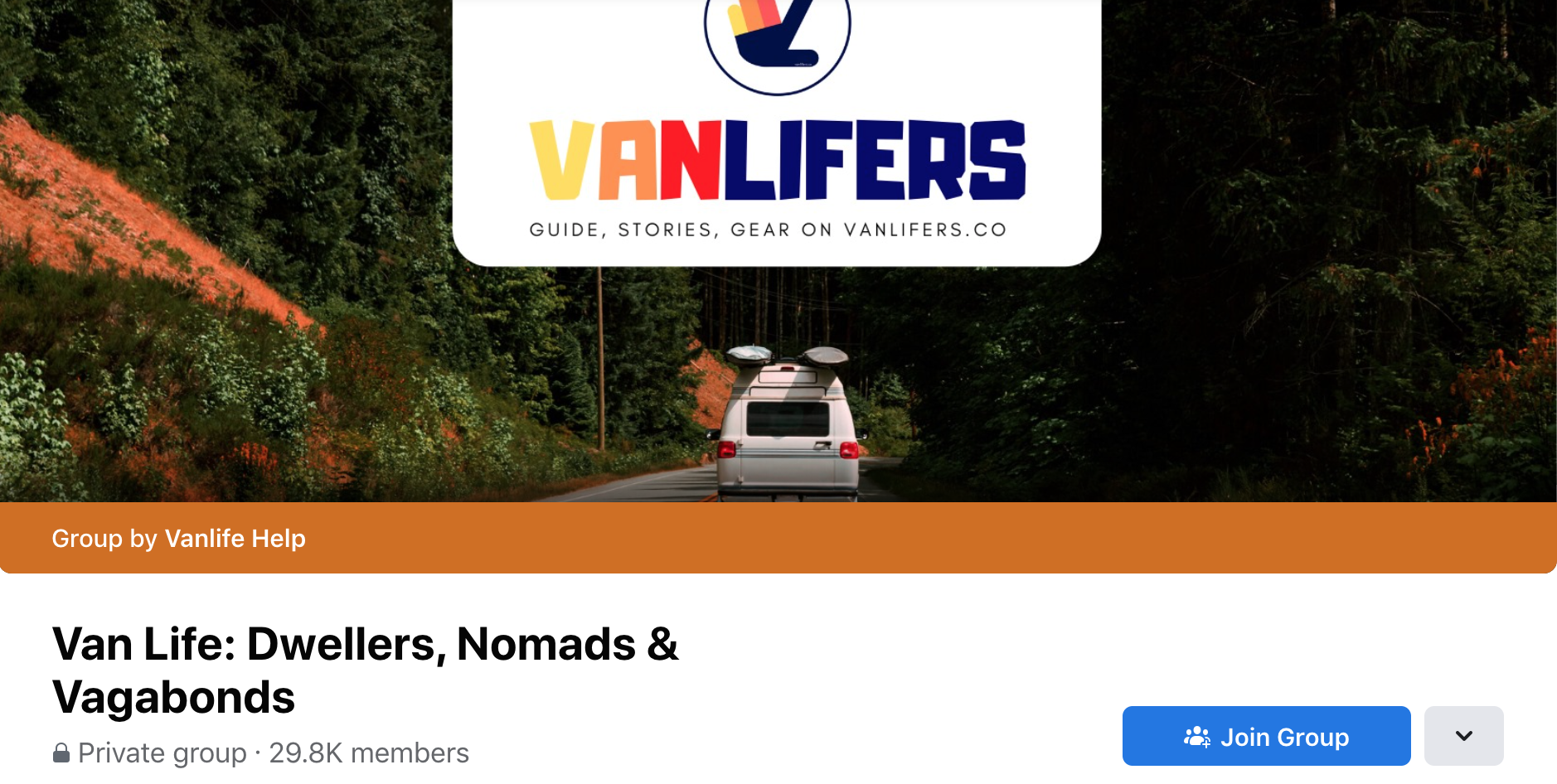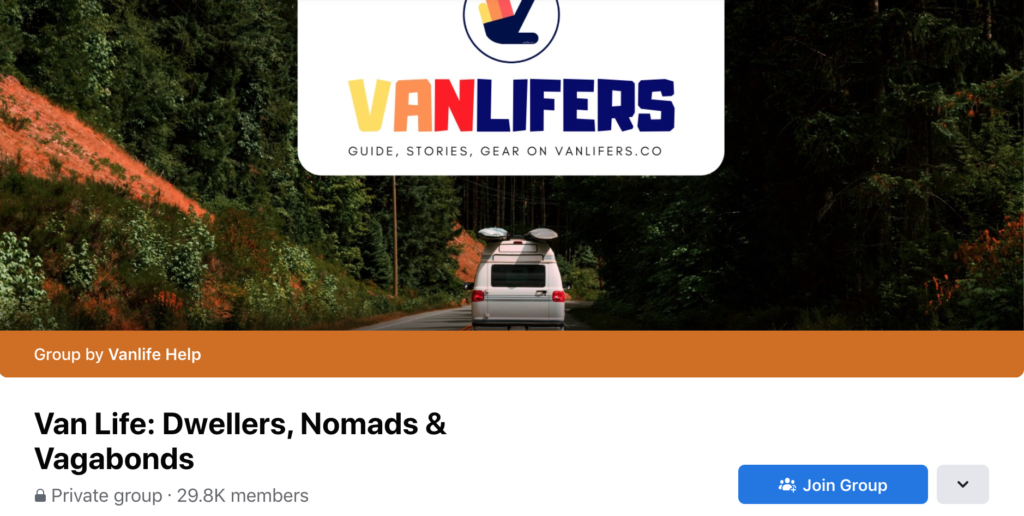 Van Life: Dwellers, Nomads and Vagabonds is a unique community for all the nomads out there interested in making vanlife their travel or life style.
Join this group if you wish to learn all about the basics of van life, how to build or convert your van and many helpful tips and hacks for your journey on the road.
The group posts also cover relevant topics like safety, maintenance issues and useful gadgets and group members give smart hacks and their honest recommendations on the best places to go for roadtrips, as well as spots to park in.
They also have an app called Vanlife Help that will give aspiring van lifers the information they need to start an outstanding journey on the road.
Groups to find travel buddies
We're all for solo travel, but sometimes it's nice to share some parts of the journey with other travelers or even with locals. There's something special about making connections when we are far away from home, and the possibility to transform them into lifetime friendships.
How to find a travel buddy is one of the most common inquiries in our Facebook group, so we know Facebook is an important and useful way to connect with fellow travelers and plan trips together.
While some of the single travel groups are geared towards meeting others, there are specific groups for anyone (regardless of relationship status) that are specifically focused on finding a travel buddy.
Solo Female Travelers Connection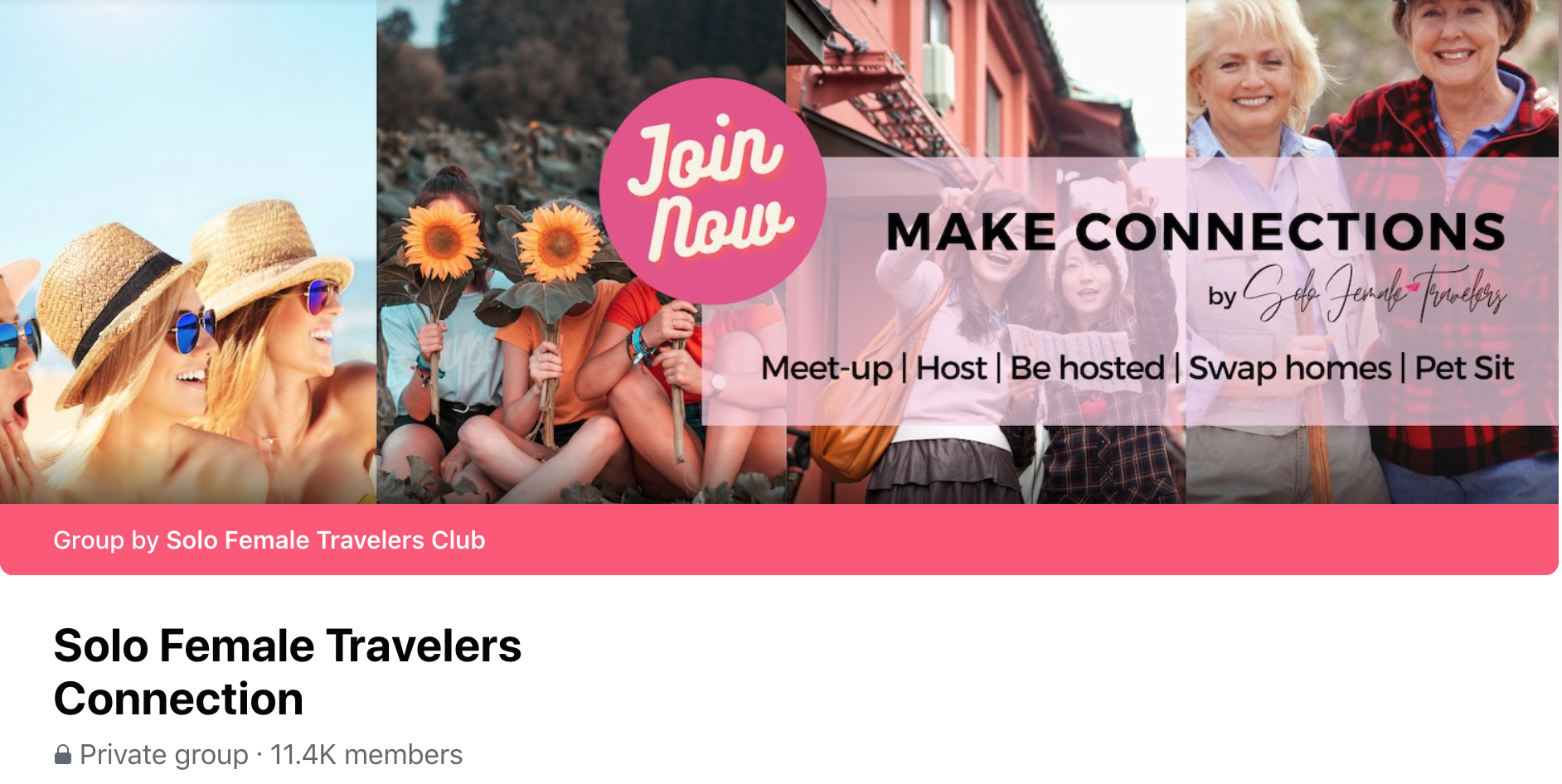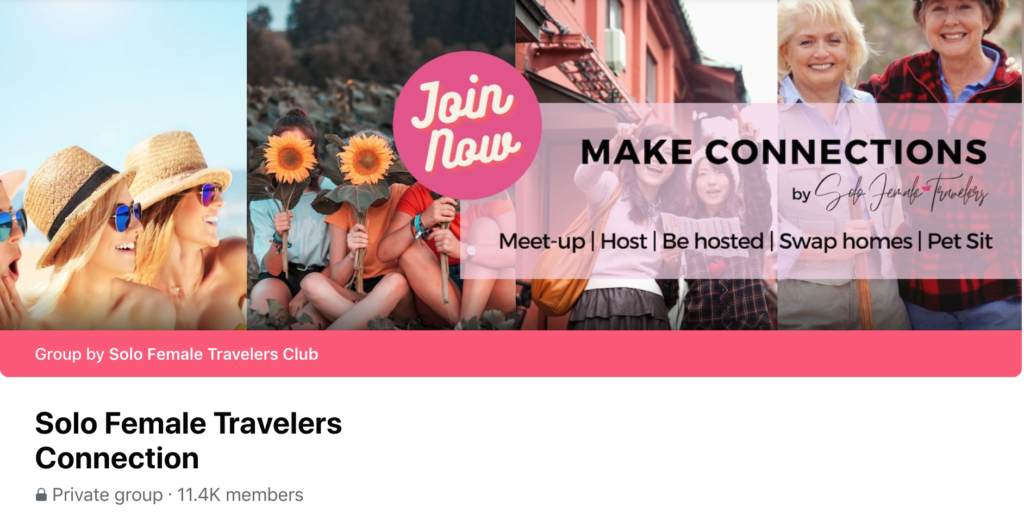 Since there are always so many people interested in connecting with other travelers, we created a subgroup of our main group called Solo Female Travelers Connection, set up just for women who want to find travel buddies, a host, other travelers or locals to meet up or hang out with, even someone to pet sit their house or to swap homes with.
Join the group, post your travel details, house/pet sitting offer or request and connect with others who match up. This is a great way to meet new people and make friends abroad.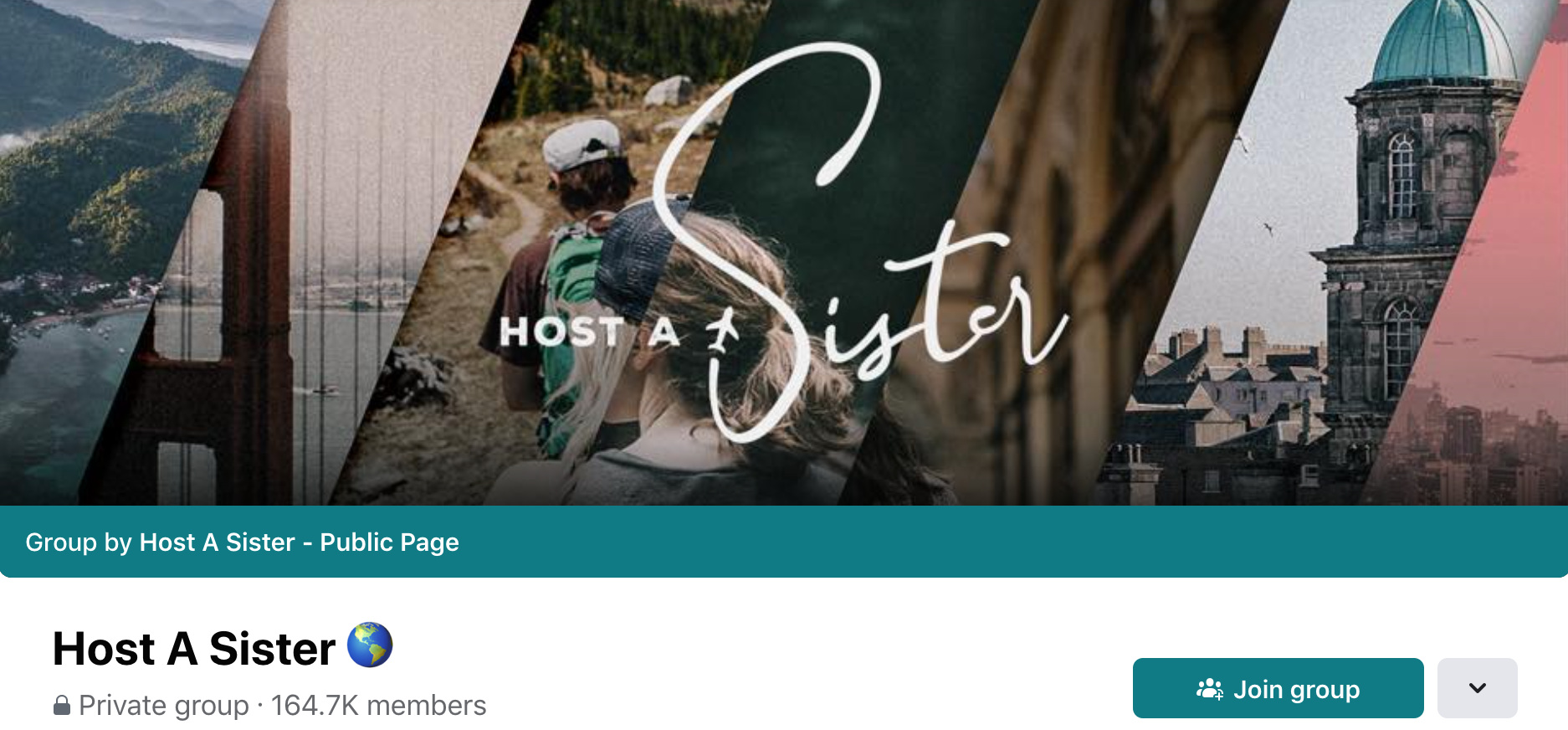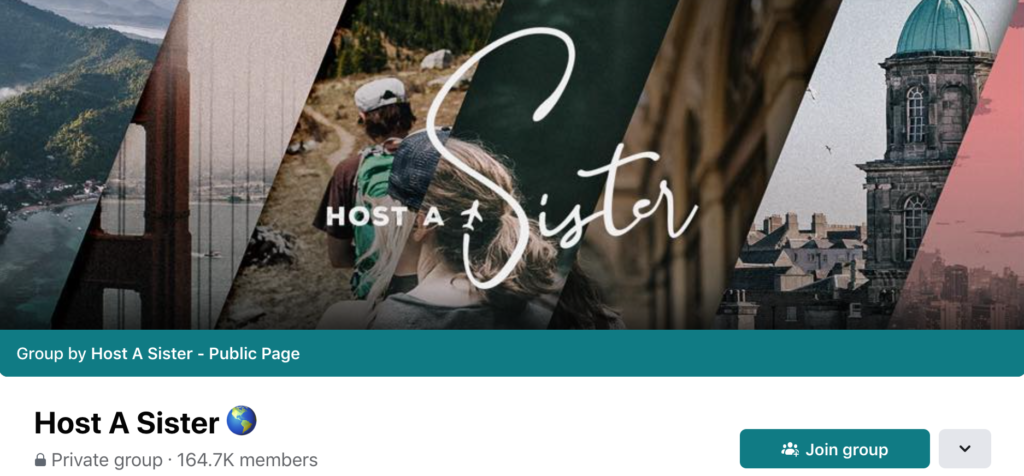 Created by Host A Sister, a company that promotes cultural exchange through women sharing their homes and friendships with other female travelers for free.
This is a great community where you can find travel buddies or meet up with a new friend. You can even seek for a host to stay with or offer your own home as free accommodation for other women. The group is properly moderated and all of the posts follow a certain format to make every request clear and straight to the point.
Travel groups for over 50
If you're over 50 and want to connect with a travel community that you relate to and who are in a similar stage in life, groups for mature travelers are the way to go.
Join one of these Facebook travel groups and network with others over 50, learn about their stories, get itinerary suggestions, advice and helpful tips.
Solo In Style: Women Over 50 Travelling Solo & Loving It!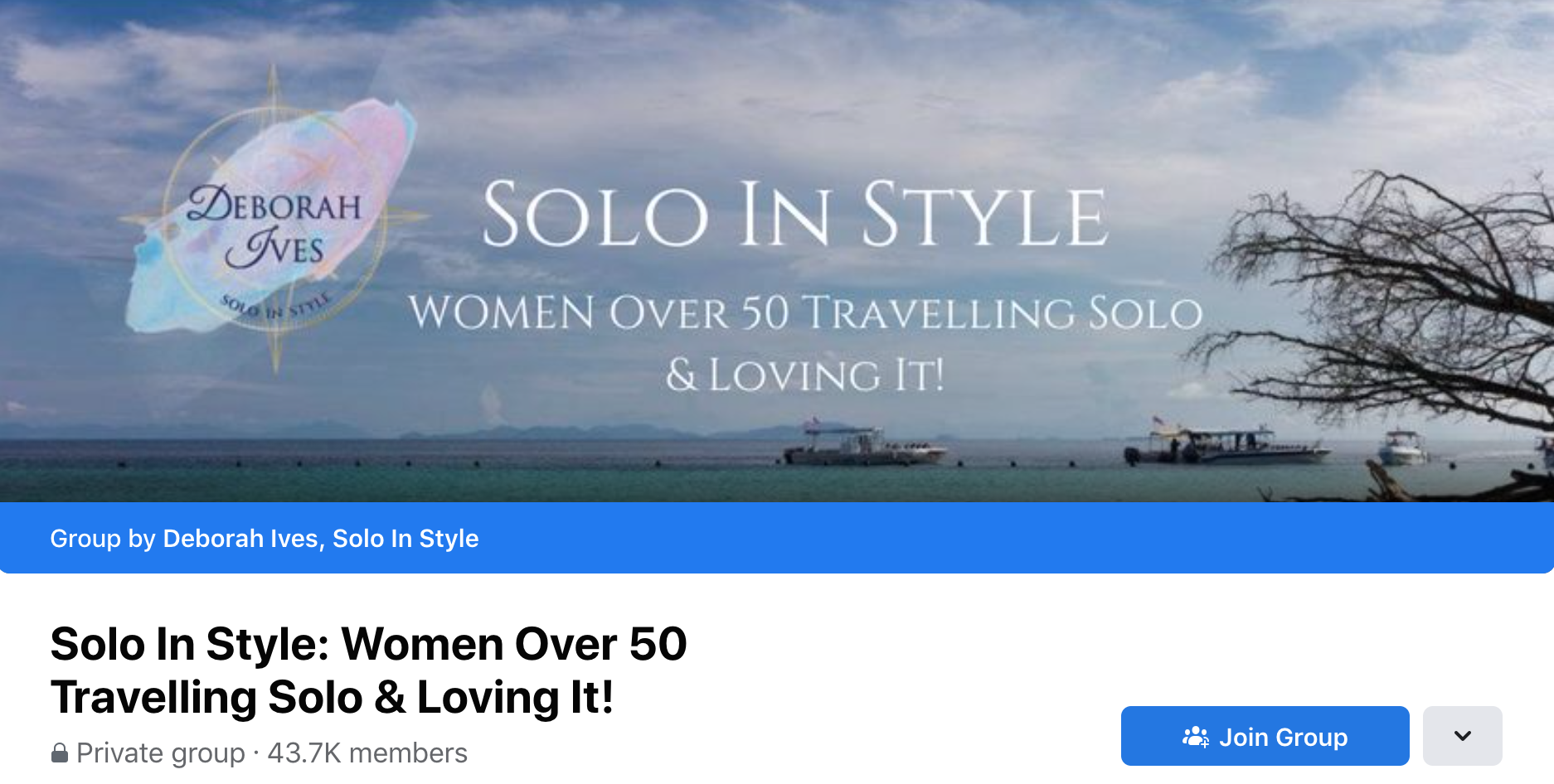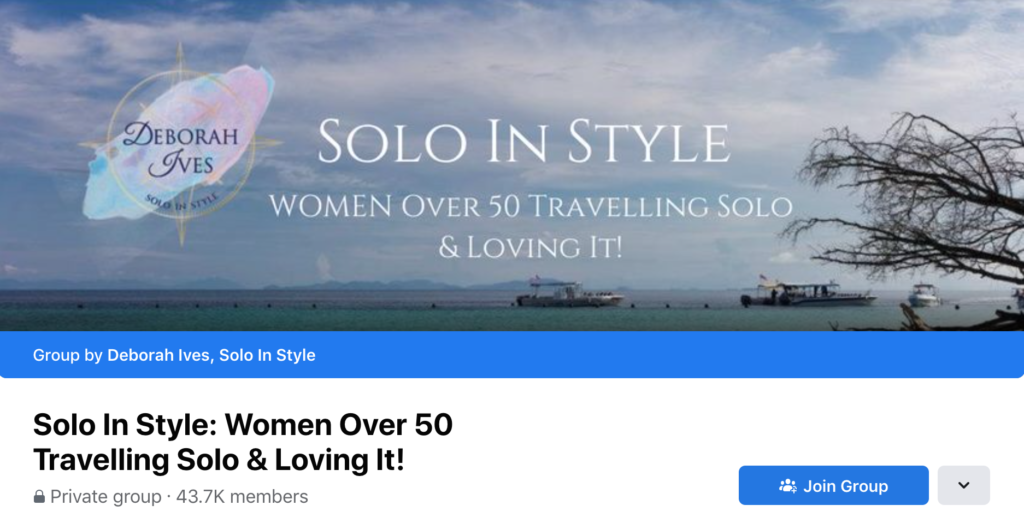 We love the concept of this Facebook travel group: women over 50 who love traveling solo!
This travel group was created by solo traveler Deborah Ives, who wanted to build a community of like-minded and independent women who enjoy solo travel at a mature stage in their lives.
The community is all about being supportive to one another and empowering each other to take a step and change your life by traveling solo. Join this group if you are looking for helpful information and recommendations from female travelers who have your same age range and you feel related to.
The group is highly engaged and you'll find adventurous ladies sharing their travel stories and encouraging others to travel solo in the best way.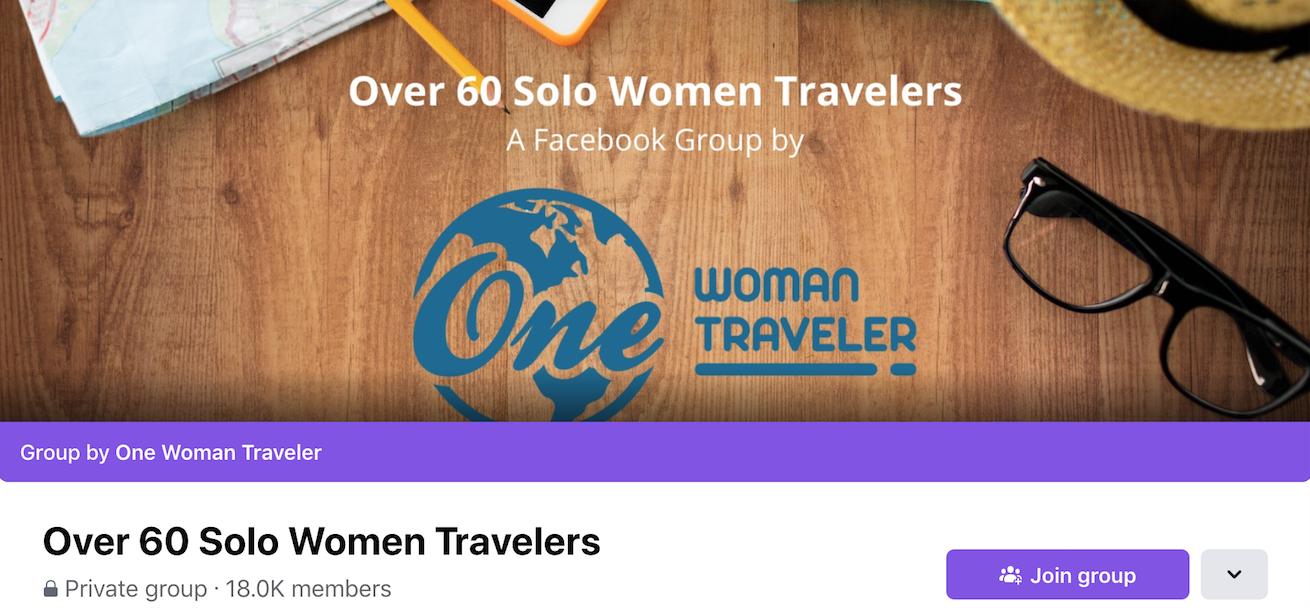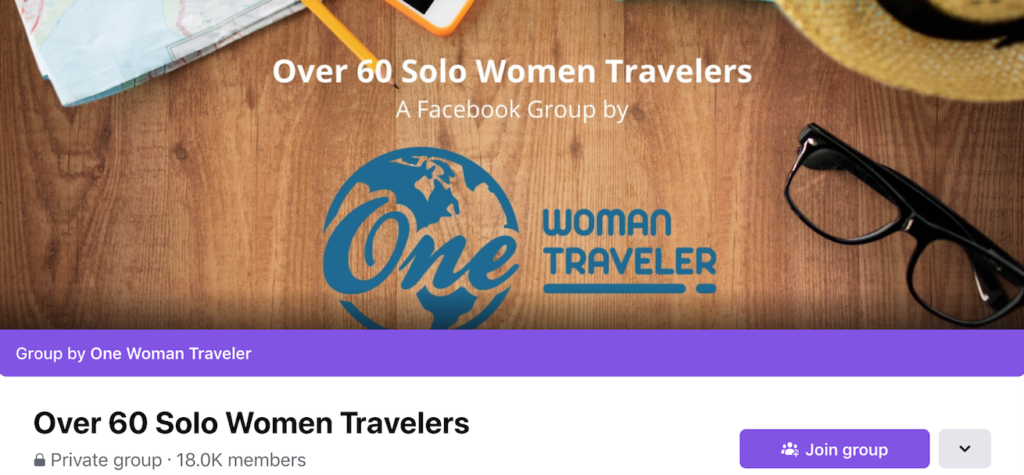 Over 60 Solo Women Travelers is a group for women over 60 who love to travel on their own. This community was created by travel blogger and entrepreneur Judith Woodruff, who wants to encourage other women over 60 to enjoy the experience of traveling even if they don't have a friend or partner to do it with.
We love the supportive atmosphere of this group and the honest and relatable advice shared which is often not found in groups of young travelers. Join this group if you want to engage in authentic conversations with women that share your passion for travel-related topics later in life.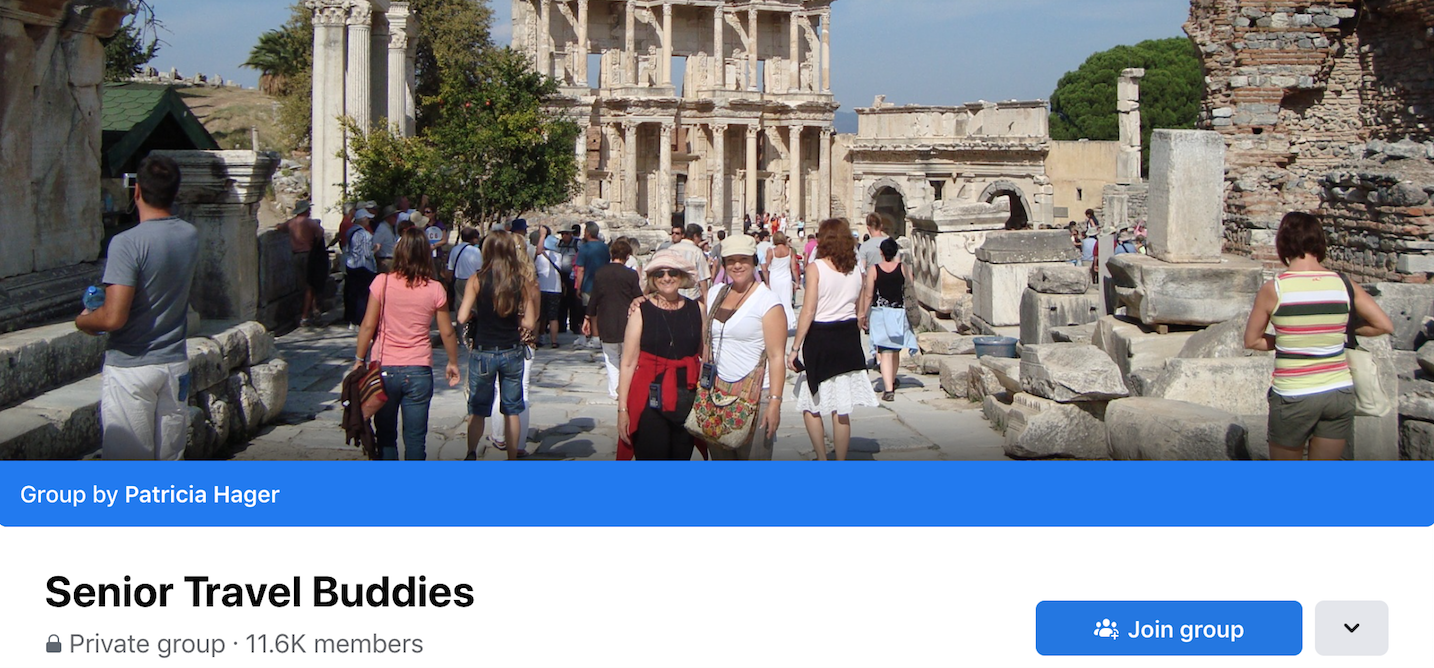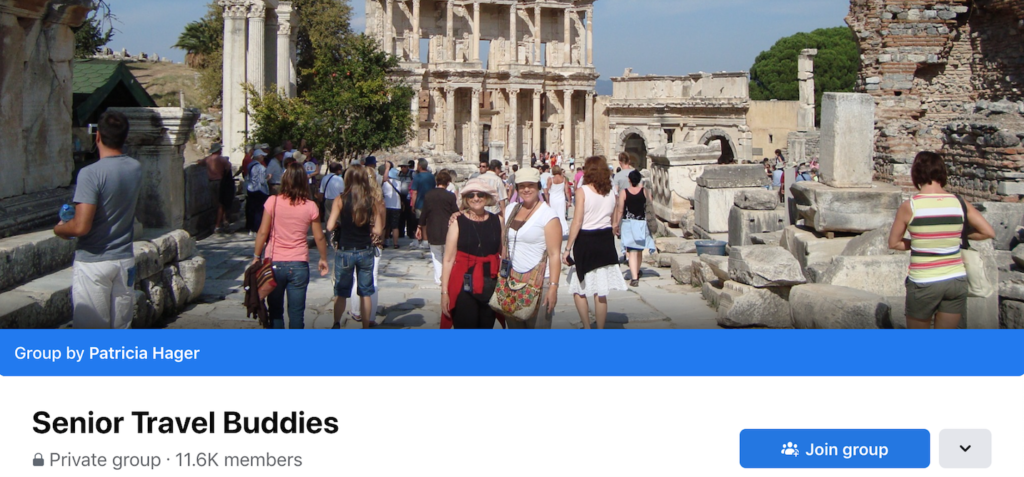 This group was created by the website of the same name Senior Travel Buddies, and is a resource to find a travel buddy for any traveler over 50.
The process is similar to a matchmaking site: you register and provide your personal information, the company processes your registration and once you are a member you will be able to browse the other members' travel plans and find the one that interests you. You can also post your dream travel plan, other members might want to join you!
Join this Facebook group if you are a senior traveler who is also interested in getting inspired by the community's stories, travel tips, amazing photos and some great deals.
Family travel groups
Do you have kids and feel like it's impossible to travel? Join these great travel groups and get practical advice, tips, suggestions and specific recommendations to make traveling with kids possible, fun and rewarding.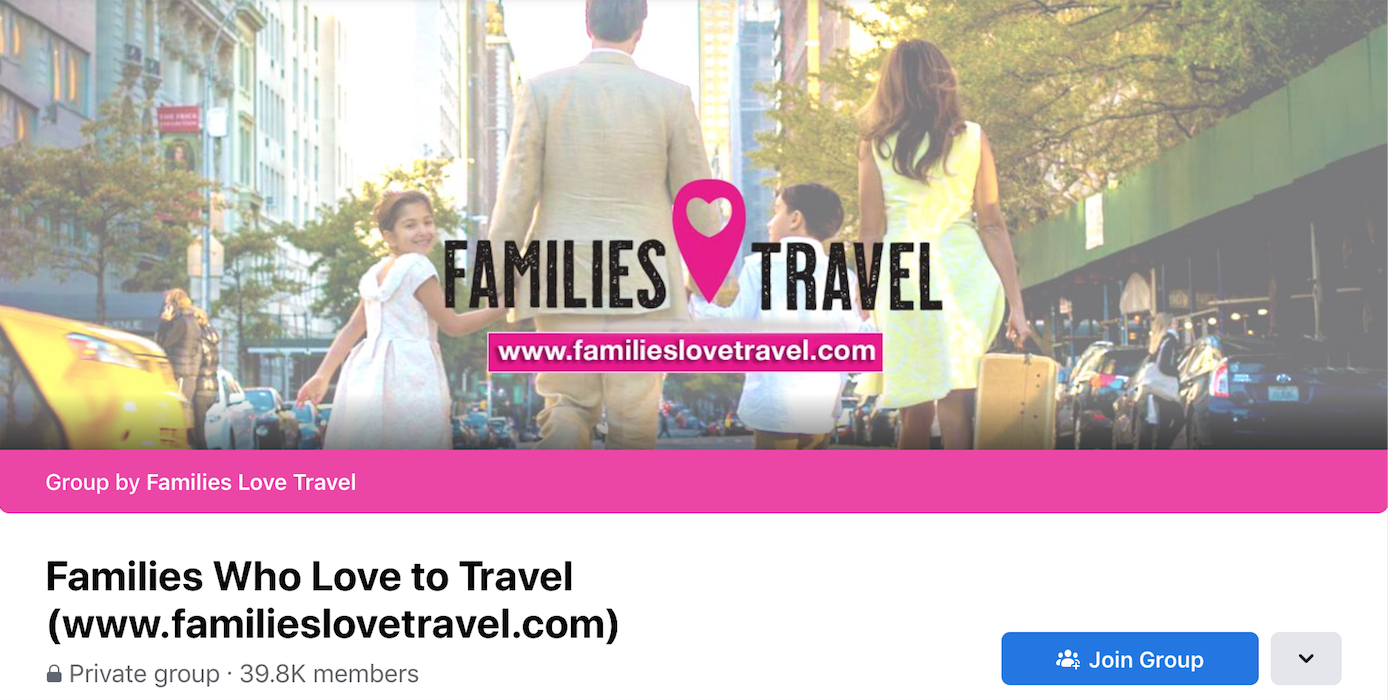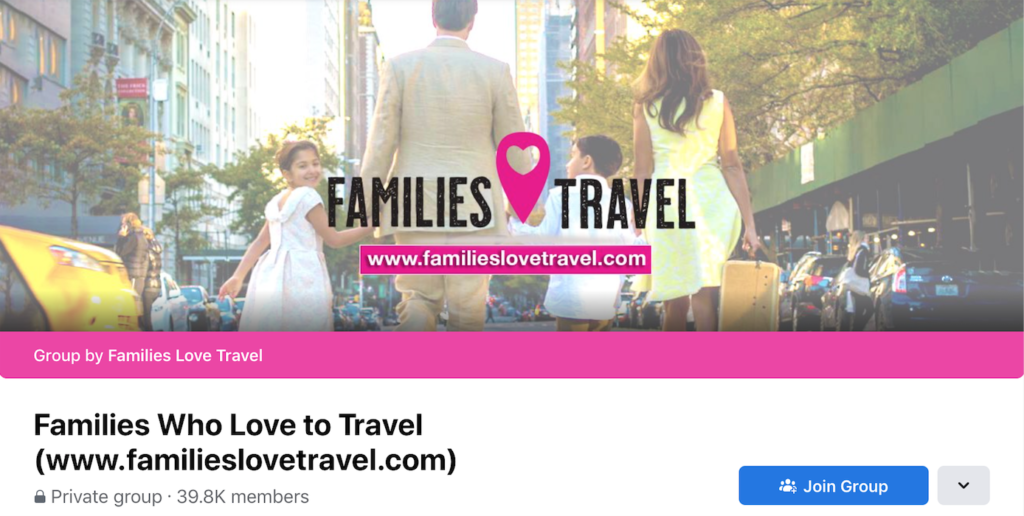 Families Who Love to Travel is a safe space for parents worldwide created by the Families Love Travel website, an online resource where travelers can find detailed content on accommodation, restaurants and family-friendly travel activities in different destinations throughout the world.
The group has been a source of inspiration for the website and has become a platform in which families can connect, share ideas and stories, ask questions and learn from each other. In addition, group members provide guidance, make itinerary suggestions and share good travel deals.
If you have a family and love to travel with them, join this group to engage in meaningful conversations with people that share your interests.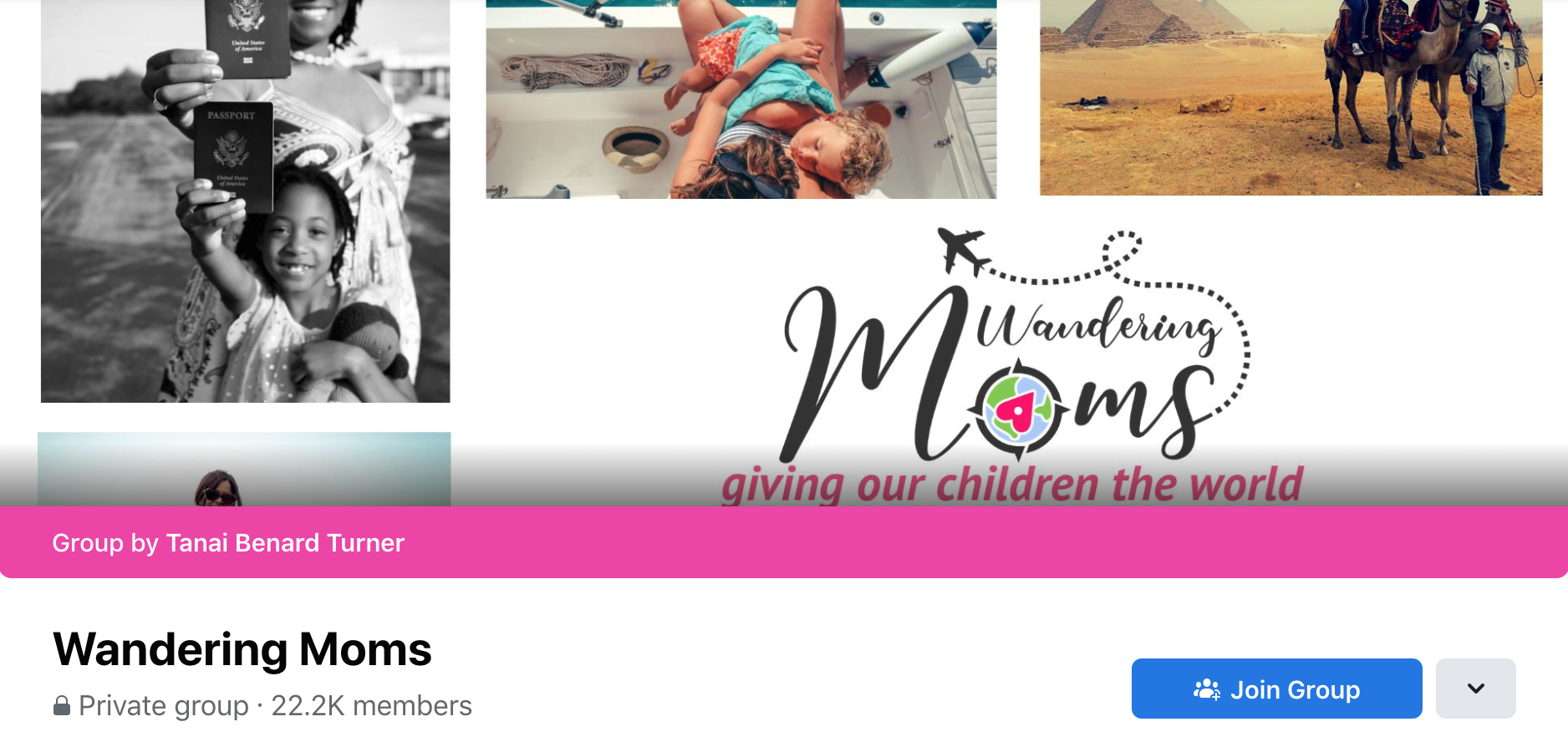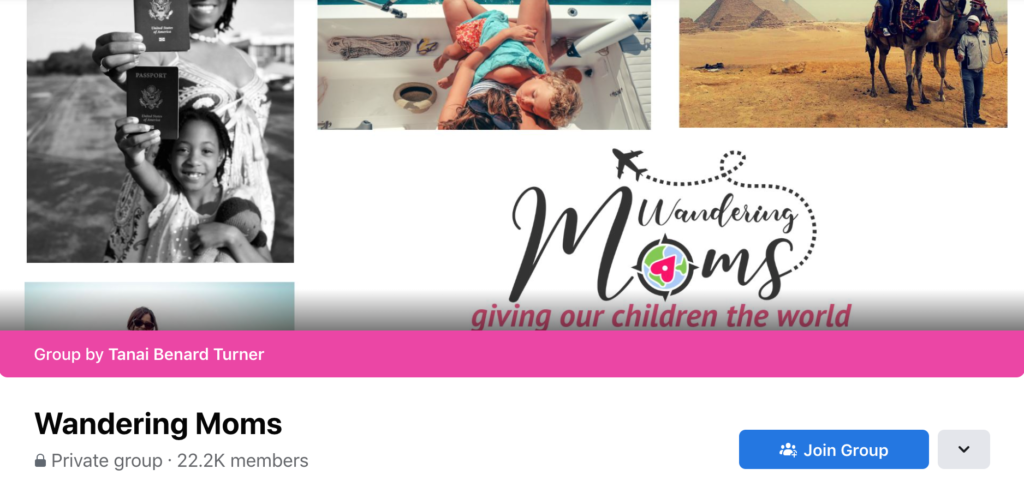 Wandering Moms is a platform for all moms who want to travel more often.
The group is a useful hub for support and resources for women who want to travel or live abroad with their children. It's an encouraging community that asks questions and provides valuable advice, special tips and travel deal finds.
Wandering Moms has its own website with tons of articles and information on traveling as a mother. They also offer small group tours in which moms can get together to explore the world by themselves, with their kids or with their entire families.
Black travel groups
Connect with a valuable community of fellow travelers who share their unique experiences and stories traveling as a person of color by joining one of the black travel groups on Facebook.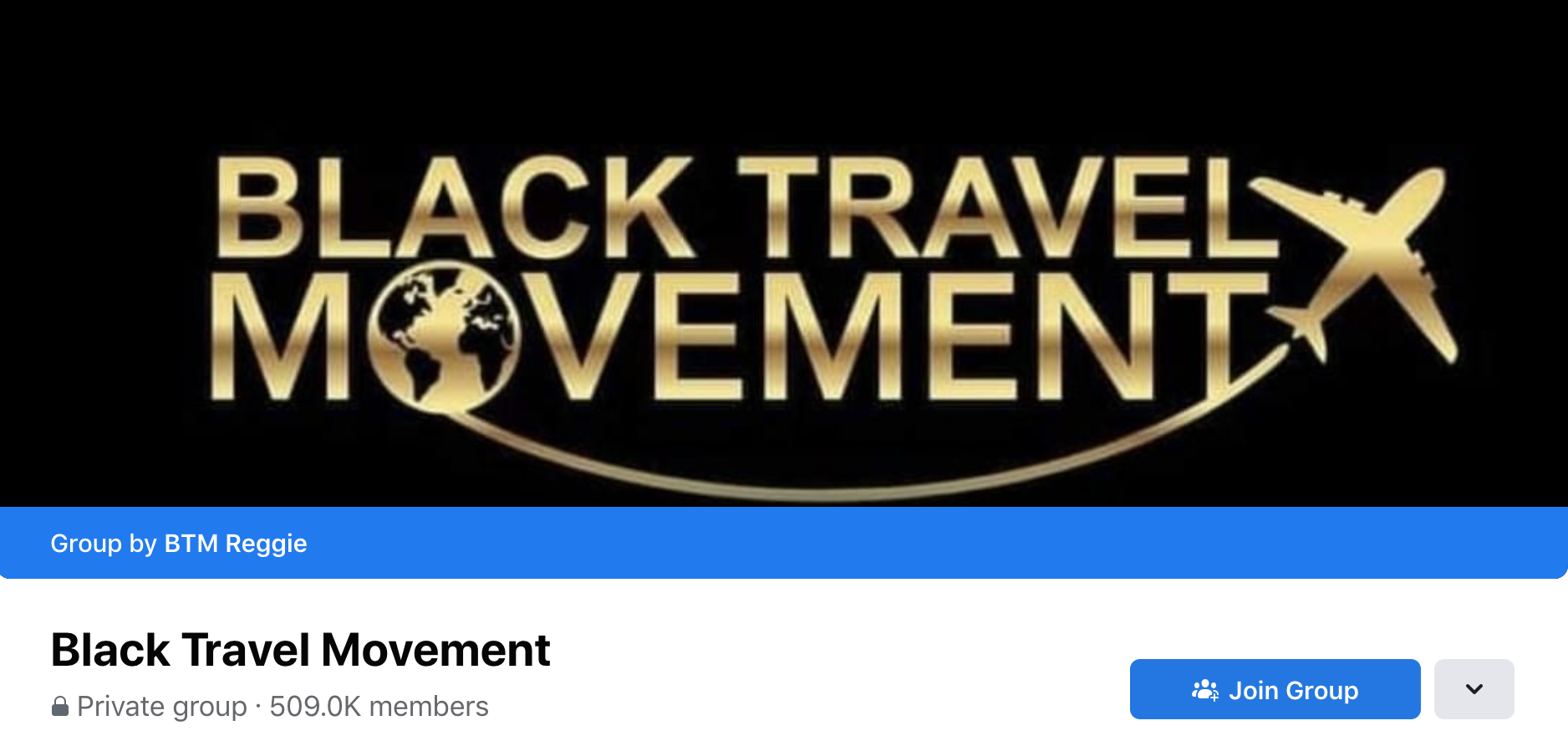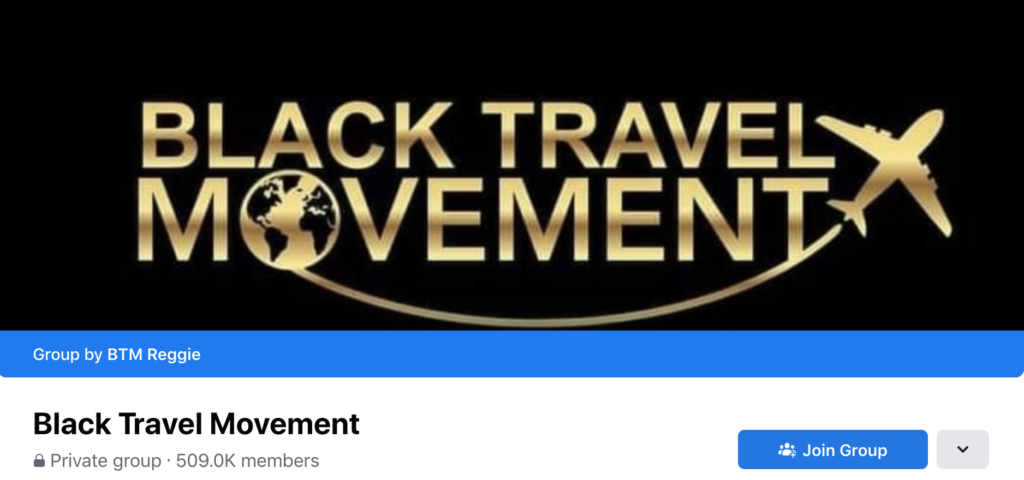 Black travel Movement is a community of people with shared interests and a passion for exploring the world internationally.
As a member of Black Travel Movement, you get the chance to connect and relate to fellow travelers who share their unique perspectives and helpful advice related to travel-related relevant topics. The focus is also on supporting black owned businesses.
Travel Divas – Travel + Lifestyle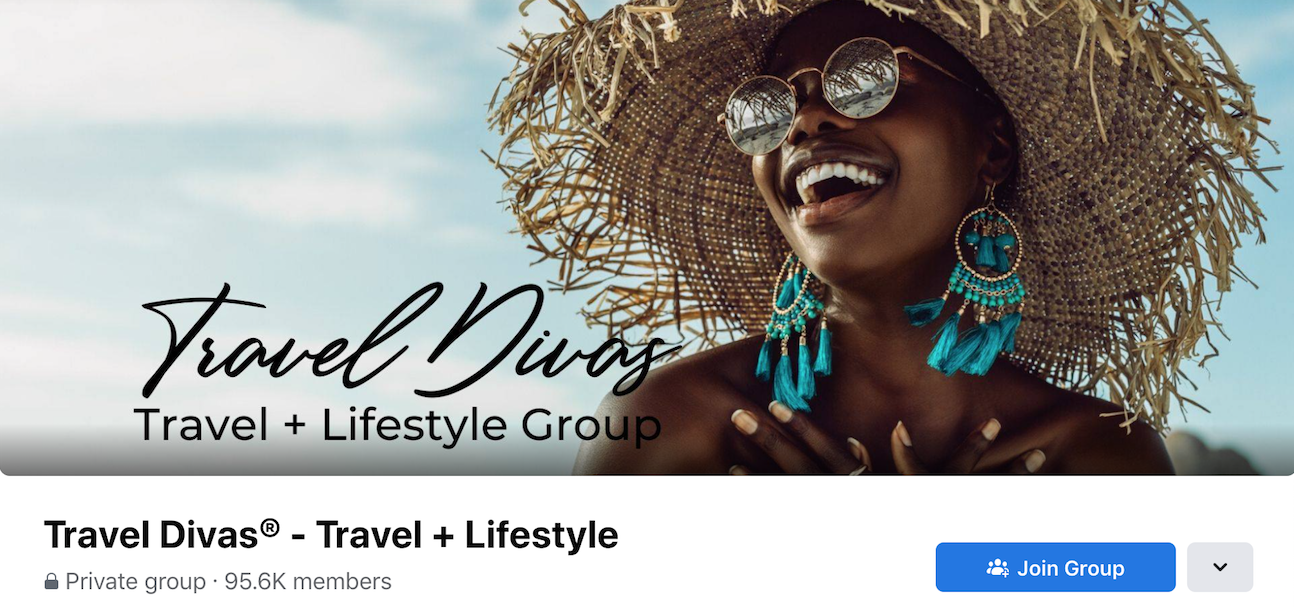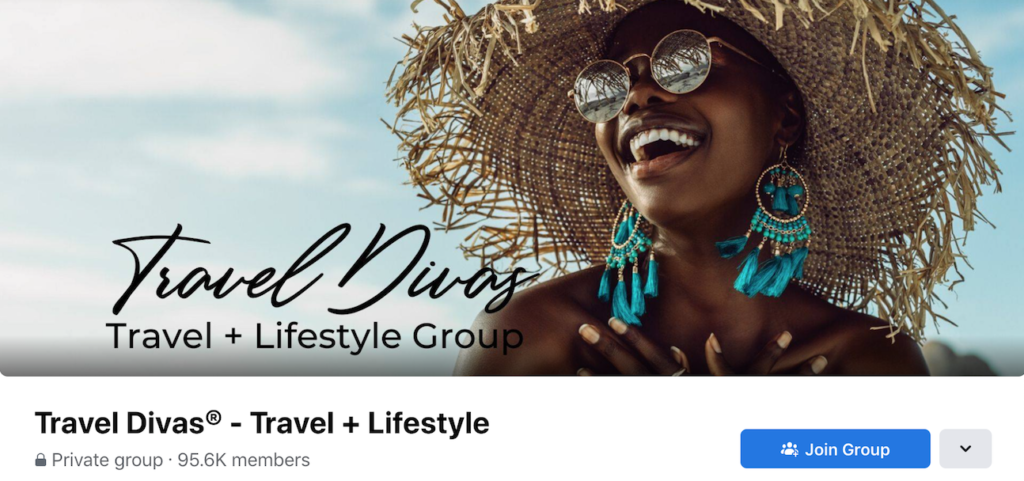 Travel Divas is an online community where black female travelers share their stories and experiences traveling as a woman of color. Admins and moderators do a great job avoiding any solicitation of promotion posts, so the feed may stay organized and resourceful for all.
Join this awesome group if you want to get inspiration and insight from the perspective of someone like you, which will help you to make the best of your next trip.
LGBT travel groups
Because the travel experience is very different for LGBT+ travelers, there are specific communities devoted to inspiring and supporting each other.
You can learn about other member's travel experiences, as well as recommendations and tips for LGBTQ+ friendly destinations, brands or experiences.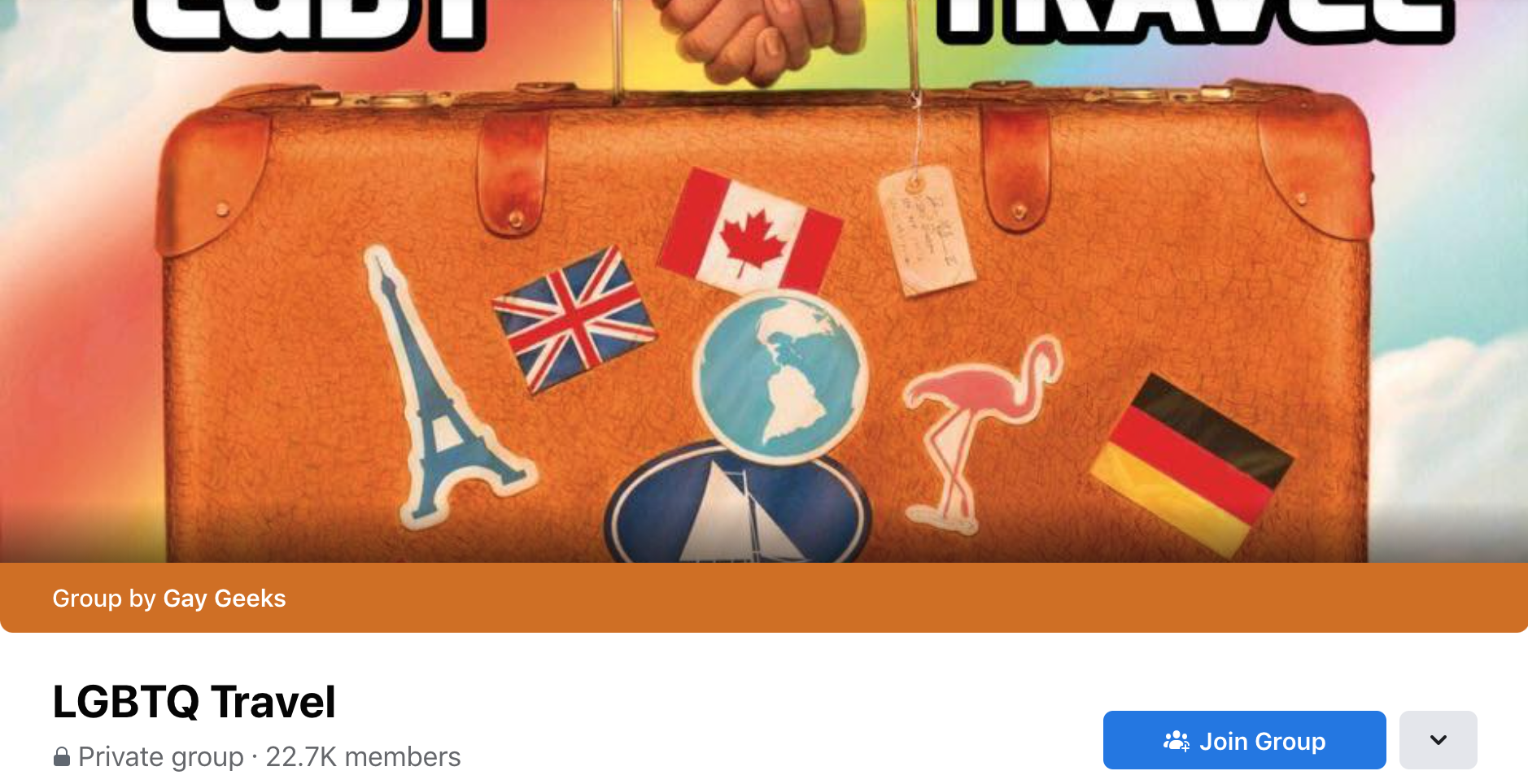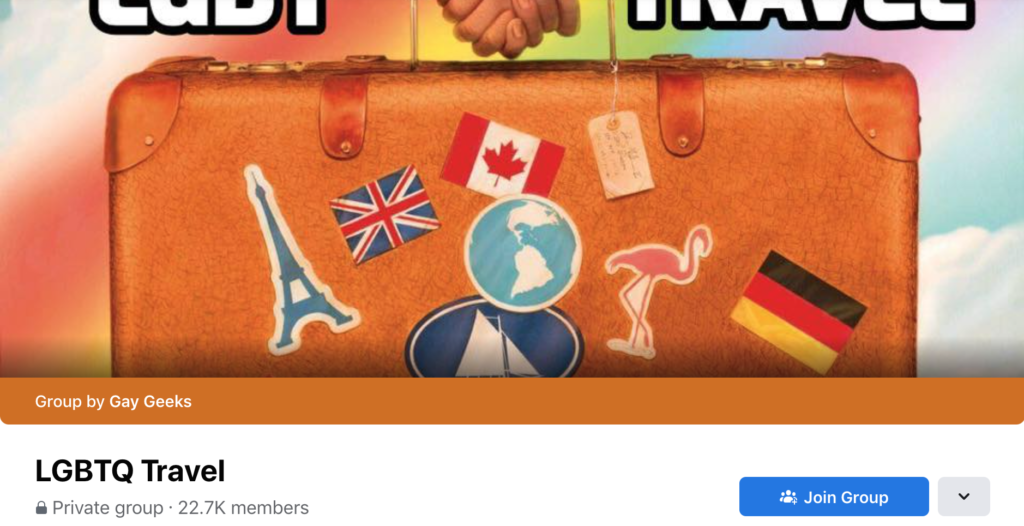 LGBTQ Travel was created by Gay Geek Fabulous, a network of LGBT communities that has a weekly reach of over 8 million.
One cool thing about this network is that they have a portfolio of other LGBTQ groups about specific topics like an LGBTQ Book Club, a networking group for LGBTQ Professionals and for LGBTQ Dating.
This is a very resourceful and interactive space, full of travelers with a free spirit who go to pride celebrations and events in other cities or countries, and discover themselves throughout the journey.
The group has active admins and moderators who make sure every post is authentic and beneficial for the other members.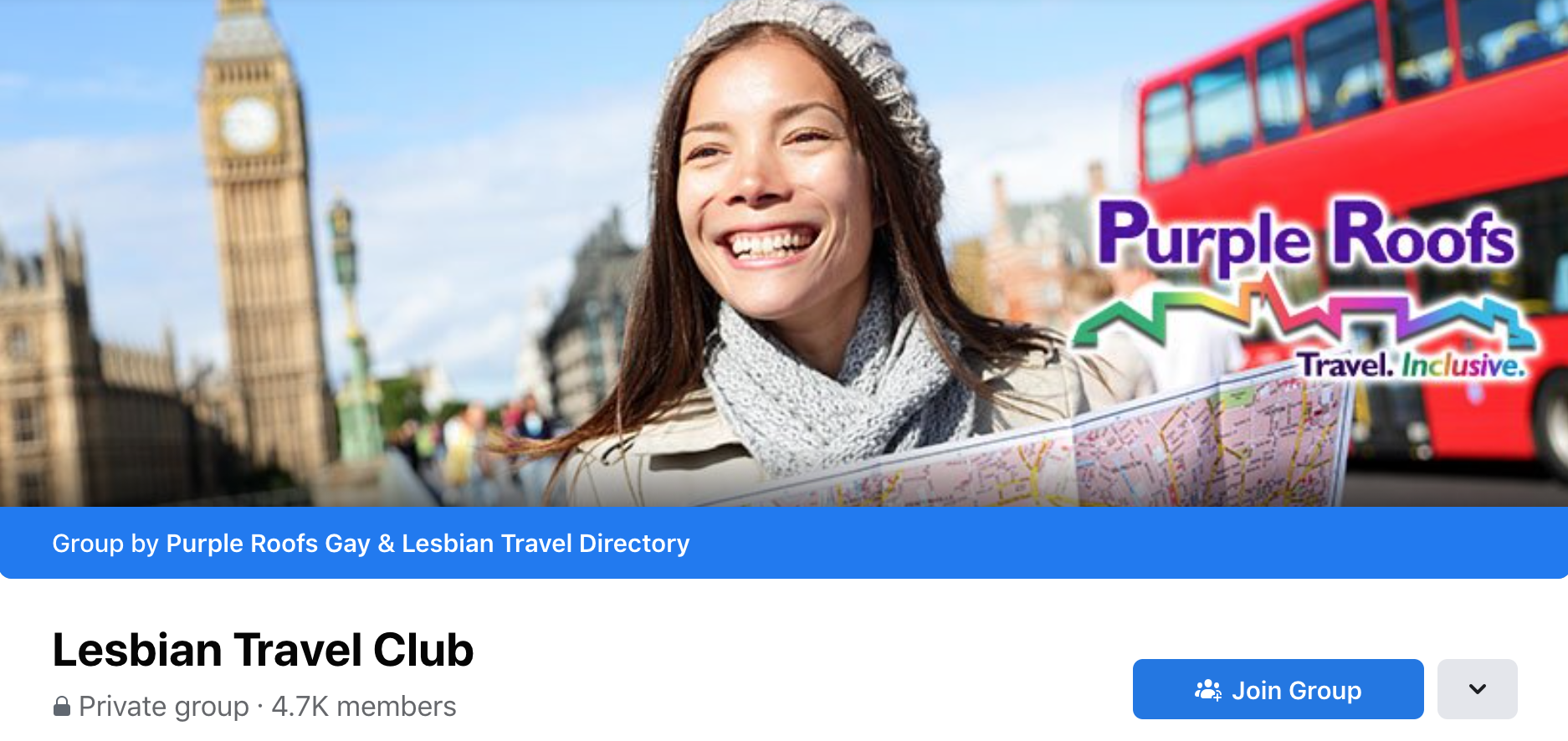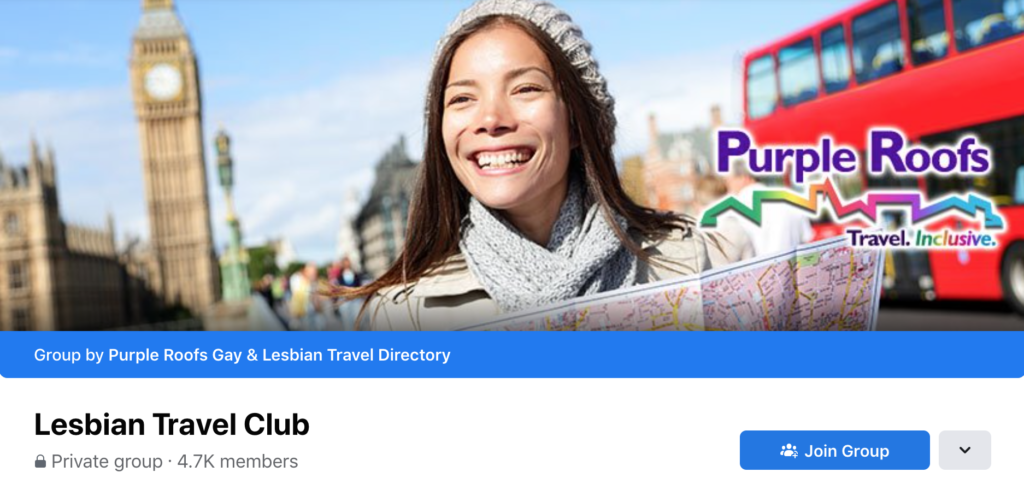 This group was created by Purple Roofs, which is a directory of gay-owned and gay-friendly places to stay while traveling. The website offers thousands of options of accommodation worldwide, as well as a monthly email newsletter. The group is the ideal place to discuss and share stories about travel as a lesbian.
Additionally, you can find many LGBTQ owned or friendly businesses, as well as tour companies, because the group allows advertising of certain services.
Tips to make the most of Facebook travel groups
We are part of a few hundred groups and also manage many more, so we want to make sure you make the most of your experience by sharing our expert tips:
Stay focused. Facebook travel groups can be addictive; you open them to answer a question and get sucked in for 2h and can't even tell where the time went. Avoid mindlessly scrolling through irrelevant group feeds that don't add anything to your life and pick the best ones from our list of best travel groups to join.
Avoid your questions getting lost in the feed. Some of the Facebook Travel Groups have thousands of members and it's easy for the posts to get lost in the feed and get a few or no comments at all. Be specific in your post and give as many details about your inquiry as possible so you receive more useful tips.
Use the search bar. Before posting, save time by using the search bar to find similar posts with great answers that are exactly what you need.
Explore the topics. Many groups have a set of "topics" they assign to the posts. Topics are a handy Facebook tool located on the main menu below the group's name and number of members. Your question may have its own specific Topic which you can click as you would a hashtag and see all the previous posts under the same topic.
Respect the rules. Every group has its own set of rules, respect them or you'll be banned from the group by the admin team.
Don't use groups as a replacement for Google. Facebook travel groups are for finding genuine advice and recommendations based on personal experience that can't be found on Google. Save your and the members' time by using Google for the more general and simple questions.
Manage notifications. Depending on the group, you can turn on notifications so Facebook can alert you when there's a new post or a highlight post, whichever option you choose. Or turn off notifications for those groups you just want to check over once in a while. You can do this by clicking on the "Joined" button above the main menu. A dropdown submenu will appear and select "Manage notifications".
Make genuine connections. An awesome thing about travel groups is that members are willing to interact with each other. If you feel like you are like-minded as a member, feel free to reach out. You may even find a travel buddy and turn online connections into real friendships, some members of these groups meet up during their trips. Here are some of our Solo Female Travelers group testimonials from members that met around the globe:
The internet is packed full of travel advice and resources, but Facebook travel groups are genuine communities where you will find valuable information, helpful recommendations and all the support you need to keep traveling the world in the best way possible.
Take advantage of the resources available in the groups, share your knowledge and try to connect with other members, you might end up making real friendships and turning your trip into an unforgettable journey.