Are you single and in your 40s? Are your friends all in relationships or with small kids and not available or keen to travel?
Don't let that stop you from that dream trip, we're here to help you with holiday ideas for travelers like you, single and over 40.
Traveling solo after 40
While age is just a number, there are some things that also evolve with time.
With age usually comes financial freedom, maturity and the hardship of getting over jetlag, I know that all too well!
While you are still young (very young, if I may add), traveling in your 40s is not the same as traveling in your 20s or 30s.
You are most likely not looking to party it out all night long, sleeping at the beach or hitchhiking to save a few pennies, you are also not necessarily up to make a fool of yourself, or at least not all the time.
Your taste is more refined, your interests wider and your purse thicker.
You are also most likely looking for deeper experiences that enrich your life, teach you something new or maybe provide a break from the daily busy life and less about partying all night long. You know what you want from life, and travel is it.
On the flip side, with age also comes confidence, and lack of patience.
You no longer need other people's approval and you also don't need a travel companion to go places.
You do your groceries alone, you live alone, you dine alone and you lead a fulfilling life all by yourself, you are your best travel companion and you are ready to continue living life to the fullest.
Because your friends may be married and with kids, they can no longer afford, time-wise and financially, to travel as much as you, so you are keen to find a new tribe of like minded travelers who are also single and over 40 and who share your passion for discovering the world and have minimal family responsibilities.
If all of the above resonates with you, you've come to the right place. And let me add, going on a singles holiday does not necessarily mean that you are looking for love (though you may still find it), but that you are looking to be surrounded by people like you or at a destination that is specifically catered to singles or which is just perfect for this moment in your life, solo or with newfound friends.
More and more Gen Xers are leading the return to travel, especially independently and solo and a lot of the women joining our women-only tours are in their 40s and either single or divorced, they are not letting the lack of travel companions stop them from traveling, they are treating themselves to a fabulous trip with other travelers like them.
Find your perfect holiday for singles over 40 in this article and book that trip of a lifetime, you deserve it.
How to plan your holiday as a single traveler
Planning a trip can be complicated and confusing but before we jump right into choosing the right trip, it's important to take a few minutes to think about what you can do and what you are trying to get out of it.
What is your budget?
Do you want to travel solo independently or join a group?
What type of trip are you looking for? A more adventurous, a relaxing one, a culturally-focused one, or perhaps a foodie trip with lots of gastronomic experiences and maybe some wine tastings too?
Budget
A budget is usually the starting point when planning vacation at any age. It will help you set the tone for the type of trip you'll have, the duration and help you weed out some options, such as the kind of tours available to you.
If you have a budget for the holiday, keep that in mind when going through the rest of this section to filter ideas and suggestions. If you don't have a budget and are trying to save, check out some of our tips on how to save money for travel.
Travel style
The next decision is your travel style. Are you more of a solo traveler who prefers to travel independently or would you like to join a group tour where everything is planned for you and you can meet other travelers?
We are passionate advocates of solo travel and our Solo Female Travelers Facebook Group is the place to get help, support and advice for your first or your next solo trip at any age. A large percentage of our members are in their 40s and looking to go on a trip so you are sure to find yourself among your tribe. Go on, ask that question!
On the other hand, a lot of single travelers prefer to join group tours so that they can more easily meet others and reduce some of the burden of planning a trip by letting someone else do it for them. Traveling on your own means you need to do all the planning and this can require a lot of hours researching which not everyone enjoys.
Many of the guests on our small women-only tours for solo travelers like to book with us because of the convenience of knowing we put together trips that include the type of experiences they enjoy and where they meet like minded women, without having to spend hours finding the best activities, restaurants and local places.
In the next section, we will look at companies like ours that specialise in solo trips and have an age threshold.
Type of trip
Now that you know your budget and travel style, it's time to narrow down your options a bit more by looking at the kind of trip you feel like going on.
There are many types of holidays for singles over 40 and if you asked 10 people you would most likely get 10 different answers, from a wellness retreat to an active holiday, a beach vacation, a city break and anything in between, if you can dream it, it is possible.
In fact, we did ask our members and got more than 100 suggestions each different and unique.
What's your personality like? What is the purpose of your vacation? What are your interests? How much time do you have? What do you feel like? What do you want to get out of it>
Don't let the fact that you are single stop you from choosing the vacation you most want, you can go party or to a festival alone or you can go to traditional honeymoon destinations like the Maldives or Bora Bora if that is what you fancy, we've done it and we don't regret it.
Like an inspirational quote we love says:
"They called it loneliness, she knew it was freedom" – F.E. Marie
Here are some types of trips for singles over 40 to consider, the sky's the limit:
Active travel: This is for adventure seekers or for those who want to challenge themselves. Want to hike Kilimanjaro? Don't let the lack of a travel companion stop you from doing it!
Luxury travel: A luxury trip is the ultimate in self pampering and is a great opportunity to let someone else take care of you, be it with a margarita by the poolside, a specially customized menu or a private guide and driver to take you where your heart desires.
Sailing: A sailing trip is a great and efficient way to cover many destinations in just a few days and have an all inclusive experience on board. Cruises often offer great holiday packages for singles over 40 and are awesome places to meet fellow single travelers and have a blast onboard and onshore.
Wellness retreat: While we tend to associate wellness retreats with luxury trips, the two are not necessarily the same. Some retreats can be very affordable and provide a more rustic back to basics experience which does not make them any less appealing. There is a wide range of wellness retreats, from silent retreats to yoga retreats, detox holidays and everything in between. While these are not necessarily singles-only experiences, it is true that they tend to attract solo travelers more than couples and so you may find yourself surrounded by people like you.
Gastronomic travel: We are big fans of traveling for food and wine and will do it anytime. There are many parts of the world where this kind of trip is becoming more and more popular and destinations where enjoying culinary experiences is more commonplace such as Italy, Spain or France. For example, our Tuscany trip has a heavy gastronomic component weaved into other cultural activities.
What is it that you are looking for in your vacation as a single? Think about it as you move through the rest of the article.
---
Best group trips for singles over 40
Small group trips are an excellent choice for single travelers over 40s.
They offer a great way to enjoy travel in a setting where meeting others is easier and the fact that there is a predefined itinerary means you know what you'll get to see and do without having to spend hours planning it.
Additionally, you won't need to worry about tours or activities needing a minimum number of guests, places charging you more because you are on your own or restaurants refusing service because it's just you (yep, that is regularly reported by members of our online community).
Where to start looking for the right travel groups for singles over 40?
In the list below.
Women-only tours
Perhaps one of the most fun ways to travel is with like minded women with whom you can gossip, share a drink, have a laugh or simply identify with. The camaraderie and good vibes are endless.
Solo Female Travelers Tours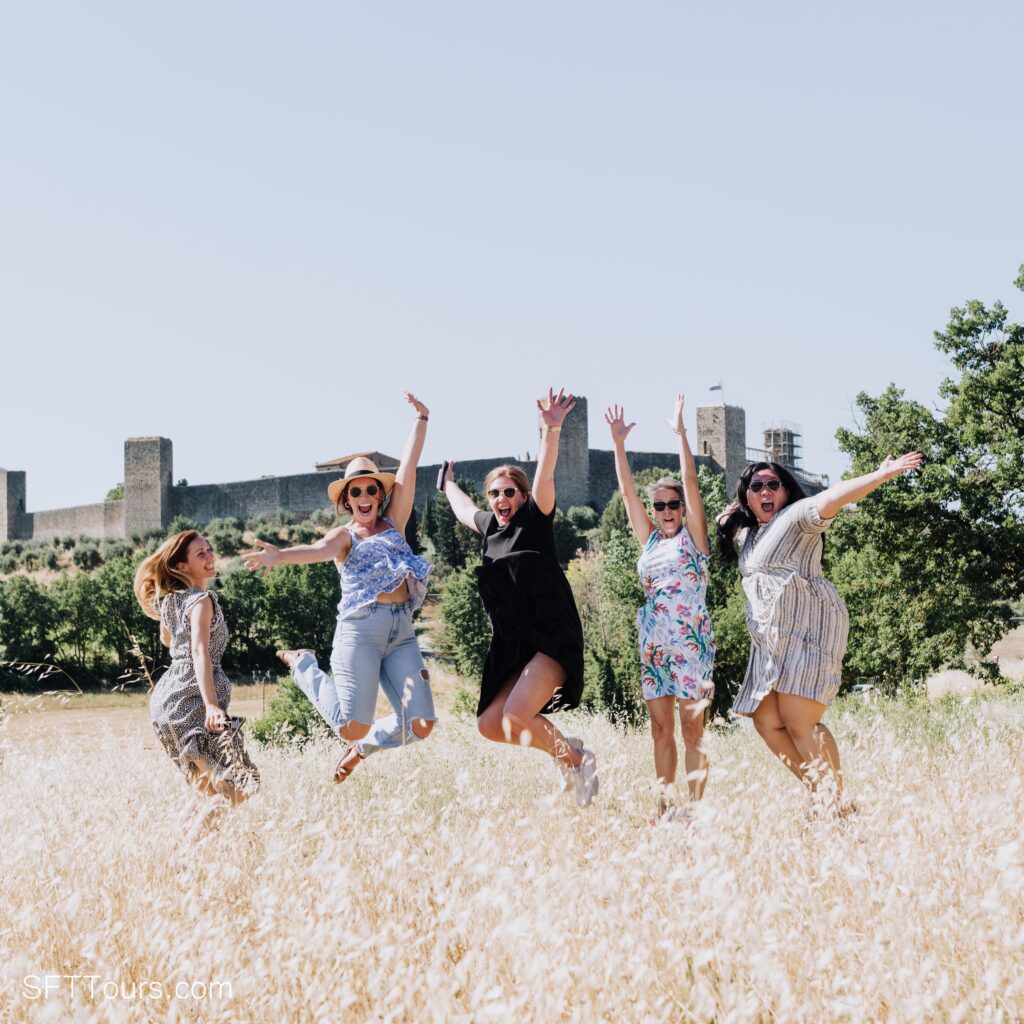 We curate our own intimate group tours specifically for solo female travelers and take our guests beyond the tourist hot spots to experience the local culture with a group of like minded women.
We specifically focus on destinations where it's usually too expensive or difficult to travel as a female alone, or where we know a group makes for a more fun experience.
If you come solo, we pair you up with another woman so that no-one has to pay a single supplement and can cut out that extra cost. If you wish to, you can also upgrade to a single room.
Women from many different ages come to our tours, but the most popular age range is that of women in their 40s, many of whom are divorced or have never been married and can't be bothered to wait for anyone else to go on that trip of a lifetime.
You can view all our upcoming trips on our tours page. We have many travel styles included in our trips, some focus on wellness and luxury, while others are full of adventure and wildlife.
| | |
| --- | --- |
| Age range | We don't have any age restrictions, but the most common age range of our tour guests goes from 30 – 50 years old. |
| Number of group members | Depending on the tour, can go from 6 to 14 guests. We never have more than 14. |
| Destinations | Tanzania, Iceland, Barcelona, Tuscany, Amalfi Coast, Venice, Morocco, Croatia & Montenegro, Kilimanjaro, Cuba, Barcelona sex education and Greece. We also have waiting lists for our upcoming trips Costa Rica, Portugal, Andalusia, Scotland, and more. |
| Duration | From 5 days all the way up to 15 days tours. |
| Price range (USD) | From $2,500 to $7,500 depending on duration and destination. |
| Single supplement | Our tours are designed for solo female travelers and so all prices are considered on a sharing basis with two guests per room in twin bedding to avoid single supplements. We offer the option of upgrading to a single room on almost all of our trips. |
Read: The 25 best women-only tour companies.
Group trips for solo women over 40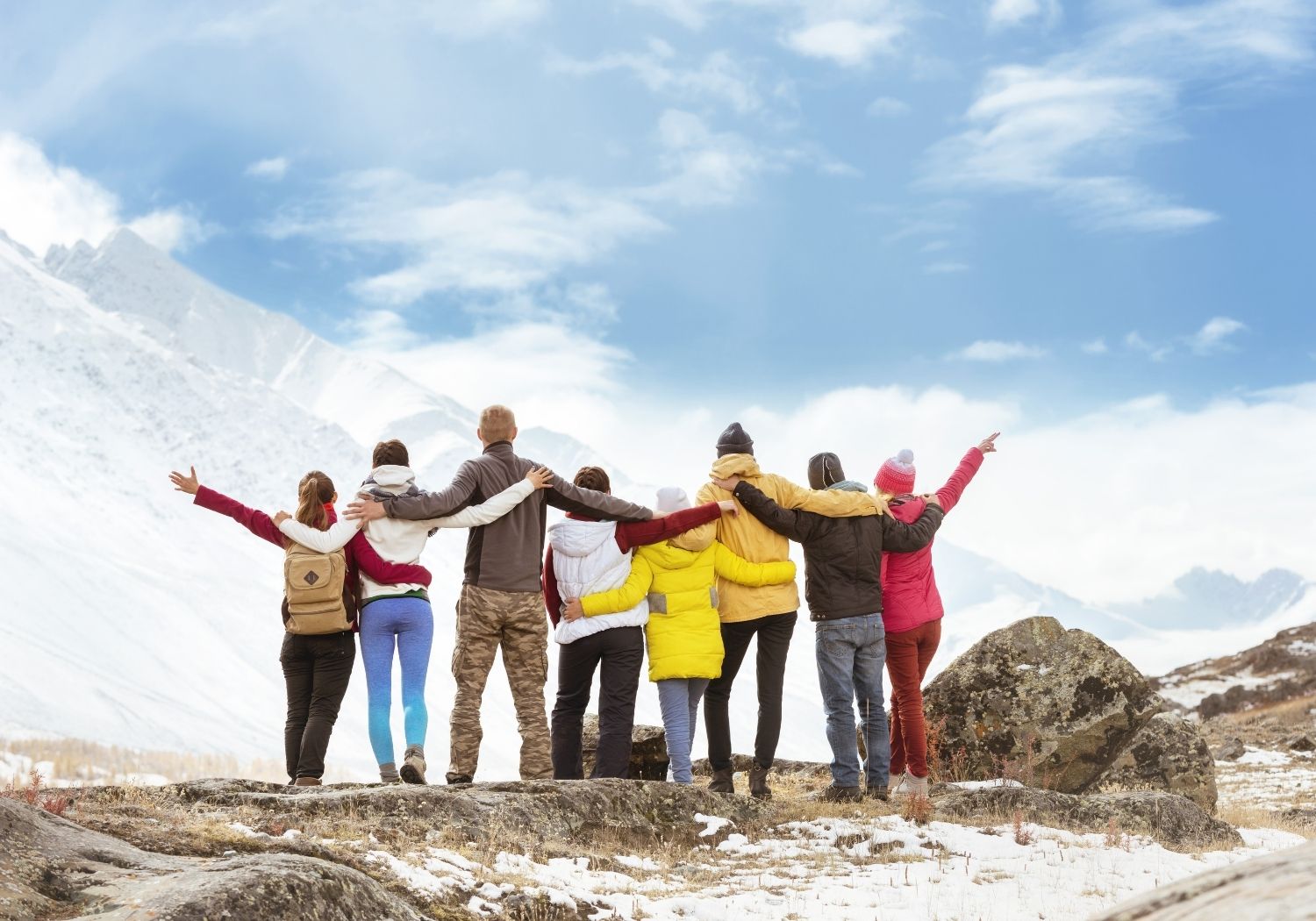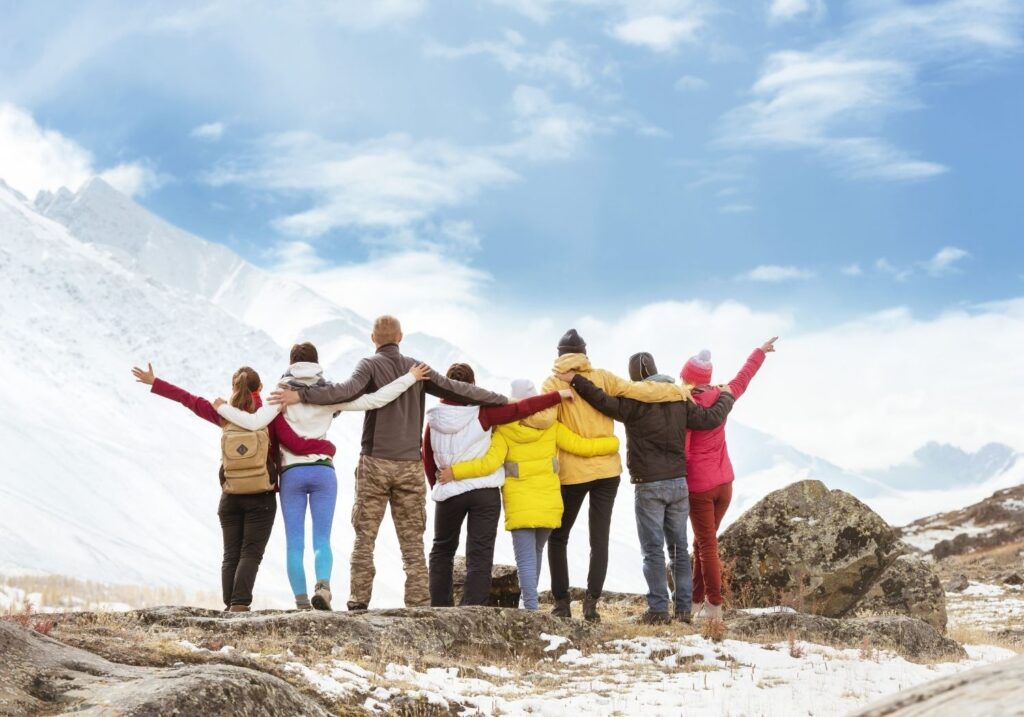 Traveling solo but in a group guarantees a memorable trip and is a fun and convenient way to travel.
All the planning, itineraries and accommodations are all set up so you don't have to worry about anything and focus on having an amazing holiday.
Solos Holidays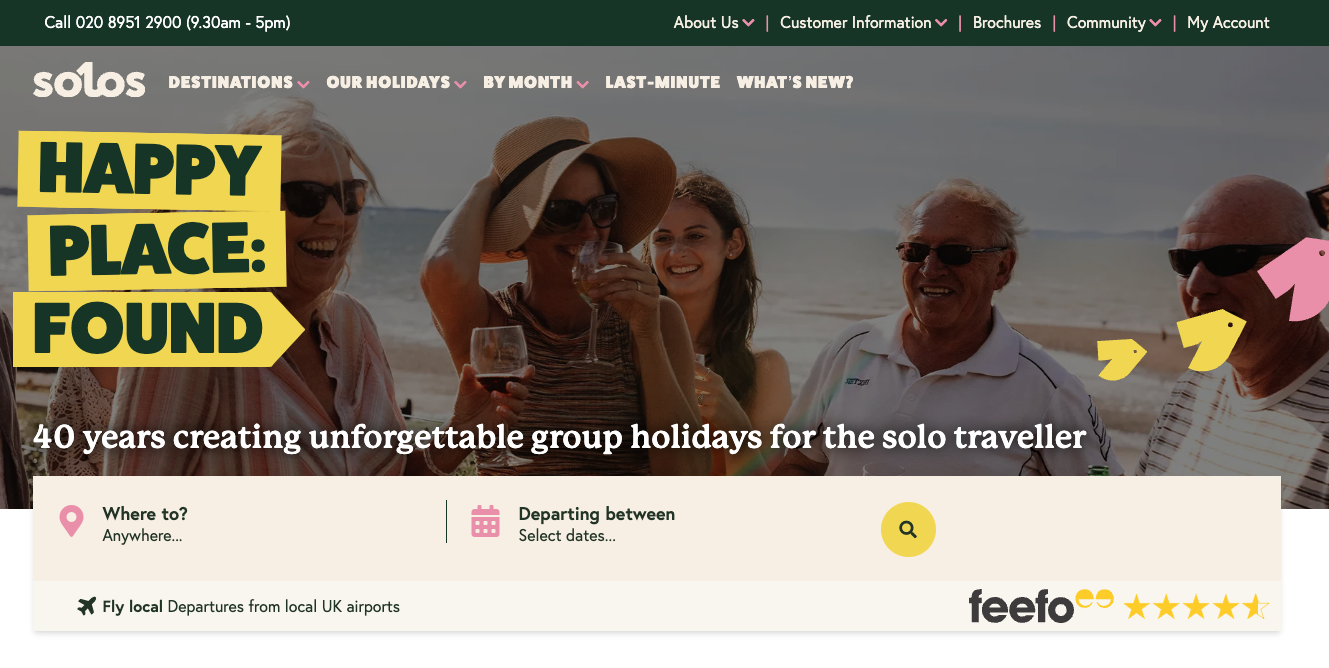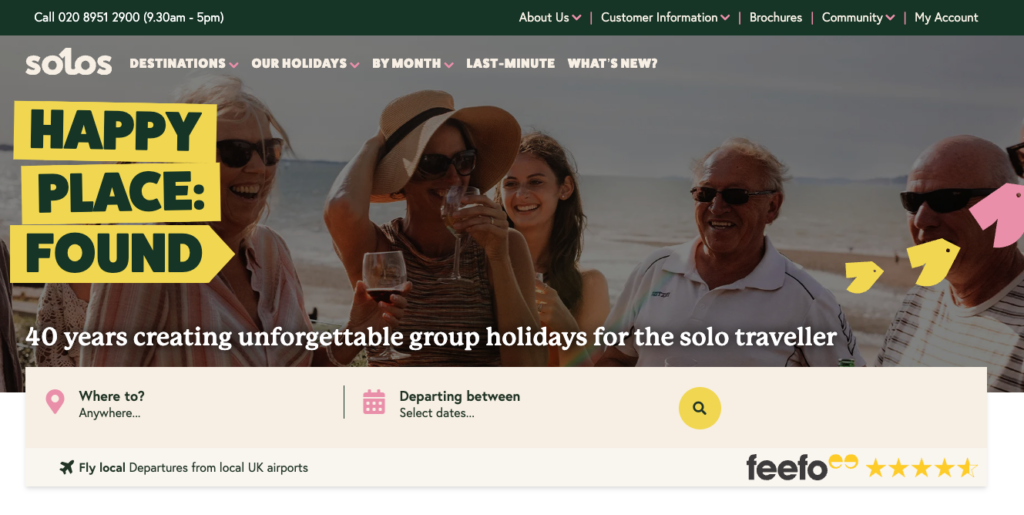 With more than 40 years of experience, UK-based Solos Holidays is a tour company that offers especially crafted holidays designed for single and solo travelers.
They focus on creating sociable experiences where one can travel independently, but with the convenience of traveling in a group and having a tour leader.
Solos Holidays have tour destinations across the world in Europe, America, Australia, Asia, The Caribbean and Africa. They have a mix of ages in their tours, but the majority of guests are above 40 years old.
In order to appeal to a wider range of travelers, they have many holiday types with specific activities that match almost any interest.
There are group tours for the active which include activities such as hiking, cycling, water sports, yoga, golf, whale watching. They also have ClubSolos which is an exclusive tour in luxurious accommodation.
| | |
| --- | --- |
| Age range | Usually people from 40-80 years old, but it varies depending on the trip. |
| Number of group members | Average size is 15, but can be up to 20 or 30 people, depending on holiday type. |
| Destinations | More than 45 countries in all of the 7 continents. |
| Duration | From 7 days to 14 days tours. |
| Price range (USD) | From $900 all the way up to $6,500 depending on duration and destinations. |
| Single supplement | There are no single supplements on all of their holidays. |
Exodus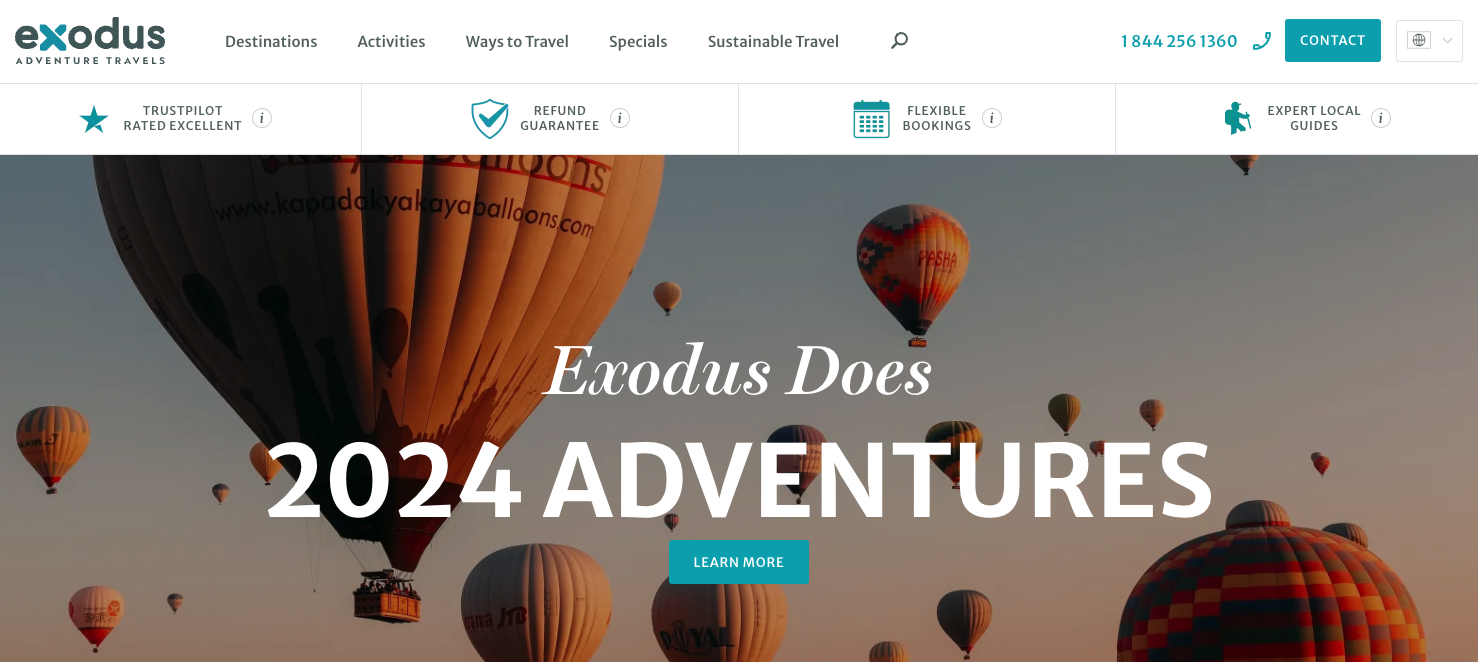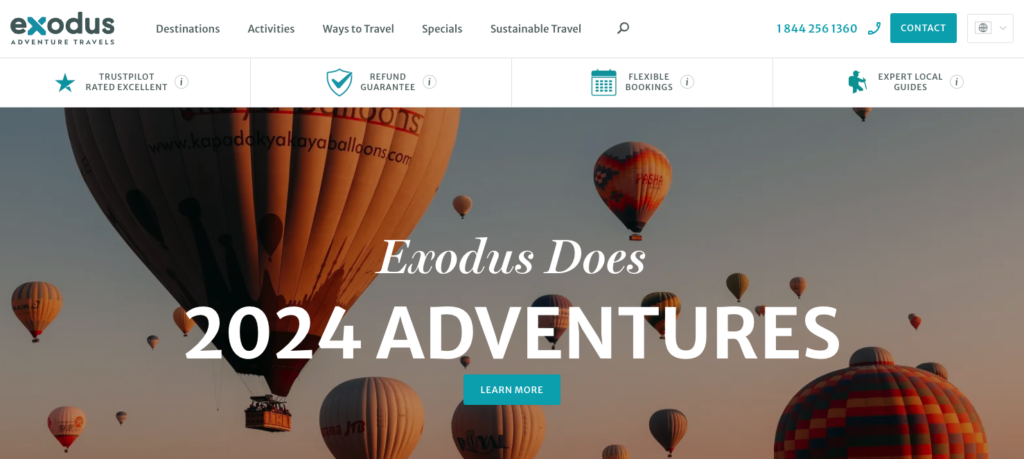 Exodus Travels has their own section of solo holidays for travelers in their 30s and 40s called Exodus Edits.
Their tours are unique experiences such as cycling in Croatia or hiking in Morocco, that guarantee you'll have the best time and share memorable moments with like-minded people in whatever activity level you choose: leisurely, moderate or challenging. Compare the tours and find the one that matches your interests.
Have a detox of the ordinary and make the most of your singles vacation going to a bucket list trip like Pyramids and Pharaohs in Egypt, Cabernet and Capers in South Africa or Street food and Sunshine in Sicily.
| | |
| --- | --- |
| Age range | Exodus Edits tours are exclusive for people in their 30s and 40s. |
| Number of group members | Normally 8 – 16 people per tour. |
| Destinations | Morocco, Portugal, Croatia, Turkey, Italy, Egypt, Vietnam, Greece, Jordan, South Africa, Costa Rica, Peru, Iceland, India, Indonesia, United States, Nepal. |
| Duration | From 3 day to 23 day tours. |
| Price range (USD) | From $1,000 to $5,500 depending on duration and destinations. |
| Single supplement | Their tours have no single supplements as they will put you in a shared room with a fellow traveler of the same gender. Occasionally, you may end up with your own room. |
Rick Steves


Rick Steves is an American expert in European travel and has a best seller guidebook series, a travel column, a TV show and a radio show.
His company offers tours throughout Europe and focuses on fun, affordable and culturally broadening trips. There are tours with a large group size, while others limit to small groups. His travel groups were recommended by members of our Facebook group.
Some of their top sellers tours are Heart of Italy, Best of Paris and Best of Ireland.
| | |
| --- | --- |
| Age range | Rick Steves tours are for people looking to immerse culturally in a European country. |
| Number of group members | Normally 24 – 28 people per tour. |
| Destinations | More than 20 countries in Europe. |
| Duration | From 7 to 21 days. |
| Price range (USD) | From $1,500 to $6,000 depending on duration and destinations. |
| Single supplement | They offer solo travelers the option  to  either  share a room with another  solo  tour member of the same sex  or  pay a single supplement to secure a private room. |
Insight Vacations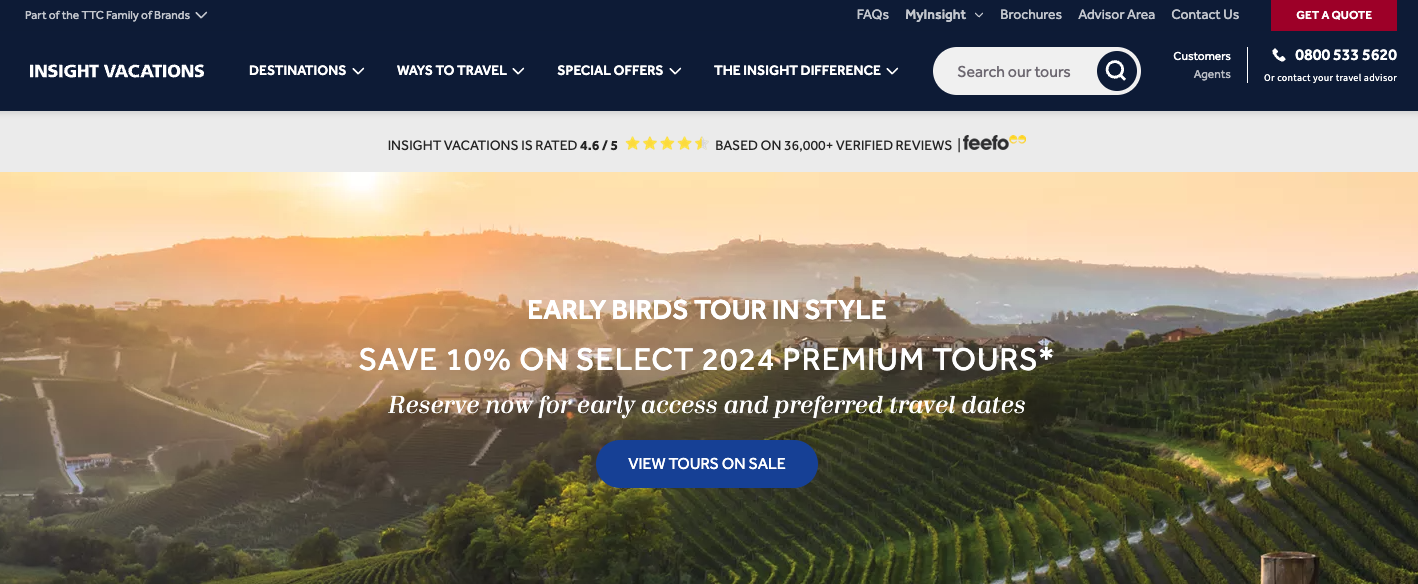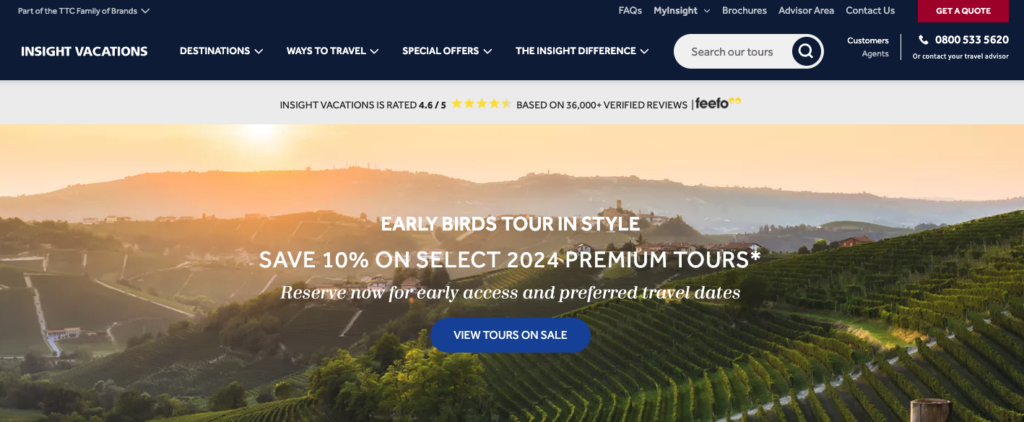 Insight Vacations is a tour company that curates premium small group trips. Their mission is to make you travel in style, in trips that are fancier than most tour companies and offer high-end accommodation, fine dining, and unique experiences.
They offer unusual and fascinating experiences in many of their tours like Twirling on the dance floor in Vienna, savoring Egyptian sun bread in a local village and learning about Oyster farms in Croatia. Groups are usually small but go as high as 40 members.
Their top destinations are Croatia, Switzerland and Italy. Don't miss their special savings and discounts exclusively for solo travelers.
| | |
| --- | --- |
| Age range | Mature travelers looking for unique experiences in a premium tour. |
| Number of group members | Normally 12 – 40 people per tour. |
| Destinations | Many countries in Europe, Britain & Ireland, Americas, Asia, North Africa. |
| Duration | From 5 to 26 days. |
| Price range (USD) | From $1,400 to $14,000 depending on duration and destinations. |
| Single supplement | Many of their tours have a solo traveler supplement discount, from 15% to 100% off. |
Wellness retreats for women over 40
Feeling like you need to recharge?
Disconnect to reconnect with yourself in an amazing retreat holiday, an ideal holiday for singles over 40 looking for an enriching experience, balance and relaxation.
Take a break from the ordinary and embark on a wellness adventure, the destinations to choose from are plenty!
We recommend these companies to book your next retreat holiday.
Tripanner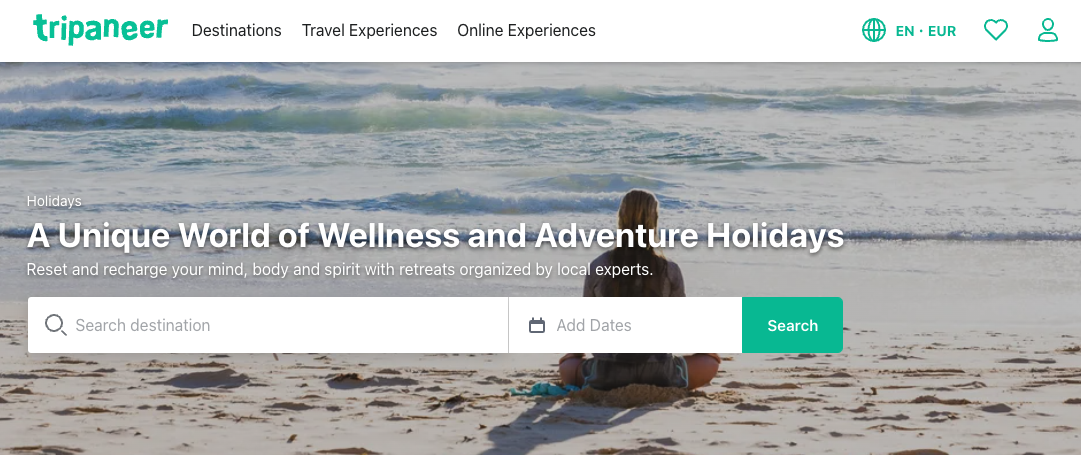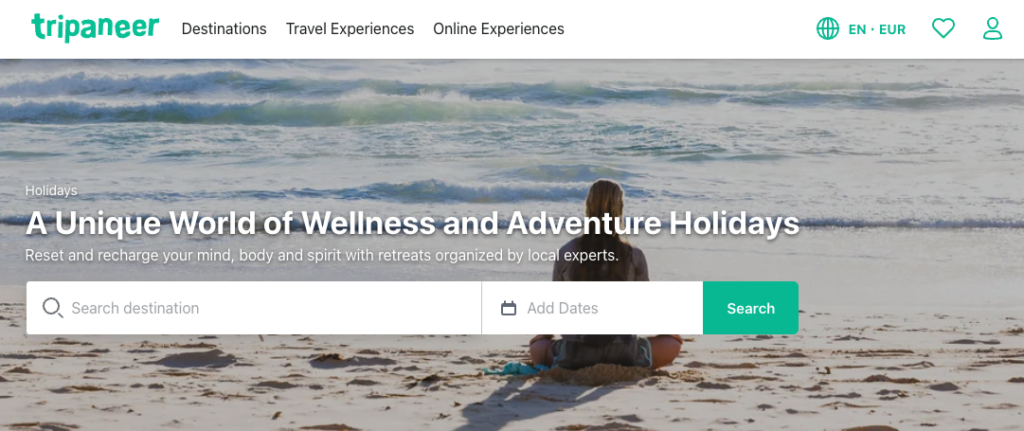 Tripaneer is a travel booking marketplace and they have their own retreat platform called BookYogaRetreats.
In this site, you'll be able to find yoga retreats, holidays and courses in destinations all over the world including The Americas and Caribbean, Asia, Oceania, Europe, Africa and the Middle East.
Tripaneer has a wide array of retreat options, the main ones being yoga retreats, detox retreats and meditation retreats.
If you need a reset and want to enjoy a wellness trip, check out these uniquely crafted retreats like a 6 Day Solo Traveler Package Holiday in Mexico or an 8 Day Deluxe Massage, Surf, Hike and Yoga Holiday in Portugal.
Tripaneer is a well trusted travel company which will connect you with the best of local culture in any destination, so you can have an unforgettable and enriching holiday.
Fivelements in Bali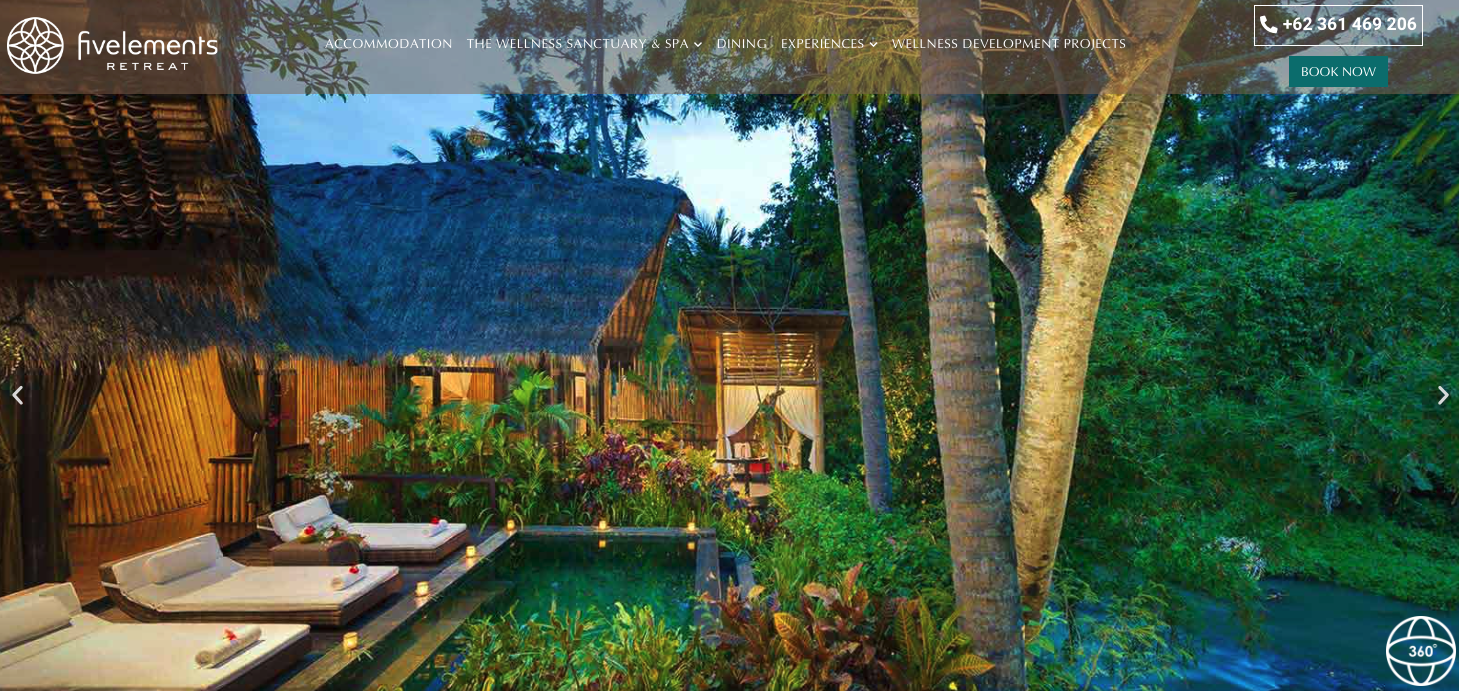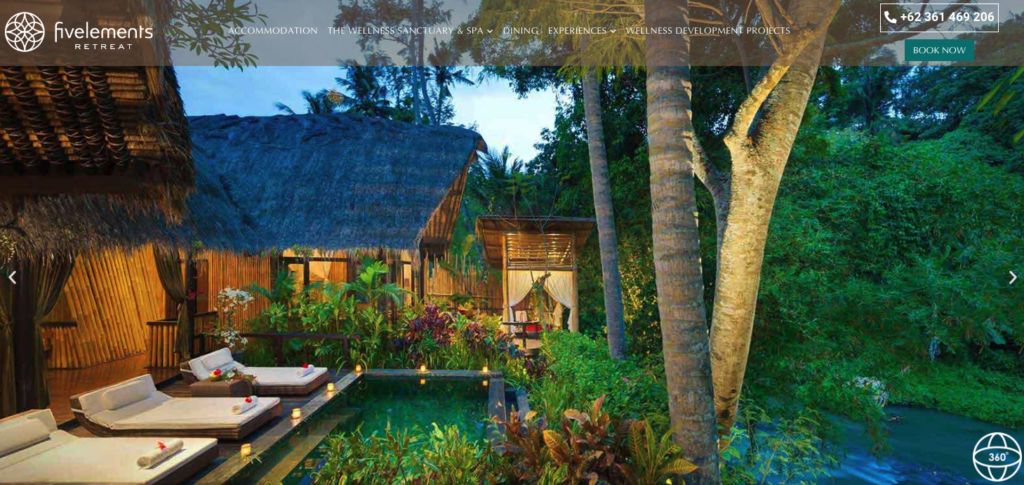 Fivelements Retreat Bali is an eco-conscious wellness retreat located on the banks of the Ayung River in Bali.
This is a place where you can encounter authentic Balinese Healing, plant-based cuisine and sacred arts.
A great holiday destination for singles over 40, Fivelements offers a mix of healing cultures with innovative wellness concepts.
You can choose from different types of experiences like a personalized private wellness retreat, a wellness day, detox programs with plant-based cuisine, culinary experiences, etc.
The accommodation options are nothing but luxury! Stay in stunning riverfront or hillside suites with pools and gardens. If you want something out of the ordinary, set off for a relaxing holiday in this wellness sanctuary, rooted in the Balinese culture.
Chiva Som in Thailand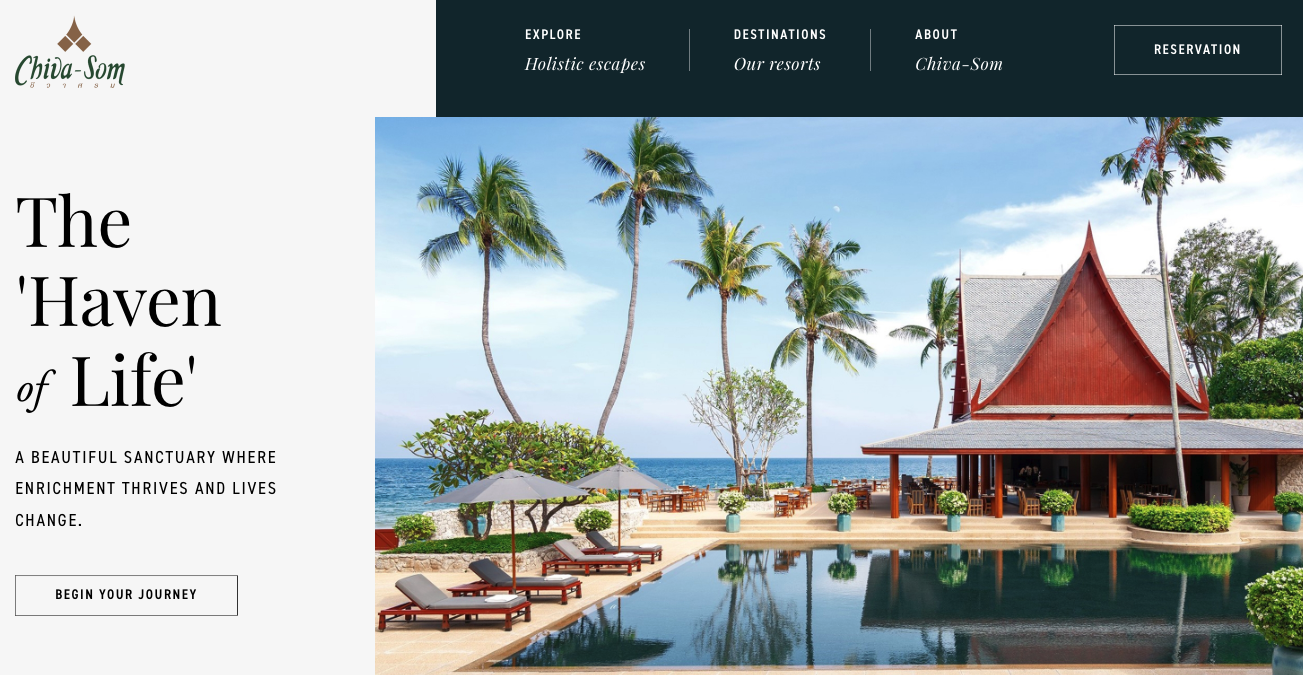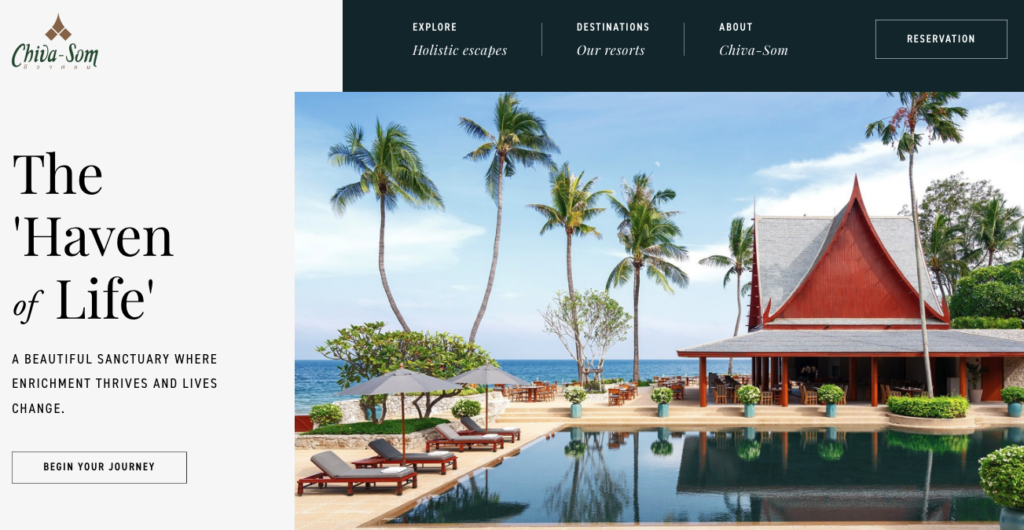 "A beautiful sanctuary where enrichment thrives and lives change".
Recommended by our group members, Chiva Som is a place with a holistic approach to wellness, with two resorts located in Thailand and Qatar.
The brand offers carefully curated retreat experiences, which include daily activities and treatments, for every kind of interest and health concerns.
You can search for your ideal retreat experience based on your goals, which can be relaxation, emotional and mental balance, detox, beauty, physical fitness, among others.
If you're looking forward to embarking on a journey that benefits your health and life, choose a retreat holiday in Chiva Som. Some of their most popular experiences are Art of Detox, Natural Renewal, Senior Wellness and Cranial Relief.
BodyHoliday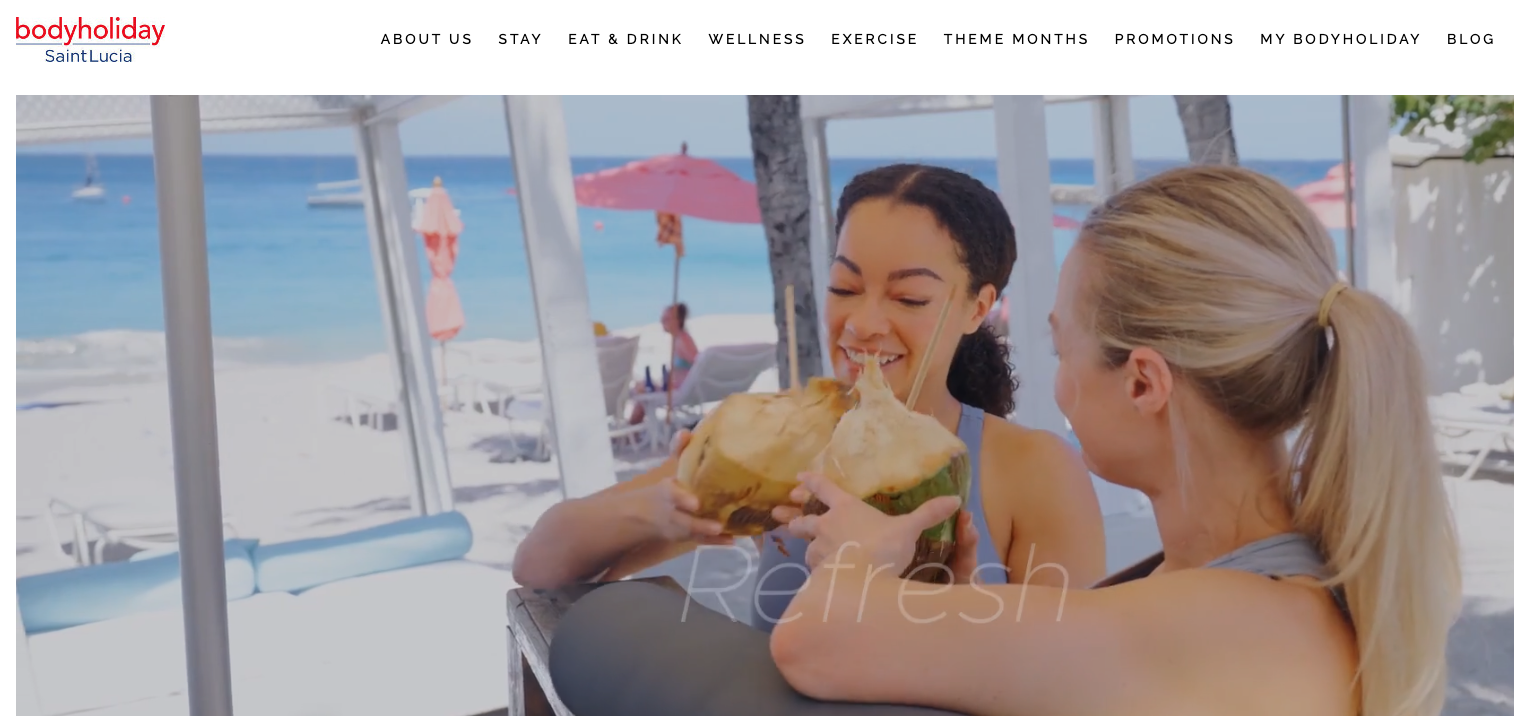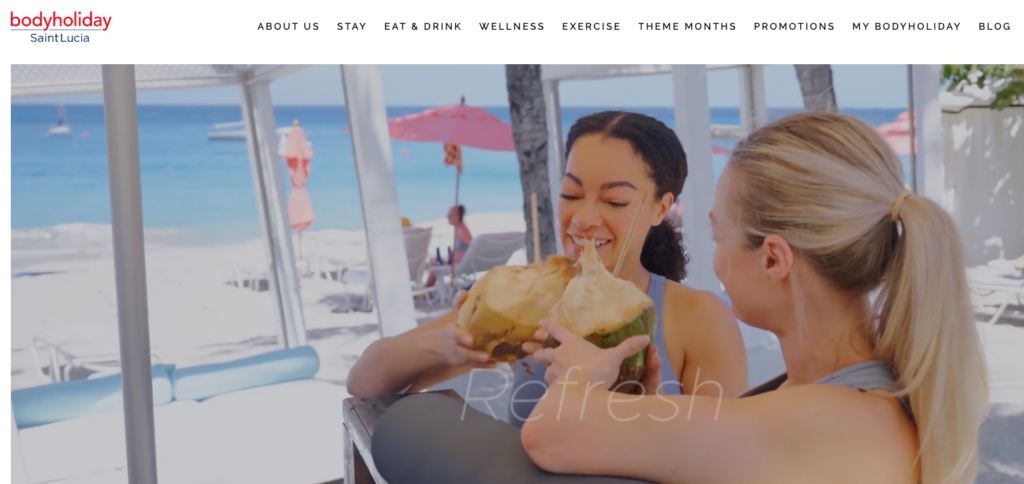 BodyHoliday is a luxury wellness resort located in the Caribbean island of Saint Lucia.
With a stunning beach, luxurious rooms and delicious cuisine, this spa resort focuses on well being and providing a pleasing holiday to every guest.
A fab thing about them is that a daily spa treatment is included with your room rate, so it's the perfect holiday to let go, relax and recharge your mind.
Each of their retreats is fully inclusive of luxury accommodation (with no single supplement), food and beverage, as well as all the activities related to the retreat you've chosen.
There's a wide range of things to experience at the BodyHoliday, so if you wish to do something in your free time, take a yoga class or learn how to do Tai Chi all is possible.
You can choose from many exercise or wellness activities and the good news is the majority are included!
Our group member Lucy shared her review: "I have just had a week at The BodyHoliday St. Lucia. It is my first venture into holidaying alone and they make it very easy. There are activities from 7 am until 5 pm. Treatments included daily and communal tables if you want to make friends or have someone to chat about your day! A fabulous first venture into solo travel in my 40s".
Escape to Shape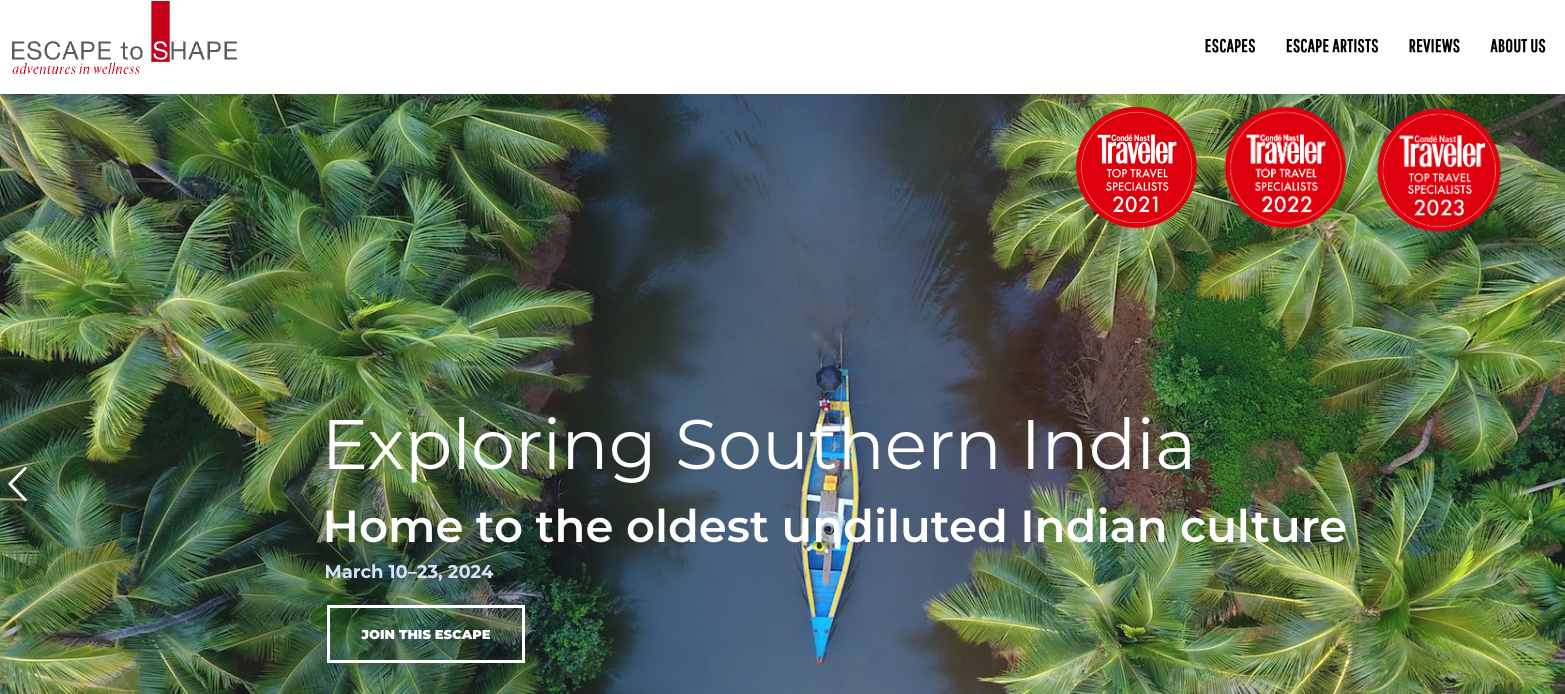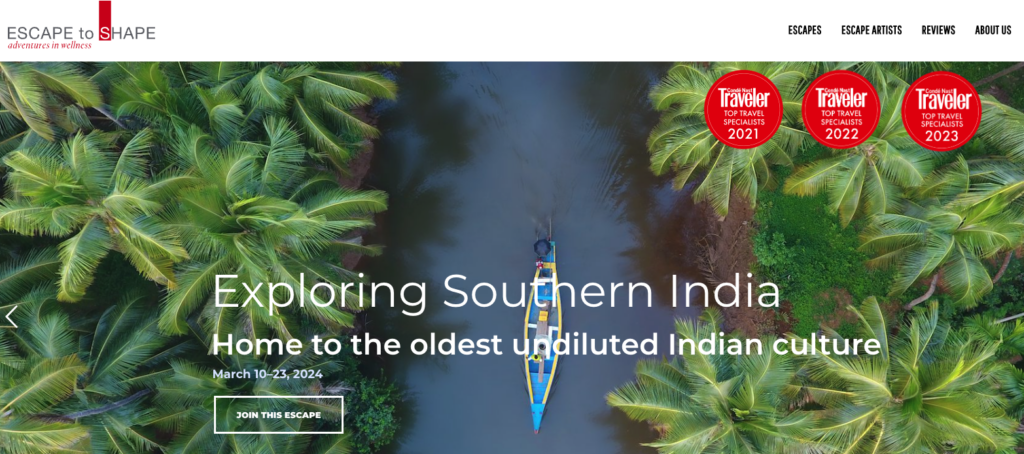 Feel like doing a full-on fitness trip to Lake Como, Italy?
Escape to Shape specializes in curating high-end wellness experiences that include luxury, sustainability, fitness and relaxation.
Erica and Francesco, the company's owners, put a lot of effort in planning and hosting each trip, with the ultimate goal of making sure travelers immerse in the local culture, have a positive impact on the local economy and make new friendships.
All the trips have small groups which enjoy an enriching holiday and return home feeling refreshed and recharged. Additionally, you will travel sustainably and have contact with local guides and stay in environmentally friendly accommodations.
If you're feeling like you need a holiday escape, set off on one of their most popular tours like Markets, Magic & Mountains in Morocco, Multi Sport Adventure in Slovenia and A Journey Through Rajasthan in India.
Retreat in the Pines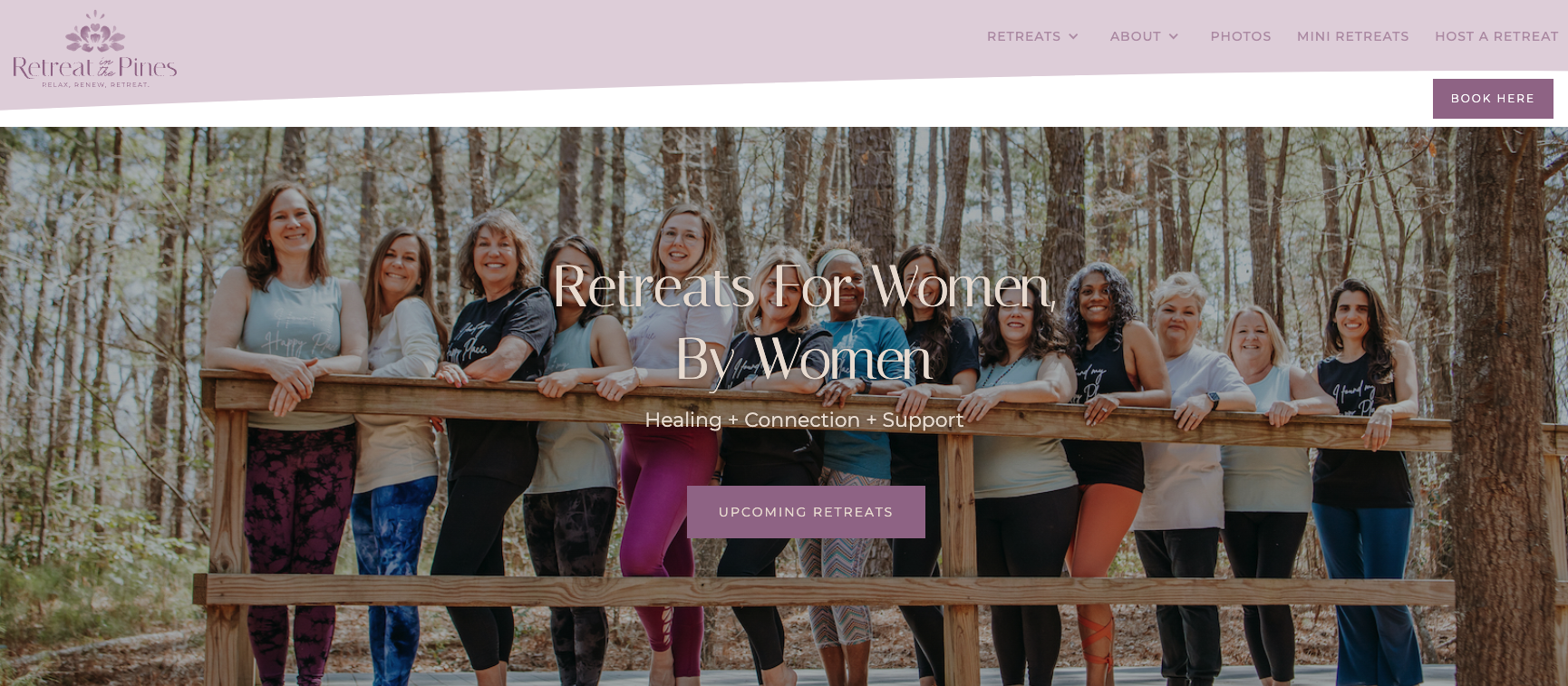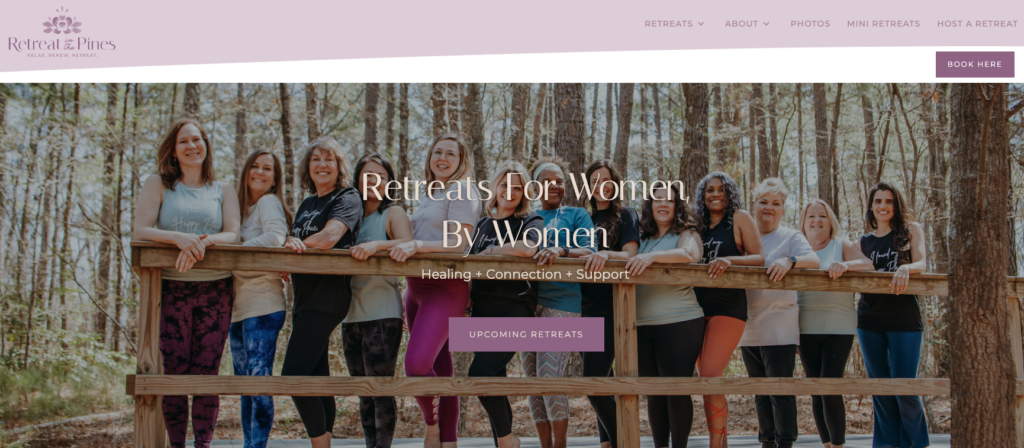 Retreat in the Pines has been hosting women retreats since 2004 in the beautiful piney woods of East Texas and the majority of their guests are solo travelers in their 40s and over.
Their retreats include a variety of activities like yoga, meditation, hiking, wellness workshops, cooking classes, massages and more in small groups of 10-12 women, so the experience is personal and you get to meet like minded women and form connections and friendships.
What we love about this company is that they are a female owned business and are committed to creating an ethical and environmentally aware retreat center. As they state on their website, "You are accepted as your authentic self – there's no need for fancy yoga clothes and you don't need to touch your toes".
So, if you're longing for a solo holiday that involves community, attend one of their retreats, in which you'll find healing, inspiration and connection. Retreat in the Pines has a very welcoming atmosphere, where every woman is supported and encouraged, without any judgement.
Fit & Fly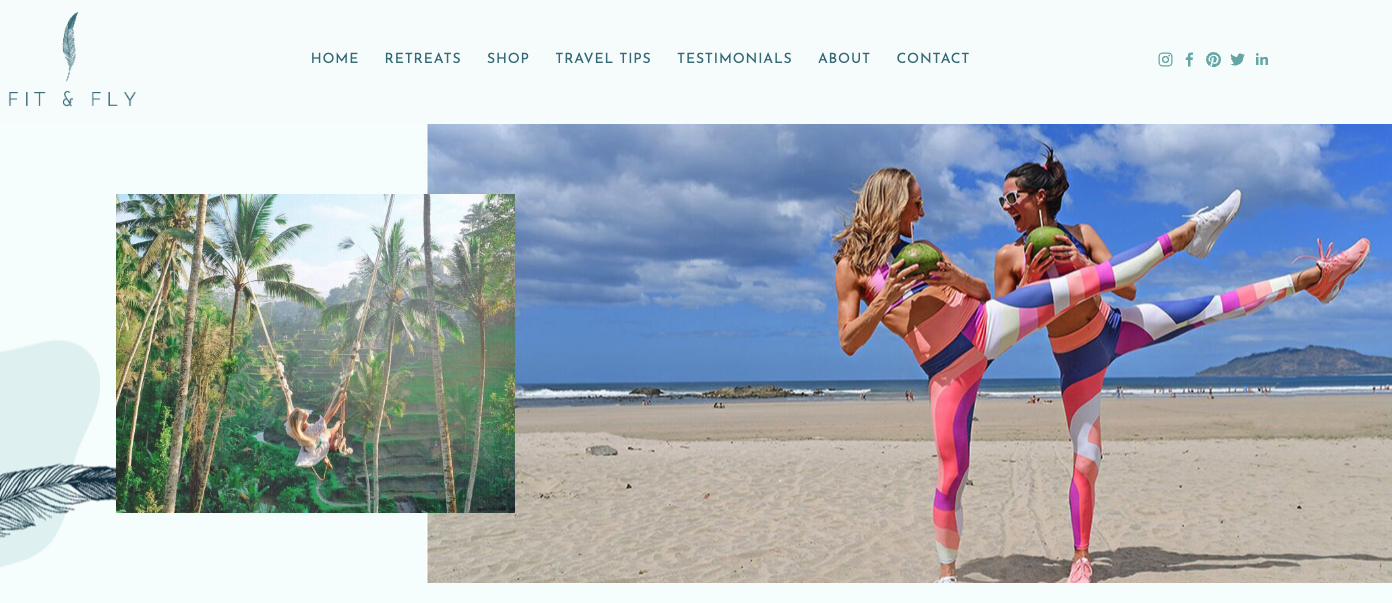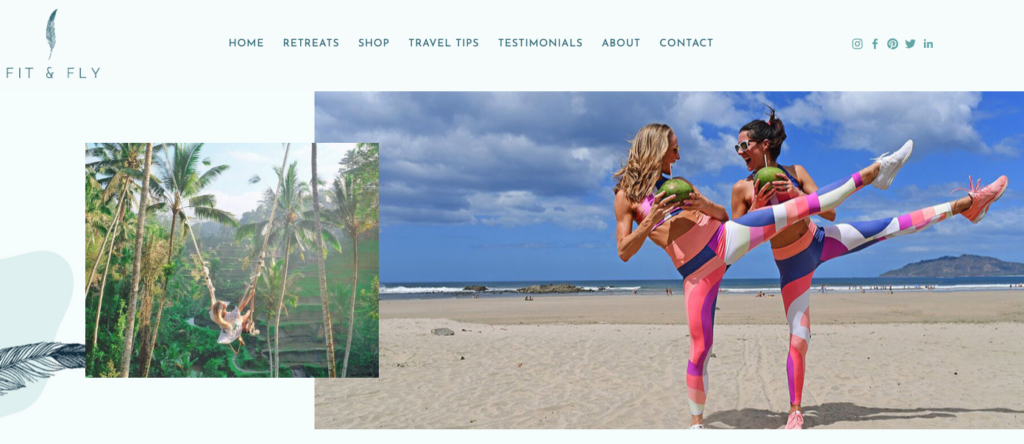 Editor's note: Fit & Fly doesn't currently offer any trips.
A company founded by attorney and travel writer Rebecca, Fit & Fly creates fitness, wellness and cultural retreats in fascinating destinations. They empower women to take special care of themselves and make meaningful connections with other women.
If you want to try an active vacation where you workout and relax at the same time, this is the travel company for you. The retreats include stylish accommodation, fitness classes, delicious eats, wellness activities, spa experiences, cultural excursions and more.
Fit & Fly has a supportive environment and instructors that make workouts challenging but doable depending on the guest's capabilities.
The company welcomes women from all ages, though the majority of their guests are in their 40s & 50s, this makes it one of the best wellness tours for singles over 40.
Their top retreat destinations are Bali, Ibiza and Maldives, with a few more exotic places to choose from.
Trips for women over 40 who want to be in the water
If your perfect getaway involves being near the water, go for a sailing adventure or a river cruise holiday.
These trips are an incredible way to enjoy stunning sunsets and sea views, do snorkeling and excursions, and meet new people on board a catamaran, yacht or cruise (if you go fancy). Unpack once, visit many cities!
Another World Adventures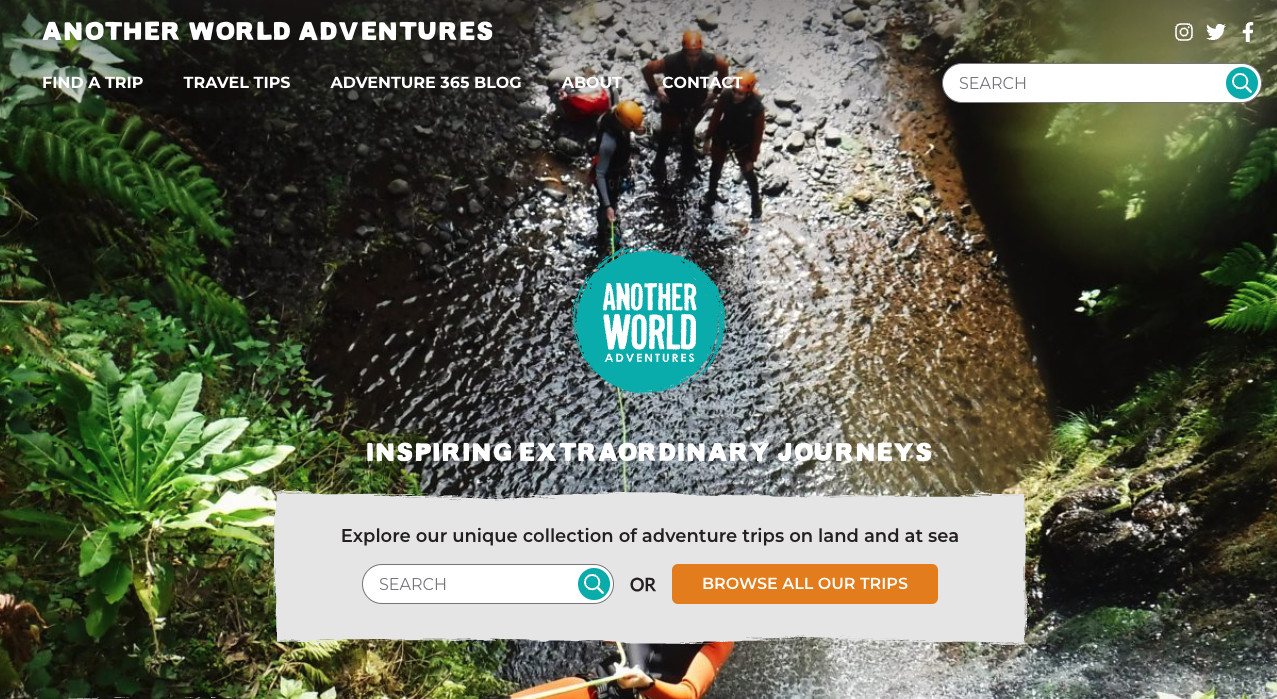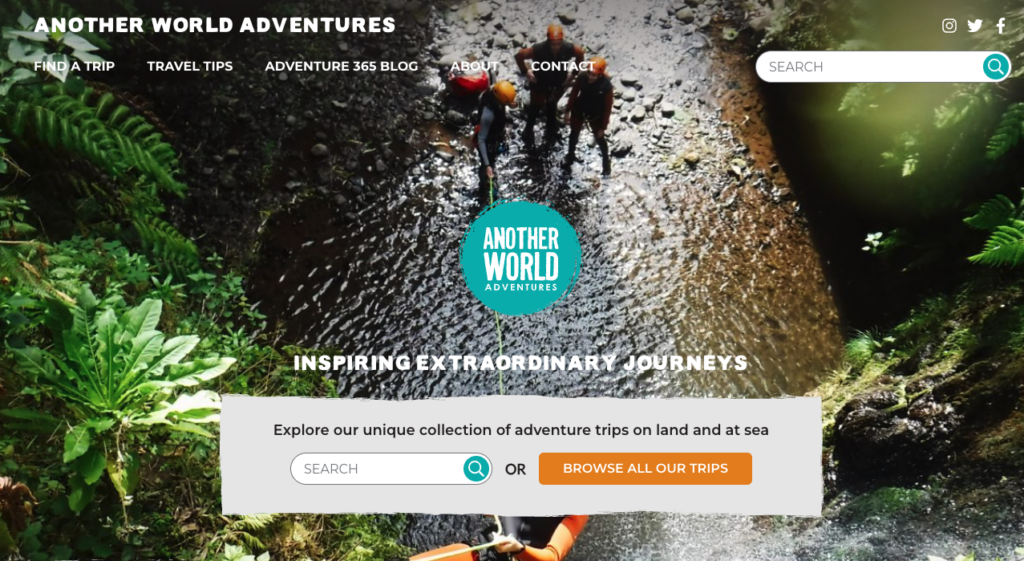 Larissa, one of our group members, has a tour company called Another World Adventures that offers many sailing trips around the world.
We hosted an interview with her, in which she shared an experience that changed her life: she sailed a 100 year old tall ship during a transatlantic sailing voyage from Europe to Brazil.
Larissa had an exciting sailing journey and this inspired her to launch her own company and offer genuine sailing expeditions.
This is a terrific choice if you want to have an out-of-the-box holiday experience.
Another World Adventures has sailing trips with different activity levels, from sitting back and enjoying the ride, to learning new skills and helping sail tall ships, and of all durations, from a few days adventure to an over a month expedition.
This trip will take you all over the world, from Scandinavia and the Arctic, to Europe, or Central America & the Caribbean. Sailing can be great for a single holiday, and you can choose from a variety of trip experiences like a digital detox, a wildlife encounter or going big and sailing across the Atlantic.
AmaWaterways River Cruises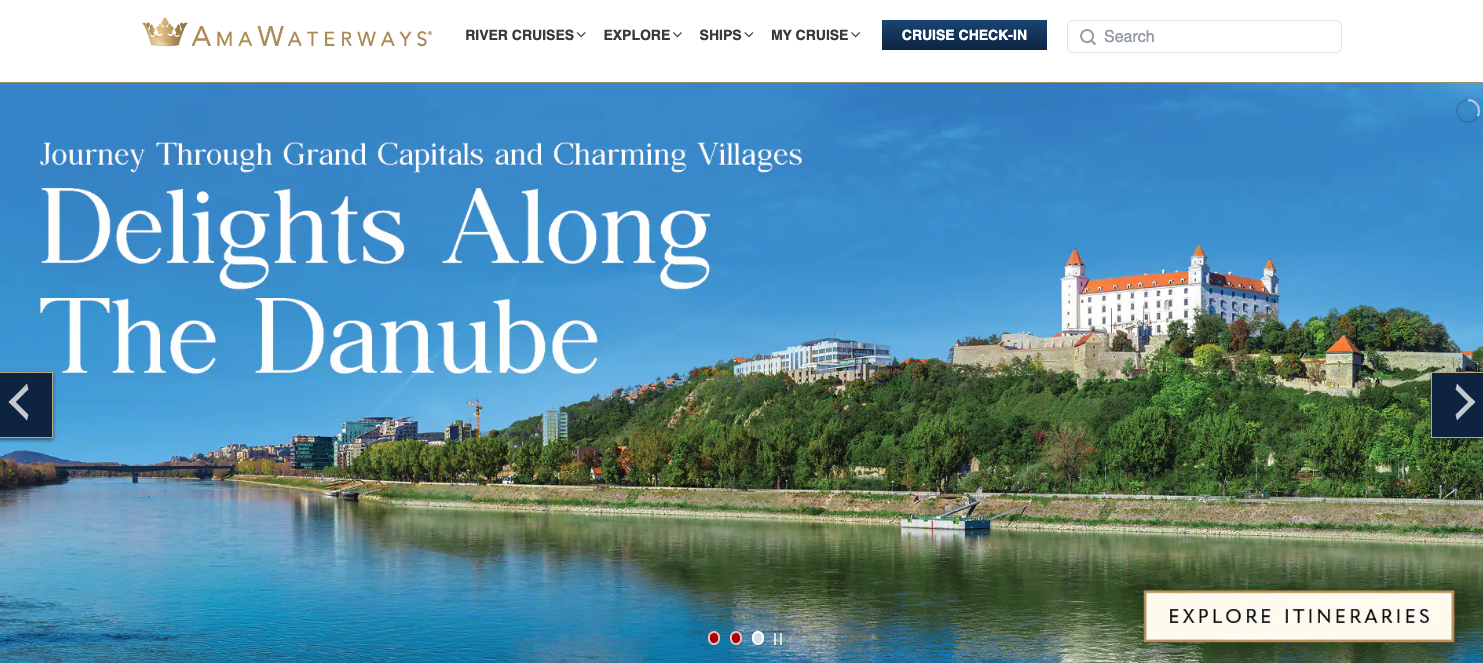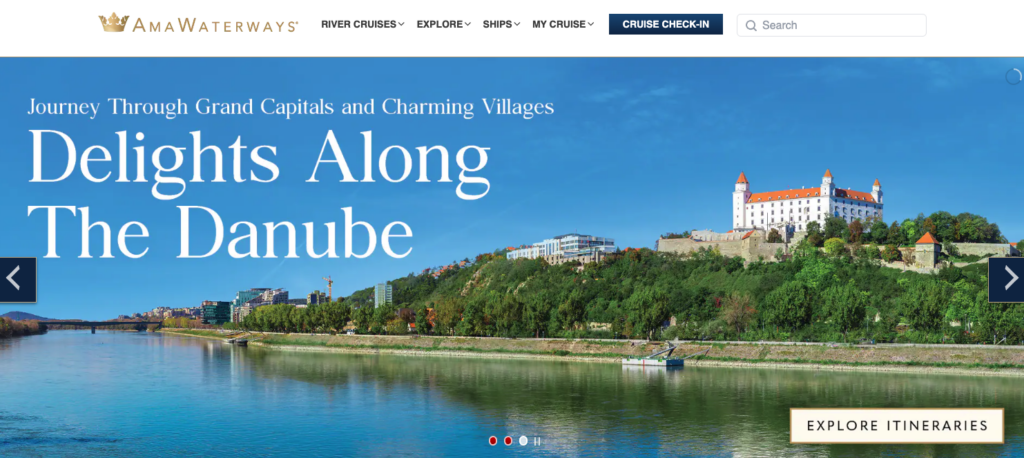 With 19 years of experience, AmaWaterways offers river cruises with fascinating itineraries in many destinations throughout the world, they even have special themed cruises like Safaris and Wildlife in Africa, Wine river cruises and Christmas river cruises in Europe.
AmaWaterways are a great choice for a solo traveler over 40 thanks to their Solo Travelers Special, which includes ways to save on your solo booking: 25% single supplement on balcony staterooms or 10% single supplement on fixed window staterooms on select Europe and Asia river cruises.
The Solo Travelers Special also includes personalized crew service and assistance with planning excursions.
If you have a week to take for your single holiday, the 7-nights Melodies of the Danube or the 7-nights Vineyards of the Rhine and Moselle are exceptional choices and some of their most popular cruises.
Diving and sailing onboard the Tui Tai


While not necessarily a trip designed for solo travelers who are older than 40, the Tui Tai offers unparalleled beauty in one of the least visited parts of Fiji.
You board their tall ship and embark on 5 or 7 days of daily diving or snorkeling, cultural exploration of the main local tribes, nature and hiking and great onboard food.
If you are not a qualified diver yet you can get your certification there, our Co-Founder Mar did, and we promise you that you will never dive anywhere as magical.
Swim among mantas, dive the most colorful soft corals, and explore a part of Polynesia that has yet to be flooded with tourists.
If you come on your own, we promise that the crew will take care of you and the family-style meals and excursions means you will always be in good company.
Trips for women over 40 who want to learn
If you are intellectually curious, an educational holiday is perfect for you.
In these group trips, travel is an enriching experience that is made better by the in-depth learning opportunities, plus you are already starting on the right foot since everyone on the trip shares the same interest for the topic or culture and a love of culture.
Road Scholar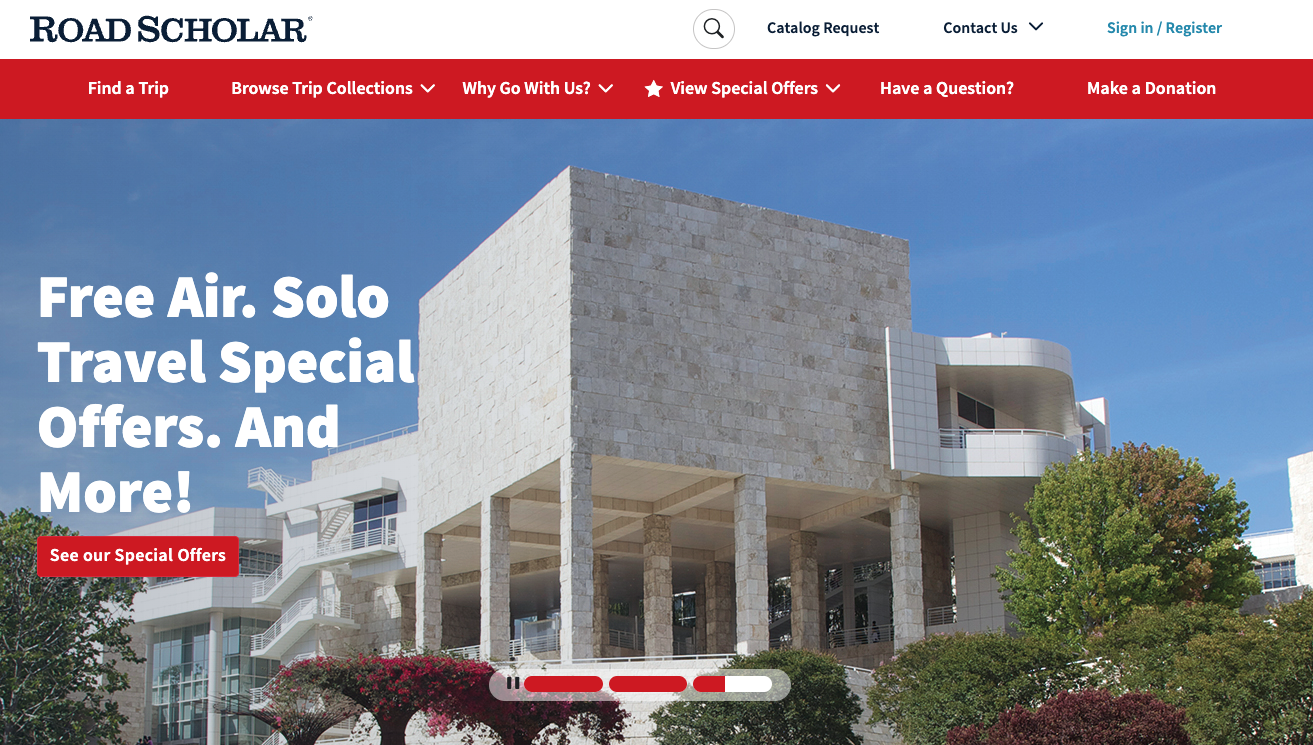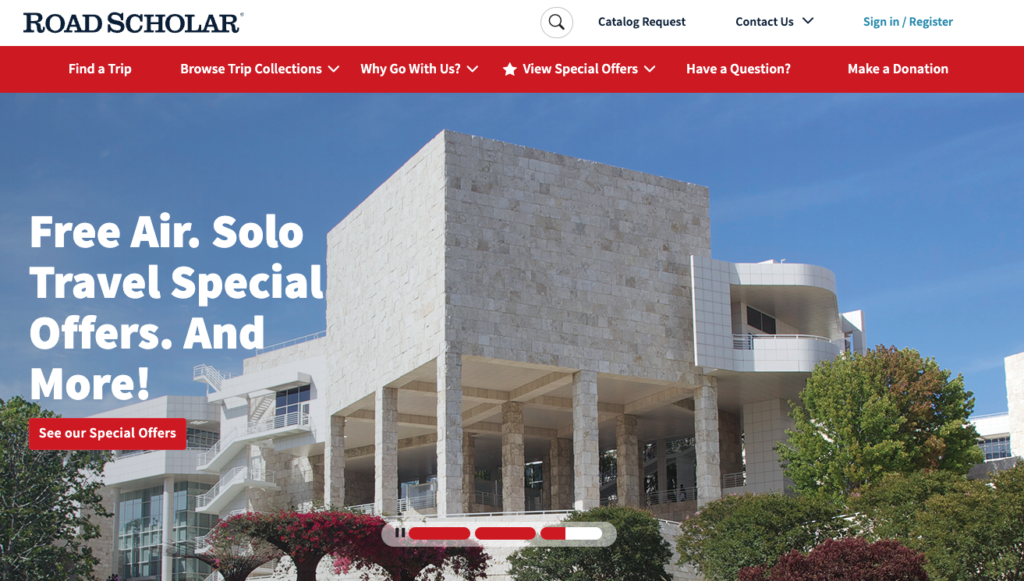 A not-for-profit organization, Road Scholar is an innovative company that creates educational traveling experiences.
As they state on their website, they are "a diverse community of knowledge seekers and explorers, united in the belief that lifelong learning is a vital part of overall wellbeing".
Road Scholar specializes in learning trips for people of 40+ years old and Kelsey Knoedler Perri, PR Director at Road Scholar, told us that almost 30% of their travelers in 2021 came solo and 80% of them were women.
Their portfolio offers thousands of adventures in more than 100 countries. Immerse yourself in the Latin American ambience going on their South American Odyssey (Brazil, Argentina, Chile and Peru), discover Morocco and their Melting Pot of Cultures, or dive into the Cultural Highlights of Japan.
They have a massive variety of destinations, travel styles and trip lengths, and they also offer a roommate option to avoid paying a full single supplement.
This is a very unique way to have a single holiday, focused on learning about the destinations, connecting with new people, and making the best of your vacation.
Trips for women over 40 who want to learn a new skill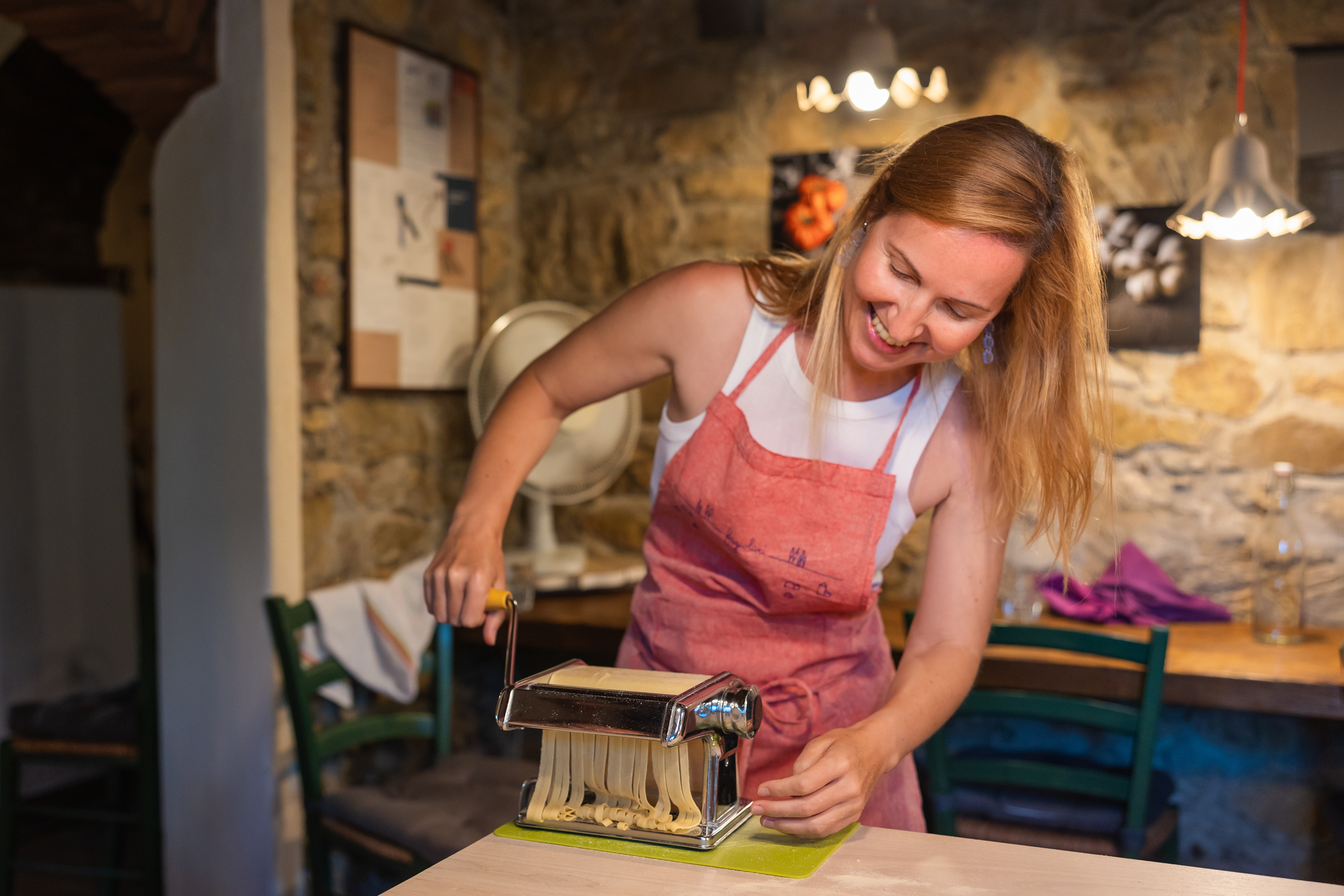 Want to learn how to cook in Italy? Or how to paint in Spain? If you want your next holiday to add value to your life, go on a learning adventure to an exciting destination.
There are many companies who specialize in learning holidays where you take classes, courses and activities, while immersing yourself in the local culture and meeting new people. It's a fantastic way to invest in yourself and explore the world at the same time.
Look at these great options for a learning experience holiday.
Creative Escapes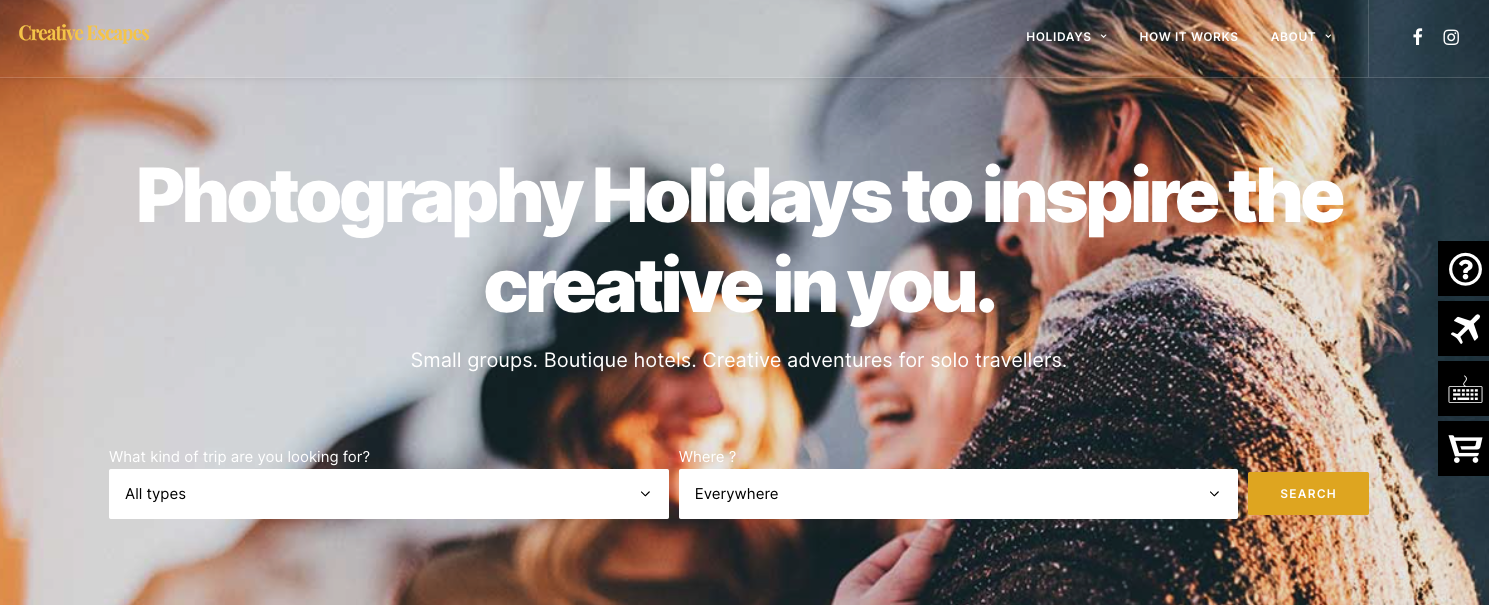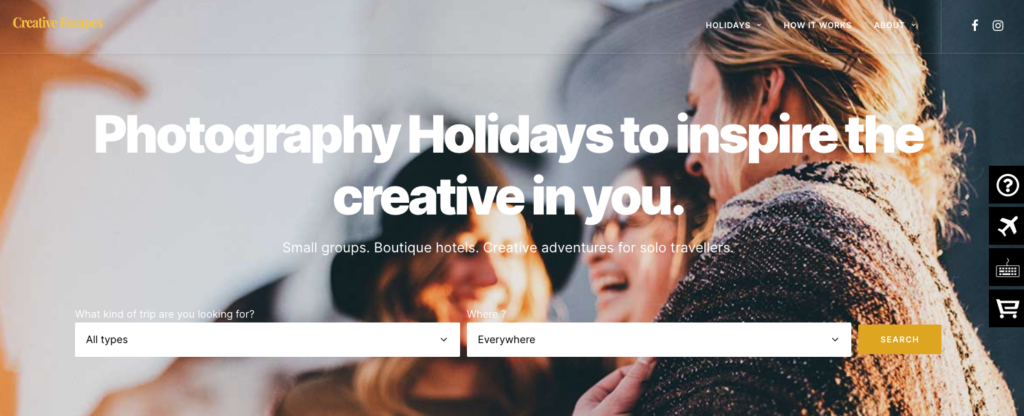 Since 2007, this award-winning company has offered photography holidays to amazing destinations worldwide.
Creative Escapes bring together travelers in their 40s and 50s and take them on small group tours, in which they learn something new while meeting travelers with similar interests. Also, 95% of their guests travel solo, so it's a perfect holiday for singles.
We love the company's concept: hand-built luxury photography holidays.
Creative Escapes itineraries are focused on hidden gems that only locals know, so they tend to stay off the main and touristy landmarks, and instead take you to the best spots, bars and eateries of every destination.
They have short haul tours of 5 days and long haul tours of 10-11 days long.
Their destination picks are exotic and unique, with trips to Nepal, Cambodia, Cuba, Costa Rica, Japan, Morocco and Bhutan. Along with, they also offer more specific locations and experiences like a tour to the Sahara desert, the Holi Festival in India or Yosemite Park in the United States.
Apertour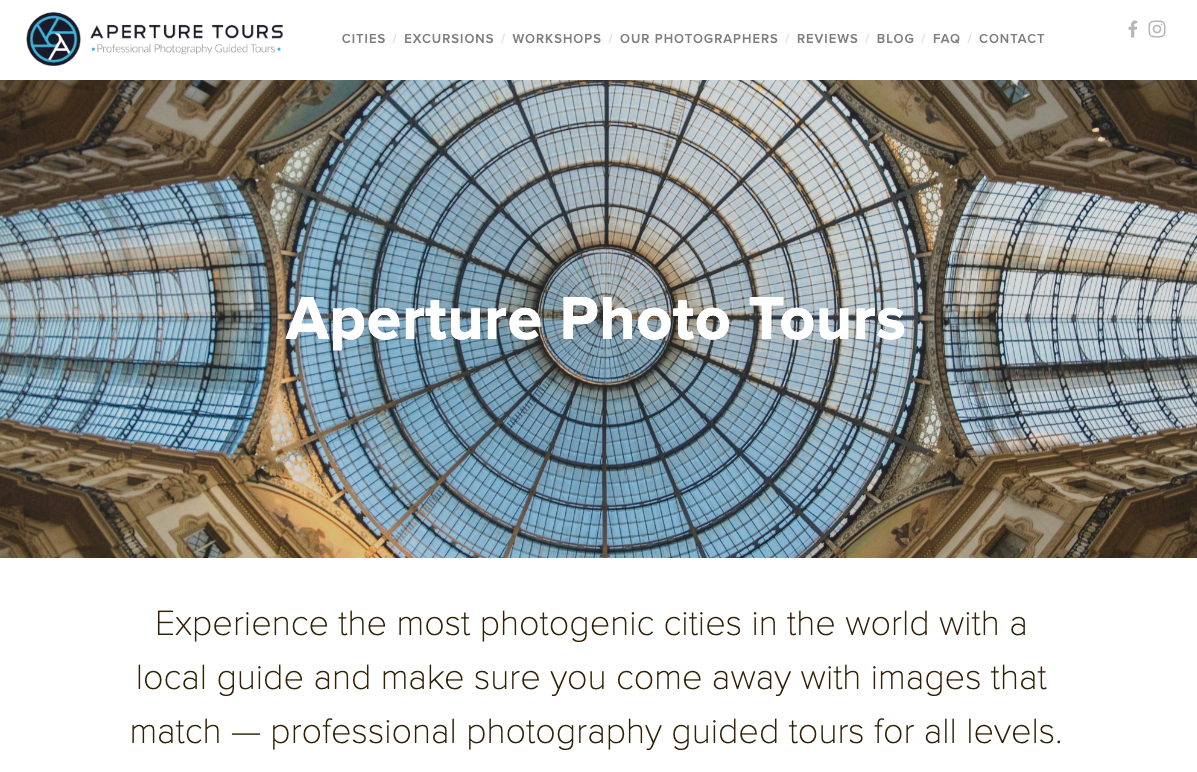 Barcelona-based Apertour offers professional photography workshops to some of the most exotic and photogenic destinations such as Oman, the Faroe Islands or Japan.
Group are very small and focus on personal attention with often 2 professional photographers for a group of 7 guests, honing in on the photography skills you'll learn.
If you don't want to go on a longer trip, they also offer city based photo workshops that are shorter in nature (2 to 6 hours), and will give you a different perspective on the place you are visiting, or live in.
Flavours Holidays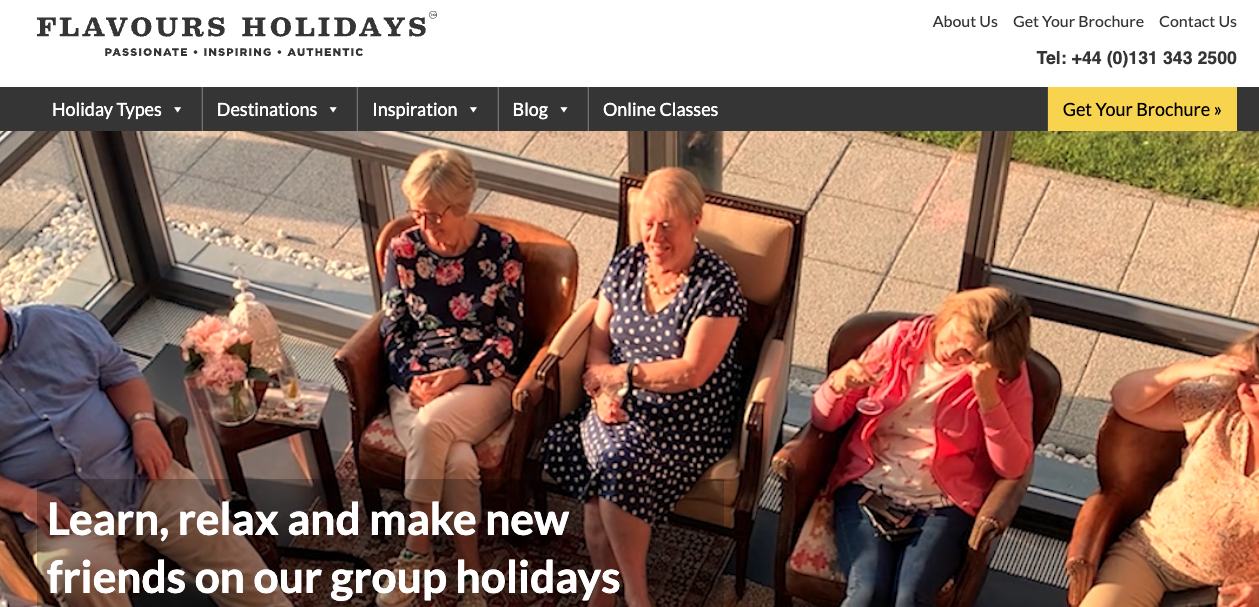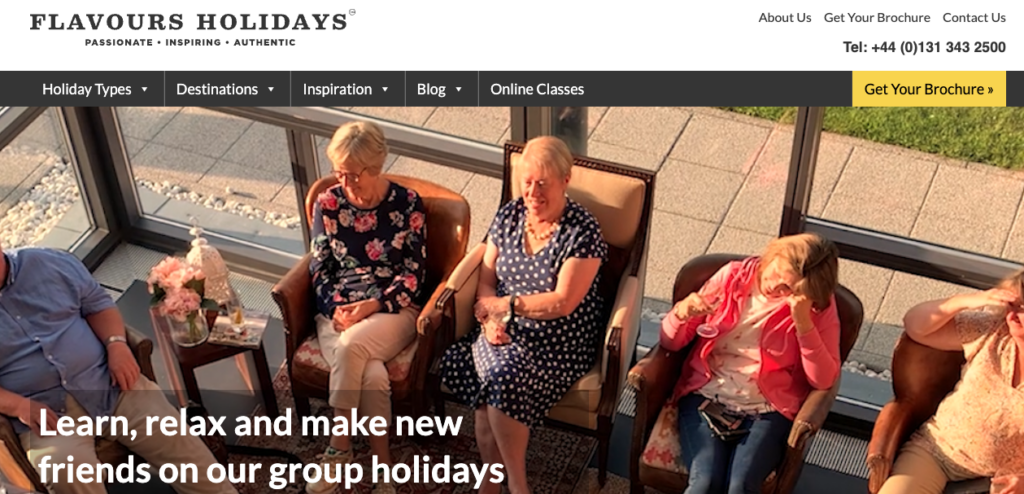 Operating since 1998, Flavours Holidays offers unique learning tours for solo travelers: quality cooking, painting, pilates, language and photography holidays.
All the trip destinations are picturesque sites in Italy, Spain and the UK, where guests can learn from passionate chefs and experienced tutors. All their tours are custom-made for solo travelers, with over 80% of their guests traveling solo.
The good news is they don't charge single supplements, so you can have a comfy room for yourself.
Our top pick is the cooking holiday in Italy, they have options in many Italian sites: Tuscany, Puglia, Amalfi, Venice, Bologna and Sicily.
Other great options for your singles holiday can be a painting tour in Andalusia, Spain or in the Scottish Highlands. These holidays are perfect for singles over 40 who want to learn something new while discovering places and cultures.
The Himalayan Writing Retreat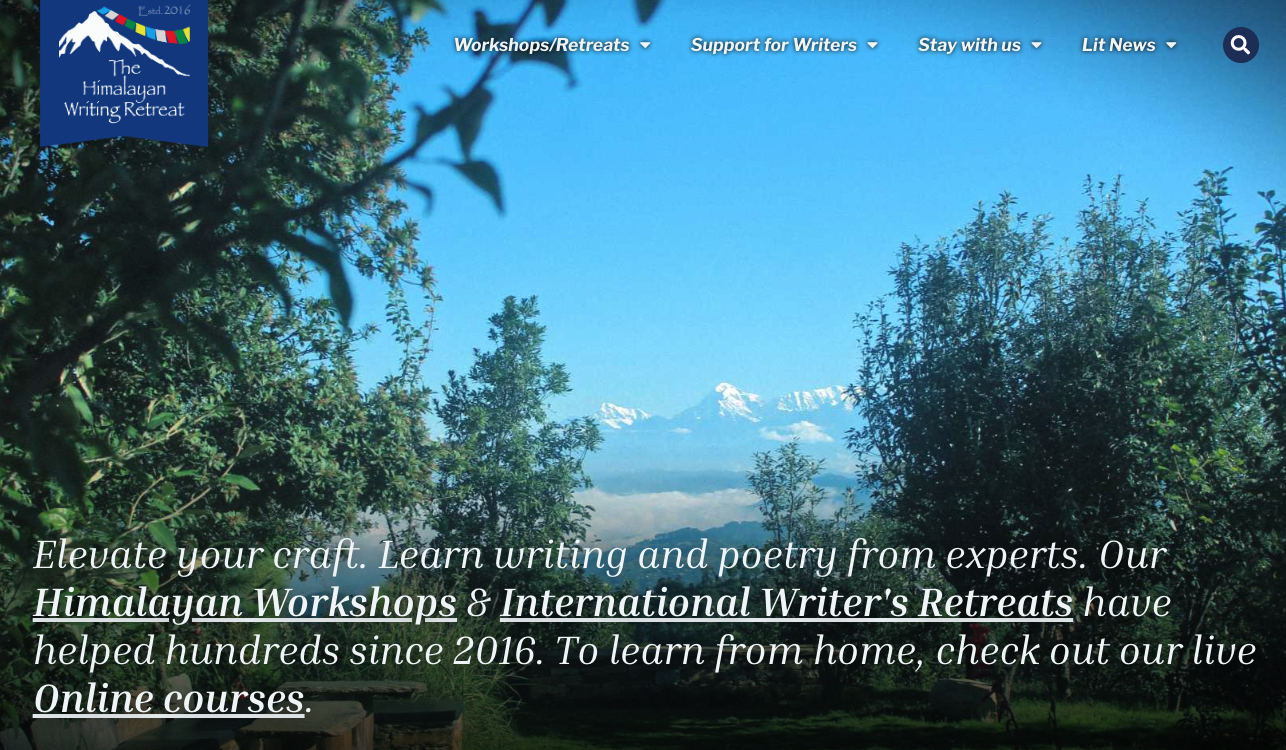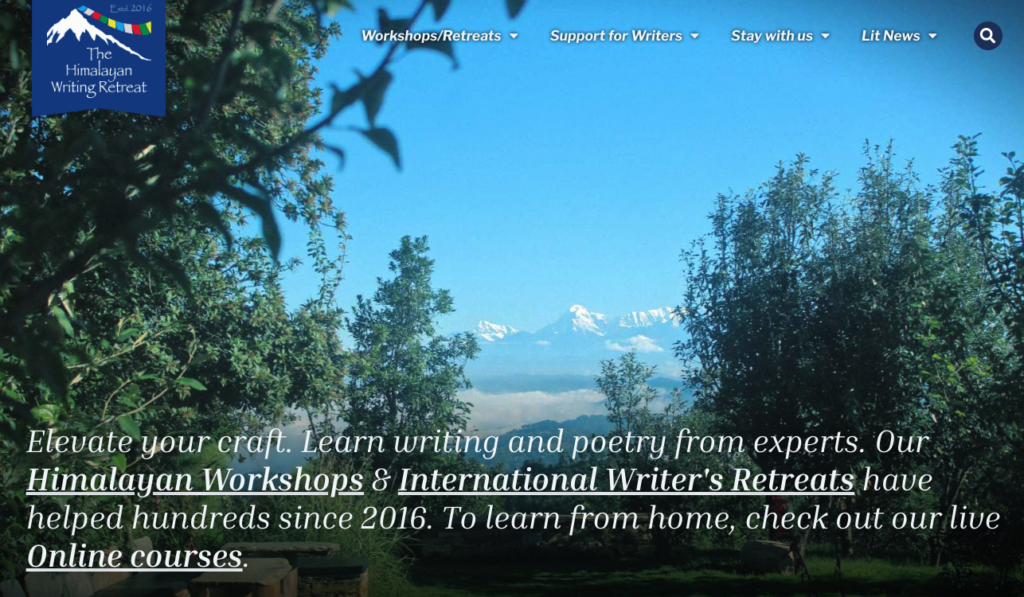 The Himalayan Writing Retreat is a homestay-style accommodation in the Himalayas often frequented by those looking to write a book or pursue other artistic endeavours in peace and quiet that offers writing workshops and retreats with set departures.
Workshops are usually 4 days long and delivered by professionals. You can then choose to stay at the retreat longer. Food is offered on site and the beautiful surroundings are sure to inspire you.
Trips for women over 40 who are digital nomads


One of the best ways to enjoy life and immerse yourself in a new culture is by spending some time there living like a local.
If you are single and have the opportunity to work from anywhere (thanks COVID) you should consider moving somewhere else for a month and having a taste for what local life there is like.
We like the formula that is put together by companies such as Remote Year which allow you to work in a different country every month for 4 to 12 months depending on the program or even for as short as a week for their Unplug version. Or you can book a shorter stint with Unsettled which starts at 1 week only.
While these programs tend to attract younger travelers who are starting their digital nomad life journey and are looking for a community to keep them accountable, they can also be a great way to enjoy a fun-filled break without taking any annual leave.
---
Best vacation spots for singles over 40
We asked our wonderful community to share recommendations of the best destinations for a single holiday. Here are the top picks to have an epic vacation for travelers over 40, based on their personal experience.
Kilimanjaro climbing adventure in Tanzania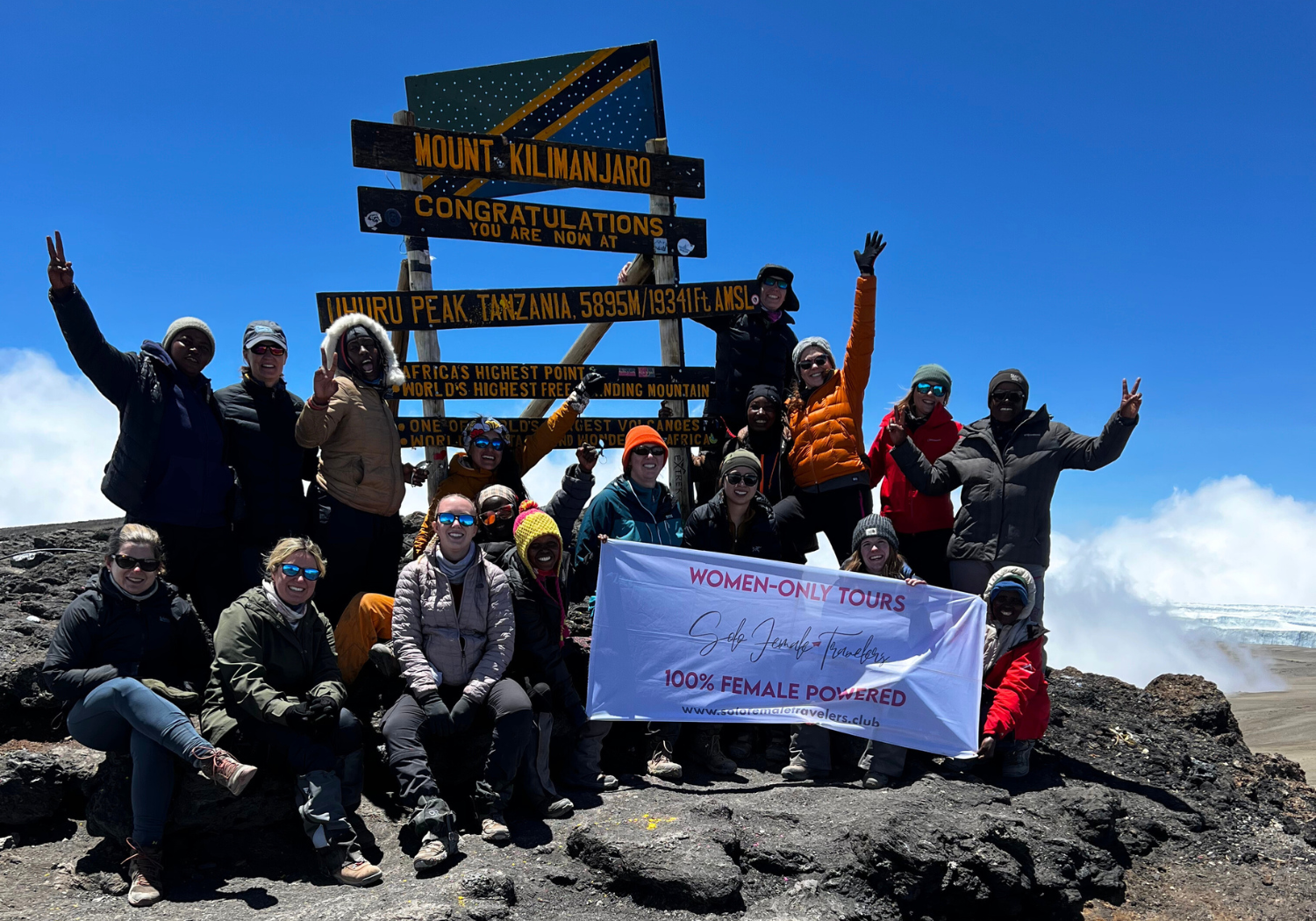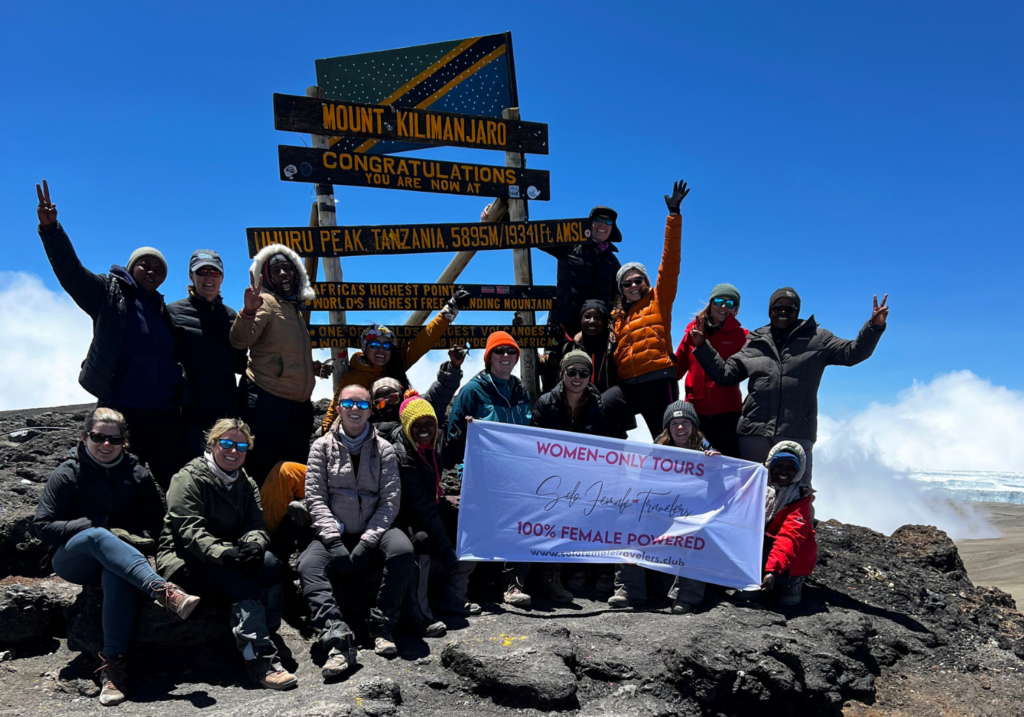 Instead of spending your savings on a mid-life crisis Porsche, do something challenging and potentially more rewarding and prove to yourself that you still have it with a mindset and physical challenge.
Nothing says achievement and self fulfilment like getting to the top of a really high mountain while supporting local women.
Our Kilimanjaro climb takes a maximum of 14 women to the Roof of Africa. Besides the beautiful landscapes with free roaming wildlife, the vistas and the fact that you get up and close with a high altitude glacier, the expedition is a once in a lifetime opportunity to do something that is not only physically challenging but which puts your mental strength to the test.
All our guests come to the trip solo and make lifelong connections with the guides, porters and the rest of the female trekkers. There is something very special about bonding over a challenge that seems insurmountable only to conquer your fears and anxieties together.
What is more, our trip donates $200 for each booking to the Tanzania Women Guides Foundation and supports women receiving training to become guides so you will be making a difference in future generations of women in tourism.
We have so far helped train more than 50 women and are completely changing the tourism landscape in the country with more women joining a 100% male dominated industry.
Challenge yourself and challenge stereotypes while changing lives.
Thailand
A bucket list country for a solo trip, Thailand is a very popular and affordable destination. Locals are very welcoming, there is a stream of solo travelers of all ages and safety is not generally a concern. No wonder this is one of the top destinations for a first solo trip according to our Solo Female Travelers Survey.
Why is Thailand a great destination for single women over 40?
Thailand truly is a great destination for all ages and stages of life but we find it an especially interesting place to visit as a single woman over 40 because of the many fabulous luxury resorts at affordable prices where you can be spoiled rotten.
Try delicious Thai food, get massages at an affordable price and wander among temples and palaces. Once you have had your fix of the cultural side, take yourself on a beautiful beach holiday, Thailand is home to stunning stretches of white sand and numerous islands.
If a wellness retreat is what you are after, Thailand has a huge selection, from the luxury retreat at Chiva Som mentioned above to the Thai boxing detox getaways in Phuket.
Barcelona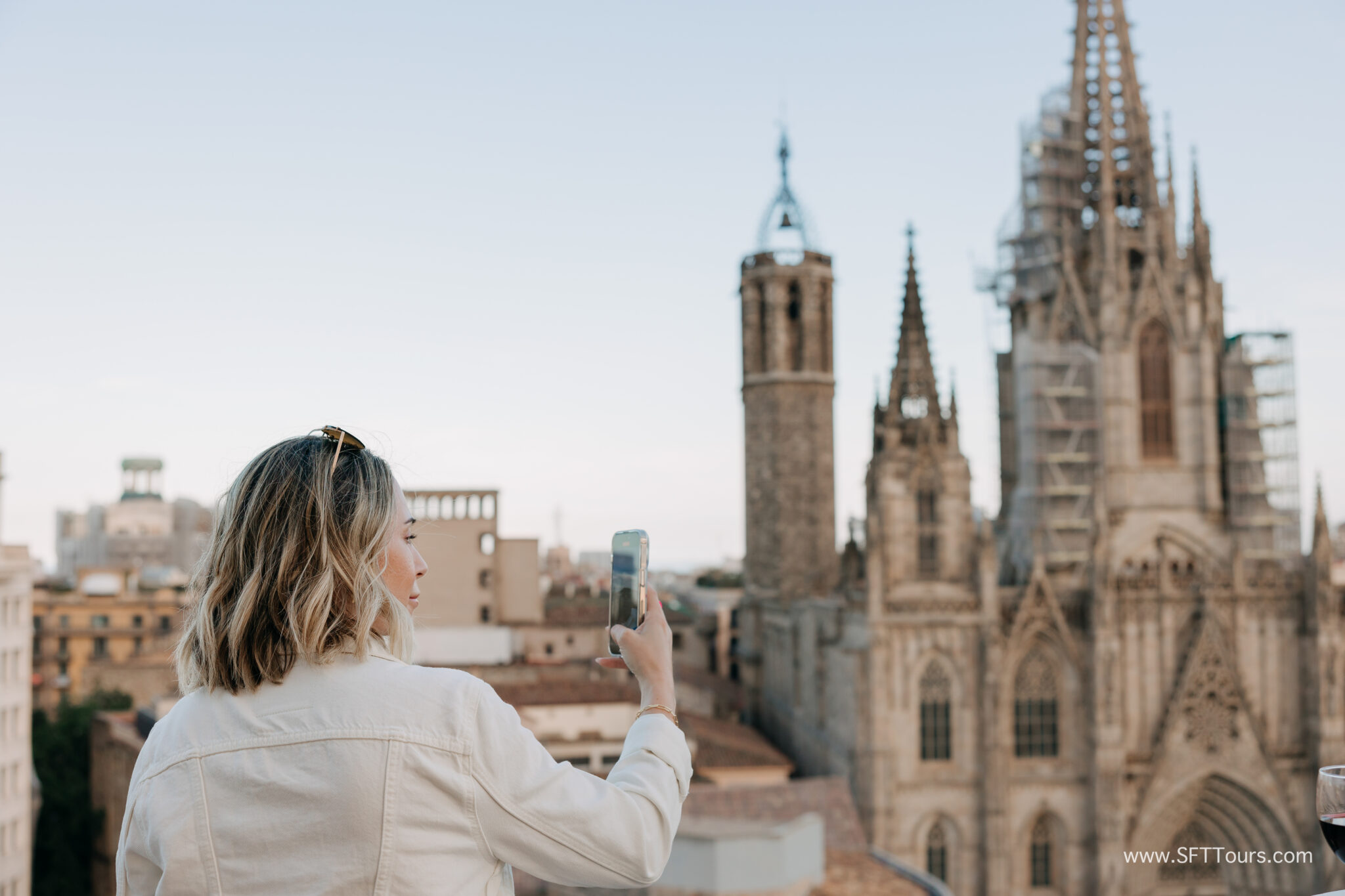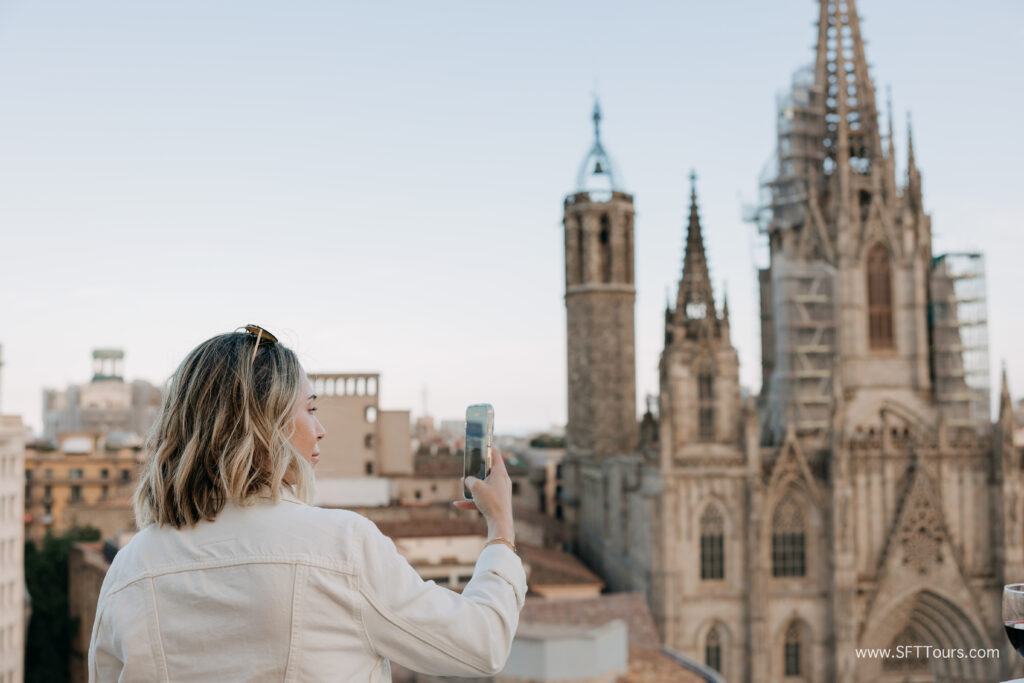 Spain is a very tourist-friendly country with lots of beautiful places to visit and Barcelona is a wonderful destination for singles over 40 to indulge in great gastronomy and immerse themselves in beautiful architecture and ancient culture.
Why is Barcelona a great destination for single women over 40?
In the words of one of our group members, Marta, "I think Barcelona is a great place if you are in your 40s and single; lots of parties all night long, lots of culture, delicious food and good weather all year round".
And we agree!
That's why we take our only-women small group tours to Barcelona & Beyond. If you're into an awesome nightlife and live atmosphere, set off to Barcelona where you can enjoy the city and the beach in the same place, plus acclaimed architecture and art museums.
Want to learn more and get our insider scoop on Barcelona and Catalonia?
Our Co-Founder Mar is a local and has shared with us all the insights and hidden gems of the city. Go check out our detailed guide on everything you need to know about Barcelona and Catalonia: the must-visit sites, local spots, day trips, how to get around and much more.
Turkey
Rich in history and culture, Turkey has everything to amaze the traveler and whimsical locations such as Cappadocia that have become the stuff of dreams.
Although we do think Turkey is great at all ages, we do find it a destination that is perfect for those who are single and over the age of 40.
Why is Turkey a great destination for single women over 40?
We find that the "mid-life crisis" can be fabulous in Turkey. Book a hammam appointment, indulge in fresh Mediterranean cuisine, sleep at a luxury hotel by the Bosphorus and generally enjoy life.
Sheri, a member of our community, suggests a visit to Istanbul: "The city is enchanting, to me. The people, the air, the Bosporus. The food! There is so much history and beauty there. Sitting on the Bosporus was truly magical".
And other members agree that hot air ballooning in Cappadocia with jaw dropping sunrise views is a bucket list experience not to miss.
Italy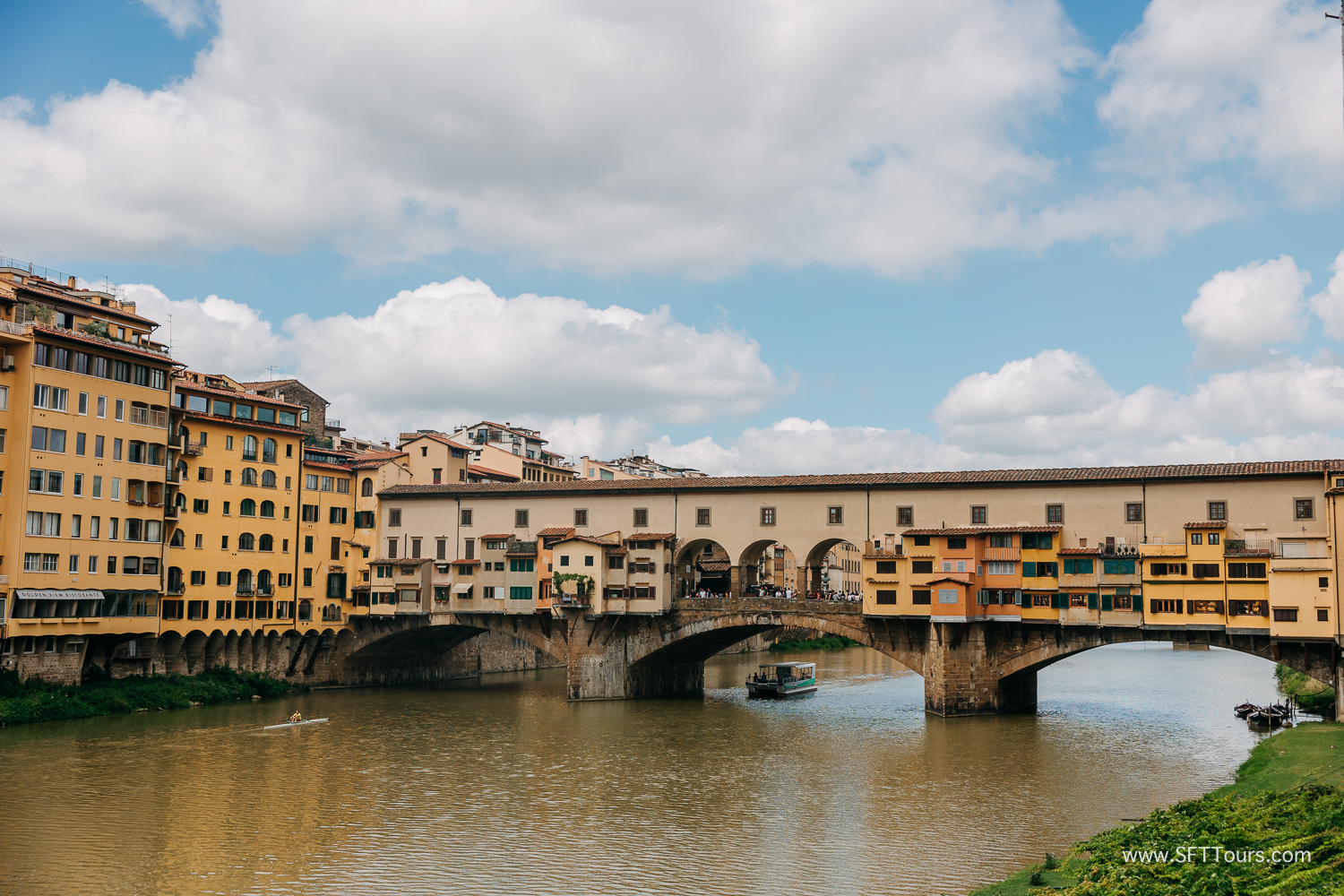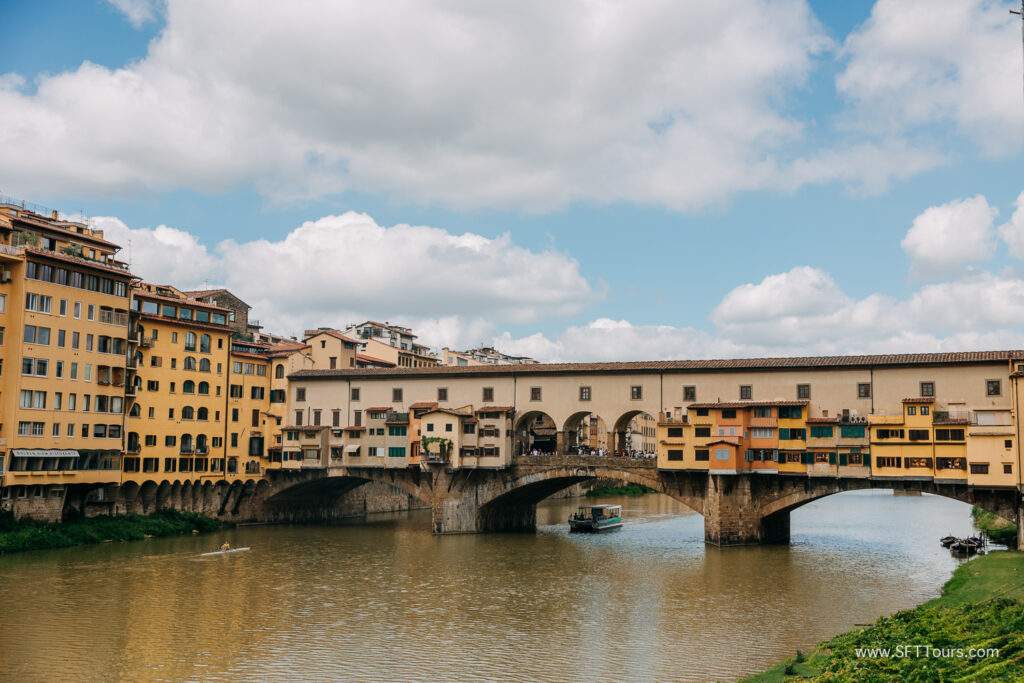 Italy has some of the best holiday destinations for singles over 40.
With dreamy sites like Tuscany, Amalfi Coast and Venice, 'La Bella Italia' offers outstanding art and architecture, delicious food, enchanting cities and beautiful landscapes.
Why is Italy a great destination for single women over 40?
It's easy to see how Italy is such a great destination for women over 40. So many movies, books and stories feature women finding love, life and their purpose in life in Italy. There must be something in the ancient architecture, the wonderful nature and the food that causes all that!
Beyond the magic, Italy has lots of things to do so it's a great choice for anyone, younger or older, but women over 40 are particularly well catered for by the culture, the food and the many old-world luxury properties.
Some great options are: wine tasting, winery visits and gastronomic experiences in Tuscany, walking the picturesque pastel-colored city centers of the Amalfi Coast, exploring the narrow alleys of the eternal city of Venice, taking a road trip in Sicily, or visiting renowned art galleries and museums in Rome.
Regarding accommodation, Italy offers a wide variety of places to stay from hostels to stylish villas to excellent hotels. Traveling within Italy is very easy and safe, with high-speed trains that can take you across the country in a few hours.
Renting a car is also a great option, roadtrips in Italy offer breathtaking views and landscapes and can take you from the mountains to the sea.
Have an Italian holiday if you're looking to enjoy life in a foodie heaven filled with outstanding art, architecture and scenery.
Mexico
A vast country with many exciting destinations, Mexico is full of charming cities, delicious food and lots of fun.
Why is Mexico a great destination for single women over 40?
While Mexico is a destination for all ages, it is true that it makes for a great trip if you are single and in your 40s or older because of how rich the heritage is.
Home to 35 UNESCO-listed World Heritage sites, Mexico has an ideal city for every travel style, with popular destinations being the Yucatan Peninsula, Mexico City and the quaint town of San Miguel de Allende or the foodie-central city of Oaxaca.
If you're willing to do an all-inclusive vacation on the beach, Mexico has some of the best resorts for singles over 40 such as Grand Velas Los Cabos, Hotel Xcaret Playa del Carmen and UNICO Hotel Riviera Maya will pamper you and give you everything you need for a fabulous vacation.
Safari adventure in Tanzania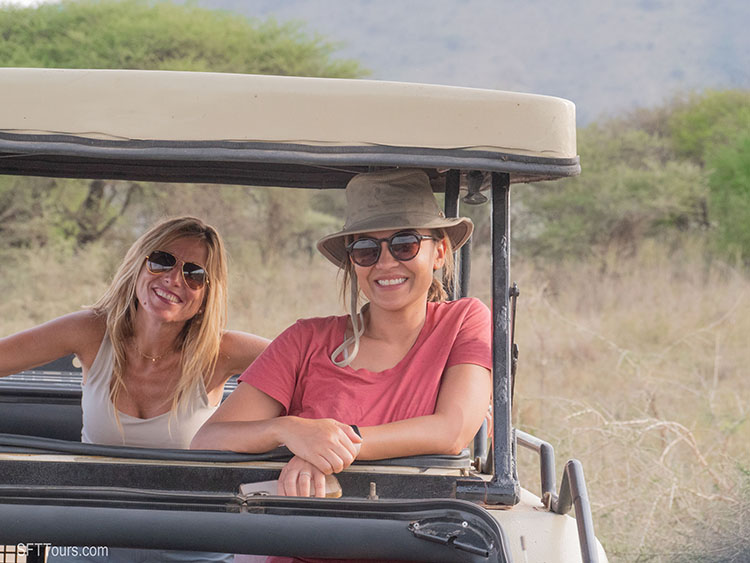 A once in a lifetime experience, going on safari in Tanzania is an incredible option for an adventure holiday and a fantastic way to celebrate your 40s!
Why is a safari a great trip for single women over 40?
This is one of our top seller tour for solo female travelers, where we enjoy wildlife through the Ngorongoro Region and Central Serengeti, and also have time to relax on the beach in Zanzibar.
Tanzania has wonderful wildlife and many safari options across the country, it's almost guaranteed you'll observe lions, giraffes, elephants, hippos, wildebeest, chimpanzees and many more animals in their natural habitat.
Besides exciting safaris, there's plenty to do in Tanzania like discovering more about their history and culture by chatting with the friendly locals, meet red-cloaked Maasai people or enjoying the stunning beaches in Zanzibar.
Tanzania is also the ideal destination for all single climbers and trekkers out there, with the opportunity to climb to Mt. Kilimanjaro 's summit, otherwise known as 'The top of Africa'.
Maldives
A group of islands in the Indian Ocean, with stunning beaches and luxury resorts, Maldives is an ideal vacation spot for single women over 40, trust us, you don't have to wait for that special someone to enjoy it.
Go book that Maldives trip, and have a honeymoon with yourself, you deserve it!
Why are the Maldives a great destination for single women over 40?
The Maldives is no longer a couple's destination. Some resorts have started to offer single's packages and there are lots of friends and families vacationing there and even "party" islands where singles come together.
Check out the solo packages from luxury resort Gili Lankanfushi, which was also one of the first resorts to pioneer the overwater villa concept.
Ireland
Suggested by many of our members, Ireland is a marvelous country, very safe for solo female travelers and with a rich cultural heritage and amazing landscapes.
All this and the friendliness of the locals make it a fantastic destination for singles over 40, many of whom come all the way from North America in search of their roots.
Rexanna added: "The people are the best in the world. Mountains, rugged seasides and cliffs, beaches. Seafood! History and culture. Old architecture. Did I say the people are the friendliest! You can drive yourself anywhere you want to go, getting lost in Ireland is THE MOST FUN!".
Why is Ireland a great destination for single women over 40?
Besides the beautiful landscapes, Ireland is known for its lively atmosphere. The country has many events and celebrations throughout the year, so this is the place to meet people while dancing the night away.
In January, Dublin hosts the largest festival of traditional music in Ireland, and in March there's a 5-day St. Patricks celebration.
These are interesting festivities in which you'll have a good time and learn more about Irish culture during your holiday.
If you're into road trips, Ireland is the perfect place to have a scenic drive full of natural beauty and amazing castles. Northern Ireland has attracted many visitors because it was a film location of the popular TV show Game of Thrones.
Besides Dublin, there are plenty of other lively cities to visit like Galway, Belfast and Cork, in which you will see the rich heritage of the country and try some delicious Irish local food with a modern twist.
Morocco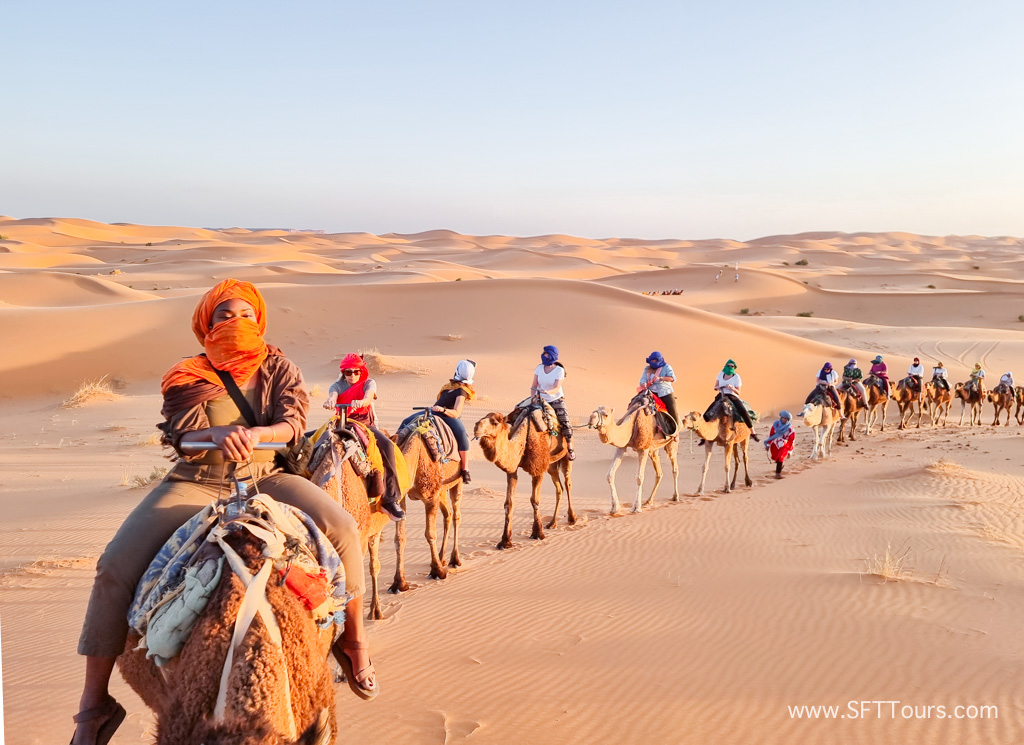 Morocco is a fascinating destination full of color, diversity, and interesting landmarks. We love Morocco, so much that it's one of the destinations we take our women-only small group tours to.
From ancient medinas to the dunes of the Sahara, Morocco has something for every traveler.
Some of the top sites to visit while in Morocco are: Marrakech medina, the dunes of the Sahara desert, the blue city Chefchaouen, Fez, Ait Ben Haddou (where many Hollywood movies have been filmed), charming Essaouira, Casablanca (don't miss the impressive Hassan II mosque), and many more.
Why is Morocco a great destination for single women over 40?
While this is a destination for all ages, we consider Morocco a great trip for single women over 40 because of the travel experience you already have.
Street harassment and touting can be overwhelming, especially in Marrakech, so having some experience solo traveling is useful before visiting Morocco.
Besides offering stunning cultural and historical attractions, this is a wonderful place to relax and have a wellness holiday on your own.
Check out Paradis Plage Resort, which is a beautiful complex that offers packages with activities related to spa & wellness, yoga and surf, and the many luxury hotels in Marrakech such as La Maison Arabe, Les Jardins de la Koutoubia, Amanjena or La Sultana.
Peru
Right in the coast of the Pacific Ocean in South America, Peru is home to a section of the Amazon rainforest and to magical vestiges like Machu Picchu, an ancient Incan city located in the Andes mountains.
Why is Peru a great destination for single women over 40?
Like Kilimanjaro, Peru and its many hiking itineraries and trails, are a personal challenge and a spiritual experience many women over 40 choose to go on solo.
Culturally diverse and naturally gifted, we find that Peru is a good destination for those who like to have a bit of everything. Not to mention the spotlight the country, and particularly its capital, are getting with regards to culinary creativity and expression.
Bhutan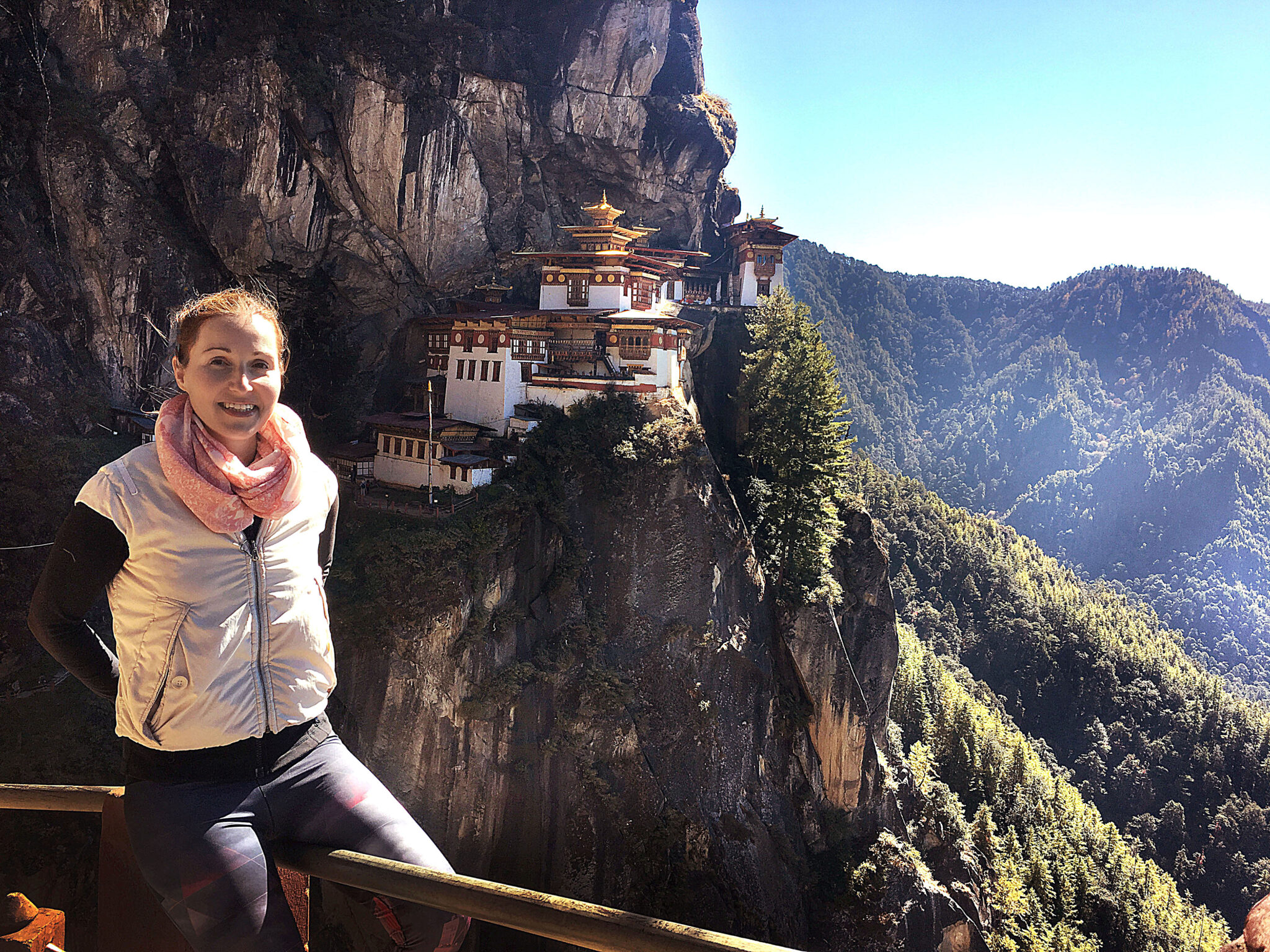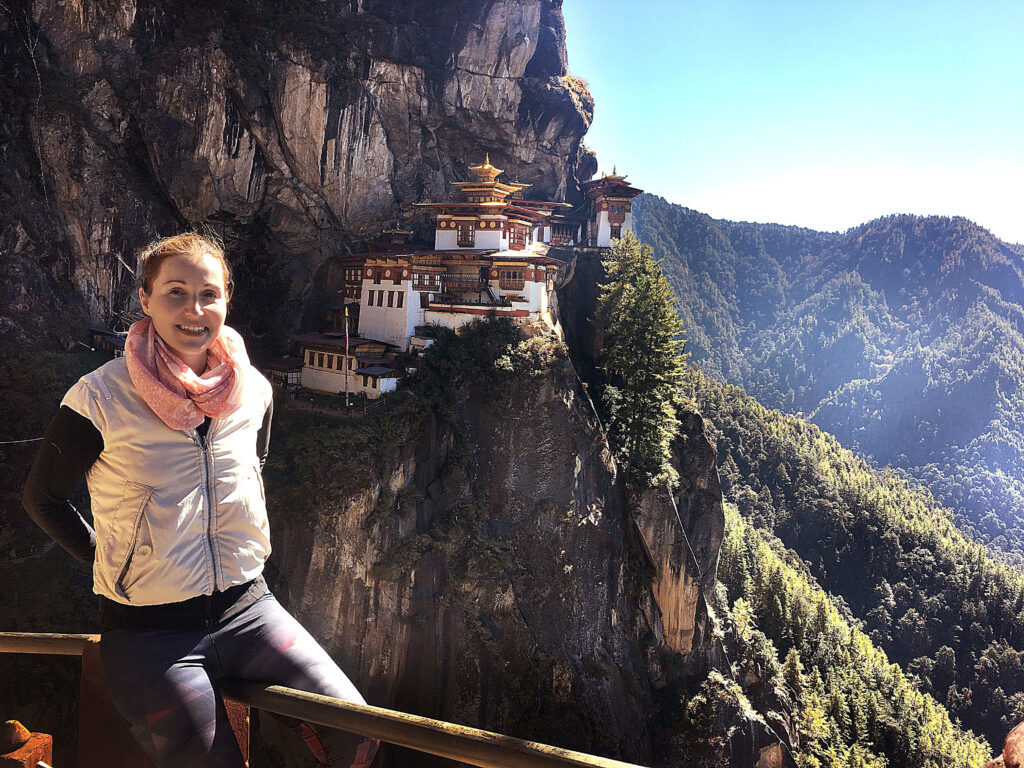 The Kingdom in the Clouds is one of the most spiritual, peaceful and beautiful countries in the world.
The air is cleaner than anywhere else due to the minimal pollution, the high altitude and the country's negative carbon production record. The people are calm, and life happens without rush and stress.
Why is Bhutan a great destination for single women over 40?
From the moment you land in Paro you will feel like you are somewhere really special. The many Tibetan Bhudist temples, often constructed without nails, the clear alpine rivers, the untouched forests, the crisp cool air, the clean eating and the simple life, makes this a wonderful solo trip.
However, Bhutan is not for everyone. You can't backpack or have a budget trip here because the country has imposed a daily fee of $200 per person for visitors, which is why this is probably a destination you need to save up for for a few years.
Conclusion
There are many destinations and holiday ideas for solos over 40, you just need to pick the right one for you.
Whether it is an independent solo trip, a group adventure, a retreat or a real challenge will depend on what you are trying to get out of it.