Is travel dating a good idea? Is it safe? What are the best travel dating sites?
Technology has transformed the way we meet people when we travel, specifically, as a result of the proliferation of dating apps with travel dating features. This trend was only amplified during the pandemic, where virtual connections were the only kind possible.
You longer needs to go to the local bar or club alone, join day trips or stay at a hostel to find a date when traveling. You can now scroll through profiles on dating apps from the comfort of your sofa, thousands of miles away, and before your trip even starts.
Travel dating sites have made it easier, safer and faster than ever before to meet people from all genders and sexual orientations, even in places where pre-marital or LGBTQ+ relationships are taboo or illegal.
The question is no longer whether you can find a date when traveling, but how to do so smartly and safely, especially for women traveling alone.
A first date with a stranger in another country could be a great idea or a foolish one; Women in our solo female travelers community, use dating apps as a unique opportunity to meet interesting people, connect with the locals, share a meal with someone in between evenings eating alone, practice a language or explore a city in the company of a local travel buddy.
"Some of my best travel experiences come from dating apps. My bio says I'm looking for adventures and tours, and so I've gone on some incredibly unique dates and partied with locals", says one of our members.
"I used tinder in Rome and met one roman guy, he showed me a lot of stuff that I didn't know about Rome, best experience ever" adds another.
However, some female travelers prefer to avoid vacation dating and spend their time abroad sightseeing and getting to know the destination because they view travel dating as putting themselves at increased risk of something bad happening.
We support whatever decision you see right for you, and if you are looking to give dating a try on your next trip, we have compiled a list of the best travel dating sites and some tips to keep you safe when dating abroad.
Bumble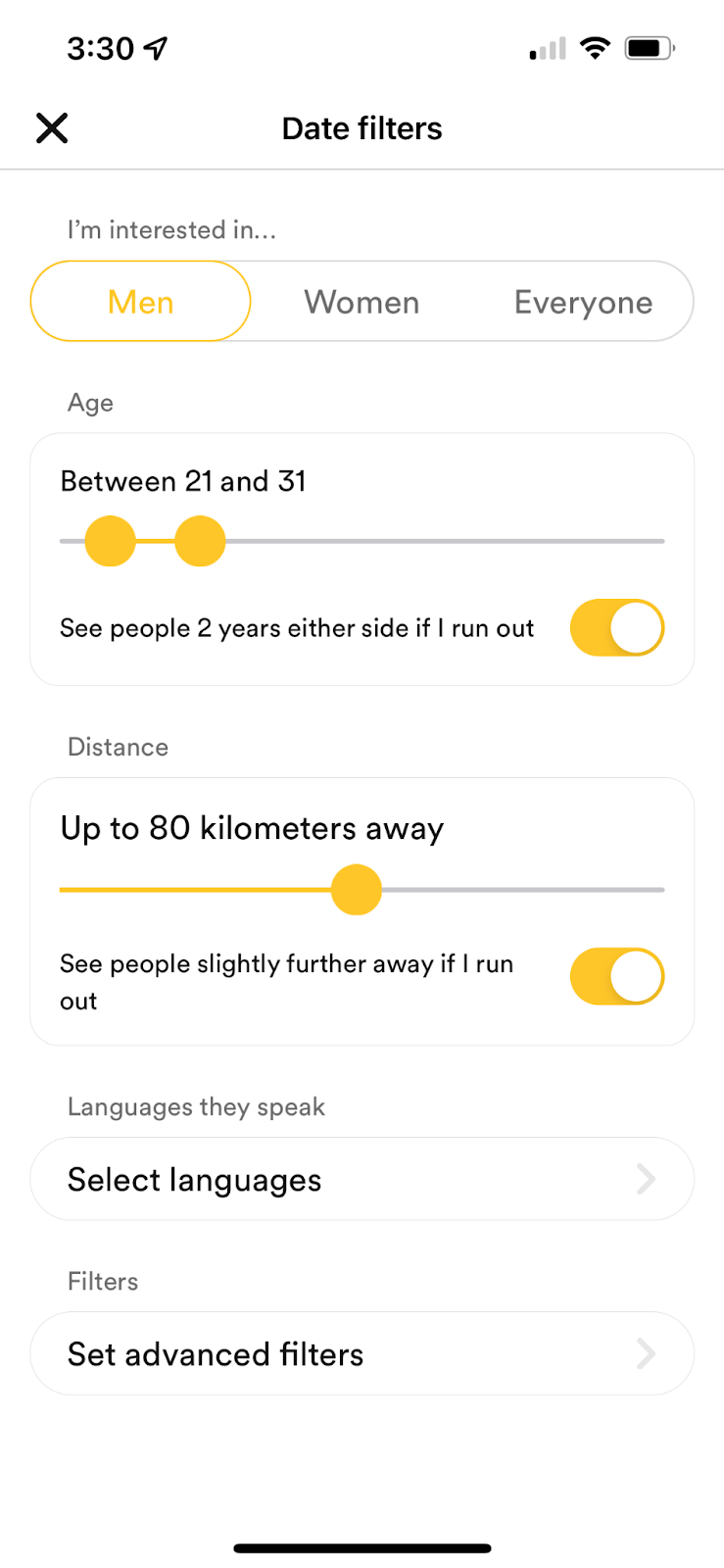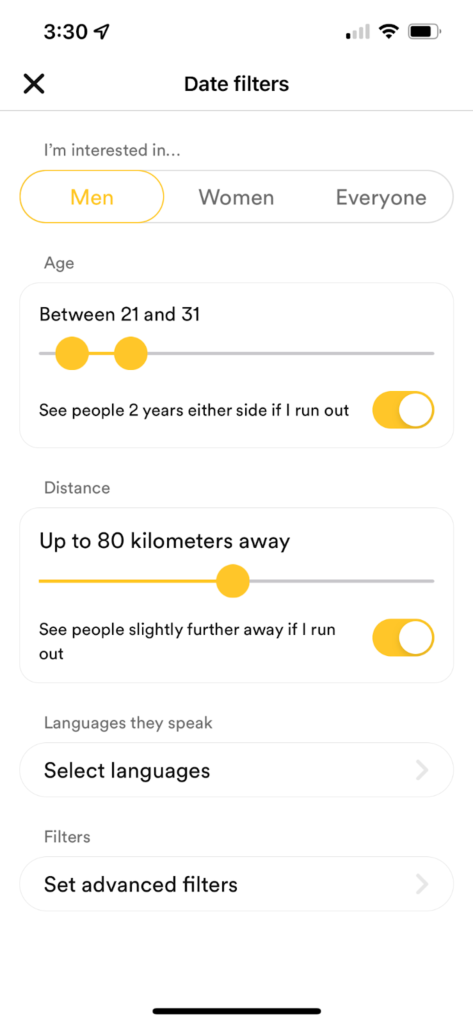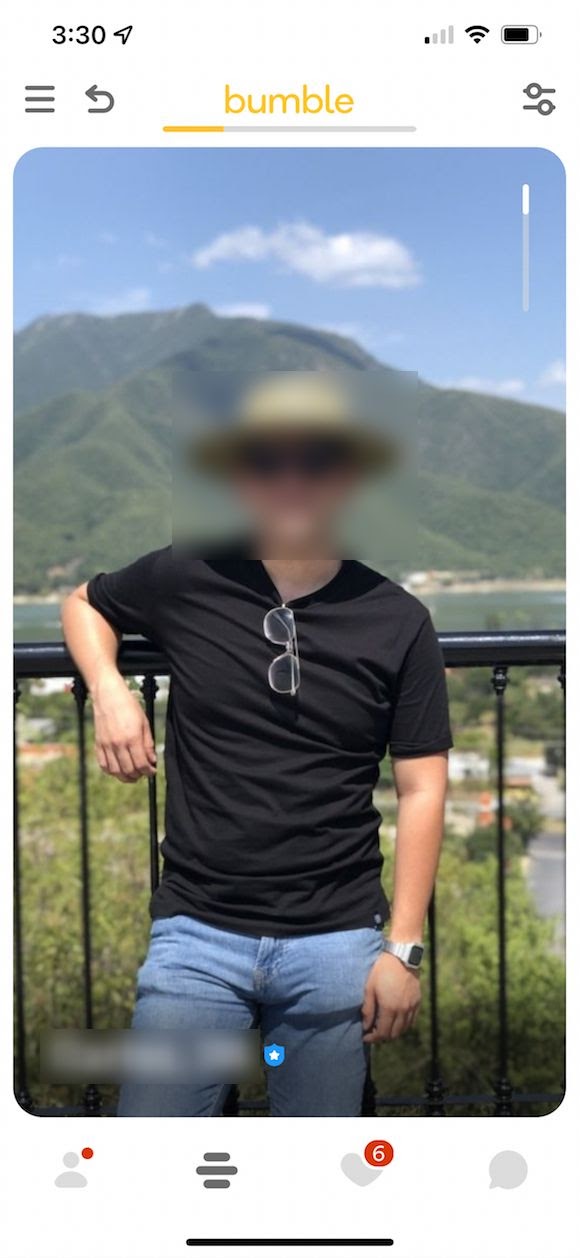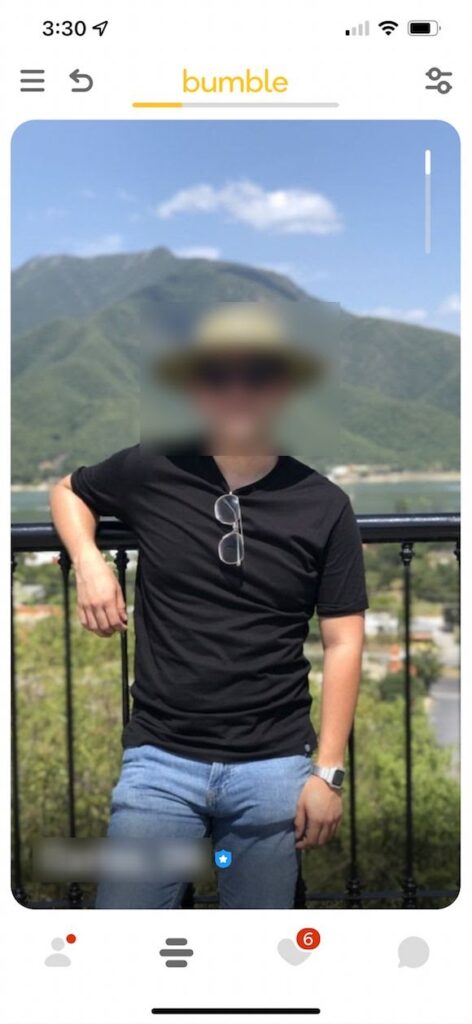 Female founded and public since 2021, Bumble is a popular dating app with a distinctive factor: women make the first move. The app claims to have changed the dynamics of dating by giving it an equal tone from the beginning.
Bumble is location-based and it works using the well-known "swipe right or left" format, which became popular thanks to Tinder.
The app is used mainly for dating (Date), but it can also be used for networking (Bizz) or to meet friends online (BFF), a feature very much appreciated by our members.
What solo female travelers think of Bumble
Many members of our community agree that it is a safe app for users to build genuine relationships, be it intimate or in the form of a friendship.
Our member Lise recommended Bumble as her top pick: "Bumble definitely! Met some amazing people, dating or friends (including my actual bf!). It also depends a lot on the country you're traveling to. Some dating apps are more or less known and the vibe is not always the same according to the country (Bumble is amazing in Sweden for example but absolutely empty in France)".
Our Co-Founder, Mar, also met her partner on Bumble.
How Bumble works
Below are the main steps you need to follow to start using Bumble.
Create your account: Sign up using an email or logging in with Facebook/Google.
Set up your profile: Add your name, a short description of yourself (up to 300 characters) and a few photos (up to 6). You can choose to link your IG profile as well. Clarify the gender you're interested in. It's key to add high quality photos and a creative bio. The most swiped-right profiles usually appear at the top of the line for other users, this means that the popular profiles, the ones that have the highest level of activity in your area, will appear at the top of the list on your feed.
Set your match preferences: Set the age range, gender and distance preferences. If you have the Bumble Premium subscription, you can also choose advanced Bumble filters, which are categories you set up to narrow down the profiles in your Swipe Deck (main feed). This customizes your whole experience and makes a more curated search based on your interests.
Start swiping: Bumble rewards "good behavior". This means that if you start swiping right to every profile that comes up, Bumble's algorithm will immediately send your profile to the back of the line and might not get many views from other profiles. Instead, choose carefully and swipe right to profiles you really like and would go on a date with.
Match: You will get a "match" with the users who liked your profile back.
Send a message: In Bumble, only women can start the conversation, so you will be able to choose who to message from your "match" profile queue. Then, men have another 24 hours to answer. With couples of the same sex, either one can start the conversation, but the timing rule still applies. You can extend the match for another 24 hours, but you can only do it once a day for free. Bumble offers a premium paid subscription with more features including unlimited "match" extensions. Once the conversation is started, there are no more time limits and you can exchange messages for as long as you wish.
(Optional) Video chat: Bumble has a voice and video calling feature. You can also add a "virtual dating" filter to your profile, which will let users know that you're interested in video chatting before meeting up.
Meet up: if you want and both users agree, you go out on a date. Set up a place and time to meet each other. We suggest choosing a public place, where it's lit up and there are people around.
Why we like Bumble for safe travel dating
When it comes to dating while traveling, Bumble has a few useful features that we particularly like.
The first one is Bumble's "Travel Mode", a feature that is only available as a part of the Bumble Premium subscription. If you activate it, you will be able to select the city your profile appears in for 7 days so you can start to meet people ahead of your trip.
Your location will appear as the center of the city you've chosen and you can change your location to other cities that are part of your trip, as many times you want.
Because we prefer to be safe than sorry, we also appreciate Bumble's video or voice call options, you could try to chat with someone you are interested in meeting beforehand to confirm they are who they say they are, even a quick voice call can help you filter out anyone who your intuition disagrees with.
If you like the app and want to take more advantage of it, Bumble offers 2 kinds of paid subscription plans: Bumble Boost and Bumble Premium, which have many additional features to enjoy.
Tinder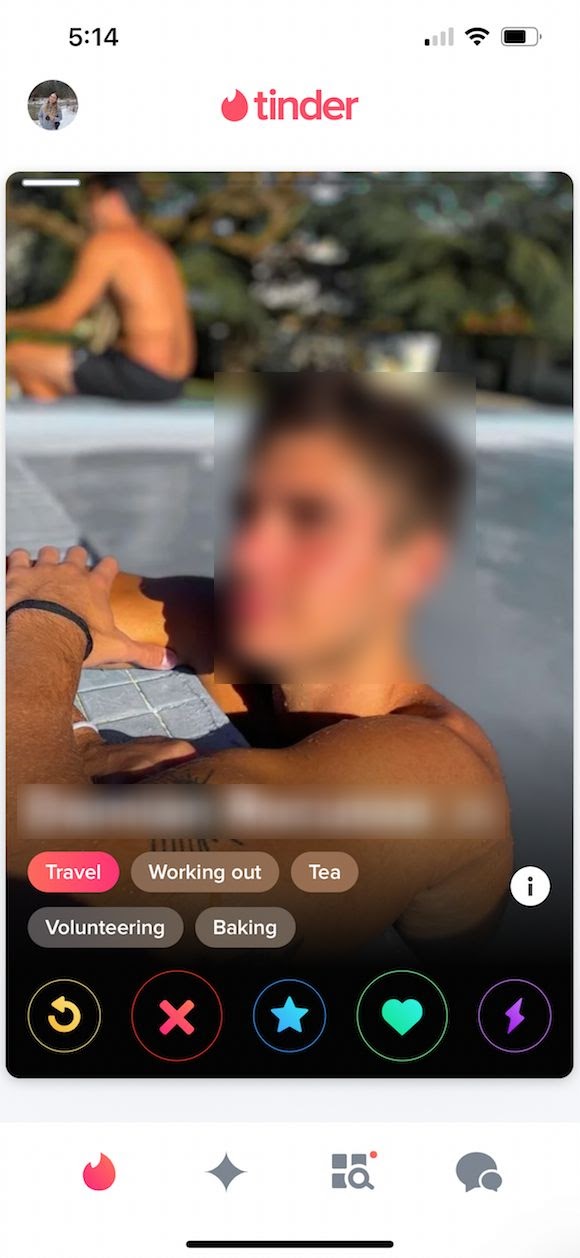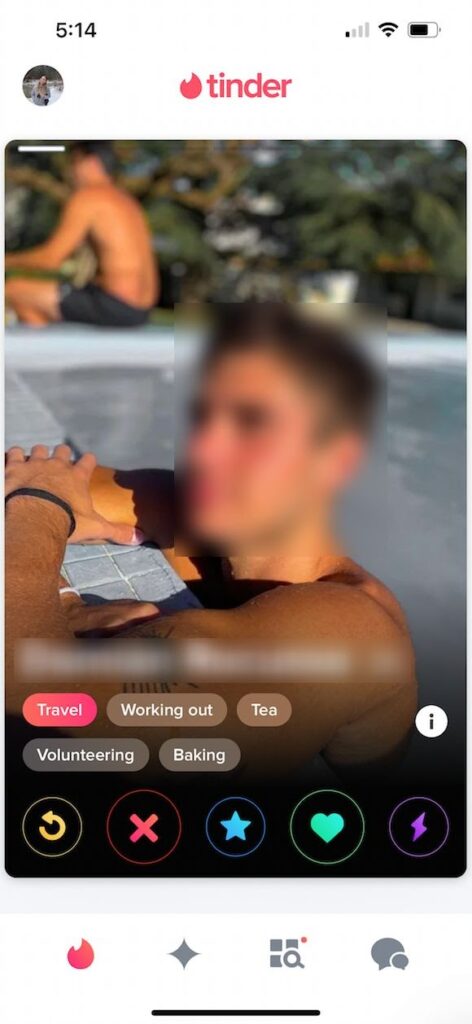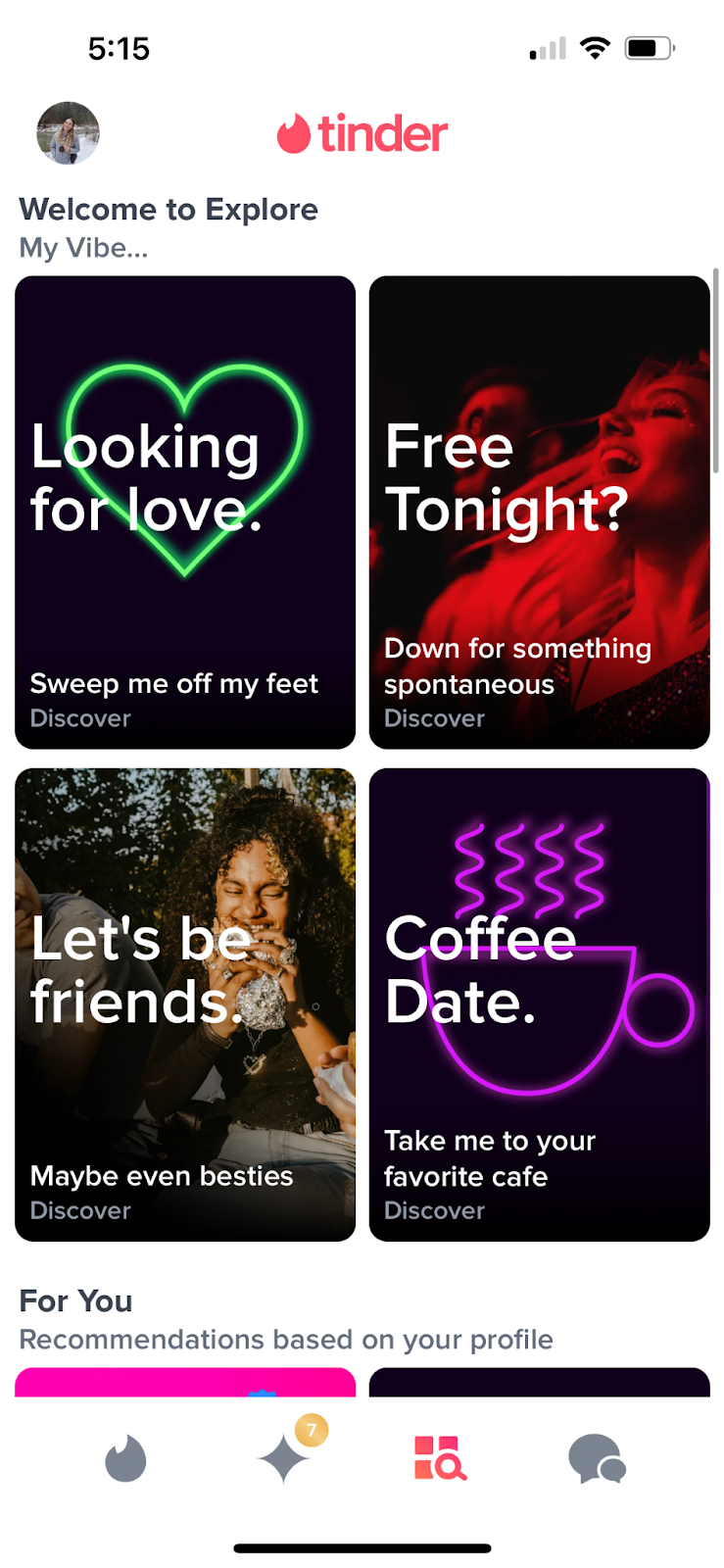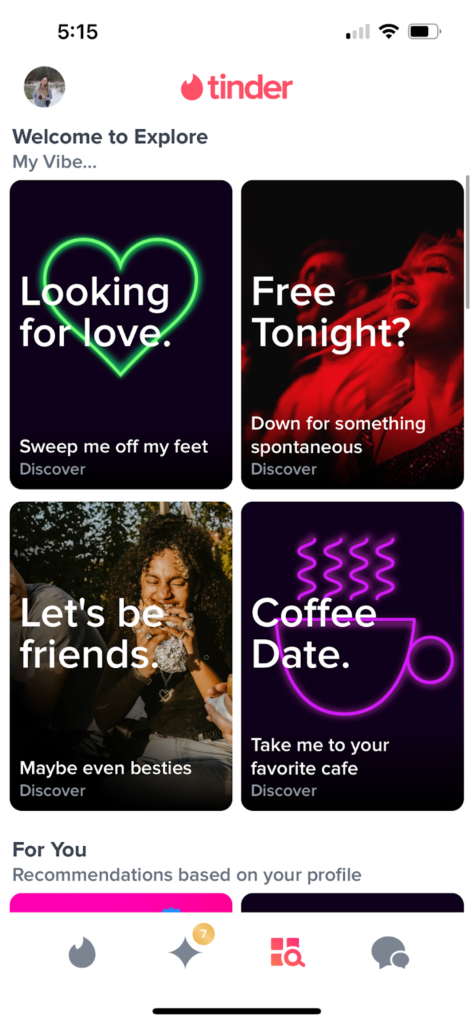 Tinder remains the most popular dating site in the US, and the one that invented the "swipe right" feature and revolutionized the world of online dating.
The app has been downloaded more than 340 million times and is available in 190+ countries, making it an appealing travel dating site. In fact, it was the world's most downloaded app during 2021.
Fun fact: There are more than 3,000 posts hashtagged #TinderWedding on Instagram. Most of the users are male (at about 70/30%) and most are Millennials (between 30 and 45 years old). Tinder has the most number of users in the US, the UK, Brazil, Canada, and France.
Tinder is very simple to use and uses the swipe right or left feature to let you decide if you like someone. If the other person likes you back, you'll get a "match".
What solo female travelers think of Tinder
Tinder is the most global of the dating apps and is generally perceived as a "hook-up" app across the board. Users on the app may be there with a certain objective in mind, which is fine as long as you want that too.
"I have tinder gold so I change my location and start chatting with people before I get to my destination", says one of our members.
Our group member Stell shared her positive experience with Tinder: "I've used Tinder throughout Latin America. I'd used it to ask the locals what they recommend, what to do to get off the beaten track. I'd add some of those recommendations and tips into my plans. I also went on a handful of dates, they took me to some great local spots. I say go for it but like everything, take the usual precautions".
How Tinder works
The first step is creating your account. You can log in using Facebook/Google account or choose to fill out your name and age, which you won't be able to change after creating your profile. You can also include your gender, sexual orientation, job, school and city (which are optional).
Continue with writing your bio and adding media: some quality photos. You can enable the "Smart Pictures" feature, and Tinder will alternate the order of your pictures and as users like you, it will re-order your images showing the most liked first.
To personalize your profile even more: choose your interests (min 3, max 5) and lifestyle description, which are social, personal and professional predetermined descriptions.
Swipe: When you're all set go to Discovery, which is the part of the app where you see other profiles and swipe right or left. To edit your search preferences, go to Discovery settings and select location, distance, age and gender, as you like.
Match: If two people like each other's profile, they will make a "match", then anyone is able to send a message and start the conversation. If you already matched with someone but changed your mind, you can "unmatch" them in the top right corner of your chat, and they will disappear from your match list.
Why we like Tinder for safe travel dating
Besides the unique features that Tinder has, its global footprint makes it a very appealing and useful travel dating app because it is largely used everywhere.
Besides this consideration, Tinder's paid subscription (Tinder Plus, Tinder Gold, or Tinder Platinum), have a "Passport" feature allows you to search by city or drop a pin in the map and start liking, matching, and messaging other users that are in the selected area.
You can navigate in your current location, and also search in destinations you're traveling to. You can virtually select one city at a time, but you can change the location as many times you like.
Hinge
Hinge focuses on effective dating and building long-lasting relationships and was recommended by many members of our community as a great platform for short-term travel dates.
What solo female travelers think of Hinge
Our members agree that Hinge is a popular app in Europe, and they like the travel prompts which are useful conversation starters as it can be quite awkward to get started after a match if there wasn't anything that you could bring up.
Our group member Marissa shared her review:
"Hinge is a good one and popular in Europe. I find the info on the profiles give much more information than you tend to get from Tinder, so you can spend less time chatting and feel more confident about meeting quickly. But obviously do be careful".
How Hinge works
Hinge is similar to its main competitors Tinder and Bumble but has some special features that make it quite unique, such as prompts or standouts.
Prompts are short questions that give your profile a more personalized and fun look and help start a conversation. Standouts are a list of your most compatible matches. To get started follow the steps below.
Create a profile: When creating your profile, you include the usual, your name, email, age and location. You are required to add at least 6 photos or videos. Then there's an option to go deeper and add details of your work, education level, religion, political beliefs, height, etc.
Pick your prompts: To complete your profile you have to choose 3 prompts, which are predetermined questions about your personal life and interests. Some of the prompts available on the app are: "I get along with people who…", "Fun fact about me", "Topics to debate", "One thing I cannot live without". Pick your prompts wisely as they can get you more matches and be creative conversation starters.
Set your preferences: Here's where you choose the gender of your interest and location. If you have a must you're looking for in other profiles, you could set up a dealbreaker, which will filter the users and only show you the ones that have your deal breaker in their profile.
Look for potential matches: Hinge displays one user at a time, and lets you browse their photos and prompts. There are two options: choose to like or reject them by using the heart and "x" icons, respectively.
Hinge's like function is a bit different from the rest. In other dating apps, you like the user's complete profile, whether in Hinge, you can like a specific picture or prompt, and let that person know what caught your attention. Also, when you like something you can leave a comment and start the conversation. Weekly, you have one chance of upgrading your like into a "rose", which shows that you are very interested in that profile.
For your "standout" list, Hinge uses its algorithm to put together your most compatible profiles, based on their likes and prompt answers. But there's a trick to it: you can't like any profile from your standout list, instead you have to send them a "rose", so you can only do it once a week, or buy more roses in the app.
For the messaging part, once you get a match with someone, anyone can send a message and start the conversation.
Why we like Hinge for safe travel dating
There's a prompt called "Best travel story" which encourages users to tell a unique adventure they've had during a trip and can tell you a lot about a user and start a travel related conversation. Or test whether they would be a good travel companion if you are using it as a travel dating site.
Facebook Dating
Facebook Dating is "the Walmart of travel dating" as one of our members put it. It's the company' first inroads into a completely new social networking space within the Facebook app where you can meet new people who share your interests.
The service launched in 2018 and can be accessed from your Facebook account without the need for a separate app, and is currently available in 46 countries.
What solo female travelers think of Facebook Dating
How Facebook Dating works
To use Facebook Dating, you need to create a Dating profile, which is different from your main profile. You can add up to 12 photos and, like Hinge, choose ice-breaker prompts you can answer and include in your profile.
In Dating, you can like and message people you're interested in. When another person likes you back, you'll get a match, similarly to the other apps, and can start messaging each other.
Your Dating profile will not be visible to your current Facebook friends or anyone outside Facebook Dating. Likewise, your Dating chats will be separate from your main account's inbox and you can delete your Dating profile whenever you want, without affecting your main Facebook account.
Facebook Dating uses data to suggest the best potential matches for you. Besides using the info in your profile, like interests and preferences, they also use info from your main profile, like Facebook Groups and events you may have in common.
You can narrow down the options in your suggested matches by setting up a "strong preference" in your ideal match section.
A unique feature of Facebook Dating is called "Secret Crush". In the Interests section of the app, you can add a list of up to 9 secret crushes. If any of those users also added your profile to their list, both will receive a notification and get a match. After that, you can begin messaging. So unless you match with someone, you won't know who added you to their Secret Crush list.
Why we like Facebook Dating for safe travel dating
Facebook is everywhere and has a large user base, couple this with the relatively low friction model to create your Dating profile and you have a relatively easy travel dating site that is also free, at least for now.
In addition, Facebook Dating has other options that make it a particularly useful travel dating site. The first one is the "Match Anywhere" option (being rolled out) which lets you pick up to 2 additional locations where you can browse profiles. In those locations, you can also decide if users who added your primary dating location as additional can see your profile or match with you.
The second is the fact that you don't need to download an extra app and can simply use Facebook, and do not need to keep separate messaging or go through the cumbersome chatting functions of other apps that make it more likely to move away and to Whatsapp other easier messaging apps.
Happn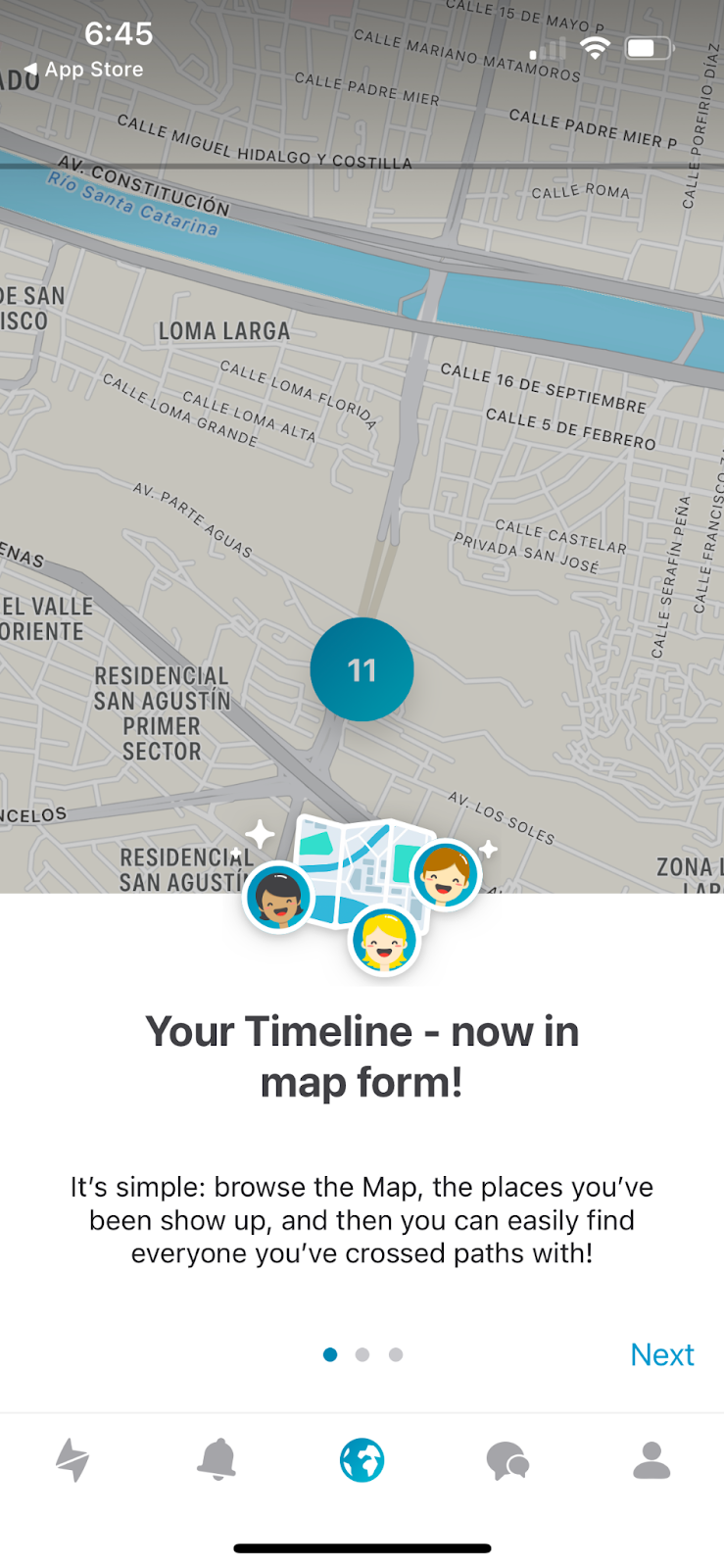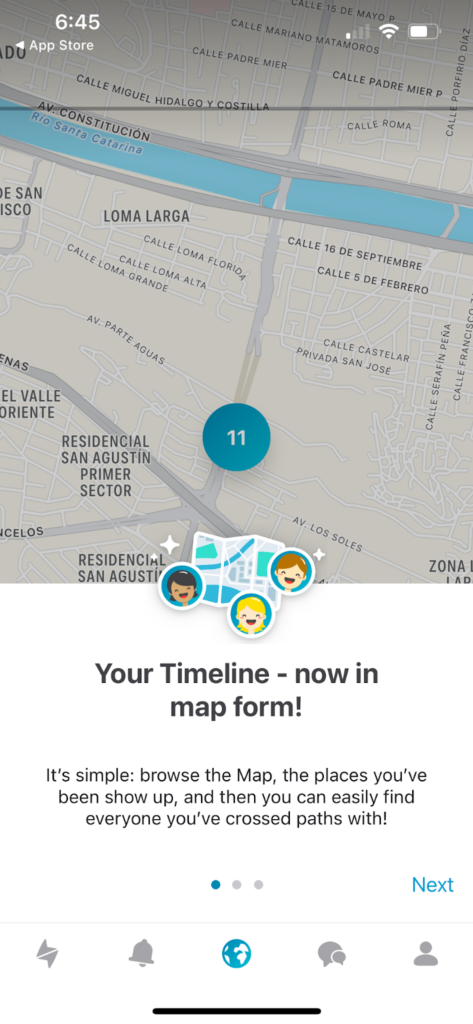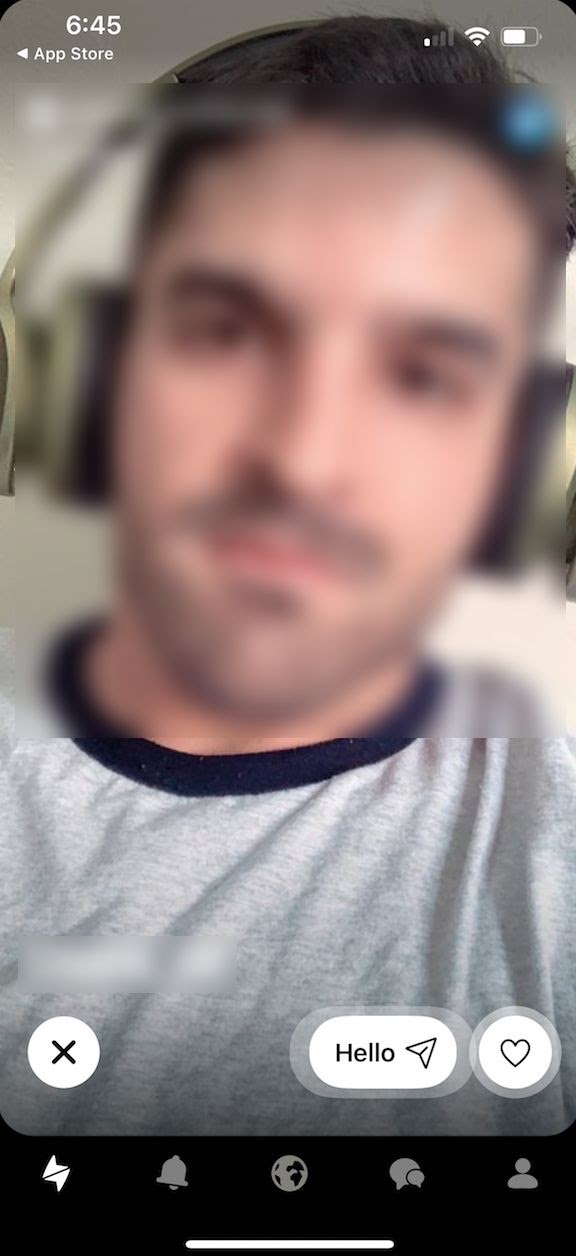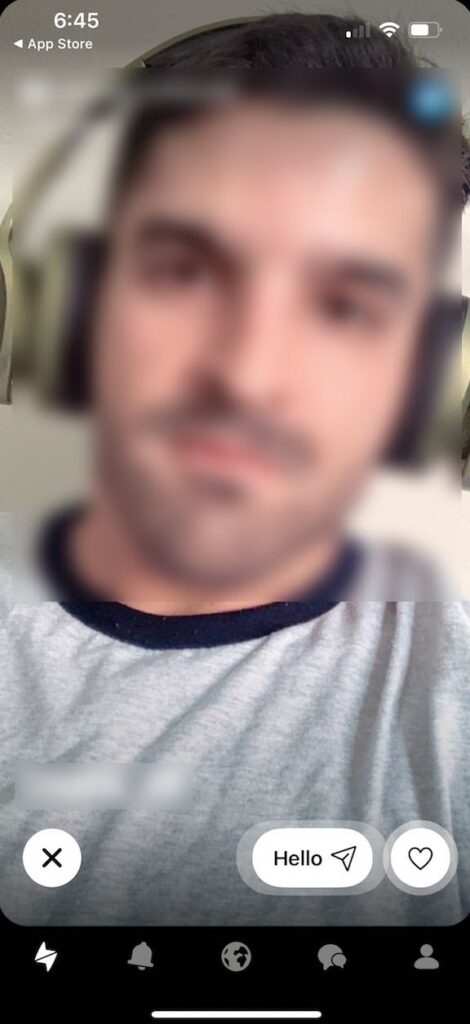 Happn is an app that "connects you to the people you cross paths with every day". Unlike other apps, which have a larger geographical focus that you can set yourself, Happn focuses on narrow geofencing and on helping you notice the people who share your daily routine.
Its location-based algorithm makes it possible to connect to other Happn users who you have crossed paths with during the day, and it even has a map where you can locate people who are going out in the same area you're in, which makes it easier to just meet right there and then.
What solo female travelers think of Happn
How Happn works
The sign-up process for Happn is very similar to the other dating apps mentioned above.
Create a profile: First you fill out your basic information (name, age, gender of interest, city of residence) or you can also signup using your Facebook/Google account.
Enter other details: Happn goes deeper into details by asking you to add a short self description, work and education data, and your habits (exercise, cooking, travel, partying, etc), you can even add your music selection from Spotify!
Discover: Then explore the main feed to see profiles who cross paths with you.
Match: You can like or dislike each profile and if the like is mutual, it's a "crush".
Connect: Happn users can only send a message if both have liked each other's profile.
If you have special interest in a user, you can send a "flashnote", which is a personalized message that will catch their attention.
Why we like happn for safe travel dating
Happn makes the user experience of dating online more spontaneous and closer to the old way we used to meet people when going out by simply approaching a stranger and starting a conversation.
You can open the app at a bar, restaurant, an attraction like a museum or even at your hotel, and see who is around, then see if you spot them, and walk up and talk to them or propose an impromptu meetup.
If you met someone independently of the app, and did not exchange contacts, you can still find them on Happn, as it will show you profiles you actually crossed paths with, and continue the conversation there.
On the flip side, someone else can also do this with you, so you should be extra careful about the details you reveal on the app at any time, but particularly when abroad, and not reveal anything that could put you in danger (more on that in the next section).
Match.com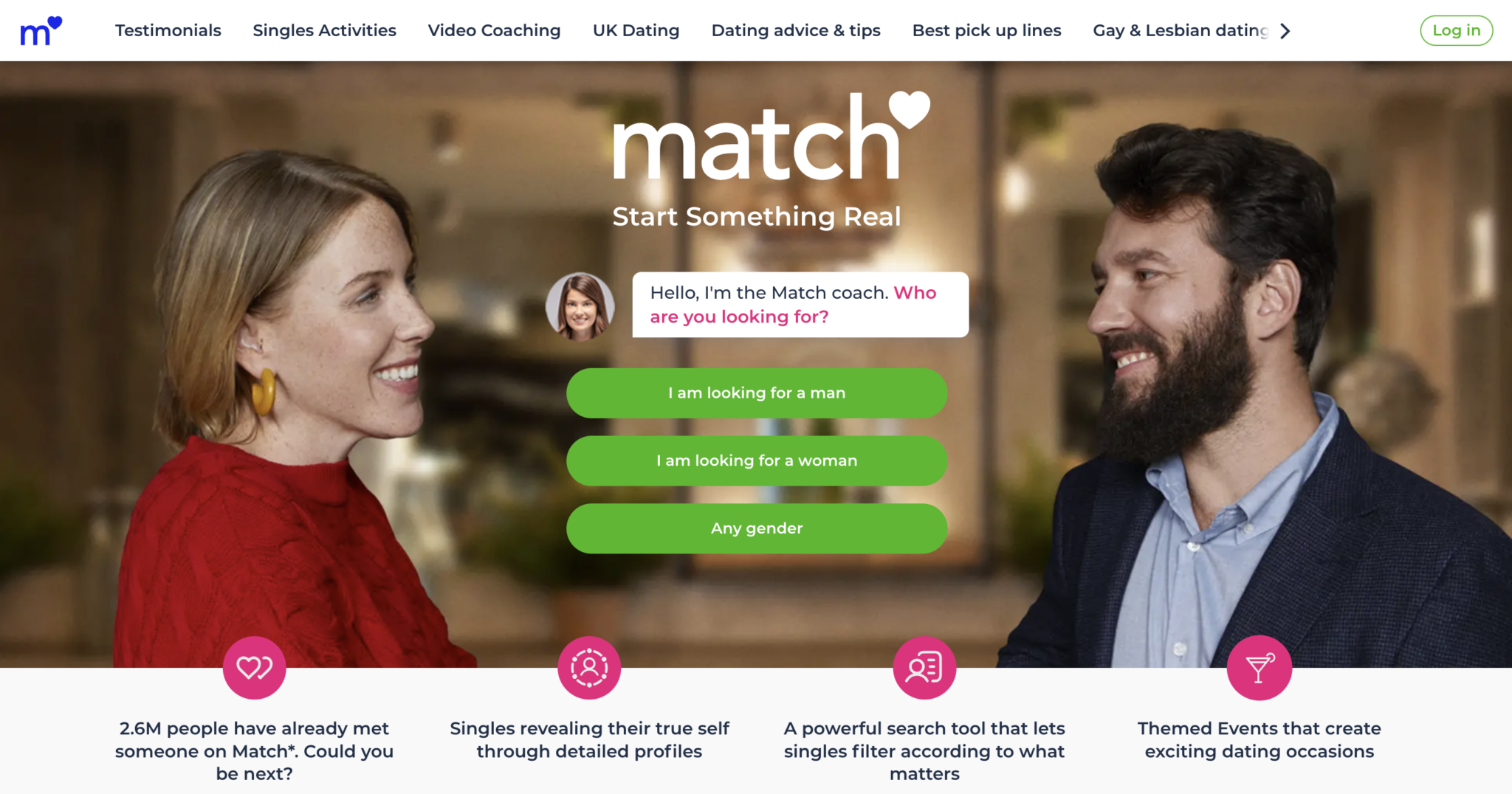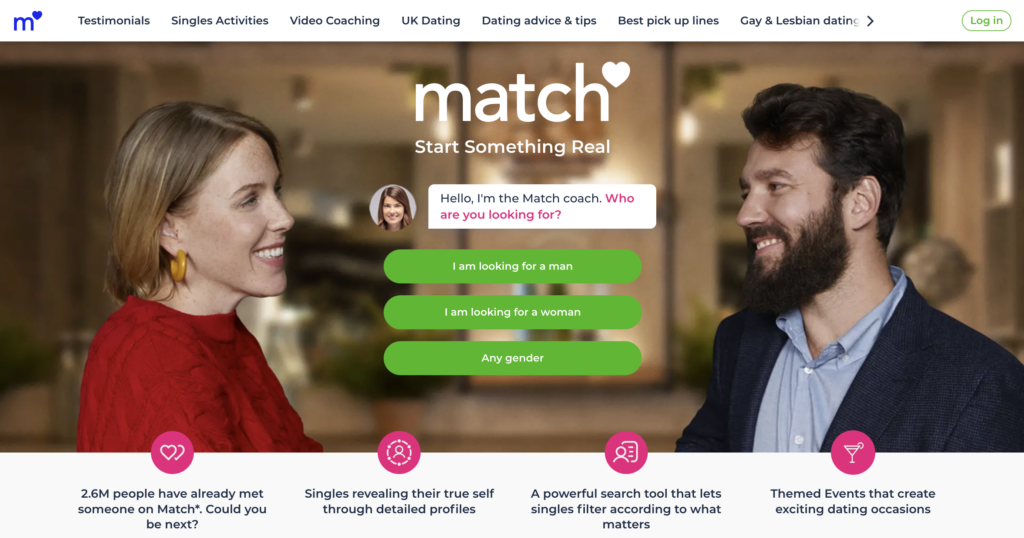 Match Group owns Tinder and Match.com, the platform favored by the older generations who use it twice as much as they use Tinder. According to its website, 80% of the users are above the age of 30.
Match.com has been around since 1995, this makes it the very first online dating platform.
It started off as a regular website you would signup for then fill in a profile in. The profile was very detailed and would be entirely focused on finding a life partner, much like a matchmaking service, at scale.
The app will then show you members that fit your criteria and you can message them to connect. This means you don't have to swipe but rather look through the profiles suggested.
They are so sure that you will find a suitable member to meet that if you sign up for 6 months and don't find anyone in that time frame, they'll extend the subscription for another 6 months.
How Match.com works
Unlike other apps which are quick to get started on Match.com leans on a detailed questionnaire to get to know you better.
Create your profile: Enter details such as you name, what you are looking for, email, date of birth and address.
Fill in a detailed questionnaire: You'll be asked to share info on your political and religious views, your lifestyle, your preferences, etc. You will have to make the same selections for the partner you are looking for.
You will then be shown a list of matches: You can sort out the list based on age, distance, etc.
Start messaging other members: You don't have to match with someone else (i.e. like someone who likes you back) to message them, you can message anyone you like shown in your match list. The number of messages you can send every day will depend on your membership level.
Why we like Match.com for safe travel dating
Unlike the other apps, Match.com has been around for long and is less gimmicky than other apps that are focused on gamification. It is very focused on safety and has several features entirely devoted to making users feel safe:
An entire section on the website on safety tips.
Background checks on members in collaboration with Garbo, so you know profiles are real and there are no criminals or sex offenders.
A team of moderators reviewing personal profiles and descriptions to make sure they are real and not spammy. When you report a profile, it gets looked at by a real person and not an AI.
A feature that allows you to make a call using a temporary phone number without having to share yours.
There are also two premium features we like: the Zen mode, which only shows you people who match your criteria, and Incognito mode which hides you from everyone but lets you see others.
Lastly, you can choose to show your profile to older users (over 50) or to single parents, so you are among likeminded people.
Match.com also organizes in person events and even trips so you can speed-date in real life.
What we don't like about Match.com is that it is one of the most expensive apps and that it is harder to use it as a travel dating app because your location is set and intended to be permanent as this is a service used to find a life partner.
eHarmony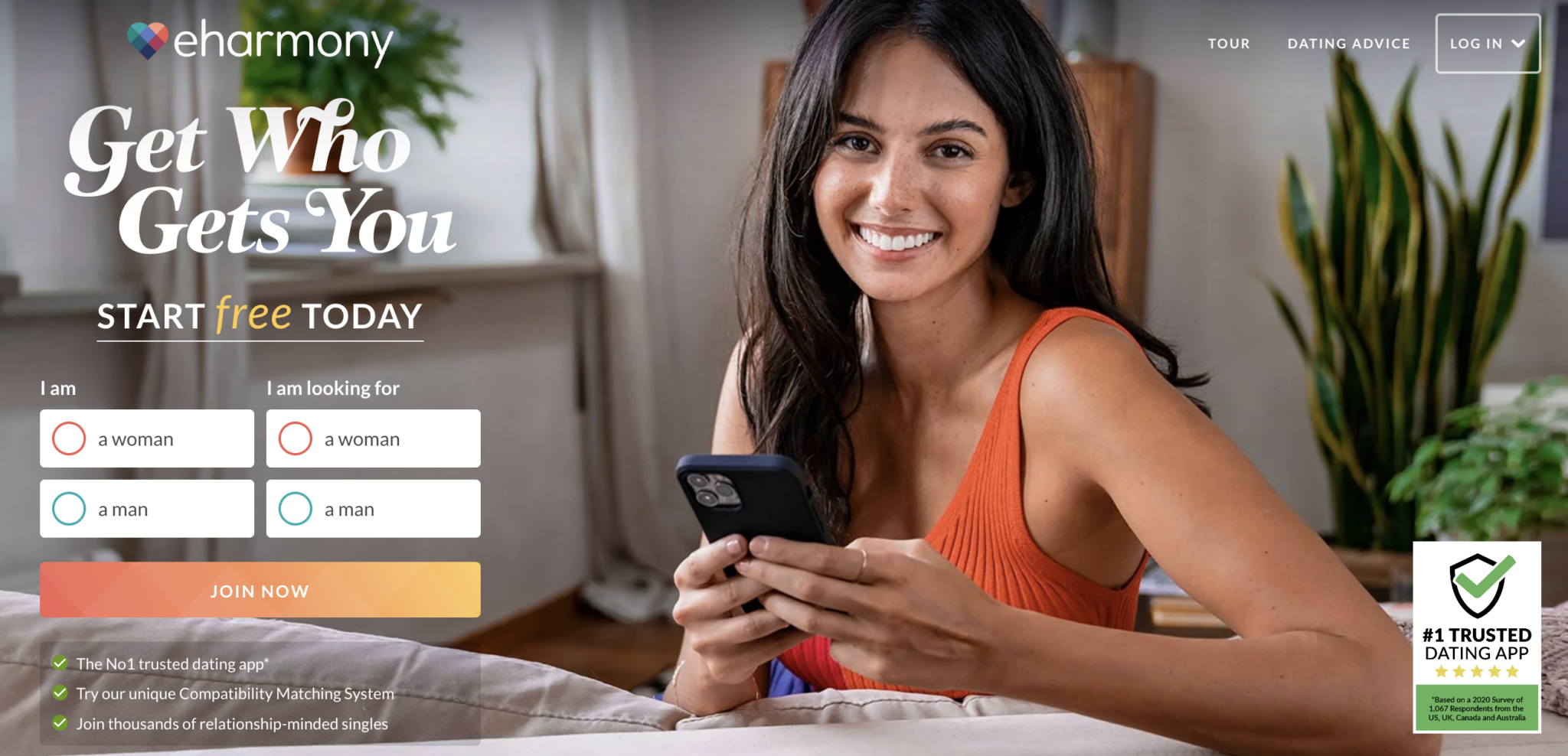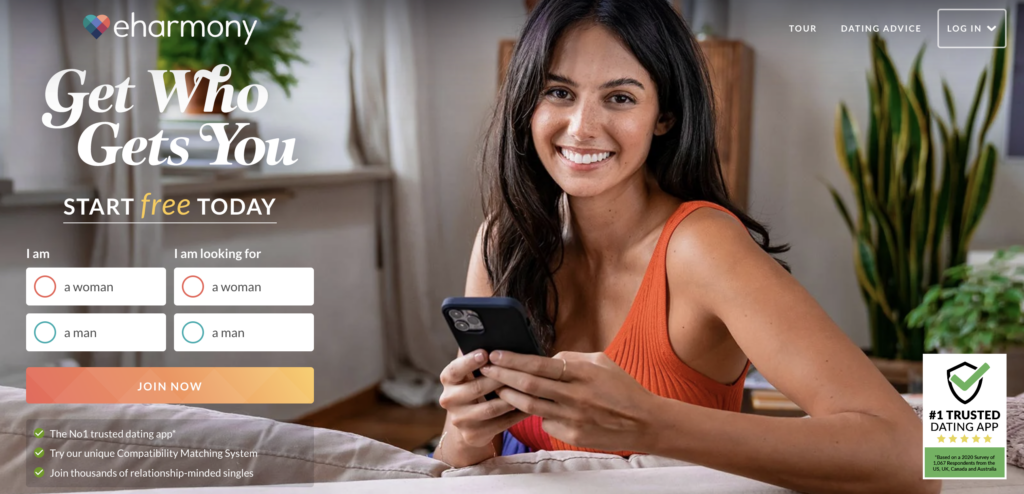 eHarmony is one of the oldest online dating apps and started off as a website in 2020. Today, it is available in 125 countries.
It offers a 50/50 male/female split on the site, so there are many options for both men and women to find their right partner. It also uses a Compatibility Matching System to suggest the right profiles for you.
You can see their many success stories to read more.
How eHarmony works
Unlike other dating apps, eHarmony will ask you to complete a questionnaire about your personality and what you are looking for and will show you profiles that match that criteria.
Create a profile and fill in the compatibility survey
Find the list of matches for you: The app will show you members who match your criteria and with whom you have high compatibility.
Start connecting with other members: On the free profile you will only be able to send a few messages a day, upgrade for unlimited messaging.
Why we like eHarmony for safe travel dating
eHarmony has been in business for a really long time and is focused on matchmaking instead of only dating, so if you are looking for shorter term travel dating apps, it may not be the right one for you.
However, it is a great place to meet someone in a place you are planning to move to or a future travel partner!
Internations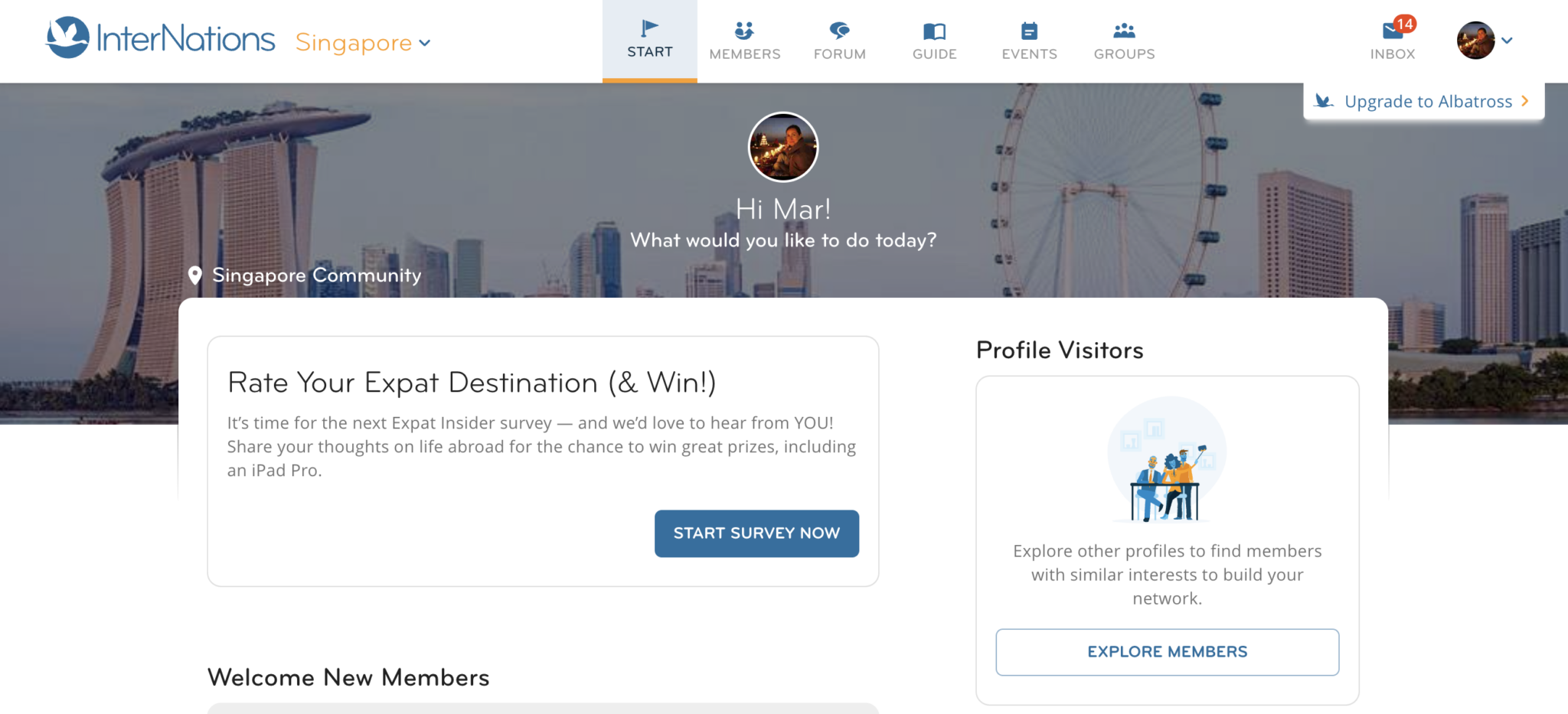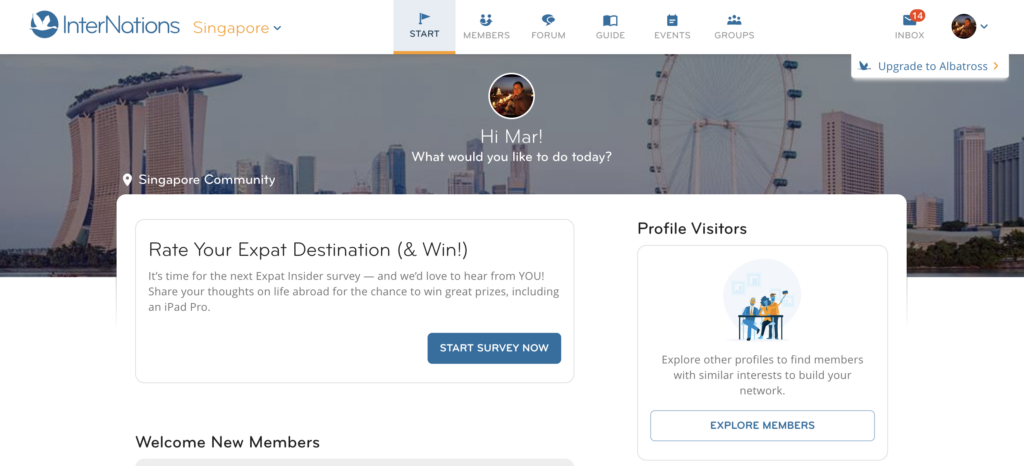 I used Internations for several years until I met my partner. As an expat, the platform offered a very niche and curated experience specifically targeted at those young professionals who travel a lot for business and are looking to connect with likeminded, and often high-flying, professionals for dinners and networking events in the key global cities.
The focus of Internations is not exclusively on dating but rather on professional networking meeting other expats in various cities by attending social events such as drinks that are organized by local ambassadors. In the larger cities, these events can gather a few hundred people and are an easy place to meet others.
Everyone is open minded and there is usually a local host that is there ready to greet you and introduce you to other to break the ice. From then on, you're on your own but are likely to find lots of topics to chat as everyone is generally an expat.
Internations has a feature where you can share your travel plans and meet up with others who respond, either local or who will be there at the same time as you. This will usually be for dinner as the focus is on business travelers who have meetings during the day.
What solo female travelers think of Internations
I do not recommend upgrading to the paid membership. Many users were angry during the pandemic because the membership renewed automatically under German law, where the company is based, and Internations did not to refund anyone, regardless of extenuating circumstances or the lack of a notification of renewal.
So if you upgrade, make sure to set up a notification to decide if you want to cancel it before it gets renewed.
How Internations works
Like all other social media networks, Internations requires you to join with an email and password and then fill in a profile.
From that moment on, you can share your travel plans which will be posted on the city's feed, or see what events are planned where you live or will travel to, and simply join, then go in person. These events carry an entry fee which tends to include a drink.
There is a free membership and a paid one with more features such as discounts to events.
Why we like Internations for safe travel dating
Being more of a cross between Tinder and LinkedIn, Internations is more of serious and professional platform where most of the users behave themselves as if they were in a business setting and thus, improper conversations or interactions are unlikely. This means you should feel safer on Internations than you do elsewhere.
Additionally, the destination events are a great way to meet other people, local, expats and travelers, and to maybe carry on with a group or one on one dinner date afterwards, or on the following day.
Plenty of fish (POF)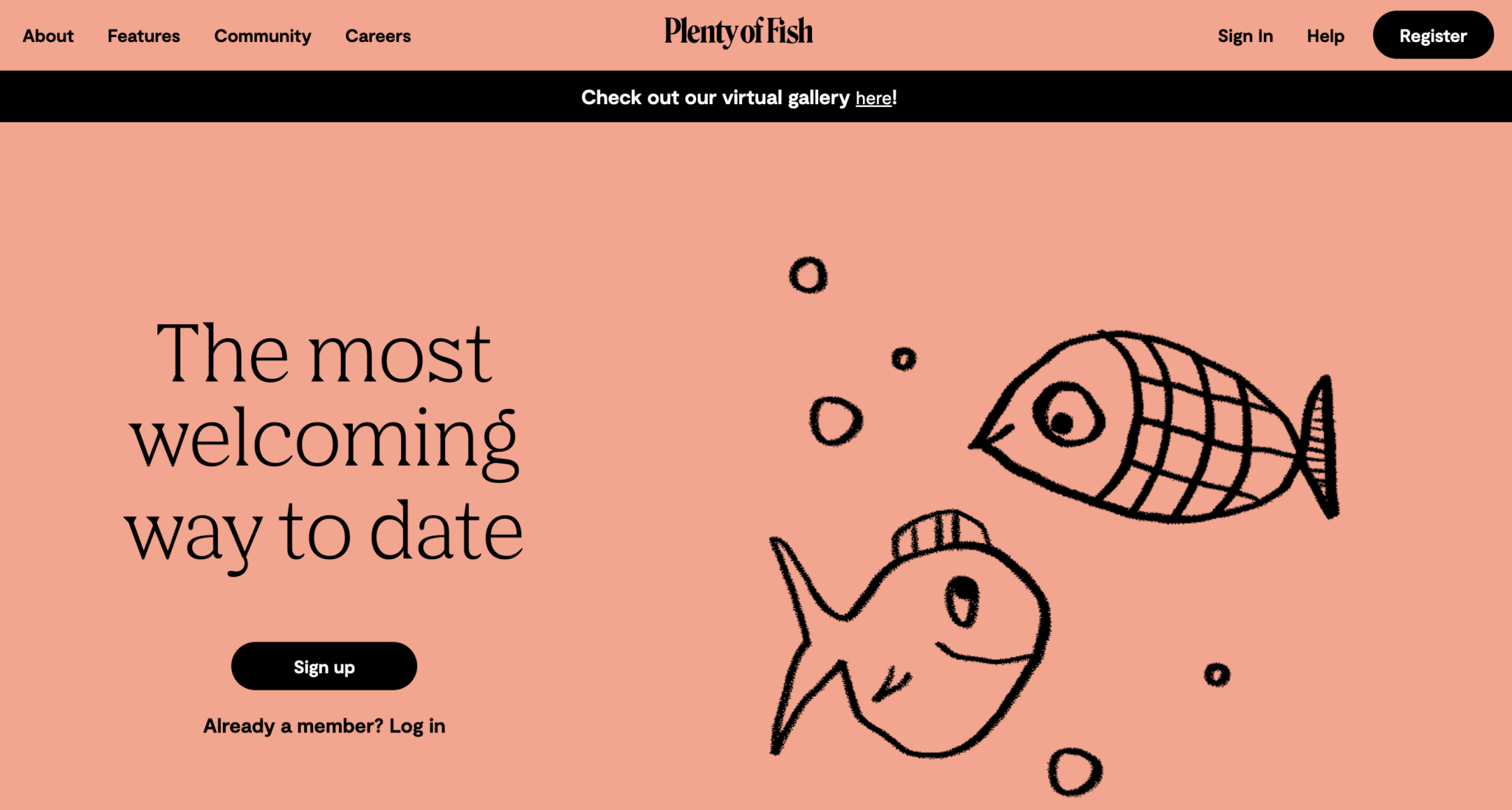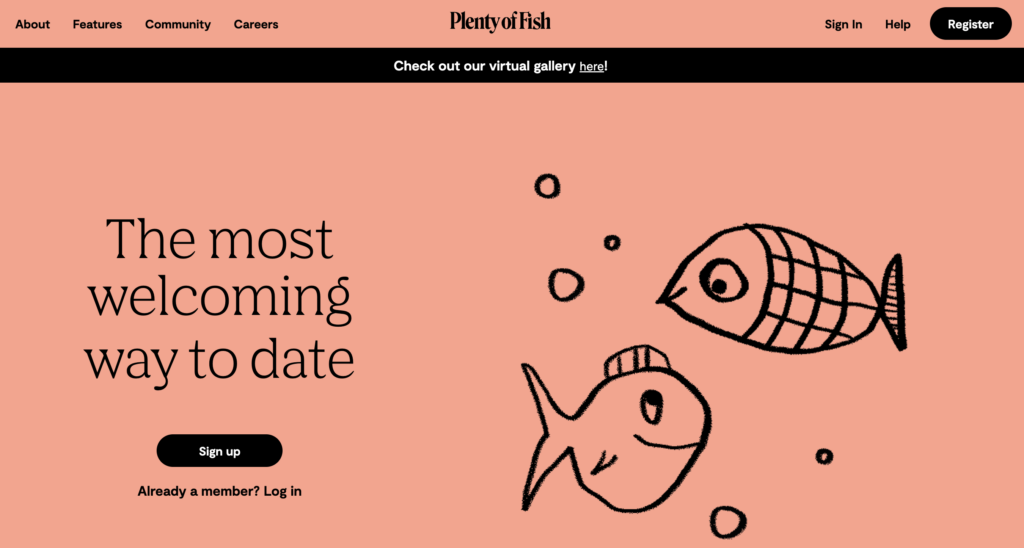 Plenty of Fish is a Canadian born dating app that is popular in English-speaking countries. It is different from the rest because of the little filtering the app does and the fact that it is free to get started in, resulting in, as the name indicates, plenty of options.
That means that I can take quite some time to scroll through options until you find someone you want to meet but also that you have more options than on other paid-only dating platforms.
POF is focused on providing fun games for users to engage in so you can make the whole experience less awkward. For example, you can play a game called Cue'd which asks random questions to 5 singles at a time.
You can expect at least, a fun time, as POF sayd: "Read the cues and be as honest (or savage) as you want with your answers. You'll be playing with 5 singles so show 'em who you really are!".
What solo female travelers think of Plenty of Fish
Our members agree that Plenty of Fish is a great way to get started online dating at home or when traveling because it is free so there is little financial commitment, but this usually comes at a cost of time or having to lower your risk threshold.
"I have met some cool decent men off POF and alot of creeps too, but I guess that's to be expected."
How Plenty of Fish works
Create a profile on the app with your email
Choose the kind of experience you want: Select your gender and sexual preferences, location, whether you are looking for a serious relationship or not, and the age range for your search.
Start matching: You will see a limited number of profiles to start matching with on the free account and you can upgrade to increase the number.
Start messaging: You can message all the users you matched with. Every day, you will also see a few members you can message directly at the top of your feed.
Why we like Plenty of Fish for safe travel dating
Plenty of Fish is on the lower side when it comes to safety features, especially if compared to other sites and apps on this list which have filters and checks. It also does not offer any support, since it is largely free and focuses on offering customer service via self-service Help center and a chat feature.
However, Plenty of Fish it is free, so if you are only keen to get a taster for what online dating could look like or are open to meet people wherever you may be traveling to, without any commitment or interest in long term dating, it is a no-frills, low entry barrier option.
19 Tips to stay safe when travel dating in 2023
Travel dating can be exciting, but don't let the heat of the moment unarm you and bring your defenses down.
You're interacting with strangers in an unfamiliar online environment and there are many risks associated with this new world of online dating, so taking precautions is needed.
Always put safety first and never do something you're not comfortable with. You don't owe anyone any politeness, if at any time something does not feel right, get out of that situation.
While the same safety tips for travel dating would apply to dating in your own city, there are extra layers of danger that come from being in an unfamiliar territory where a friend cannot come to the rescue, you may not speak the language or have an easy way to get back home.
In this section we have compiled tips for staying safe when dating while traveling based on the experiences shared by members and our own. If you have any other tips to add, feel free to leave them in the comments box at the bottom and we will be glad to add them.
1. Follow regular travel safety precautions
We won't list them here again, but we have written a very detailed piece on travel safety tips. It's always a good idea to give the list a read before going on a date when traveling.
Things like keeping your money safe, not revealing where you are staying, etc. are handy in any situation even when dating and traveling.
Also take a look at the FBI's internet crime report released every year for new online scams and crimes born online.
2. Beware of catfishing
Cat fishing is one of the biggest worries of anyone who is dating when traveling and sadly a possibility we have seen happen to friends of ours.
The practice consists of creating a fake persona online with pictures from other people, and an entirely made up story. You then go on the date only to realize the person is not who they said they were.
Sometimes it is simply a way to conceal their identity for harmless (yet unethical) reasons like for example if they are married but it can also be the beginning of a dangerous situation if you then get cornered, robbed or worse by a gang. Online scams are on the rise.
"I once went on a date with someone who had nothing to do with their profile photo. It turned out he did not want his work colleagues to know he was on Tinder and had created an entirely fake persona. This put me off from the start and I just could not get past the lie, no matter how pleasant the evening was", shares one of our members.
Take your time to get to know the other person before meeting up. Be aware of any red flags or strange behavior and suggest having a quick video call before meeting up, just to make sure they are who they say in their profile.
Additionally, an easy way to see if their profile picture is real is to take a screenshot and use Google Images to do a reverse search for the photo. You can not only verify they say who they say theta are but also find out more about them. If the image appears on stock sites or is someone else you will be able to confirm that this way.
3. Keep your privacy
When creating your profile, it's easy to link other social media networks and to use the same pictures you have on your Facebook profile but this will expose yourself more to complete strangers by allowing them to use the same reverse image search function we suggested above to detect catfishing on you.
Try to use images that cannot be found anywhere else on the net, maybe even take specific selfie or regular photos for the dating app that won't link back to you and connect the dots on where you live, work, etc.
Besides the images, don't release information such as where you are staying (hotel, room number) or where you live. Stay vague on your job and company name and if possible, pretend that you are traveling with friends but they have other plans that day.
The less vulnerable you can make yourself look, the better.
4. Be your own private investigator
This may sound a bit paranoid but we prefer to be safe than sorry here and doing your bit of research and private investigative work when it comes to meeting a stranger for the first time may get your out of a pickle or in the best of cases, save you from hours wasted chatting with an uninteresting or down right boring person.
Google is your best friend here. Besides the research work to find out if the person is who they say they are, you should check out if the rest of the details square. Does their age, job and lifestyle match with what they said? Are there any red flags?
5. Stay on the app
Just like you would not move a conversation to book an Airbnb outside of the app, avoid moving the conversation outside of the dating app until you have met the person once at least.
It may be tempting to do so because it is much easier to use SMS or Whatsapp but when you share your phone number you also expose yourself to a host of other scams and reveal private information that can be used to commit other crimes.
Politely decline, say you don't use Whatsapp or that you don't exchange them with anyone before a first date.
A member was harassed and extorted for money on the phone by someone impersonating themselves as the police in Dubai after exchanging phone numbers with someone on Tinder.
The person on the phone had a strong Nigerian accent which set the alarms off but the entire experience was terrifying.
If you remain on the app, you can also report a user who has broken the rules or has done anything inappropriate and warn others.
6. You don't owe anyone anything
Always remember that you don't owe anyone anything and don't need to continue a conversation with someone who makes you feel uncomfortable or uneasy or is making all your alarm go off.
Some of these red flags are immediate talk about marriage, plans to come visit you in your country before you even go on a date, or vague assertions about themselves.
The advantage of online dating sites is that they are much safer than real life dating and can help as a filter to get to know someone before meeting them in real life, so don't be afraid to block someone and move on, that is a better option to getting into a fight, confronting them and risking them finding a way to find you.
7. Never send money
There are millions of users in dating apps and not everyone uses them with good intentions. Some of them are scammers trying to trick you into sending them money.
Never send any money to another user no matter how convincing their story may be. Do not wire transfer nor buy them gift cards, which are the most common transaction methods scammers ask for. Even if you have been messaging for a few days or they claim it's an emergency, do not share any financial information or transfer funds to the person.
Avoid sending money for investment opportunities the scammer will tell you about. A recent scam involves a too-good-to-be-true crypto currency investment you can't miss.
This can be dangerous and irreversible. If you find yourself in this situation, report it to the dating app immediately and block the user.
8. Don't share personal information
Make sure not to share any information or images that can be used to extort you for money later on such as nudes, private details of your work or colleagues of confidential information.
Avoid sharing other personal details that can be put together to access your accounts. For example, it is common for banking apps to ask for your date of birth, pet name, mother's maiden name, social security number, postal code and other personal details as security questions.
A scammer could ask you these various questions over a few days, masking the real interest and distracting you from what they are trying to achieve.
For example, your address could be useful to send you flowers, your mother maiden's name could come as part of a conversation on your childhood's, you could easily chat about your pets and you could be asked to provide your passport number to book a fictitious flight for a vacation.
9. Deactivate face or fingerprint login on your device
If your date goes well, you may move home to take this forward. You may then decide to spend the night and fall asleep.
A potential scammer could use your face or fingerprint to login to your phone, access your bank account or mobile money transfer app and send themselves money, then disappear.
Consider deactivating this from your phone if you are going on a date.
10. Start small
If you are meeting a stranger in an unfamiliar place, why not start small with maybe lunch or a tourist attraction you were planning to see anyway? Perhaps they can come with you to a museum and you can see how that goes, this way you have the company of a local for a sightseeing activity that has a sale by date.
We also recommend you make it clear upfront that you have something booked for later so the timing is set and you don't have to amend your sightseeing plans because you can't get out of a boring date.
Even if you don't have anywhere to be, it's useful to pretend you do and set expectations from the start. If the date goes really well, you can then extend it and amend your plans.
For example, meet someone for lunch and tell them that you have tickets for X museum for 2: 30 PM so you have an out, or better yet, that you are meeting your friend at that time because you decided to split for a few hours because they wanted to do something you are not interested in.
11. Share the details of your date with a friend
It's important to share your date plans with someone you trust, including the place where you're going, time, and contact information like phone number. You can also share your live location with that person, this way if anything happens it will be easy to track you down. You could even agree on a time for your friend to call you in case you need an out.
If the date is going great and you feel safe and comfortable, don't forget to send a message to your trusted person to let them know everything is going well.
12. Meet in a public place you want to check out
"Make sure to meet in a public place! Get their info and send it to someone at home in case something happens. Enjoy!" says Jo.
It is always safer to start by meeting up somewhere public and not in your hotel room or apartment rental. Choose a public place that is well lit up and has people walking around during day and night. Make sure it has easy access to public transport and commercial establishments like stores and restaurants.
Avoid going to places where there's no signal or that are far away from the city center which may be hard for you to get away from.
Suggest a place you want to try, maybe it's a restaurant that you have read about and want to check out, or an attraction you want to visit, this way you can control the budget, location and atmosphere. A place that is near your hotel is a good idea, so you can easily get back after the date ends.
If you don't want to reveal where you are staying, pretend you need to use the bathroom when the date ends and say your goodbyes before so they don't know which way you went.
If it's dark outside, order an Uber (make sure you have downloaded and set up the local version of Uber wherever you are) and stay inside the bar or restaurant until it arrives. Using a taxi hailing app will avoid the extra stress of having to deal with language barriers as the taxi driver knows exactly where you are going.
Never take up an offer to be picked up or dropped off by your date so you don't put yourself in the vulnerable situation of being at their mercy. If someone wants to walk you home, tell them you are staying at a hotel near where you met and say your goodbyes in the lobby, then wait for them to go and head back out.
14. Ask for Angela
Research the destination you are visiting and understand if there are code words to ask for help in case you need to get away from a situation.
For example, in London, Safer Sounds have worked with bars and restaurants as well as the authorities on a procedure for those in need of help when on a night out.
The initiative's website explains, "People who feel unsafe, vulnerable or threatened can discreetly seek help by approaching venue staff and asking them for 'Angela'. This code-phrase will indicate to staff that they require help with their situation and a trained member of staff will then look to support and assist them. This might be through reuniting them with a friend, accompanying them to a taxi, or by calling venue security and/or the police."
Other businesses around the world may have similar codewords in place, sometimes a drink you can order and which is off the menu and has the same effect. You can find out about this on their website or in the female bathroom.
If you are somewhere where no codeword exists and you need to get out of the date but can't see how, seek a member of the staff and ask that they help you out.
15. Maintain full awareness
Be alert to the effects that alcohol or drugs may have on your defenses and of how they may impair your ability to make the right choices and protect yourself. Minimize risks by being in full control of your mental abilities and not going above your personal limits.
Date rape drugs are a risk when dating a stranger. Never leave your drink unattended and only accept a beverage that has been served directly by the personnel and in front of you. If your date suggests he will go get the next round, accompany them, if they pressure you to drink or do drugs against your will, leave immediately. If you need to go to the bathroom, make sure you have finished your drink or that you will not continue to drink more after you return.
Beware of taking cigarettes from strangers too as these could have been adulterated too.
16. Don't leave your belongings unattended
Even if you are with someone you know, you only just met them, don't go to the bathroom and leave your purse or bag with them, take them with you everywhere and keep them always within your reach.
17. Come fully charged
We are referring to both cash and phone battery.
Your phone is your best ally when dating while traveling. It can get you out of a date by booking you a cab, it can let others follow you and it can help you get back home safely using Google Maps, but it needs to have enough battery for that to happen, make sure you leave the house with a full charge or carry a portable battery pack.
Having some cash with you will be useful if you want to settle the bill and leave without having to wait for change or a credit card machine, and you can also use it to flag a taxi on the street. You don't have to carry a lot, just a bit to get you out of a difficult situation.
18. Always carry condoms
Even if you are not looking for anything more than a fun evening and a conversation, carry your own condoms in case the situation demands and you can protect yourself from any sexually-transmited illnesses.
Remember that even if you use other contraceptive methods to avoid a pregnancy, you can still catch an STI, most of which are invisible. Always be prepared for anything that could happen and don't rely on others for your own protection.
19. Be mindful of cultural differences
It's important to educate yourself about topics that matter in the place you're visiting.
Language barriers are one of the most common when dating somebody abroad. Make sure you can communicate well in the same language, or try to overcome the language barrier using tools like translating apps or body language. If you're dating a local, you can try to learn some basic words in the local language before meeting up.
Relationship or dating standards may vary depending on the country's culture, religion, and customs. Some countries are more flexible and open minded when it comes to dating/relationships, while others are more conservative and have some culturally established standards.
For example, in many muslim majority countries local Muslim men cannot share a room with a woman they are not married to and while international chain hotels don't usually questions guests on their marital status, local family-run establishments may.