Thanks to the best language learning apps, learning a new language has never been easier than it is today.
While travelers in the past may have relied on months of immersion, or an endless stack of flash cards, nowadays there is a fantastic range of apps to choose from, all offering fluency, and a promise to have you speaking a foreign language in a day.
We asked our Language Exchange group to tell us what apps they used and the results showed more than 10 were popular. With so much choice, what are the best language learning apps? In this article we will review some of the most popular apps to learn a language and tell you which one is the best.
Spoiler alert: our favorite language app is Mondly (<- this link gives you $10 OFF exclusively to the Solo Female Travelers community), the new kid on the block making waves online and challenging the status quo.
It's estimated that 6,500 languages are spoken in the world today, and more than half the world is now bilingual. With the world becoming increasingly connected, multilingualism not only opens the door to more authentic travel experiences, but also unlocks many lifestyle benefits and opportunities for economic advancement.
Speaking more than one language is more normal than speaking just one, and with the assistance of the best language learning apps below, more people than ever before are trilingual (speaking 3 languages), multilingual (4 languages), and polygot (someone who fluently speaks more than 5 languages).
So how to they do it?
Contrary to popular belief, you don't have to be born with the 'language gene' to become fluent in multiple languages, and you haven't missed your chance because you didn't learn as a child. The following language apps use highly advanced technology that will in fact, have you speaking like a local.
Best Language Learning Apps Comparison
We've gone into further detail about our five favorite language learning apps below, but here is a comparison chart where you can find a quick overview.
Each of the learning apps below follow different methodologies for teaching a language, so the app you find the most success with will depend on which learning styles you best respond to.
It is worthwhile to combine more than one service, for instance Duolingo gamifies the experience and focuses on teaching you a number of words while Rosetta Stone is more focused on teaching you basic grammar.
Tandem is focused on speaking a language, while Mondly has an impressive chatbot that can correct your pronunciation and hold a genuine conversation (Mondly is our personal favorite).
By using more than one at the same time you can fast-track your learning and master more than one aspect of learning a language. We encourage you to use the below information to find the best language learning app for you.
App
Unique Features
Price
Mondly
Mondly is one of the most innovative language apps in the world, and has some seriously impressive features. They have been named best app by Facebook and Apple and use very advanced AI technology to give you a virtual teacher.

There are 41 languages to learn from your native language; most language learning apps only let you learn from English which really sets Mondly apart.

The chatbot is impressive and can correct your pronunciation and hold an actual conversation (we have tested it over and over), which is remarkable.

Available on iOS, Android, PC, and Mac, and your learning synchronizes across all devices.
Both free and premium learning available.

Premium available on a monthly ($9.99), yearly ($47.99) or lifetime access.

Buy now for $89.99 and get premium lifetime access to all 41 languages.
Rosetta Stone
One of the oldest language learning providers, I still remember their CDs on sale at the airport in Dubai circa 2006.

Rosetta Stone is well-established and respected and offers any language combination you can think of, they even focus on preserving endangered languages.

This is not a free service but rather for those who are serious about learning a language, especially a rare one.

Available via desktop and app.
3 Months: $11.99 per month

12 Months: $14.92 per month

24 Months: $10.38 per month

Lifetime Access: $299 once
Babbel
Babbel is another oldie but a goodie for those who are committed to learning a language. It is quite strong on the speaking part and while it is not free they often run promotions.

Desktop and app.
Try it for $50 for 6 months.

SFT members get 50% off the annual membership using this link.
Tandem
A messenger app which pairs you with native speakers for a language exchange. You each get to practice the language of the other and exchange conversations.
Free, with upgraded pro features starting at $6.99 a month.
Duolingo
The opposite of Rosetta Stone, Duolingo is excellent for beginners. It tries to make learning a language fun and instead of focusing on grammar it gets you started on speaking and reading straightaway on the app (only app is available).

We like that they have gamified the experience so you can compete against friends to accumulate badges.

The downside of Duolingo is that you will only get so far with it so it's a fun way to start but you will need to use a different language app after a while (eg. Mondly).
Duolingo is completely free with no in-app purchases or pro versions.

You can however pay $6.99 to remove the ads (highly recommended as they can be very intrusive).
Mondly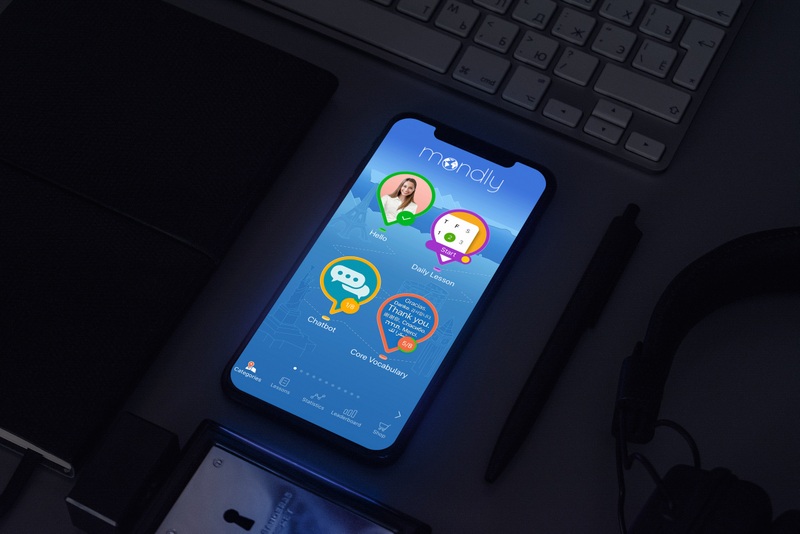 Launched in 2014, Mondly is one of the newest language learning apps on the scene, though it's quickly become recognized as the most innovative, receiving awards from Facebook, Apple and Google for its AI technology which launches you into an immersive learning experience.
Mondly is highly engaging and interactive app. It uses chatbots, AR (augmented reality) and VR (virtual reality) to immerse you in real life situations without the stress of speaking to actual people. It uses native speakers for all voice recordings, which means you learn the proper pronunciations, and you can have real conversations with its AI chatbot in 41 different languages.
Its voice recognition technology is impressive – it corrects your pronunciation, will give you positive feedback when you pronounce words correctly – even scolds you if you say vulgar words or profanities!! This is advanced technology on a level we've never seen from language learning apps before.
Mondly's VR experience is the closest thing to actual language immersion that any other app offers, and you can learn any of the 41 languages from any of those 41 languages.
For example, if you're not a native English speaker, you're not forced to learn a language from English, which is a limitation of many other language apps. You can learn from your native language, which considerably improves your results.
You can start learning any language for free, including free use of their conversational chatbot, though after the first 3 lessons you'll need to upgrade to a premium account to access the rest of the curriculum.
Another of the features we love about Mondly is that it offers an overview of the lessons so you know where you are and what the lesson plan is, and you get to revisit everything. This is a simple feature that is not available on Duolingo.
The languages they offer are Afrikaans, Arabic, Bengali, Brazilian Portuguese, Bulgarian, Catalan, Chinese, Croatian, Czech, Danish, Dutch, English, Finnish, French, German, Greek, Hebrew, Hindi, Hungarian, Indonesian, Italian, Japanese, Korean, Latin, Latvian, Lithuanian, Norwegian, Persian, Polish, European Portuguese, Romanian, Russian, Slovak, Spanish, Swedish, Tagalog, Thai, Turkish, Ukrainian, Urdu, Vietnamese.
The Lessons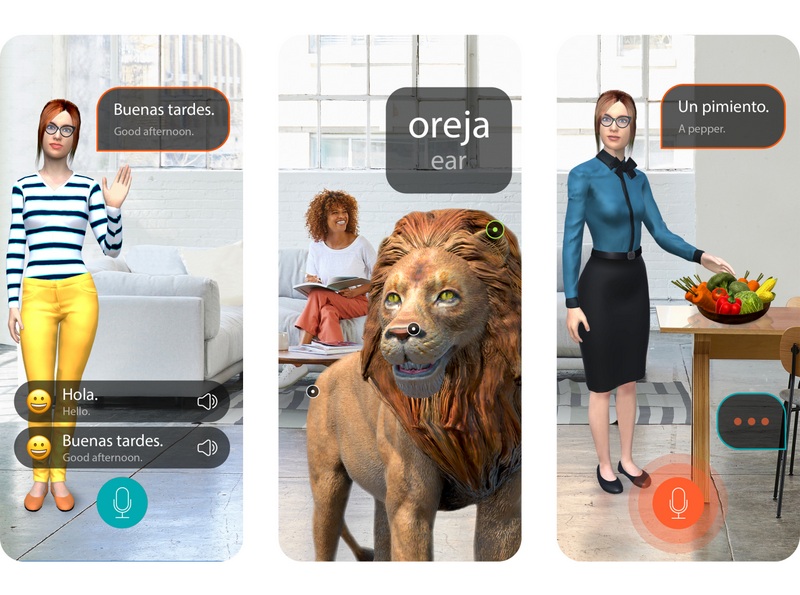 Mondly's app offers 300 short bite sized lessons which are organized into real life topics. There are core lessons where you learn via moving words over correct pictures, memorizing core words, translating sentences, etc, as well as conversation and vocabulary lessons.
It's almost a gamified experience, as you make your way around real life situations, like dealing with emergencies on vacation, or ordering food at a restaurant. And the great thing is that the learning is customizable – while most other apps have a linear approach to language learning (ie you have to start at the first lesson, and make your way through each), Mondly allows you to pick the topics that you're most interested in, so you don't have to waste time learning things you'll never use.
The categories are extensive, and include Family, Country & Languages, Travel, Vacation Activities, Public Transportation, Seasons & Weather, Romance, Core Vocabulary, Preparing a Trip, Airport, Business, Restaurant, Hotel, Fun, Bank, City Tour, Doctor, Help, Animals, Colors & Numbers, Fruits & Food, Parts of the Body and more.
Each category has 6 – 8 lessons, and you can then practice speaking and writing with the conversational chatbot which replies in a native human voice, and understands millions of phrases and words in each language – you'd be forgiven for thinking you were actually speaking to a real person! The app also gives you feedback on your conversation, grammar, and pronunciation.
Last but not least, if you are using a language app to learn Spanish, Mondly will teach you standard Spanish from Spain without any specific accent. That is, you will learn Spanish from the Real Academia Española, whereas Duolingo will teach you Mexican Spanish and Rosetta Stone gives you a choice between Spain and Latin American Spanish. Bear in mind this is not just relevant for pronunciation but also for vocabulary.
Reasons to Love Mondly
We love Mondly because it's highly customizable, in both choosing which language you learn from, and choosing the course curriculum via categories, and allows you to learn based on your specific needs. This means it's great for almost any learning style. And there are beginner, intermediate and advanced proficiency levels, so you can start at the level that is right for you.
The lessons are short and only take a few minutes for each, which means you can learn a little bit each day, whether you're in bed, or waiting for the train. Your progress synchronizes across all devices, so you can pick up on your laptop, where you left off from on your phone.
Its focus on phrases rather than individual words and ability to have real conversations with its chatbot means you have a great option for language immersion, in as close to a real life situation as you possibly can be, without having to carry a conversation with an actual person until you feel comfortable / ready to.
Mondly is also available on desktop so you don't have to rely on your phone only and can learn leaning forward and not just leaning back. Duolingo for example does not offer a desktop app.
This is a great app for anyone wanting to jump straight into learning phrases you'll need in real life situations, whether for travel, study, or social connection.
Cost
You can sign up for Mondly and start learning any language for free. On a free account you get access to 6 lessons across 3 categories, the conversational chatbot, weekly quizzes, and can learn as many languages within these limitations as you like.
Upgrading to pro means you'll have access to all 41 categories, over 1,000 lessons and conversations, 55 conversational modules, and unique lessons based on your specific progress every day.
Price wise, you can purchase the premium version on a monthly subscription model of $9.99 USD, a yearly subscription of $47.99, or buy a lifetime access.
Buy now for $89.99 and get premium lifetime access to all 41 languages.
Rosetta Stone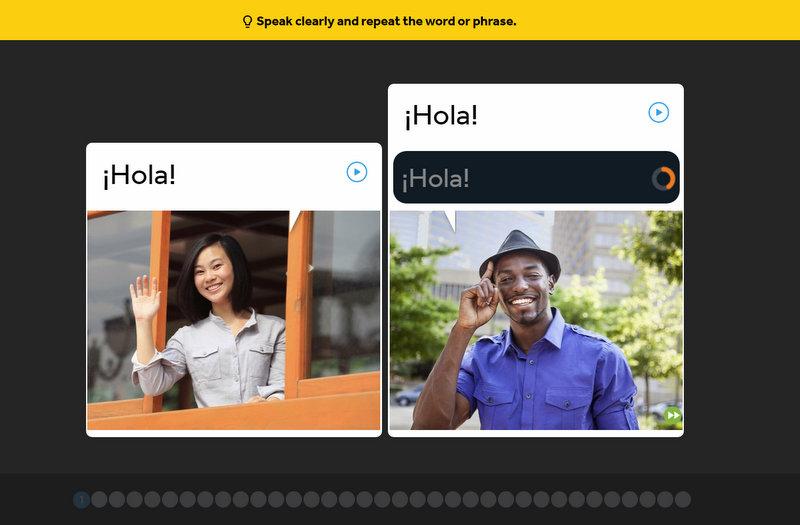 Rosetta Stone is one of the oldest language learning companies, founded in 1992 with courses first released on CD-ROM's.
Having been around for the longest it's definitely the most famous app for language learning (as the first language learning software, for many years this was the only name anyone knew), and is well known for its traditional methodologies and old school learning approach.
Rosetta Stone covers 25 languages, including some endangered languages such as Latin. The languages on offer are Arabic, Chinese (Mandarin), Dutch, English (American), English (British), Filipino (Tagalog), French, German, Greek, Hebrew, Hindi, Irish, Italian, Japanese, Korean, Latin, Persian (Farsi), Polish, Portuguese (Brasil), Russian, Spanish (Latin America), Spanish (Spain), Swedish, Turkish and Vietnamese.
This is a great language learning app for building a foundation in a language, and is worthwhile for beginners who want to build a strong base of vocabulary and grammar.
It is structured in a way that you'll achieve fluency over time, and works without any use of your native language – they believe in the approach of full immersion, so you won't find any English instructions or translations – lessons are wholly composed of images and untranslated audio and text.
If you learn well through this fully immersive approach, Rosetta Stone is a fantastic language learning app to choose. However if you learn best with the assistance of English translations, this is not the app for you.
The app has a speech recognition engine called TrueAccent which allows you to fine tune your pronunciations, and the option to sign up for live tutoring in English, Italian, German and Spanish. It has both a web and mobile version, and your account syncs across devices so you can pick up where you left off. You can also download lessons to do them offline which is a great feature.
The Lessons
Every language course on Rosetta Stone is set up with 12 – 20 units which cover categories like basics, greetings, work and school, shopping, travel, friends, social life, dining, home and health, life and world, everyday things, places and events. Within every unit you have 12 lessons each with 30 off exercises, games and activities.
The idea of Rosetta Stone is that you'll complete 30 minutes a day for 6 weeks to complete a unit. Taking this approach, from start to finish on a 12 unit course, you would be fluent within 18 months. This is a slower pace than other language apps offer, but they aim to build full fluency from a proper foundation having first built a strong base of vocabulary and grammar.
Without any native language instruction, units will take you through word association games where you'll be shown a word or sentence in your target language and need to match it with the images shown.
You'll then engage with the word; you'll hear it, say it (their speech recognition software will rate your pronunciation), write it, and answer multiple choice questions about it.
Without translations or explanations you're forced to rely solely on intuition while you slowly learn the words necessary for the next level. At the end of the lesson you'll receive an overall performance score.
Each unit within the training is structured exactly the same, so the exercises do become quite repetitive after a while, however many people like this for its consistency and predictable approach. If you vibe with this type of learning, you'll achieve excellent results. If you get bored with repetition, you might not enjoy the lessons.
The methodology takes a linear approach (ie the language you learn in the 1st lesson builds the foundation for the next level) but the app provides you immediate access to all content within the course, ie you don't have to 'unlock' levels if you already have a certain level of proficiency. You can also customize your learning to start with the units you want, ie if you choose to start with travel, instead of family.
Points Worth Noting
Courses on Rosetta Stone are structured in exactly the same way across all languages, and that means there's very little cultural context.
The lessons are essentially copy and pasted across languages, so this is something to consider, i.e. the first lesson might teach you the word for 'rice', without the cultural context that this isn't a staple food in the country of the language you're learning so you might not actually need it.
That said, the app is fantastic for learning vocabulary, grammar, plurals, and the learning is very well structured, easy to follow (despite there being no native tongue translations), and moves at a calculated, stable pace.
After you've built your foundation on Rosetta Stone, you'll probably then need to combine it with conversational practice with real native speakers (see the Tandem app below) or with Mondly which has a great chatbot.
You can choose to add live online tutoring to your subscription, and either join a 25 minute group webinar style session, or opt for a private lesson.
Cost
Unlike Mondly, Rosetta Stone doesn't have a free version of their service, though this is for people who are serious about learning a language, and the idea is that if you're serious, you're happy to pay for the learning (they do have a 3 day free trial).
They have subscription plans on the following pricing offer:
3 Months – One Language: $11.99 per month

12 Months – All Languages: $14.92 per month

24 Months – All Languages: $10.38 per month

Lifetime Access – All Languages: $299 once
Duolingo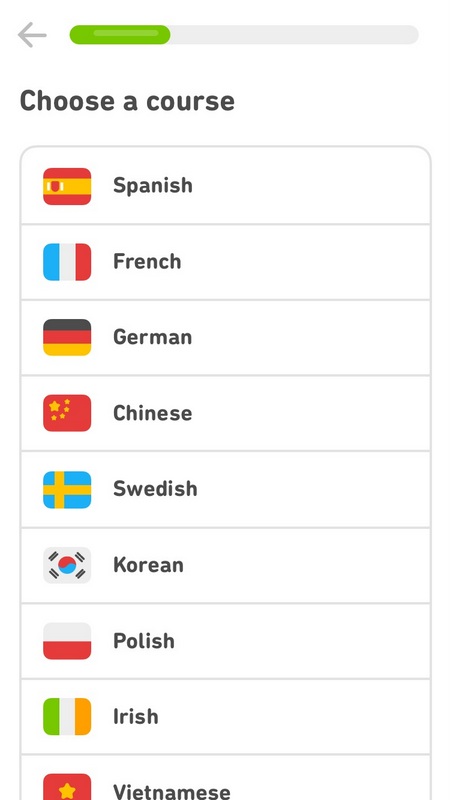 Duolingo is pretty much the exact opposite of Rosetta Stone, in every way possible (which is neither a good or a bad thing; the best app for you will depend on your learning style)!
It's a free app with a mission to make learning fun – you don't 'learn' Duolingo, you 'play' Duolingo, there are full translations in your native language, and it has a heavily gamified focus.
The app is completely free, and aims to make language learning available to everyone; it offers 32 languages (though they add new languages regularly), and you don't need to speak English to use it.
Like Mondly, you can learn any language of your choice from different mother tongues other than English. Notably, the languages you can learn using Duolingo that aren't available on Rosetta Stone include Czech, Danish, Esperanto, Indonesian, Irish, Hawaiian, Hungarian, Navajo, Norwegian, Romanian, Scottish Gaelic, Swahili, Ukranian, and Welsch.
In addition to the lessons themselves, there's a section to look over the vocabulary you've learned, and a very useful discussion forum (though thread lightly we have seen a lot of trolling and unwanted messages coming from it).
Duolingo is a particularly good app for beginners with zero knowledge of the language you're learning, though it doesn't have any human interaction, so you'll need to take the vocabulary you learn and combine it with something else for conversational practice like Mondly.
The Lessons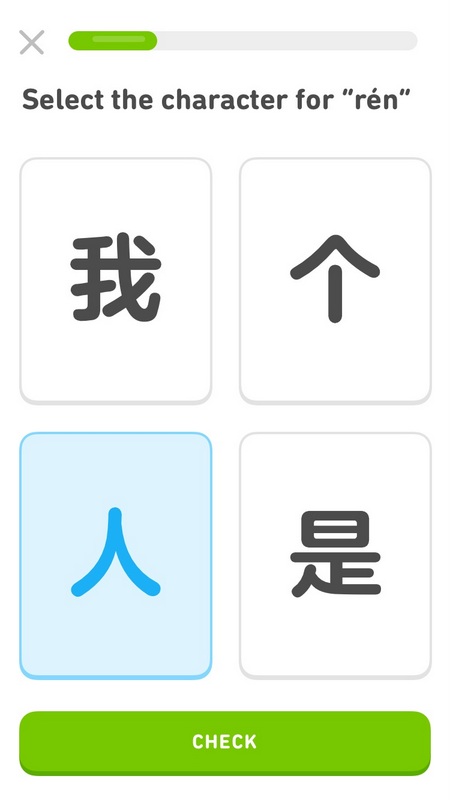 Language courses on Duolingo are made up of modules, which are each made up of lessons (each lesson around 4 minutes long). Games and activities within the lessons focus on vocabulary, writing, and listening. In the vocabulary games you'll be shown a word along with a picture, and then later on you'll hear that word and have to match it to the correct picture.
There's also a heavy focus on translation games, where you'll be shown a phrase and have to translate it into your native language. Other exercises include listening to a phrase and then typing out what you hear, and speaking lessons where you have to repeat what you hear.
The great thing about Duolingo lessons is that they teach you how to make full sentences, as opposed to teaching you words without context, and you learn this right from the very beginning.
The modules are all timely and culturally relevant, i.e. in the Japan course in the lead up to the 2020 Olympics (before the games were cancelled!), there were exercises that taught you phrases and language which would come in handy if discussing or attending the event.
Because they build each language course individually, some language courses have better content than others – French and Spanish are particularly strong courses, and these two languages also include podcast content where native speakers tell their stories while you can follow the translation.
This is a great way to further develop your listening and comprehension skills, and we're looking forward to podcasts rolling out into other language courses.
Revision lessons are another fantastic feature; once you've finished the lessons in each module the technology identifies your weakest words, and you can pull up a strength rating at the end of your lessons and do exercises to strengthen them.
While you can skip ahead instead of starting from scratch if you want to test different modules (you do a 'test' for the app to determine whether you're proficient enough to skip ahead), you do have to follow the order of lessons that Duolingo gives you in order to unlock the next level – you can't start new modules or lessons until you've completed the previous one, so it does mean you have to push through modules you might not be interested in learning (you can revisit past lessons any time though).
Users of Duolingo find their lessons quite addictive, and this is because they've turned language learning into a game. You earn badges, compete against other users on a leader board, and earn points which you use to spend on virtual things within the application (like buying outfits for Duo – the app's owl mascot). There's also a daily streak count which acts as a visual motivator to log in every day.
However, this gamification does mean that progressing forward and unlocking badges and points does not mean you are better at the language but that you are better at playing the game, and this is a distinction that is very importnat.
Many users, us included, realised that this can be a good and a bad side effect of the fun learning environment. We do love Duolingo's owl cute threats and words of encouragement and the ability to compete against a friend which helps you stay accountable.
Would Only Recommend for Beginners
Duolingo lessons are fun, but they're not challenging or well-rounded enough to be sufficient. This is a great language app for developing your basics, but it's likely going to be too easy if you're at an intermediate or advanced level of proficiency.
Also, the lack of grammar and proper structural learning means that you can only get so fr in your language learning journey with Duolingo and will have to complement it with something like Mondly or real life classes.
Cost: It's Free!
What has made Duolingo one of the most popular language learning apps is the fact that it is completely free with no in-app purchases or pro versions.
You can however pay $6.99 a month for an ad free learning environment (which is less distracting), and to be able to download the lessons for offline learning. If you are serious, the ads will soon become quite intrusive and you will find that the upgrade to a paid version is almost a necessity.
Babbel
Babbel is a one of the best language learning app for beginners and intermediates looking to learn basic vocabulary and grammar, and with quick quiz style lessons their courses are easy to digest. They offer courses in 14 languages, and are a great choice of language app if you're on a budget.
The languages offered on Babbel are English, Spanish (from Spain), German, Italian, French, Portugese, Swedish, Turkish, Dutch, Polish, Indonesian, Norwegian and Danish (the content in the Spanish and French courses are the strongest).
You'll develop a great foundational base for your language using Babbel, though it does lack preparing you for real life conversations, and there's no live interaction involved, so see this more as an introduction to a language rather than an app to become fluent.
After you've developed your foundation, we recommend pairing Babbel with a conversational tool like Mondly or with in-person class lessons.
The methodology of Babbel lessons is very similar to Rosetta Stone, with the difference that Babbel includes English translations and explains the language rules and grammar concepts, where Rosetta Stone takes a 'no English' approach to learning.
Babbel is perhaps the strongest language learning app out there for improving your grammar, as they have specific lessons solely dedicated to grammar rules and improving your sentence structures.
The Lessons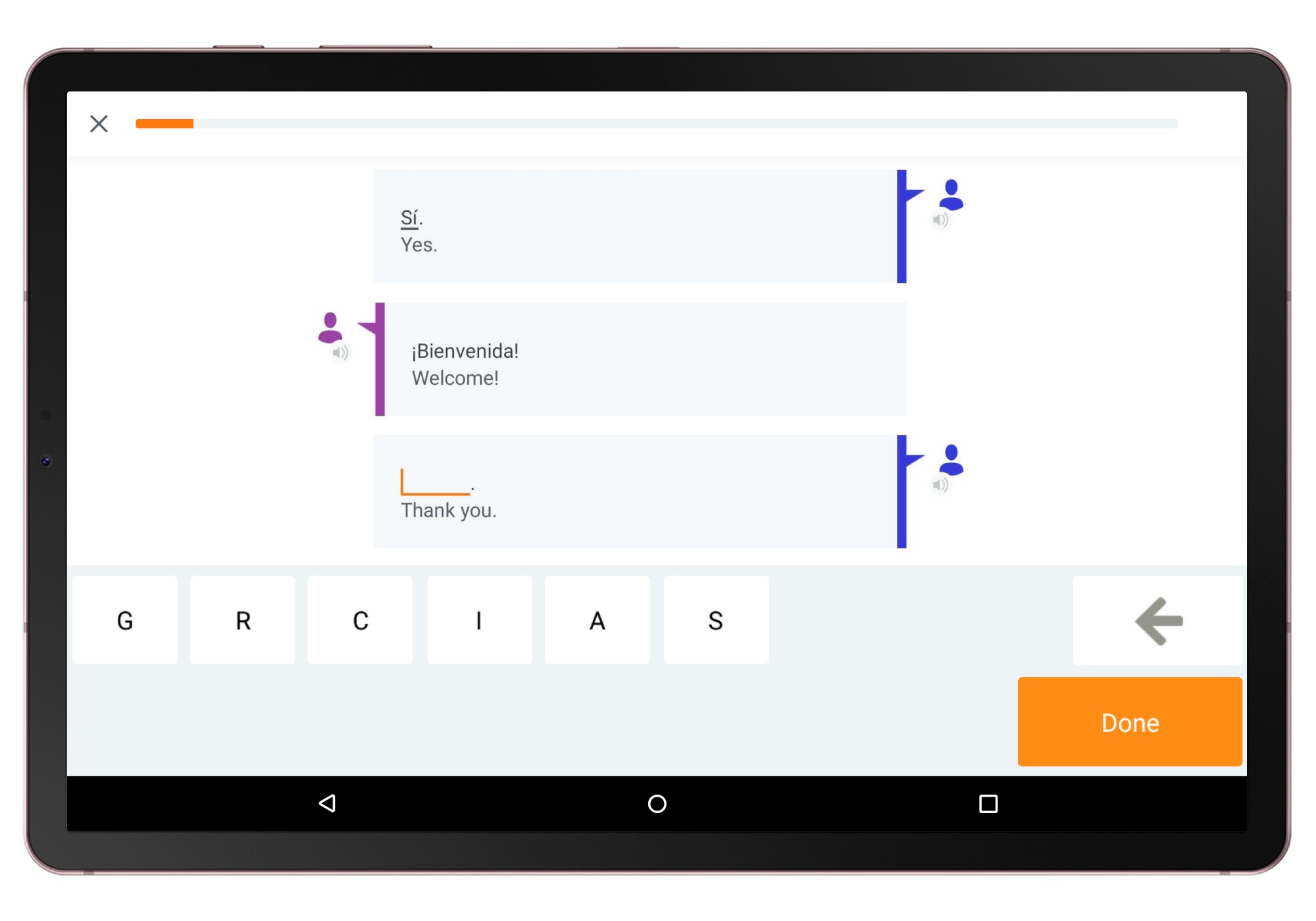 Babbel's lessons teach you reading, writing, listening, and speaking, and really hone in on grammar and vocabulary; that is, you'll learn new words, and how to improve your sentence structure. And the vocabulary they teach you is actually relevant and practical to a travel context which is nice.
Like other language learning apps, their courses are split into categories, and within each category is a series of lessons. Their lessons are structured in the same way as Rosetta Stone; in a quiz style format which asks you questions that combine words, pictures, and audio.
For example, you'll be shown a new word or grammar concept at the start of a lesson, and then work through a series of questions that include multiple choice, fill in the blank, match the word to the photo etc so you can practice the concept / word you just learned.
You'll also repeat words into your microphone, and Babbel's speech recognition software compares your pronunciation to a native speaker and gives you instant feedback. The audio quality Babbel offers is fantastic, and their voice actors are all native speakers.
Lessons are short, and take around 10-15 minutes to complete, meaning they can be done while you're out and about on your smartphone. As you move through the lessons the words you learn start being used in longer sentences so you can practice them in the context of actual dialogue.
Something definitely worth noting is that you'll always have the answers to choose from on a predetermined list using Babbel, which may not be challenging enough if you like to be pushed to think of the word yourself. And you could guess the right one purely out of luck and not knwoledge.
What Babbel is not
Babbel is a great language app for quiz style learning, and it's a fantastic way to learn or brush up on your basic words and grammar. However this app does not offer real immersion learning, so if you're looking for conversational practice we recommend one of the other apps listed above instead (Mondly or Tandem are best for this).
The course content is suitable for beginners – intermediate, however if you have an advanced proficiency in the language you're learning, you'll probably find the lessons on Babbel too basic for you.
The content on Babbel is unique for each language course, as opposed to Rosetta Stone which uses the same images and vocabulary across all their courses. This is fantastic as you have a higher level of cultural context and relevance.
On the other hand, this does also mean that there is less content available in less popular languages. Ie, Spanish and French are the strongest courses on Babbel, and have a truly fantastic curriculum making it a truly great language app if you are focused on one of these two languages. The quality and quantity of content across other courses varies.
Cost:
You can try Babbel for $50 for 6 months. Use this link to get 50% off.
Tandem
Tandem has been called a 'Tinder-esque language learning app' by other reviews, which is a pretty accurate description but also means you should thread carefully.
Where Babbel and Rosetta Stone lack in conversational practice, this is an arena where Tandem really shines; it's a messenger app which pairs you up with a native speaker who wants to do a language exchange with you. You each get to practice the language of the other person and exchange conversations.
Tandem is one of the best language learning apps if you only care about speaking. It is used by over a million people, so there are plenty of language partners, and over 160 different languages available.
It is particularly good if you're an English speaker wanting to learn another language because most people using the app want to pair with native English speakers.
Using other language learning apps to learn the basics of grammar and vocabulary is great, but then having the ability to use your knowledge and practice with real people is one step better.
Immersive learning via an app like Tandem allows you to really put your skills and knowledge to the test, and learn more contextual everyday local slang.
Finding a language partner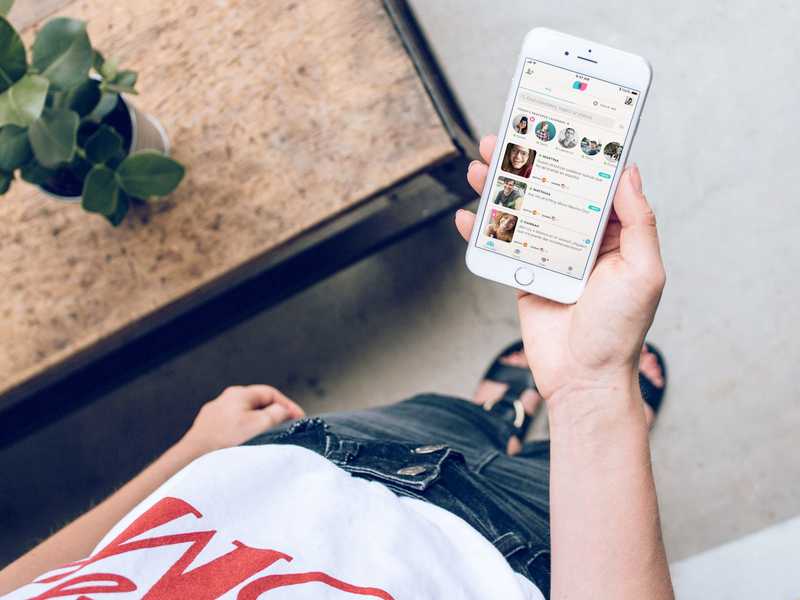 To find a language partner you'll need to download the Tandem app and create a profile (or you can sign up via their website). Just like other social networks, you'll need a profile photo, and to provide some info about your ideal partner.
It will then ask you what topics you like discussing, what your language goals are, and within an hour or so your profile will be reviewed – the Tandem team personally vets profiles before adding them into the network.
Under the community tab you can then start your search for language partners, and browse to see who's a native speaker, view their profile, and also see testimonials from their previous language exchange partners.
If you have a pro account you can also utilize a 'Near Me' filter which brings up the profiles of people who are located close by. This is probably the part which most closely reminds us of a dating app!
You'll have an inbox with a chat function where you can chat with other users, and can choose the style of communication you have with each other, whether you stick to simple messenger chat, or up the game and go for voice messages or scheduling a time for voice / video calls.
Within Tandem's messenger are some really fantastic features including a translate function which works like Google translate (free users only get 5 translations a day), and a correct tool which corrects your sentences and gives you feedback. There's also a section of the app for booking time with actual tutors if you want properly structured lessons.
Cost
Signing up for Tandem is free, and the free version of the app is all most people need. Upgrading to a pro account starts at $6.99 a month, and gives you perks like unlimited translations, an ad-free experience, the ability to find language partners in your same location, and the chance to appear at the top of the community stream.
Conclusion
Of the 5 best language learning apps, our personal favorite is Mondly, as it offers lessons in an engaging, interactive and immersive way, offers the most languages of other apps, and its conversational chat bot is more advanced than we've seen of any other language learning app. It has the best of both worlds: grammar and structure plus conversation, all in one app.
If you're after a traditional style of learning, Rosetta Stone is a great app, and fully immersive with their no English approach. If you're after a fun, gamified experience, Duolingo is the app to choose.
Babbel offers a fantastic foundation in vocabulary and grammar, which can be combined nicely with Tandem, to then pair yourself with a native speaker for a language exchange to practice your conversations.
Should we add any other option to the list of best language learning apps? We'd love to hear your experiences and thoughts with language learning apps in the comments!