Are you planning a road trip? If yes, you've come to the right place!
In this article, we have collated all our expert road trip tips and our exact planning process. After road tripping across a couple dozen countries, from Albania to the US, from New Zealand to Spain, we have learned a thing or two about the do's and dont's and want to make sure we share those long distance driving tips with you.
This article covers all aspects of planning a road trip, from choosing the destination and duration to getting your car ready, budgeting, finding the right accommodation, managing a crisis and, of course, deciding where to stop.
Along with, we recommend the best sites and travel apps to help you have the best road trip.
Ready to hit the road? Let's go!
Pick your destination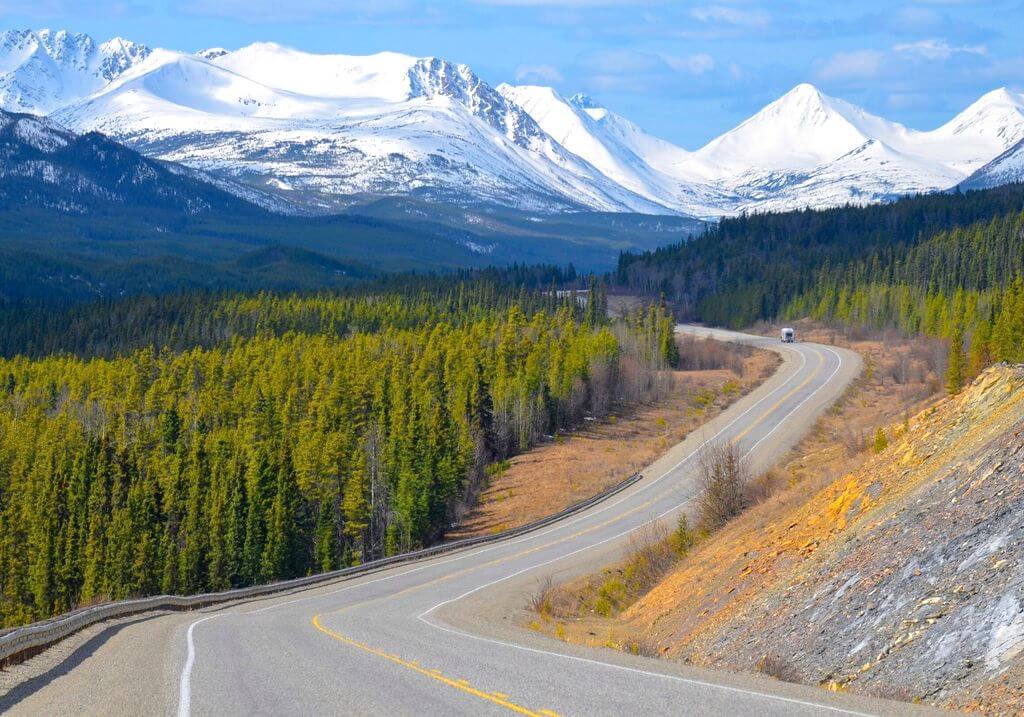 The first thing you should do when planning a road trip is to decide on the destination and have an idea of the start and end point.
If you already have a wish list of possible road trips, you can then move to the next section on date and time to validate if it is the right time to go. If you are starting with a clean slate, you should ask yourself if you want to start where you live or fly somewhere.
Starting the drive where you live narrows down your options but if you have enough time and want to fly somewhere, the opportunities are endless.
To get your started, here are some of the most epic road trip ideas from around the world.
Circle loop around the island of Sicily (1 to 2 weeks) where you can spend time at the beach, enjoy delicious cannoli, visit Roman and Greek ruins, quaint little towns and lots of heritage.
US Route 66 (1 month) exploring abandoned towns, heritage places, fantastic national parks and more.
Montenegro and Albania (2 weeks) are some of the most underrated countries in Europe with stunning beaches, lots of Ottoman heritage and vestiges from Antiquity and amazingly fresh food.
New Zealand South Island (minimum 2 weeks) for the ultimate campervan destination where you can marvel at incredible landscapes, mountains, glaciers and more.
Iceland road trip (1 to 2 weeks) for incredible waterfalls, landscapes and hot springs, the land of ice and fire does not disappoint.
Tasmania (1 to 2 weeks) is an undiscovered heart-shaped island with plenty of wildlife and beautiful landscapes.
Ireland's Wild Atlantic Way (2 to 4 weeks) to explore some of the most fairytale castles and the rough and breathtaking coastal landscapes such as the Cliffs of Moher. There is plenty to see and you can also take small portions of it if you don't have the entire time available.
Spain and Portugal (1 month) are fabulous road trip destinations thanks to their great infrastructure, mild weather and incredibly rich heritage with so many UNESCO listed towns, cities and sites to fill days on end.
Germany's rivers and castles (2 to 3 weeks) of Bavaria will take you through areas that thrive with vineyards, pretty medieval towns and magical castles that seem to have been taken out of a children's book (including the castle that inspired Disney World). Don't miss a couple of days in Munich.
South Africa's Garden Route (1 week one way) starts in Cape Town and ends in Port Elizabeth and throads along the coast exploring parks, wildlife, beaches, penguins, monkeys and the best seafood. Did we mention vineyards?
Scotland's North Coast 500 (1 to 2 weeks) has some of the most postcard perfect landscapes, lakes and mountains, most of which are full solitude. Enjoy driving on one-lane roads through morning mist as you fear Loch Ness might wake up. PS Make sure to make enough pit stops at some of the best whiskey distilleries.
The Swiss and Austrian Alps (1 to 2 weeks) will allow you to eat as much cheese as you possibly can in the most picturesque of Alpine villages while driving across high mountain passes.
Santos to Rio de Janeiro (1 week) drives through some towns and islands for true beach life and ends in one of South America's most vibrant cities.
Yukon Golden Circle (1 week) explores some of North America's wildest corners starting in Canada and crossing over to Alaska you will also need to take a few ferries but oh is it well worth it!
Darwin to Adelaide (2 weeks) crosses Australia's Red Center with stops at mysterious Uluru and some of the country's most interesting indigenous heritage and natural sites. You will get your fix of Aussie bush and outback life with plenty of driving hours without another soul in sight.
Nairobi to Cape Town (1 month) will take you across some of our favorite countries, from Kenya to Tanzania, Malawi, Zambia, Botswana and of course, South Africa. This absolutely epic road trip will require proper and detailed planning and will also be one of the most epic adventures you can embark on.
San Francisco to Los Angeles (2 weeks) via all the best national parks the US has to offer and more.
Road to Everest Base Camp in Tibet (1 week) from Lhasa to Everest Base Camp through perfectly paved roads you will drive from 3,650m above sea level to 5,000m just below Base Camp. Altitude sickness is a real concern here so you can't rush it.
The Amalfi Coast of Italy (1 week) has been made uber famous in recent years and has some of the most instagrammable and colorful sea-facing villages with their houses staggered on impossible cliff-sides.
North Macedonia and Kosovo (2 weeks) are some of the least explored parts of Europe and you will often find yourself alone in pristine national parks and rivers. Peaceful and deep Lake Ohrid, the many local wineries and unrecognised Kosovo all add to the magic.
The South of France (1 to 2 weeks) has plenty of quaint medieval villages and jetset destinations to fill your road trips with beautiful stops, great food and sunshine.
The Silk Route (1 to 2 months) is perhaps the most extraordinary of all the road trips mentioned here and it could take much longer than 2 months depending on where you start and end since technically, it connected all the way from Beijing to Europe. The most fascinating part is the one that covers the Stans" and in particular, Uzbekistan, Kazakhstan and Turkmenistan. If you have more time, add Kyrgyzstan and Tajikistan.
Namibia (2 weeks to a month) is one of the best road trip destinations in Africa thanks to its great roads and well established network of camping spots. The landscapes you will see are like nothing else on Earth and you can combine a road trip with wildlife watching, the largest dunes in the world and some of the most exclusive lodges.
India's Ladakh (1 to 2 weeks) will explore some of the highest drivable roads in the world nestled among high altitude deserts and glaciers and sprinkled with Budhist temples. Enjoy views over the Himalaya and an ancient culture that is very different from the rest of the country.
Has any of the above picked your curiosity?
If so, you will have to see if the necessary duration matches your time available or if you should do only some portions of a road trip.
Plan the duration of your road trip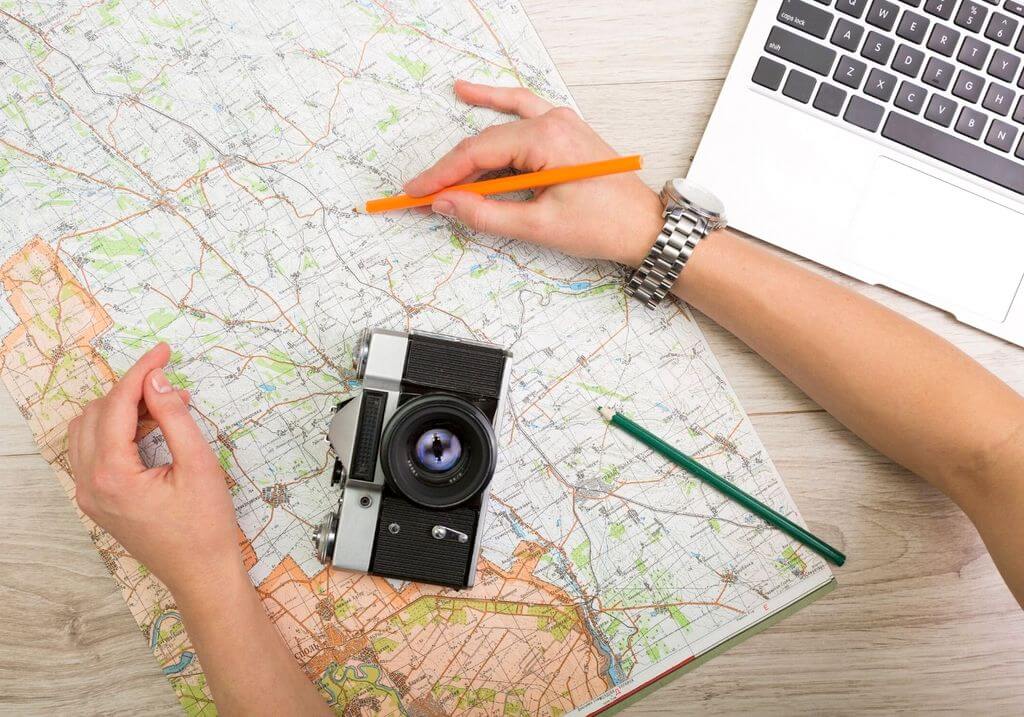 To figure out the duration of your road trip, enter the main way points in Roadtrippers and you will quickly see statistics on driving distance and estimated time so you have a preliminary idea of the route without any stops.
Pro road trip tip: You should consider no more than 2-3h driving time a day so you get enough time to stop over at key points, enjoy lunch and dinner, arrive at your destination at a decent time and take enough breaks. After all, planning a road trip is not just driving around from A to B but it is primarily about planning the stops along the way.
If you realize that your available time is not enough for the planned road trip, you can either pick a different destination or leave some of the stops out.
Bear in mind that it is easier to cut short a one-way road trip than a loop road trip which relies on returning to the starting point. To cut a loop road trip that you are doing with a rental car short, you could convert it into a one-way road trip and fly out of a half-way point returning your rental car there.
For example, instead of driving all around Sicily, you could drive from Catania to Palermo and fly out from there.
Bear in mind that returning the car at a different place than you picked it up from may incur additional rental costs, especially if the drop off point is significantly far from the pick up point.
Pick the date and time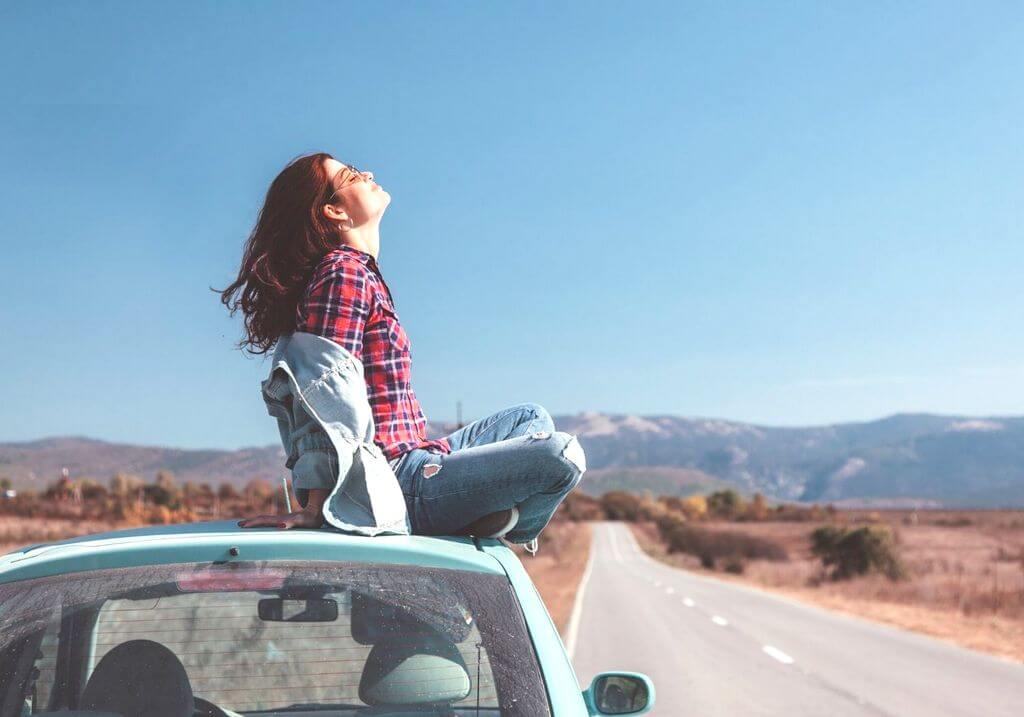 Picking a date to travel is usually the result of your availability to take vacation rather than the best time to travel to the specific destination, so it pays to combine the available time you have, the time of year and the list of destinations together to come up with the best road trip.
While road trips tend to be year-round types of vacation, depending on where you want to go certain seasons are to be avoided.
For example, driving on frozen roads comes with its own set of challenges and can affect the landscapes and available activities. During the rainy season, roads can become impassable or closed and landslides are a real risk in many parts of the world.
Conversely, if you want to go on a road trip in the middle of the peak summer season in Western and Southern Europe, you will have to sit through many traffic jams (trust us, we learned this the hard way!!) that make a road trip far less enjoyable.
When choosing the destination, it is important to also consider the best time to go on the specific road trip and align your availability with the right season for your bucket list road trip.
In general, in popular tourism destinations, we highly recommend going on road trips during the shoulder season when interesting tourist sites will still be open but jams are far fewer.
Pro road trip tip: While we love shoulder season, you should make sure not to veer too much off the popular season in destinations which are heavily reliant on tourism and where key places of interest may close immediately after the tourism season ends. Check opening days of the places you want to visit in advance.
Use AccuWeather for average rainfall, days with rain, and minimum and maximum temperatures. Then spend some time Googling expected traffic jams and popularity of the main sites in the season you are planning to visit.
If you must travel during the peak season, make sure to get an early start every day so you avoid urban traffic jams and reach your points of interest before the crowds and can find a parking spot. Google Maps can be quite useful at predicting traffic so you can check it the night before to see when the morning peak hour traffic is.
Plan your route wisely

The most important part of planning a road trip is to thoroughly research your route. After you have picked a road trip idea and made sure your time available is right you should start planning the route.
This step will inform your overall itinerary, your daily plan, your budget, and allow you to make adjustments to your plans to ensure your safety.
We use Roadtrippers (use this link and coupon code BTR5QTP to get $5 off) as our main go-to planning tool. It is a great tool with lots of useful features and you can plan your route on desktop then use the app to navigate the road trip when on the road.
Start by mapping out the main way points and Roadtrippers will then show you distances and main points of interest along the way. You should then research other interesting stops nearby and add them to your road trip map.
Roadtrippers will first show you the fastest route but you should also look for scenic more options. Oftentimes, the fastest way to get from A to B is not the nicest and some roads are well worth driving through just for the views and landscapes, even if they are not the fastest.
Pro road trip tip: Make sure to abide by the speed limits, especially in Europe, where radar cameras are everywhere. Without realising, you could end up with a sour souvenir.
Particularly in Europe, where highways are omnipresent, alternative roads can be much nicer (and cheaper) and give you a chance to see the countryside and the smaller towns, or some epic views.
For example, from Barcelona to Sitges you can take the (very expensive) highway and tunnel road or the scenic 20min zigzagging coastal road that has can't-miss cliffside views over the Mediterranean Sea.
Make note of places along your route where you can stop for food and gas / petrol, and if there are any rest stops if you're driving long distances without attractions. Maybe there is a small town you expect to pass around lunch time and which has some interesting sites.
Planning your stops is as important as planning where to go. Do not drive for longer than 2h without a break and make a stop as soon as you feel tired or sleepy. Power naps of about 20 minutes are proven to increase your alertness and energize you.
Pro road trip tip: It's always worth padding your driving time to allow for longer meals or delays – you'll run into road works and traffic in every country!
Last but not least, consider the daytime hours and avoid planning to drive in the dark. Not only is it more exhausting and dangerous than driving during the day but there are also additional risks in certain parts of the world.
For example, you absolutely do not want to drive at dusk or night in Australia where wildlife are known to be most active jump in front of your headlights (particularly in winter). Around 9,000 animals are killed in road accidents in Australia every year, and that is a lot.
We say this from the point of view of animal lovers who want to reduce roadkills, but also because it is extremely dangerous and costly to hit a big and solid animal like a kangaroo. It can end up costing you hundreds in car repairs and cut your road trip short.
As a side note, if you do sadly hit an animal when driving in Australia, know that there are many things you can and should do, such as calling animal welfare groups (especially if the animal survives) or checking their pouch to see if there is a little one, alive, inside.
Look out for the places you shouldn't be in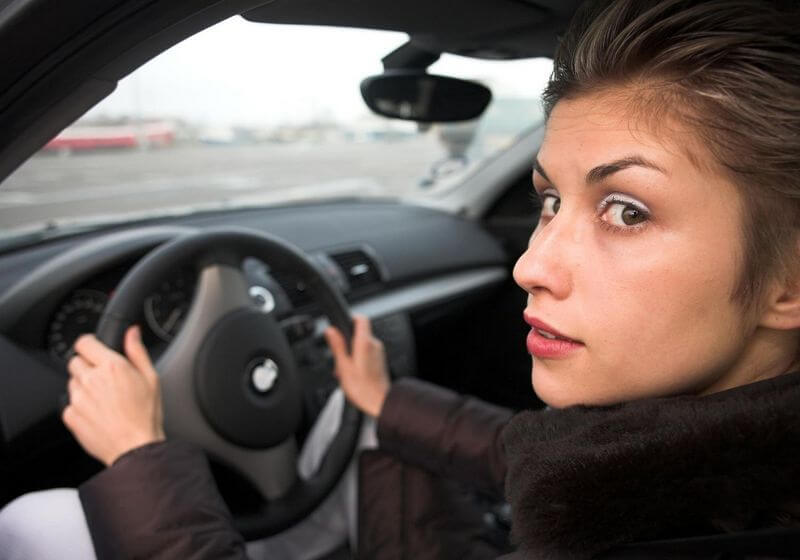 Every country has areas that are not safe, and depending on where you are you may also come across conflict or disputed territories or sensitive landmarks.
For example, on a road trip between North Macedonia and Kosovo, we wanted to visit a famous monastery which is still under the watch of the United Nations Peace Corps. The extra security controls meant all phone signals were cut and we have to go through extra layers of security.
It is important to make sure you have deep insights of the areas that you will be passing through, or spending the night in to avoid unknowingly getting yourself in trouble.
Besides the obvious research, you can ask in online forums such as the Solo Female Travelers group or your hotel concierge to figure those out.
If you are renting a car, it is important to validate exclusions and areas you cannot take your car through and ensure your route avoids them or you get expanded coverage and permits if necessary.
For instance, many car rental companies have it in their policy that you can't take a sedan car on unpaved roads, which may mean you need to plan a different route to the one you had in mind or, search for a car rental company or car type (eg. a 4WD) which will allow it.
Pro road trip tip: In some cases, your insurance may be void if you take the car outside of the country. In Europe, where borders are almost nonexistent, it is easy to end up crossing into another country unexpectedly without the right insurance.
For example, the border crossing into Andorra and Spain is practically invisible but rental cars from Spain require additional insurance to travel to Andorra. Similarly, if you are in Kosovo, your rental car insurance policy may not cover you in the rest of Serbia, despite Kosovo's independence has not been ratified by the UN and it is technically still part of Serbia.
If you are driving across the Balkans, you will need special extended insurance for each country, and not all rental companies will allow you to. Typically, locally-owned companies will be more flexible whereas global ones (eg. Hertz, Avis, etc) will not. Use Rentalcars.com to find the right one.
Disputed territories add an additional complexity and the need for extra permits. For example, if you plan to drive in the Ladakh region of India (and who wouldn't, it is the definition of a road tripping paradise) you will need extra permits.
These types of exclusions and restrictions can really impact your route, so it's important to research so you can plan your road trip accordingly and get the necessary paperwork in order.
Map out the petrol stations or carry your own fuel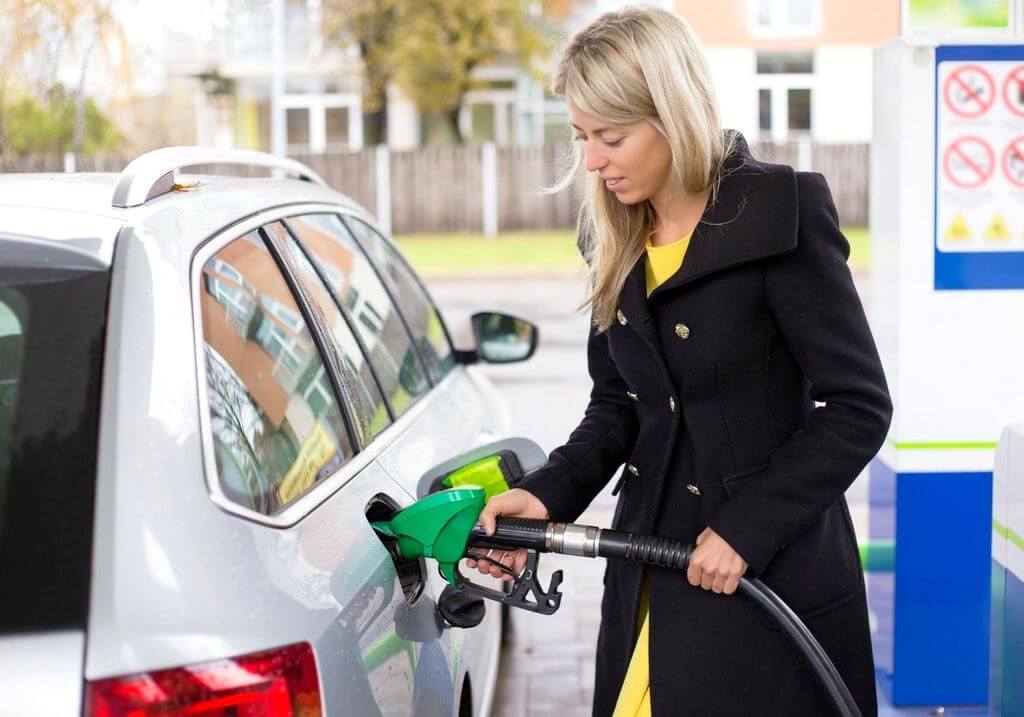 It may not be as fun as planning the attractions but petrol / gas stations are a particularly important research point, especially if you're planning for a road trip through rural or remote areas.
For instance if taking a road trip through Outback Australia, there may only be one petrol station per day, and you don't want to run out of gas in the Outback!
In other more remote parts where petrol stations are not properly documented, such as parts of Africa, it pays to carry your own petrol in jerry cans. More than 800,000 drivers a year run out of fuel despite the warning light coming on, so don't be among them and never ignore your warning light.
If you use Roadtrippers to plan your road trip, this information is available on the app, but you should always keep an eye on this and confirm ahead of time. Ask at your hotel before setting off for the day, they will be able to point you to a nearby petrol station so your tank is full before you leave.
Be realistic and re-check the route on the day

The key to a successful solo road trip is being realistic.
Many of us like to pack in as many things as we can in a single day, but the truth is that whether planning a road trip in Australia, the Canadian Rockies or through the USA from the Midwest to the California coast, being realistic is often the most important road trip tip we can give you, unless of course you are in it just for the drive and not for the stops.
After you have planned your route, read blogs, tourism board sites and local traveller recommendations to understand the things a map will not tell you.
Every morning, before setting off, use Google Maps and Waze check the traffic situation and any unexpected roadblocks or issues, especially during holiday time, and reconsider your route if necessary.
For example, in Guatemala during the Easter processions, several towns close up for 1-2h or divert traffic and this can mean that an entire road is simply cut temporarily. The only way to anticipate this is to ask the locals or to use Waze, which crowdsources these incidents and provides real time updates when a road is closed.
If it's lunch time and you are far from your planned lunch stop, consider reshuffling the route or buying a sandwich at a petrol station instead of a leisurely lunch. It is important that you make it to your hotel for the night on time for check-in and without having to drive in the dark for too long.
Plan when you will park for the night

As mentioned before, parking can be a real hassle both at a specific attraction and for the night, especially if you are traveling during the peak season or visiting popular spots that pack with day tourists and buses so you should not neglect this aspect of planning a road trip.
To figure out if parking will be an issue, you can use apps like Parkopedia which show you parking spots all over the world. Do your research and read reviews of attractions and ask your hotel for their suggestions to park for the night. You might actually want to consider that when you pick your accommodation.
After you have parked your car, and before leaving, make sure you double check the legalities of the spot you parked in and pay if you had to, you don't want to return to find a nasty pink or yellow slip.
Pro road trip tip: If you need to use automated machines to pay and don't speak the language, you may need the help of Google Translate or of a good samaritan.
Have you ever parked your car and then not known where you left it? We have done this in public parking lots and in towns we were not familiar with.
To avoid that, you can easily tag the spot on Google Maps as soon as you stop the car, then take a picture of a recognisable landmark nearby so you can show it to somebody or use apps like Find my car smarter, Anchorpointer (for IOS) or Parkify (on Android).
If you decide to plan a motorhome trip, you will have to plan for an entirely set of challenges including where you can park a larger vehicle for a day of sightseeing (spoiler alert, some smaller towns in Europe do not allow motorhomes into town) or how to find good overnight stops. Luckily, there's an app for that.
Park4night or CamperContact allow you to search an area around a destination for allowed overnight parking stops. In the results, you will find a mixture of free and paid parking places, including roadside / motorway pull-up spots and places hidden in the middle of forests and national parks.
Some spots will be suitable for daytime parking only, but many are ok for a night stop or even for a longer stay, usually in exchange for a small fee.
Of course, you still need to use common sense when you arrive at the place. If you feel unhappy or if your sixth sense is firing a warning, move on somewhere else, and remember never to share your location on social media until you have moved on.
Also, make sure you obey the unwritten rules of motor-homing and free camping: leave nothing behind but tyre marks.
Fun fact: Americans call RV what Europeans call a Motorhome/campervan and Australians call campervan.
Planning your activities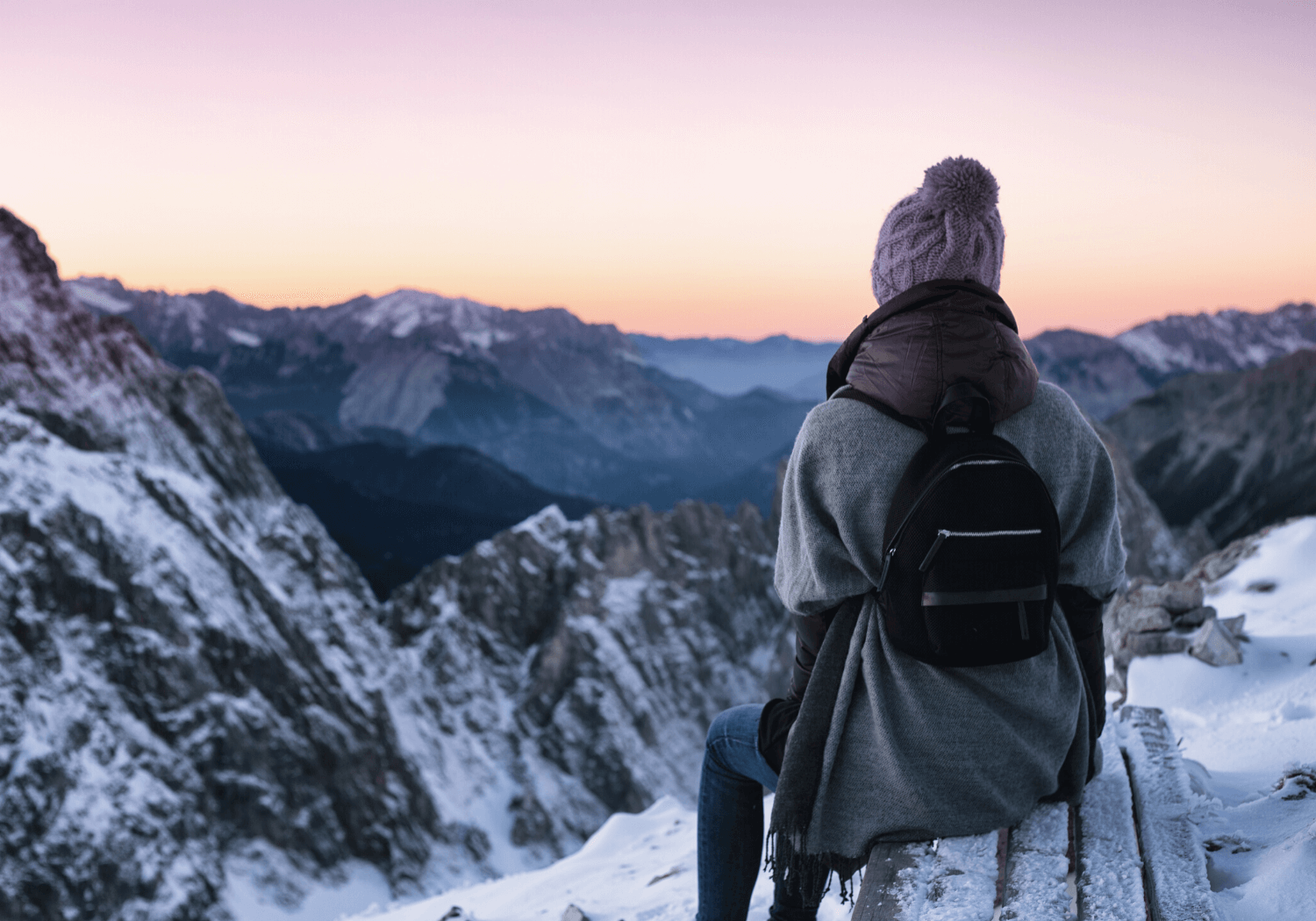 Now comes the exciting part of planning a road trip: mapping activities, sights, points of interest and things to do along the route.
Most of us go on road trips to explore a destination, not to drive from A to B (although in some road trips the journey is indeed the best part of the trip), so this is the section we all enjoy the most.
Here are the main sights you should look out for:
Scenic drives that are worth a detour
UNESCO-listed sites along the way
Cute, quaint or interesting villages that are in your route
Michelin-starred or featured restaurants
Wineries, distilleries and beer factories
National Parks, lakes, waterfalls and other natural wonders
Cities, and all they have to offer
Monuments and landmarks that are outside of cities
Castles, forts, monasteries, churches, temples and other incredible structures
Beaches and islands
Walking or guided tours
If you use Roadtrippers, the app already has a range of points of interest marked on the maps which you can easily add. You can click on the type of activities you are interested in and they will display along your route. It is then very easy to add them to your road trip plan.
If you are interested in booking tours along with your road trip, we have compiled a comprehensive guide to booking and finding the best tours.
Once you have made a list and marked all the interesting points of interest on your road trip planner in a logical order, you should double check the opening and closing times and re-adjust your route.
For example, some sites may only open in the morning, others require advance tickets or appointments for visits that are only available at specific times. We have been known to reorganise an entire road trip in Spain around the available slots for winery tours or around finding scenic sunset spots.
After you have it all mapped out, make sure to revise the plan with a critical eye and leave space for spontaneity and unplanned parts.
Maybe you will meet someone who will give you a recommendation you didn't plan to add, or the hotel may suggest a place to see, or you are enjoying a point of interest so much you end up staying longer. Whatever it is, you will appreciate the extra flexibility.
Plan your accommodation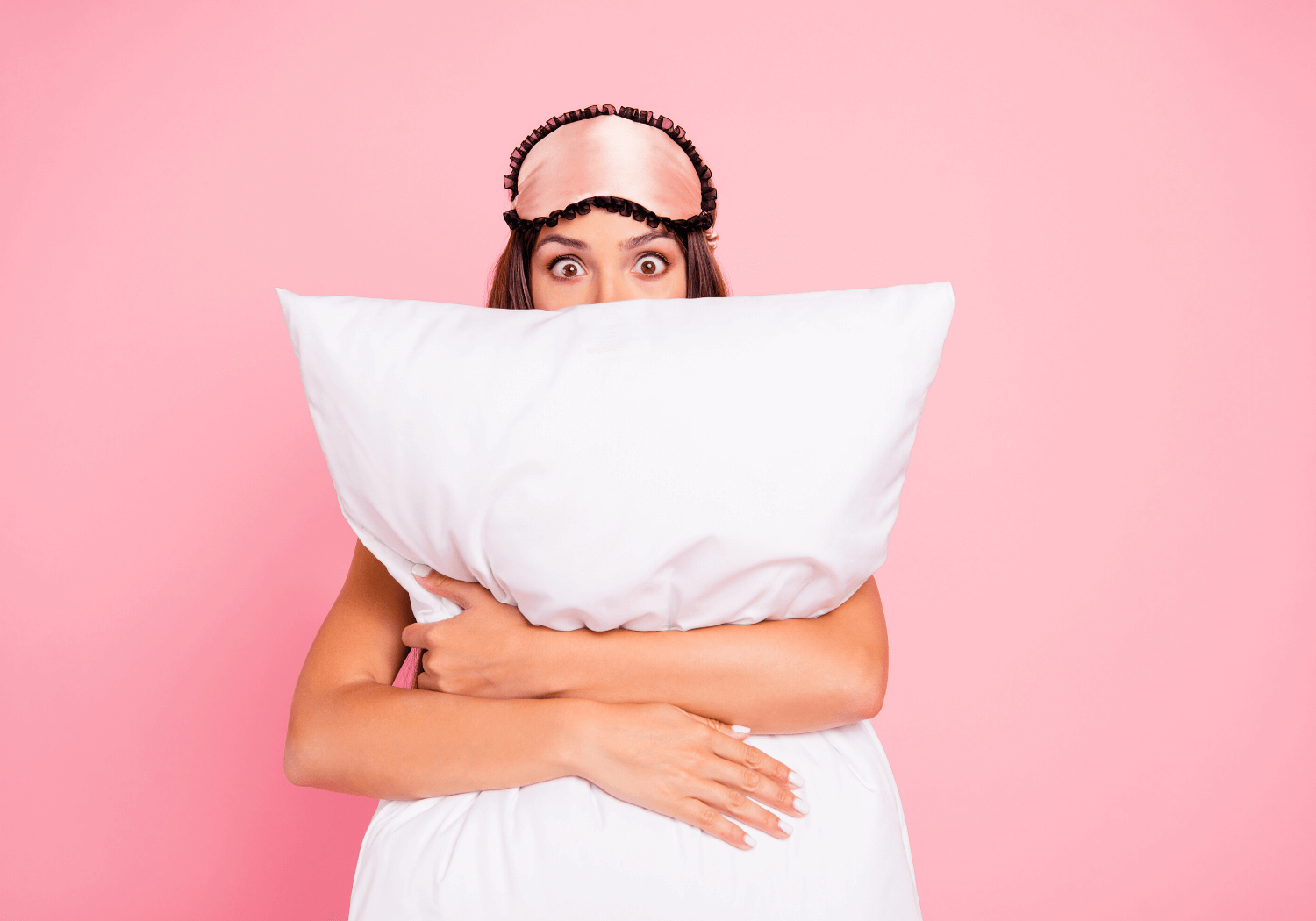 One of the most important parts of planning your road trip is thinking where you will spend the nights.
Usually, the daily route will determine where your accommodation will be. If there is a specific hotel or place you want to spend the night in, that can help narrow your options. Alternatively, you should account for no more than 2-3h of driving a day or less if you plan to make lots of stops at points of interest.
For example, if you are road tripping along the coast of Montenegro, your daily driving distance might be very short as there is a lot to be seen in a small country, and you may even spend more than one night at the same village or city and take day trips around it.
Deciding where you will spend the night needs to be a balance between constantly changing hotels (and the packing and unpacking that comes with that) and backtracking too much on day trips from a base.
If you decide the route determines your nightly stops, use your favorite hotel search to find a suitable hotel after you have mapped your journey. We have included a long list of tips for booking hotels and accommodation on our travel planning article.
We use more than one booking platform before deciding where to stay.
Booking.com is great for their many refundable rates, but Hotels.com has the most generous loyalty program (and we have enjoyed MANY free nights thanks to it). We always start our search with HotelsCombined which is a meta search engine, that is, it shows the rates in all other booking platforms.
If what you are after is a hostel, we recommend using HostelWorld which has the largest selection of hostels from around the world.
Besides hotels and hostels, there is a host of other accommodation options you can explore. You can rent an apartment or a private room in a shared space with a home owner on Airbnb (save $25 to $50 on Airbnb if you book for the first time using this link). This might be the only option if your road trip takes you to a remote part of the world.
Accommodation does not need to be a big part of your road trip planning budget. There are plenty of ways to enjoy free accommodation and don't forget to connect with other travelers, swap homes or stay with another member of the community by joining our Solo Female Travelers Connection group.
Remember to consider parking
Booking accommodation as part of the road trip planning is different from booking for a regular trip and there are additional things you should consider such as availability of parking nearby and its additional cost.
Instead of spending time Googling, reach out to the hotel and ask them, they may have deals with private parking operators nearby or know where you can park.
Before parking your car for the night, drive all the way to the hotel door (or as close as you can get), drop the luggage and then go find a parking spot so you don't have to drag the suitcases across town.
Consider an RV, campervan, motorhome or camping

Some countries such as Iceland or New Zealand are known as epic road trip destinations best explored with your own RV or motorhome. In fact, they are so popular for this mode of transport that when we hear their names, we almost understand road trip planning.
In those destinations, the popularity of these vehicles is not only down to cost savings vis a vis a rental + hotel stop combo, but also to the option of discovering stunning remote parts that have no accommodation options.
With your own campervan you can cook your meals and have an attached washroom, so you do not have to stop for every bathroom break (unless you are a solo traveler of course!).
If RVing or campervans are a popular option in the destination you plan to visit, you will find a host of companies specialising in that only. If solitude is not what you're after, it is important not to be carried away by the hype when assessing if it is actually a cheaper option to using hotels and renting a regular car.
The first step is choosing a vehicle. There are plenty of options available, so it is important to know which one to choose from. Campervans have variable shapes and sizes and, like hotels, come in budget-friendly versions as well as luxury.
If you are a solo traveler, a compact sleeper van would do the job. However, you might want to look into other options if you want a versatile one for family and friends as well.
Besides campervans, you can also take a road trip with a trailer, a simple space which is towed by your personal car and where you can include all the equipment for camping.
Pro road trip tip: You can rent your RV or motorhome from rental companies or directly from owners on RVShare and Outdoorsy which act as marketplaces (eg. like Airbnb).
Lastly, you can also take all your camping gear in your car trunk and simply pitch a tent for the night. To find available camping grounds go on Campendium and Camping Road Trip. Camping Road Trip has an app in addition to the website. Search for Sites is another useful platform which helps find sites across Europe.
Camping is arguably the cheapest accommodation option, after simply sleeping in your car, which you may also want, or have to, occasionally do.
If you do, make sure to park in a safe area (highway truck stops or 24h petrol stations can be a good option), cover the car windows so nobody can look in, and park in the shade if you are traveling in a season when the sun comes up early. Bring a pillow and blanket, even in the summertime it can get cold at dawn.
Things to consider when renting a car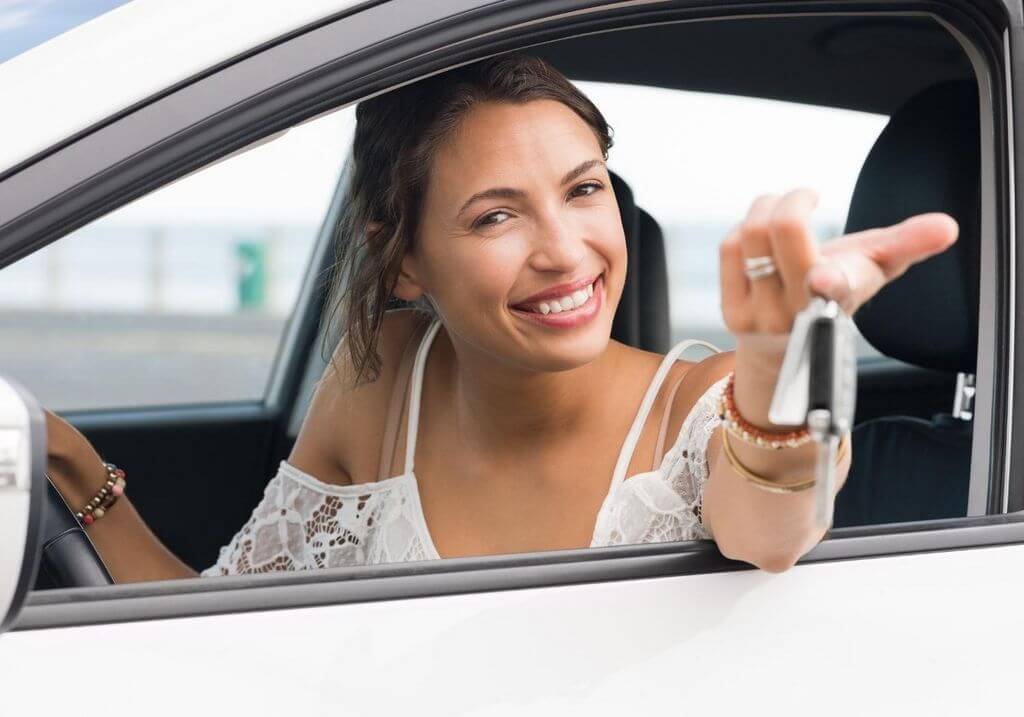 If your road trip requires a specific type of car (eg 4WD) or you are planning to travel overseas, you will need to rent a car. Firstly, you should decide what type of car you need.
If you are going on a road trip alone, pretty much any size of car will do, unless you plan to take extra gear with you such as tents, which can take a lot of space, or have a lot of luggage.
In some countries, your luggage can only be placed in the trunk and cannot be kept loose on the back seats, so research that before picking a car and adjust for the amount of luggage you plan to take.
Your car's size is also important if you plan to drive in places where roads or streets are narrow. For example, we got stuck in the old streets of several towns in Albania when our map took us through what was an unexpectedly narrow street.
The same happened in a few Sicilian villages and also in Montenegro's small towns. Small cars tend to be more versatile and easier to park too whereas big 4WD are better suited for the outdoors.
Once you know what size you will need, you should determine if a regular car will do or you need a 4WD or other specialty car.
If you expect a significant part of the road trip to go over unpaved or gravel roads or across the outback or wilderness, a 4WD might be a good idea. It is also useful if you will drive through the desert, across rivers that may flood or on snow.
With a rough understanding of the car specifications you are looking for, you can head over to car rental sites to find the right one for you. We use RentalCars.com to find the right car for our road trips. It works as an aggregator and shows you prices from several providers such as Avis, Hertz, etc.
Pro road trip tip: When comparing car rental prices make sure you are looking at the same package including the insurance coverage, the type and size of car, kilometers included in the price, costs for any special equipment such as chains for the snow or other add-ons such as extra drivers.
Insurance can be pricey and many of the car rental companies do not show you the insurance cost when you book so the surprise will come when you pick the car up. Full coverage can add up to $30 per day.
Before driving away with your rental car, document and agree, in writing, on any existing damage the car had before you took off. This is very important. Take your own photos and if possible, send them to the rental company as proof.
Also check the fuel level and discuss whether you should return it full or empty and the associated costs. While most countries have petrol stations near airports, this may not always be the case and the extra charges for returning a car on empty can be quite hefty.
Lastly, if you plan to drive a car across more than one country, be upfront about it when you rent it. Some international car rental companies may prohibit you from taking a car into disputed territories and could void all insurance coverage if you did.
For example, when going on a road trip between North Macedonia and Kosovo, none of the international car rental companies allowed the car to be driven into Kosovo so we had to use a local company.
Pro road trip tip: Make sure you take photos of the vehicle in the rental lot, BEFORE you drive out – take photos noting any dints, scratches, or damage in case you are held responsible for it upon return. With photos, you can prove it was already there.
Check your car is road trip ready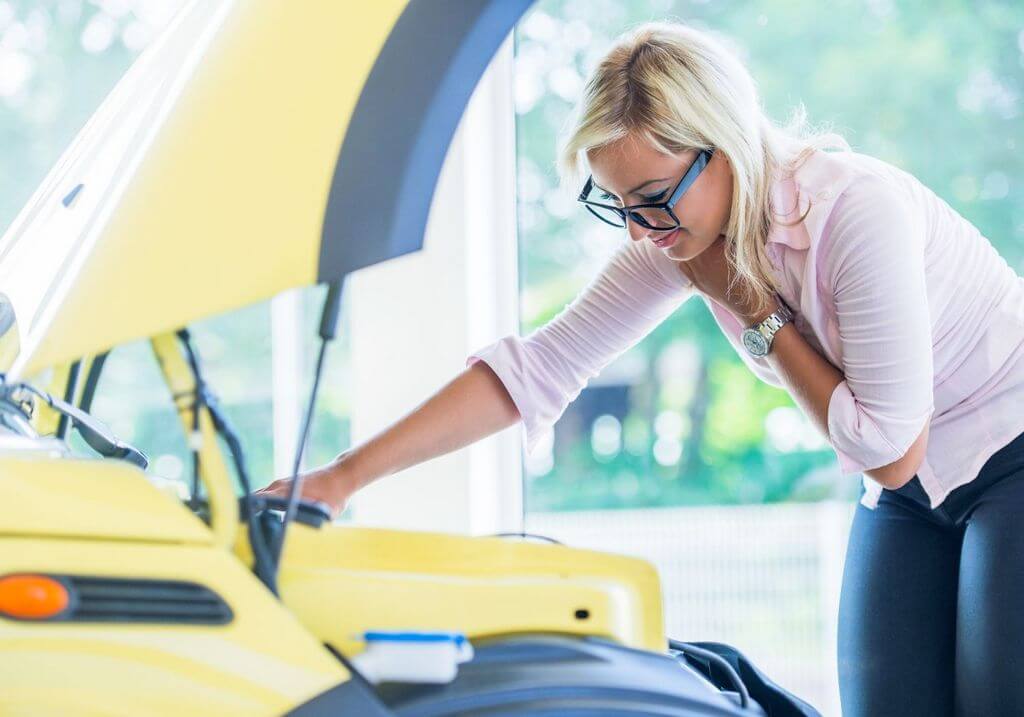 If you have a suitable car for the road trip you have planned, there are a few things you need to check in advance to make sure your car is ready.
If you are handy with cars, you can take care of some of the things yourself, but most of us will be more comfortable simply taking the car to the garage for a full check up.
Fluids: Engine oil, anti-freeze (if applicable), power steering fluid, brake fluid, transmission fluid and windshield fluid.
Air-conditioning and heater, especially if you plan to drive in harsh conditions.
Your tires: As a rule of thumb, it is good to change your tires after every 25000 miles. Before setting off, you may want to check the air pressure in the tires.
Check your car battery before the road trip by a voltmeter to avoid running into any problems.
Check all the lights and signals work properly as this is not only a hazard when driving but also an offense in almost every country.
Seat belts and airbags: Make sure they are in good condition and will activate should anything happen.
Emergency toolkit: It is good to keep screwdriver, tire-changing equipment, a fluorescent Emergency Warning Triangle and vest and a vehicle stopper. Some of these things are legal requirements in some countries so make sure you comply not only in your country but in any other you may cross into.
Our final recommendation would be to thoroughly clean your car inside and outside before setting off, and maybe buy a nice freshener.
Prepare for harsh and unusual driving conditions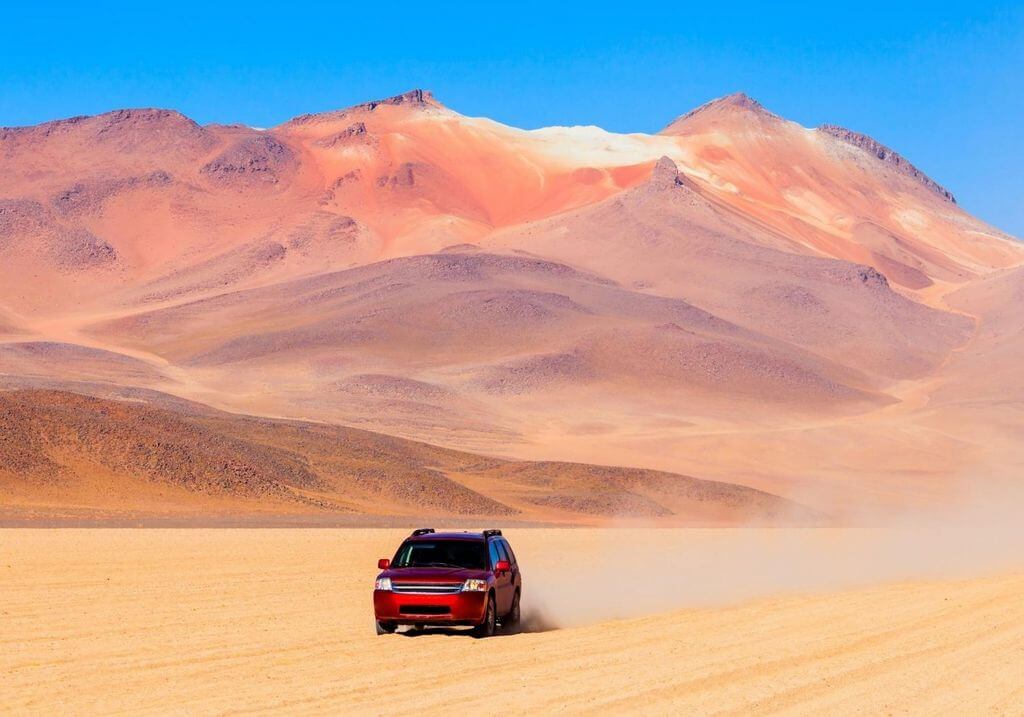 If you plan to drive in unusual or harsher conditions, you will have to take extra precautions. That includes driving in the snow or in the desert but also driving in unpaved roads or during extreme downpours or under strong wind conditions.
Driving in extremely hot desert conditions has its own set of challenges and it's highly recommended that you take a few extra safety precautions before you set off.
Your tires are the most important thing to check. You don't want them over inflated or you risk a blowout out, so keep a close check on your tire pressure, check regularly at service stops or invest in your own tire pressure gauge.
This is also helpful if you think you will be hitting the sand (accidental or intentionally) at any point. Letting some air out of your tires will make the sand easier to navigate. Always keep a shovel in the car for this reason.
Keep your car in the shade whenever possible to cool the engine between driving stents and remember summer fuel consumption through both the use of air conditioning and the heat will be much greater than usual, so time your refueling stops appropriately. When the engine is cool, check your coolant levels too.
Pro road trip tip: Know your emergency services call out numbers for the state or country you are driving in and remember phone batteries can drain out much quicker in the heat too. You should always keep an emergency supply of water and snacks in the car with you in case the worst occurs.
The other conditions to know while driving are snow and rain. According to the Washington Post, rain and snow increase risk of fatal car crashes by 34 percent. Light rain increases the chance by 27% while for heavy rain showers the risk doubles.
If the rain is too heavy you might want to stop and take a break until it subsides. If it is unavoidable, you may want to slow down, turn off all distractions such as music and focus on the road. Open a window a little if the car is fogging.
If you plan to drive on the snow, it is better to install winter tires which may even be mandatory in some countries, and research tips for driving in the snow including how to get out if you are stuck.
After a big snowfall, make sure that your exhaust pipe is clear and there is no snow or particles trapped in it. Otherwise your car will start filling with carbon monoxide which is a major hazard.
Space enhancement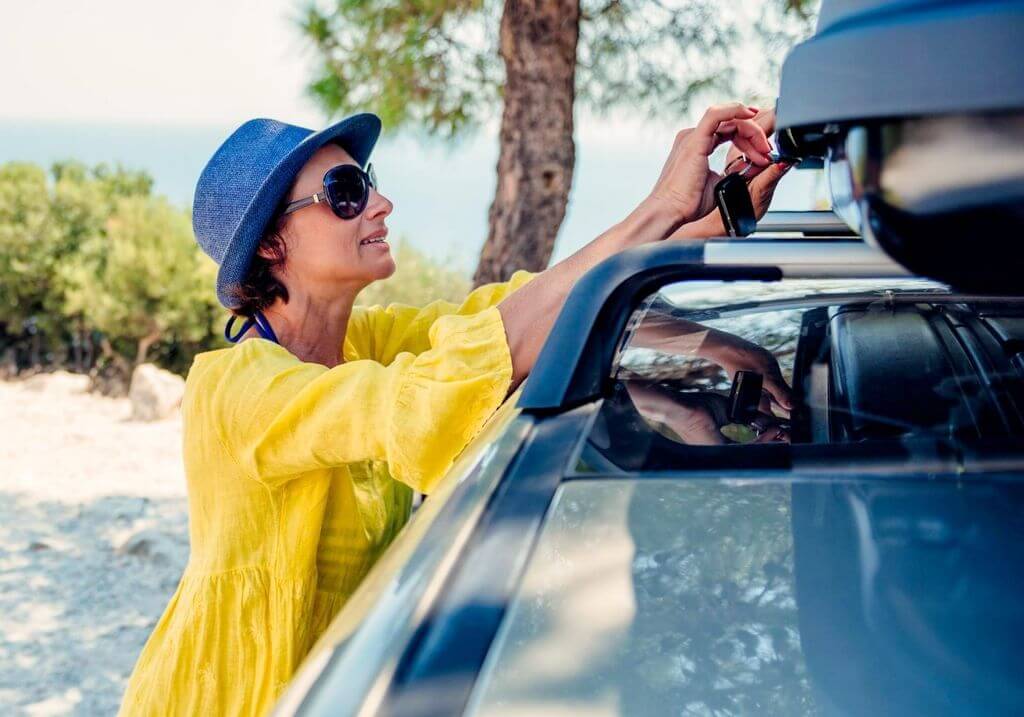 If you are already taking a medium or large sized van or vehicle, chances are you will have enough space.
However, if you have a smaller vehicle or more items to pack like outdoor gear for camping, skiing or other activities you are interested in, you may want to consider space enhancement items.
You can look for space enhancement through waterproof and weather friendly Rooftop cargo gear for your road trip to make easy assembly and transport of all the amazing equipment you want to take with you.
Pack road trip essentials
Besides the technicalities of getting your car ready, there are a few things worth bringing with you on a road trip that you would not take on a regular vacation.
Firstly, car shades are an essential item for a comfortable drive, both in summer and in winter, when the sun is lower. It can be quite painful to drive with the sun on your arm constantly and even cause sun burns. If you plan to sleep in your car, they are a must item.
We find that sunglasses are essential road trip items for the same reason, especially if you need to drive against the sun. They may also be mandatory items in some countries (eg. Spain)
Given that we all drive thanks to technology, having a mobile phone car holder is a must. If you are renting a car, make sure you bring one with you which can be easily attached and allows you to use it and charge it at the same time.
A powerful portable power bank will be critical to make sure you can continue to use the phone. Maps and other useful road trip resources consume a lot of battery and you may have to charge your phone more than once in a day while on a road trip.
We like MAXOAK portable power stations and chargers because not only can they charge your phone but also other electronics (such as your camera or drone) and appliances (in the case of the power station).
Solar versions of the portable power bank ensure that you can charge the power bank even if your time at a fixed location near a power point is short (eg. if you arrived at your hotel late and plan to depart early).
An internet hotspot which works internationally or buy a local SIM card as soon as you land, airports tend to have telecom operators stores where SIM cards are sold. Make sure you buy enough data allowance (a heavy user could need 500MB a day for maps, social media posting, etc.).
Pro road trip tip: Bring a second phone for the local SIM card, or a dual-SIM card phone like the Samsung 10. The local SIM card battery can be used exclusively for navigating the road trip and as a hotspot for the other phone. If you travel with someone else, that person can use their own phone to research, check traffic ahead, look for a place to eat, etc.
A SIM card (or a hotspot), this is the most important element of planning a road trip. If I had nothing else, internet access would allow me to use the Roadtrippers app, Google Maps, Google Translate, internet and Waze, and with that, I am pretty much sorted.
If you really want to make sure you have internet, you could complement that with a SIM card from the other telecoms operators your hotspot provider does not have an agreement with. For example, in the US your hotspot could be with Verizon and you might want to buy a SIM card from AT&T. This way, if one operator does not have coverage, the other might.
Research the driving rules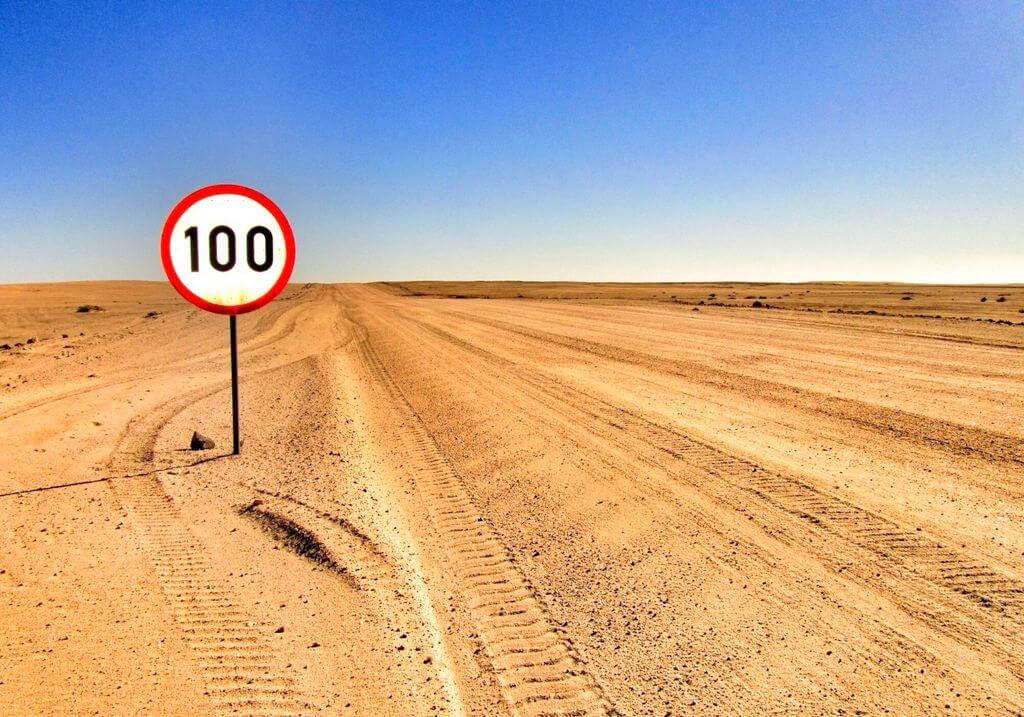 This may seem a really obvious tip for planning a road trip but it is less so than you would imagine. Although driving is universal, rules vary not only from country to country but also from state to state and may differ from what you are used to at home.
For example, in South Africa, animals have the same rights as humans and vehicles should stop and let them pass. In Thailand (and in Spain), it is illegal for both men and women to drive shirtless whereas it is completely legal in Germany (but beware, if others complain or get distracted by it you could be stopped by the police).
In Spain (and in Germany), you can be fined for driving in flip flops and in France you used to have to carry your own breathalyzer. Swiss people don't like to disturb the peace so slamming your car door can be considered an offense when it is really quiet or at night.
In Russia, you cannot wash your car anywhere except your home or in a car wash and you must make sure that the plate is clean (not just the car). In Japan, you can be fined for splashing puddles with your car.
You should also make sure that you are not caught in the wrong place. For example, in Italy you cannot drive through the historical city center zones without proper permits.
Besides rules, you should also consider what side of the road your destination drives on, especially if you are taking your car and may end up with the steering wheel on the wrong side.
Here are some of the most useful websites to check local regulations:
You should also research if there are specific driving considerations and practices you should be aware of at your destination.
For example, in Australia you will quickly learn that driving at night poses a serious risk to wildlife as they get attracted and blinded by the lights and are easily killed by cars. This is not only very sad for the animal but can also severely damage your car, kangaroos are solid animals which can break your windshield.
In India, hitting or hurting a cow is a serious offense as they are considered sacred animals, so you should be extra careful.
Last but not least, if you plan to drink, make sure you stay within the limits of the country you are in. These can vary significantly from zero tolerance policy in some to generous amounts in others. The World Health Organisation has a handy guide with the legal blood alcohol concentration per country.
Entertainment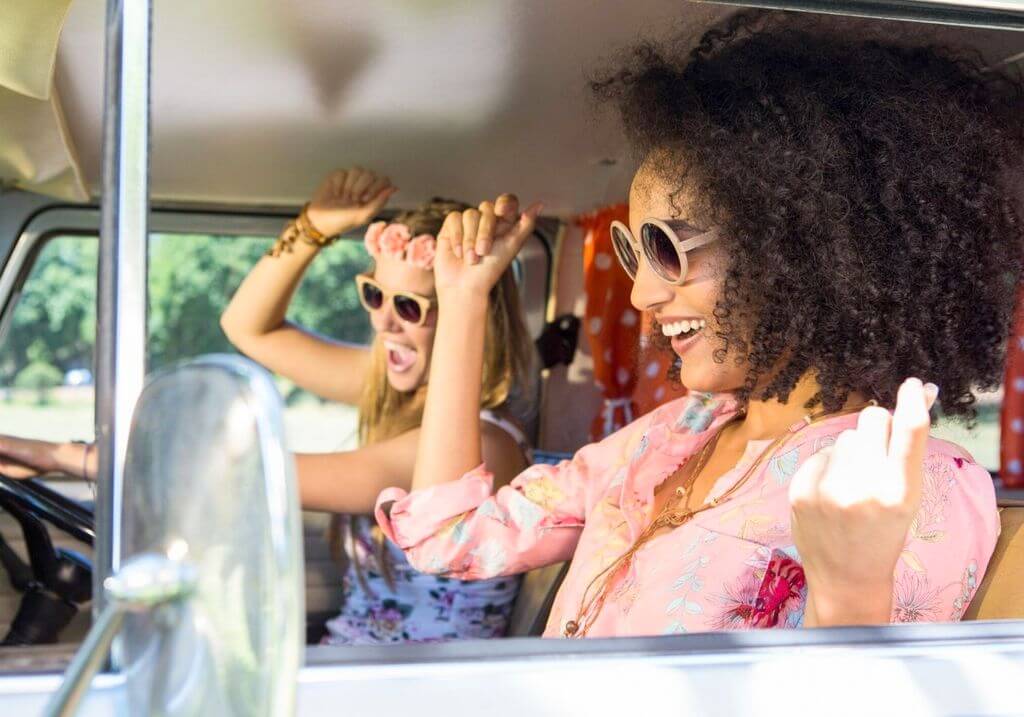 So far we have touched upon all the necessary steps you need to take when planning a road trip, but there are also many fun things to take care of. The most important one is a versatile playlist.
Nothing says "road trip" like screaming and singing from the top of your lungs with the windows rolled down when driving through a beautiful mountain pass or a coastal road.
Gone are the days of cassettes and CD players so we highly recommend putting together several playlists, one list for each driving mood: day time vs. night time, reflection time vs. upbeat urban driving, romantic vs upbeat, etc.
Pro road trip tip: We use Spotify to create our playlists. Download the playlist before the trip so it is available offline and you don't consume your internet allowance.
We also like to listen to local radio stations to have a feel for the local music. All cars will come with a radio you can tune in and no matter where you are in the world, there will almost always be a radio signal nearby.
If you have good internet, we also recommend Radio Garden which has radio stations from around the world you can tune into, however you will need the internet for this.
Alternatively, you can also choose from Road Trip playlists on Youtube or make your own playlist and keep it downloaded so that you can enjoy and refresh yourself.
Staying fit and well when driving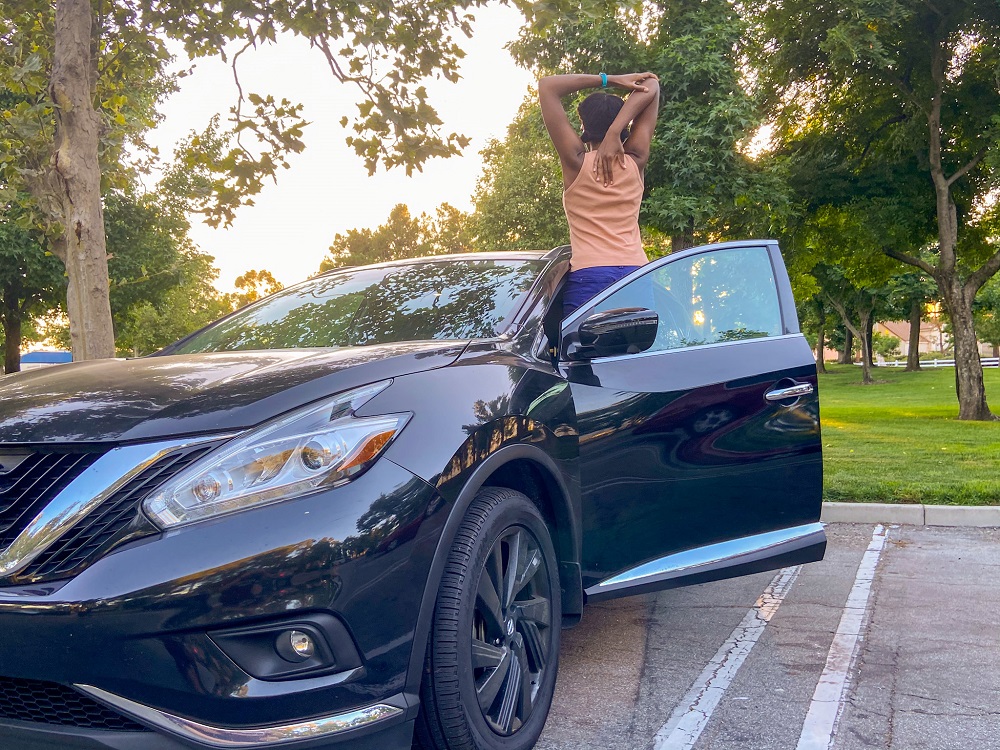 Image credit: Ciara Turner-Ewert
While the open road brings a sense of freedom, sometimes the car environment can leave the body feeling stiff and tight, especially on longer drives.
Be it summer, or a late fall road trip, incorporating some wellness tips for traveling can loosen those stiff muscles, or restless legs, giving them some breathing room. To enjoy some easy stretches in your car (not when at the wheel but as a passenger) let's start with the spine.
One spinal stretch you can do is a spinal flexion. It's similar to yoga's cat and cow position, but instead of being on all fours, the person sits in a chair. Breathe in, flex backwards letting the chest rise and back fall. Then breathe out, arching the back and it curls forward.
To target the neck, roll it clockwise for five to ten seconds, then switch to counterclockwise. You can do the same with your shoulders. To stretch your arms, put one arm across the chest and bring the other arm to grab it; switch sides.
Remember to take deep breaths when stretching and make sure there's no incoming bumps ahead on the road!
Besides stretches, it is also important to pack healthy snacks and enough water which will help refuel those muscles from the inside.
We highly recommend homemade granola bars you can prepare before your trip and keep in resealable bags, roasted nuts and seeds and energy bars which can replace a meal in case you don't find a suitable lunch stop or you go hiking in the mountains for a couple of hours.
Fresh fruits you can pick locally are a great snack that also give you insight into local foods that may not be common where you live. In some countries, there are specific road trip friendly snacks that are for sale. For example, South Africans love biltong (beef jerky) and many Chinese train stations will sell vacuum-packed chicken feet as snacks.
Make sure to always bring a large bottle of water you can refill during your night stops if the water is drinkable. If you don't have easy access to water refills, make sure to stop at petrol stations or convenience stores to stock up on water.
Insurance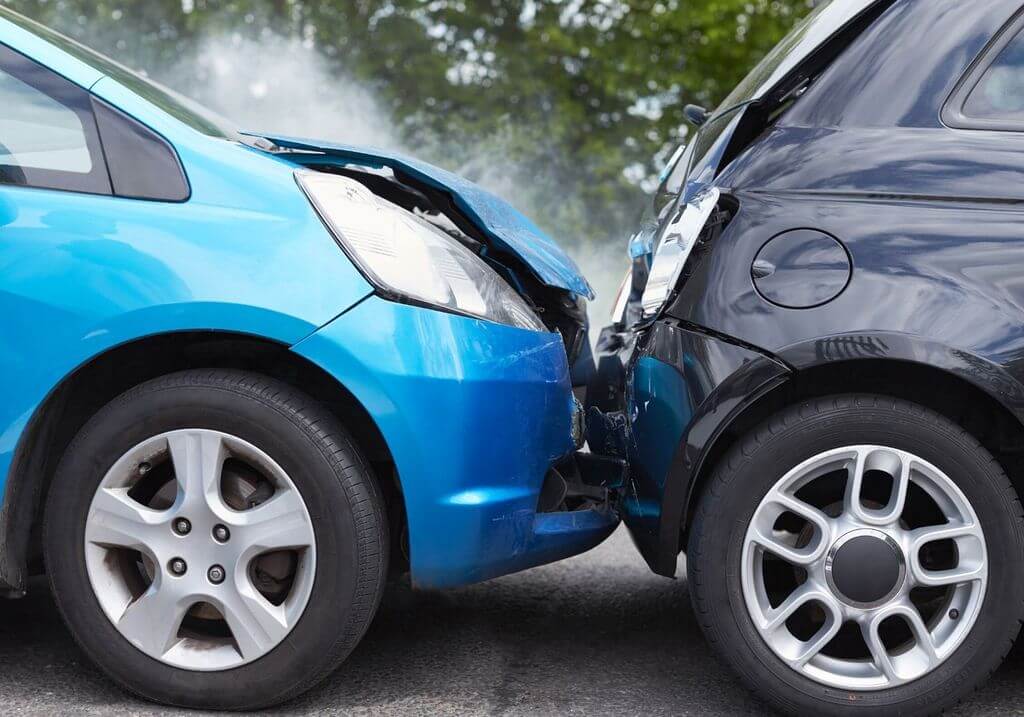 Insurance is probably one of the most boring parts of planning a road trip but it is oh so necessary and just because it is not as exciting as planning your stops it does not mean you should skip it. There are two types of insurance you need to look into: travel and car insurance.
Travel insurance is one of the most misunderstood costs and something many travelers don't even think about when booking a trip. But it only takes one accident for you to remember it for the rest of your life, so let's make sure you don't have that type of memory.
We have written an entire article on choosing travel insurance but below are some of the elements to consider.
Travel insurance
Travel insurance can cover anything from medical costs to baggage claims, flight cancellations or even lost passports or stolen wallets. The type of coverage you choose will depend on your aversion to risk but, at the very minimum you should ensure not to leave the house without medical insurance.
This should cover you in case of an accident or other medical emergencies abroad and you can select your coverage to include co-payment options or evacuation.
If you already have medical insurance, you can pick a plan which covers basic things such as trip cancellation, trip interruption and hotel bookings refund which were missed because of an unforeseen circumstance.
SafetyWing is an amazing digital nomad medical insurance. It is cost-effective and starts only at $37 per month with regular payments you can forget about.
If you are only taking sporadic trips, World Nomads is a widely respected travel insurance company. They offer a wide range of coverage options including adventure sports that you can add to your plan to make sure you are fully covered. You should buy a policy before you go on a trip.
Once your travel insurance is sorted, you need to buy insurance for your vehicle, and this is where the waters become very murky.
Car rental insurance
If you have an annual policy that covers rental cars you should make sure it is enough for the specific road trip and destination. They also tend to include deductibles so it is worth checking what they are and if they are low enough for you.
Some credit cards, like Amex, include a degree of car insurance coverage for the card holder and they are worth checking out. You will probably have to rent the car using it for it to apply.
When deciding the level of insurance you want for your car you should consider if you want to cover your car's occupants (Personal accident insurance), the properties and valuables inside your car (Personal effects insurance), third parties involved and their properties (Supplemental liability insurance) or the car itself (Collision damage waiver).
Most rental car companies will offer these four kinds and you can decide the level of coverage. If you and your car's passengers already have medical insurance, you should be covered in case of an accident that requires your hospitalization or treatment so Personal insurance is usually not necessary.
Pro road trip tip: Supplemental liability insurance is key in case your actions end up causing damage to a third party or object. In that case, there may be medical bills or other damages that you would be liable for and which the insurance would cover you for.
Many countries make this type of insurance mandatory. Where it is not, we highly recommend you add it to your coverage for peace of mind.
Collision damage waiver is a type of insurance that we highly recommend getting too. If your car gets damaged, your fault or someone else's, you could end up having to pay a lot to get the repairs done. Bear in mind that rental companies will also charge you administrative fees to handle the repair which will further increase the bill.
In order to keep the cost of Collision damage waiver insurance in check, you might be offered to pay a smaller amount in exchange for a higher deductible, that is, the amount up to which you will have to pay for in case of any damage.
For example, if you buy insurance with an excess of $1,200 you would have to pay for any damage up to $1,200 and the insurance would cover you afterwards.
Lastly, Personal effects insurance is something that your travel insurance may already include so make sure not to pay twice for it. And to minimise the risk, make sure to never leave valuables inside the car.
If you are renting a car, insurance can be purchased directly at pick up. You may also find attractive deals via your credit card company or your other insurance policies.
Pro road trip tip: A very important element to consider when going on a multi-country road trip is that auto insurance may vary from country to countries and your policy may only cover you in the country where you picked the car up.
Always double check coverage with the rental company and make sure they allow you to take the car across the border. In some cases, there will be an additional card or policy you need to purchase or even a permit and taking a car across the border without it may invalidate the policy.
Some countries will sell you insurance coverage or permits at the border as you cross. For example, this was the case to take the car from Montenegro into Albania.
In Europe, where some of the borders go almost unnoticed, you should make sure not to cross inadvertently or without the right insurance. For example, a car rental from Spain requires extra insurance to drive into Andorra, even though there is nobody at the border who will check.
Be prepared for crisis management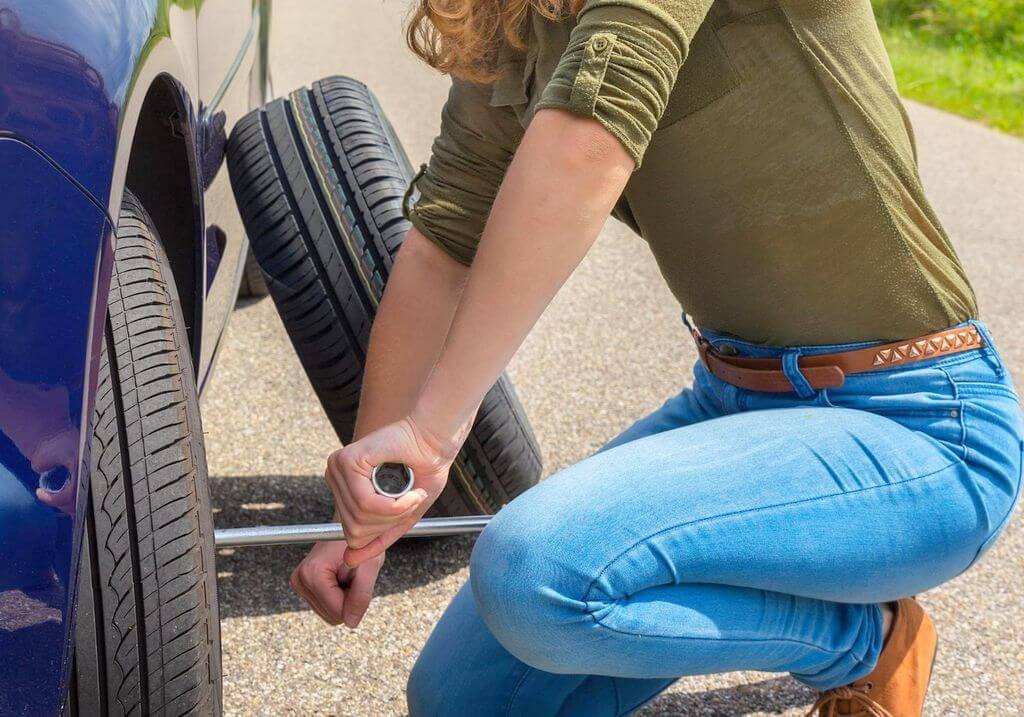 Every road trip is different but if you are going as a solo female traveler it is very important to plan for contingencies that might arise and know what to do in those cases.
For example, knowing what to do if your car breaks down or you have a flat tire will help you keep calm and resolve the situation faster.
One of the most common issues when going on a road trip is blowing a tire and having no way of repairing it. The situation can be aggravated if it happens at night or on roads with spotty cell service.
Although no one enjoys hearing this piece of advice, you should make sure you know where the spare tire and car jack in your car are located, and can change a tire yourself if you need to. Yes, you can also call roadside assistance, but we prefer to be self-sufficient in case of need.
The easiest way to learn how to change a spare tire is to ask your friends (and their friends) to teach you (and in exchange buy them a case of beer or a pizza). Otherwise, there are a ton of YouTube tutorials on the subject. If you can, don't change a tire on your own.
If changing a tire is something you never want to learn, you should at least purchase 24 hour roadside assistance with your car insurance. It can be a bit expensive, but much cheaper than having to pay out of pocket should you blow a tire.
If you are driving your own car, you can buy separate roadside assistance if not already included. AAA is available in the US and provides help in case of emergencies.
Have a back-up paper map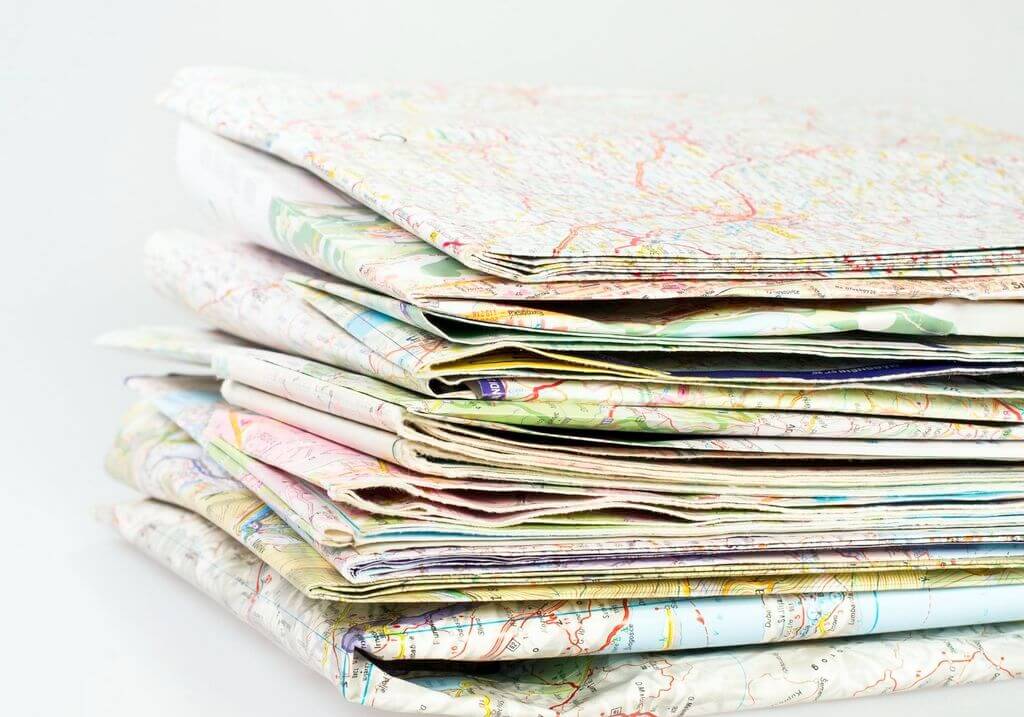 While navigation systems and downloadable maps are an essential part of any road trip, it's always a good idea to go back to basics in case technology fails or has not yet kept up with an area you are exploring.
This is useful in more cases than you might imagine, even in popular parts of touristy destinations where the internet coverage may suddenly drop, for example, on a road trip in Patagonia.
To avoid this, we recommend taking a paper copy of the map for the destination you're visiting. Along with the well planned trip on Roadtrippers or your favorite road trip planning app.
Paper road atlas are generally easy enough to purchase at gas stations upon arrival in your destination or you can get them from the car rental company. Alternatively, you can often find region-specific maps available on Amazon, which is a great option if you're not 100% sure whether you'll be able to find one on the ground.
If you've grown reliant on satellite navigation systems, you'll want to brush up on your map reading skills with companies such as the Ordnance Survey, a great starting point for making you feel confident and ready to hit the road.
Tips for taking pets on a road trip

Many solo travelers like to take their pets on road trips for company and to spend some time together. Besides checking that the points of interest and accommodation options in your route are pet friendly, you should also take your pet for a check-up before the trip and pack for them as well.
If you have never taken your pet on a longer road trip, it might be worth trying smaller day trips first. Some pets can get motion sickness or not enjoy cars at all whereas others seem to love planning a trip as much as you.
In your road trip planning you should include essential pet items: a pet seatbelt, pet food, any pet medications, pet snacks, some toys, a water bowl, towels, a litter box for your cat, a first-aid kit, waste bags, a proper leash, collar and tags and your pet bed.
You can visit Chewy to shop all the essentials that you might need for a comfortable trip with your pet. It also has an amazing pharmacy from where you can order medicine for your pets. Or you can try home-made recipes for your traveling dog.
If you are traveling overseas, you should ensure that you check border requirements for your pet and that you have your dog's vaccination records up to date and with you.
Like you, your pet will also need enough breaks and stops for essential needs and to stretch their legs so make sure you account for that.
Budget and fine tune your plan

Budgeting is one of the most important parts of planning a road trip and for it to be accurate, you need to have a clear idea of where you will go, for how long, what route you will take, where you will stop and sleep and what petrol costs.
So while it is key, calculating your budget is something you should also be at the end, once all other aspects of your road trip are finalised. Here are some of the most relevant cost items:
Vehicle Service and Preparation
Fuel and tolls
Accomodation
Entry tickets and Paid Activities (eg. museum visits, guided tours, tickets to main sites)
Food, water and snacks
SIM card, WiFI hotspot and internet access if your road trip is overseas
Most of the costs above are relatively under your control and you can choose to spend more or less on each of them. However, fuel is something you have little control over and can be the main cost on a long road trip.
Use a fuel cost calculator like Calkoo to estimate fuel costs depending on your car's fuel efficiency and the cost of one liter of fuel at your destination. If you are renting a car, you might have to ask the company to give you details of the specific car since you never choose a specific one when making a booking.
Bear in mind that older cars are less efficient and that fancy cars (ie convertibles) or 4WD will consume much more. The type of driving that you do (highway vs. secondary roads or urban driving) also has a big impact on fuel costs. Driving in the summertime in hot countries means using the AC which will imply higher fuel consumption.
Pro road trip tip: The way you drive also impacts your fuel consumption. You can save 10 – 33% by eco-driving. How? By maintaining a steady speed.
In addition to the cost of fuel, it is also common for rental agreements to have a daily maximum number of Kms (usually 100 Km a day) included in the price after which an additional cost per Km applies.
These daily ranges are calculated based on the total duration of the contract and not on daily limits so you can drive more one day and less the next to keep within the overall budgeted kilometers.
If you plan to drive more than the included kilometers you should consider the additional costs involved, or try to negotiate with the rental company to have unlimited kilometers included.
Besides fuel, the other driving-related cost that you need to consider when planning a road trip is the price of any tolls. In some countries, tolls can add up. For example, in Spain, many highways are privatized and cost a pretty penny. From Barcelona to Girona you will pay 15 Eur to use the highway.
You can avoid tolls by taking most scenic regional roads instead, not only will you save money but you will also enjoy better views.
Fine tuning based on budget
If you have a specific budget in mind, you can fine tune the final cost once you have entered all the details of your ideal road trip in Travel spend.
This great app helps you keep track of your finances and budget before and while you are on the road and also has a provision to account for the conversion rate, to keep you under your benchmarked budget limit.
If when planning your road trip you realise that the estimated cost of your ideal trip is above your budget, you can remove some of the stops or change accommodation, even sleep in your car or camp on some nights, to save. Having it all together will help you understand what the main cost drivers are and where you can cut.
We hope these tips will help you plan your road trip in a much more effective way. Let us know how it went. Share with us through comments!