The idea of going to a concert alone may seem intimidating and unusual at first but it is good for you and increasingly popular. Music lovers are not waiting for others, just like travel lovers aren't waiting for friends to book a trip and are instead traveling solo.
We asked our community of solo female travelers if they had been to a concert alone and the unanimous reaction was "YES!" and their universal suggestion was to go ahead and have the best time.
In this article you will find a list of tips for first time solo concert goers written from the vast experience of our community, including recommendations to stay safe and make the most of your experience.
Become an expert on the band performing
Just like you would get ready for your first solo trip, the best way to prepare for your first solo concert experience is by researching and becoming an expert on the band.
You probably already know most of the band's famous songs but it does not hurt to familiarize yourself with their latest album and learn as much as possible about them, including their older songs that may be less popular.
Memorize the lyrics so you are ready to sing to the top of your lungs and create a playlist of your most favorite songs which you can listen to in the weeks before the concert.
Wearing the band's t-shirt, or your interpretation of it, can be a great conversation starter and help you fit in as one of their best fans. Party favors can be a cool addition.
Follow the band on social media and join their fan club so that you can learn more things about the members, interact with other fans and participate in forums and chats that will help you feel more involved in the event.
If you follow a specific artist around the world you will be able to arrange meetups with other regulars through fan pages and groups.
Spoil Yourself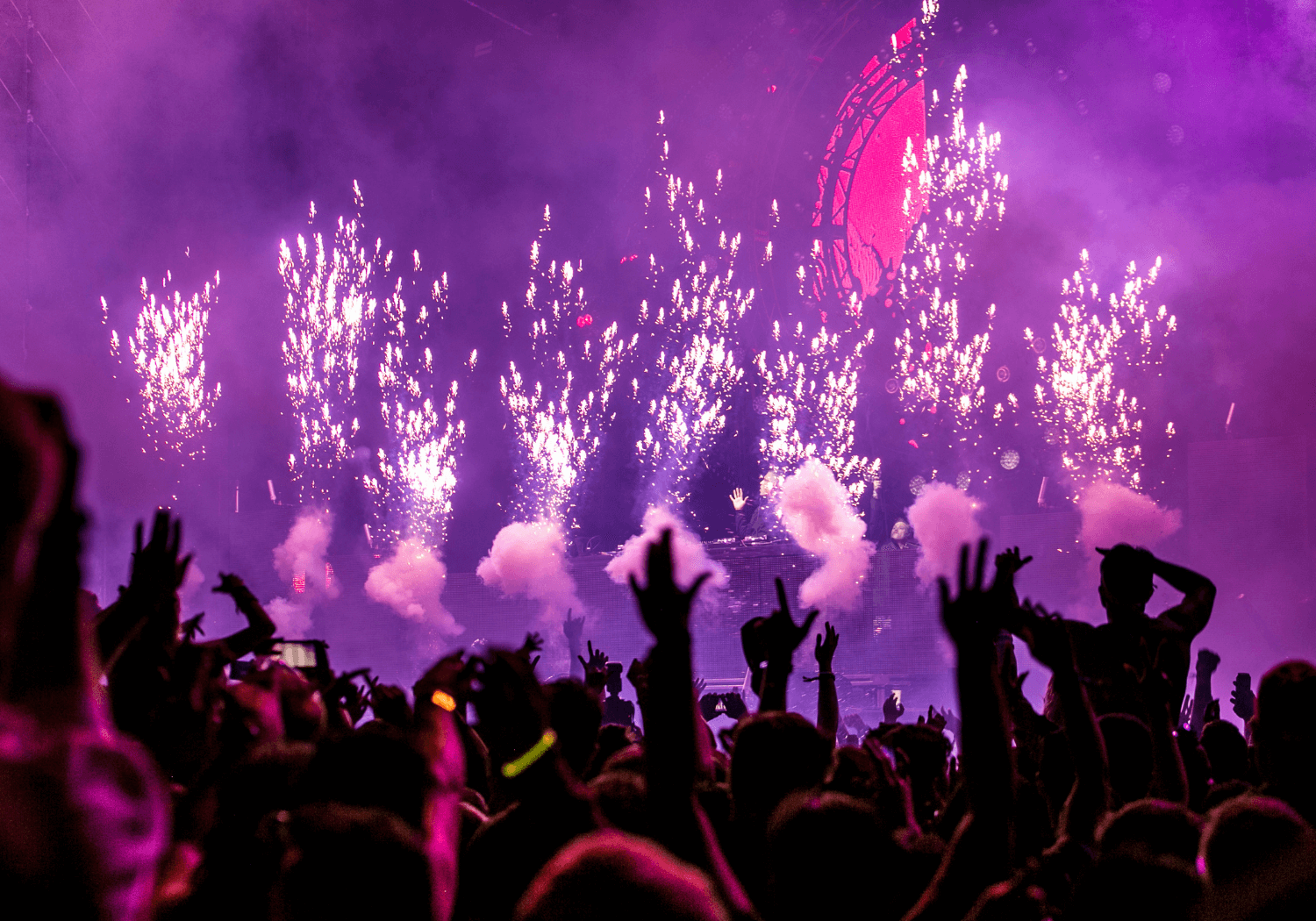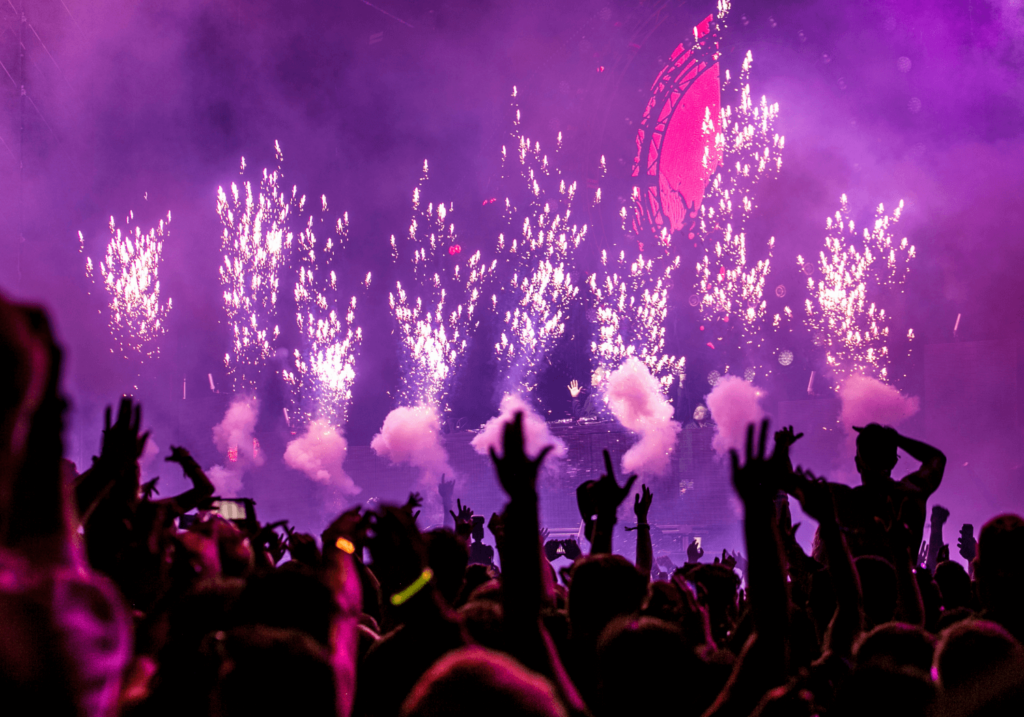 Without someone else to compromise with, or wait up for, going to a concert alone is your chance to buy the tickets that your friends wouldn't want to get or cannot afford, or the tickets that wouldn't be available if you were going to wait for others to make up their minds.
Get seats in the most expensive zone, with the best views or even with VIP access for that backstage visit. Or buy the cheapest tickets and spoil yourself elsewhere.
And as our Solo Female Travelers club member Katie distinctly puts it, "And now that I've been around awhile, I can afford a better seat, so sit close to the stage, end of a row. I splurged on VIP seating at a festival this year to see the Foo Fighters and I'm never going back to general seating/standing!"
In all cases, buy your tickets from the official sellers and not in the resale, which can add an extra layer of stress and the risk for the tickets to not be valid.
Pro tip: When a concert is sold out, there may be last minute single tickets available you can snatch up as a solo concert goer.
Stay Confident
Shall you go to a concert alone? If you ask this question in our Solo Female Travelers group, the answer will always be a definitive yes!
It is empowering, it is energizing and it is a lot of fun.
"This post just changed my life! I'm 63 years old and I'm done waiting for permission and negotiating every little thing. I'm going!", said a commenter to a post about a member going to a concert alone.
Attending a concert alone is not a disadvantage or something to be ashamed of but rather proof that you don't need anyone's permission or company but yourself to do the things you love. Plus, concerts are a social experience by definition so you will just be enjoying it with a group of strangers, or friends you haven't met yet.
You are your best friend and will have the best time at a concert alone just like you do when dining alone, going to the beach alone or flying alone. After all, music is an activity that is primarily enjoyed solo with headsets.
If others look at you it's not because they feel pity but because they are jealous of your self-confidence.
Anytime you feel anxious or second guess yourself about your choices, remember that many others didn't have the courage to come and instead missed a great concert experience and that you are not alone.
Melissa says, "You're not the only one rolling solo to the event. Depending on the size and crowd there's probably at least 5% of that crowd attending on their own. when I start to feel weird and self conscious (which happens to the best of us from time to time), I take comfort in that."
You've got this!
Pro tip: If others back home question your choices or criticize why you went or are going to a concert solo, remind them that you are great company and don't need anyone to enjoy doing the things you love.
Dress Smartly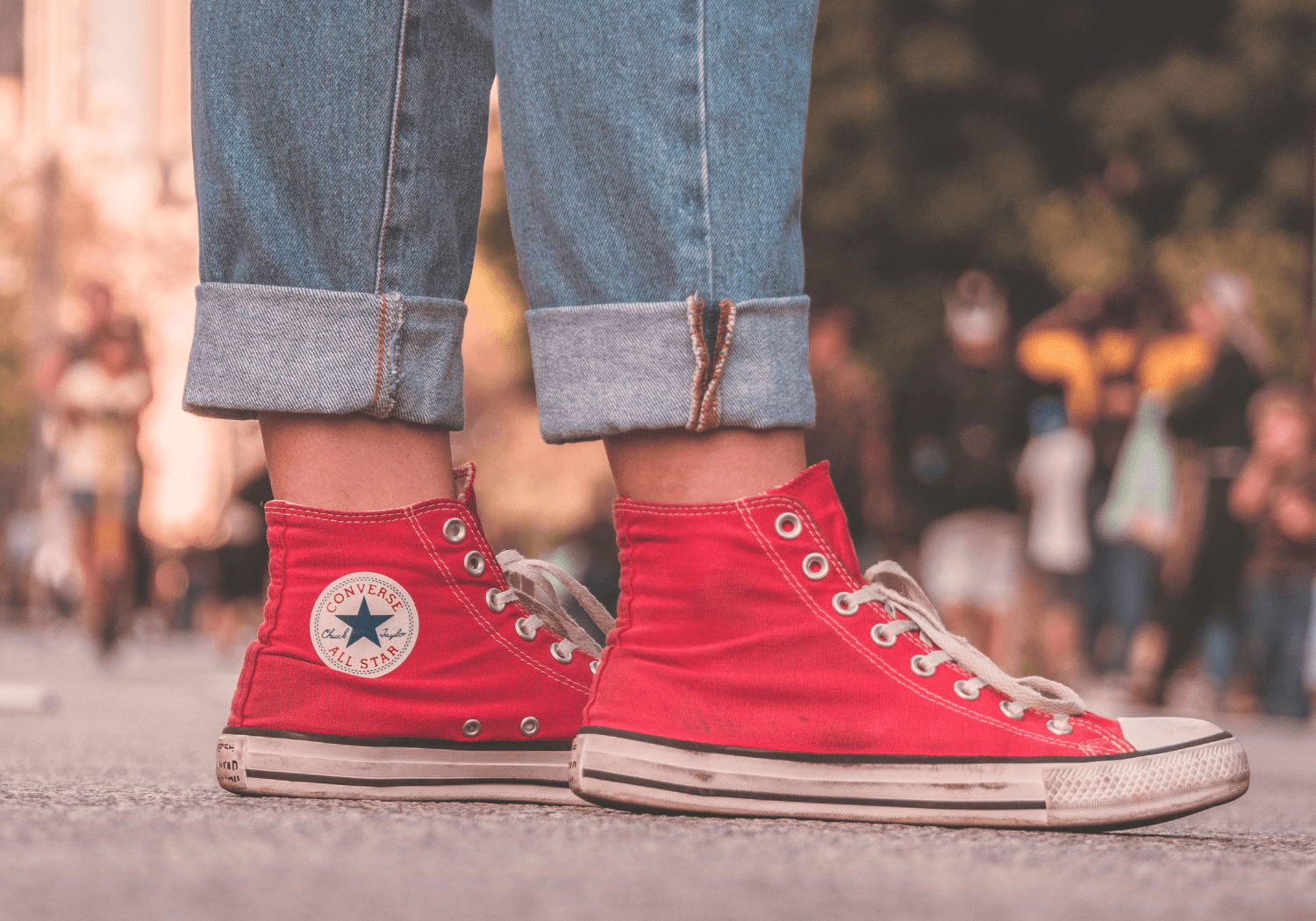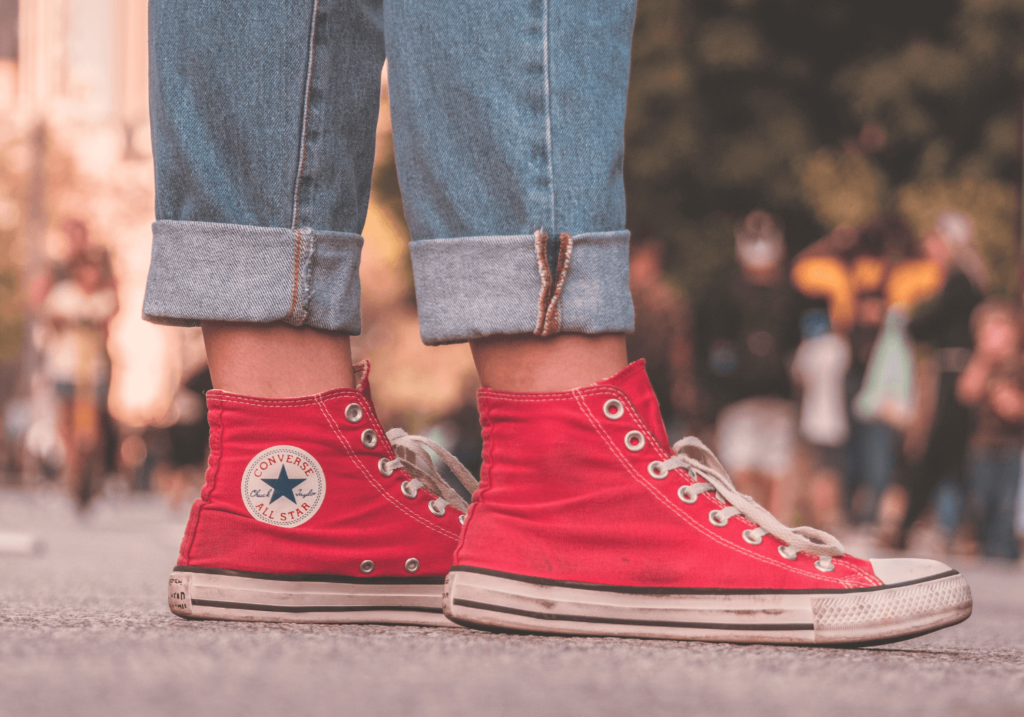 By smartly we don't mean fancily, we mean practically and cleverly.
Make sure you are appropriately dressed for the occasion. You will be standing on your feet for a while, may have to walk long distances to get to and from the concert venue and the weather could change a lot from day to night, making you hot and cold throughout the concert.
Wear comfortable closed-toe shoes to get you standing and dancing through the night without the damage that comes from being stepped on. Don't wear new shoes that may give you blisters and be ruined by someone else's beer spilling all over it.
Choose light fabrics that won't make you hot and trousers and jackets with hidden pockets so that you can hide your emergency stash of money, mobile and anything else of value that you don't want to put inside your anti-theft bag.
Above all, carry only the essentials so that you don't drag around a heavy bag for hours. You need to be mobile so you can dance and sing as much as you want without the back pain of a heavy load.
Plan your transportation
Avoid being too late or too early to the venue so you don't get stressed to find your spot or are forced to stand around for long by making travel arrangements in advance.
It is typically easy to get to the venue but could be problematic to leave once the crowds gather.
If the venue is outside the city, find out if they will offer extra transportation options and take note of where the pick up place is and what the timetables are.
If you can, pre-arrange a private pick up with a taxi company as public transport which will be cloaked.
If the venue is in the city, you can take a regular taxi, an Uber or other cab hailing app, or public transportation. Try to walk a few blocks away to avoid the crowds that may form near the venue.
If you are driving, arrive extra early to account for the traffic jams and find a spot near the entrance. Your early arrival will strongly contribute to your finding close by parking so that you avoid too much walking before or after the concert.
Chill inside for a while so you are not standing around getting tired. Consider leaving a few minutes before the end of the concert, or enjoying the last songs near the exit so that you are not trapped in the crowds after the end of the show.
Pro tip: Make sure to pin the location of your parking spot before you leave so you can find your car at the end of the concert.
Our community recommends that, if you can, you choose to stay at a hotel walking distance from the venue to avoid issues returning back to your accommodation.
Study the concert grounds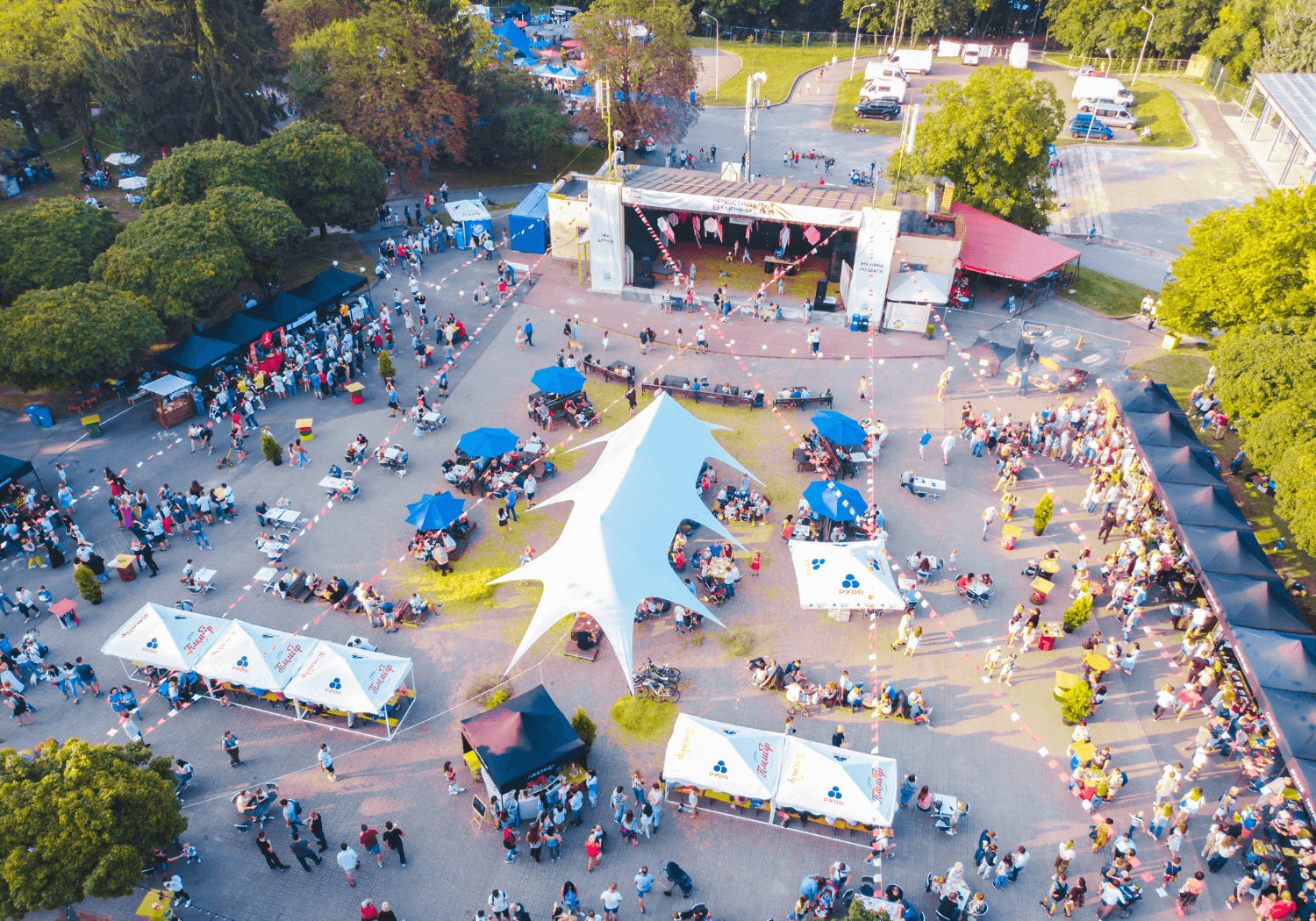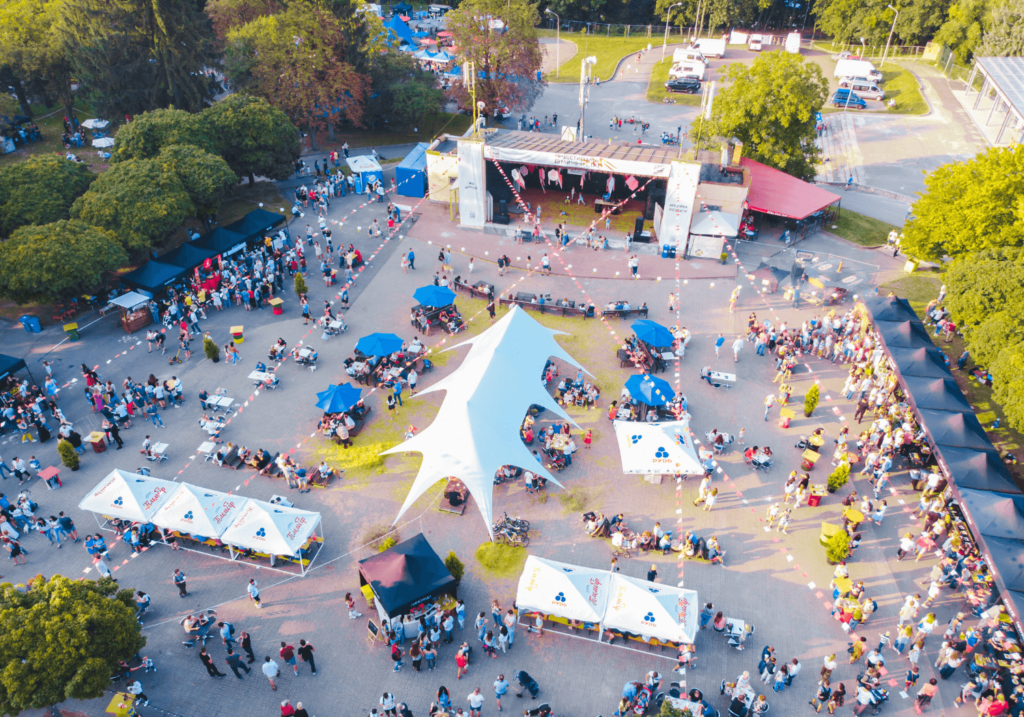 Upon arrival at the concert, go on a little reconnaissance trip around the concert grounds and find out where everything is.
Find your seat, see how far the closest toilets are, locate the emergency exits and other useful facilities such as a souvenir shop or where to get snacks, the bar and the easiest way to get around when it gets crowded.
Pro tip: Take screenshots of all the important information sent by the concert organizers or venue before the concert. Internet connectivity may be difficult during the concert because of the amount of people concentrated in a small space.
Arrive early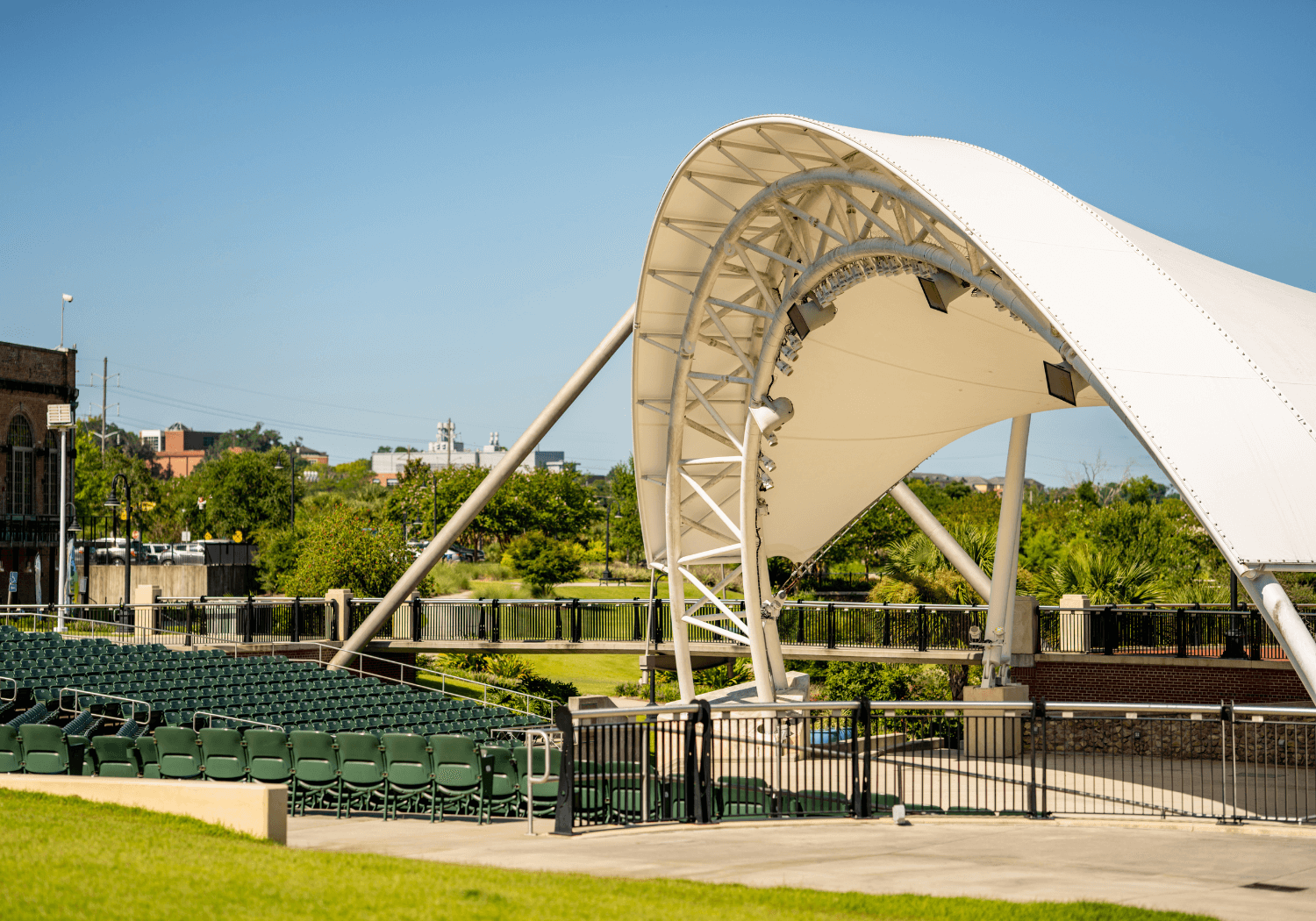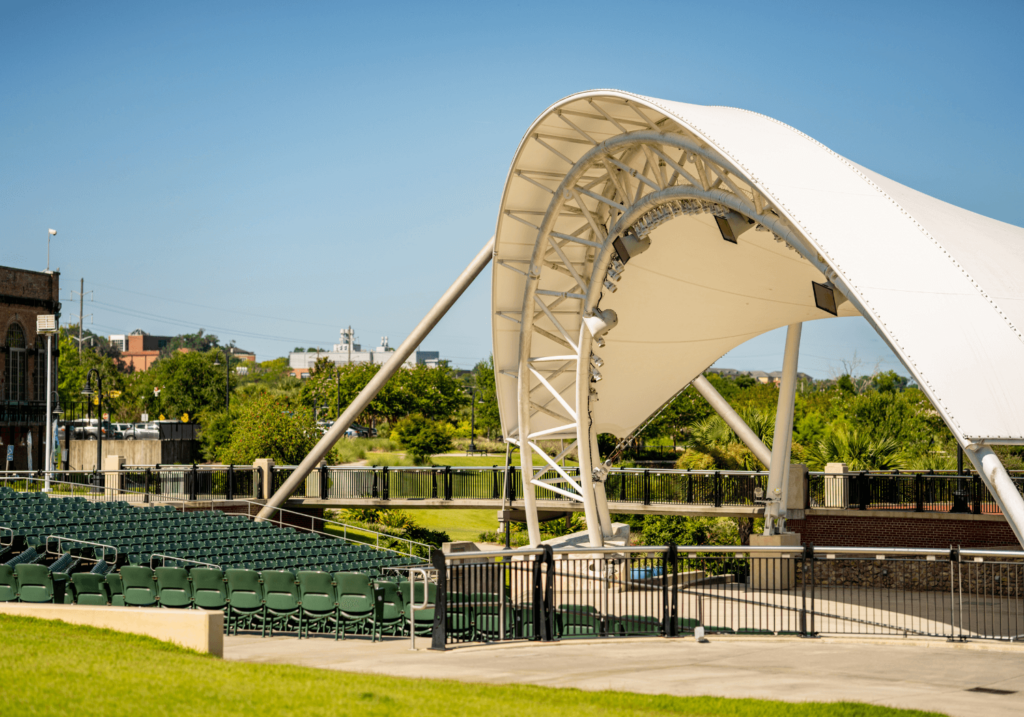 Arriving early at a gig has its advantages. This is the best way to avoid rushing there or being late, standing in line with a crowd of people to get your ticket or even reaching your seat.
If it's not a seated concert, arriving early will allow you to pick the best viewing spot and give you time to get a drink and use the toilets while they are still clean.
Pro tip: As soon as you arrive at the venue, go to the bar and get a bottle of water to keep with you for the rest of the concert.
Once the concert starts, it will be hard to move around, get a drink and keep your spot as nobody will save it for you.
Connect with others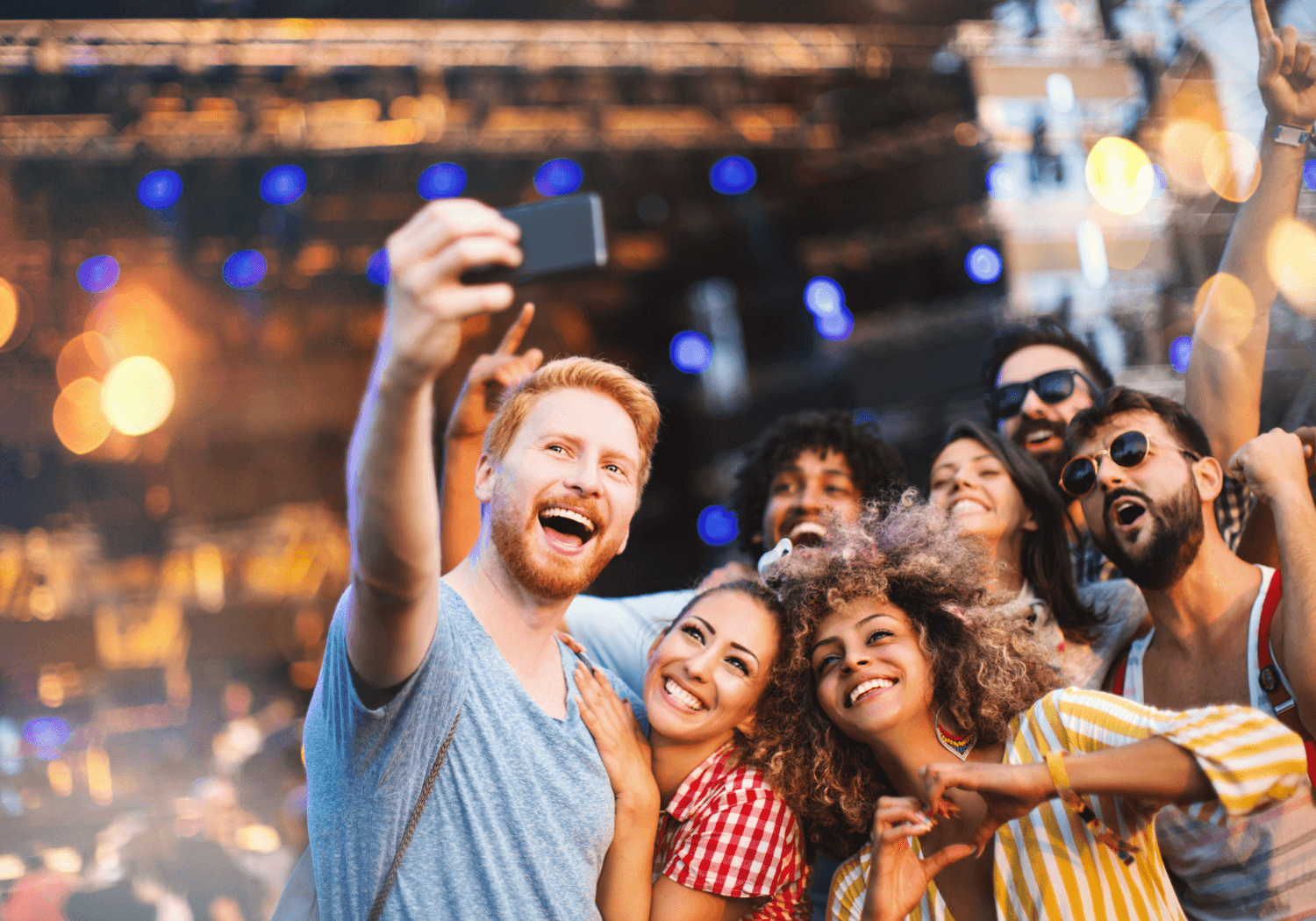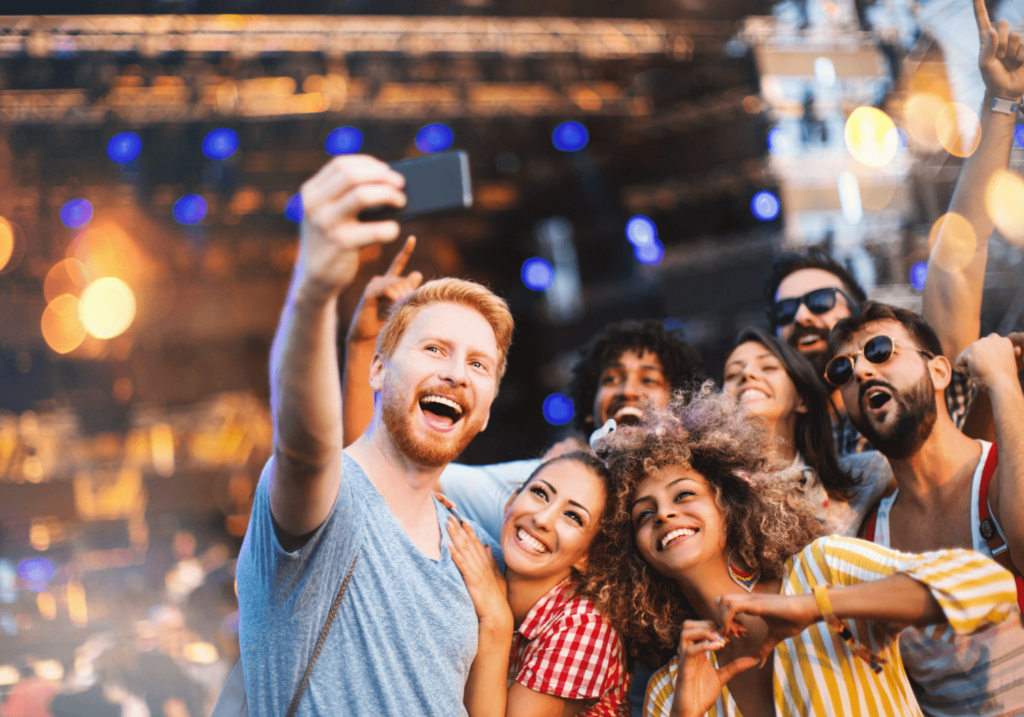 Talk to those around your spot, to the people next to you at the queue, to those at the bar when you get a drink and especially, to those who look like they are also there on their own.
If you are an introvert or find it hard to strike a conversation with a stranger, have a few conversation starters ready ahead of time to break the ice. The band, the songs, the concert, are all common topics of conversation.
Abigail, a solo concert goer, says, "Bring some gum or stickers or something to share with whoever you want to befriend and boom! Instant opener!"
If you see a group next to you, you could start chatting with them and let them "adopt" you for the duration of the concert, so they can keep an eye on you or keep your spot if you need the bathroom, while you still make the most of your time alone at the concert.
By joining the fan or concert pages ahead of time you can meet up with others at the parking lot for a tailgate party before the concert starts and meet like minded people who share their love for the same band.
"Another fun part [of going to a concert alone] is asking the people who were tailgating beside me if I could join them. Of course they said yes, and we had a few drinks and relaxed before the show! So fun! I would encourage you to try it at least once." Says one of our community members.
If there's someone cute next to you, have a sip of your drink to get courage and start a conversation. Music is a universal language and a bit of flirting never hurts anyone.
Pro tip: Check out our tips for safely dating others when traveling that are largely applicable to a concert setting.
Make it a trip
Most likely than not, your favorite band will be playing somewhere different from where you live which is a great opportunity to make a solo trip out of going to the concert alone and rip all the benefits of solo travel.
Arrive a day or two earlier or stay a few days after to visit the city and pick a hotel that is near the venue for the night of the concert or the entire trip so that you can walk to the concert without having to rely on local transportation options.
Make sure to purchase travel insurance before the trip.
Pack essentials
Besides money, your mobile phone, your house and car keys, there are a few essentials that will come in handy.
Wet wipes will be useful because the porta potties will run out of toilet paper soon.
A fan will be helpful if it's hot and remember that even if the temperatures are not high, crowds, jumping, dancing and singing around will make you sweat. A portable electric fan could be a great conversation starter.
If rain is a possibility, bring a poncho or a light jacket for chilly nights. A fabric to put on the ground if there is no seating and you have to stand for a long time before the beginning of the concert. Make room for people that are standing along and grab the opportunity to make new friends.
Make sure your phone is fully charged and get an extra battery pack.
A carabiner is a great idea to lock your bag to your trousers or other part of your clothes so nobody can pull it from you in the crowds or to lock the zip to the bag, which is one of the features that anti-theft bags have.
Pro tip: Make sure you know what to bring and not bring to the concert so it does not get confiscated. Large concerts have specific rules to follow like not bringing any alcohol or food from outside or your own drinks, including water, make sure to research beforehand. Watch out for bag requirements too. Most venues will have maximum bag sizes or even types. For example, the State Farm Stadium in Arizona where Beyonce performed in August 2023, has a strict clear bag policy.
Sing and dance like no one's watching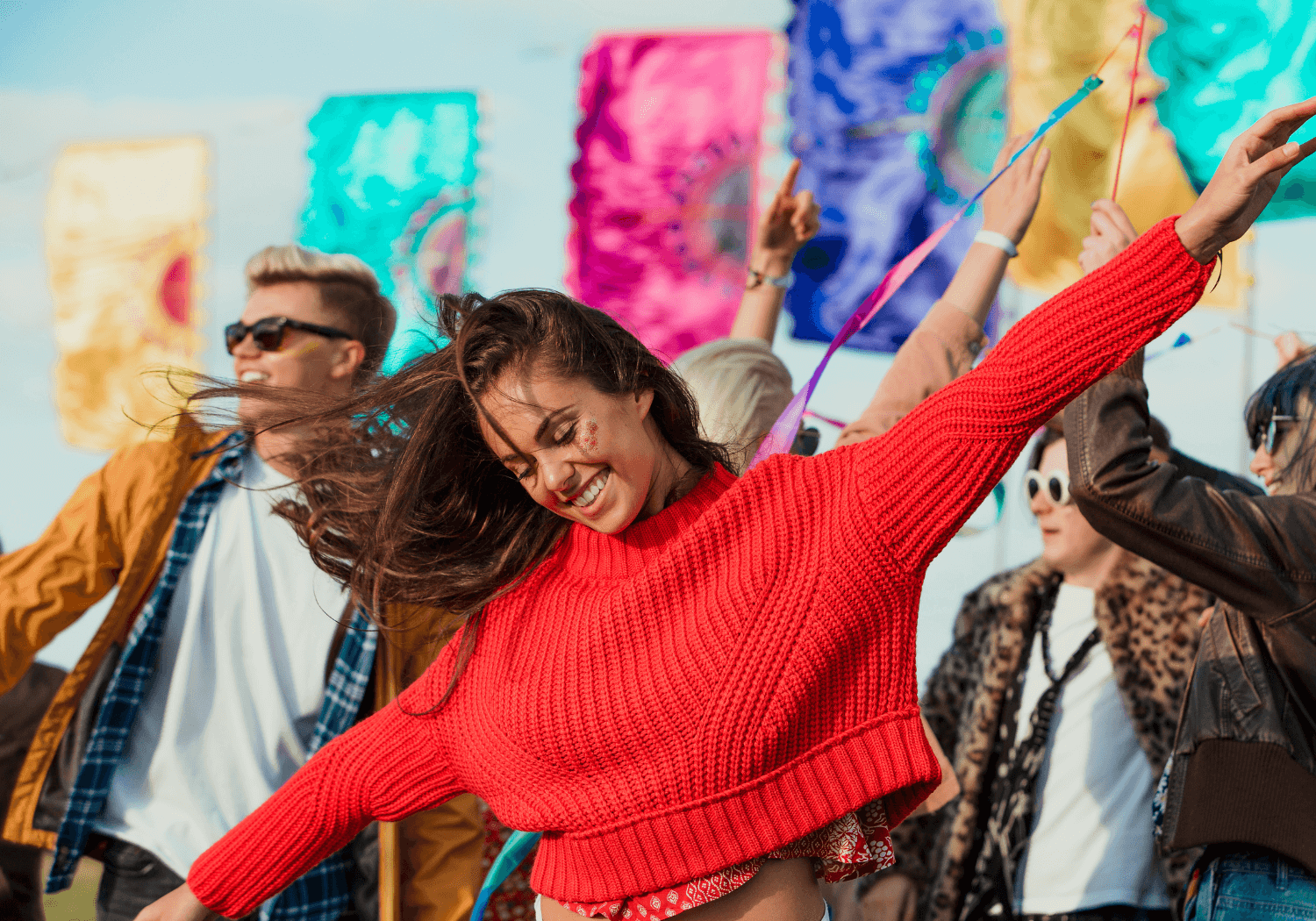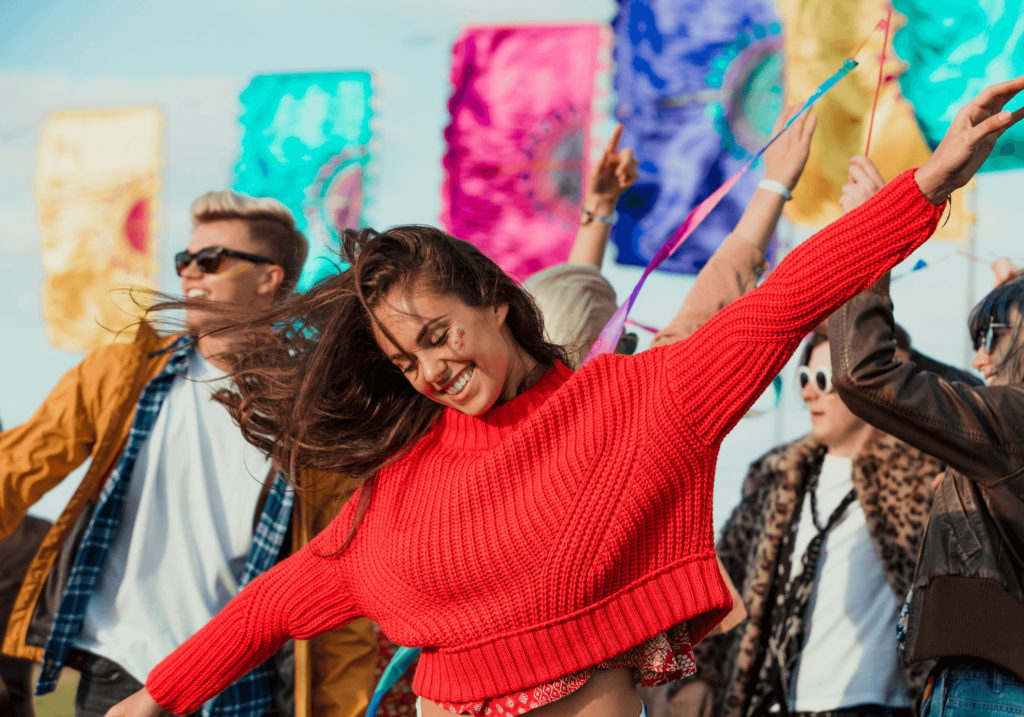 What is the point of going alone to a concert if not enjoying to the max?
One of our community members says "I went to a concert on my own too and had the best time!!! dancing and singing with strangers, completely in the moment and not caring about others! will never forget it "
Stop worrying about others and focus on yourself and your enjoyment. Headbang all you want, let out all the steam, scream like a fool, sing and dance like no one's watching, and enjoy yourself unapologetically. Nobody you know is there, make the concert yours.
Tip: Ask others around you to take your photo so you have a good memento. It's a great conversation starter too.
Keep yourself and your belongings safe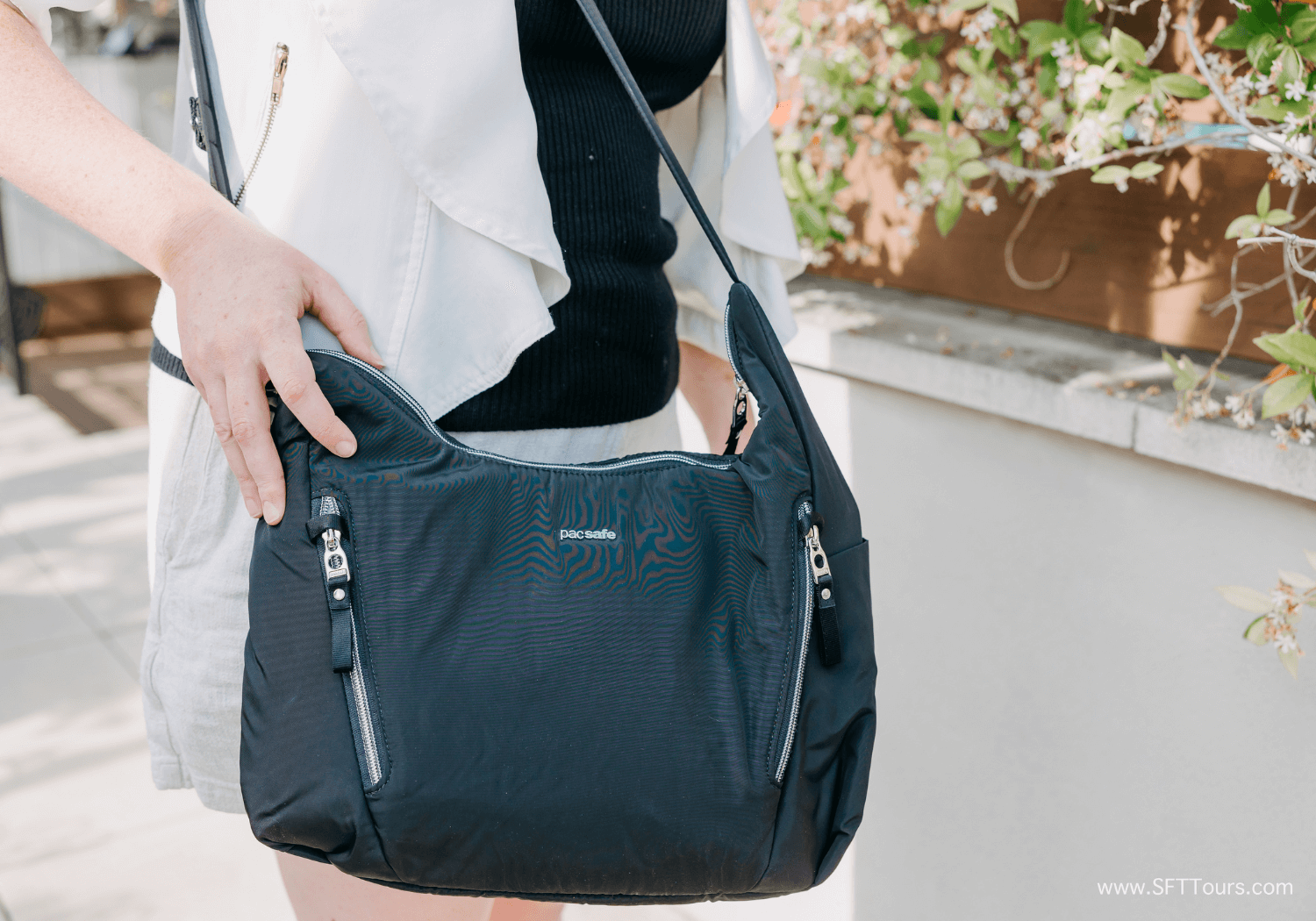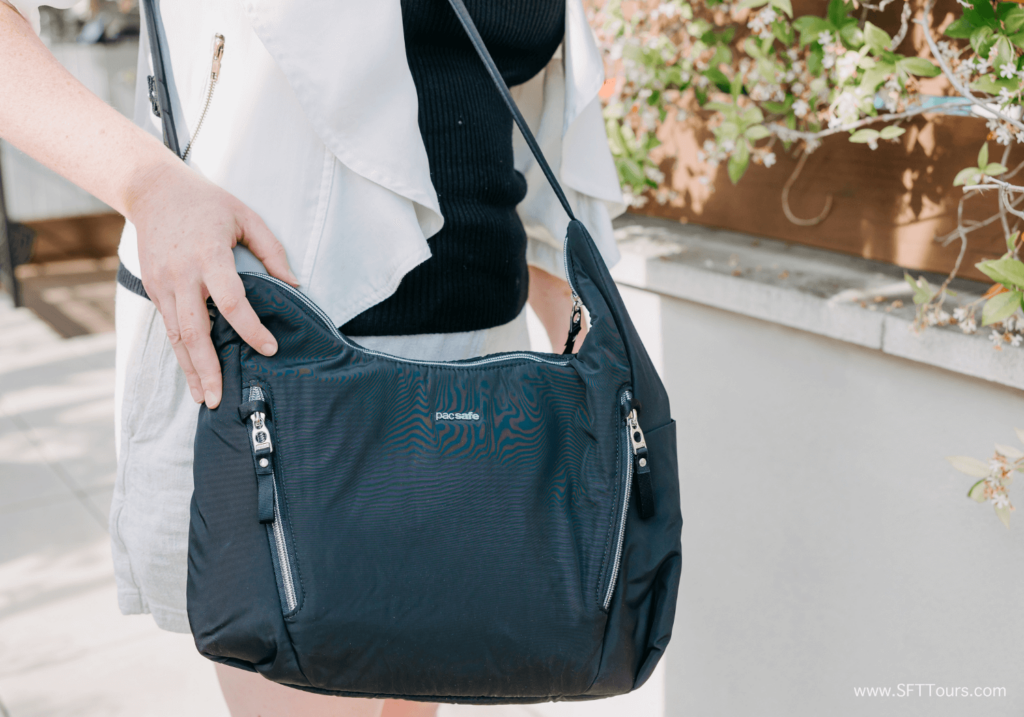 Concerts are crowded, loud and dark.
Whether you are with someone else or not, safety is a concern, but being by yourself just means you don't have someone else to fall back on in case of theft or if things don't go according to plan.
This is probably why so many women wonder if it is safe to go to a concert alone. This tip is all about giving you the confidence and the tools to stay safe when solo at a concert, starting with keeping your belongings safe.
The best way to protect your valuables at a concert or when traveling solo is to get an anti-theft bag which is designed to keep your money, keys and phone safe from pickpockets and thieves.
These bags have features that make it hard to open, to pull and to steal, plus they are typically made of anti-slash mesh or material that can't be easily cut with a knife. Many of them also have RFID protection features that make it hard to steal the details of your credit card.
In order to have fun at a live concert you must first spend some time on your safety. Using an anti-theft bag with non-visible pockets is a must as unfortunately there might be people that will take advantage of the proximity to one another in a packed area to steal things.
A phone lanyard like this one would also be extremely useful, but put it away if you plan to dance wildly or jump around to avoid it falling off.
Make sure you connect with a friend or family member just before you arrive at the concert and when you leave so someone knows where you are at all times. You can also consider sharing your location with them either on Google Maps, Whatsapp or on a safety app.
Take a look at the list of self-defense tools we list in our article for other ideas that could be useful. We are not talking about guns or pepper spray but other tools that can help keep you safe in case of anything bad happening such as a whistle. If you are in a foreign country, have all the emergency numbers handy.
Do not be discouraged should you choose to stand by a speaker as visibility of the band might be better at that spot. Make sure you have a pair of earplugs with you just in case. These are also useful if you are overwhelmed by the loud sounds, one of the side effects of the silence and isolation we all experienced during the pandemic!
If you get a drink at the bar, keep an eye on it and don't leave it unattended to avoid anyone spiking it. Cover it with one of the drink cover scrunchies from SharkTank and don't accept a drink from a stranger.
When walking back to your car at the end of the concert, stick with a group of people walking in the same direction and stay within the crowds. Look before opening your car door.
Have a plan B in case your phone gets stolen such as memorizing the number of a friend / family member and knowing where to find security.
Have an emergency stash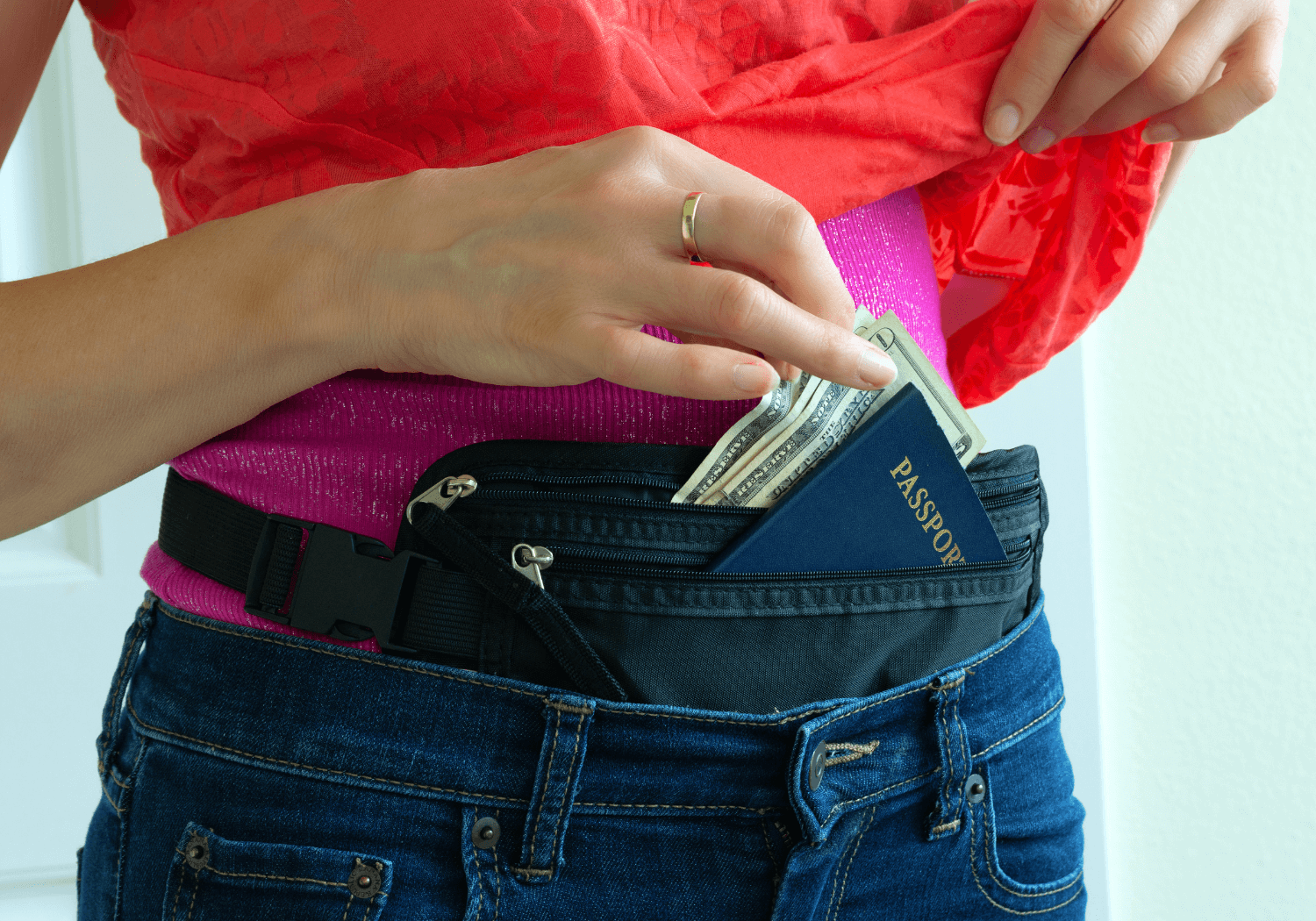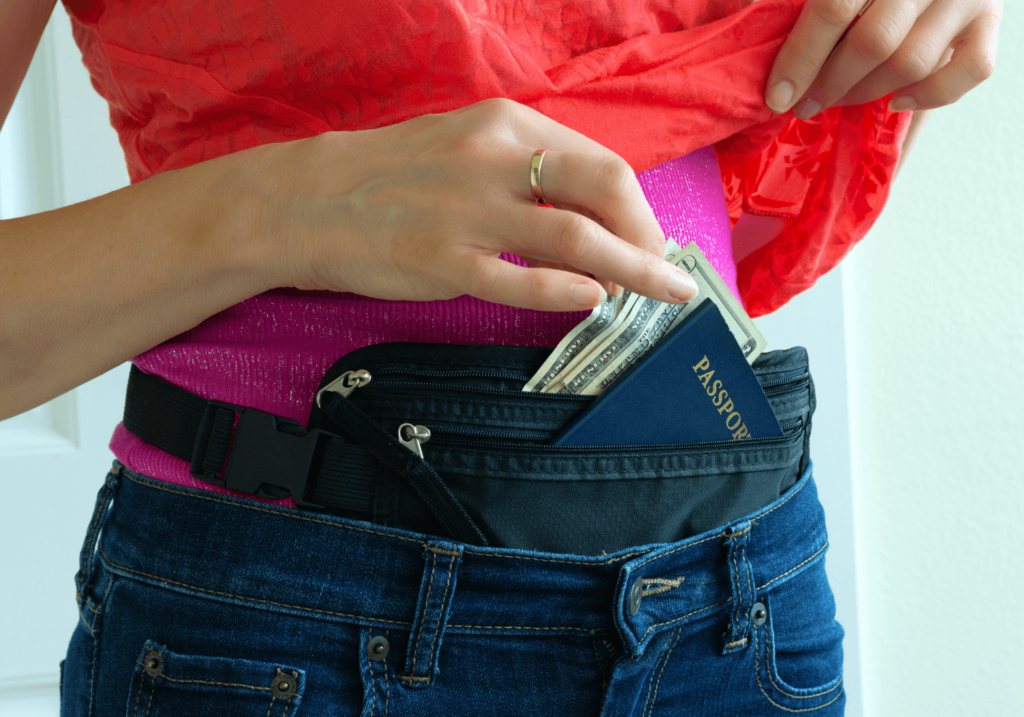 You've bought yourself an anti-theft bag and a phone strap and you did wear your pants or jacket with the hidden pockets but still feel worried that your wallet might be stolen or lost?
Don't let the anxiety ruin your fun.
Hide a stash of money somewhere separately, in one of your hidden pockets, in your socks, inside your bra or in a safety pouch, which you can easily access to get back home safely.
Stay Alert
Have a drink or two but make sure you are always sober and within your personal limits so you are able to take care of yourself and to make wise decisions should any issues arise.
"Be mindful of how much you drink. So, I can have 3-4 drinks before I'm tipsy but when I'm alone I will have 1 most of the time, rarely do I have 2. This way you can be aware of your surroundings and stuff." Says one of our community members.
Tip: For every alcoholic drink have, at least, a glass of water to avoid dehydration or headaches from the hangover.
Keep an emergency card
Since you are alone, write all your important emergency contact numbers, your medical or travel insurance details and any relevant medical condition on a small piece of paper and make two copies, put one inside your wallet and the other taped to the back of your phone.
If something happens to you, medical personnel can find those and know how to care for you better.
Pro tip: Write "In case of emergency please contact xxx" with your spouse, parents or friend's number in the emergency card.
Stay as much or as little as you want
The fact that you have chosen to go to a concert alone gives you the full freedom to do whatever you want.
Are you tired and ready to go? Great!
Do you want to arrive super early to get the lay of the land, grab a drink and nerd out at the merch stands? Nobody will stop you.
How wonderful is it that you do not need to wait for anyone and most importantly that you do not have to explain to anybody why you wish to stay or leave a concert you went to alone? The choice is entirely up to you!
Buy the merch
Check out the exclusive merch sold at the venue and geek out with others who may also be wearing the same t-shirt, sweatshirt or party favors.
Besides getting all of your favorite band's merch, this is also a great opportunity to buy something that will remind you of the first time you went to a concert alone.
Go Backstage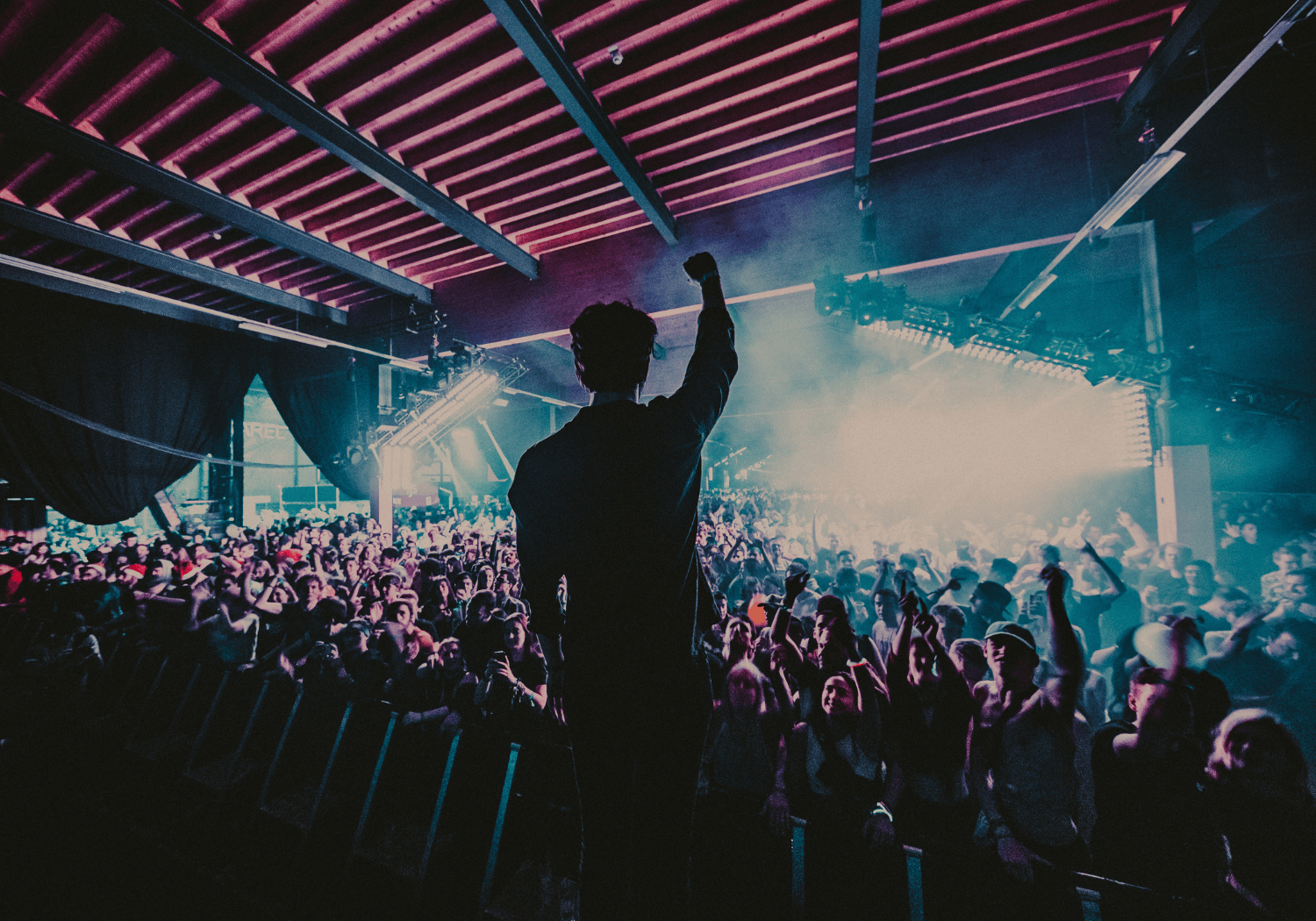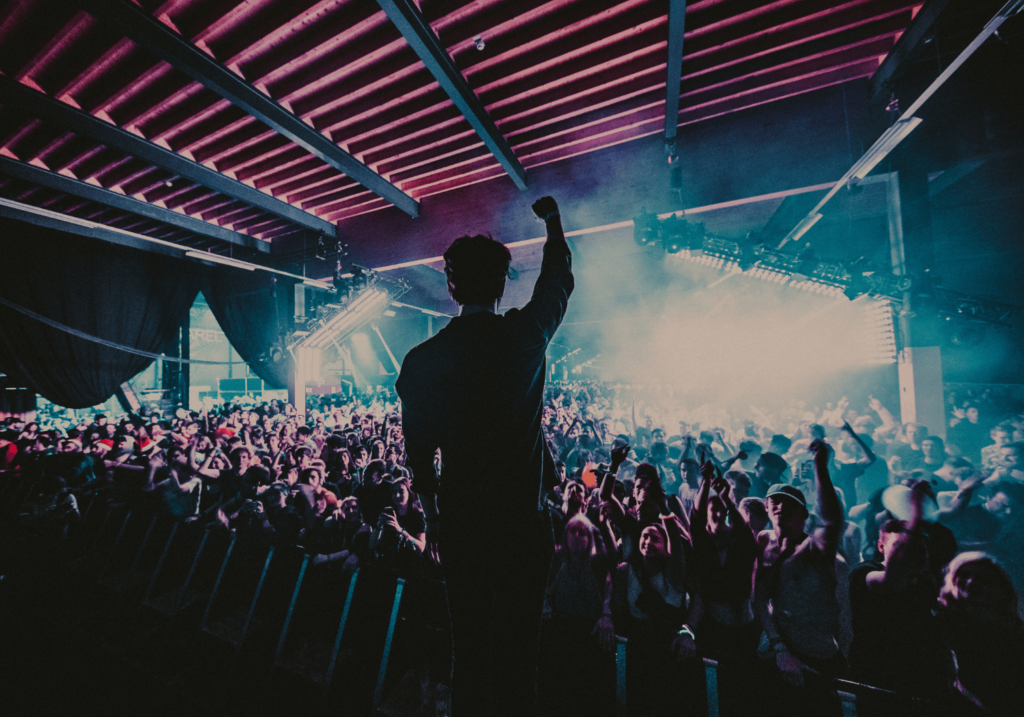 Feeling confident enough after having spent the entire concert solo?
Have your favorite album or poster of the band with you and try to go backstage for a signature from the artists themselves. At this point taking a photo with any of the members is almost compulsory, there is no turning back.
Attend the After Party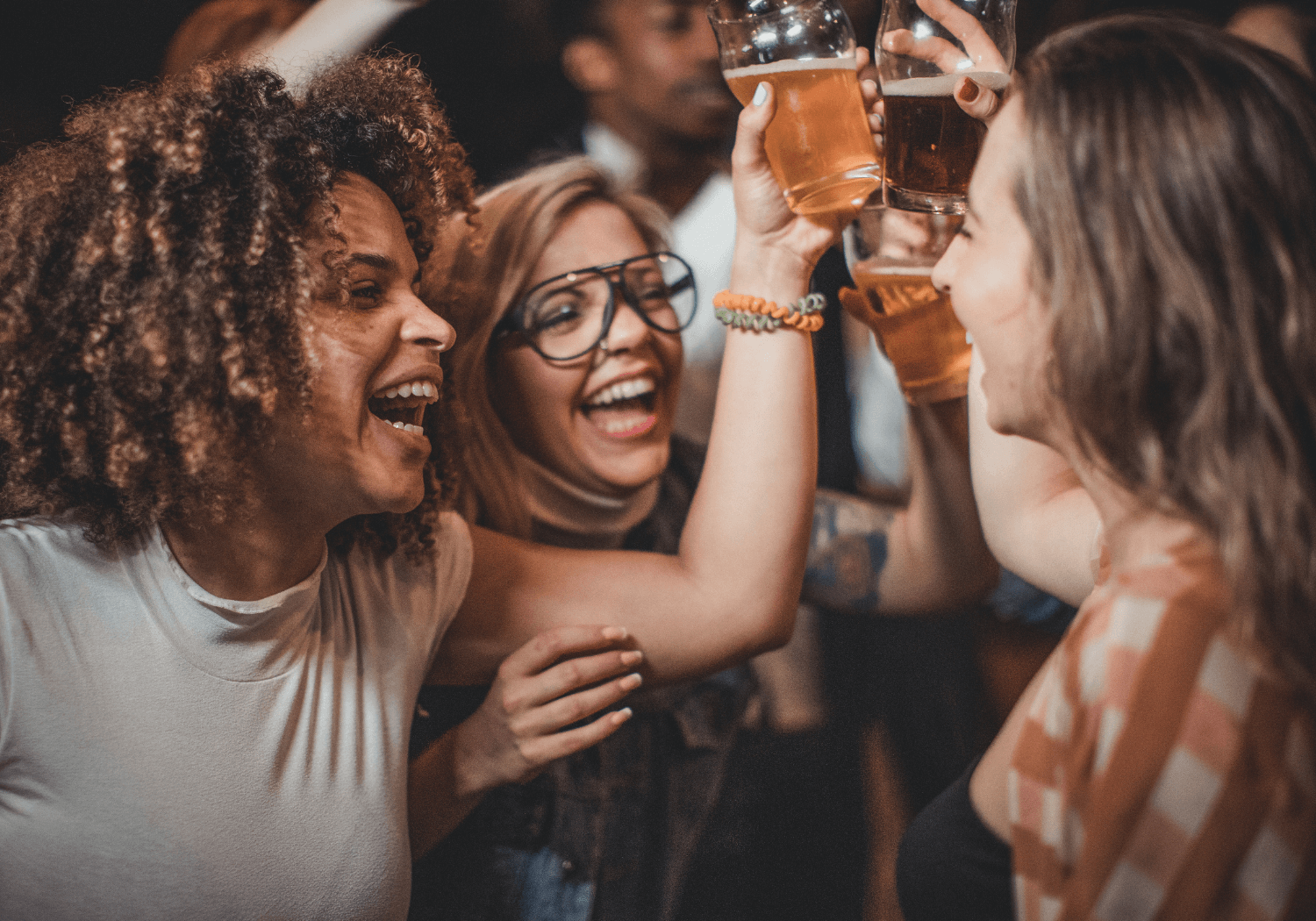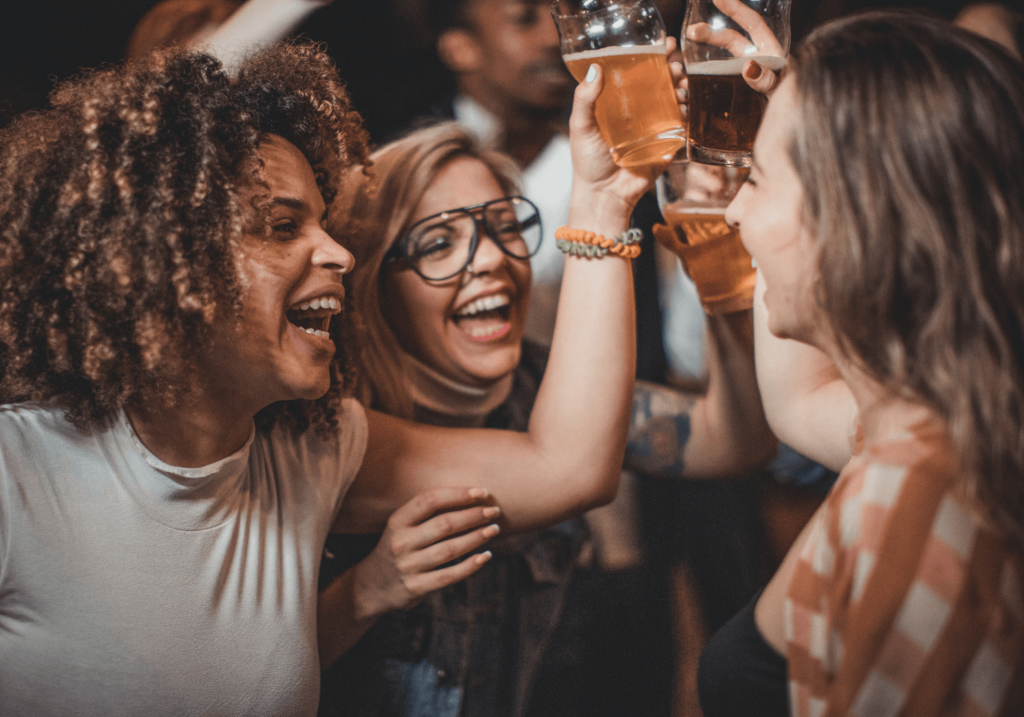 After parties are usually arranged for the fan clubs and VIP guests in nearby locations. This is your chance to make new friends who love the same band as you, or even to meet the band and see them at a closer distance.
Treat Yourself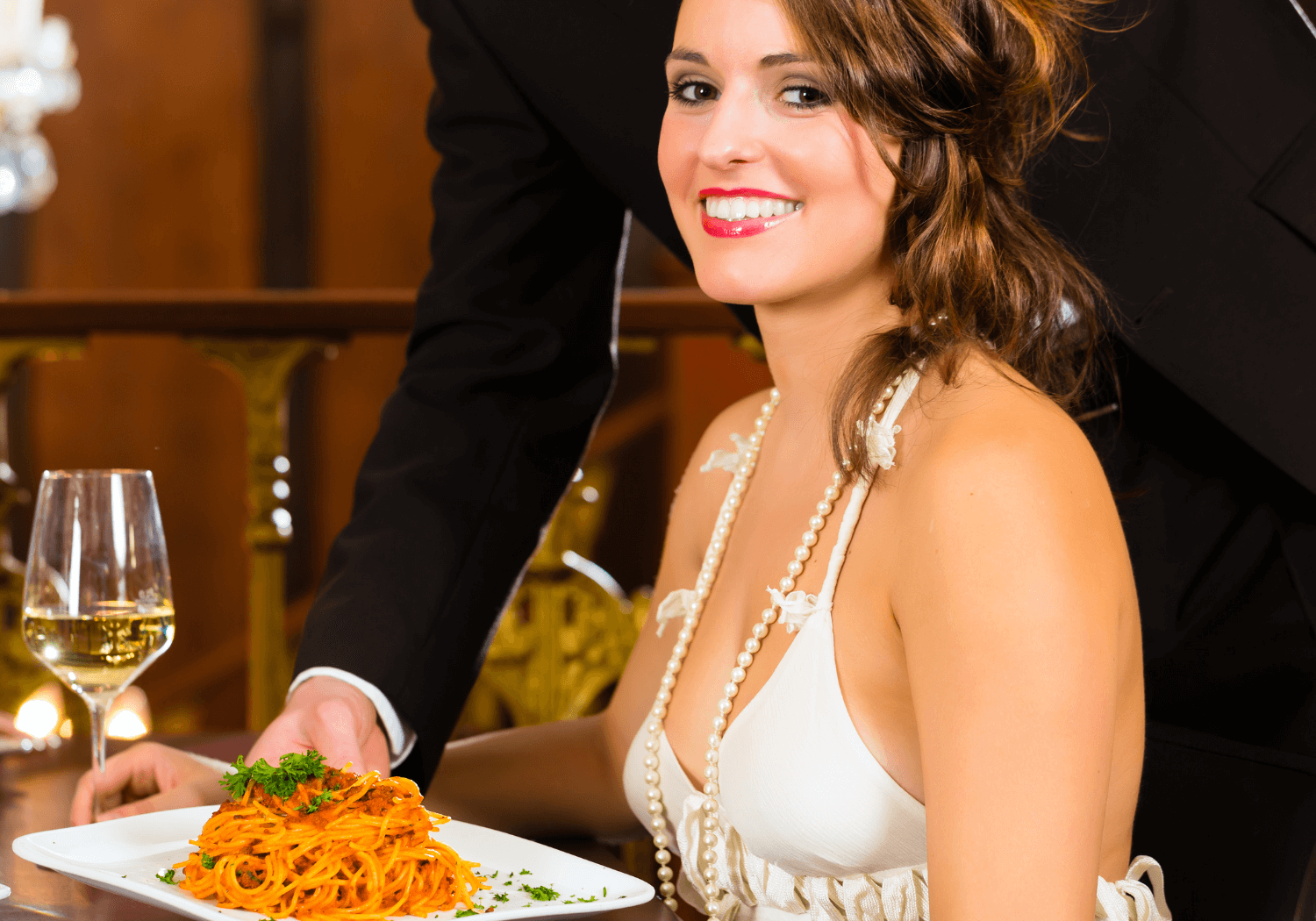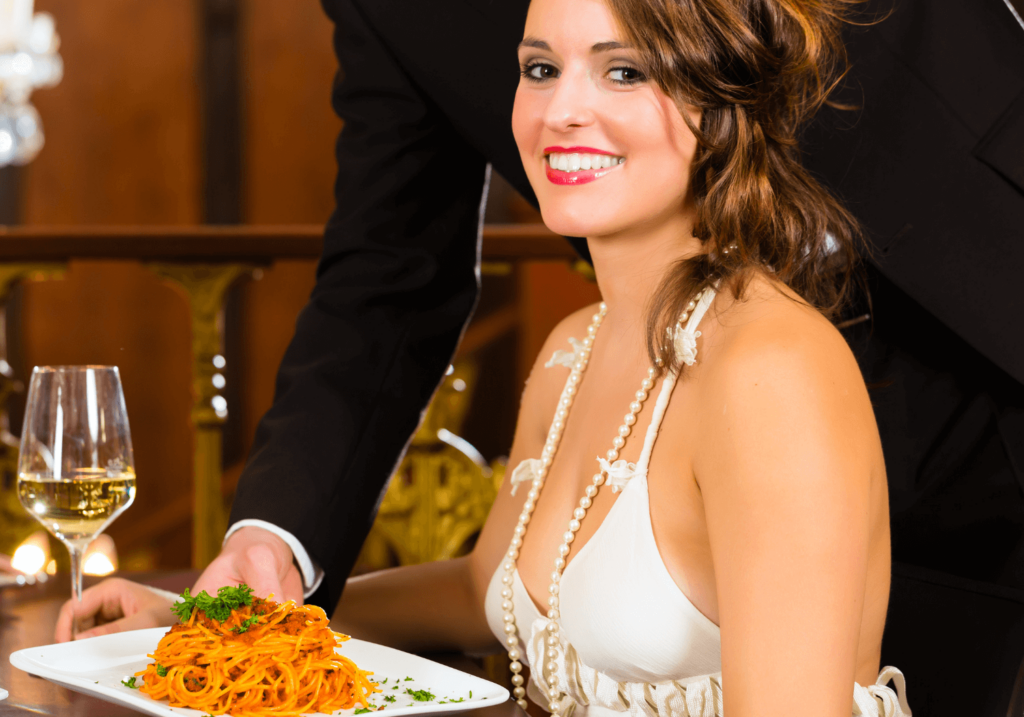 After the end of the concert, treat yourself with a nice dinner and drinks solo or with your newfound friends and music lovers.
As our community member Karmel puts it, "Make a date out of it! I'll do dinner first then the show then take yourself out for dessert if it's not too late!"
You deserve it, like you deserved going to a concert by your favorite band solo.