More and more single women over 50 are traveling than ever before. This can be because they have recently become empty nesters, got divorced, separated or widowed, or because they overcame a major life event such as illness or the passing of a loved one.
Also, a global study found that women over 50 are empowered and are seeking to have adventurous experiences and after working for so many years, you come to a point where you are only looking to relax and do something different.
Faced with the reality that time is the only thing we can not get back, they finally prioritize their dreams over the expectations and needs of others, and decide to take the trip they've always dreamed of. That is the start of many more single travel adventures over 50.
While it is never late to get started on your solo travels and our research proves that women seek largely the same when they travel on their own, there are differences between traveling when you are in your 20s versus when you are in your 50s.
Most singles over 50 have told us that they are more likely to look for meaningful connections, exploring off-the-beaten-path destinations, meeting locals and traveling slowly than they are about Instagrammable spots and ticking boxes of famous sightseeing places.
Think of traveling solo in your 50s as doing so with a new type of freedom and with better resources and more experience than you had at 25.
This is the time to make all those travel dreams come true and fulfill lifelong bucket lists. Maybe you have always wanted to hike the Kilimanjaro, learn to make pasta from scratch in Tuscany or chase the Aurora Borealis. Whatever your dream is, NOW is the time to make it a reality.
Here are our holiday ideas for single women over 50.
Best women tour groups for single women over 50
If you are looking for a female-only environment because you are single but not necessarily ready to mingle, solo women travel groups are a fantastic holiday for single women over 50.
Since all guests are women, most tour companies will offer the chance to pair you with another traveler to avoid the single supplement, making it a cost-effective option.
Group tours take away the stress and time-consuming aspects of travel planning, because everything, from transportation to accommodations to activities, is taken care of.
If you have not traveled solo before or have not traveled for a while, your travel planning skills may be a bit rusty so having it all done for you is a very appealing proposition.
Here are our best suggestions for tour groups for single women over 50.
Solo Female Travelers Tours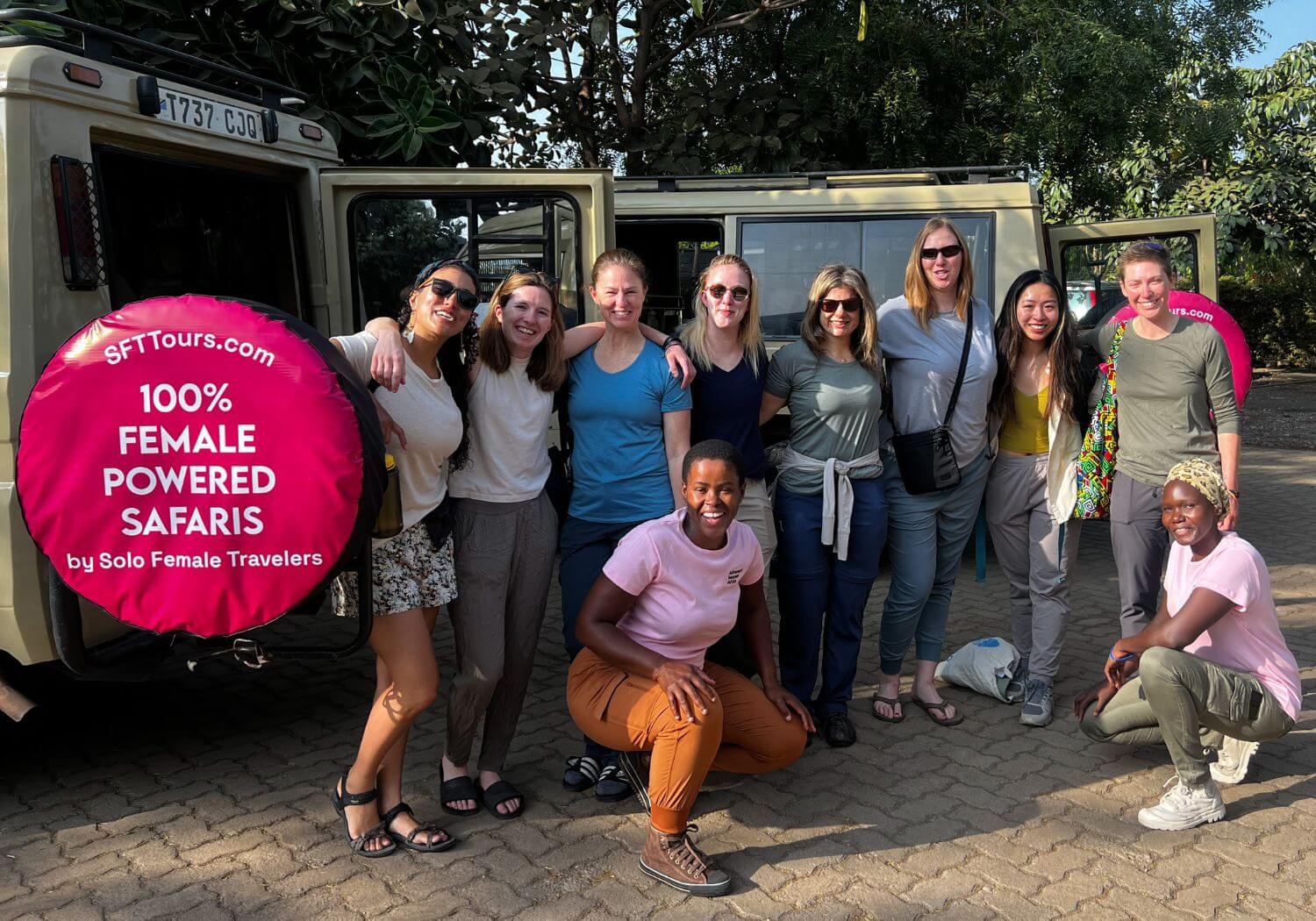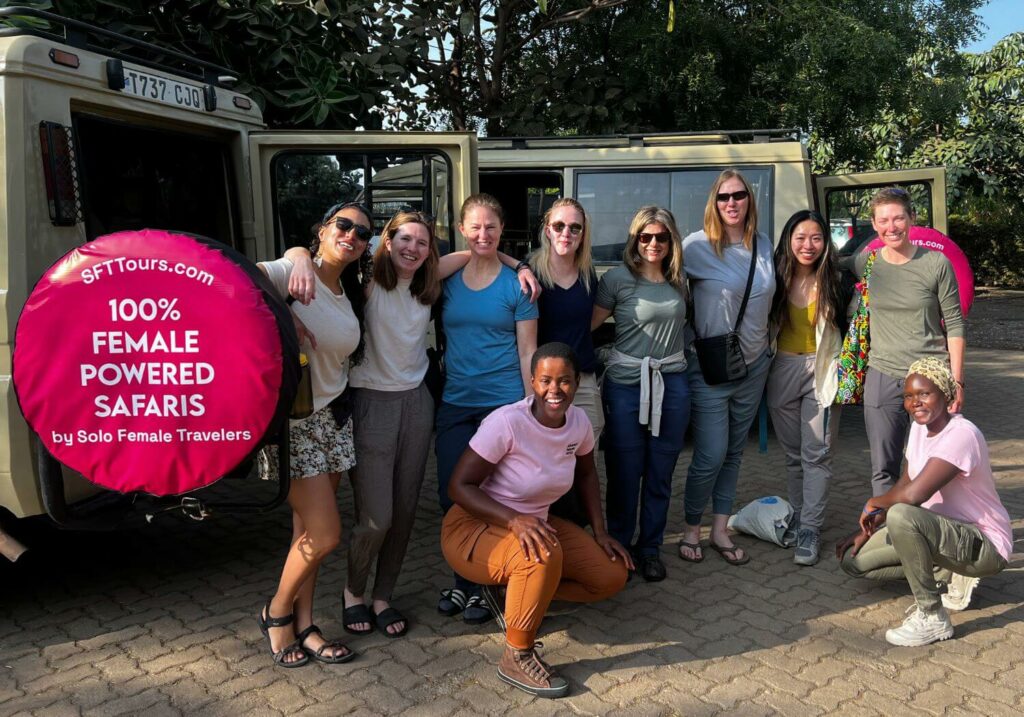 This is our curated small group tour company, specifically created for women who travel solo but want to join a group of likeminded women.
Our large online community is free to join and we offer you a range of travel resources, including our private Facebook group where you can connect with other women who are also planning trips for singles over 50.
If you would rather join a group trip for women by women, and are passionate about female empowerment or are a feminist yourself, our tours are perfect for you.
All of our experiences are immersive, premium, well-planned and female powered. We support women at the destinations we visit and give them employment opportunities they would not otherwise have so we can make the travel industry more equitable for women.
Most of our guests are between the ages of 30 and 60 and we have a lot of women over 50 joining us for the trip they have always dreamed of taking and have finally decided to embark on. If you are looking for great vacation spots for singles over 50, our trips are for you.
Make new friends, find a travel buddy, mingle with like minded women in a similar stage of your life and with older and younger women who love to travel and are passionate about female empowerment and help make the travel industry better.
You can find more about our destinations in our tours page.
Most popular tours: Greece island hopping and Tanzania safari + Zanzibar
Other destinations include: Iceland, Morocco, Greece, Barcelona & Costa Brava, Tuscany, Amalfi Coast, Venice, Tanzania, Kilimanjaro, Cuba, Egypt, Croatia & Montenegro, Oaxaca
Budget: Premium
Women Traveling Together


At 50, it might get difficult to find more people sharing the same passion for travel as you, and if that is your case and you are tired of traveling solo or not having friends with the same interests, know you are not alone
Women Traveling Together was created by a woman who, just like you, desperately wanted to travel more but didn't want to do it by herself or go as a single woman on tours designed for couples so they came about as an alternative single travel group for over 50s.
If you enjoy hiking and exploring you can check out their most popular tours which include exploring Utah's national parks and trekking through the Himalayas.
The group is committed to creating a safe and enjoyable travel experience for women, no matter their age or background. They offer vacation spots for singles over 50 who are nimble and active, so flexibility, going with the flow and rolling up sleeves is part of their philosophy.
Most popular tour: Highlights of Italy
Other destinations include: Hawaii, Portugal, Ireland, Jordan, Israel and more.
Budget: Affordable
Adventures in Good Company


Adventures in Good Company is geared towards women over 50 who want to release their adventurous side and explore new destinations while feeling comfortable and secure in a like-minded community.
Most of their tours include activities such as hiking, paddling and rafting and clearly marked activity levels so you can choose the one you feel most comfortable with.
They offer a variety of tours that go from hiking in Yosemite and the Grand Canyon to women-only cultural tours to Morocco, Peru and Bhutan and adventure travel to destinations like Patagonia and Iceland. They love to plan their tours around the best time to explore and have fun in each destination. So you can enjoy a trip to Europe during spring or fall; take on a summer challenge by going hiking or escape the winter chill, with one of their warm-weather getaways.
All tours are led by experienced guides that prioritize fun, safety and personal growth for all the participants. Apart from this, they are committed to environmental responsibility and they strive to minimize the impact of their trips in all the places they visit.
The Women's Travel Group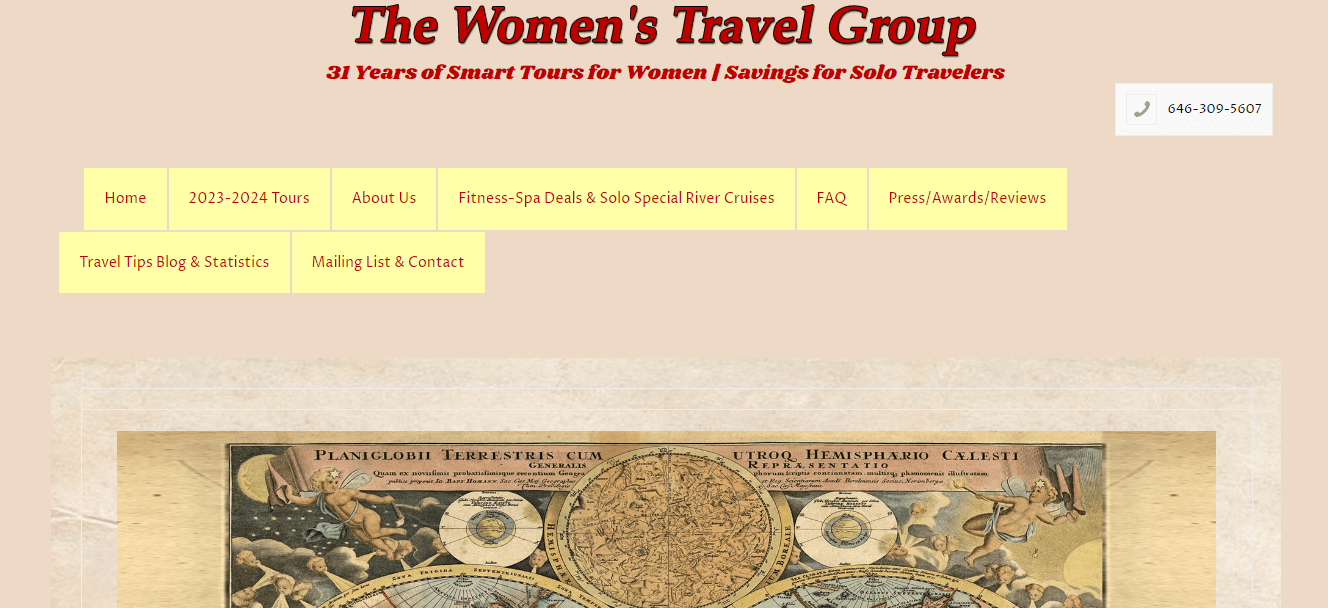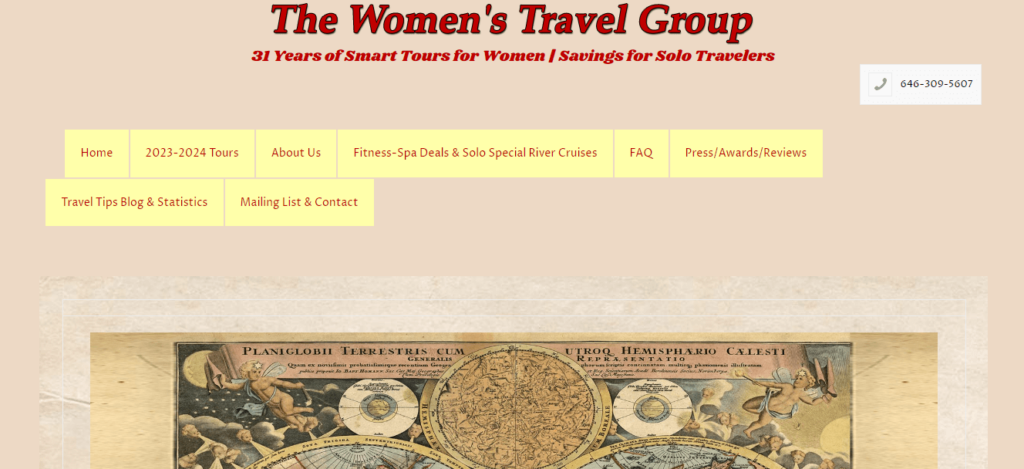 Women's Travel Group has been around since the 1990s and offers all inclusive vacations to lesser known destinations in small groups of maximum 10-15 women, so you can get to know everyone and enjoy a more intimate travel experience.
They are also known for going expertly planned and led by women who are passionate about travel and sharing their knowledge and experiences with others.
Selected solo mixed travel groups for singles over 50
Mixed travel groups are also a great idea if you are looking for a fun and safe environment and for meeting people from all over the world with different backgrounds but with the same passion for travel as you (potential lifelong friends!).
These, just like female only tours, also have well-planned itineraries that allow you to make the most out of your trip and will be attended to by singles over 50, couples and even families. You could perhaps meet the life partner of your dreams!
Overseas Adventure Travel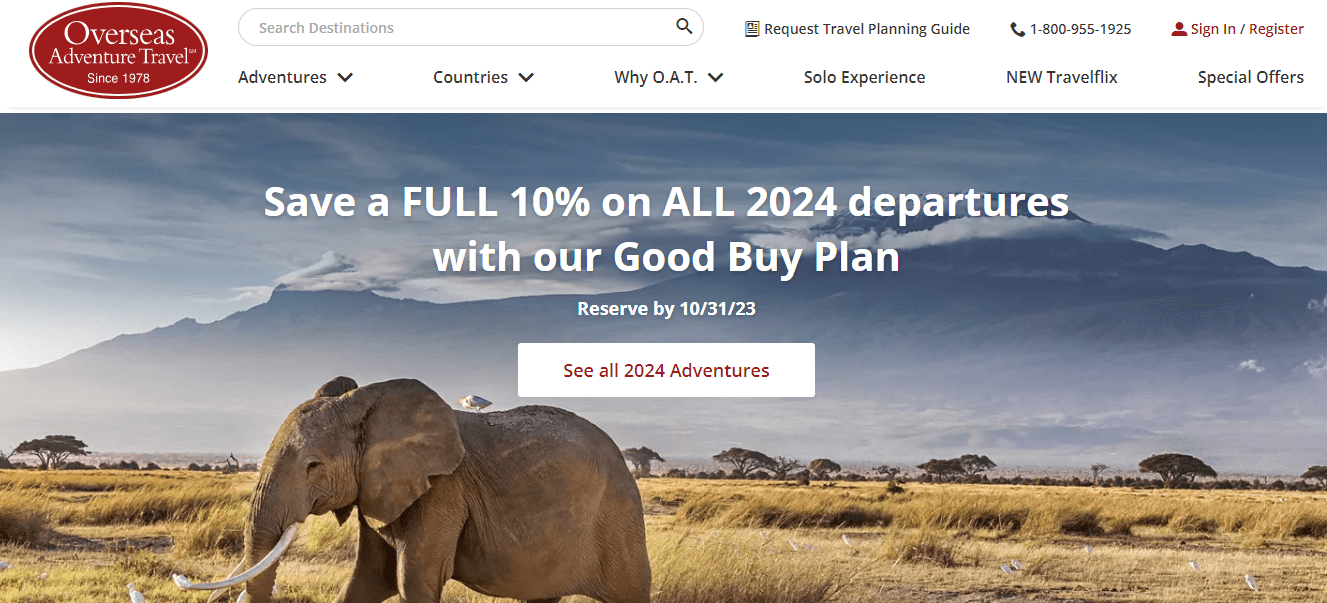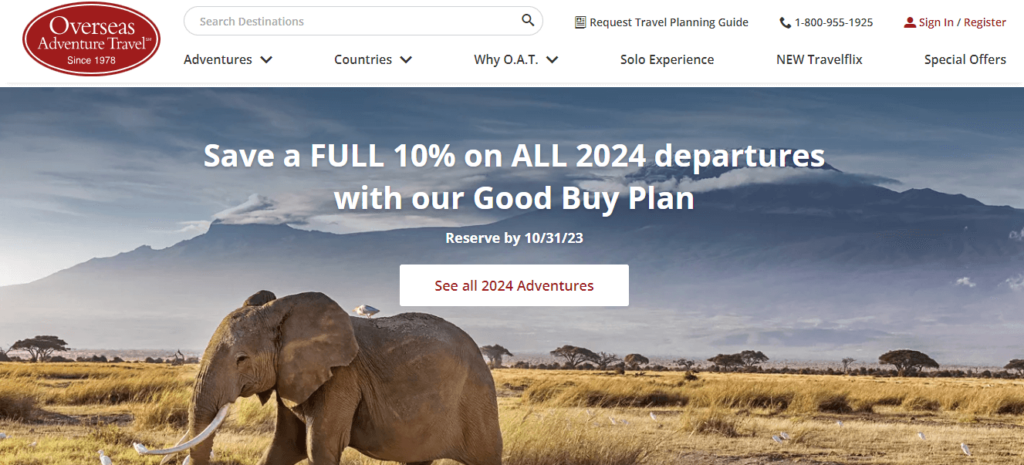 Overseas Adventure Travel (OAT) started off as a group tour company for retired individuals and focuses on holidays for solo travelers over 50.
Tours focus on cultural immersion, and favor education and learning over more active endeavors, in destinations across the world. The travel pace is slower and unlike other small group tour companies on this list OAT's groups are larger and can go up to 20 participants.
Although most of their tours are on the slower pace side, they also have active vacation spots for singles over 50 who still want to hike, climb or join other adventure travel activities.
OAT's women-only tours are exclusively for female travelers and focus on learning more about a destination through the female lens. They also include several single rooms so you don't have to come with a friend and otherwise offer a travel partner marching program to find you a roommate.
Most popular tour: Sicily's Ancient Landscapes
Other destinations include: Morocco, Zambia, Botswana, Turkey, England, and more.
Budget: Moderate
Trafalgar


Trafalgar has been in the industry for over 70 years, specializing in creating authentic travel experiences that will allow you to get immersed in the destination's local culture and history.
From food and wine tours to adventure and wildlife experiences, Trafalgar has something for every taste and interest and it's a great choice for a single woman traveler over 50 to take on a holiday.
Most popular tour: Best of Italy
Other destinations include: Spain, Greece, South Africa, New Zealand and many more.
Budget: Moderate to Premium
G Adventures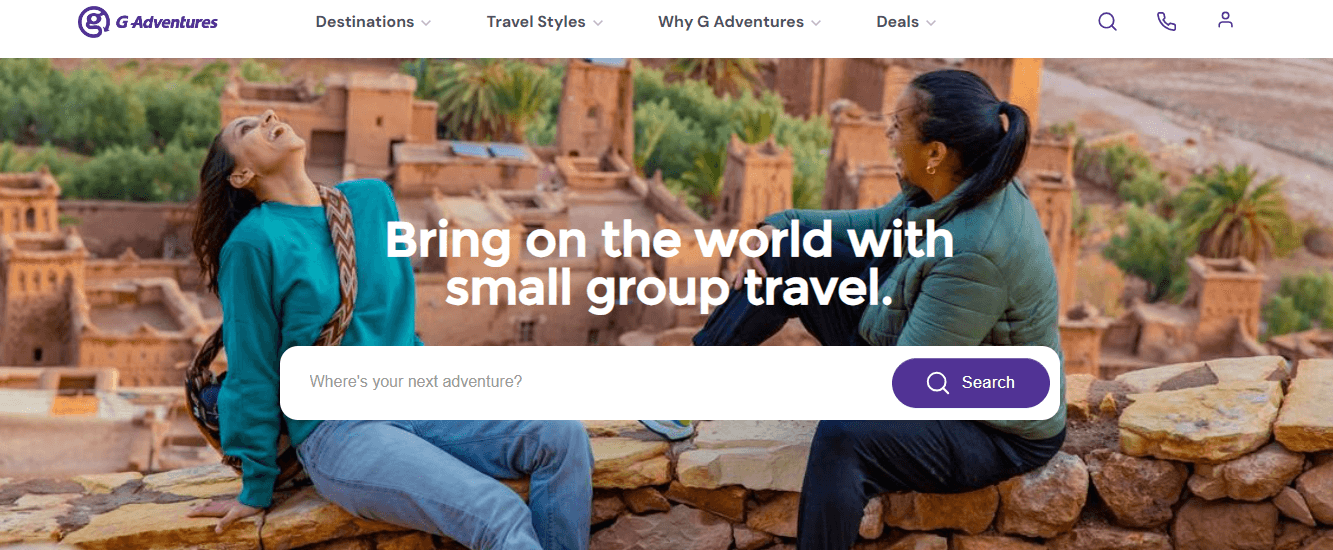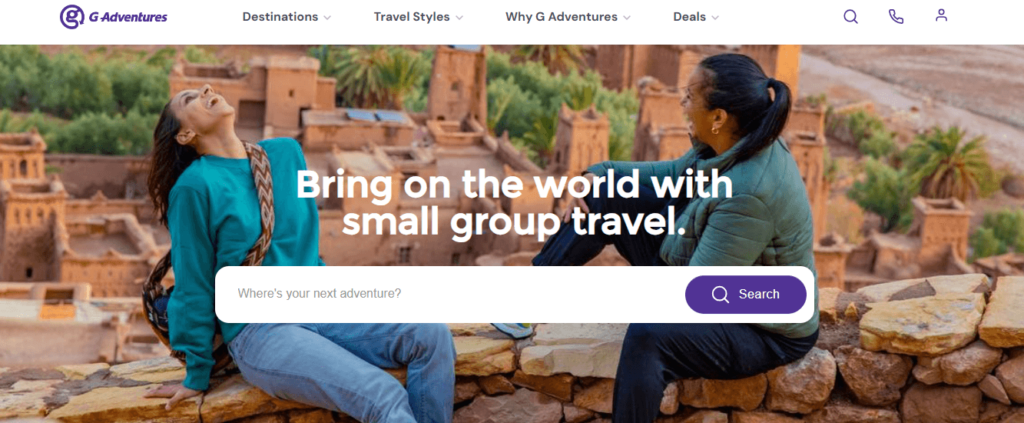 G Adventures is one of the oldest small group travel companies and offers group tours to many destinations around the world with group sizes of maximum 16 travelers.
With over 30 years working in sustainable and responsible tourism, G Adventures offers tours that are both socially and environmentally conscious with an emphasis on immersive experiences.
Their tours span across all seven continents, including remote and off-the-beaten-path destinations. They have various types of tours depending on your interest, from more comfortable ones in collaboration with National Geographic, to family-themed ones and active trips.
Most popular tour: Inca Trail Trek or anywhere in Peru which is where the company got started
Other destinations include: Colombia, Costa Rica, Galapagos, Vietnam, Cambodia, Morocco, and many more.
Budget: From affordable to higher end
Gate 1


You should consider Gate 1 Travel if you are looking for a no-frills affordable small group tour company that takes you places and offers a lot of free time to do what you want at each stop.
They provide a skeleton itinerary you can add optional activities to, making it an affordable and personalized option for solo travelers and this is why they get often recommended by our members for a vacation idea for women over 50 who want to be taken places but given free of choice.
They offer a wide variety of tours including escorted, independent, and river cruises. While other tour groups have a limited number of destinations, Gate 1 travels across six continents with over 75 countries to choose from, providing an excellent opportunity to explore new countries.
Most popular tour: Classic Israel
Other destinations include: Italy, Spain, Portugal, Egypt, Peru, China, etc.
Budget: Budget, with typically minimal inclusions and the option to customize your trip with add-ons
Road Scholar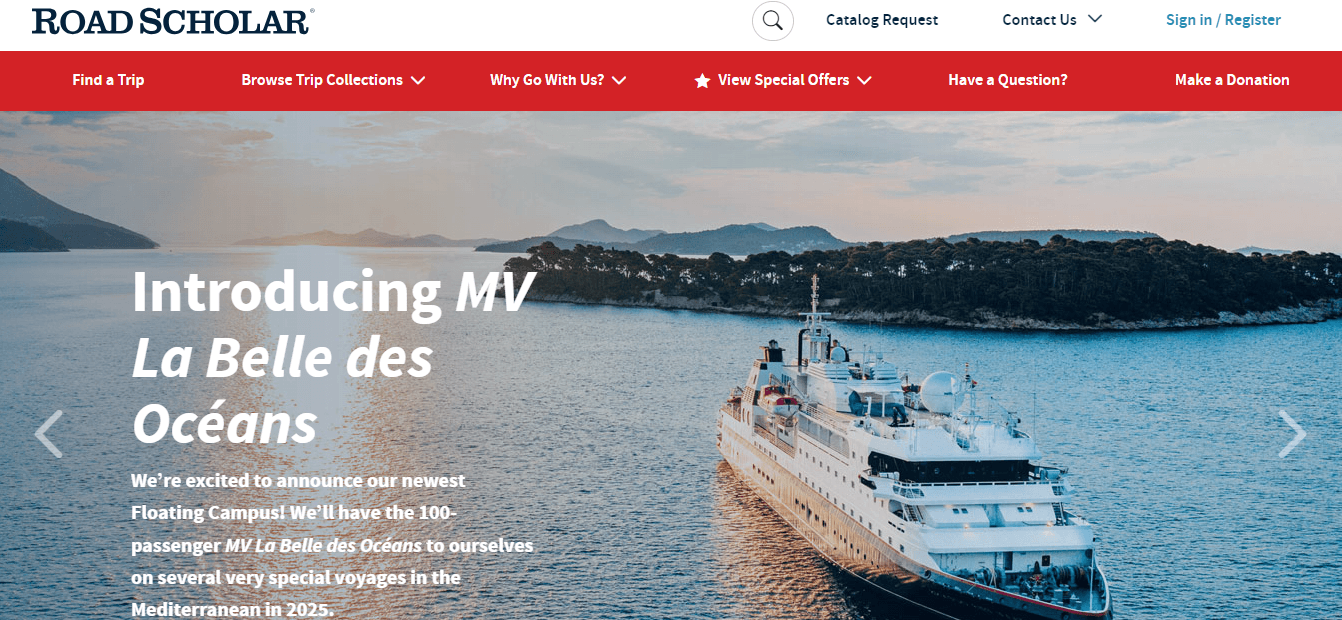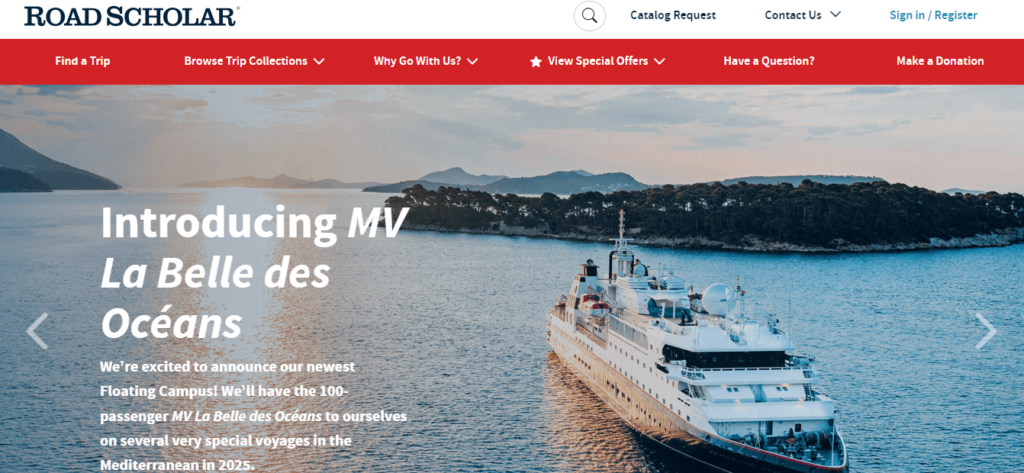 If you want to splurge a little bit and pamper yourself with a higher-end vacation that is all about knowledge and history, Road Scholar is the ideal choice.
With over 45 years of experience, Road Scholar offers educational and cultural tours that focus on intellectual stimulation and personal growth.
Their tours travel across all seven continents, including destinations that are rich in history, art, and culture. By taking part in these tours, you get to participate in unique and enriching activities such as language classes, cooking lessons, and cultural exchanges.
Most popular tour: Living and Learning in Provence
Other destinations include: Iceland, Costa Rica, Machu Picchu, Panama Canal, and many more.
Budget: Higher-end
Life-changing holidays for single women over 50
As a single woman over 50, taking on life-changing vacation such as hiking a mountain, going on a safari or taking a train tour through a country, can provide a renewed sense of purpose, adventure, and self-discovery.
These bucket list experiences not only allow you to push yourself out of your comfort zone but also provide an opportunity to see the world in a new light and make lifelong dreams come true.
You are at a point in your life where you can fully appreciate the value of investing in yourself and your personal growth and taking these challenges can also inspire and empower other women to pursue their passions and dreams.
Plus, for many of our guests who are over 50, these unique experiences are the right amount of inspiration and renewed sense of self they needed after years as a mother or as an employee in an unfulfilling job.
But you don't have to be going through a midlife crisis to consider such holiday ideas, many of our guests also seek life changing holidays to live life to the fullest at every point.
Climb Kilimanjaro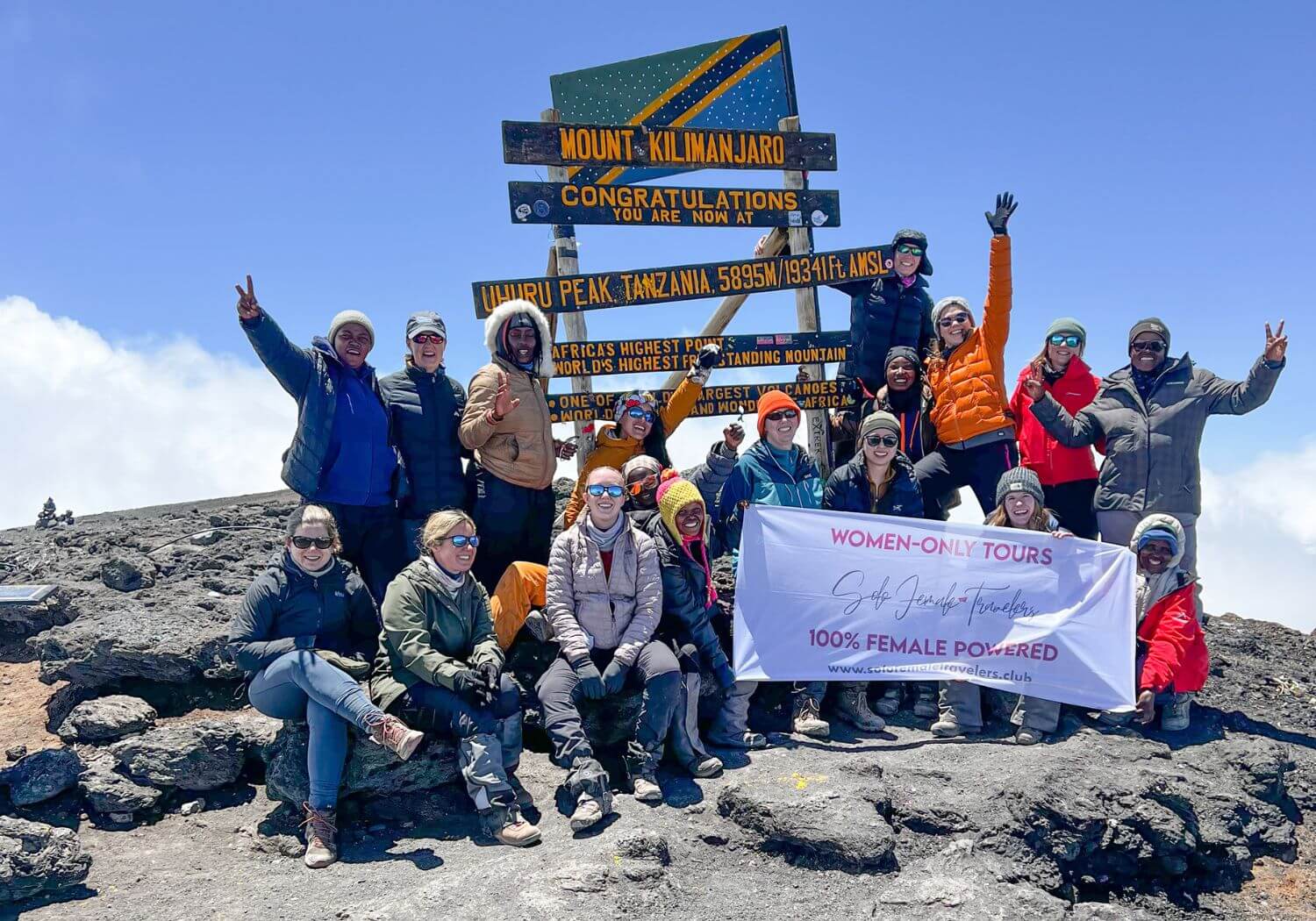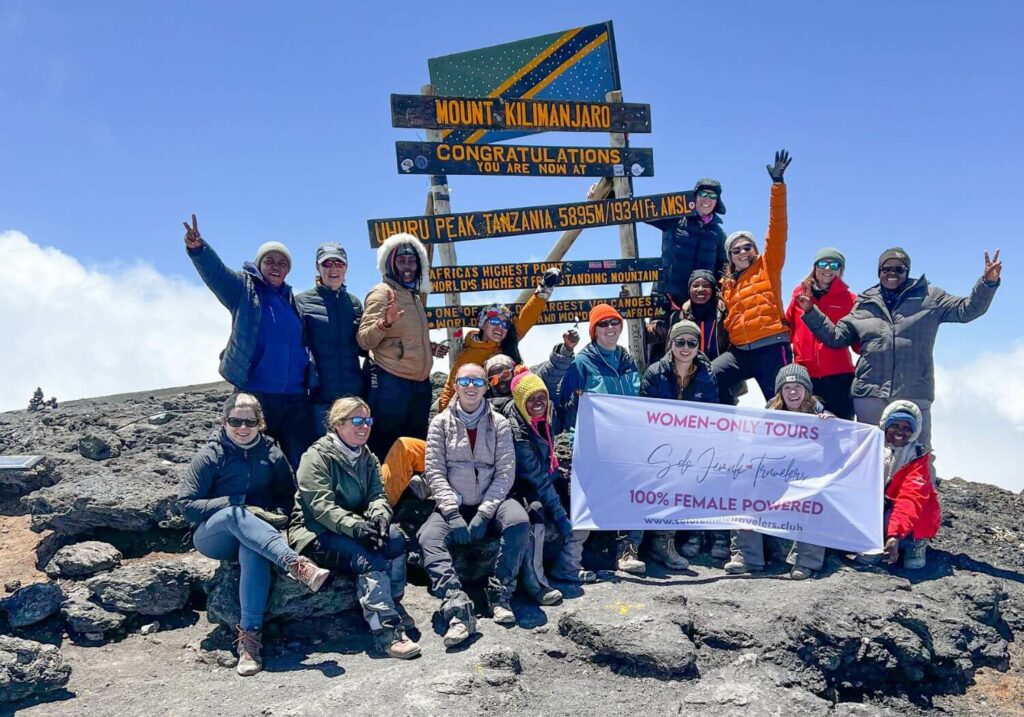 Nothing screams achievement louder than climbing a tall mountain. If you are looking to challenge yourself and set a big goal and then smash it, Kilimanjaro is perfect for you.
The tallest mountain in Africa combines the physical challenge of climbing the world's highest free-standing mountain, with the opportunity to continue with a relaxing and awe-inspiring safari experience or a few nights in Zanzibar.
You can make this experience extra special if you pair it with a fund raiser or join our all-female team of hikers, porters and guides and help support women in Tanzania with opportunities.
Our Kilimanjaro Climb + Safari Tour is a once-in-a-lifetime adventure that contributes to creating employment and providing training to female guides in the country. We dedicate a part of the proceeds to getting more women certified and then provide them on the job training by hiring them for our hikes.
The tour is led by our local female guide, who ensures the safety and success of the climb, and a supportive group of female guides and a majority of female porters. We are the only company that takes guests to the top of Kili with an all female team.
If climbing Kilimanjaro in a mixed group was a transformative experience, imagine the power of an all-female group and the sense of accomplishment and personal growth you will feel when you reach the summit.
As some of our guests put it:
"If you are looking for a life altering experience, check out the Tanzania Kilimanjaro Climb, and book it through Solo Female Travelers Club. I know my life and how I live it from now on will never be the same." Robin, Kilimanjaro International Women's Day Climb 2023.
Why should you consider hiking Kilimanjaro: Climbing a mountain is a really powerful way to build and grow your self-confidence. By doing so in an all-female team, you will also contribute to making the travel industry in Tanzania more equitable. Our guests support and encourage each other as they share a common goal of women helping women reach the top.
Make it happen:
We climb Kilimanjaro in the summer and for International Women's Day every year. You can book your spot here.
Camino de Santiago Walking Tour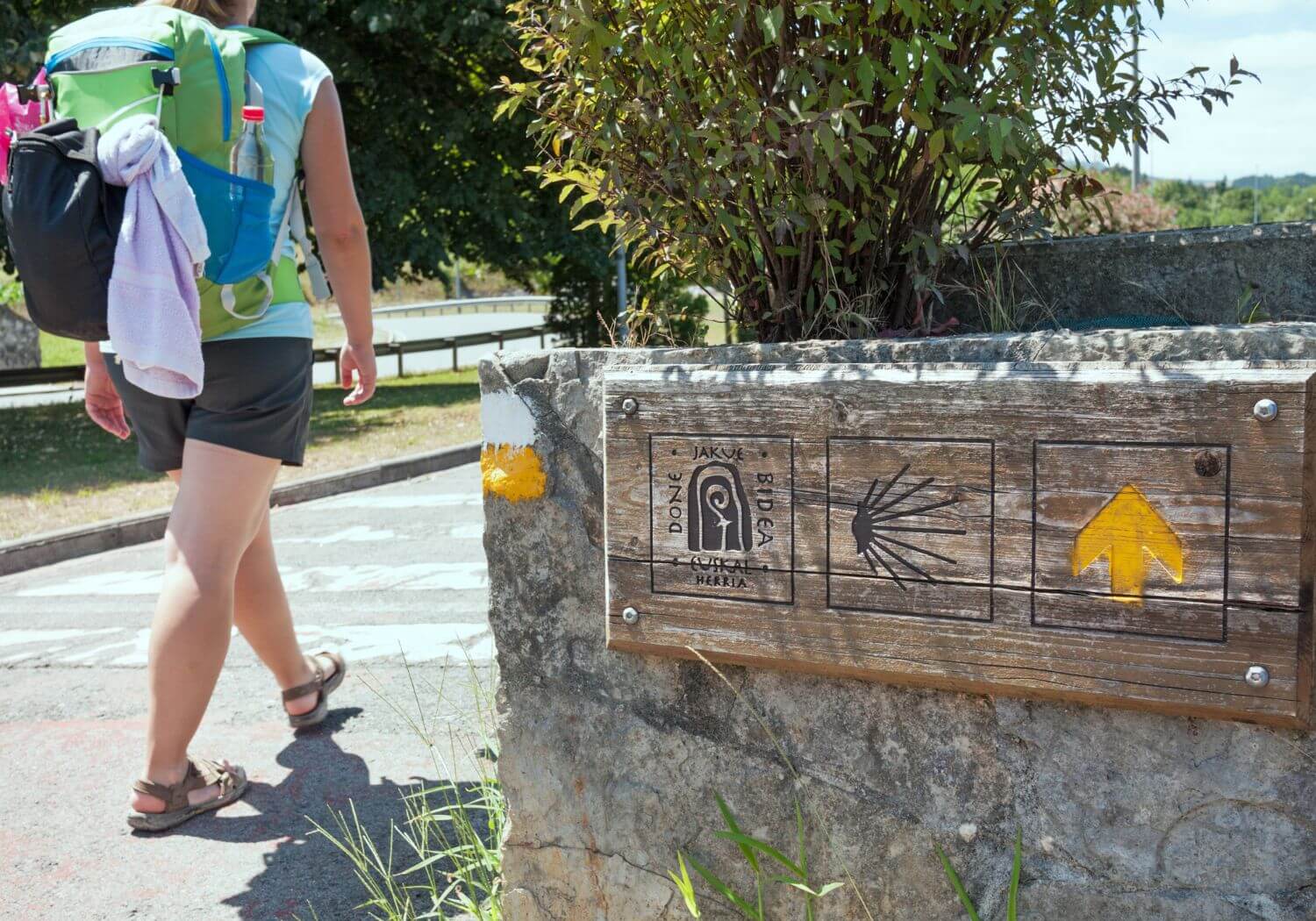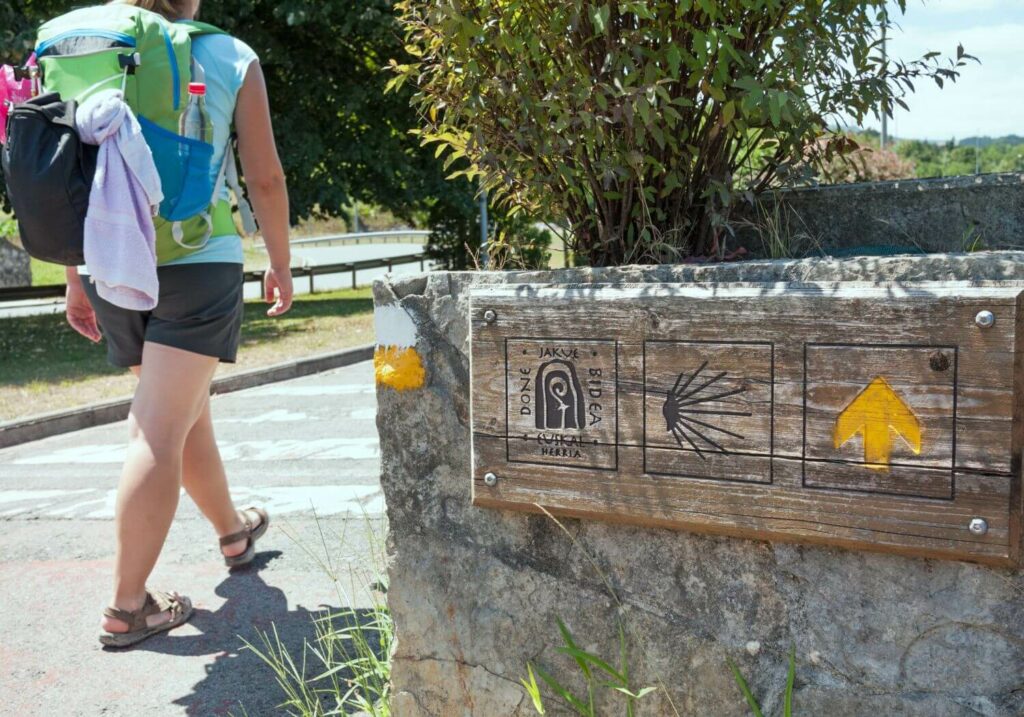 If you are looking for an active and spiritual adventure as a traveler over 50, El Camino de Santiago is a must-do.
This historic pilgrimage route starts in France and runs through Spain's northern regions. Over 300,000 travelers embark on this journey every year, and pilgrims have been doing so for over 1,000 years!
You can start your journey in different locations, but the most popular starting point is in a small town called St. Jean Pied de Port in France. From there, you'll walk about 800 kilometers to the city of Santiago de Compostela in Spain, where St. James the Apostle's remains are said to be buried.
The walk usually takes around 4-6 weeks and you'll walk an average of 20-25 kilometers per day. Despite the physical resilience required, the average age of the pilgrims is closer to 60 than it is to 20.
Every day, you'll wake up early, put on your backpack, and start walking. Walking for so many hours, mostly on your own, provides an intense opportunity for self-reflection as well as the chance to connect with other travelers from around the world. And of course, you get to experience the beautiful landscapes, charming villages, and stunning architecture, which make this an unforgettable experience.
As this is a developed walking route, there are plenty of places to sleep along the way, including hostels and guesthouses.
Why should you consider El Camino: It's an unforgettable experience that offers a unique opportunity for self-discovery and personal growth. For pilgrims who make up about a third of the walkers, El Camino is a profound spiritual experience to walk their faith and get closer to God.
Make it happen: Check out tour companies such as Camino Ways which offer guided tours, plus you can choose the length and difficulty level of your trek.
Inka Trail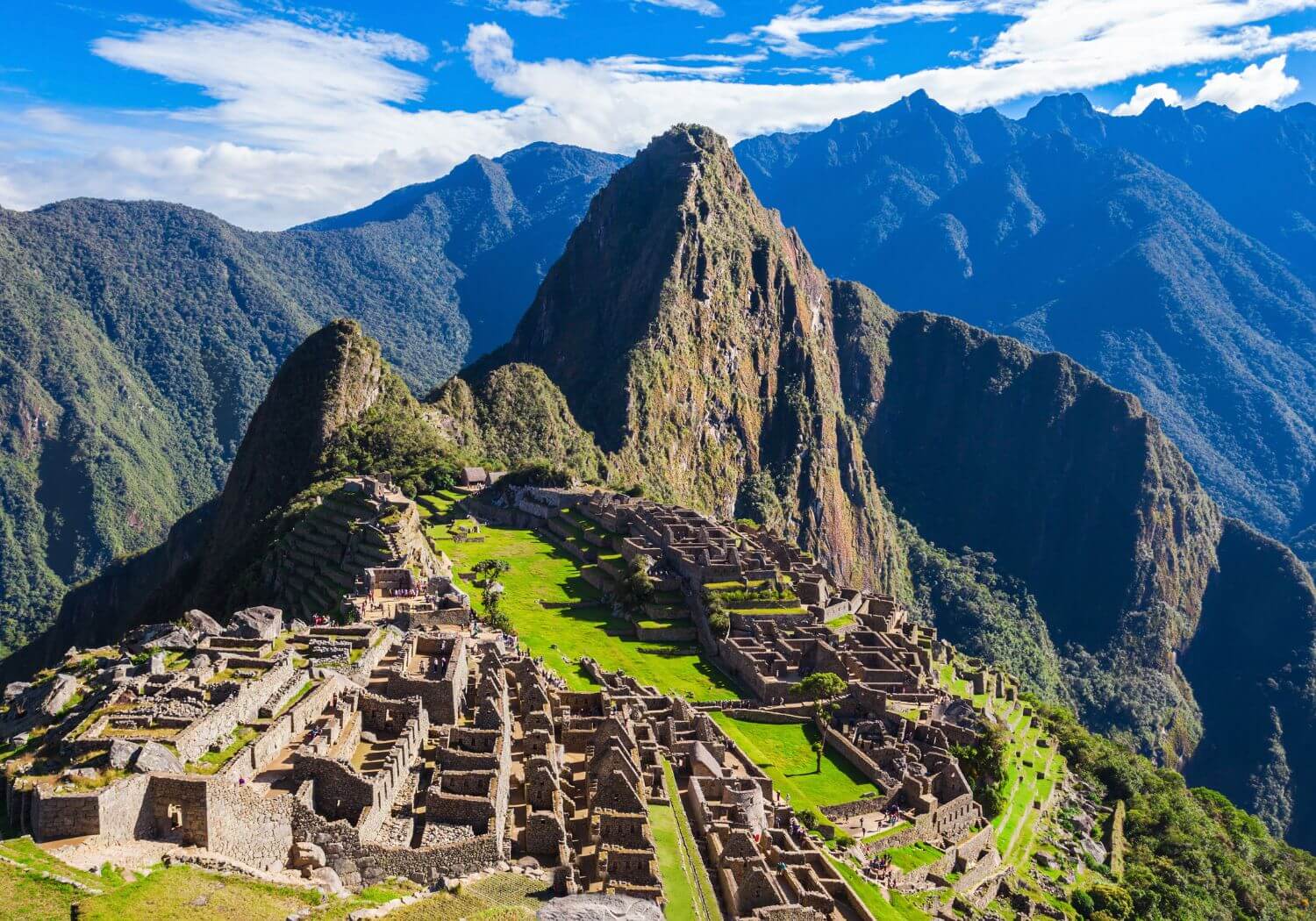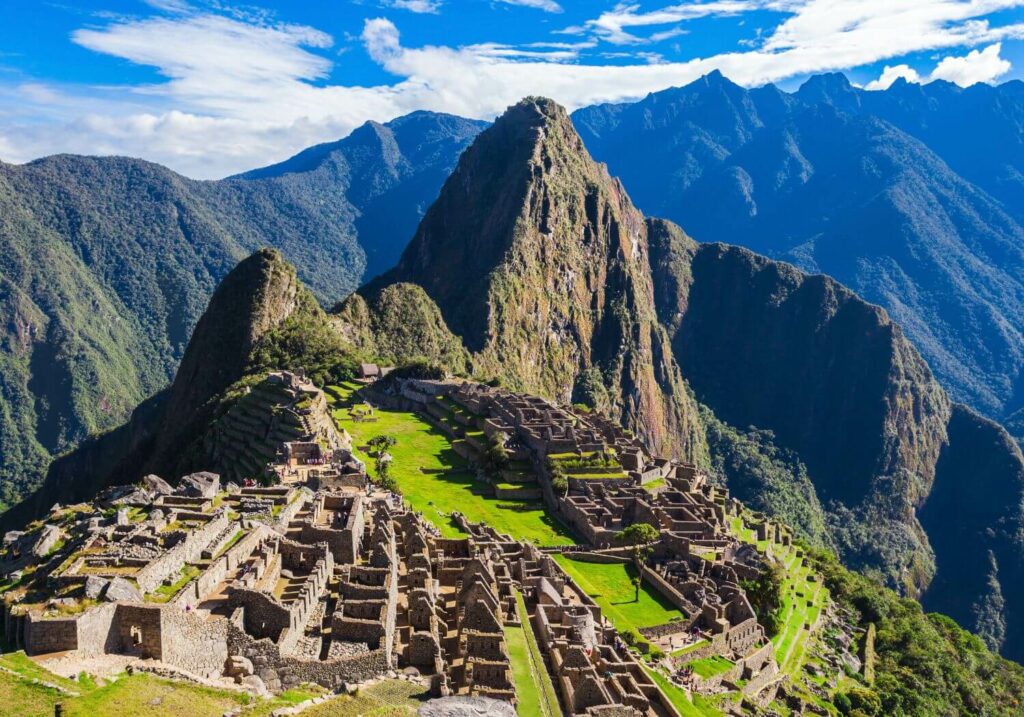 Who would want to miss the chance to explore the fascinating culture and history of Peru and its Inca civilization and the iconic Machu Picchu, one of the new 7 wonders of the world?
The Inca Trail trek is a 2 -5 days journey through the Andean Mountains that covers a distance of approximately 43 kilometers, with an altitude that starts at 2,800 meters and peaks at 4,215 meters at the famous Dead Woman's pass.
Along the way, you'll see breathtaking views of snow-capped mountains and ancient Incan ruins, including the iconic Machu Picchu.
The trek is physically demanding, however you can choose the intensity level in which you want to do it and the route, all of which offer the same stunning landscapes.
Why should you consider the Inca Trail: By embarking on this trek, you'll not only challenge yourself physically, but you'll also gain a deeper appreciation for the majesty of nature and past civilization's history. This is one of those vacation spots for singles over 50 that provides a life changing perspective on life and the opportunity to know just how strong you are.
Make it happen: Our group member Akky personally recommends Exodus Travels, as she says "it was a mind blowing experience, from the food, to the staff and the whole trek, it was out of this world".
A Ranch Vacation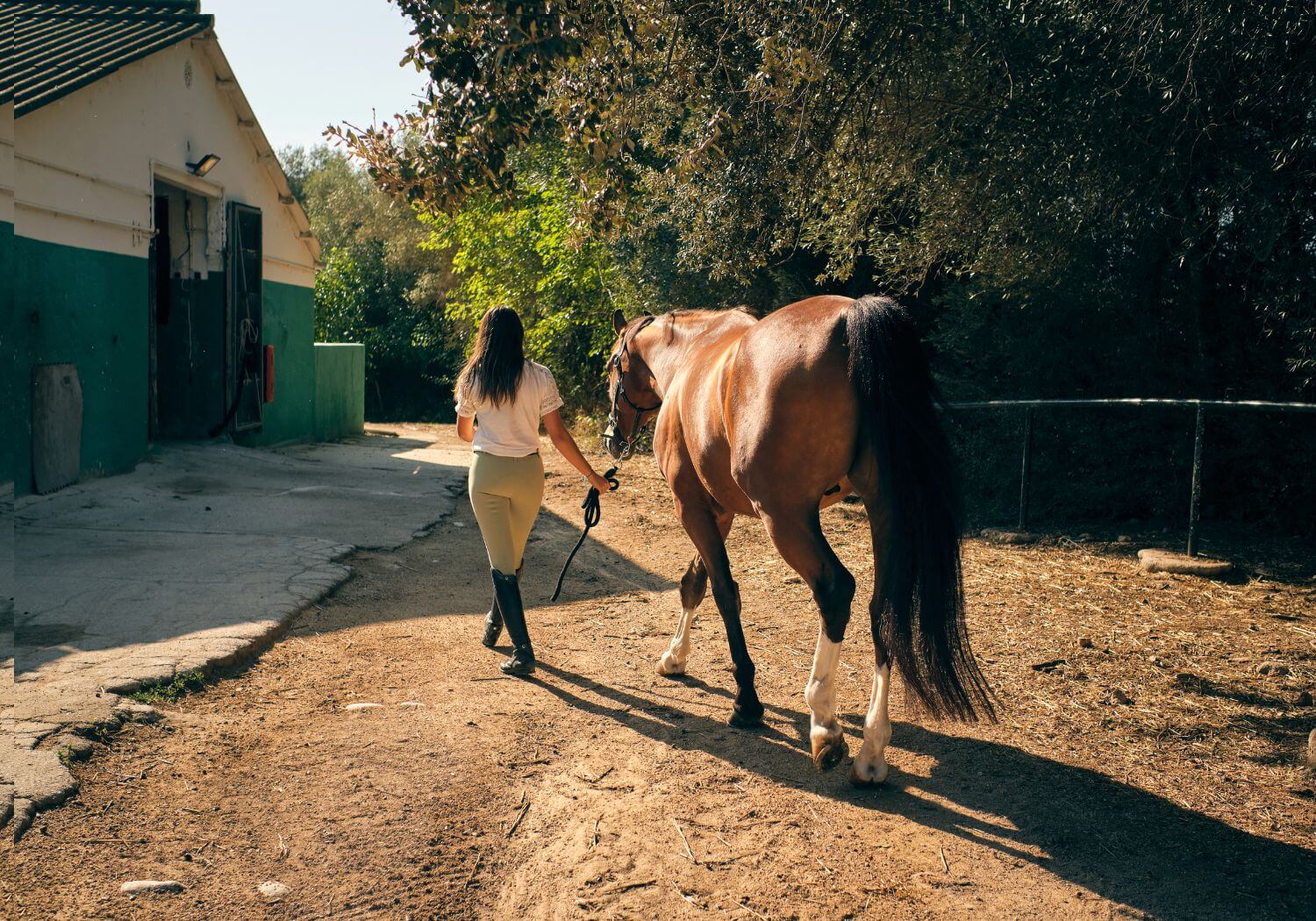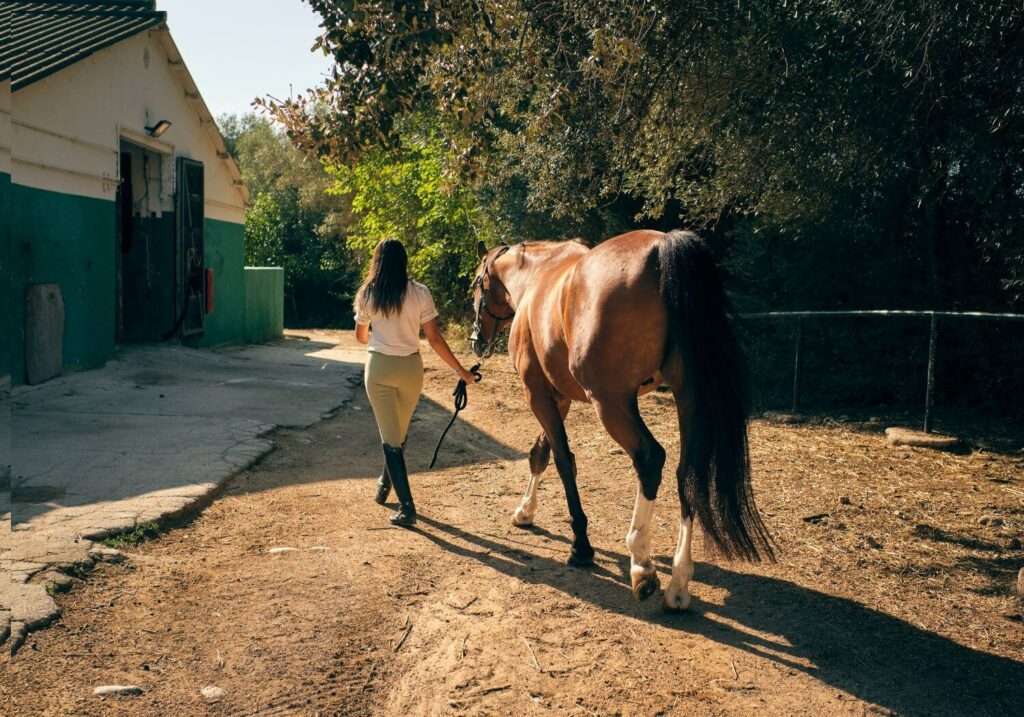 Want more holiday ideas for single women over 50?
Have you ever thought of a ranch vacation?
This is a lesser known holiday option for singles over 50 looking for a unique and rejuvenating experience out in nature and with animals. It is the type of holiday where you get to experience a simpler and slower pace of life that is more grounded and less attached to technology and where you disconnect from daily stresses, noise and routine.
Some ranch vacations are called "dude ranches" and generally involve outdoorsy activities such as horseback riding, cattle driving, fishing, hiking, etc. and are geared towards preserving this way of life.
The busy but more relaxed pace of life of a ranch, where you get to work with animals and with your hands, provides a much needed opportunity for rest and relaxation to those used to living in crowded, stressful and demanding urban centers.
Ranch holidays make for a perfect vacation for singles over 50 because the activities are with animals and inherently individualistic.
The most popular option is the classic western ranch vacation, where you can experience the cowboy lifestyle, including cattle drives and rodeos in ranches across the western US and Canada regions.
Some of our group members especially recommend Wyoming, which is home to excellent choices like Goosewing Ranch, where you can awaken your inner child with activities such as skeet shooting.
As ranch vacations become more popular, some of them have started to offer women-centric programs, don't get deterred by the masculine image that ranches bring!
Why should you consider a ranch vacation: Human-animal interaction has been proven to be beneficial to our health and a ranch vacation is as close as you'll get to interacting with animals on your holiday. Add to that the beautiful landscapes and you have just the right break from a stressful life.
Make it happen: Whether you are a professional equestrian or a novice rider, there are ranch vacations that cater to every level. Check them out here.
A Culinary Trip for Singles over 50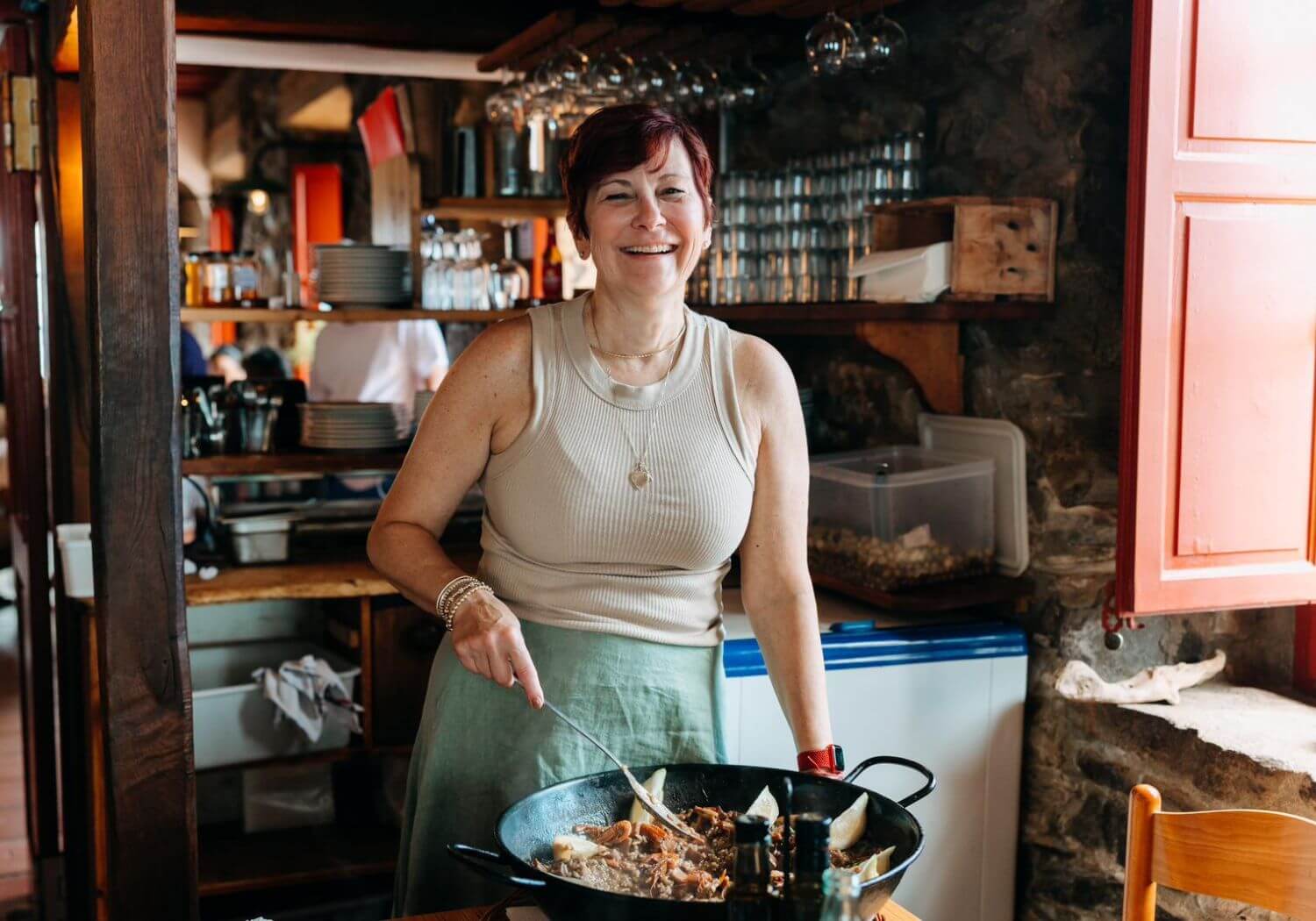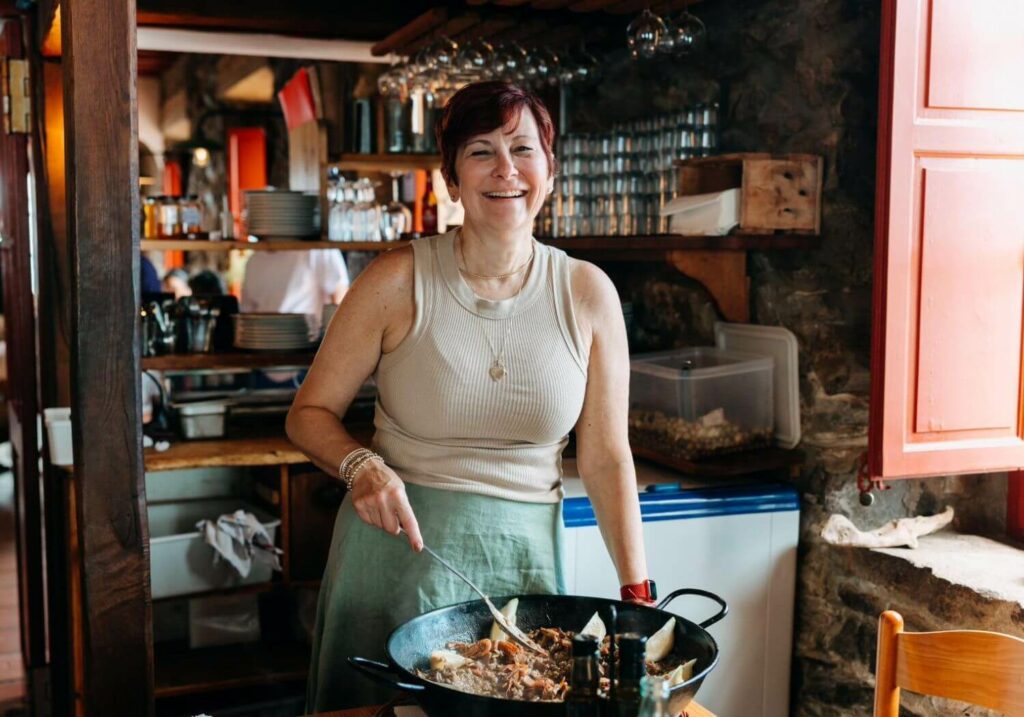 Who wouldn't be happy on any holiday that includes food and wine? There is always a lot of laughter, some blunders and less than edible creations, ideas being exchanged and even dancing and singing, at least on our tour to Tuscany!
While this is a holiday that is good at any age, as you get older, you may become more aware about the impact that food and nutrition has on your health and body and be more interested in making sure that your diet makes you feel better and not worse.
While we all know that a home-cooked meal is better than a restaurant one, even if you could eat Michelin-starred meals every day, time is always a limiting factor. With age typically comes more time, which is why we think this is a fantastic holiday idea for those over 50.
If you were never adept in the kitchen, or if you were and would love to expand your knowledge, a culinary vacation is a wonderful way to do just that while also learning about a different culture through its food and traditions.
What is more, a vacation that is focused on cooking and food is also a great way to stimulate your creativity and meet other travelers with your same interest while sharing wonderful meals you created.
And let's be honest, a food and wine focused trip is bound to have a lot of laughter and be fun too!
Why should you consider a culinary vacation: Exploring the culinary world of Greece can be an incredibly rewarding experience. A tasty and informative way of exploring the city, getting new cooking skills and interacting with locals in a meaningful way.
Make it happen: Tripaneer offers an 8 day Greek Culinary Holiday on Syros Island. With great reviews from their previous customers, this is your chance to take on a whole different and tasty type of holiday.
Luxury Train Trip through India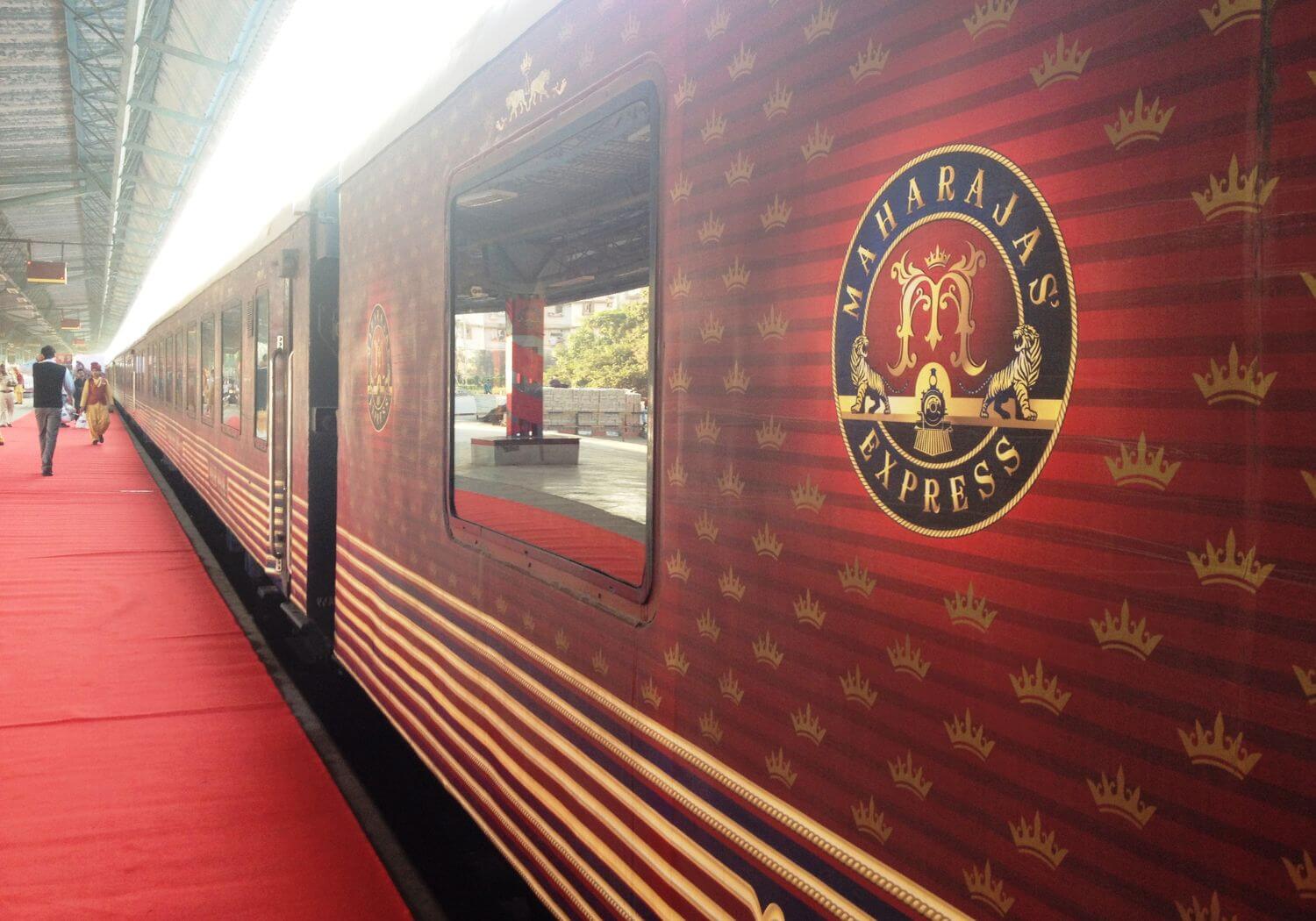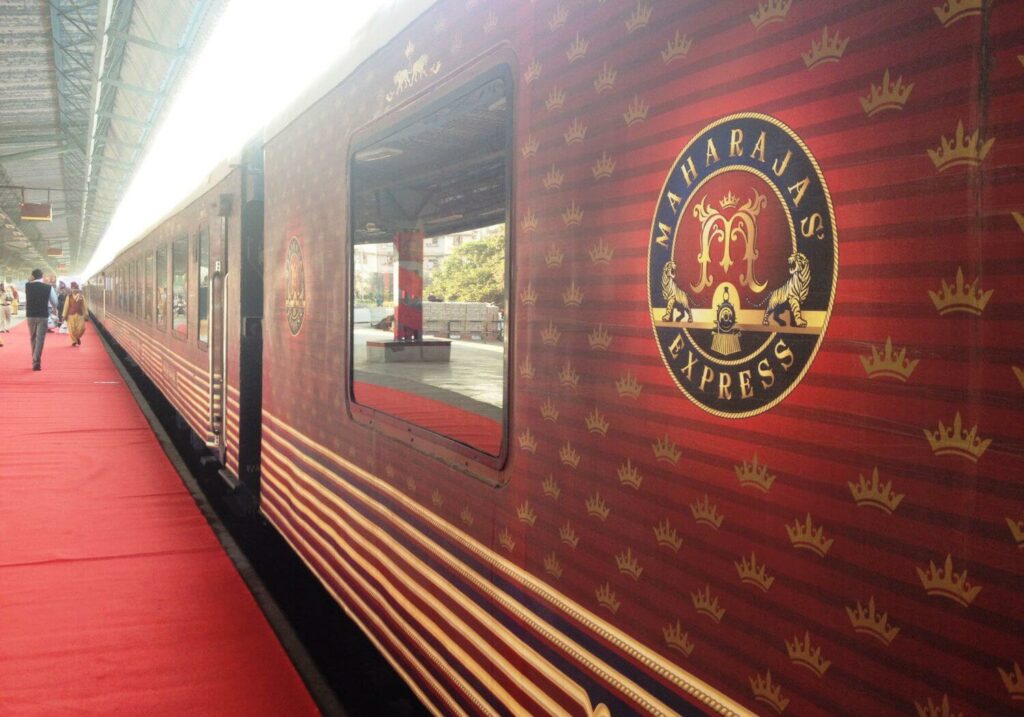 Here is a holiday suggestion you probably haven't heard of before: Admiring the beauty of India onboard a luxury vintage train from the time of the Raj.
There are many luxury trains operating across India. Some of them were used by the British and Indian royalty and their rulers to move about the country during colonial times. With independence, most of them were nationalized or sold to private enterprises that refurbished them and have continued to use them for private luxury train journeys.
There are several routes available, but I recommend the Mumbai to Delhi (or vice versa) journey onboard the Maharajas Express, which has received numerous recognitions for its services, including the "World's Leading Luxury Train" award at the World Travel Awards for nine consecutive years.
The itinerary stops at all the main highlights of a trip to India such as Mumbai, Jaipur, Jodhpur, Udaipur, Bikaner, the Taj Mahal, Ranthambore National Park and Delhi.
A luxury train trip is the perfect holiday for singles over 50 because it is a safe and comfortable way to see India without having to endure the terrible roads and traffic and the downsides of a road trip, namely the constant packing and unpacking.
Cabins come with double beds and are fully catered by butlers. All meals are included in the price and served at either the train's opulent restaurants or on shore.
There are also several chefs onboard to cook special meals and a doctor ready to attend to a bout of Delhi Belly or other emergency.
All activities are organized and you'll be taken to the main sites on group transfers, with local escorts and guides. The more premium cabins come with their own private guides.
Our co-founder Mar Pages, who loves train travel and has been on several luxury train journeys, very much recommends this trip and had a great time with the unique experiences offered, which are not accessible to regular independent travelers, and the grandeur of the carriages.
Why should you consider a luxury train trip in India: A more relaxed pace of travel, which is perfect for women over 50 looking for a leisurely and immersive experience. Unpack once and only pack again on the last day. Every day, wake up at a new destination without having to take long car rides through India's bumpy roads.
Make it happen: The Indian Splendour itinerary can be booked directly on the Maharajas Express website. Itineraries run from October to April to avoid the summer heat and rain and start at $14,000 per person in a single cabin all inclusive.
Go on safari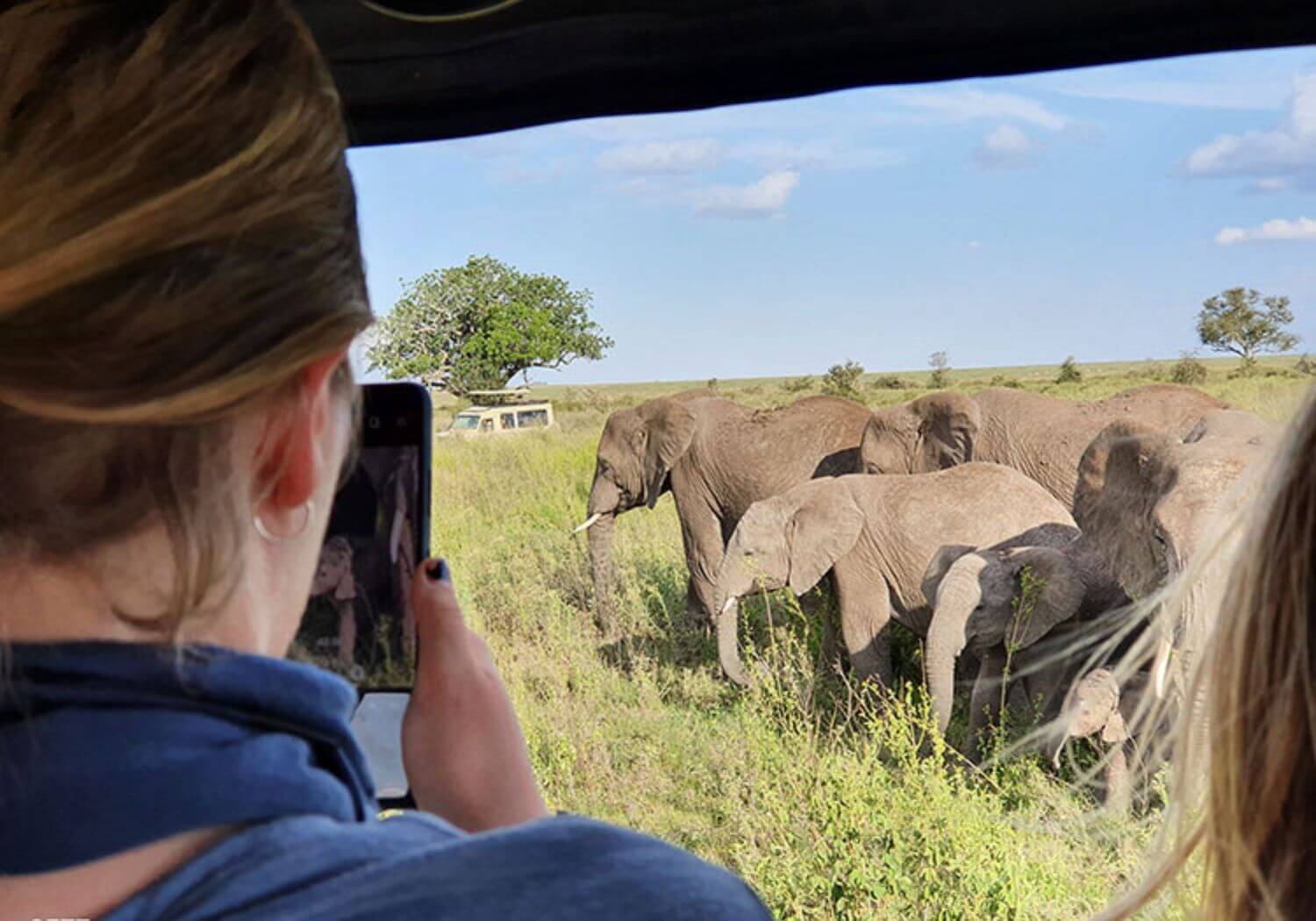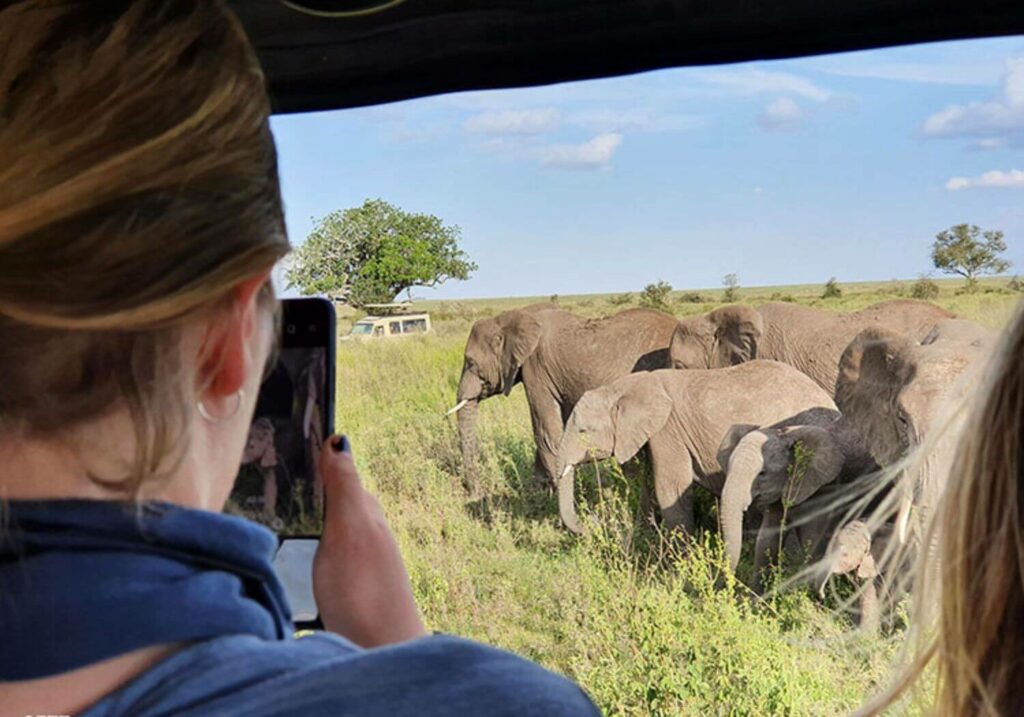 Our list of holiday ideas for single women over 50 could not go on without advising you to: Go on a Safari.
Remember, retirement is not about becoming a boring, stay-at-home person, it's about embracing a new chapter in your life where you can learn new things and explore.
Traveling solo in your 50s gives you the opportunity to take on these life-changing experiences that might have been postponed before because you had nobody to share costs with or couldn't afford it.
Thinking about going to a safari may sound scary. However, I assure you that it's a once-in-a-lifetime adventure that you will enjoy. Let me tell you why: You get to see animals like lions, giraffes, elephants and other incredible creatures in their natural habitat (this is an amazing thing to witness, you feel like in a dream) and also you get to disconnect and enjoy the peace and quiet from nature.
And even if you are on your single travel adventure, you don't have to be alone; you can join other female travelers in this unforgettable adventure, in a group tour. If you are looking for comfort and luxury at once, you can join our Tanzania + Safari Tour. You will enjoy a wild and unique journey. You can also check our Value Tanzania Tour here. The difference between both comes down to the accommodations and inclusions, but the experience is the same:
You will laugh, enjoy, and be forever amazed about this powerful adventure.
Volunteering experiences
When you think of holidays for solo travelers over 50, you may not have "volunteering" as a top of mind, however as we get older, doing good and giving back becomes more important than getting rich, being famous or successful.
From training and upskilling in remote communities to volunteering with animals in wildlife conservation projects or shelters, a volunteering holiday can take many shapes and forms.
Studies have shown that volunteering has positive effects on mental and physical health, making it an excellent choice for single women over 50 looking to enrich the next phase of your life once kids have become fully independent or you have more time on your hands thanks to retirement.
If you volunteer abroad, you will also have the chance to have a unique perspective on a different culture and truly immerse yourself in it.
WWOOF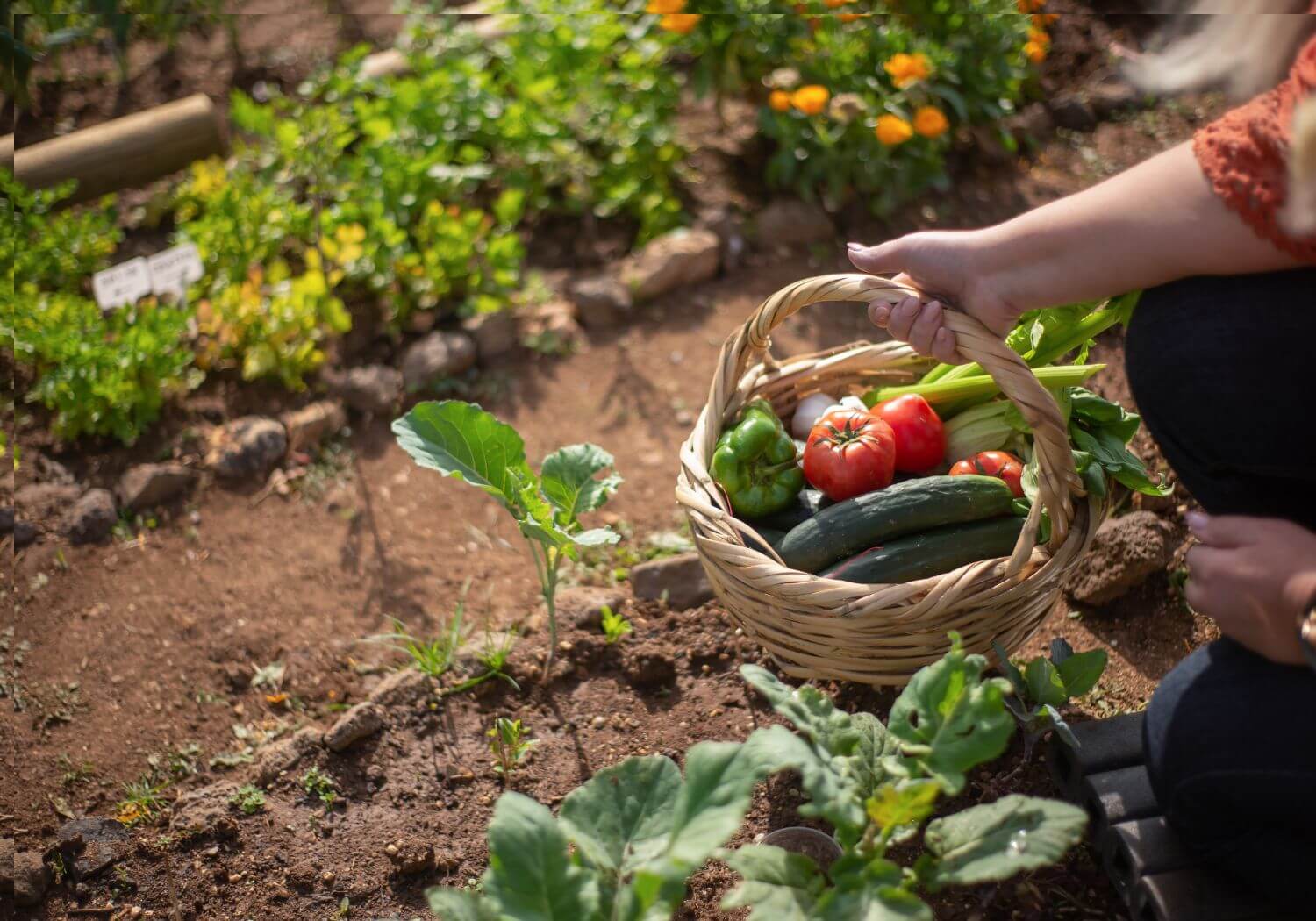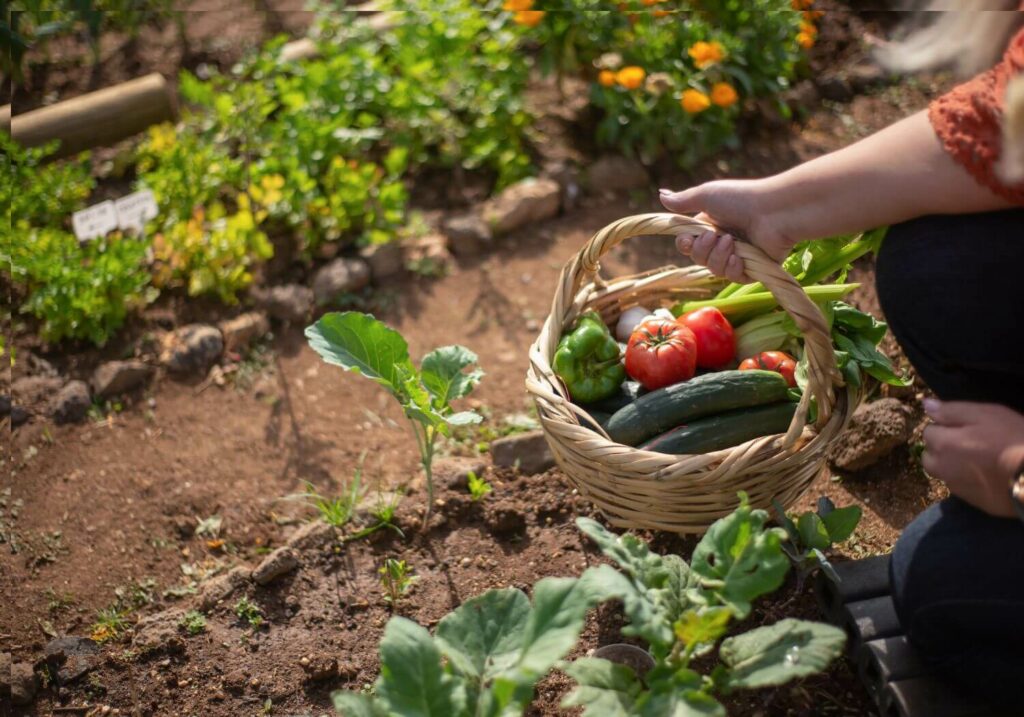 A great option to volunteer on a budget is to do so in exchange for board and maybe some meals through platforms such as Worldwide Opportunities on Organic Farms (WWOOF).
The WWOOF program allows people to volunteer to work on organic farms in exchange for room and board, which is the perfect choice if you are passionate about issues like environmental awareness and sustainability and are looking to make your travels more affordable while learning about farming.
Opportunities vary depending on where and what type of farm you work in and every assignment is different and unique. There are WWOOF programs in many countries around the world each with a range of options.
Your day to day will follow that of the farm you are working in and no two are alike.
Why should you consider WWOOFing: What a better way to learn about organic agriculture than volunteering on a farm and learning where most of the food that is on our table comes from. This is a great opportunity for cultural exchange, experience of rural living and gaining farming and gardening practical skills.
Make it happen: WWOOF hosts people from all over the world and is nationally organized, so first, select the destination you want and then sign up to volunteer with that specific WWOOF group.
Animal sanctuaries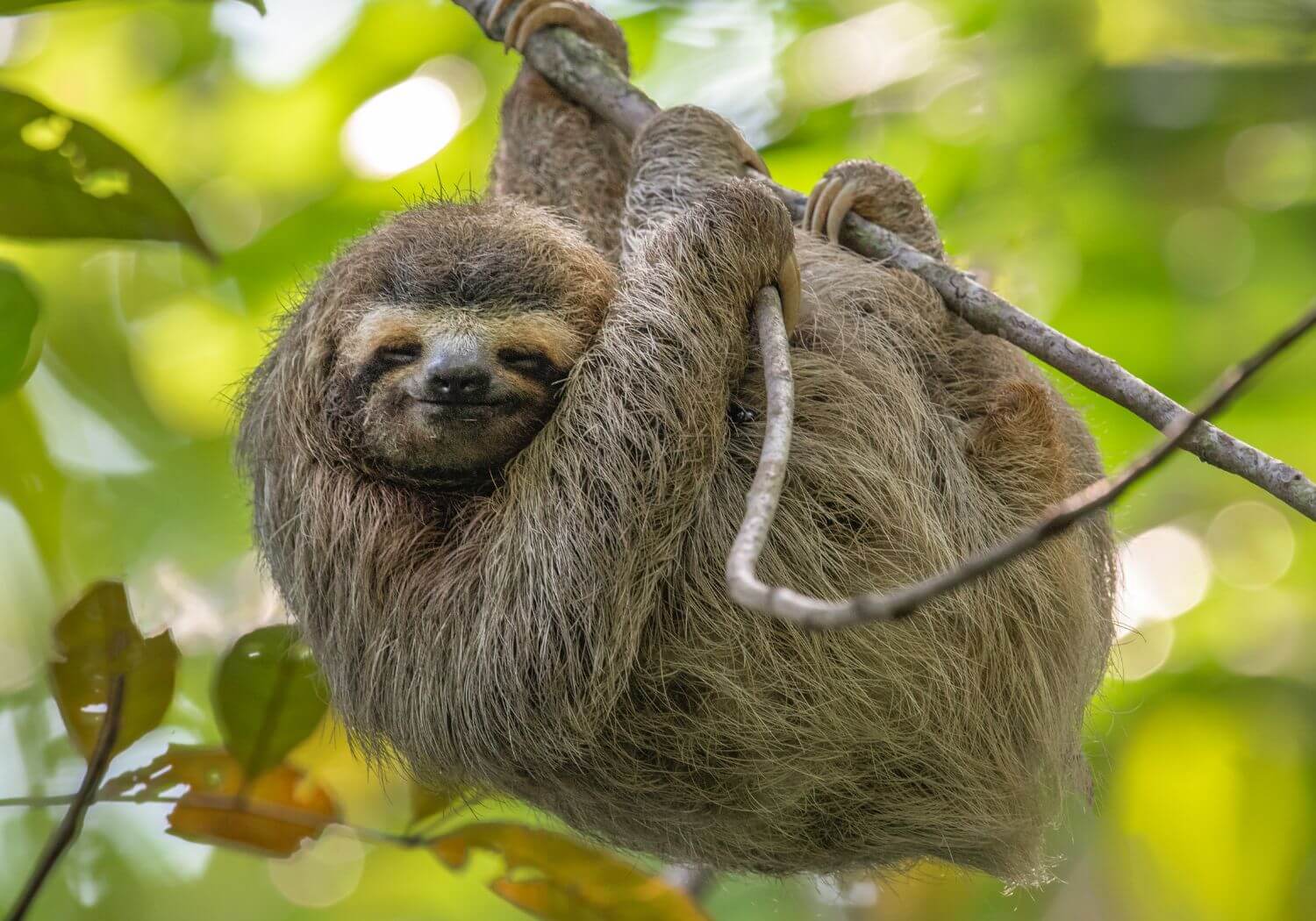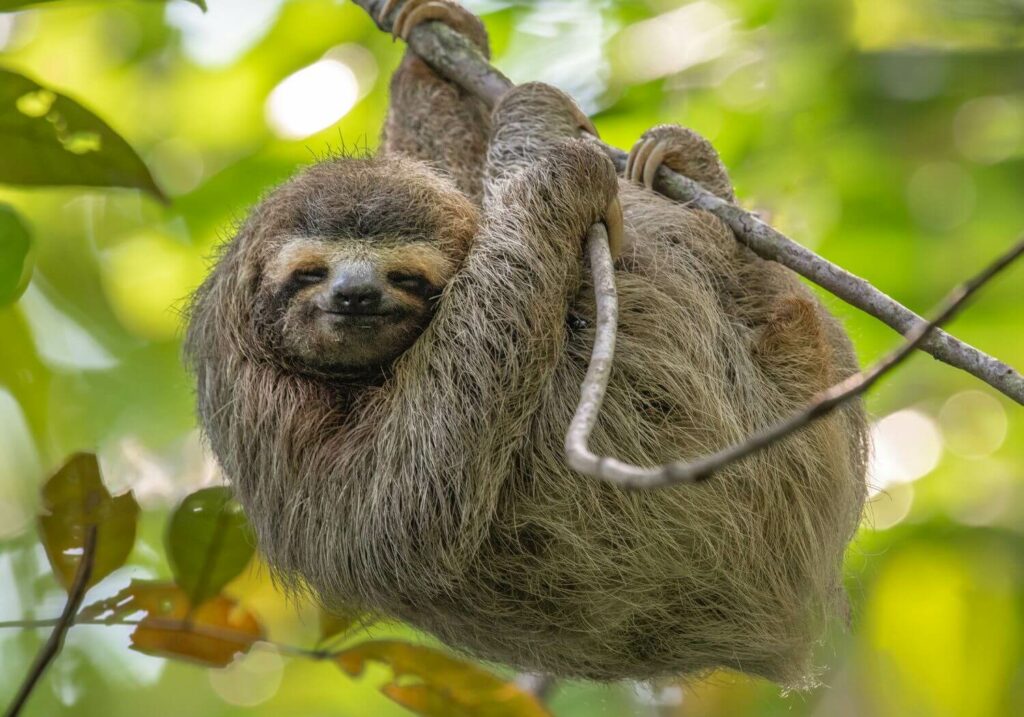 For animal lovers, the list of volunteering options is very long, however, not all "sanctuaries" are in fact helping animals.
Some of them follow unethical practices and take advantage of the positive PR around having the name "sanctuary", "shelter" or "refuge" in their title to abuse animals and use them for entertainment.
This is a very complex subject, however raising awareness is always necessary. So, before you choose a place where you can volunteer, make sure they are reputable and ethical places.
We have written an entire article on ethical voluntourism with the dos / don'ts and also tips to spot the "bad guys" here. Some of things to look out for when choosing an ethical animal sanctuary are:
The organization puts the needs of the community / animals ahead of profit.
The organization's philosophy aligns with ethical volunteering.
Projects are sustainable and prioritize the community's issues and needs.
The organization is able to answer tough questions.
There is proof of positive impact. In numbers, not just in generic statements. Reputable organizations will share reports publicly and be transparent in their impact.
There is a selection process and you are not allowed to do work you are not trained for. You should not work as a vet if you are not qualified; You should not teach children if you have no teaching degree. If you are not qualified to do the job where you live, you should not be qualified to do it elsewhere.
Training is provided, in-depth, by professionals that are qualified.
There are animal and child protection, environmental and ethical policies established.
Volunteers are not showcased as superior "saviors".
Rescued animals are bred in captivity to provide more babies for human interaction and entertainment.
Animals are not trained to perform tricks or entertain visitors. You can't touch or interact with them in ways that are unnatural for the animal.
Some of the shelters and animal rescue programs that meet the criteria above are Rescate Wildlife Rescue Center in Costa Rica which rescues and rehabilitates injured and orphaned animals, including monkeys, sloths and toucans.
You can become one of their volunteers by getting trained on how to assist with animal care and rehabilitation (which includes cleaning, feeding, administering medication). Once the animals are fully rehabilitated, they are returned to their natural habitat. They also train caretakers to educate visitors on the importance of animal conservation and environmental protection.
Another great place to consider is Animal Rescue Algarve which offers a loving home and responsible care to abandoned dogs and cats. Along with the rescue, they also provide rehabilitation to make sure they are completely healthy once they find them new homes, through a very strict adoption process.
Why should you consider volunteering at an animal sanctuary: Volunteering with animals is a fantastic way to give back and feel useful. As discussed above, Human-animal interaction has been proven to be beneficial to our health and if you can't have a pet, this is as close as you'll get to experiencing the same benefits while learning about animal care and doing good.
Make it happen: Learn more about volunteering in Costa Rica with Rescate, here. And if you decide to help out in Algarve, check their page.
Cruise Trips for Singles over 50
Like the famous song says "sweet dreams are made of this: travel the world and the seven seas" and you should definitely make this dream a reality.
With more single travelers looking for a vacation, single-only cruises have sprung to the surface catering to your needs with singles-only evenings and mingling events onboard, and tables specifically reserved for single travelers.
Even if you join a cruise that is not specifically designed for single travelers, cruises offer the right amount of privacy in your cabin, common spaces to mingle and group excursions ashore to balance and be one of the best single holidays for over 50s.
Alaskan Dream Cruises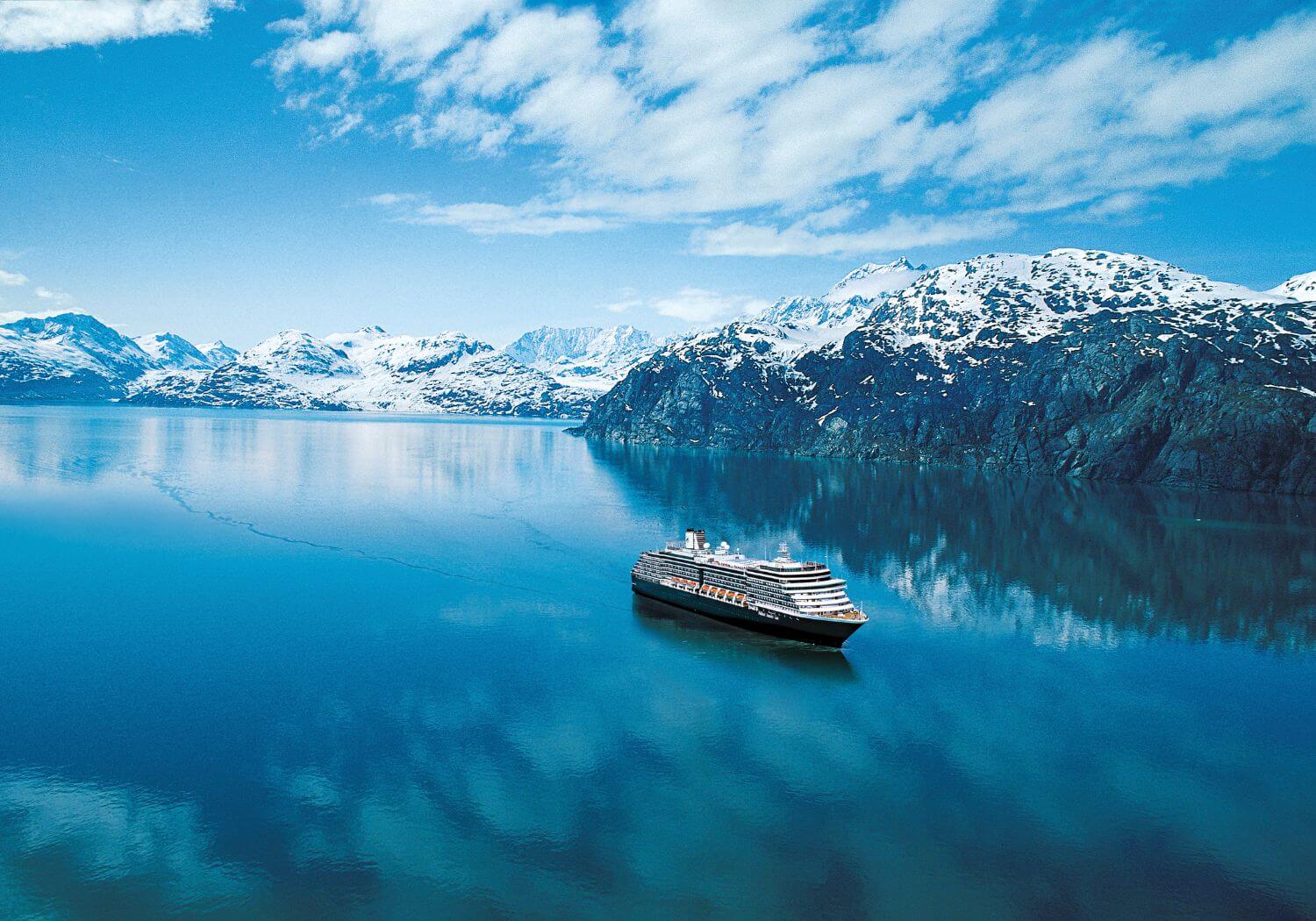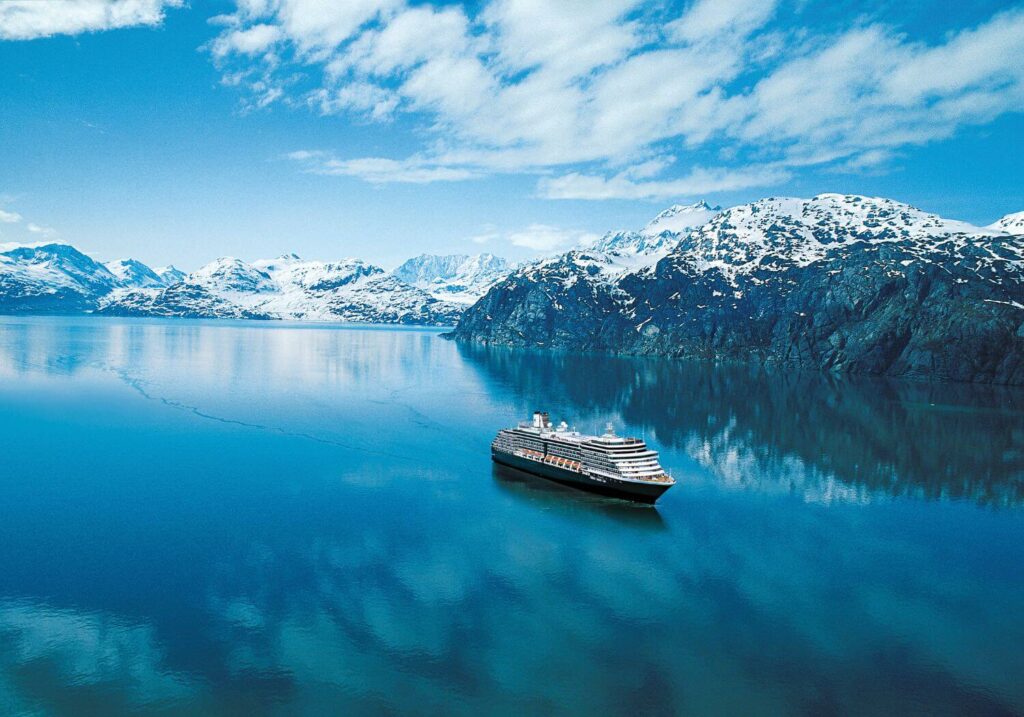 Stunning glaciers, wildlife sightings and charming Alaskan towns are just some of the highlights from this amazing trip.
Alaska is one of the most stunning parts of the world, a heaven for photographers and nature lovers and a destination for those seeking adventure travel with activities such as hiking, kayaking and more.
This US State's name derives from the word "Aleyska", which means "a great land" and along with its forest (largest one in the United States), the US's largest glacier and its 3 million lakes, it sure is a destination that will give you breathtaking experiences of a lifetime.
Take this trip during the summer, so you can escape the heat and enjoy cooler weather and enjoy the beauty of this destination fully.
Why you should consider an Alaskan cruise: This is the least expensive way to explore the most spectacular scenery of Alaska in the shortest amount of time. One of the best reasons to visit it by cruise is the glacier viewing and the new perspective you won't have if you stay on the land.
Make it happen: Alaskan Dream Cruises offers very small-ship cruises that provide a more personalized and intimate experience. This is perfect if you are looking for a quieter and more relaxing trip, or if you want to enjoy the beauty of Alaska's nature without sacrificing comfort. Single supplements are 150% of the regular share price. Look for a travel buddy to share the experience with and save on the supplement on our subgroup for this.
Havila Voyages to the Norwegian Fjords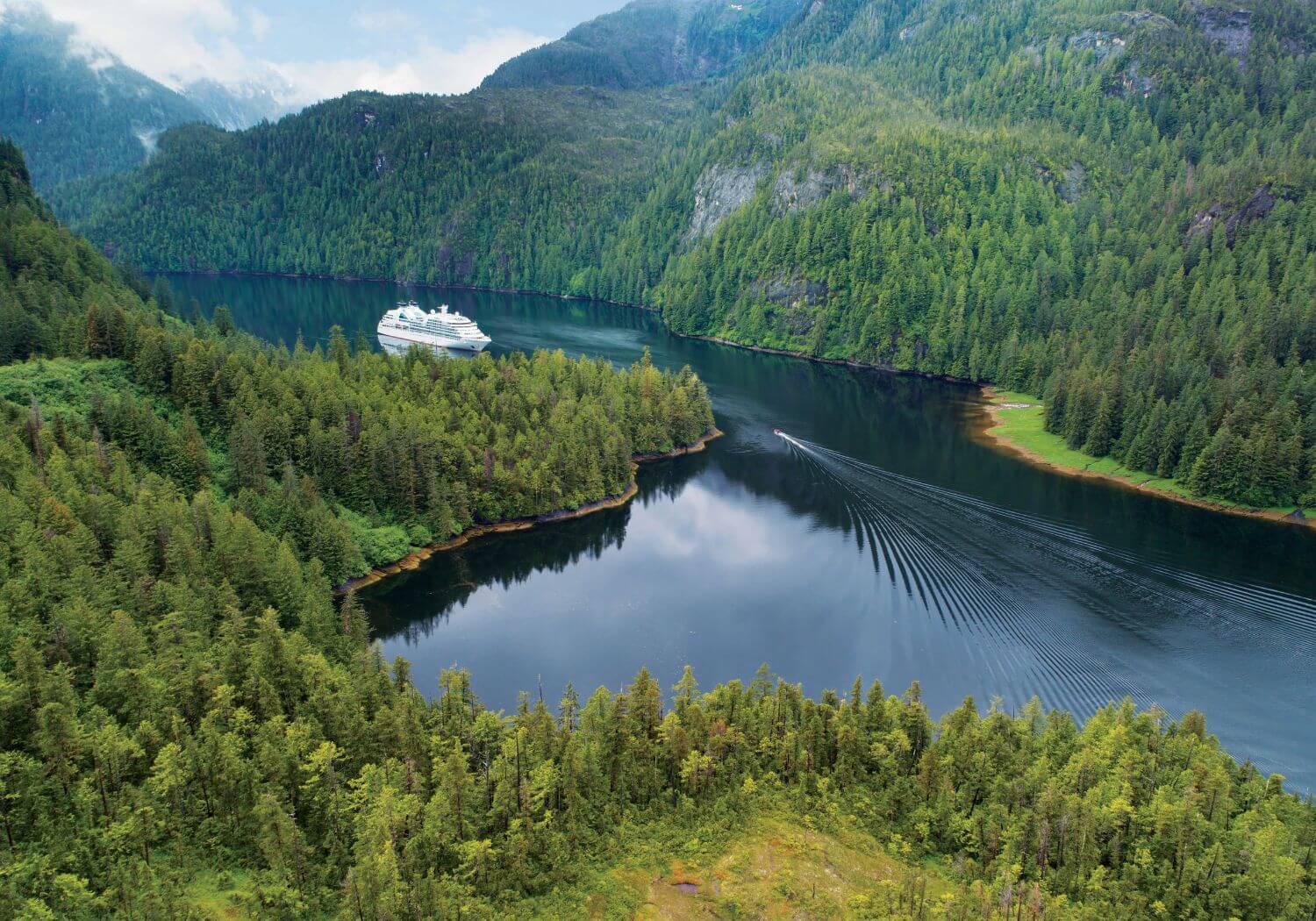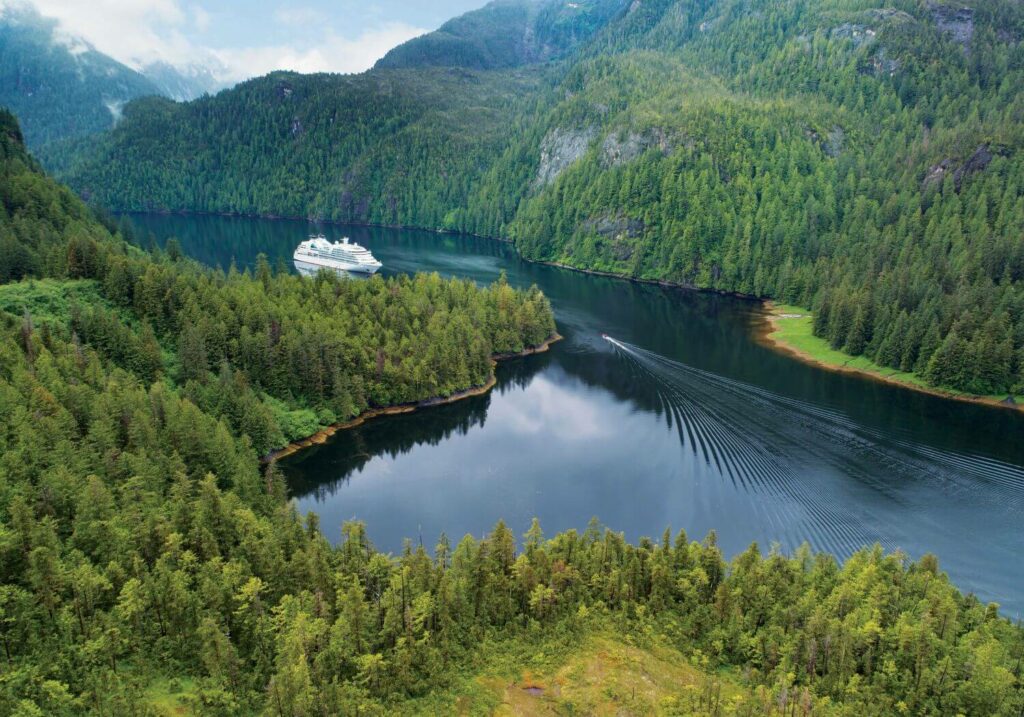 Havila Voyages is a new, environmentally-friendly cruise company in the Norwegian Fjords that offers state-of-the-art ships with top-notch amenities and a consciousness for the environment that no other company in the fjords can match.
As a new company, they are completely compromised with environmental care. For that reason, their ships were built thinking about the impact that could generate on the ecosystem. They sail with zero emissions and get recharge from hydropower at the quay and liquid natural gas.
On board, you'll get to enjoy comfortable and spacious cabins and delicious dining and you will have the opportunity to participate in shore excursions (hiking, sightseeing, or cultural experiences) according to your interests.
This is a perfect holiday for singles over 50 looking for a vacation that is 100% about stunning nature, landscapes and wilderness. You'll sail through 7 of the breathtaking fjords and get amazed by the stunning natural beauty of Norway.
On the optional excursion list are fishing and boat trips, glacier walks and cultural tours. Onboard, you can spot the northern lights in winter, and this is an almost-certain guarantee.
The company is so sure that you will see them that they have a guaranteed sighting policy where you get to take the trip again if they aren't spotted during your trip. There is a caveat though, if you can't see them because of cloud coverage the offer does not apply.
Why should you consider a Norwegian Fjords cruise: Havila offers single interior rooms that do not carry the single supplement and therefore are more affordable than most cruise companies.
Make it happen: Take on the trip of a lifetime, do not miss this opportunity, check on their different excursions and select the one you love the most.
Ponant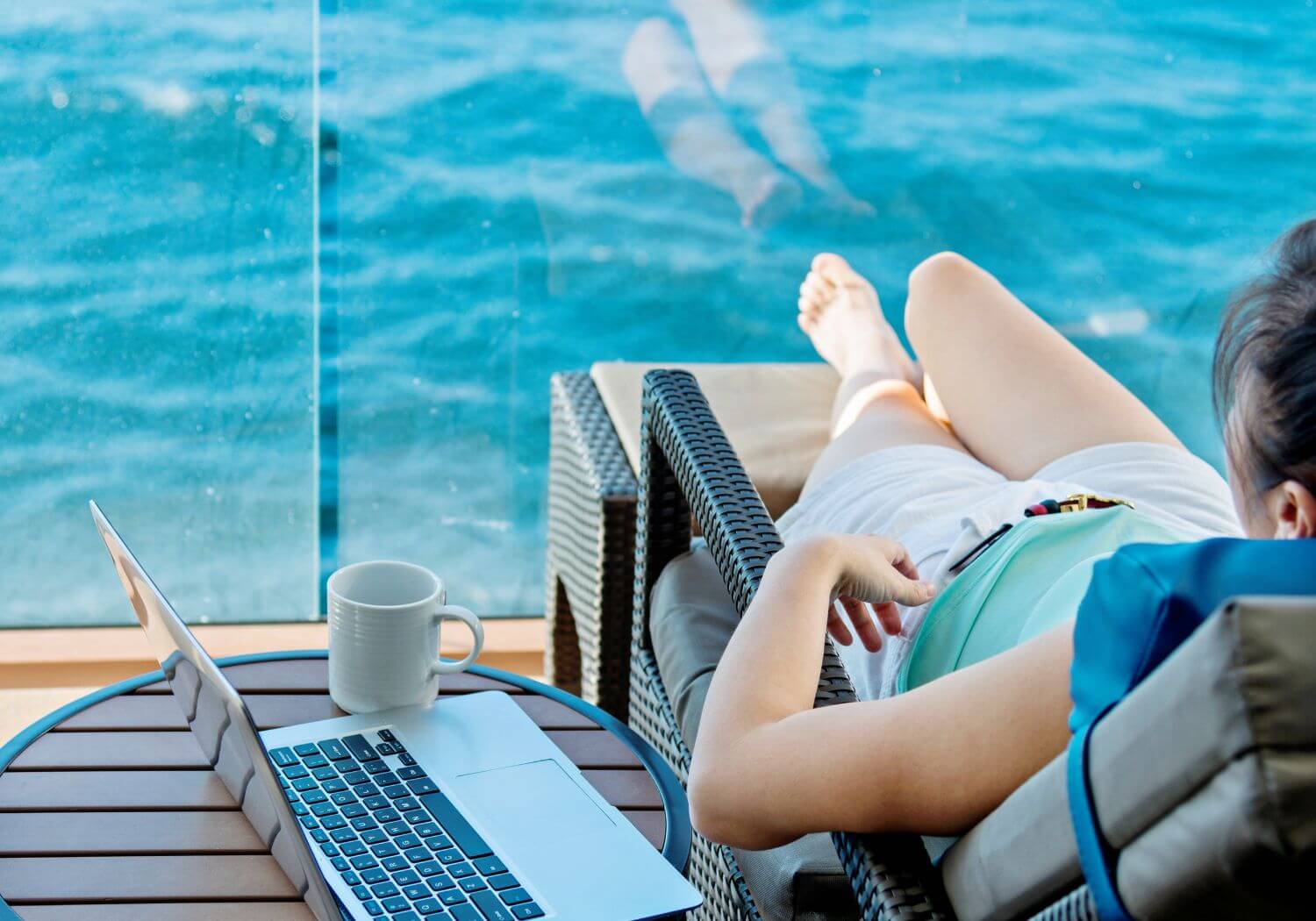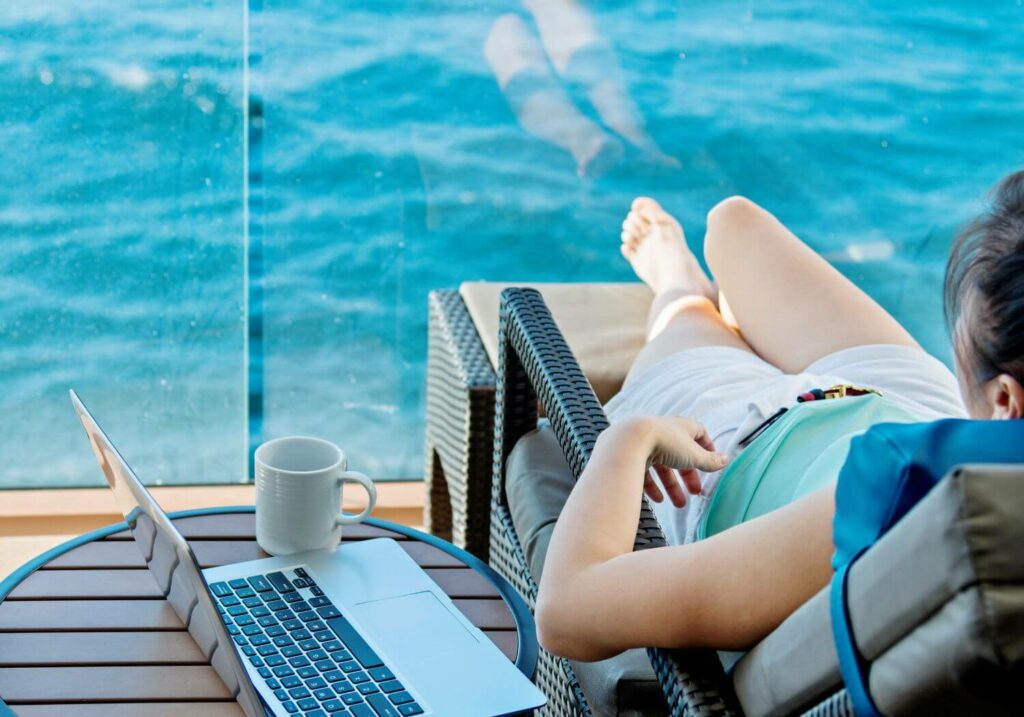 Ponant is a top-notch cruise line that provides an exclusive blend of sophistication and adventure, taking you to some of the world's most remote and breathtaking destinations around the world, from the Arctic to the Antarctic and everything in between.
This cruise line, besides providing a premium service, has its own signature to better understand, share and protect the environment.
It was founded over 30 ago by committed sailors with a desire to share a passion for the oceans and treasures of the earth. With their services, you will experience a meaningful voyage and this is a perfect way to travel if you are looking to relax and unwind, contemplate nature and take YOUR time. A perfect holiday for single women over 50, if you ask me.
Why should you consider a cruise with Ponant: Ponant is a 5 star culture and relaxation cruise that can take you to exceptional places while you enjoy your authentic and high end trip. As it is a luxury cruise, you can enjoy a relaxing moment in their spa or chill out around the pool while you read your favorite book and enjoy the breeze. Talk about enjoying your single (and over 50) life!
Make it happen: Learn more and join Ponant's conscious travel and expeditions here.
Greek Islands Sailing with Solo Female Travelers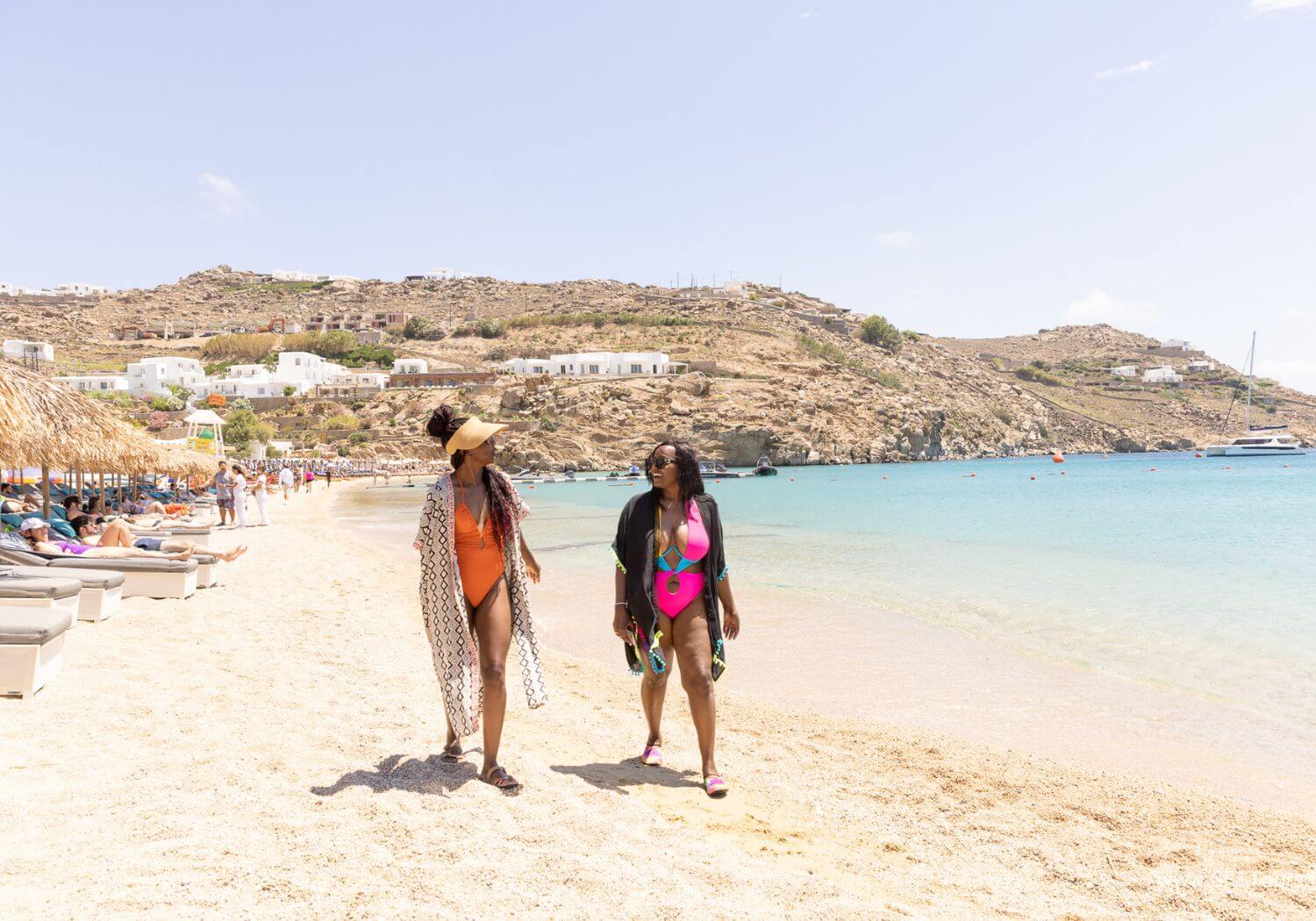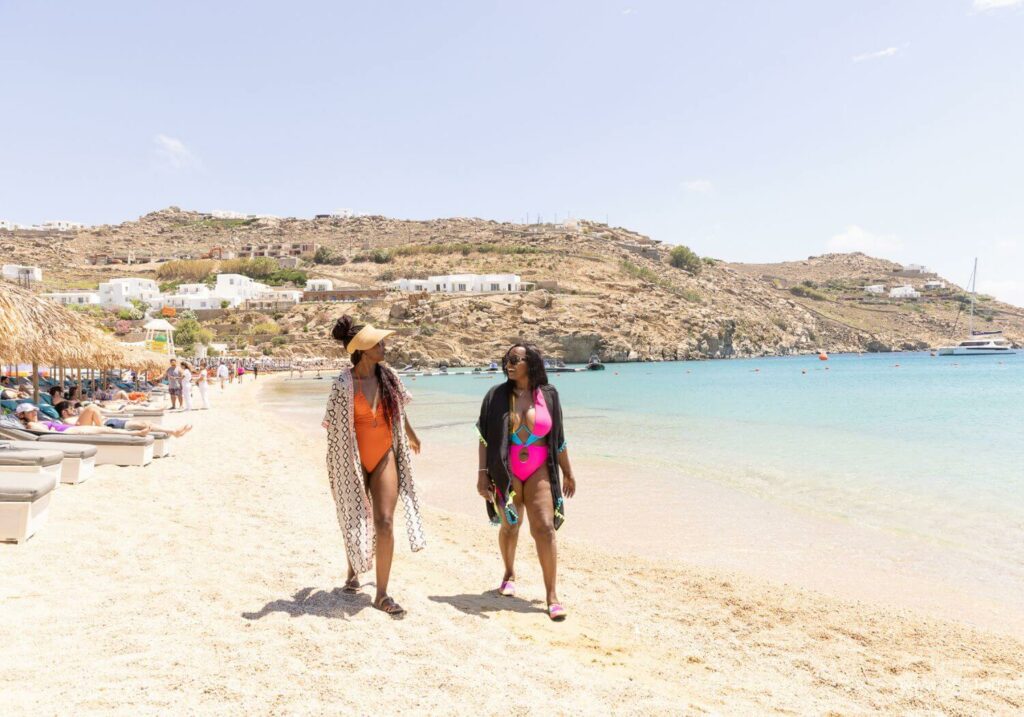 Our private sailing yacht is waiting for you to get onboard our amazing 8 days – 7 nights journey through the stunning Greek Islands.
Soaking in the Mediterranean sun, enjoying the delicious Greek cuisine and immersing yourself in the islands' history, culture and gastronomy are all part of the amazing experience you will have with us.
Our Greek island hopping sailing tour is designed exclusively for female travelers, who just like you, are interested in pampering themselves with some extraordinary travels.
We start and end in Athens with stops at popular islands such as Santorni and Mykonos, as well as other lesser known local favorites like Folegandros and Poros and up and coming islands such as Paros and Tinos. We will visit archeological sites like Delos and stop at inaccessible swimming stops you can only reach by boat.
Why should you consider our private yacht: If you would like to have an exclusive experience and get away from the bustle of everyday life for a total relaxation, joining a yacht tour will give you that privacy you need. While our tours are open to all ages, we see a large number of single women over 50 looking for the trip of a lifetime coming onboard.
Make it happen: You can book your spot here. We offer single and shared cabins and we pair you with another traveler so you don't have to pay a single supplement. Upgrade to a single cabin if you want to have your own space.
Retreats
Health and wellness retreats are some of the most popular vacations for single women of all ages. They are just what you need to pamper and treat yourself to some me-time and finally put yourself first.
You can find a range of retreat options available, from silent meditation retreats to yoga holidays, detox vacations and boot camps, all of which have their own unique philosophy and principles.
In this section, you will find a few retreat ideas for women over 50 looking for a vacation that is all about you and your physical and mental wellbeing. Because of the stage in life you are in, there are also a few menopause-focused retreats for singles over 50 that address the major changes experienced in this new phase of your life.
The Retreat in Costa Rica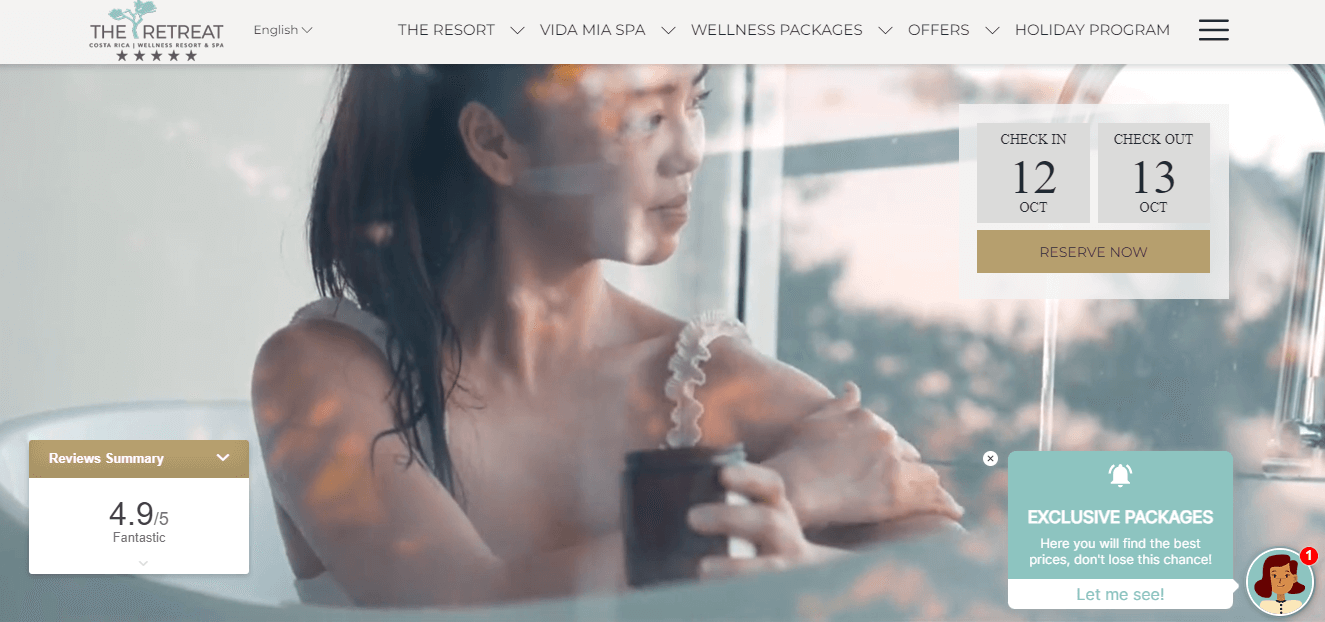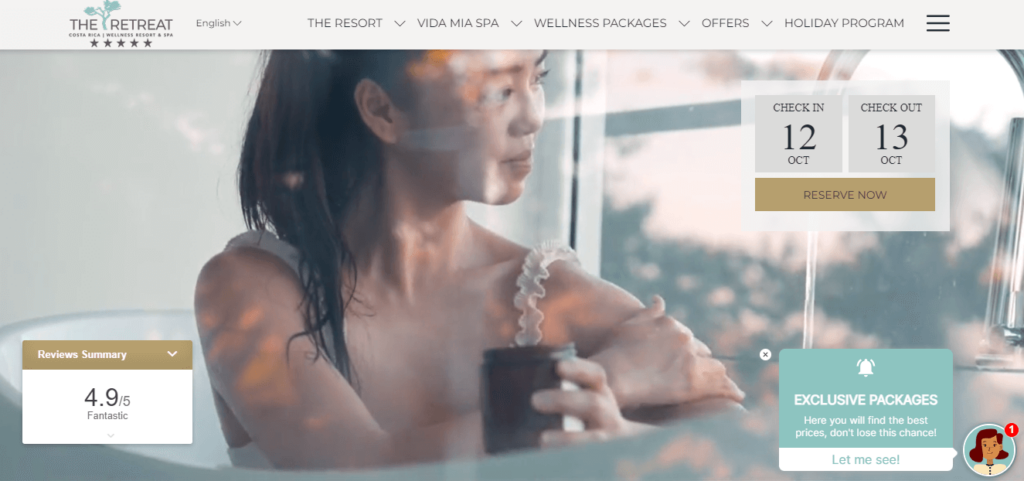 The Retreat Costa Rica is a 5-star wellness resort and spa that offers transformational wellness retreats surrounded by breathtaking landscapes and sunsets overlooking the rainforest and the Pacific Ocean.
They not only take care of your physical and mental health but also your diet, all foods on the menu are anti-inflammatory with organic products that are mostly grown on the property. Their philosophy is that to have good health you have to take care of yourself inside and out.
The retreat can be booked as an accommodation option or you can reserve a spot on their retreat packages which include group movement sessions and other activities, with special food programs designed to detox or lose weight.
Besides the wellness elements, they also organize tours and excursions so you can explore Costa Rica.
Why should you consider The Retreat: The Retreat has specific menopause-focused wellness packages targeted at women over 50 to understand and transition through this new phase in their lives. These make for a great holiday idea for women over 50 to learn more about this important life change with a group of likeminded women and the support of an expert team.
Make it happen: Book directly on their website here.
Ananda in the Himalayas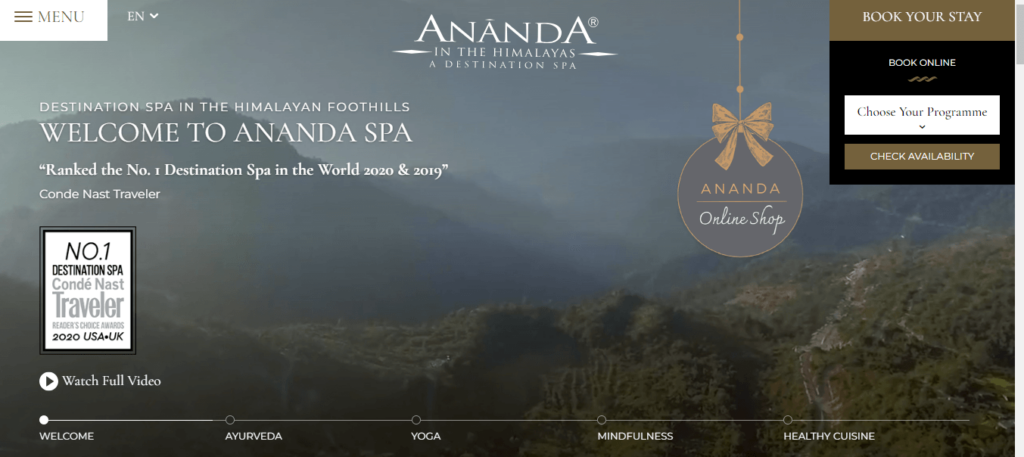 Ananda is a high-end retreat in the Indian Himalayas offers a stunning setting that incorporates the principles of Ayurveda practice into wellness and spirituality.
The retreat offers a variety of programs one of which is called Rebalance and focuses on menopause. Programs are all inclusive with a range of therapies and personalized wellness sessions such as yoga, breathing or meditation, as well as 3 meals a day.
Guests have access to scheduled group sessions, hikes and the spa where you can enjoy a steam bath, sauna, chill plunge pool, and Kneipp hydrotherapy foot bath.
Why you should consider Ananda: The setting is incredible and well worth it on its own but the retreat focuses on the benefits of Ayurveda to balance life and if nothing more, will return you home with a renewed sense of self and with inner peace.
Make it happen: Book their Rebalance program here. Programs last 7 to 21 days.
Preidlhof Wellness Resort


Preidlhof Wellness Resort in South Tyrol is a massive wellness destination with a 5,000 square meters spa that includes six pools, 4 whirlpools and 7 saunas, Turkish baths and relaxation rooms and a seven-storey sauna tower, all surrounded by the most incredible mountain views.
The resort offers several wellness programs, one of which is a week-long package that is focused on "glow and flow in your second half" that is, a wellness vacation for women over 50 going through menopause.
Their team of experts have put together a wellness retreat led by the Preidlhof Spa team that is entirely devoted to better understanding your body and mind while going through this life-changing period of your life. Programs are personalized and last 7 days.
Since menopause is different for every woman, the program includes several consultations and assessments to see what it means for you.
Why you should consider Preidlhof Spa: Taking an approach that is less spiritual and more medical and lifestyle-driven, the spa's menopause program is an educational journey of reconnection with your new body.
Make it happen: The program can be booked separately as a stand alone element here.
Great destinations for single travelers over 50
While I don't think there are places that are only good for certain age groups, it is true that our Solo female travel survey indicates that women want different things in different stages of their life and thus, their bucket list experiences change with age.
From our respondents we know that the bucket list of Boomer women includes Italy, UK and France, while Gen Z dreams of the same places but prefers Greece instead of the UK.
Bearing that and our joint experiences in mind, these are a few recommendations of holiday destinations for solo travelers over 50.
Eat, Pray, Love in Tuscany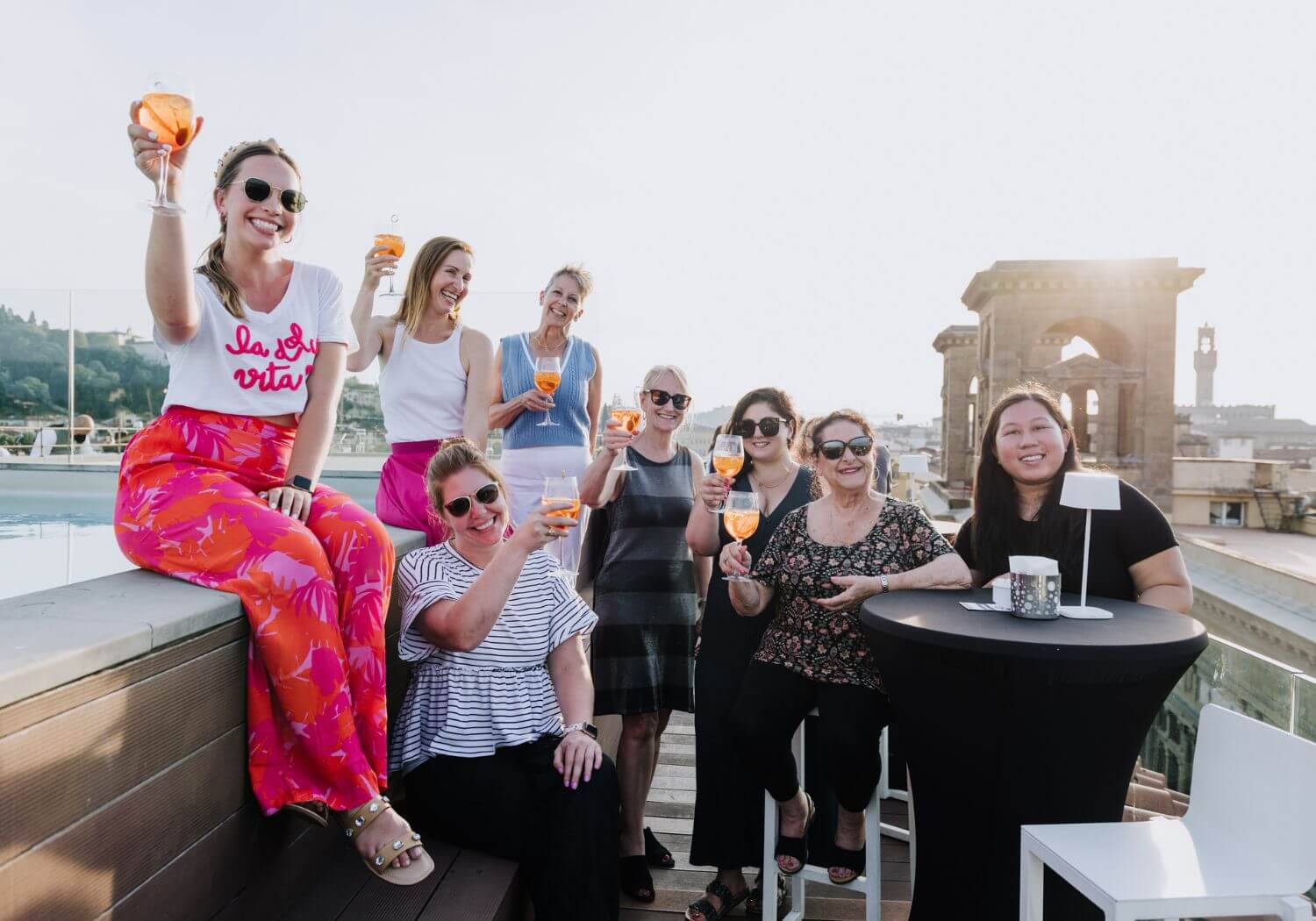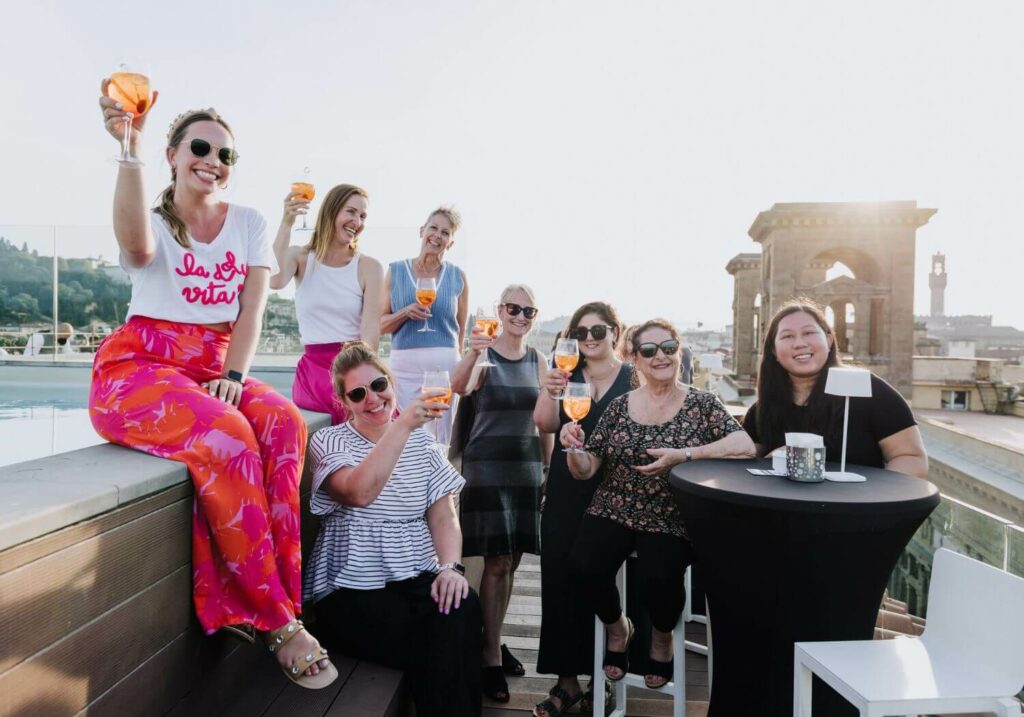 This much loved region of Italy is the perfect destination for single women over 50s, as proven by the fact that about half of the bookings we get for our Tuscany immersive tours are made by this segment.
Hollywood has played a role in this, with movies made out of best seller books such as Elizabeth Gilbert's Eat, Pray, Love search for happiness and Frances Mayes' Under the Tuscan Sun sharing the stunning landscapes and wonderful gastronomy of the region with the world in such alluring manner as to drive tourists for decades to come.
As Gilbert put it, Tuscany is the perfect region for pleasure, to enjoy the finer things in life, everything we appreciate when we get a bit older and want to take things slower.
The care of the locals who decided to stay in a more rural part of Italy to continue with old traditions and the freshness of the ingredients that feel like they are nourishing the soul are just some of the elements attracting solo women in their 50s.
We make it all happen on our Tuscany tour where we sleep in a traditional Tuscan farmhouse, enjoy cooking lessons and truffle hunting excursions, learn about the making of olive oil and wine and generally have a relaxed but fulfilling holiday with great food and free-flowing wine.
Why should you consider a trip to Tuscany: Slow travel taking it all in, beautiful locations and a real holiday living like a local. Women have, for decades, come to this part of the world to find themselves and the meaning of life once they get older.
Make it happen: Book our one week trip to Tuscany and make all your dreams come true.
Bali, a trip for the soul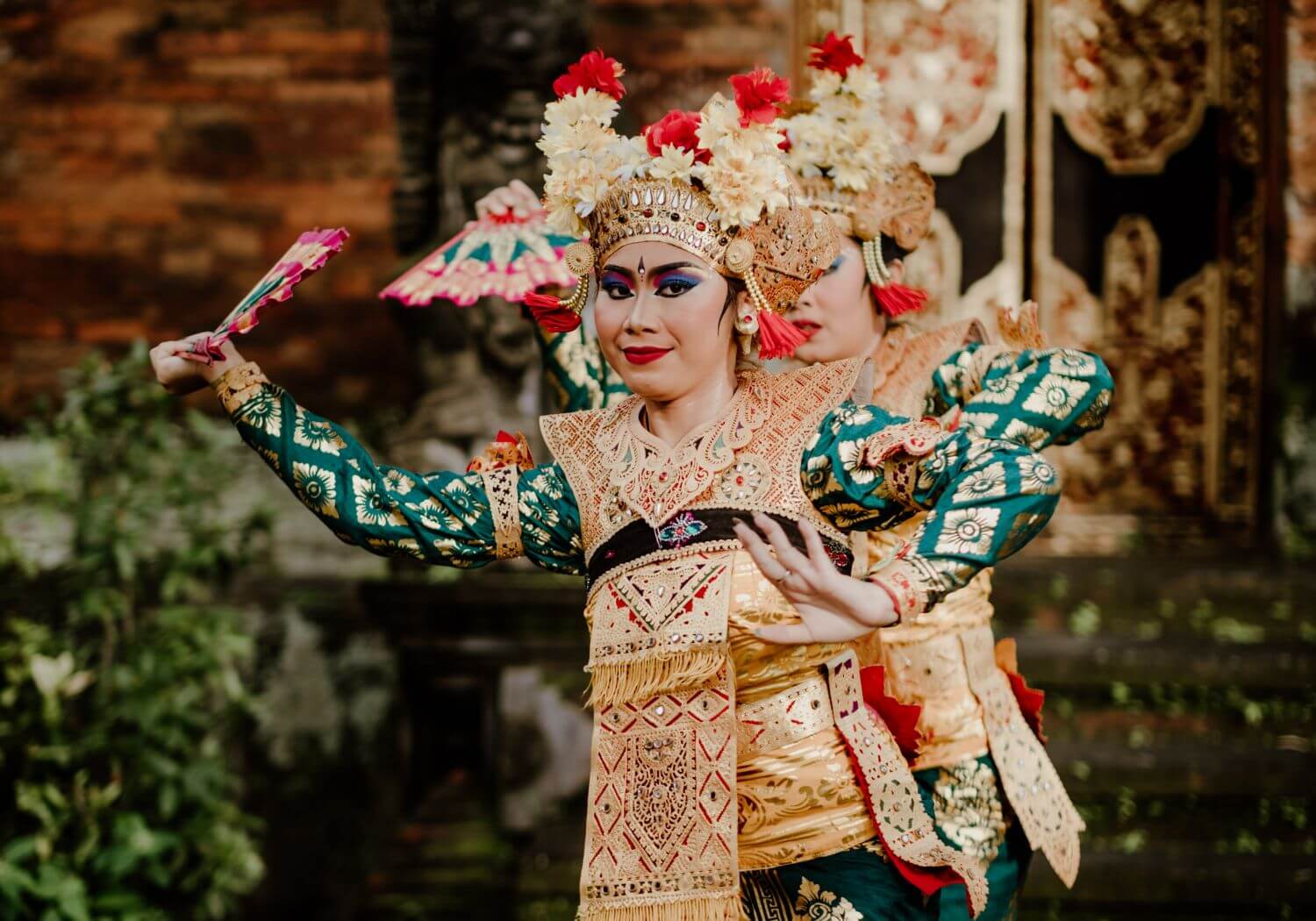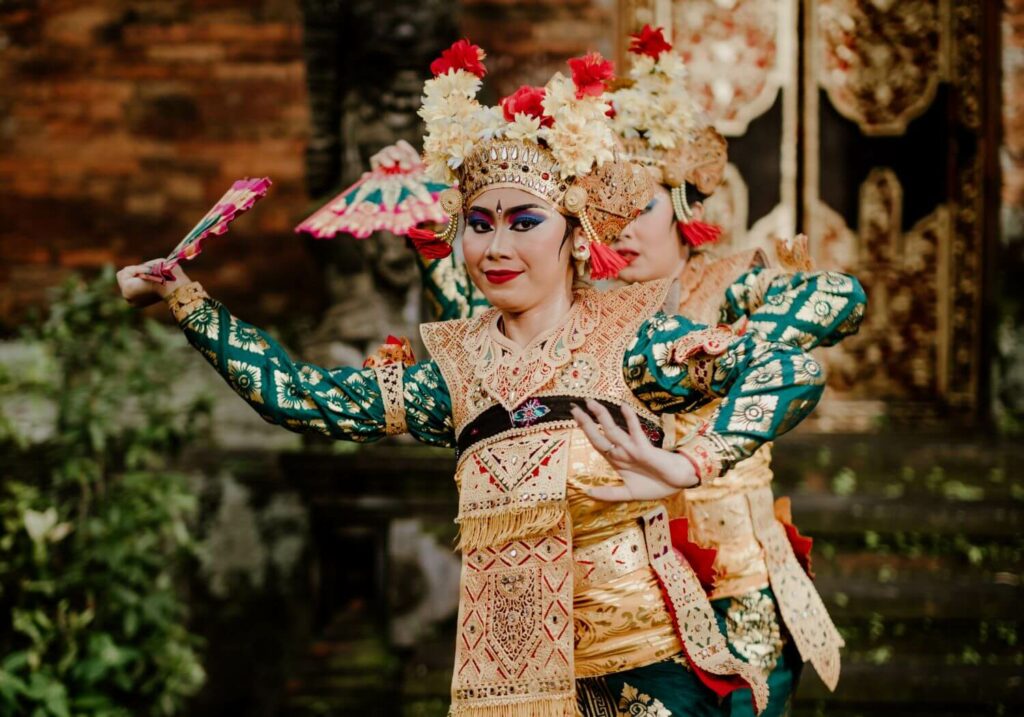 Continuing with Eat, Pray, Love's spotlight, expanded in age and focus with the many digital influencers and nomads who now call the Indonesian island home, comes Bali, a fantastic destination for single women of all ages but particularly for those over 50.
If you have never traveled solo and are looking to get started, the entire country of Indonesia, and Bali in particular, are a great place to start solo traveling. It is affordable, relatively safe and with lots to offer.
Despite being an island, Bali has a lot to offer, from diving to stunning beaches, from waterfalls to mountains, from volcanoes to beach clubs, from shopping to spas.
In recent years, Bali has also positioned itself as a wellness destination. It is one of the most famous places for yoga thanks to famous studios such as the Yoga Barn, and the islands' spirituality and ancient Hindu traditions continue to attract visitors looking for a more meaningful escape.
Bali is a great destination for single women over 50 looking to combine nature with wellness at one of the many stunning resorts that cater to this. You can enjoy a luxurious vacation among rice paddies or with sea views and partake in outdoor yoga sessions, sound healing, silent retreats and more.
Why should you consider a trip to Bali: Bali is one of the most sought after and loved destinations for single women of all ages. Don't let the Millennial and Gen Z appearance of the island's many Instagrammable spots deter you from considering a great destination if you are a Boomer, Bali is also one of the best single holidays for over 50s.
Make it happen: Consider wellness packages such as those offered at Fivelements Retreat Bali and take time off to discover the island at your own pace, or just stay at one of the amazing resorts in Ubud, hire a scooter and cruise around, sightseeing on your own. Book day trips further afield with GetYourGuide and customize your itinerary to your liking. I recommend climbing Mount Agung at sunrise and taking a day trip to the island of Nusa Penida. Why not add a few more days at nearby Gili Islands for a few more days on an even more chilled, laid-back island?
Bhutan, for a spiritual journey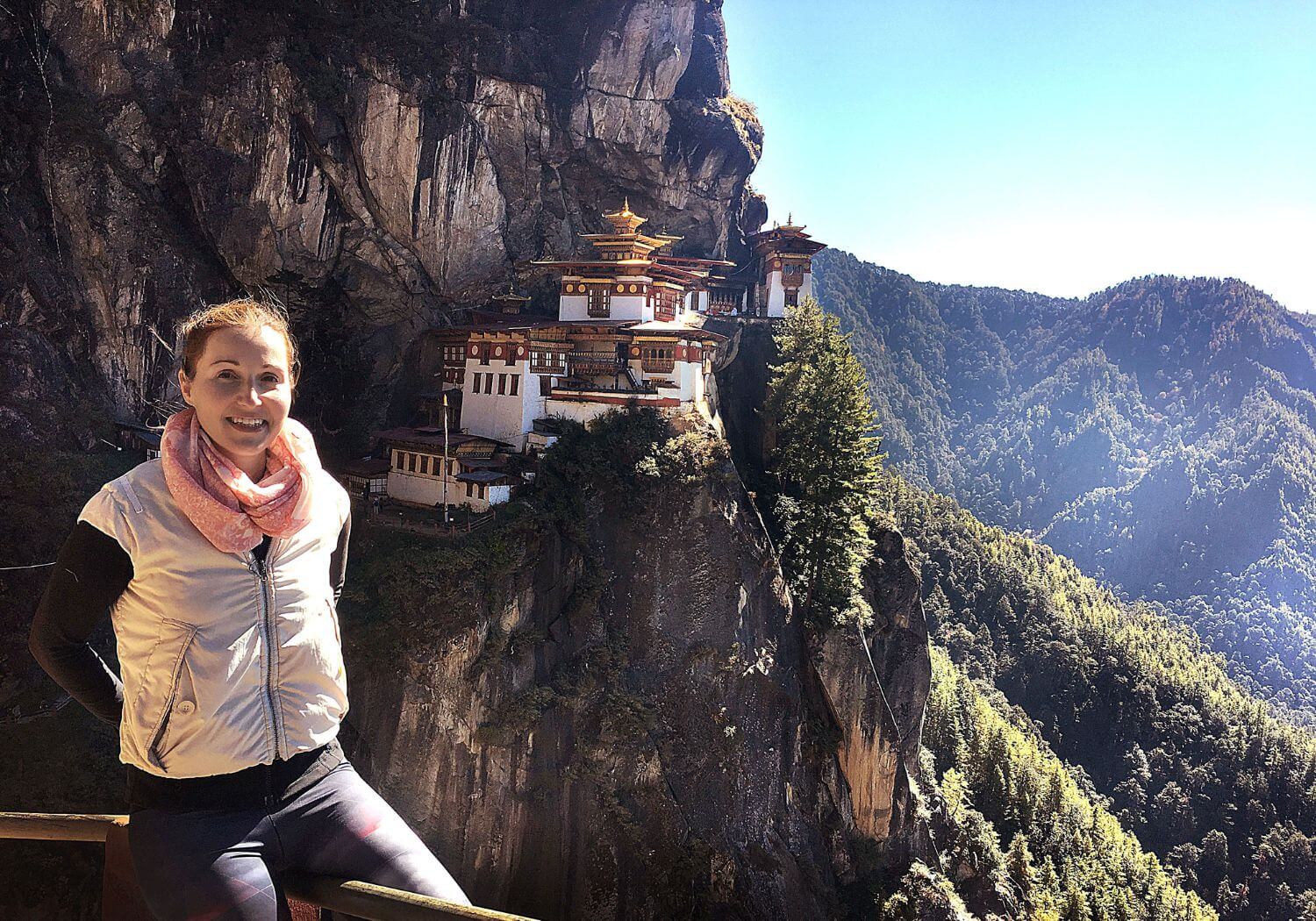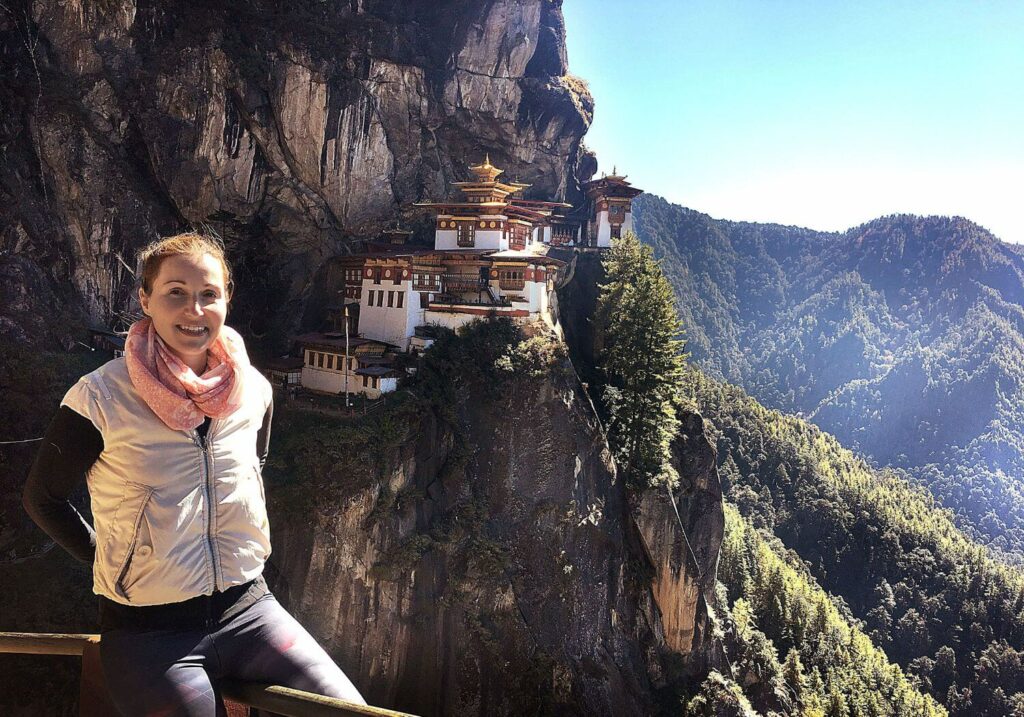 Bhutan is an incredibly safe destination for a solo female traveler of any age, so it is perfect for our list of holidays for single women over 50.
The Kingdom in the Clouds has practically no crime to speak of and is infused with deep spirituality. Buddhism teaches compassion, wisdom and mindfulness and nowhere else does this have a more profound meaning than here.
Bhutan famously champions Gross National Happiness (GNH) over Gross Domestic Product (GDP), where happiness and well-being has to be prioritized over any economic growth or material possessions. As the famous quote goes "Collect moments, not things".
This is the perfect destination to learn more about Buddhist traditions and principles as Buddhism is not just a religion in Bhutan, but a way of life.
Since 2022, in an effort to prioritize low volume, high impact tourism, Bhutan has started to impose a Sustainable Development Fee of $200 per day per person to visit the country. This fee goes towards conservation and is for the benefit of the entire population.
After 130+ countries, our Co-Founder Mar still has Bhutan in her favorite destination to visit. This is probably one of the most expensive holidays you will ever embark on, but it will be worth it.
Why should you consider a trip to Bhutan: This is a journey that every woman should undertake, especially if you are older or going through a difficult time. The deep sense of purpose and meaning and the healing powers of the mountains, the clean air and the meaningful spirituality will return you home fully recharged.
Make it happen: Book an all inclusive package with one of the luxury resorts such as Aman Resorts, Six Senses or Como Hotels and let them take you on a journey of a lifetime through the various lodges in incredible locations.
New York, for a city break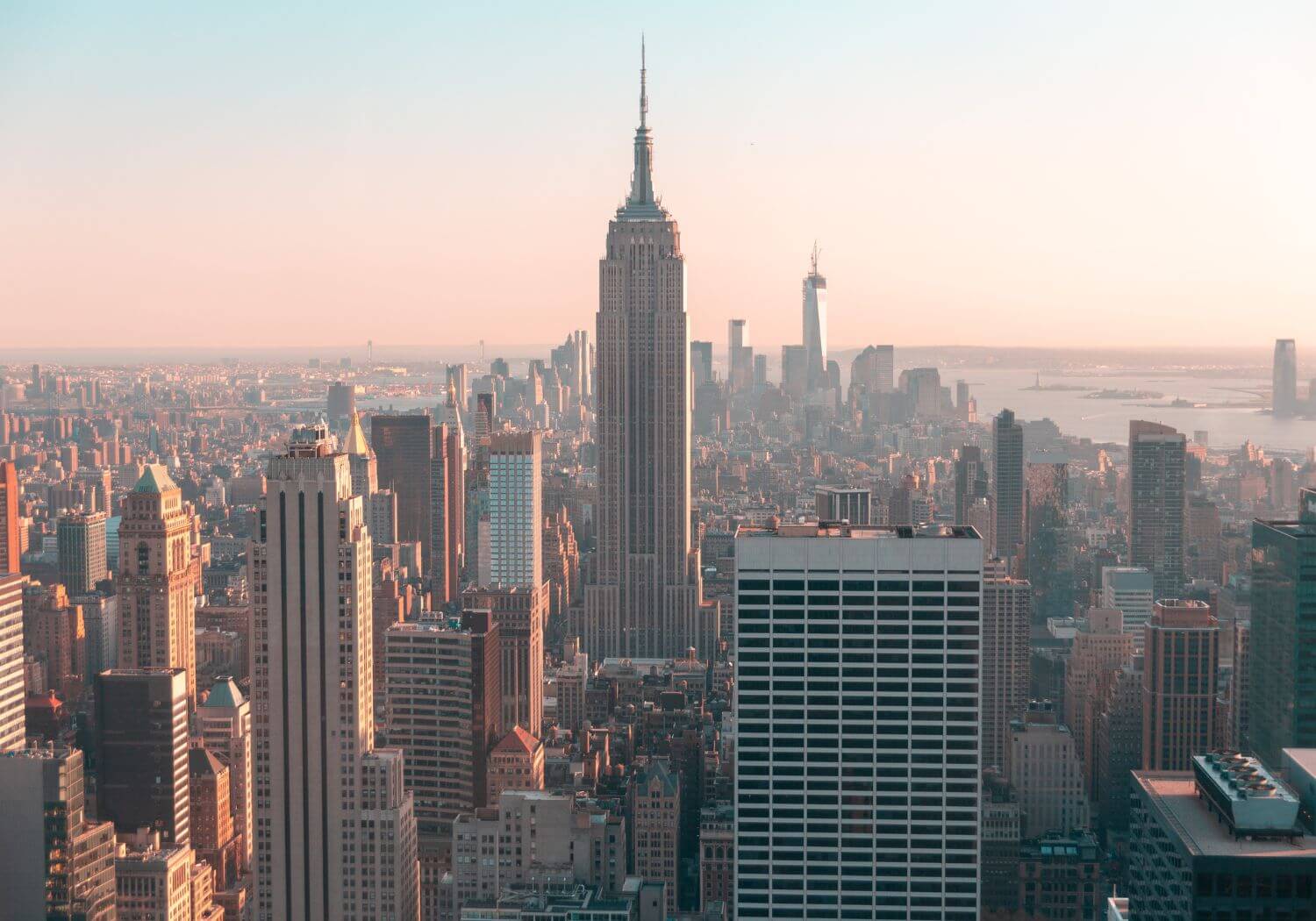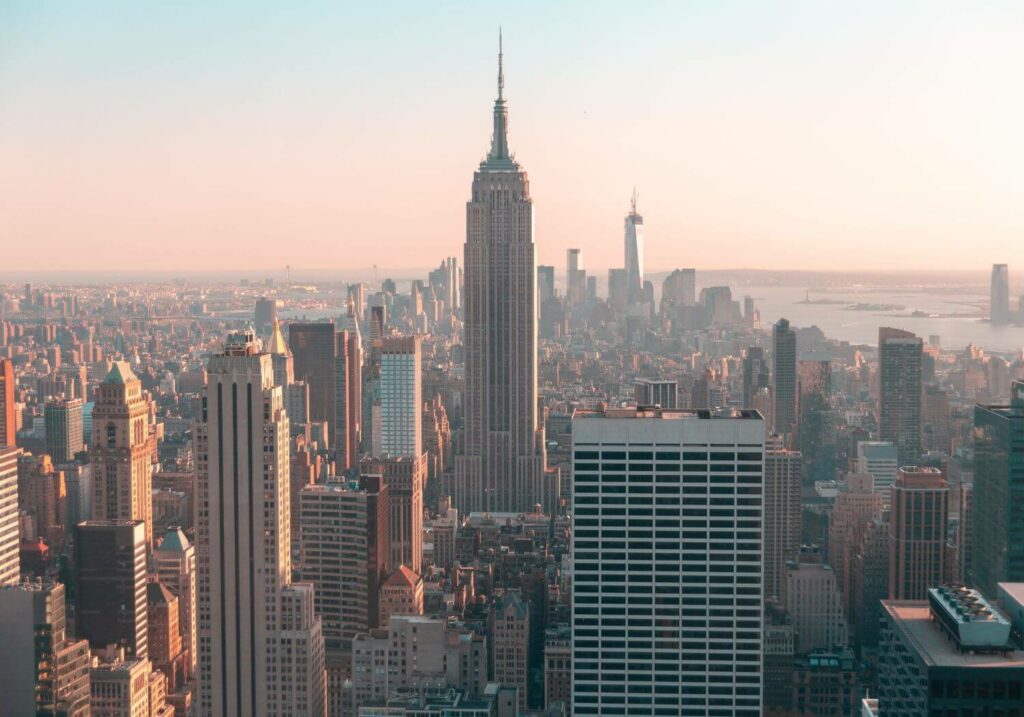 New York City is a fantastic destination for female travelers. It's an iconic city full of diversity, culture, and entertainment and the perfect city break.
As a fast-paced, creative and professionally-driven city, it is also a great destination for solo travelers and singles; Its streets and eateries are full of women and men eating alone, going to museums, exhibitions and shows on their own, walking the avenues and generally going about their day unaccompanied.
The city is so diverse that you could easily blend in regardless of age, color or race, and this is also why people watching is so fascinating, it is a happening place.
New York City has so much to offer, that we consider it one of the best holidays for single women over 50 to live their Sex & the City wildest dreams and enjoy everything that the big city life offers.
Go shopping at a range of stores, pamper yourself in the many spas, go for a walk in Central Park, or explore the artsier and more hipster parts of town. While walking the busy streets you'll bump into galleries, new exhibitions and unusual events.
Days are fast-paced and rich in new experiences. Nights can be anything you want them to be, including mingling with like minded 50-somethings from all over the world. If you are more of a city person, New York is your go-to destination for a solo trip.
Why should you consider a trip to New York: Lots of people seem to agree that it's the place to move to after 50 and this is also why it is such a great option for singles over 50.
Make it happen: Book a flight, pick a central hotel within your budget (there are thousands) and check out the many events for visiting women over 50 here.
Maldives, for a romantic getaway with yourself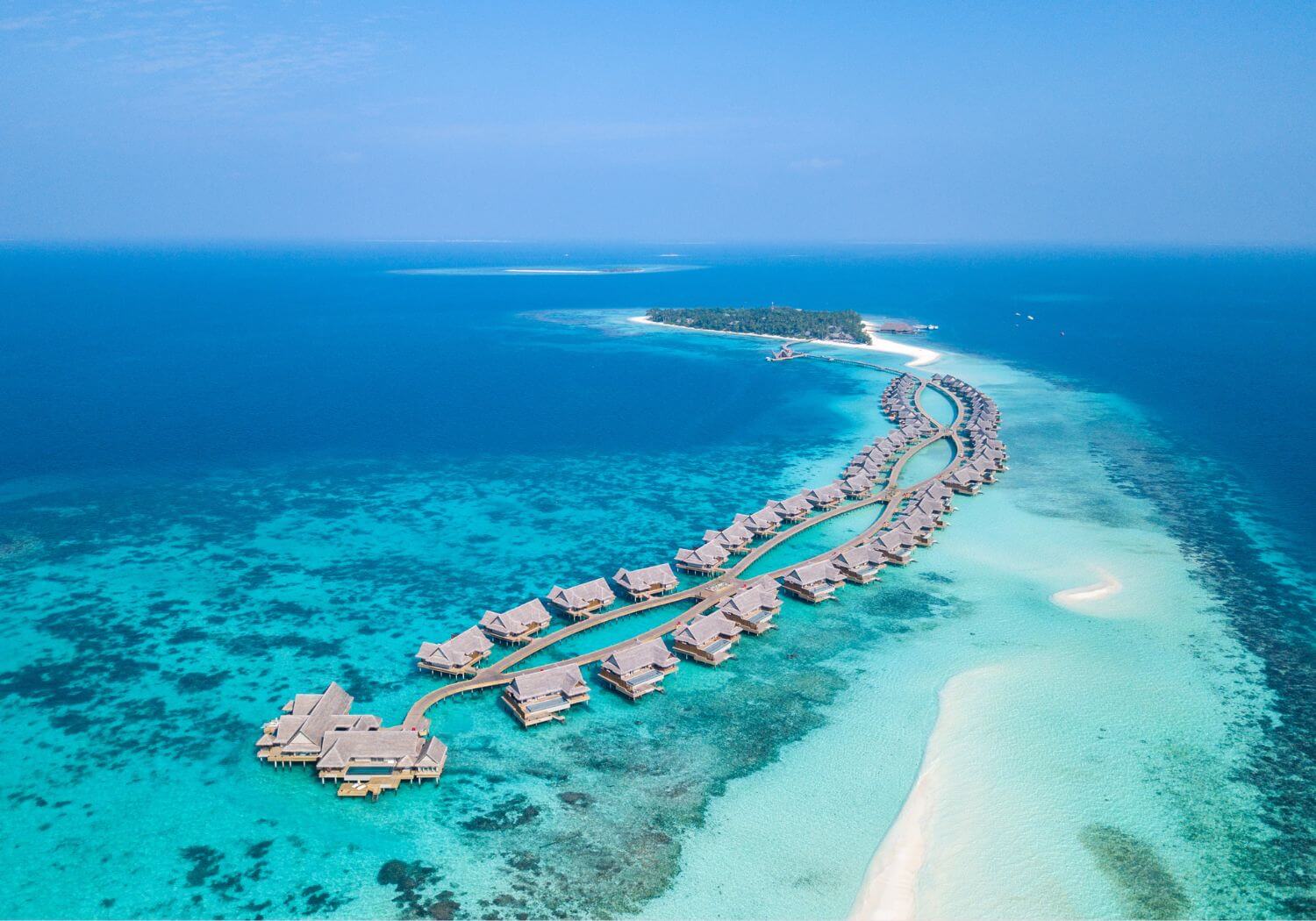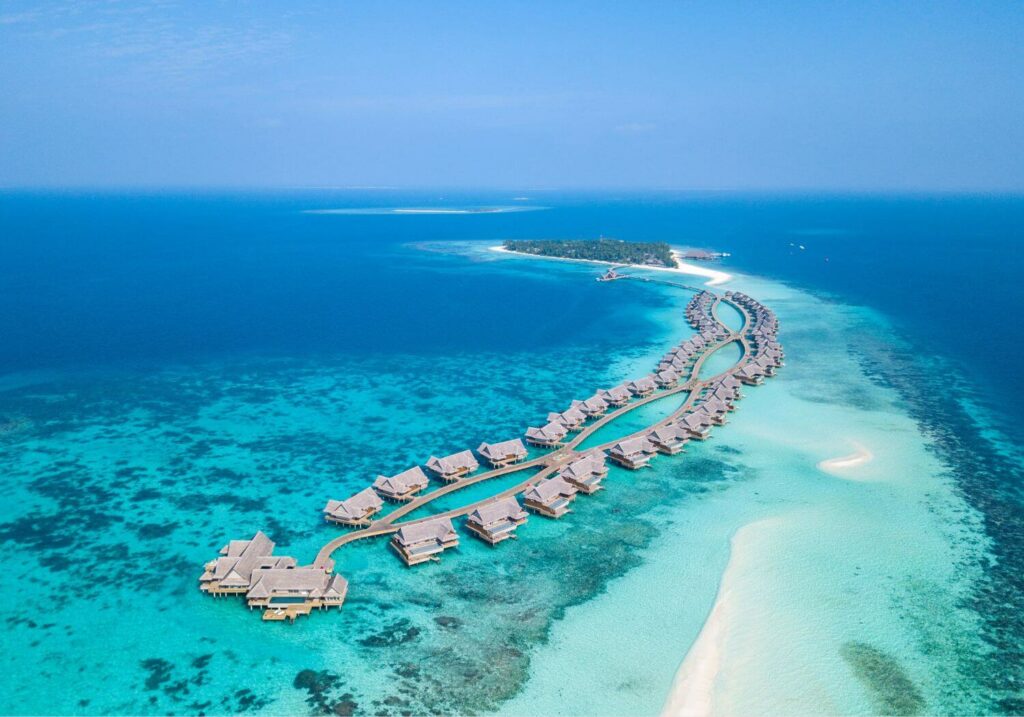 Maldives is commonly known as a perfect destination for a romantic escape, but it is also the perfect luxury holiday for a single woman over 50 with resorts catching up to the new trend and offering solo travel packages, like Gili Lankanfushi.
The Gili Solo Experience is the perfect holiday for a female over 50 who is looking to reconnect with herself and make the holiday all about her and her needs.
The package includes a variety of experiences that are designed to help you get away from stress, unwind and focus on your own well-being, like a 120 minute spa treatment, a Maldivian cooking class, or a night under the stars experience.
And in addition to these solo-focused activities, you can also enjoy the many activities that make the Maldives famous, like relaxing on the beach, swimming in the ocean or simply enjoying the peace of island life.
Other resorts working on solo packages include Nova Maldives Soul Reconnection package for those who want to "get in touch with their soul" through activities like yoga sessions, whale watching, cooking classes and more, you are in for a treat.
Why should you consider a trip to Maldives: Taking a vacation over your 50s is a form of therapy for your mind, soul and body, and what better way to spend it than a luxury, paradise, safe and comfortable place as The Maldives. Swimming with manta rays, humpback whales and whale sharks among many other animals or if you prefer something more chill, a spa treatment or stargazing will be perfect.
Make it happen: Pack your luggage and take your vacation to this tropical paradise with breathtaking natural beauty.
Conclusion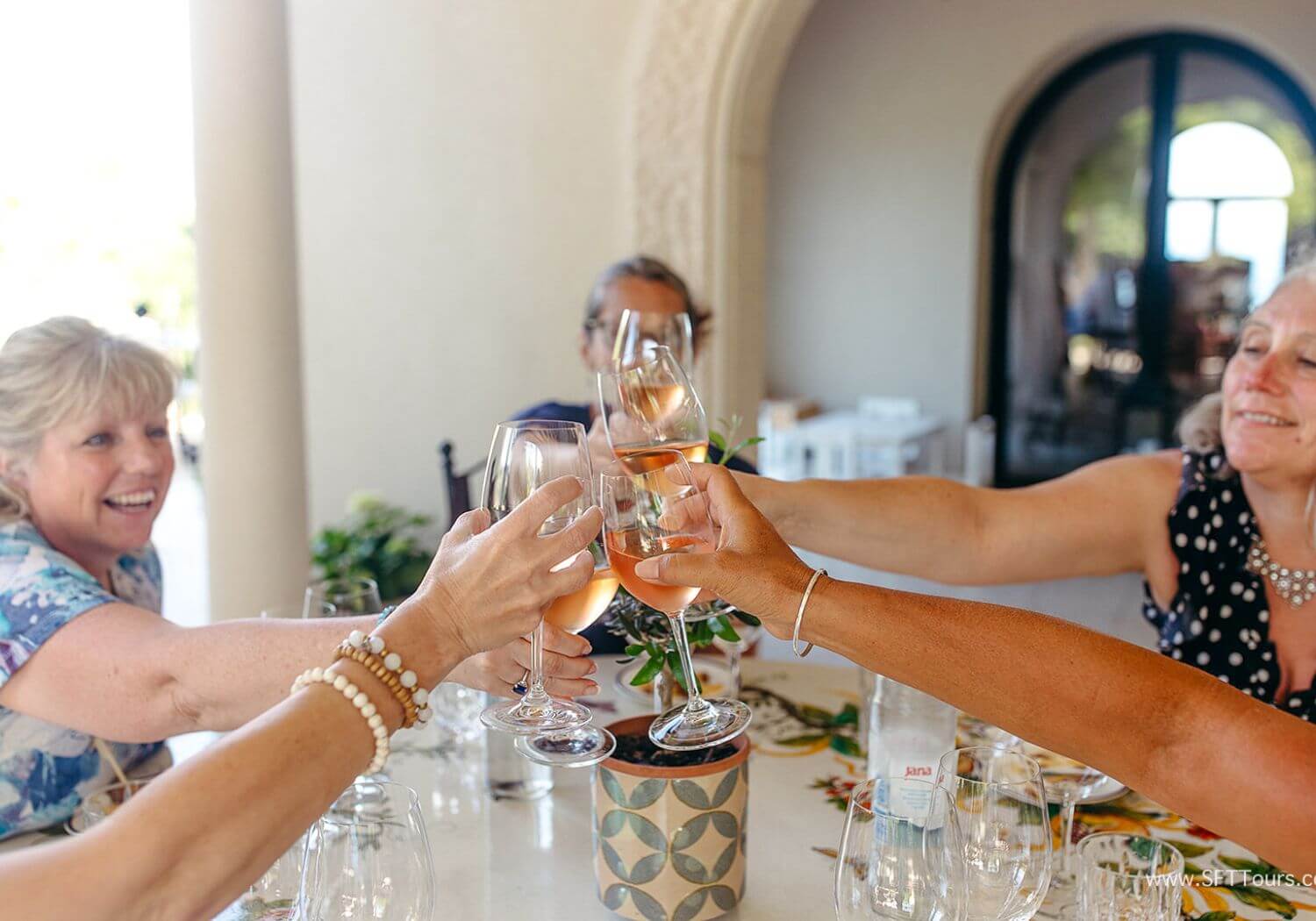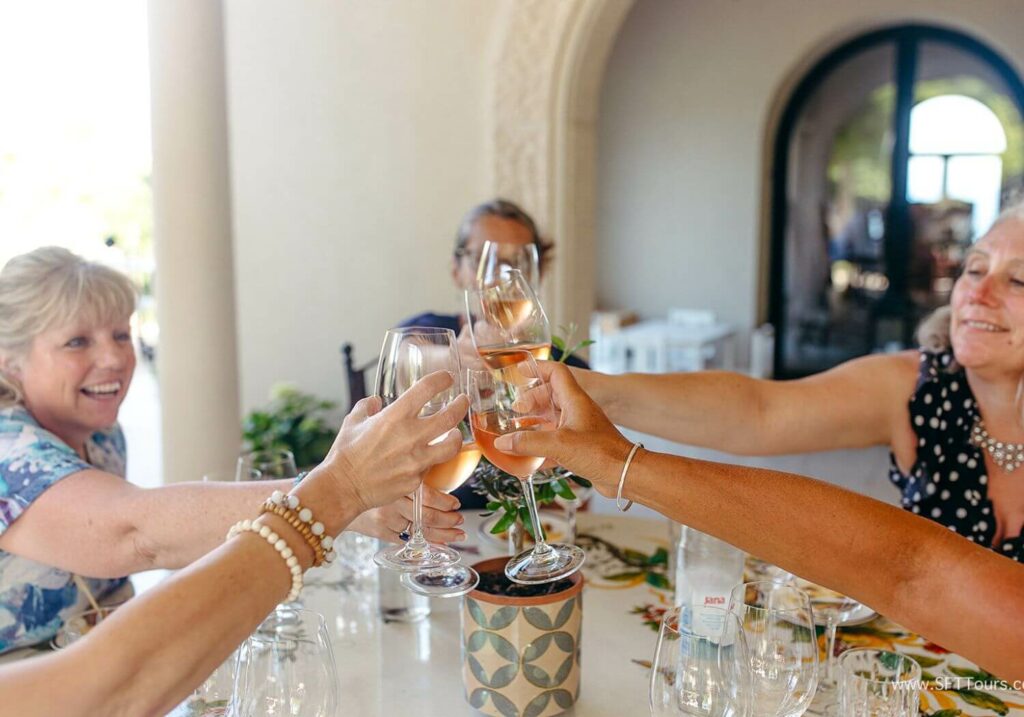 Women over 50 have unique desires when it comes to travel and at this age, the preferences can also vary widely depending on your lifestyle, where you are in your professional career or personal life and even your health.
Some women are looking to finally put themselves first, ahead of the needs of their husband, children, or of their careers, after years of sacrifices; Others have gone through a traumatic life event that made them rethink their priorities or finally gave them the push they needed to pursue their travel dreams.
Regardless of which stage of life you are in, your 50s and beyond are a moment of change and of reevaluating priorities.
In this article, we have gone through a range of ideas for a vacation that is particularly interesting for single women over 50, from women-only tour groups, such as Solo Female Travelers, to life changing journeys such as El Camino de Santiago or the Inca Trail Trek, volunteering programs designed to give back, retreats for singles over 50 that are about giving yourself the love and care you need or destinations that are especially suitable for this age.
No matter what holiday option you choose, the key is to find something that aligns with your interests, needs, and budget. By stepping out of your comfort zone and embracing new experiences, you can create unforgettable memories and discover a new sense of adventure and purpose.
Have you been on a trip as a solo woman over 50 that changed your life? Share it in the comments and we will add it to the list.