Are you looking forward to Christmas or would you rather skip the holiday season? If you would rather avoid the entire celebration, get away to a country that does not celebrate Christmas or simply does not follow the traditions, you're not alone.
A UK study discovered that more than a quarter of the population found the holidays more challenging than the rest of the year.
The boring family gatherings, cooking and hosting responsibilities, arguments over meal choices and the repetitive inappropriate questions from relatives on your civil status and your love life all contribute to The Holiday Blues.
If you are alone, this family-centered time of the year can feel lonelier than ever.
If you have a large family, the financial strain brought about by endless parties, gift giving marathons and expenditure euphoria are reason enough to want to flee.
The solution? Ignoring the entire holiday period and escaping somewhere where Christmas isn't important.
Below is a list of countries where this is possible, be it because they do not celebrate Christmas, because Christmas is present but only celebrated by a minority, or because Christmas isn't celebrated in December, so you can be there during that time and avoid the peak of the season.
Countries where Christmas is not celebrated in December
If you thought that Christmas is only celebrated on the 25th of December, you are in for a surprise.
When you celebrate Christmas depends on the calendar you follow.
Majority Christian countries that follow the Gregorian calendar such as most of Western Europe or North America, celebrate Christmas on the 25th of December.
Majority Christian countries that follow the Julian calendar such as Montenegro, Russia or Georgia celebrate Christmas 13 days later, on the 7th of January.
If your goal is to skip Christmas day, you could do so by traveling to countries that celebrate Christmans but on a different date to you. Below is a list of countries that celebrate Christmas in January.
Serbia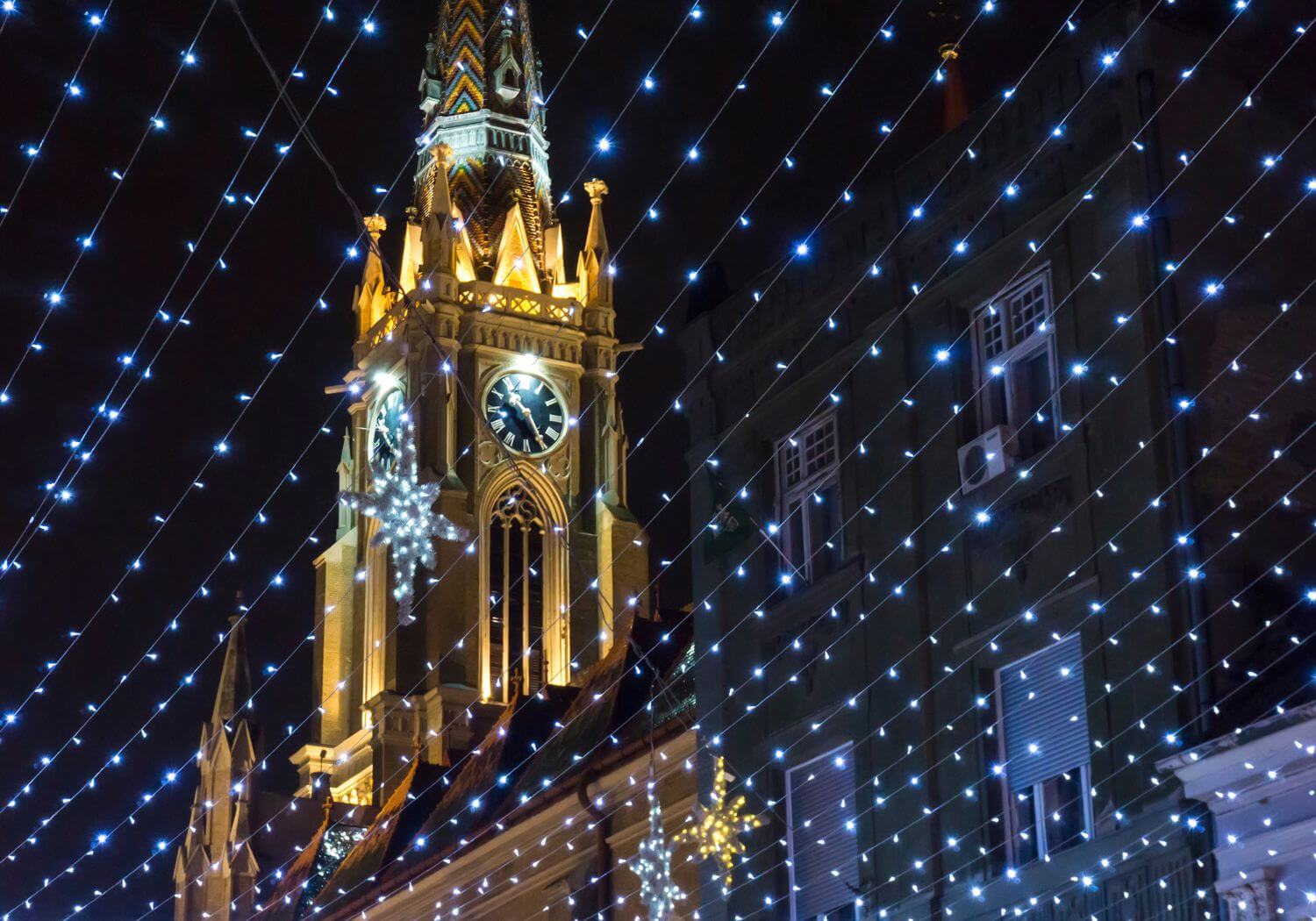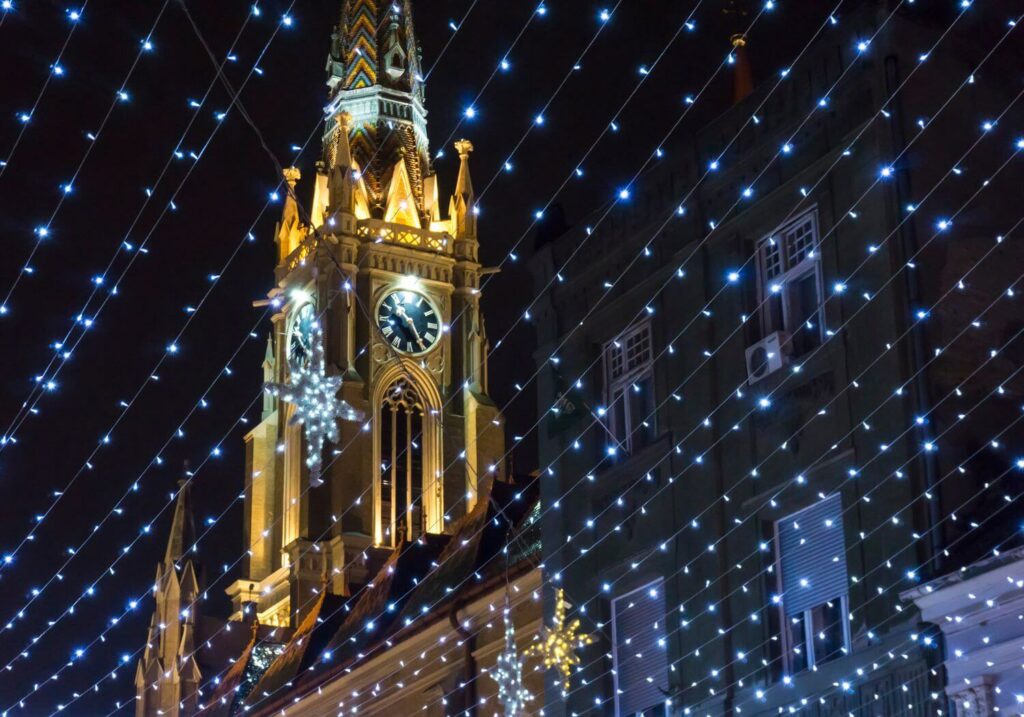 Serbia is known for its breathtaking landscapes and natural beauty with high mountains, impressive castles, lakes, rivers, thermal waters and wellness centers.
It is an affordable destination, a good alternative to more expensive Western European cities and a good option to still feel the Christmas spirit during the December period.
The country's capital, Belgrade, has a very pleasant pedestrian city center with cafes and shops that can easily be explored on foot.
If you are a museum fan, visit The National Museum with artifacts that cover a long chronological line starting back to the Paleolithic period and reaching up to the art of the 20th century.
Nikola Tesla Museum is a good chance to learn more about the name we now associate with electric cars and that is Serbia's most famous export.
Novi Sad, on the other side, is a medieval fairytale town, often described as the Gibraltar of the Danube. It's one of the largest fortresses in Europe and is mostly visited in the summer, which means you'll probably have it all to yourself during winter when it is covered in snow.
Stroll around the main pedestrian street and do all your shopping while enjoying the Christmas lights. Do not forget to try the local delicacies.
Temperatures in December: December sees very cold temperatures between 30 to 41°F (-1 to 5°C) and possible snow across the country, so pack warm clothes.
Montenegro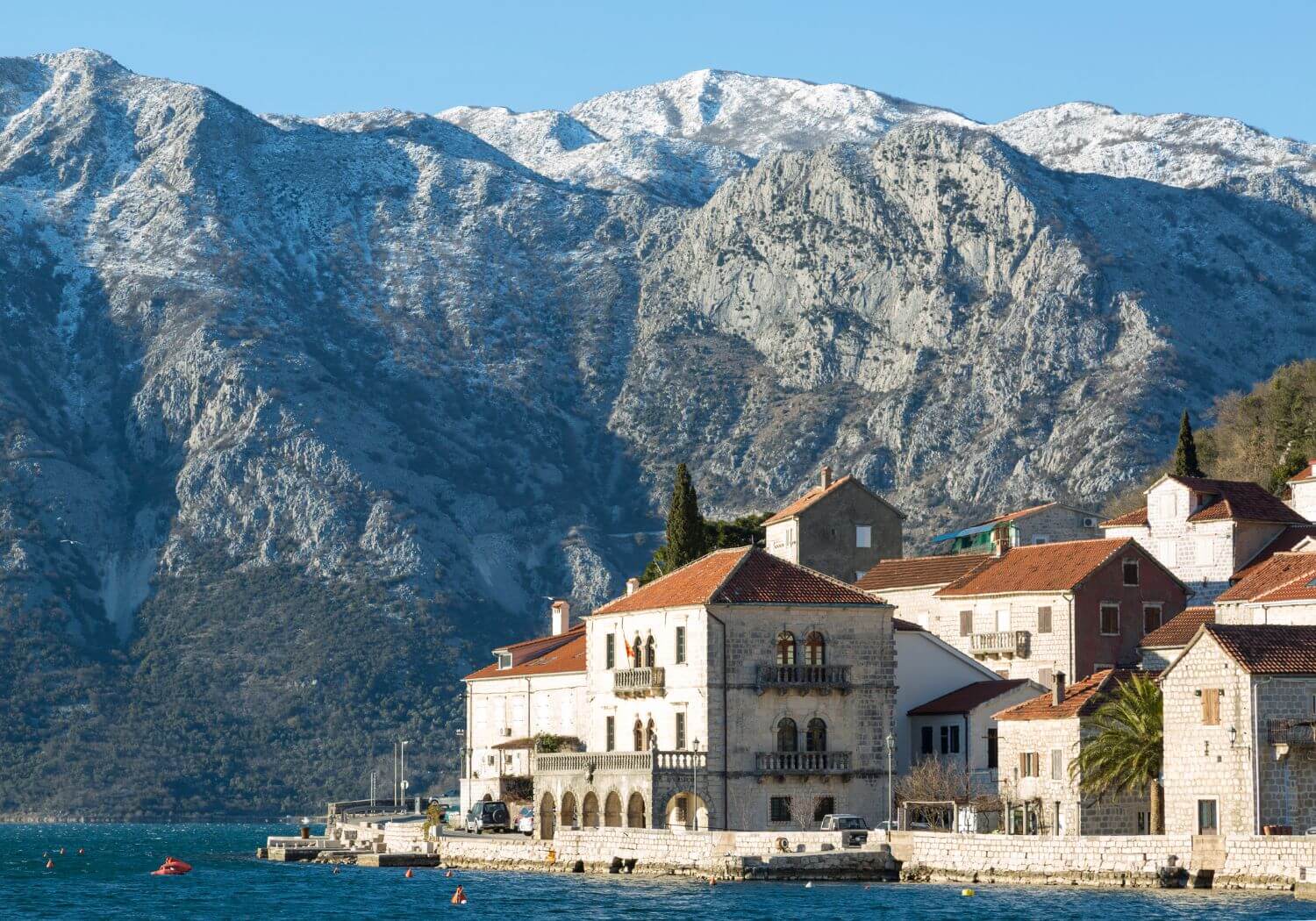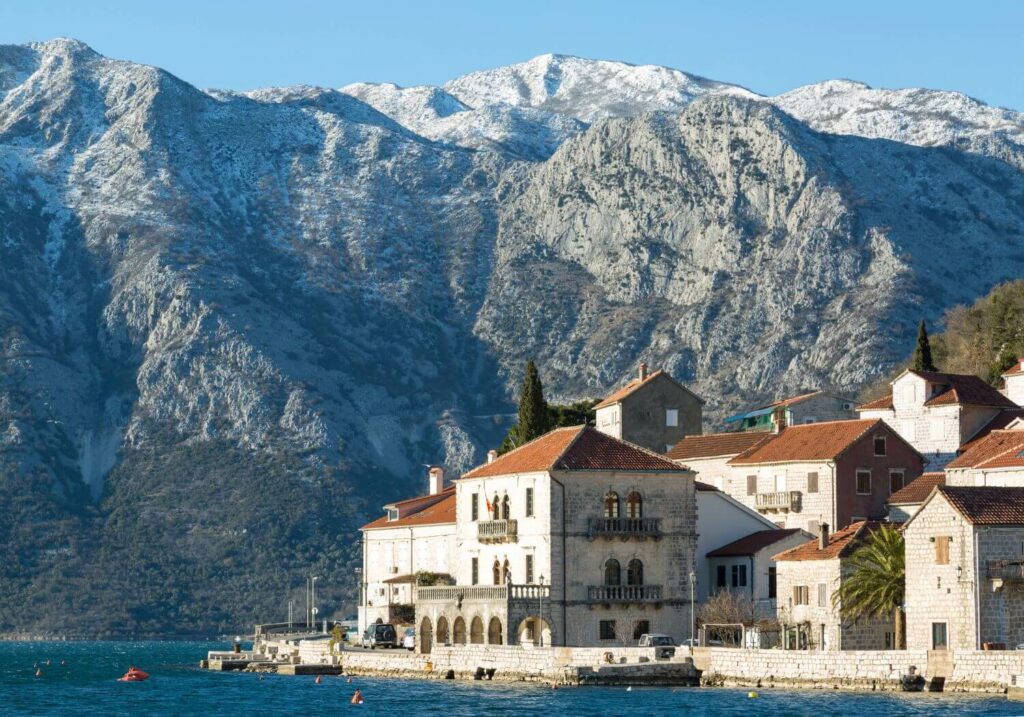 In the same category as Serbia, Montenegro celebrates Christmas in January.
This underrated country is often overshadowed by its more popular neighbor, Croatia, but is a gem that is fast developing.
The youngest country in Europe only became independent from Serbia in 2006 and has several walled medieval cities that are worth a stop. Budva and Kotor are the most famous.
These beautiful fortified towns are well preserved and very popular during the summer months when tourists from the Balkans and elsewhere come to enjoy the beach life, the beautiful Adriatic Sea and the balmy weather.
In December, the entire country will be quiet and filled mostly with locals, offering a different perspective to the vacation summer mood. If you are into hiking or skiing, there are several resorts and mountain trails too.
Montenegro is often paired with Croatia because of its proximity to Dubrovnik by the border. While Croatia does celebrate Christmas in December, you could consider visiting the two at the same time, or at least Dubrovnik. The country is included in our women-only Croatia & Montenegro trip.
Temperatures in December: December sees cool temperatures between 44 to 57°F (6 to 14°C) and possible rain across the country. Warm clothes and a raincoat are recommended.
Kazakhstan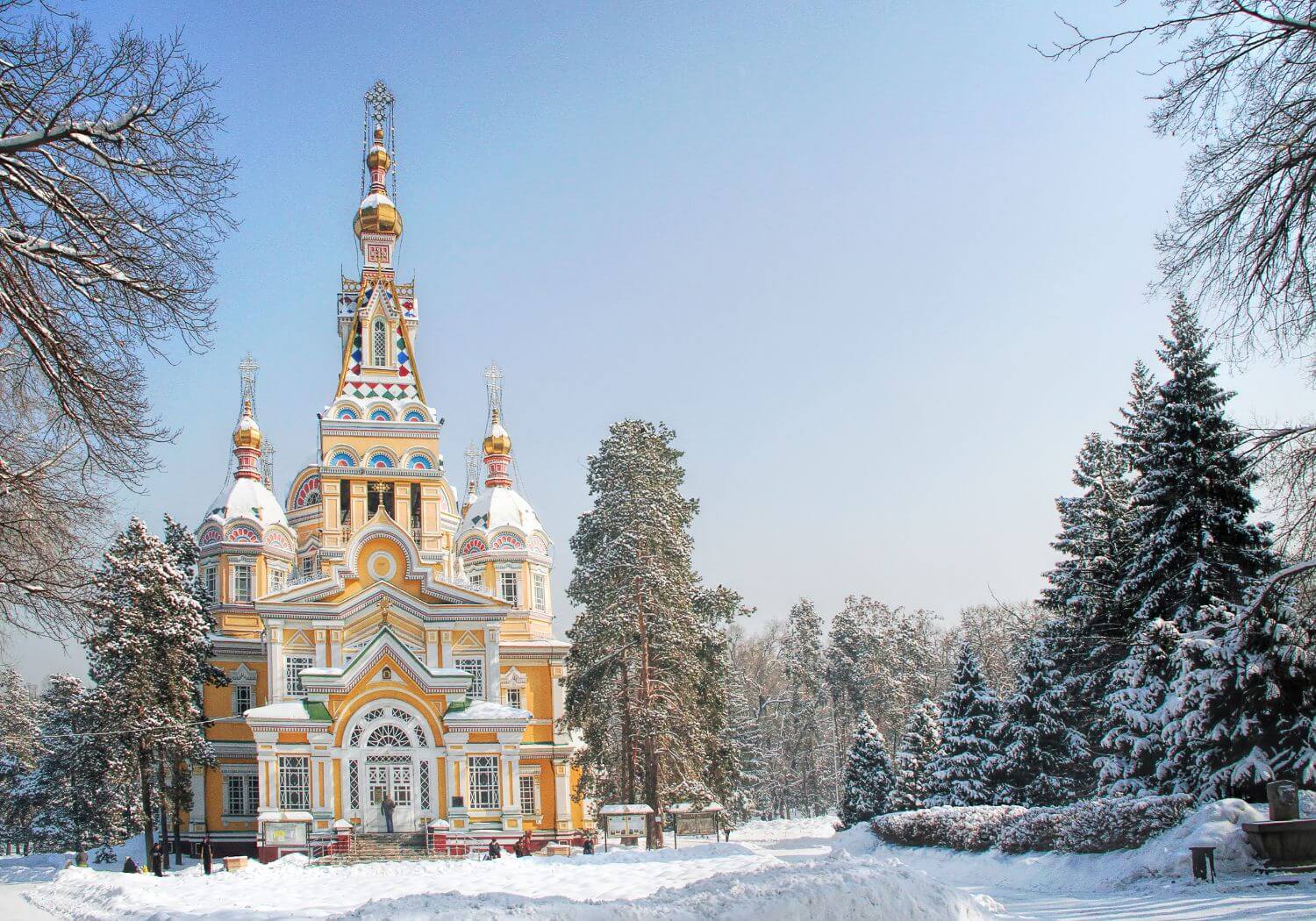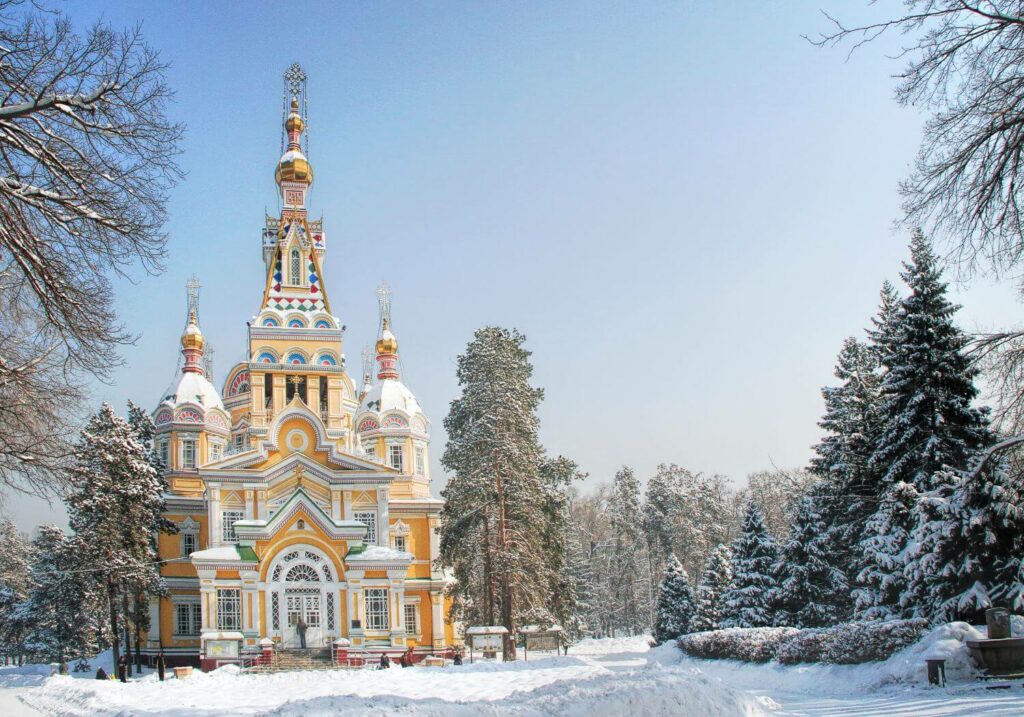 If you are in the mood to try a somewhat different winter destination then Kazakhstan is definitely an option for snow-lovers.
This is a majority-Muslim country so they do not celebrate Christmas. Instead, New Years is more important.
The 25th of December is a normal working day for the locals and the few that do celebrate Christmas would be doing it on the 7th of January like the rest of the Orthodox world (Serbia, Russia, Georgia, etc.).
What is really important to know if you are visiting in December is the fact that on the 16th and 18th of December Kazakhstan celebrates their independence day so everything will be closed.
Almaty is one the most commonly used airports in Kazakhstan therefore this is the place you should be exploring first.
What is there to do exactly? Ice skating!
On the eastern outskirts of Almaty you will find the highest open air skating rink in the world called Medeo. It is set at an altitude of 1690 meters and covers an area of 10.5 thousand square meters of ice.
Pro tip: It is advisable to book your ticket online. The entry fee includes a 60-minute session.
I know the point of this article is to help you avoid Christmas as much as possible but you still might want to visit the Christmas market located at Republic Square.
Apart from the festive ambience, you will be able to find an abundance of traditional food, drinks and crafts as well as live music and entertainment, a great way to immerse yourself into the local culture.
If you are the active type that also happens to love skiing or someone that never learned how to ski but would really like to try, then Shymbulak Ski Resort is one of the best ski resorts in the country and a short ride from the city. The resort offers a variety of slopes for all skill levels as well as ski rentals and lessons.
To enjoy the wonderful views of the city from an altitude of 1100 meters above sea level get the cable car up to Kok Tobe Hill which will be decorated for the season.
At the top, you can hop on the roller coaster that goes downhill at up to 45 km per hour, throw coins in the fountain of desires and wish for the craziest things, go on the ferris wheel, see the TV tower and a monument dedicated to… the Beatles!
The diversity of Kazakhstan is so evident that just outside Almaty you can experience a tremendously different landscape.
Some of the world's biggest canyons such as Charyn Canyon National Park, bright green meadows probably covered in snow at that time of year, snowy mountains and breathtaking Kolsai Lakes.
Astana (formerly known as Nur Sultan) is the capital of Kazakhstan with a population of just over a million inhabitants and is a unique city between Ashgabat and Dubai, with numerous futuristic buildings and skyscrapers.
Check out the beach club at the top of Khan Shatyr shopping mall for a warm swim or shore lounging. When it is freezing outside, being in your swimming suit under the warm sun is quite a special feeling.
Other interesting buildings include Baiterek tower which represents the tree of life and has a golden egg at the top (you can go to the observatory), The National Museum of Kazakhstan which was the largest in Asia when it opened, the very forward looking Future Energy Museum which is worth it just for the architecture of the buildings, and the Louvre-looking pyramidal Palace of Peace and Reconciliation, built by Foster + Partners to host the triennial Congress of Leaders of World and Traditional Religions and represent the world's religious faiths.
Temperatures in December: Temperatures could be as low as 33°F (0°C) on warmer days and 14°F (-10°C) on colder days. Layering is the key to staying warm at all times while I would also recommend thermal clothing that you can find in your favorite outdoor clothing store or on Amazon. 
Georgia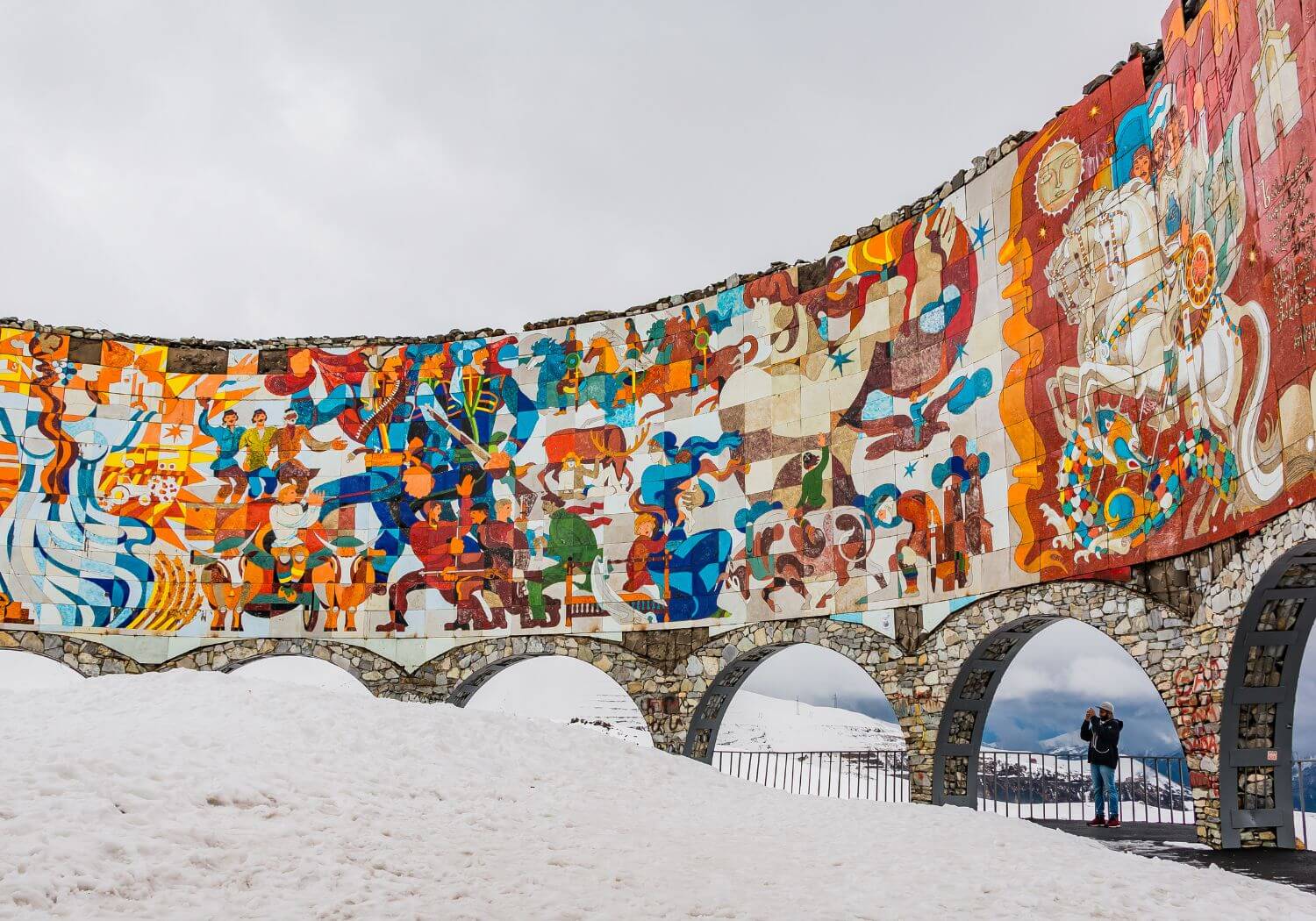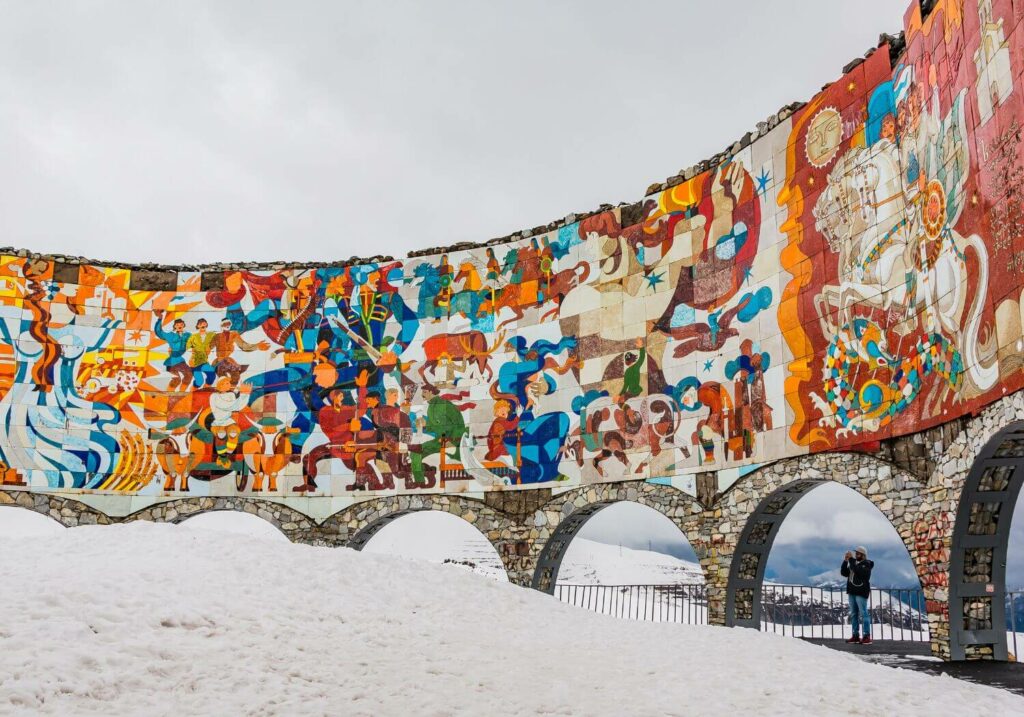 Georgia is an up and coming destination travelers fall in love with and, unlike what you may expect, it is typically warmer than other parts of Europe in December.
Christmas is celebrated on the 7th of January but they do start decorating in mid December so you will see Christmas markets, beautiful Christmas trees and lights everywhere.
Pro tip: January 1, 2 and 7 are public holidays in Georgia and that most of the stores will be closed.
On the 7th of January the locals gather at Rose Square in Tbilisi, the starting point of Alilo Parade. The parade involves priests dressed in special costumes, marching through the city's main streets. Most of the participants are children while sweets and gifts are distributed to the people watching and participating.
Apart from your warm clothes, an anti-theft bag and your camera, you certainly need to pack comfortable walking shoes for the cobblestoned streets, and a headscarf to get into some churches.
Start in Tbilisi with a warming sulfur hot spring bath and continue with tea at one of the many charming cafes.
Georgia is famous for food and wine and the capital is a great place to sample the local food scene (hint: Cheese is king!), go on a wine tasting (Georgia has the oldest wineries in the world), or attend a tea ceremony.
Try the khinkali (local dumplings filled with juicy meat), a veal or lamb stew with greens called chakapuli, eggplant rolls with nuts, red bean soup cooked in a clay pot, ostri (beef stew with vegetables and spices), and the star dish, adjarian khachapuri (boat shaped dough with cheese, butter and a runny egg yolk on top).
To learn more about the country, join a free walking tour, buy seasonal products and souvenirs from local bazaars, visit museums, or watch a Georgian dance performance and a play at the Opera House.
Beyond Tbilisi, Georgia is a good sky destination. If you are into winter sports, this is the peak season in Gudauri and Bakuriani where everyone goes skiing and snowboarding, so book ahead of time.
If you are a wine lover, you might be interested in visiting the Winemaking Regions, among the oldest in the world offering high quality wine. The most known wine regions are in the country's east. Kakheti, Kartli, Imereti, Racha-Lechkhumi, Kvemo Svaneti and in the coastal areas like Adjara and Abkhazia.
You can combine your winery tour with a meal and a vineyard tour but make sure you don't drive as the law is non lenient even if you do not have much to drink.
Temperatures in December: December in Georgia could be cold and breezy. You definitely need a warm jacket as temperatures could range from 28 to 45°F (-2 to 7°C).
North Macedonia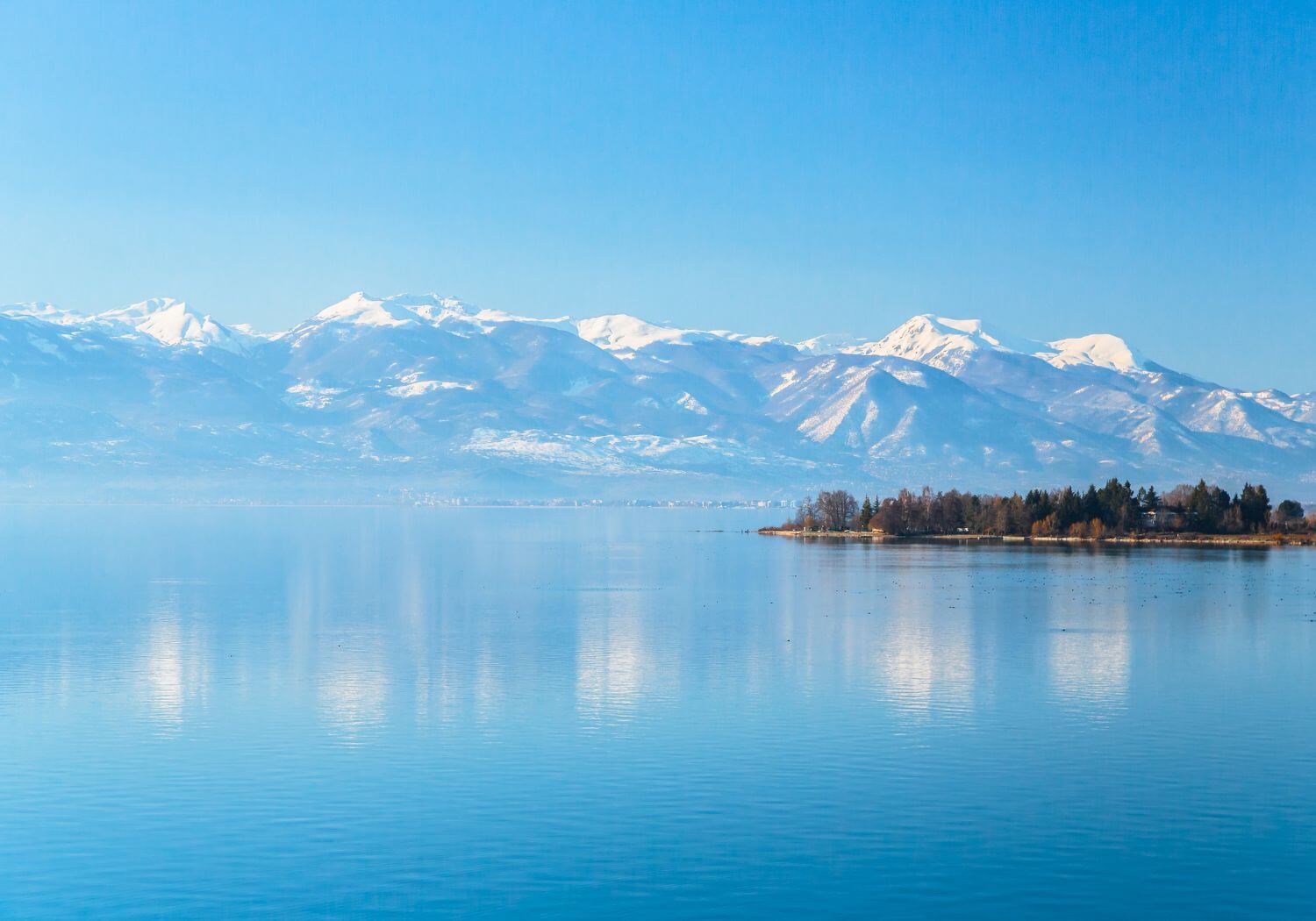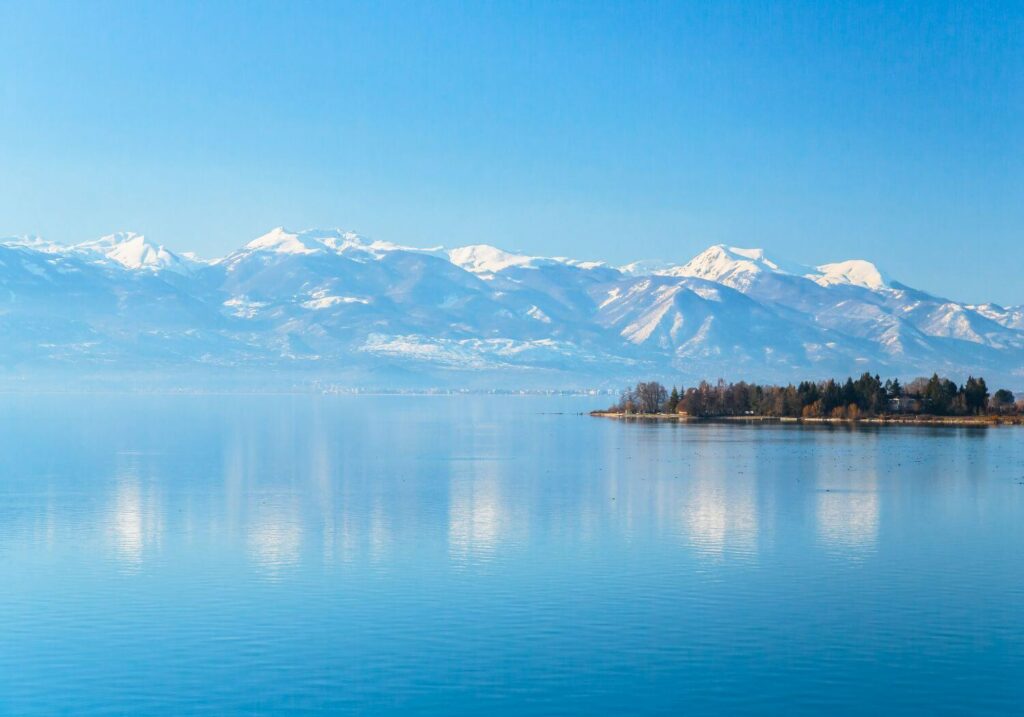 North Macedonia is one of the smallest and most affordable destinations in Europe thus a good alternative to more expensive Western European countries.
Christmas is celebrated on the 7th of January but that doesn't keep people from partying at the central square in Skopje on New Year's Eve, where there's a free concert taking place every year with local and international performers.
Skopje, the capital, and Ohrid on the banks of the lake with the same name, are the most popular cities to visit.
Skopje, like the rest of the country, is quite a small and compact city where you can go ice skating in the city park, stroll at the Old Bazaar, among the oldest and largest marketplaces in the Balkans, and take the cable car up Vodno mountain to see the Millennium Cross.
In the center of Skopje you will notice an impressive bridge known as the Art Bridge, featuring 29 statues of local artists and musicians. It was considered a significant project with a construction cost of 2.5 million euros. The statues lie on both sides, 14 per side and one in the center.
You can also visit Mother Teresa Memorial House where you can find out more about her life and works. She is believed to be of Albanian origin but was baptized in the old Catholic Church Sacred Heart of Jesus that was located at this spot in the past.
Besides the capital, the most visited site is Lake Ohrid, a UNESCO World Heritage Site and one of Europe's deepest and oldest lakes with a unique aquatic ecosystem.
Along Lake Ohrid you will find Saint Naum's Monastery named after the Bulgarian writer that founded it, perhaps the most famous landmark in the country.
Temperatures in December: December weather in Skopje has historically been cold and humid with temperatures between 27°F (-3°C) and 42°F (6°C).
Russia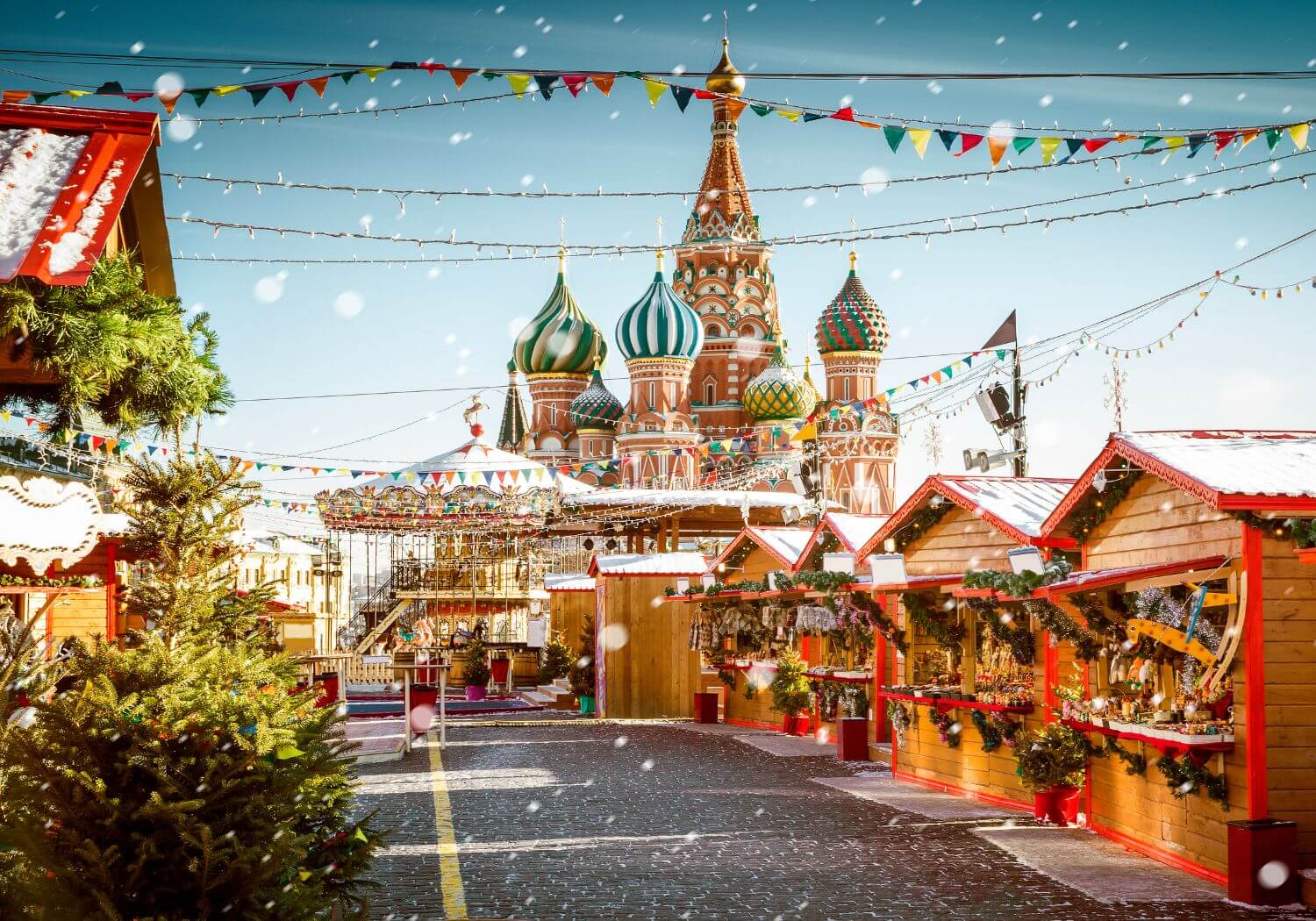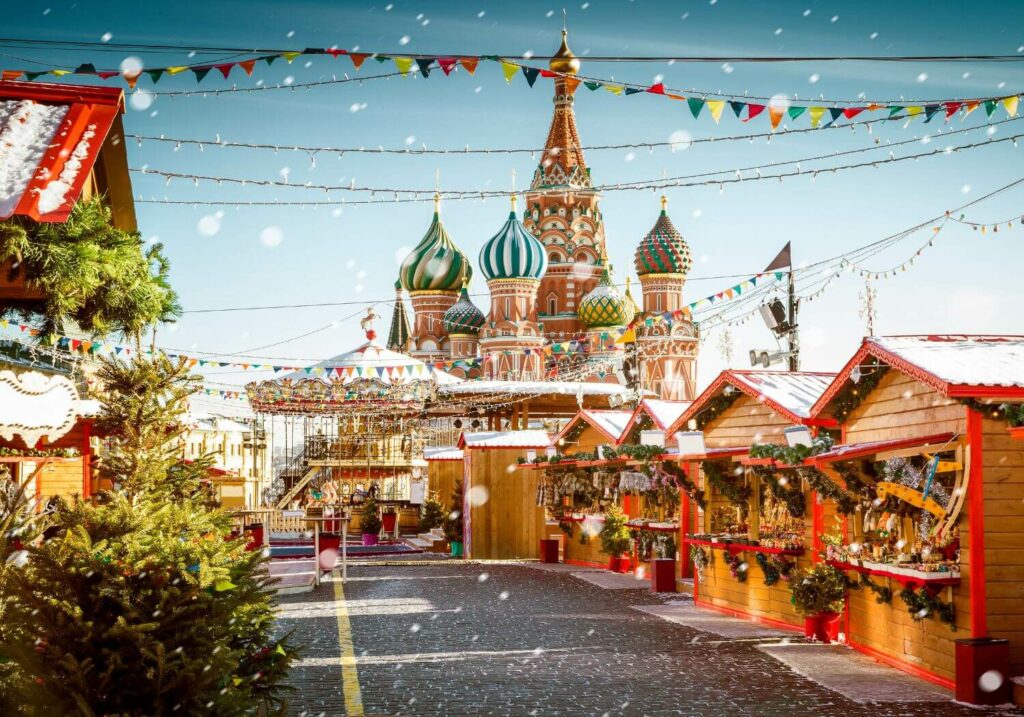 Russia is the largest Orthodox country in the world following the Julian calendar. It celebrates Christmas on the 7th of January with a family lunch or dinner and visiting relatives and friends.
Forty days before Christmas, practicing Christians start a fasting period during which they don't eat meat, making the Christmas meal even more special.
As the world's largest country spanning 9 time zones, Russia has a lot to offer to those wanting to escape Christmas in December. You only need to be well prepared for the cold and snow no matter which city you choose to visit.
Moscow and St. Petersburg are the most popular and fairytale cities in winter when most of the conical shaped church domes will be covered in snow, so they are probably your first choice for a Chritsmas-free holiday destination in December.
When in St. Petersburg, you must visit The Hermitage, the winter palace of the Tsars.
Opened in 1784 by Catherine the Great, its collection includes three million items, from paintings, to porcelain, ceramics, photos, weaponry, jewelry, furniture, drawings, coins and more.
Since I was a student I was fascinated by Carl Faberge, the Russian jeweler, researcher and restoration expert, made famous for his elaborate collection of Easter Eggs, and based a speech on his art and craft. If you are too, you can visit the Faberge Museum housed in Shuvalov Palace, to see his masterpieces.
In Moscow, use the metro to escape the freezing temperatures. This is the 5th longest in the world but is better known for the extravagant and unique design of its stations which are a tourist attraction on their own.
Must-see in Moscow is the Red Square which is not only the biggest square in Russia but the most famous as well.
From there you can see some of the most significant buildings in Moscow such as UNESCO-listed colorful Saint Basil's Cathedral, one of the most beautiful Orthodox monuments in the world, the famously high-end GUM department store, Lenin's Mausoleum and the Kremlin.
Temperatures in December: December weather in Russia can be extremely cold and snow is to be expected during the whole month. Temperatures in Saint Petersburg may vary between 57 to 72 °F (14 to 22°C) and in Moscow between 19 to 27°F (-3 to -7°C). Apart from thermal clothing and a warm coat you'll probably need snow boots as well. 
Egypt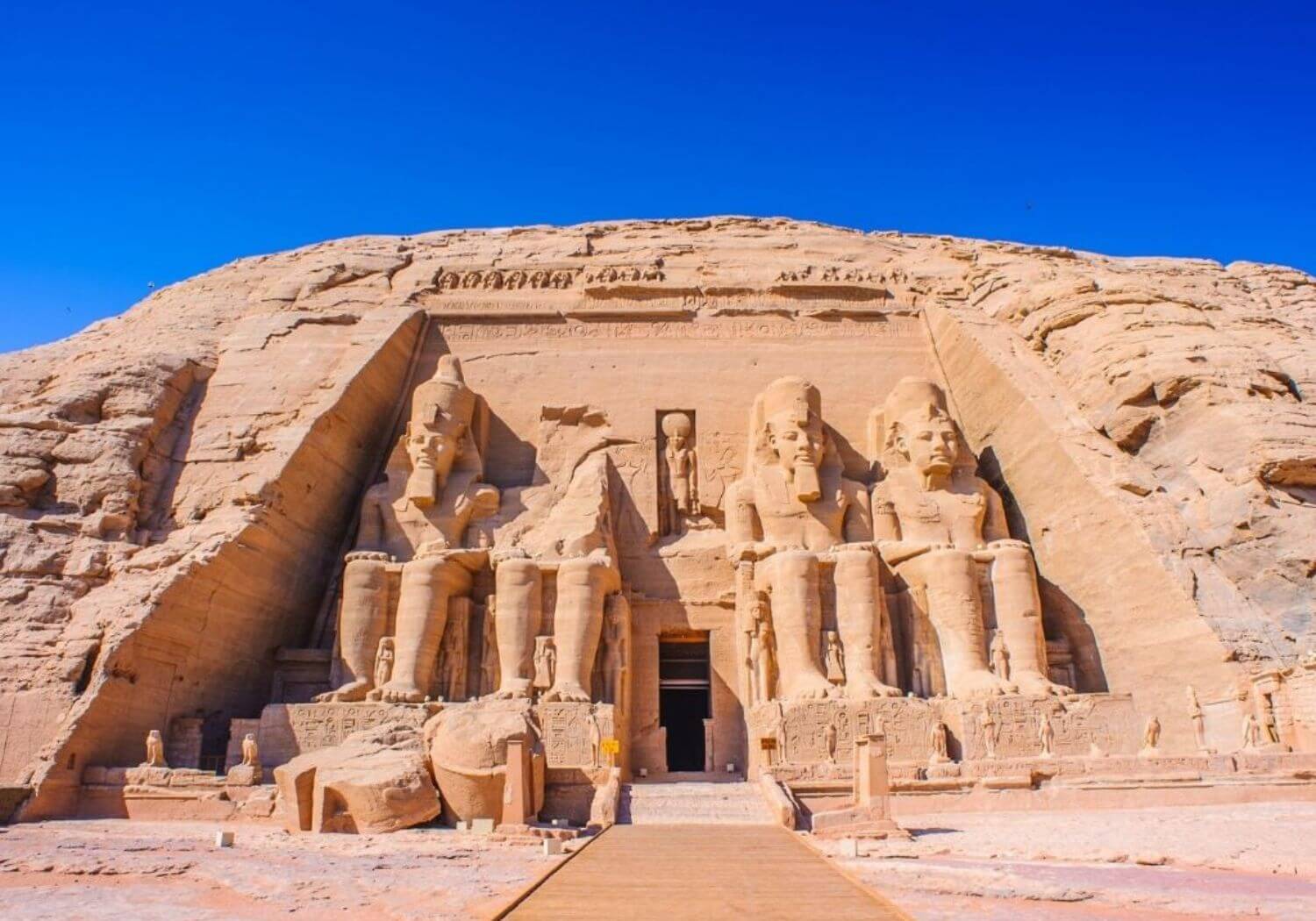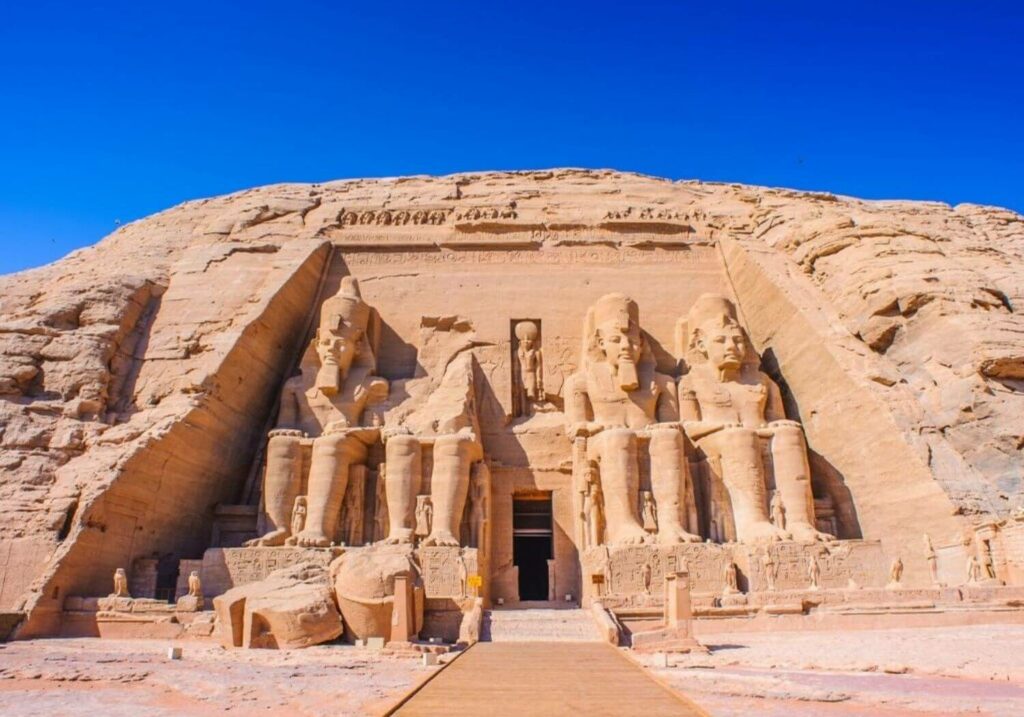 Egypt does not celebrate Christmas as it is a majority Muslim country and only 10-15% of the population is Christian Coptic and celebrates Christmas on the 7th of January instead of the 25th of December.
On Christmas day, they meet with friends and family and gift each other sweet biscuits called Kahk that are also eaten during Eid al-Fitr (the feast that marks the end of Ramadan in the Muslim world) and go really well with a cup of tea on the side.
Christians homes are decorated with ornaments and trees and you might also see lights and other decorations in some malls but nothing extravagant.
Pro tip: This is the busiest time of the year for international visitors to come to Egypt so expect the country's famous Pharaonic sites to be crowded. Book early, especially internal flights, as the best times sell out months in advance and you may end up having to fly at 6am on New Year's Eve.
Start in Cairo and continue to Luxor and Aswan to spend time by the River Nile, visit the Valley of the Kings (or take a balloon ride over it), explore the Temples of Karnak and Luxor and the Nubian villages along the southern part of the country.
If you have time, take a day trip to the impressive Abu Simbel, the carved temple that was moved when the construction of Lake Nasser and corresponding dam threatened to submerge it under water.
Top off a two-week trip of a lifetime with time off to rest and relax at some of the most beautiful resorts on the Red Sea
Temperatures in December: December in Egypt is pleasant and mild with temperatures ranging from approximately 64 to 73°F (18 to 23°C). The weather is perfect for outdoor activities and long walks.
Countries where Christmas is not a public holiday and is not celebrated
If you are looking for a country that does not celebrate Christmas at all, you need to look no further than all the countries where there is a majority non-Christian population.
Countries where Hinduism, Buddhism, Jainism, Sikhism or Islam are the majority religion do not observe or celebrate Christmas and do not grant a day off for this day.
In some cases, such as Thailand, you may find Christmas decorations in malls and shops because these have become a symbol of the end of the year celebration and because there is a sizable tourism industry, but Christmas day goes on like any other day for many.
Morocco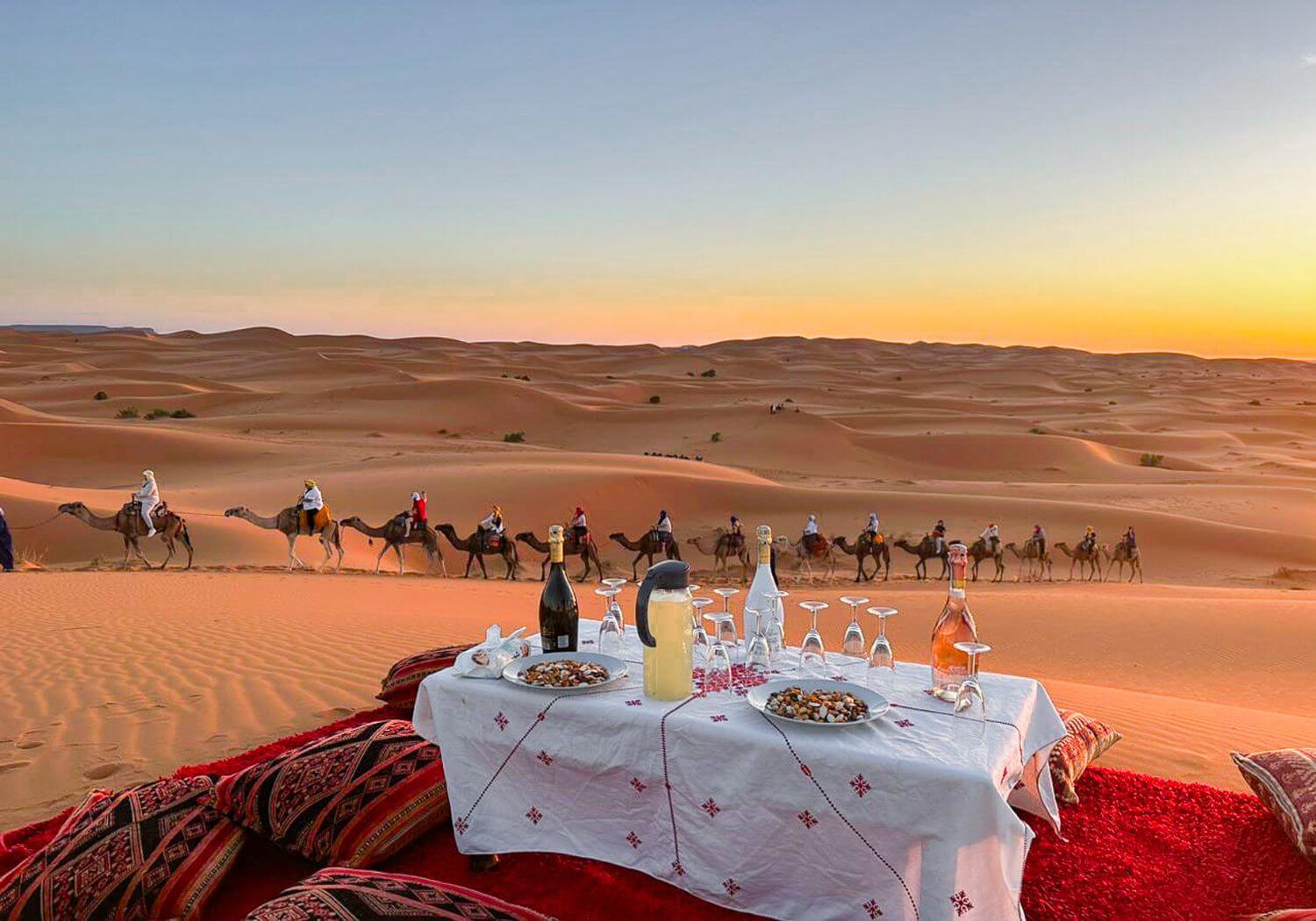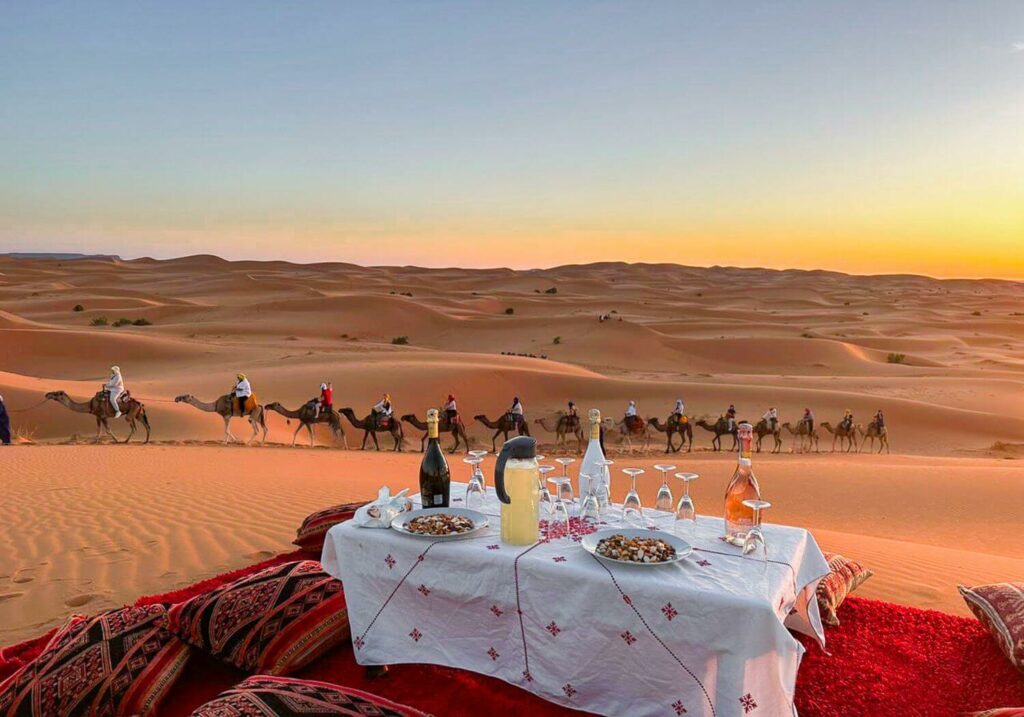 This North African country is a mere 10km from Spain but it is a great place to visit during Christmas if you would rather skip the entire celebration.
Less than 1% of the 37 million population of Morocco is Christian, although you might still bump into a Christmas tree or two at hotels and some expat shops due to the strong French influence.
The main international airports are Casablanca and Marrakech, though they are not far from each other (3h drive), so you could use either. Some European low cost airlines offer direct flights to Fes and other cities too, which could be a shorter trip option.
Morocco has an abundance of things to do and numerous places to visit. You can take our Women only tour to Morocco as the basis to decide which parts of the country to visit based on how much time you have.
If you have two weeks, you could see most of the country. Take our itinerary and add 2 nights in Essaouira at the end and you'll have the perfect program with a bit of everything: old medinas of Fes and Marrakech, the Sahara Desert, modern cities of Rabat and Casablanca, the Blue City of Chefchaouen, and the laid back atmosphere of the fishing town of Essaouira.
Our Co-founder spent New Year's Eve in Marrakech years ago and tells me the city isn't short of party options for the night.
Temperatures in December: Bonus factor in December is the temperature that varies between 47 to 68°F (8 to 20°C).
Bhutan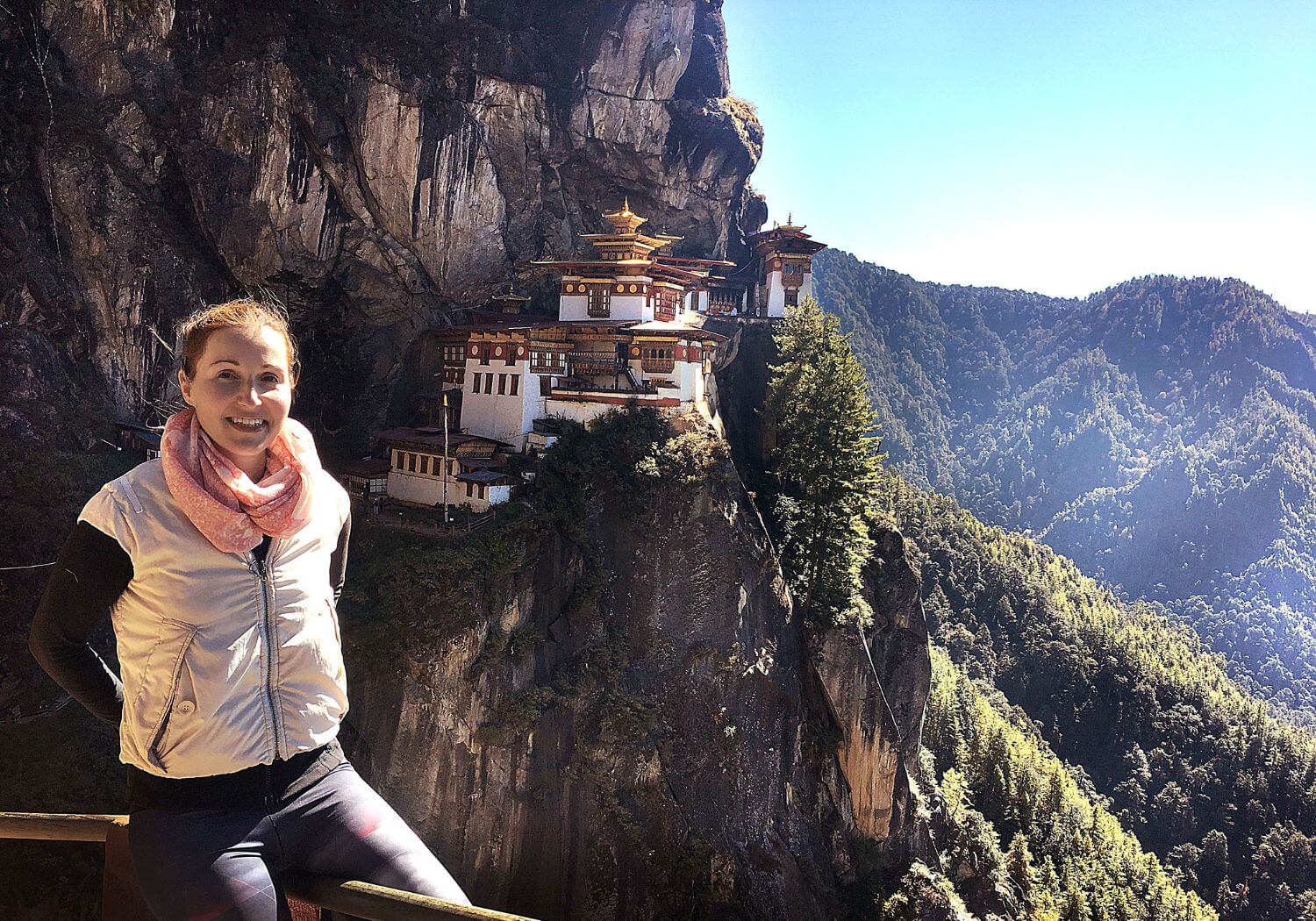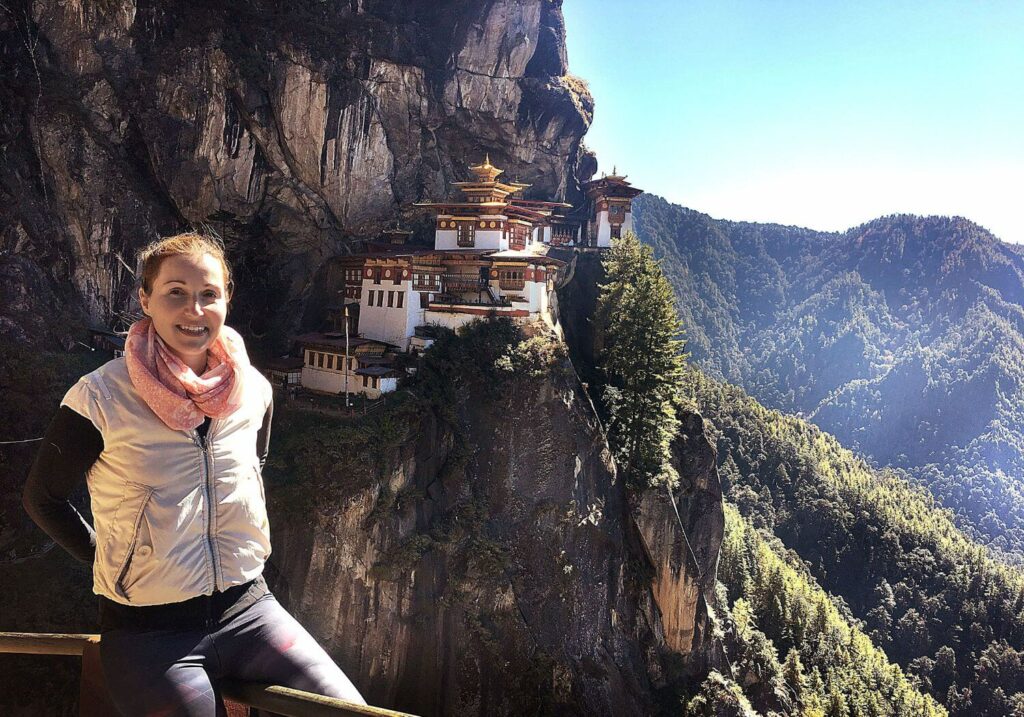 The Kingdom in the Clouds is a magical place up in the Himalayas mountains.
This is an extremely spiritual and whimsically magnificent country that is devoid of any Christian celebrations as it is primarily Buddhist and only 2% of the population is Christian.
The end of the year sees very low temperatures, rarely any rain, and snow in the Himalayas where Bhutan is located, so this is a destination for those looking to enjoy a snow capped festive season cuddling around the fireplace.
Bhutan's main places of interest include Paro, Tiger's Nest, Thimphu and Punakha. Snow and bad weather may prevent you from going farther, but this is a great way to spend a week.
Paro is home to the country's international airport, one of the most challenging airports in the world, and is connected to numerous ancient monasteries, including The Tiger's Nest, many local legends, myths and all cultural aspects of Bhutan.
If you only do one thing in Bhutan, it must be to hike to the top of The Tiger's Nest, the most incredible monastery you will ever see, thanks to its gravity-defying location on the side of a mountain.
Thimphu is the laid back capital where you can do some shopping and visit beautiful monasteries. On the way from Thimpu to Punakha you will pass the Dochula pass, a mountain pass at over 3,000 meters (close to 10,000 feet) topped by 108 memorial stupas and wonderful views of the Himalayas mountain range.
Punakha is the warmer and lower part of the country and famous for its Dzong fortress temple and its suspension bridge, the longest in the country, covered with colorful religious flags and literally hanging in the air. This is also the starting point for many hiking programs.
Above Punakha you can visit Chimi Lhakhang, the fertility temple, surrounded by houses painted with phalluses on walls and entrances.
Temperatures in December: December along with the fall months is the best time to visit Bhutan as the weather is dry. Temperatures vary between 30 to 59°F (-1 to 15°C).
Maldives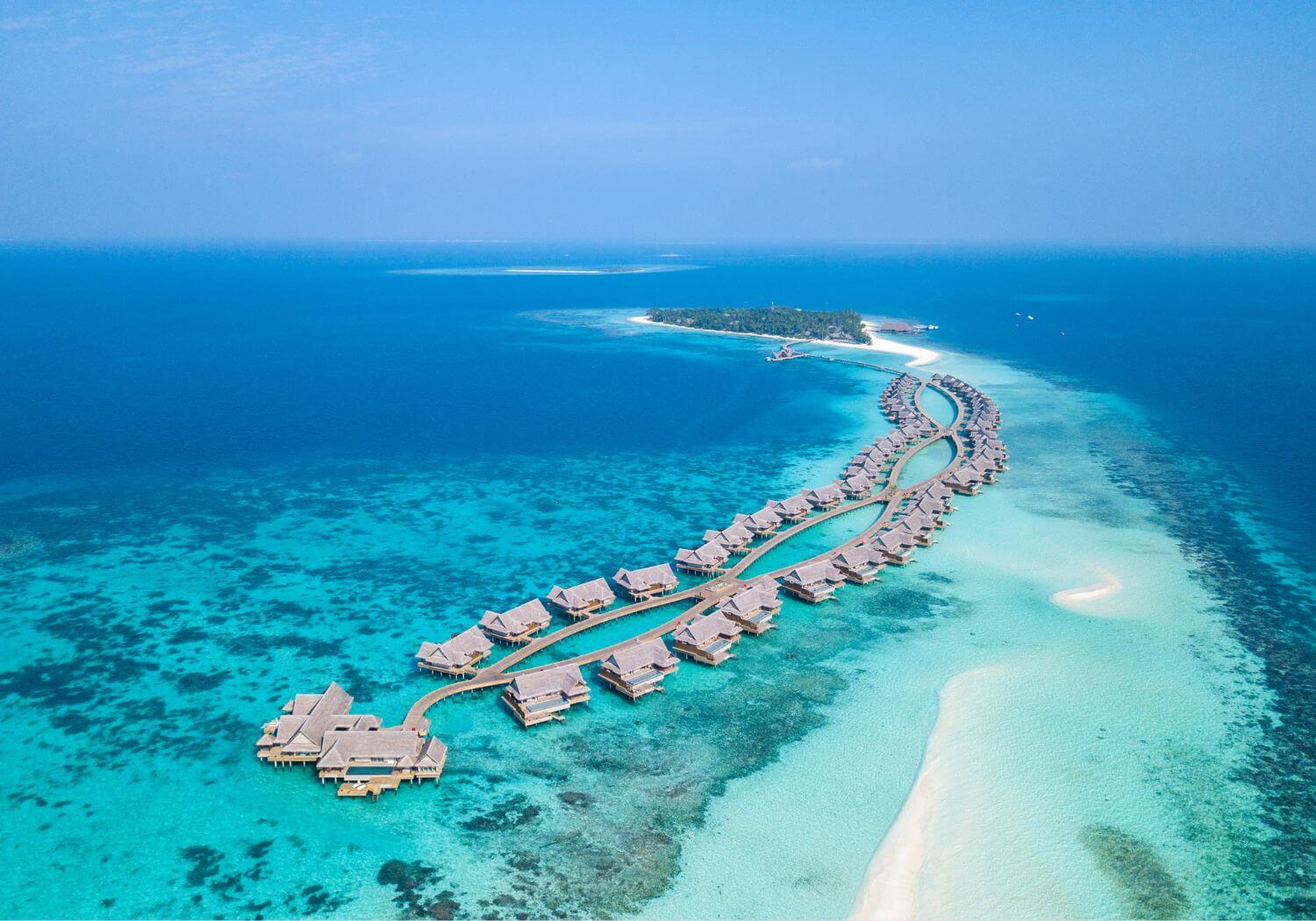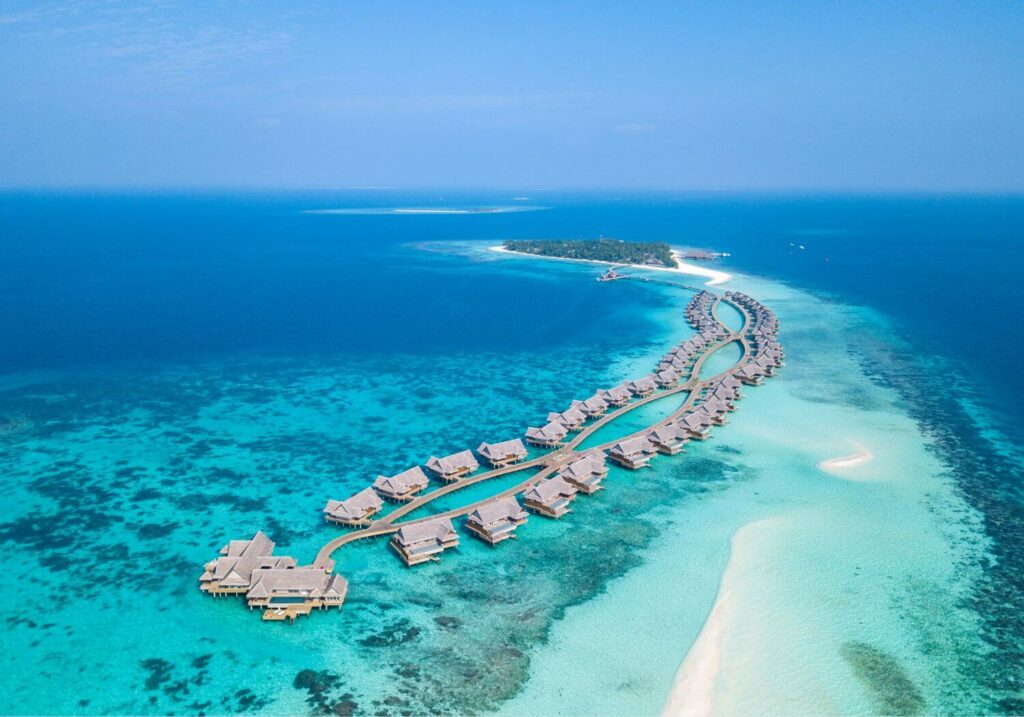 This small island nation in the Indian Ocean is a majority Muslim country with practically no other religion being represented in the capital city of Malé. On the islands, expats from all over the world work in the many luxury resorts.
As with most highly visited Muslim countries, the Maldives won't be officially celebrating Christmas but island resorts will offer special meals and will be decorated because of the many Westerners visiting.
You can stay in your overwater or beach villa and order room service on Christmas day and completely ignore the celebration while enjoying the most glorious views.
Diving and water sports such as sailing, kayaking, water skiing and windsurfing will keep you busy. Marine wildlife can keep you entertained under water too with dolphin tours, manta ray snorkeling, shark diving, etc.
The rest of the time you can arrange day trips to other islands of the archipelago and Malé, where you should visit the fish and seafood market, the Mosque of Hukuru Miskiiy built in 1656 and a symbol of local architecture, and the National Museum where you will see exhibits such as jewelry, royalty clothing, weapons and types of fishing boats.
Do not leave the Maldives without becoming an expert in the local dance or at least having watched the locals performing it. It is called Boduberu, taking its name from the big drums made of coconut wood that are used to produce the melody to which the dancers move.
The dance consists of a small group of around 15 people wearing a sarong and a white shirt. The lead singer is singing while the rest of the team is playing other instruments. Some resorts have performances you can participate in.
Temperatures in December: The best thing about visiting a tropical location in December, when most of the Northern Hemisphere is cold and dark, is the weather. Between 77 to 86°F (25 to 30°C). This gives you no other choice but to hit the pool or beach.
Saudi Arabia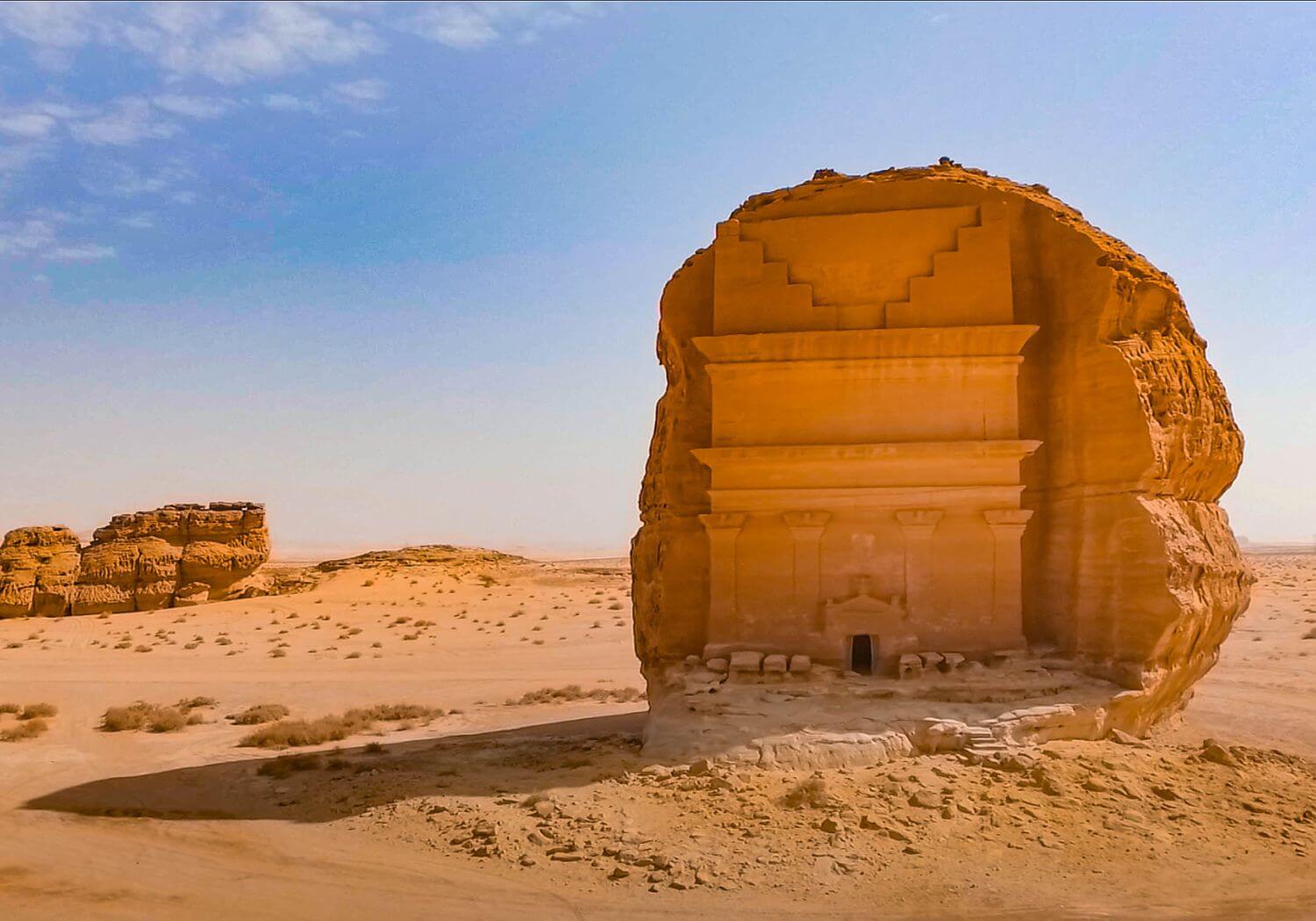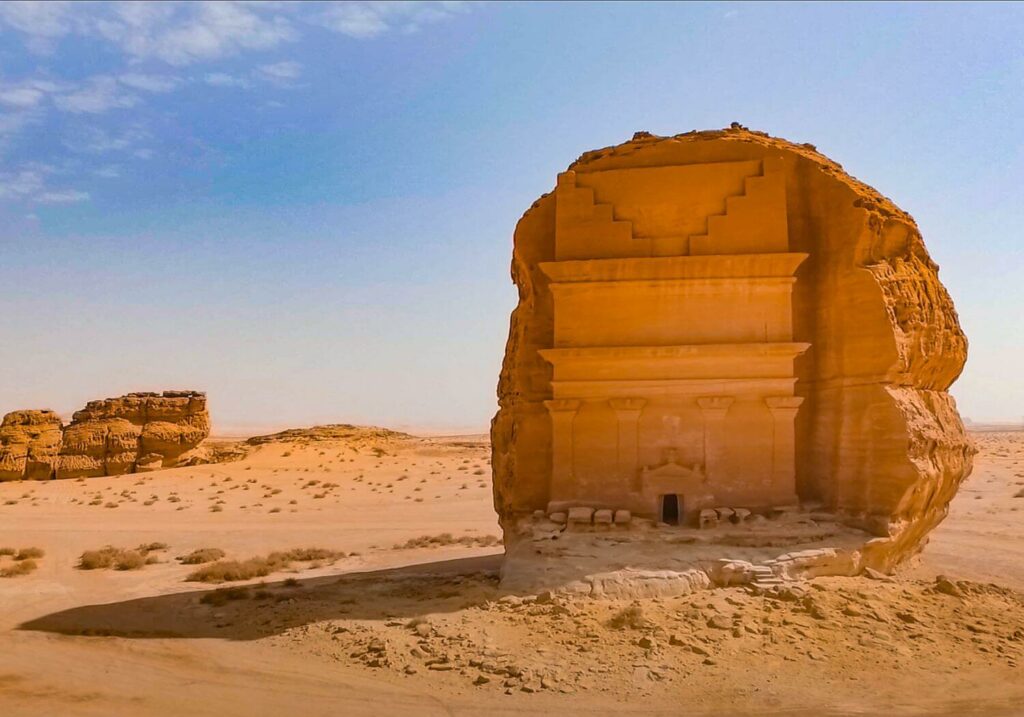 The heart of Islam is also a place where Christmas celebrations are not on the menu.
Recently reopened to tourism after decades where women were not allowed to visit independently for tourism, Saudi Arabia is now open to all through an online visa system.
The two main cities in the country are Jeddah, the cultural seaside center, and Riyadh, the business center. Between the two and beyond lie kilometers of desert and incredible landscapes.
Jeddah is famous for its souks and its balmy weather. It is the gateway to Makkah and Medina, the heart of the Islamic world, and the starting point for water exploration into the Red Sea. The city's cemetery is also known to be the burial place of Eve, the first woman.
In Riyadh, you can visit the UNESCO listed Historical Diriyah, renovated on occasion of the country's opening to tourism, and marvel at the many skyscrapers and developments that are taking the country into the 21st century.
Farther away, the ancient ruins of AlUla, an ancient capital city that was at the center of trade and commerce in ancient times, await.
Recently rediscovered and restored, this is a magical destination halfway between the modernity and bling of Dubai and the stunning beauty of Petra made up of modern installations of mirrors that reflect the stunning landscapes and restored Nabatean tombs.
The area is also home to several luxurious resorts that make for the perfect indulging holiday. For some excitement, sign up for a desert safari in the sand dunes with a jeep driven by an experienced driver who will take your adrenaline levels to different heights.
Temperatures in December: The festive season falls in winter so it is a good time to visit to avoid the otherwise very high temperatures that reign supreme over the rest of the year. Riyadh will see temperatures between 55 to 65°F (10 to 20°C) and Jeddah between 65 to 86°F (20 to 30°C). AlUla is warm during the day with maximum temperatures of 70°F (24°C) but drops at night to 40°F (5°C) ). Don't be fooled by the desert vibes and bring a jacket, temperatures drop a lot at night.
Cambodia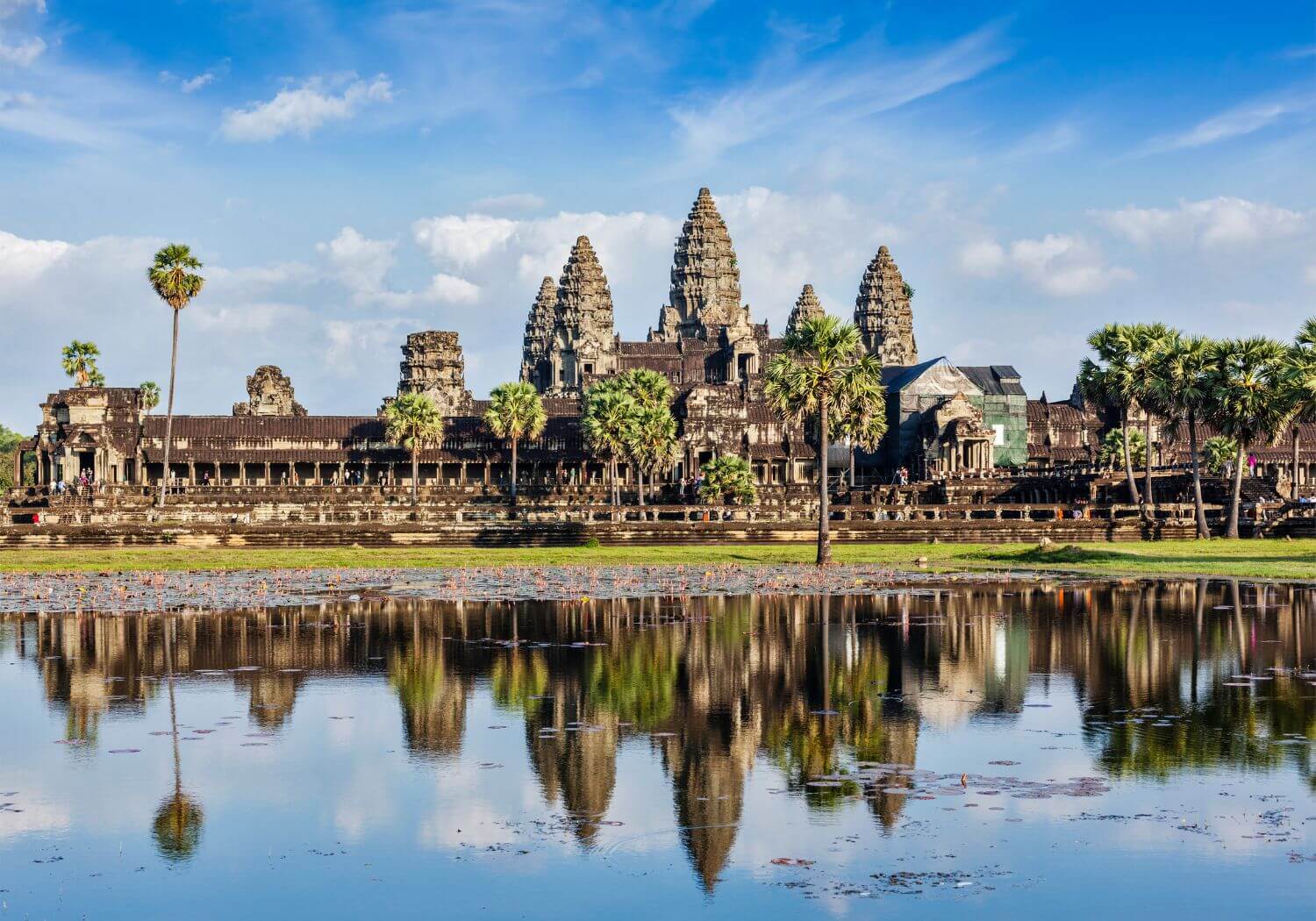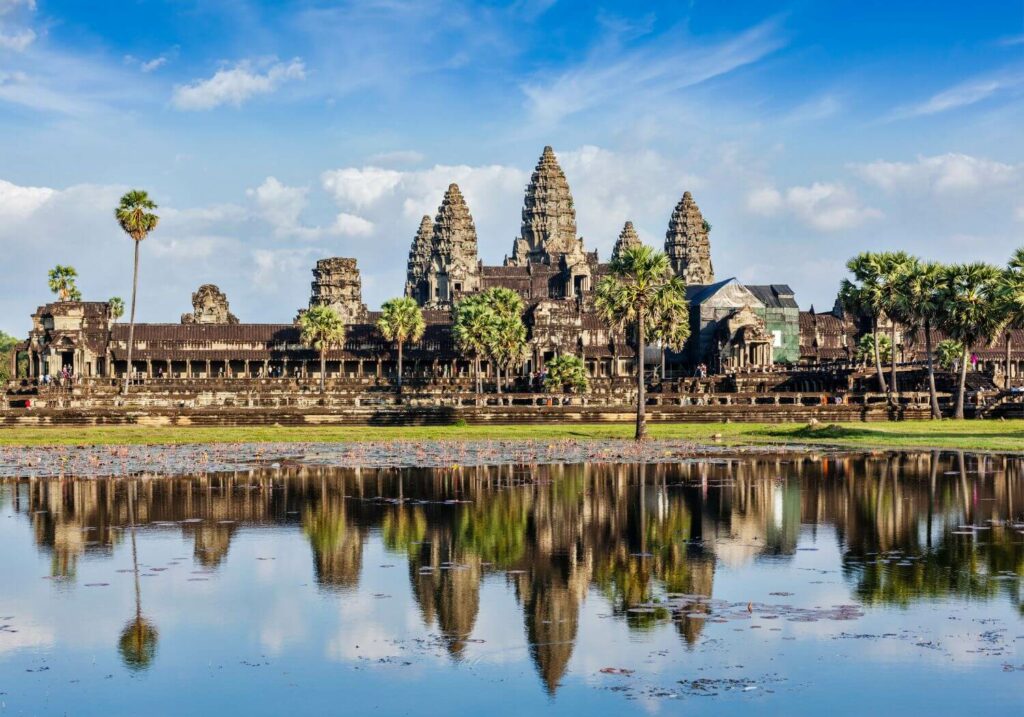 Cambodia is a welcoming destination ranked among the friendliest countries in the world based on a poll conducted in 2021 by an English guidebook Rough Guides.
It is highly unlikely that you are going to see any Christmas decorations anywhere in December as 95% of Cambodians are Buddhist, about 3% or less are Muslims and the remaining percentage are Christians.
Only big resorts frequented by foreigners will offer a Christmas meal and be brightly decorated, but most of the country will be devoid of any reminders.
The country is famous for its Angkor Wat Temples. This UNESCO listed site is the number one destination in the country and deserves at least 3 days. Don't miss seeing the sunrise on the main temple and getting off the beaten path towards the lesser visited ones.

Despite the main temple seeing quite a bit of foot traffic year round, December is a quiet time and you may find yourself completely alone in the lesser known temples. Rent a bike to explore without the noise of motorbikes.
From Angkor Wat you can take a day trip to see the floating villages on Tonle Sap Lake or a helicopter tour to fly over the temples, an unforgettable experience.
Beside Angkor Wat, Cambodia's capital is worth a day or two. The most important stop should be the Royal Palace, where the Royal Family still lives today.
After that, head over to the Art Deco central market, a busy place housed in a domed building completed in 1937. I love markets everywhere and Phnom Penh isn't an exception.
Among the sellers promoting their goods and the colorful fruits and vegetables is a huge array of souvenirs and items you have probably never seen before. Strike a conversation with the sellers and ask them what they are.
From the capital you can visit the Killing Fields Memorial, a memorial park and museum that remembers the victim's of Communist dictator Pol Pot's genocide against his own people during the regime that ended in 1979 and followed the Cambodian War. More than 1 million Cambodians were executed across the country during his four year regime.
His killing spree aimed at eliminating opponents to his regime, this included anyone who had an education, from lawyers to doctors, followed any religion, wore glasses, etc. A visit to the Killing Fields Memorial is a must when in Cambodia.
On a more uplifting note, don't leave the city without sunset drinks at one of the rooftop bars. Sora bar at the top of the Rosewood Hotel is where all the hip Cambodians meet up.
Moving on with less traditional pastimes in Cambodia, riding the famous bamboo train is a unique activity for the visitors of Battambang. Locals started using the bamboo train out of necessity in the 1970s when the railway system construction was abandoned and the civil war destroyed infrastructure.
They would build wooden platforms called norries with their own hands and any available materials, and carry people and goods on them, while using sticks to move on the rails. In the 1990s they added engines.
Since the end of the civil war, the bamboo trains started a slow demise prompted by the betterment of roads and the construction of a proper railway system. Today, only 7km of tracks bear Battambang remain as a tourist attraction.
Temperatures in December: December is a fantastic month to visit Cambodia especially if you do not like the snow and cold. Low humidity, lack of rain and sunny weather make this your chance to have a second, not extremely hot, summer. Temperatures in December vary between 77 to 86°F (25 to 30°C).
Thailand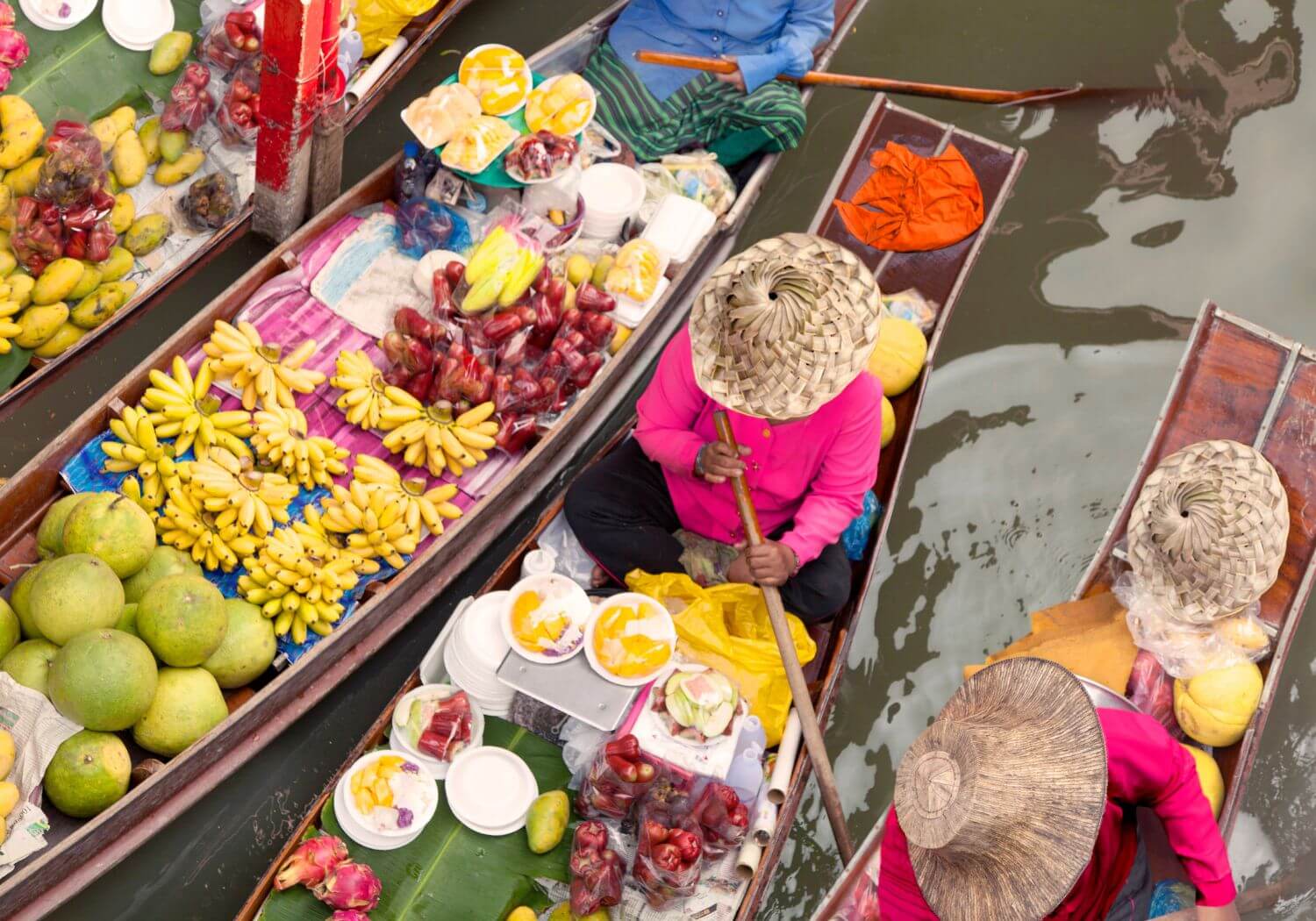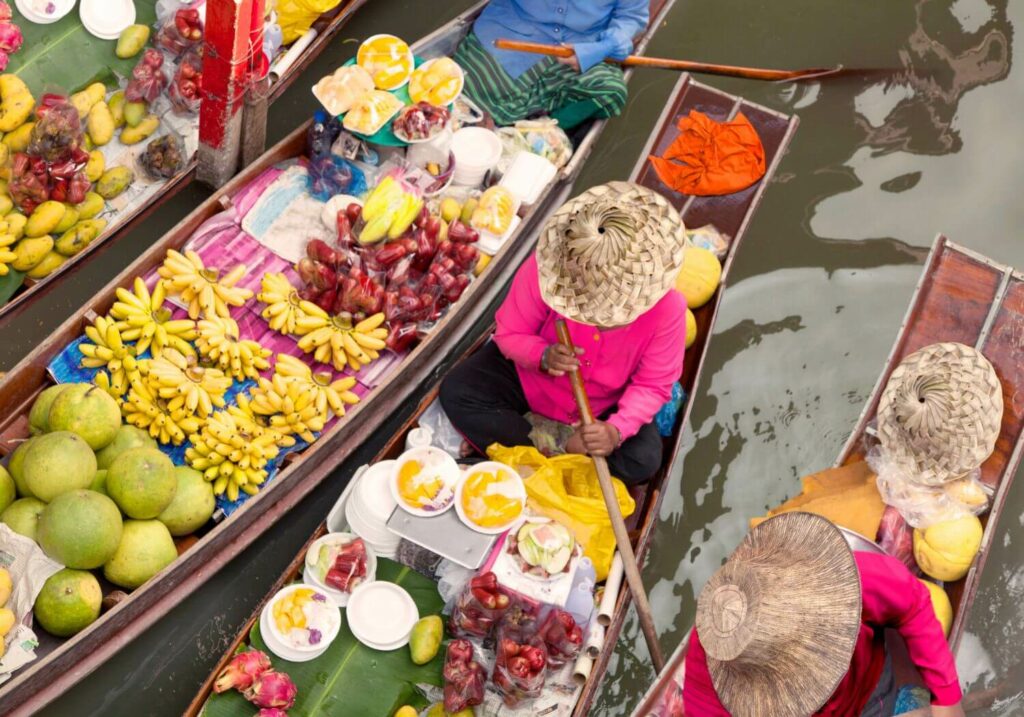 If you are looking to escape the Christmas season and want a warm holiday, Thailand is the perfect destination not least because December is a month of celebration in memory of the late King Bhumibol whose birthday was on the 5th.
85% of the population of Thailand is Buddhist, so Christmas is not observed except for at malls and hotels where marketing departments push for big expenditure and an end of year splurge.
Instead, make the most of the dry season and enjoy the beaches, islands and tropical vibes, away from winter in the northern hemisphere.
A typical trip to Thailand tends to cover the fascinating capital, with its stupas and palaces, the northern region, with Chiang Mai being the main base, and the southern islands, with Phuket, Koh Phi Phi and Koh Samui as main contenders.
In Bangkok, cultural attractions such as The Grand Palace, famous Wat Arun (the most iconic of all the stupas) and Wat Phra Chetuphon are a great way to learn more about the country's rich heritage and culture while snapping beautiful photos.
For market lovers, Chatuchak Market is the place to find everything you never thought you would need, but the 24h flower market at Pak Khlong Talat is the most beautiful, and best visited at night.
Don't miss the chance to have a sunset drink at the top of Lebua at State Tower, a long time contender for the best views in the city.
On the islands, your choice of accommodation will define your stay. Big beach resorts offer calmness and relaxation, and can be very luxurious, while a hostel or a centrally located hotel will place you in the heart of the action.
Spend your days lazing on the beach, having massages and indulging in fresh Thai food, one of the healthiest of all the Asian cuisines, or go on island hopping trips.
In Phuket, check the historical Art Deco center, enjoy the nightlife, meet new people, swim in tropical beaches such as Freedom, Kata, Karon and Bangtao and mingle with the friendly locals. If you love street food, check out Naka Weekend Market.
For something different, join a rum tour and taste Chalong Bay Rum distilled on the island and made with locally grown sugar cane.
In Chiang Mai, make sure to visit the night market, another gem, and the Sunday Walking Street Market that is a great way to explore stalls from local artists while strolling along the city center. Take a break at any of the cafes on the way and continue on to find your treasure. On the cultural side, Chiang Mai is home to the golden Wat Phra That Doi Suthep.
Temperatures in December: Thailand is ideal for swimming even in December. Pack light and bring cool, flowy pieces of clothing as days are usually hot but the evenings are mellow. Temperatures vary between 75 to 88°F (24-31°C).
Vietnam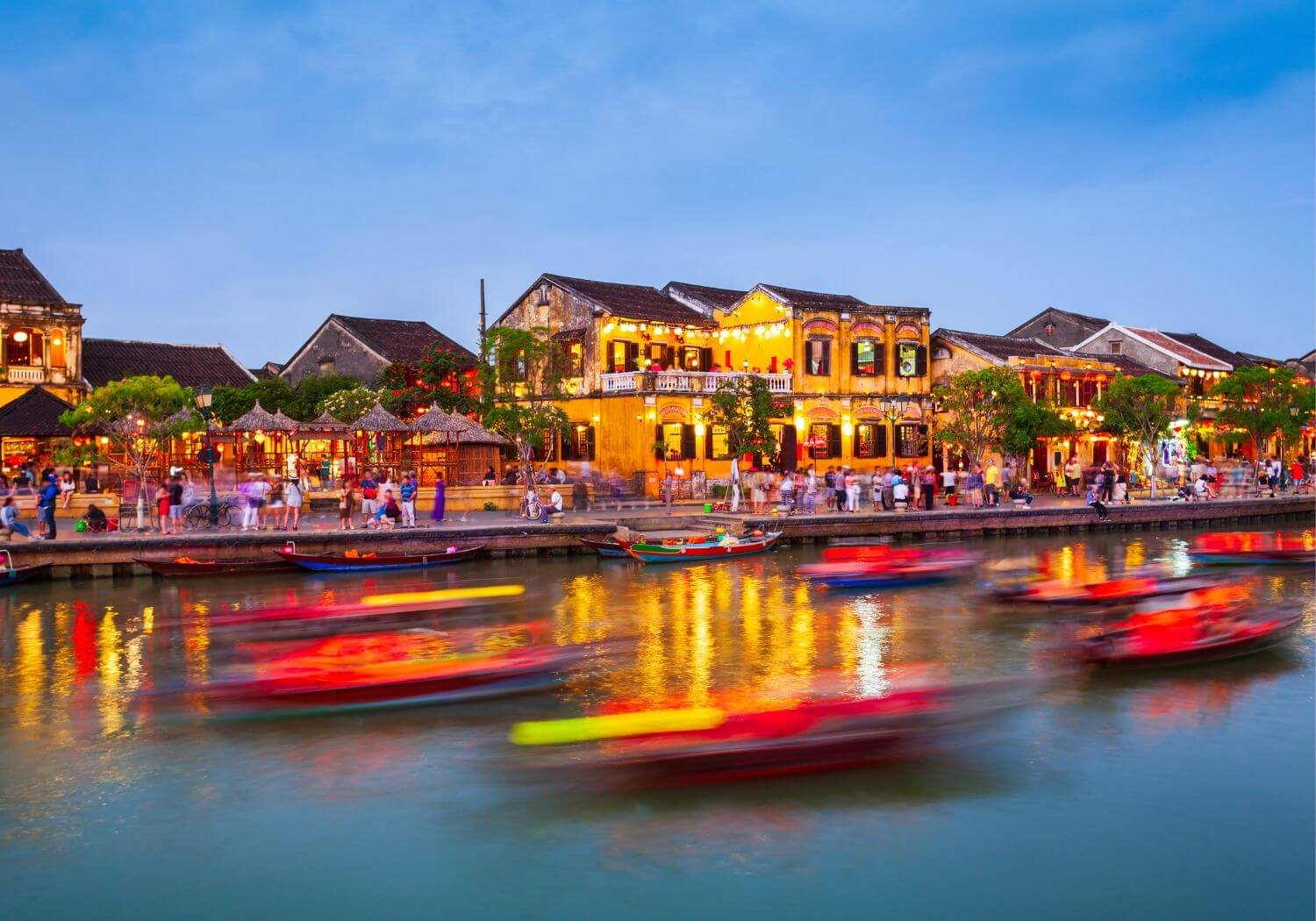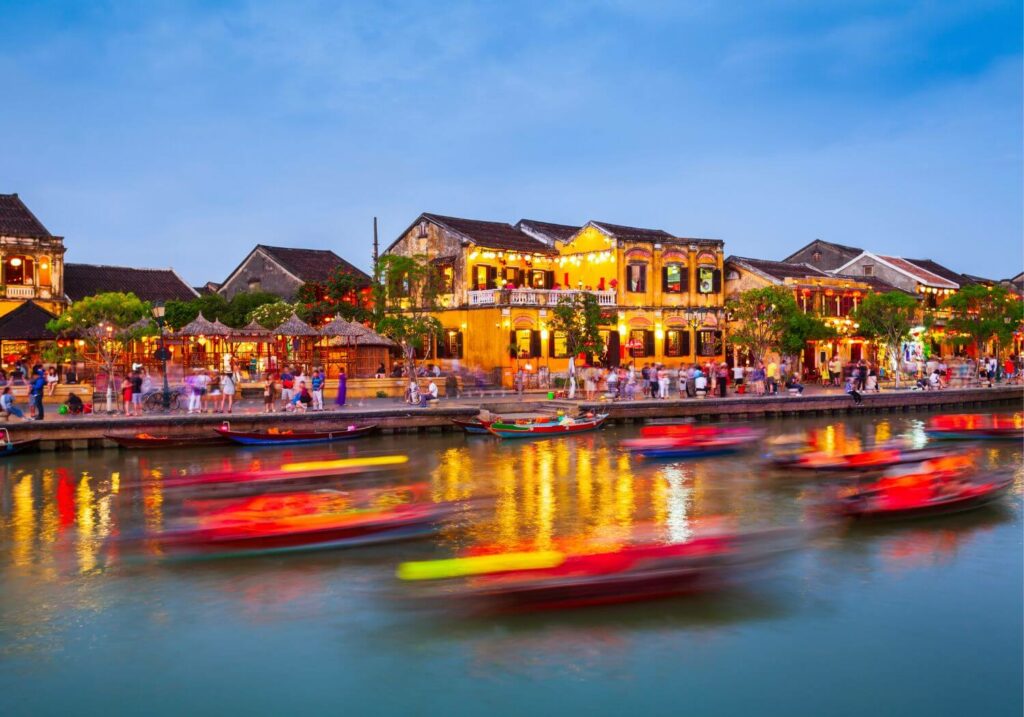 The majority of Vietnamese follow Buddhism, Taoism or Confucianism while Christianity is only followed by 8% of the population. As a result, the 25th of December is not an official public holiday, but it is celebrated with decorations, carols and traditional food, especially in Ho Chi Minh City and Hanoi.
In years when Lunar New Year falls in January, the festive atmosphere of the two merge into wonderful lanterns, colorful dragons and red decorations.
Most visitors to Vietnam will focus on the capital of Hanoi, with a short escape to UNESCO listed Halong Bay, French-influenced Ho Chi Minh, imperial Hue, quaint Hoi An and beach-side Da Nang.
Two weeks is enough time to see the different sides of this country of contrasts where the past meets the present. Explore the country from north to south, add in culture and beach time and visit the most wonderful temples.
Hanoi and Ho Chi Minh are bustling cities filled with rush-hour motorbikes, great street food and fusion between East and West.
Further south, I love Hoi Ann's lantern lit streets, canals and laid back atmosphere. You can rent a bike and cycle through the rice paddies, take a day trip to the nearby UNESCO-listed temples of My Son or venture further afield to the powdery beaches of Danang.
Nature lovers will enjoy a few days hiking in Sapa, up in the mountains, where the air is cooler and the rice paddy landscapes incredible.
Temperatures in December: The climate is tropical and December is among the best months to visit as it is considered a dry month. Temperatures vary between 64 to 79°F (18-26°C).
Turkey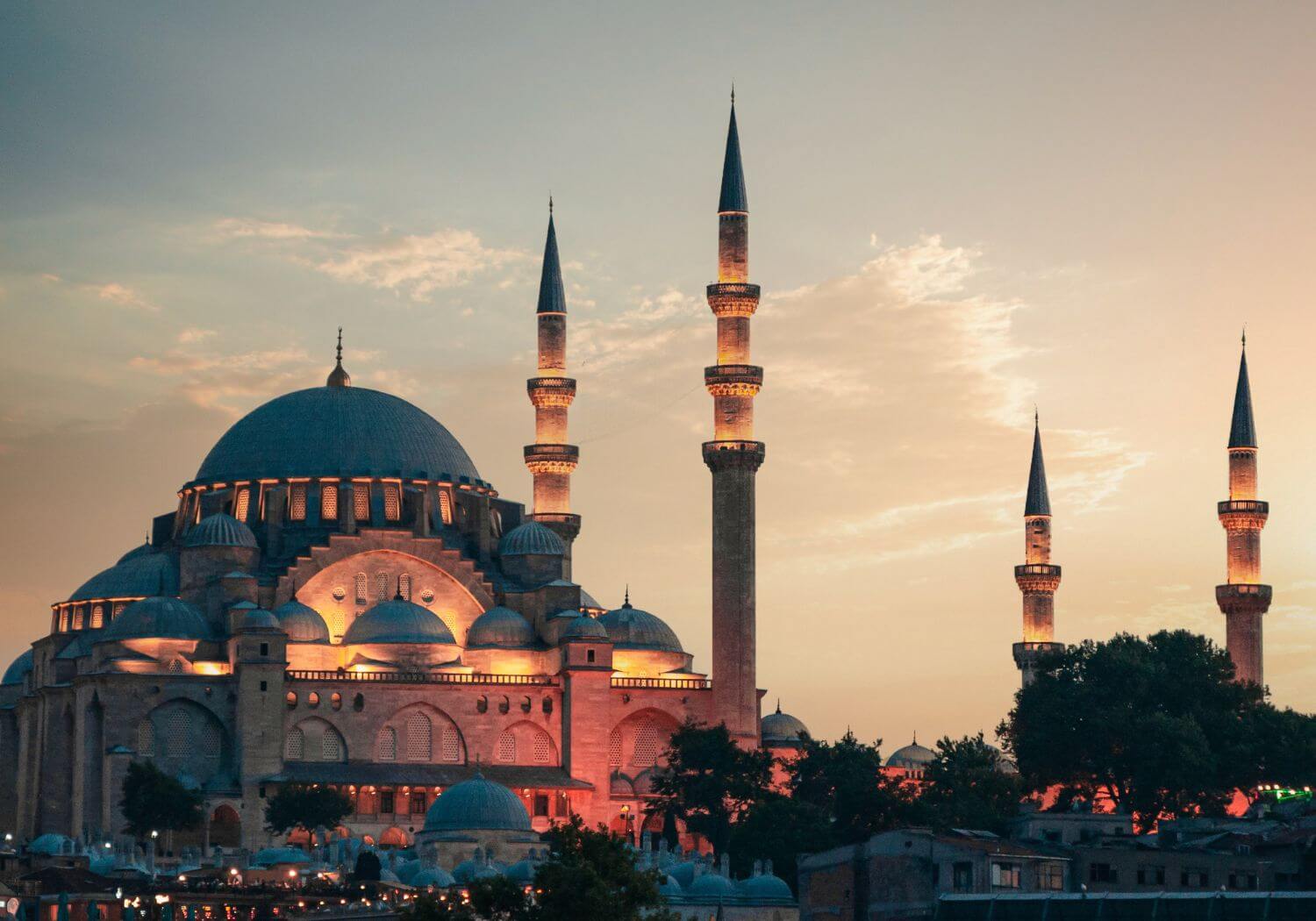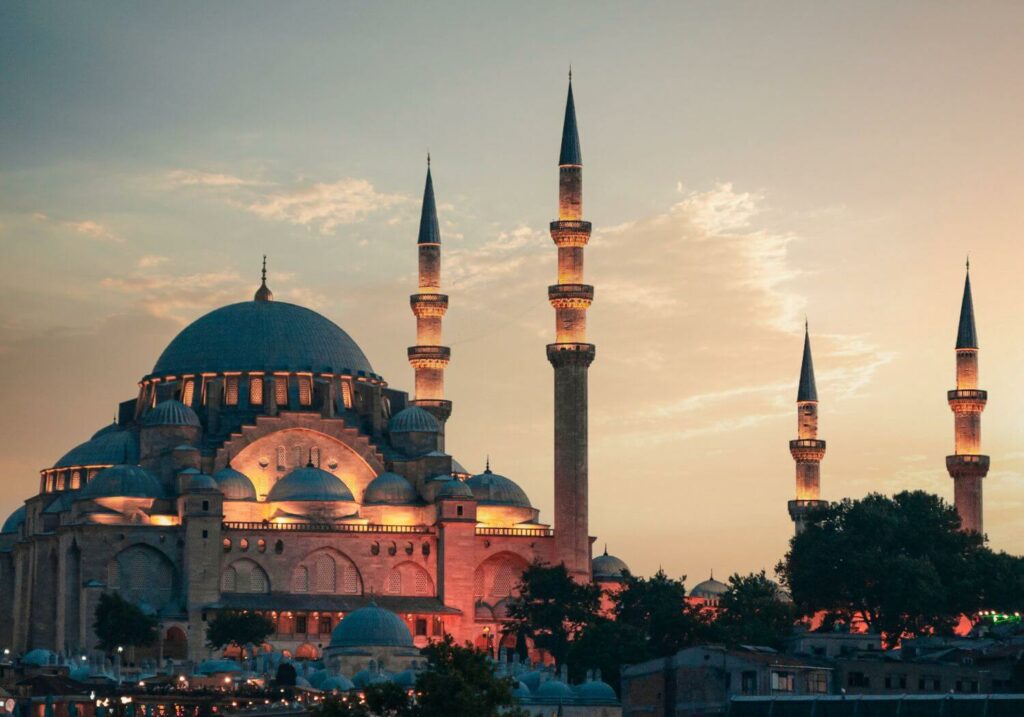 Turkey is a secular country but the population is predominantly Muslim and Christmas is not celebrated. New Year's Eve, on the other hand, is a big affair with a party atmosphere everywhere, making it a great country to visit if you are interested in avoiding Christmas but still want to celebrate.
Winter will see low temperatures and few tourists, who prefer the summer months, so many of the busy tourist destinations will be more affordable and quieter, and with such a big country to explore, there isn't a shortage of options.
Cappadocia and Istanbul are favorites all year round. Photos of the colorful hot air balloons spread in the sky of Cappadocia have made the rounds online and turned the Bronze Age troglodyte cave area of "fairy chimneys," a social media sensation. In the peak summer months, there can be as many as 300 balloons in the sky.
Istanbul may be wet in December, but also devoid of the summer crowds. Visit Hagia Sophia, the church turned mosque and one monument, the breathtaking Blue Mosque and the colorful Topkapi Palace museum for a dose of culture.
Drink all the sweet local tea and coffee you can find accompanied by the famous, cloud-like, Turkish delights.
A whole chapter could be dedicated to the local cuisine and how easy it is to gain three kilos within a day without feeling guilty about it.
Lahmacun (Turkish pizza with spicy minced meat), doner kebab (meat cooked vertically and served as a portion or in pita bread as a sandwich), roasted chestnuts, borek (crispy dough with variety of fillings), manti (lamb-stuffed dumplings with sauce) and a huge assortment of sweets including baklava with pistachios are among the dishes that you should definitely try.
Temperatures in December: December is the start of winter in Turkey, with cold temperatures and wet weather. In Istanbul temperatures may vary between 41 to 52°F (5 to 11°C). Cappadocia might be cloudy during December with chilly weather and temperatures between 43 to 50°F (6 to 10°C).
Israel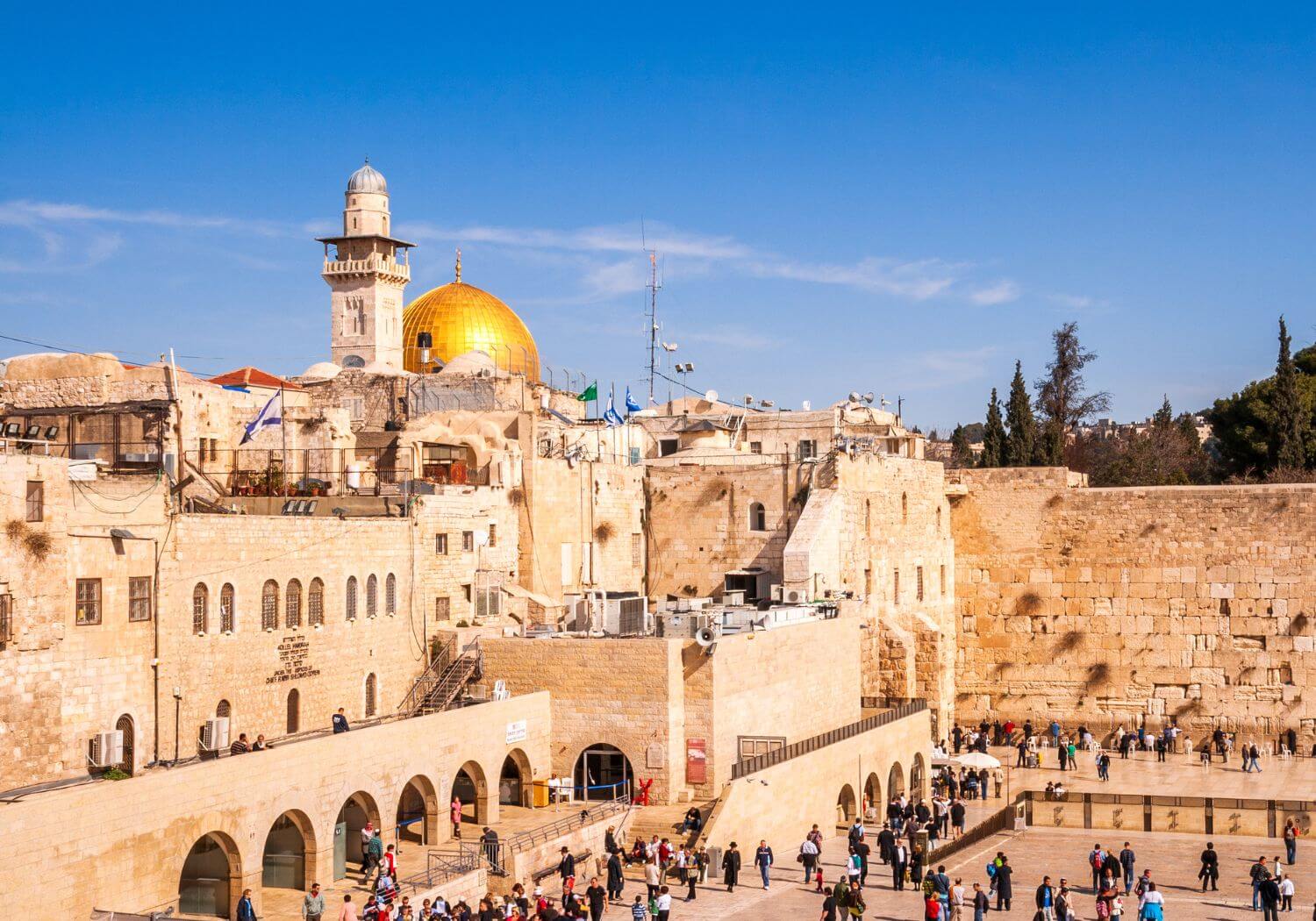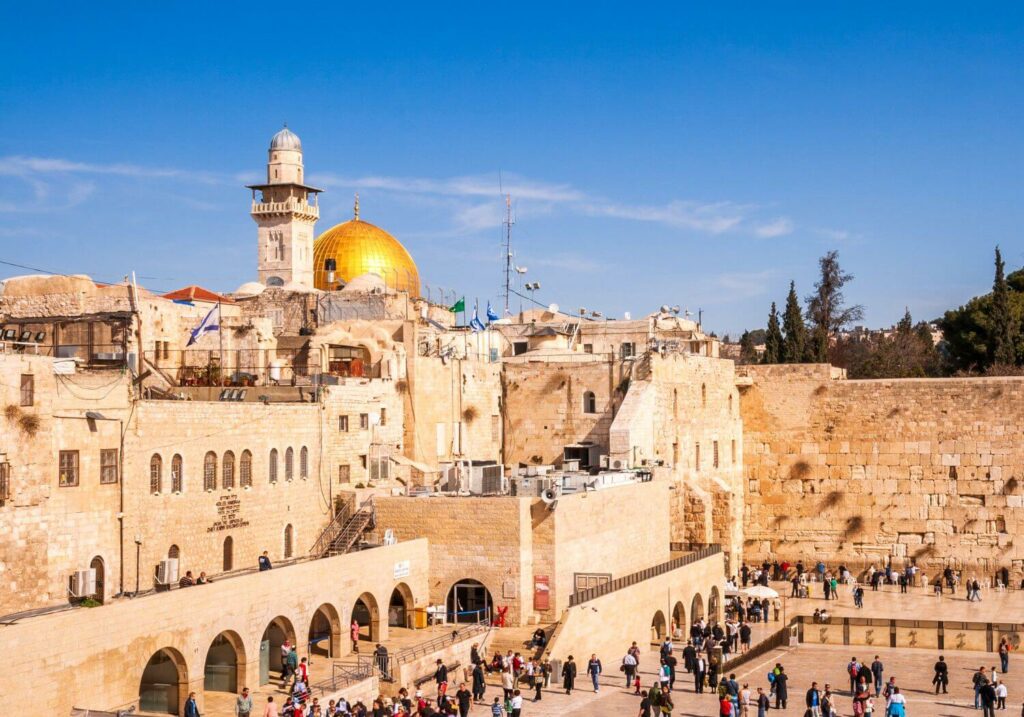 Although Jerusalem, one of the most important Christian sites in the world, is partially located in Israel, Christmas is not celebrated in the state of Israel where the majority celebrate Hanukkah, a day that sometimes coincides with Christmas but is also not acknowledged as a public holiday.
The fact that Israel does not celebrate Christmas does not stop Christians from all over the world from following Jesus' steps, visiting Nazareth and attending service in churches such as the Holy Sepulchre in Jerusalem.
Concerts, bazaars, parades and other events are visible only in these areas while Nazareth is decorated with lights not only for Christmas but also for Hanukkah.
Besides that, in the majority of Israel, it is unlikely that you are going to see any decorations or even a sign reminding you of Christmas anywhere, unless you decide to visit an Orthodox church a Christian site or a high end hotel.
If you start in Tel Aviv, visit the many museums the city has to offer such as The Museum of Art, The Museum of Jewish People and Ben-Gurion House.
Mediterranean food is at its best in Israel and you could spend an afternoon debating who invented hummus. Try many of the local foods at Sarona Market, the country's largest street food market.
Take the train to Jerusalem and explore this ancient city that is common to the three main religions. Even if you are looking for a country that does not celebrate Christmas and you follow none of the main religions, you will feel the spirituality and depth of the city.
Beyond the cities lies the Dead Sea, the lowest point on Earth where you can bathe in salty waters, slather in healing mud and float without effort. Investing in a couple of spa and wellness days is a great way to start the new year.
Temperatures in December: December is ideal for a visit as winters are mild with not much precipitation and temperatures that range between 52-73°F (11 to 23°C). The temperature of the mediterranean sea is about 65-75°F which gives you the option to have a swim if you can handle it.
Other countries that do not celebrate Christmas
The above are not the only countries that do not celebrate Christmas, there are many others which we list here: Algeria, Mauritania, Senegal, Sudan, Tunisia, Azerbaijan, Bahrain, China, Kuwait, Laos, Mongolia, Nepal, Tajikistan, Qatar, Turkmenistan and Uzbekistan. Take your pick!
Countries where Christmas is not a public holiday but is observed
Some countries observe Christmas as an almost commercial celebration, without any of the religious connotations, but do not consider it a day off or acknowledge it as a public holiday.
In this category we find countries that are not majority-Christian but have many expats who are, or places where the holiday is seen as an end of year celebration.
Oman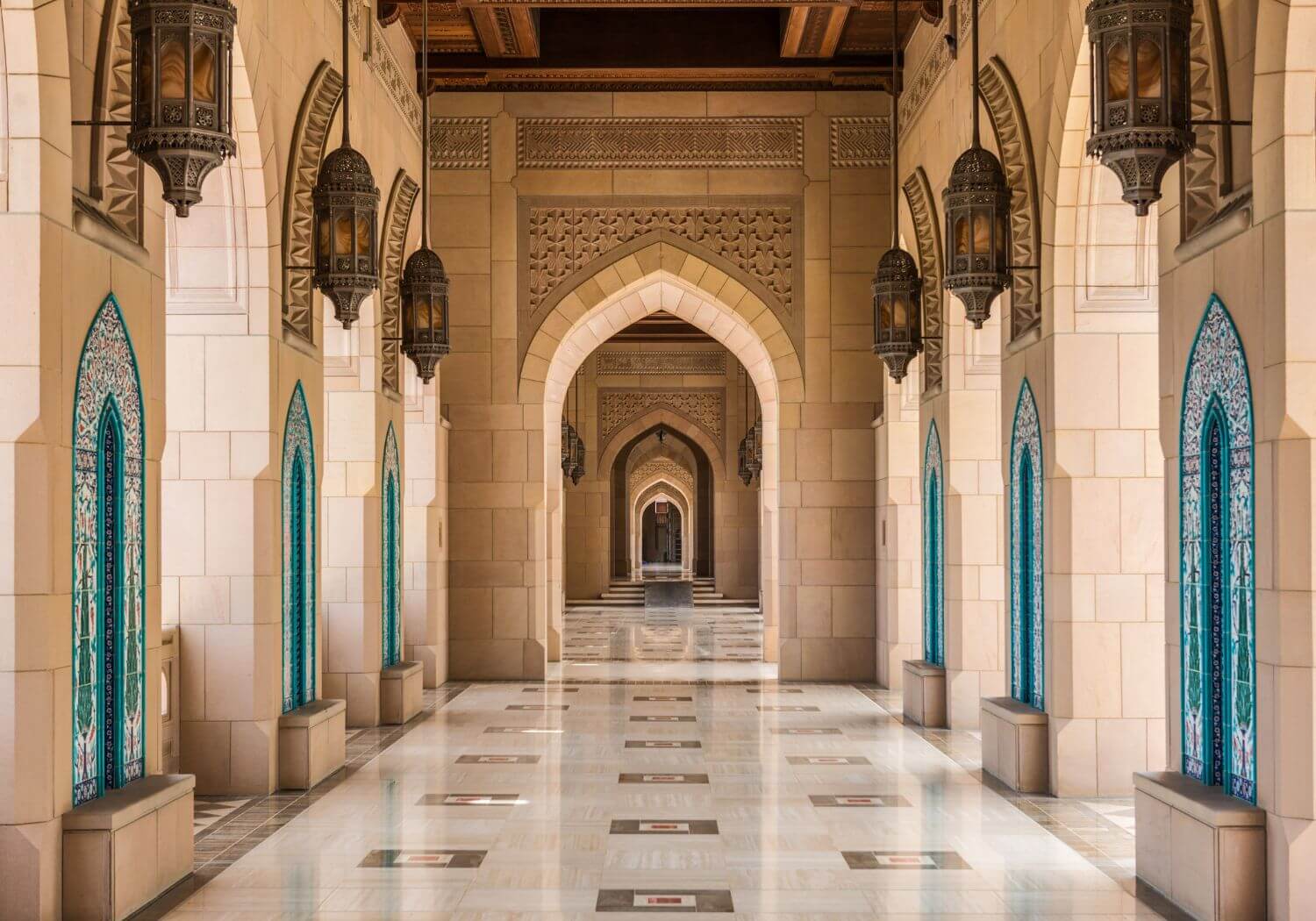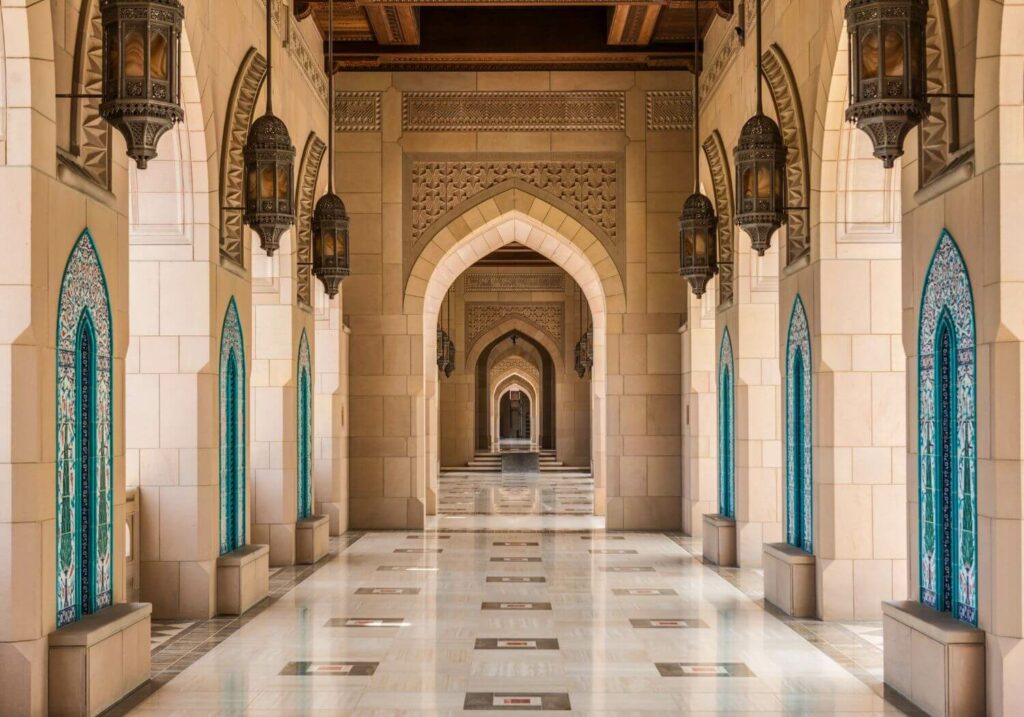 Even though Oman is a primarily Muslim country, it is largely festivity-free during Christmas and ideal for a visit this time of year.
I consider it a country that observes Christmas because of the many expats that do celebrate and which prompt decorations in the shopping malls and hotels.
The best way to explore Oman is by car, driving through the great roads and exploring what this quieter and more traditional Middle Eastern country has to offer, from the mountains to the sea, from the deserts to the oasis.
Start with Muscat's souks, immersed in the smell of Frankincense, star of the ancient trading caravans and listed as one of the country's UNESCO sites, and follow with a visit to Qaboos Grand Mosque which is adorned with crystal chandeliers.
Pay a visit to Qasr Al Alam Royal Palace, the ceremonial palace of the king, and Al Mirani and Al Jalali, the twin forts that surround the palace and that have now been converted into museums.
Leave the city behind and venture into Nizwa for its 17th century fort, and 12th century UNESCO-listed Bahla Fort and oasis town. Spend a couple of days up in the mountains above at the beautiful Alila Jabal Akhdar for some luxurious me-time.
Finish your trip in the beach town of Salalah, famous for the many high end resorts and the balmy weather of the
During your time in Oman, try all the local dishes such as tasty shawarma and omani bread, sweet halwa and dates and the local salty yogurt and buttermilk mix topped with cardamom and pistachios. Pair your desserts with intense Arabic coffee called Kahwa, often served in cute, tiny cups.
Temperatures in December: The weather in Oman at the time of December is quite comfortable and pleasant enough to have a swim. The average temperature ranges from 73°F to 81°F (23°C to 27°C).
UAE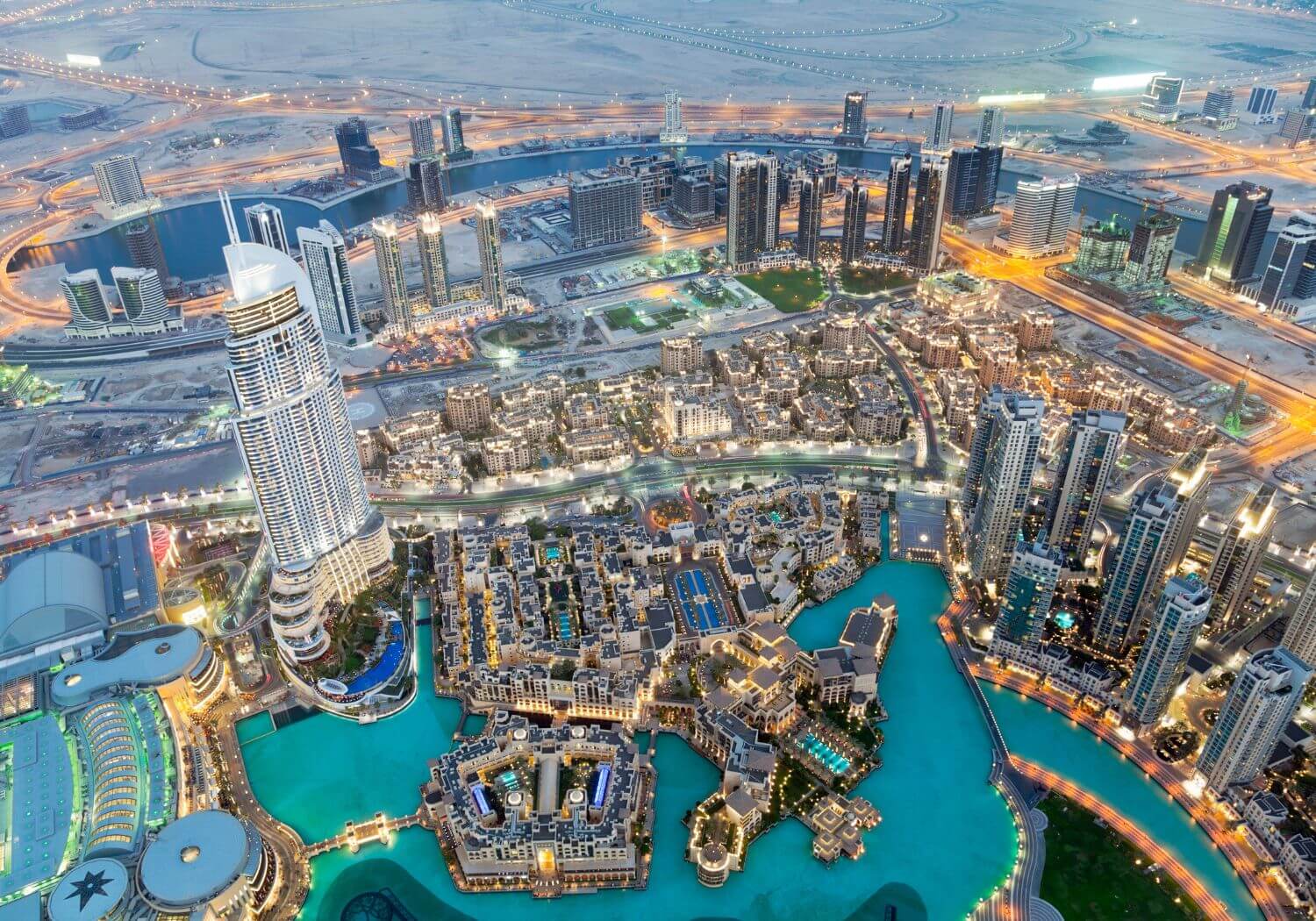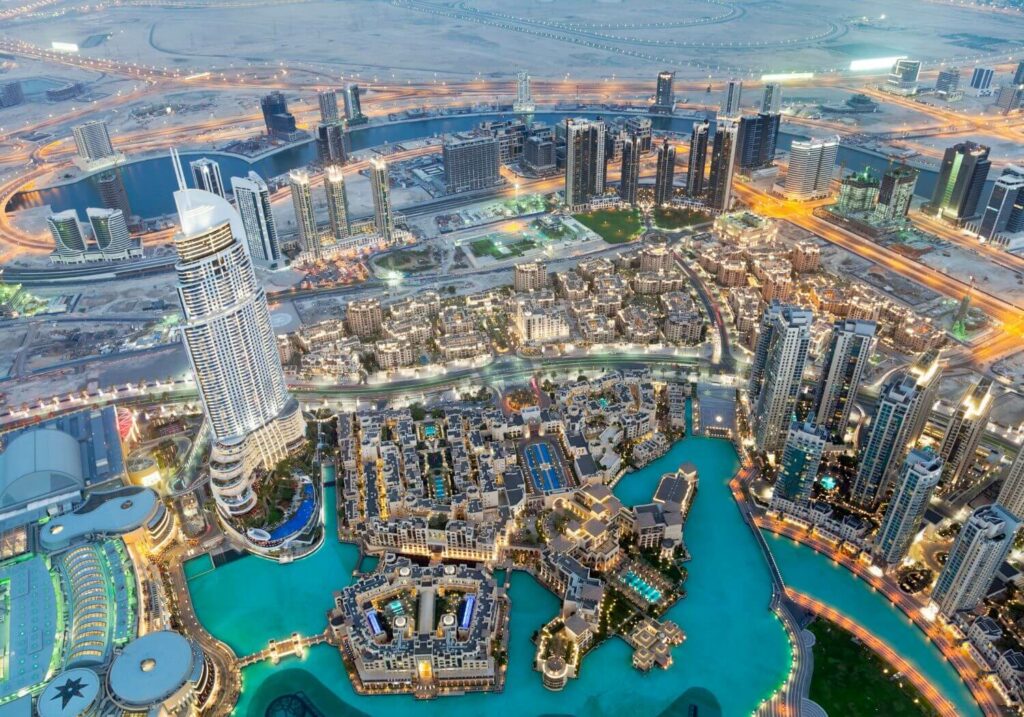 The United Arab Emirates (Abu Dhabi, Dubai, Sharjah, Ajman, Umm Al Quwain, Ras Al Khaimah and Fujairah) is an ideal destination to skip not only traditional Christmas but also cold winter.
Christmas celebrations are very present in the UAE's shopping malls, restaurants and hotels, despite most of the population following Islam.
A small but wealthy number of expats making up 13% of the population coupled with lots of tourism brings about sparkling Christmas trees, carols and lavish Christmas dinners at the many luxury hotels, especially in Dubai and Abu Dhabi.
Start in Dubai, a place of contrasts and of superlatives, with landmarks such as the Burj Khalifa, the world's tallest building, Palm Jumeirah, a reclaimed land project in the shape of a palm tree that houses many residential villas, condominiums and several hotels, and the Dubai Mall, the largest mall in the world.
Leave the bling behind and learn more about the country's origins and past at the many museums in Al Fahidi Historical Neighbourhood in Bur Dubai. Sheikh Mohammed bin Rashid Al Maktoum Centre for Cultural Understanding is a must.
For a take on what's to come, visit the Museum of the Future and the Dubai Frame. If you are into diving, Deep Dive Dubai offers you the opportunity to do it in the deepest swimming pool in the world.
Louvre Abu Dhabi is a reference in the region worth a stop even if just to admire the museum's architecture, and Sheikh Zayed's Mosque, between Abu Dhabi and Dubai, is the most beautiful mosque you ever see.
Abu Dhabi comes second to visitors' preferences offering magical desert safaris on the dunes of the Empty Quarter, wilderness spotting at Sir Bani Yas Island and island hopping.
Fun-seekers have it perfect for them at Ferrari World Theme Park, where the world's fastest rollercoaster and over 40 other record-breaking attractions are, and at the world's biggest indoor theme park Warner Bros Abu Dhabi.
If you have time, exploring the other Emirates is well worth it.
Al Ain is home to a UNESCO listed palm oasis you can visit. Ras Al Khaimah is home to the world's longest zipline which can even be ridden by camels, spanning 2.8km in length and sitting 1,680 meters above sea level. In
Sharjah, you cannot miss the UNESCO-identified Mleiha Archaeological Centre, home of Bronze Age archeological remains and stunning desert landscapes. Take a 4×4 sunset sand dune tour to Fossil Rock to see ancient fossils from when the area was under water.
Temperatures in December: With an average temperature of 18°C to 26°C (64-79°F), December is the ideal time for outdoor activities in the UAE.
Japan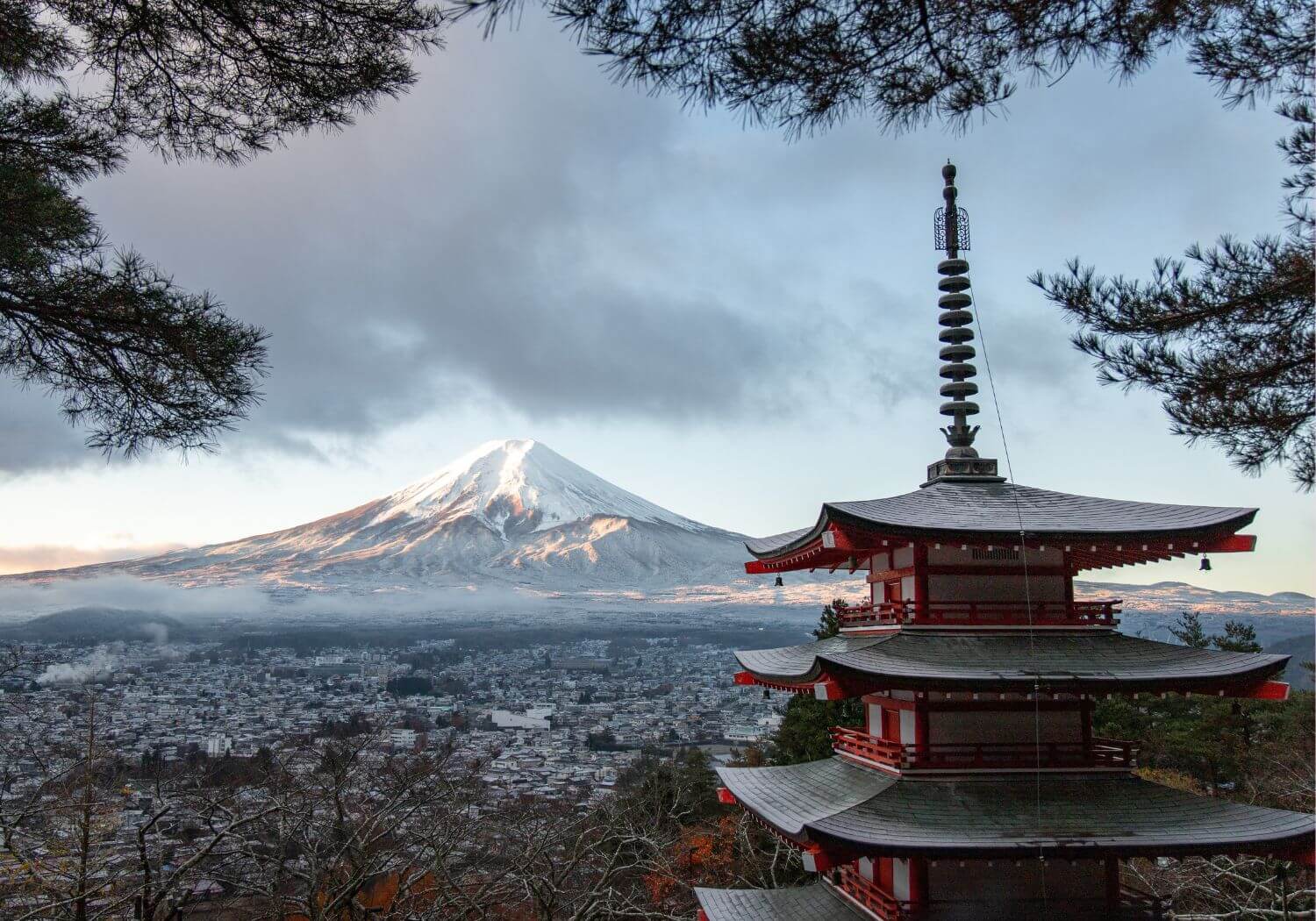 Do they celebrate Christmas in a country where only 1% of the population is Christian?
The short answer is yes, but not in the way you expect and not with religious connotations. Japan celebrates Christmas and New Year's Eve in its own special secular way.
The 24th of December is the equivalent to Valentine's Day and it is considered to be the most romantic day of the year, celebrated with hearts and love-themed decorations.
On Christmas eve and day, about 4 million Japanese families buy their holiday meal from KFC. This is such a popular tradition that you have to place your order months earlier.
On Christmas, the Japanese prefer to spend time with friends going to parties and celebrating wildly while on New Year's Eve they gather with the family, visit the temple and enter the New Year together with food and drinks.
KFC is not the only chain offering holiday specials. Starbucks launches a Holiday drink every year to celebrate Christmas. In 2022, the drink was a Strawberry and Velvet Brownie Frappuccino inspired by the red velvet cake.
If you are looking to escape Christmas but still want to feel in a festive mood, Japan is a good option, especially if you are keen on a white Christmas as snow is usually present this time of year.
Start your holiday in Tokyo, where all the fun can be found, but make sure you include a few days in more traditional Kyoto and food-heaven Osaka.
The northern parts of Japan can be freezing cold in December and are a great destination for a ski holiday, but book early as the Japanese also like to spend the end of year festivities in the snow.
Temperatures in December: The average temperature in Japan during December ranges from 3°C to 12°C (37°F to 54°F) depending on the region. The Northern part of the country may even experience below zero temperatures.
Conclusion
Whether you want to avoid the Christmas feeling entirely or are looking to just avoid the days in which you typically would get together with friends and family, this list of countries that don't celebrate Christmas will give you ideas to reduce your exposure to the end of year holiday season.