Are you looking to escape the northern hemisphere cold December weather and head out for the sun? Would you like that to come with a serving of festivities, Christmas markets and street lights?
Look no further than this list of the best warm places in December, hand picked for their end of year celebrations and their sunny predisposition.
Scroll through our list of December warm destinations for the most tropical, sunniest and down right funnest places to be during your year end vacation and get ready to welcome Santa in your bikini and with an umbrella on your drink.
Oahu, HI, USA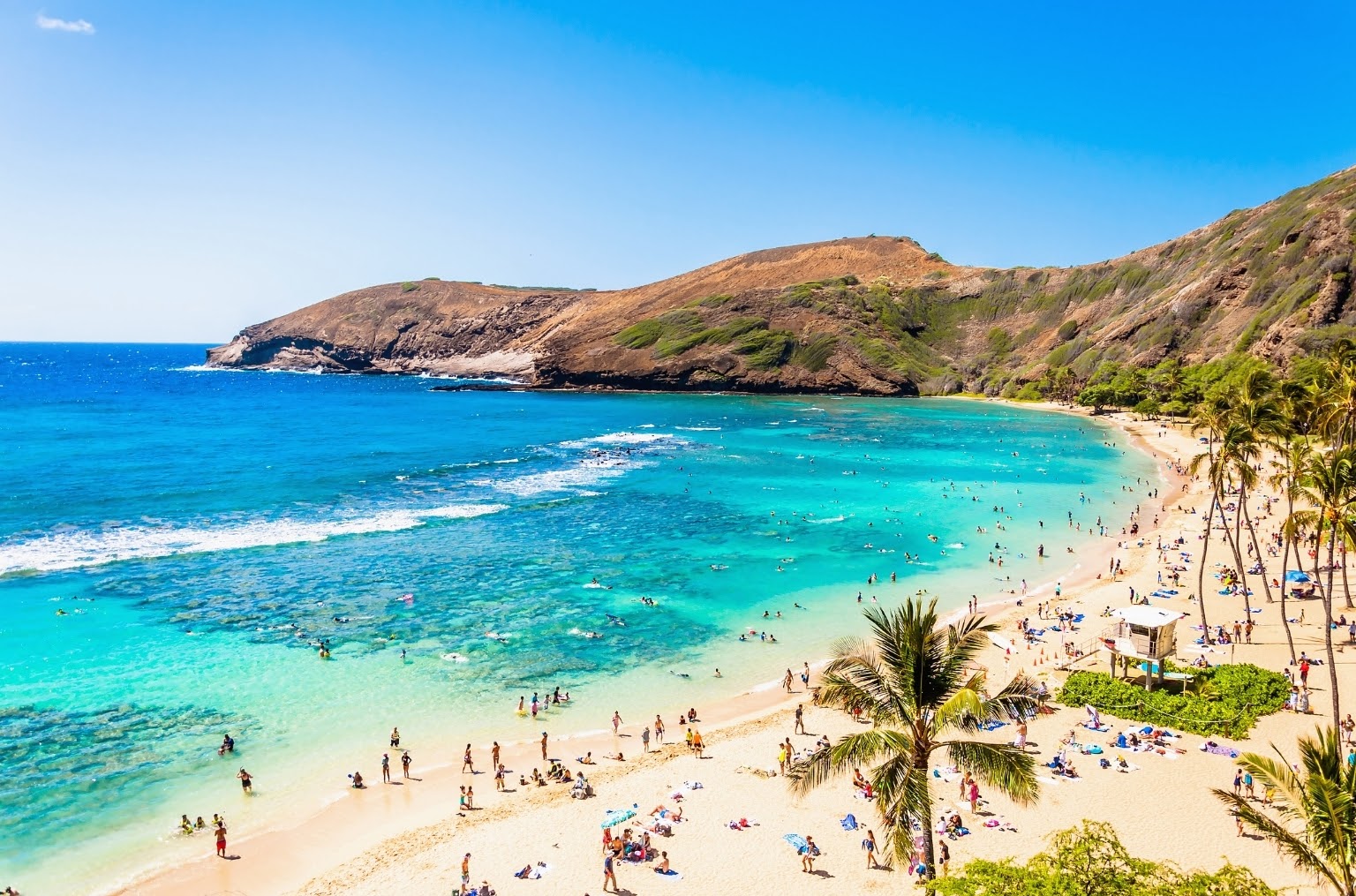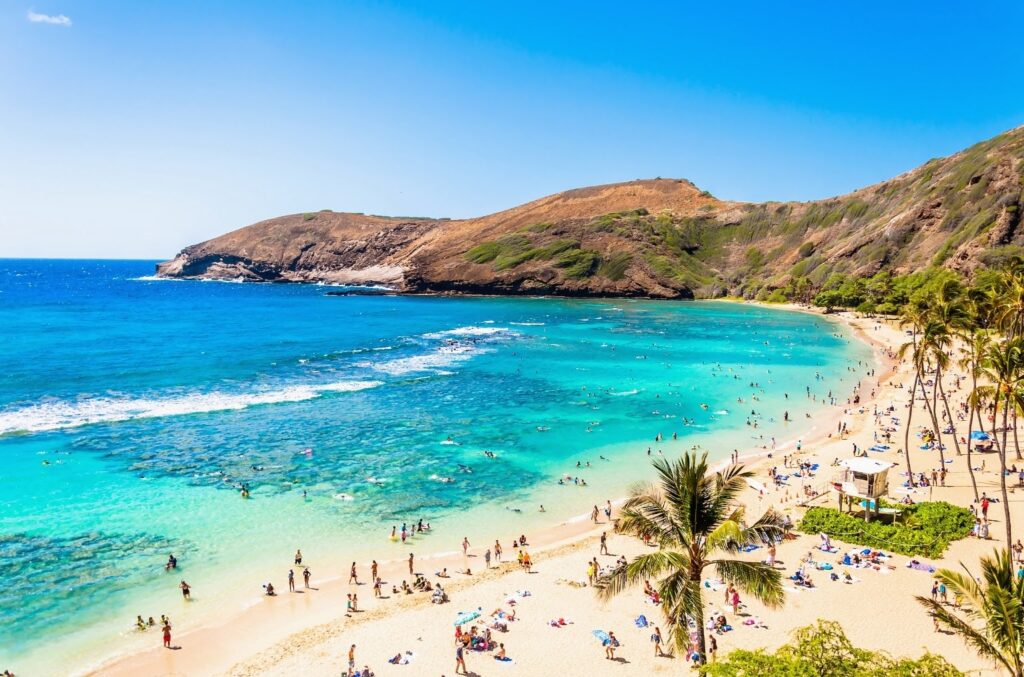 Daily average temperatures in December: High 79°F (26°C) / Low 66°F (19°C)
Join the festivities with gorgeous weather in one of the most sought after warm places in December, the island of Oahu in Hawaii. The Outrigger Waikiki Resort literally welcomes Santa every year by either kayak or surfboard, a super fun event for families.
Water activities thrive at this time of the year with anything from snorkeling and whale watching to surfing and diving.
The tropical weather in December is perfect for beach bums, so you can keep that year-round golden tan. The Vans Triple Crown of Surfing competition is in full swing in December as is the beautiful Honolulu City Lights festival which includes tree lighting, parades and an Electric Light Parade down King Street.
Find your ideal hotel in Oahu
Orlando, FL, USA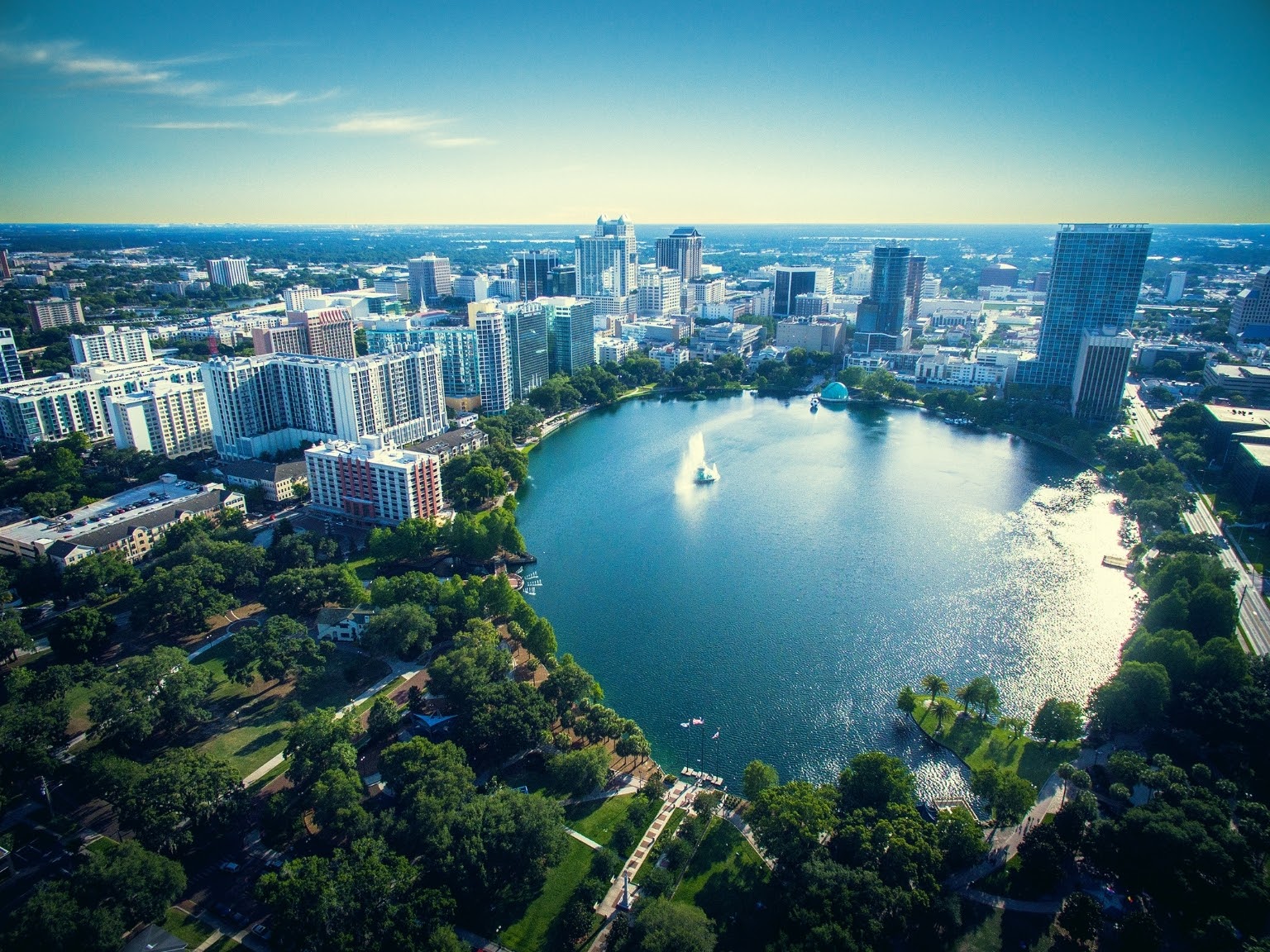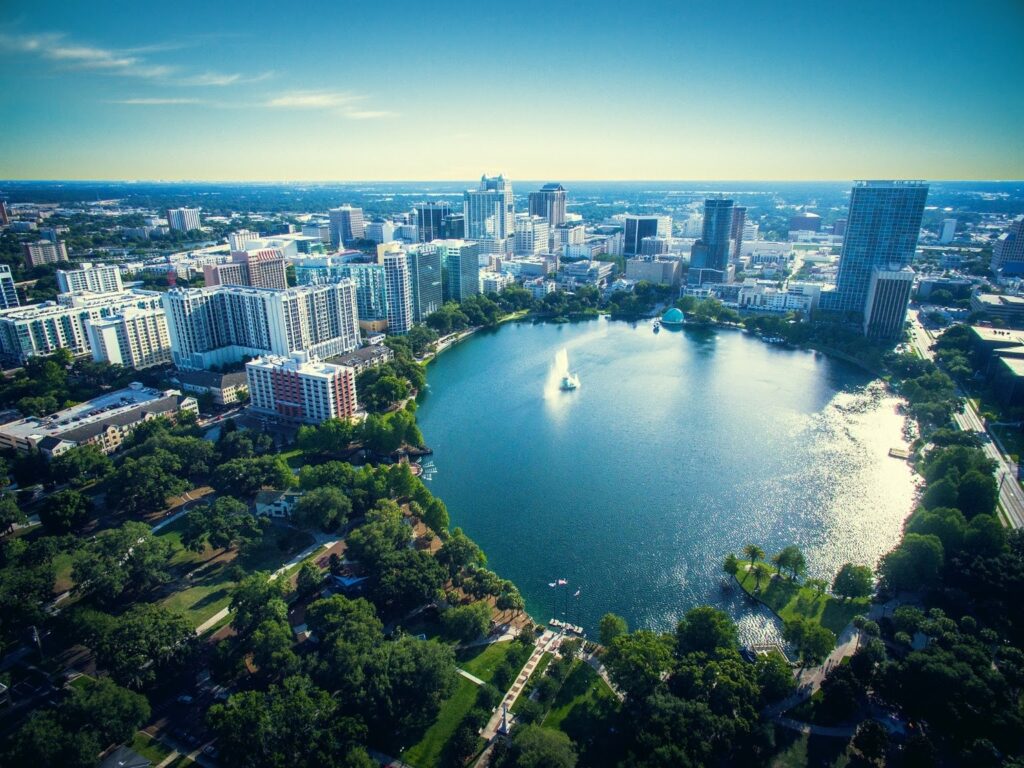 Daily average temperatures in December: High 73°F (23°C) / Low 52°F (11°C)
Orlando is one the top warm destinations in December for families and this is because it is a place of fun and play, who says this is just for kids?
You can have a great time if you are visiting on your own too.
Take a week to go theme park hopping through the most thrilling parks in the world including Walt Disney World Resort, Universal Studios Florida, Epcot, Fun Spot America Theme Parks, the Wizarding World of Harry Potter or WonderWorks Orlando.
All of the parks put their own spin on the festive season where the decor is adorned with all the holiday usual suspects from candy cane to tinsel. Some parks have their own complete holiday events like the Epcot International Festival of the Holidays which runs until the end of December.
Pro tip: Try to avoid the holiday days which can get packed with kids and families and try to go before the school holiday period.
Find your ideal hotel in Orlando
Miami, FL, USA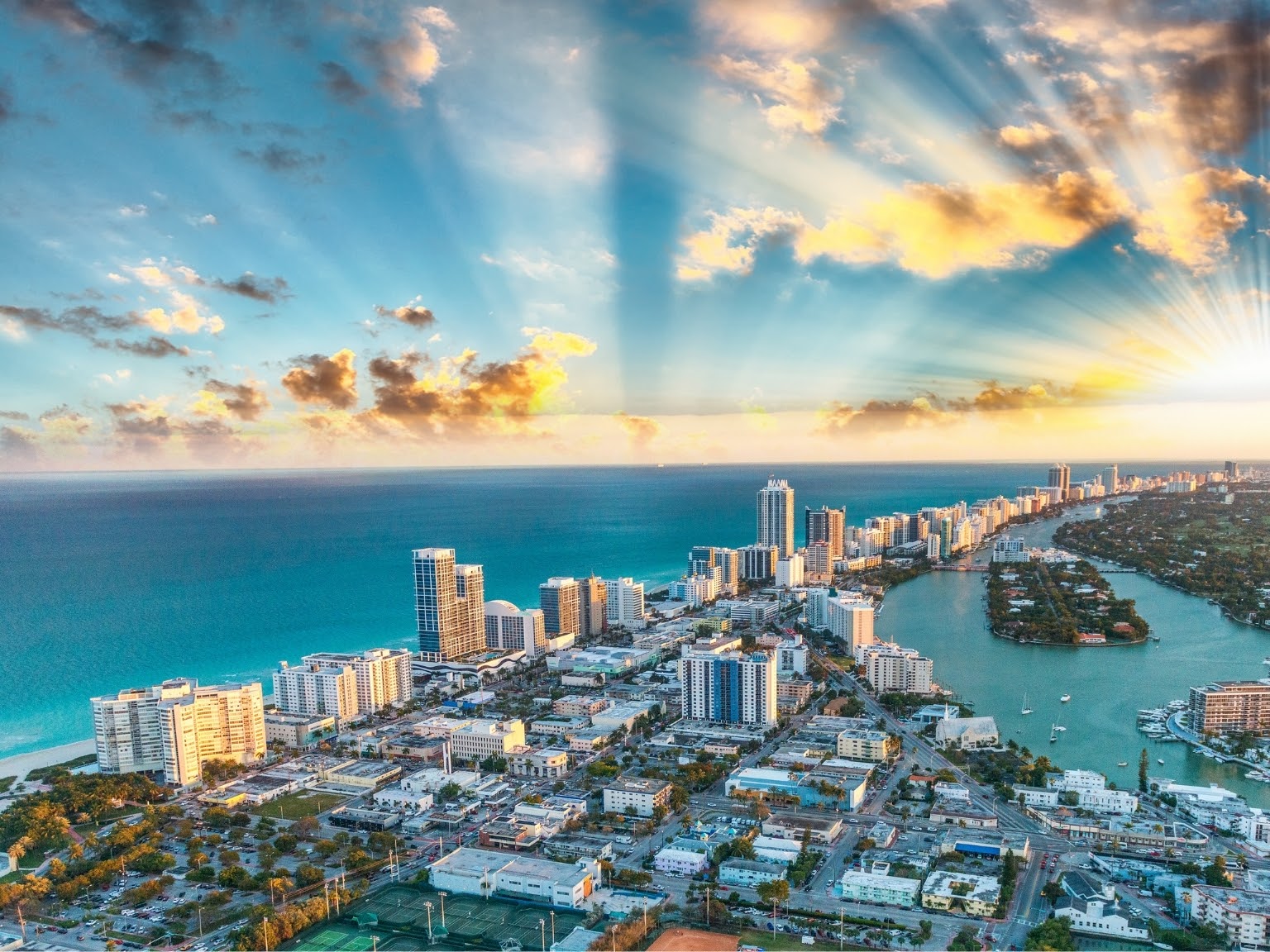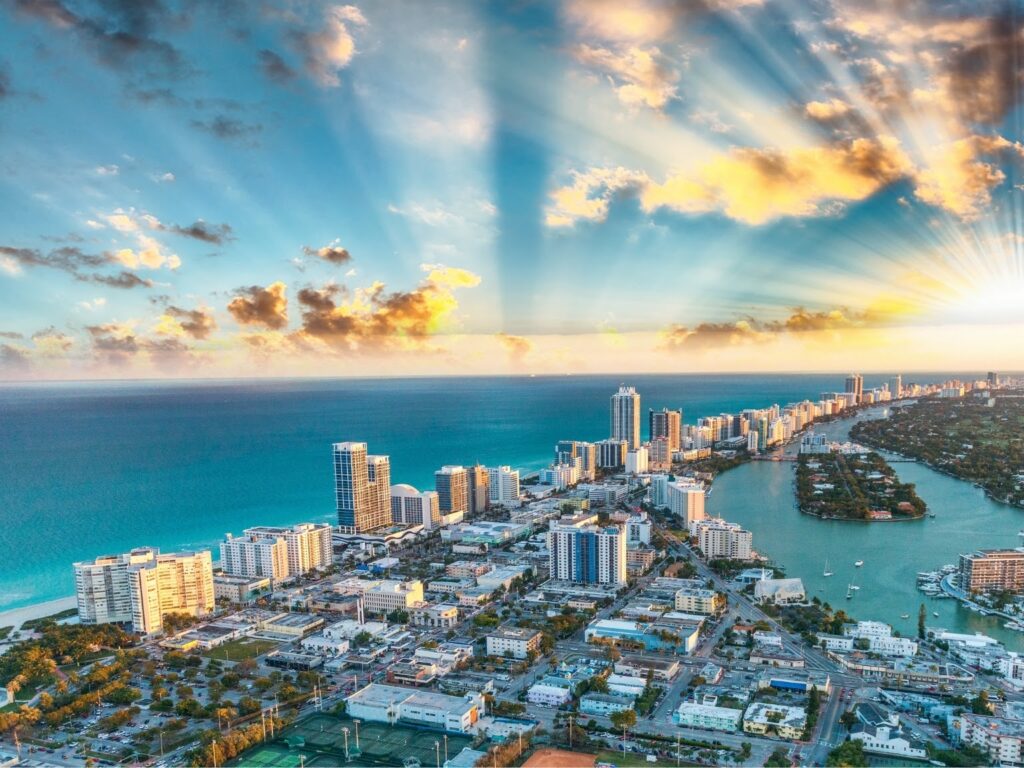 Daily average temperatures in December: High 78°F (26°C) / Low 63°F (17°C)
One of the hottest places in December in mainland USA is Miami, Florida. Not only is the temperature nice and hot, the nightlife and festivities are also ablaze.
If Orlando is the place to be for families, then Miami is more for younger folks and singles looking to have a good time.
Well-known as an LGBTQA+ hotspot, there are also pubs, clubs and dancehalls to party well into the next day.
There are some great festivities throughout the Magic City including Nights of Lights at Pinecrest Gardens, Bright Lights Miami at Virginia Key Beach Park, or the annual Zoo Lights at Zoo Miami in South Dade.
Do some salsa dancing in Little Havana to get a taste of Miami's Cuban culture, experience the Luminosa Chinese Lantern Festival, or check out the Art Basel Fair at Miami Beach.
Find your ideal hotel in Miami
Los Angeles, CA, USA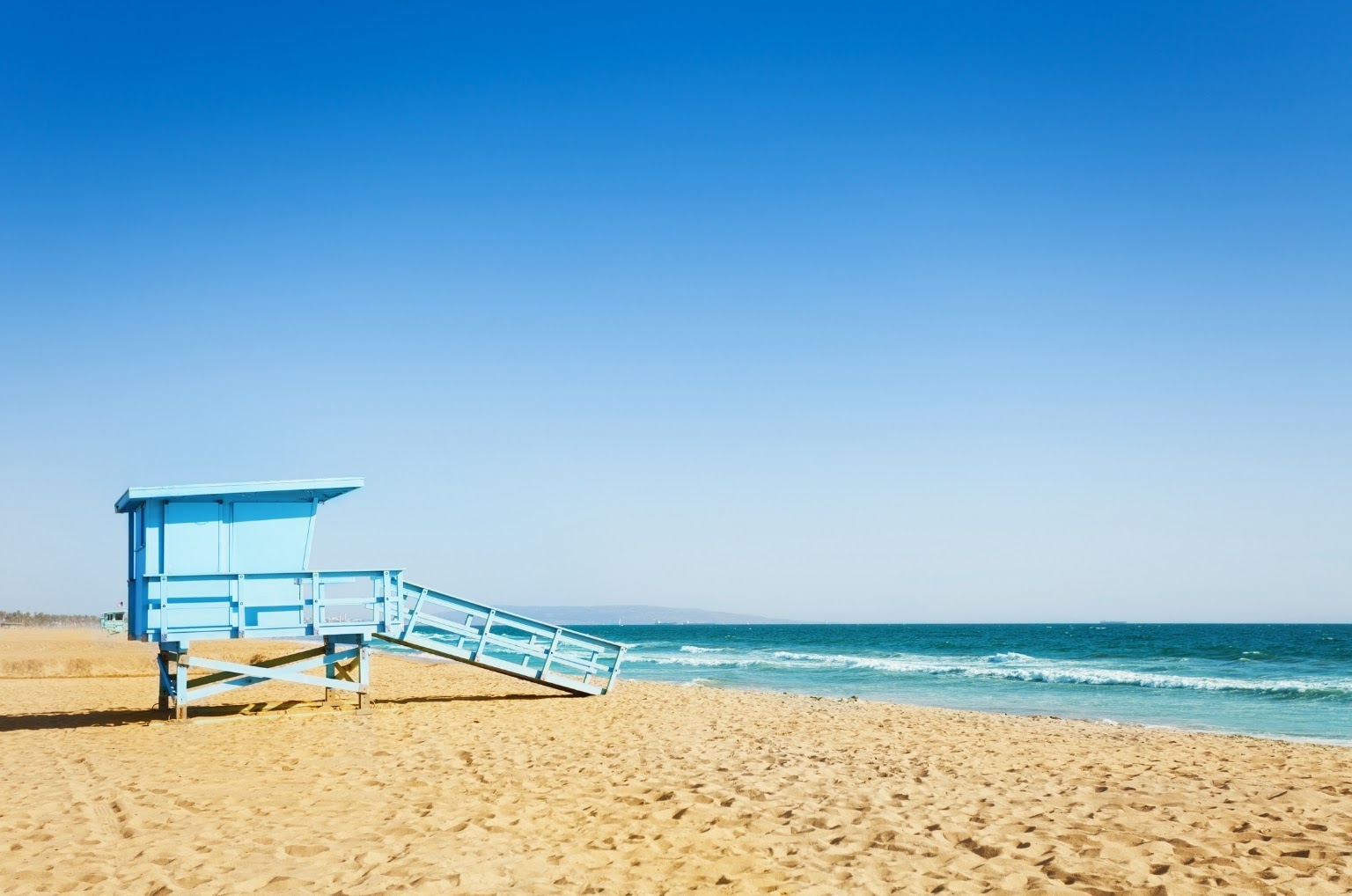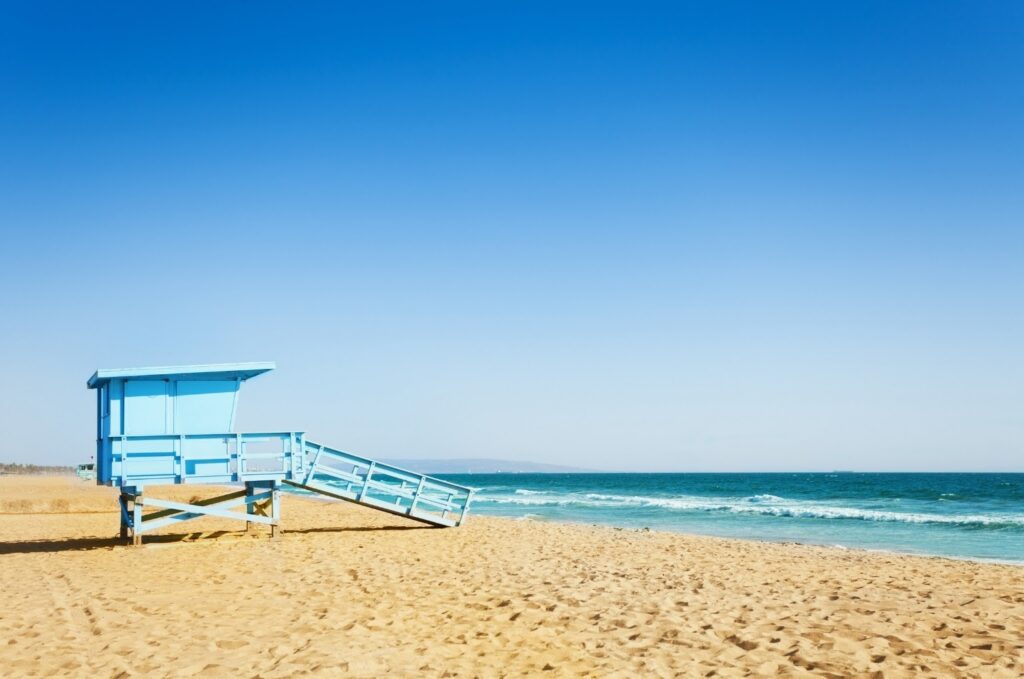 Daily average temperatures in December: High 68°F (20°C) / Low 48°F (9°C)
Los Angeles is the iconic US spot for an endless summer.
While California is a massive state spanning from Oregon to Mexico, Los Angeles is positioned more to the south where temperatures are warmer and climates milder.
The beaches of Los Angeles are good fun year-round, so it's a great time to start your surfing career.
Walk the sands of Venice, Santa Monica, Malibu, Manhattan or venture further down to Orange County for the popular Huntington, Laguna and Newport.
Los Angeles isn't all about the beaches though, you can explore the foodie scene in downtown, see the beautiful people of Rodeo Drive, Hollywood Hills and Bel Air, or sip a specialty coffee in hip Los Feliz, Echo Park and Silverlake.
Get in the festive spirit with the Christmas Concert at Walt Disney Concert Hall, drive down the infamous Altadena's Christmas Tree Lane, or explore theme parks like Disneyland Park, Disney California Adventure Park or Universal Studios. You can even go skiing or snowboarding in the morning at Mount Baldy, about an hour away.
Find your ideal hotel in Los Angeles
Auckland, New Zealand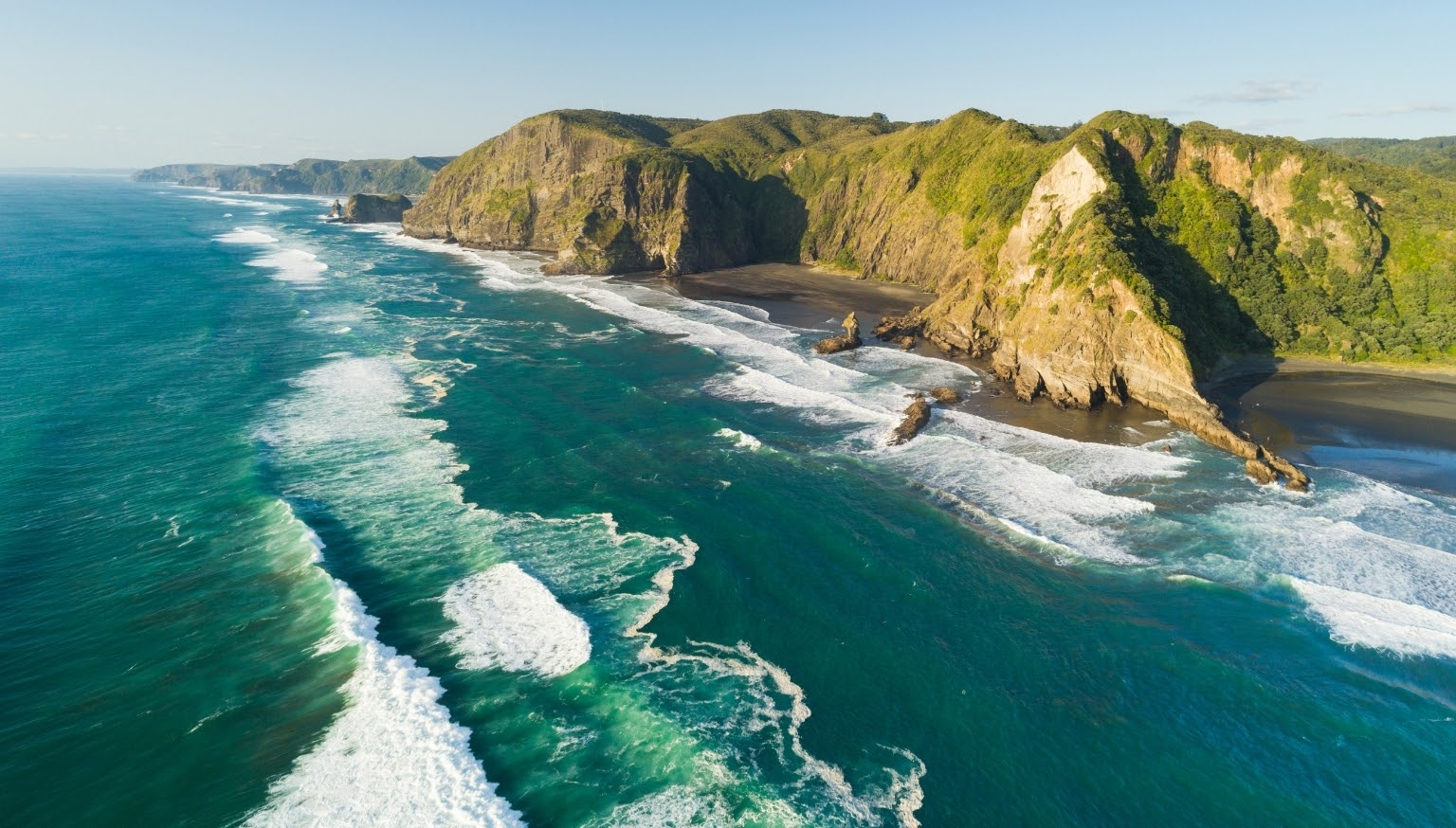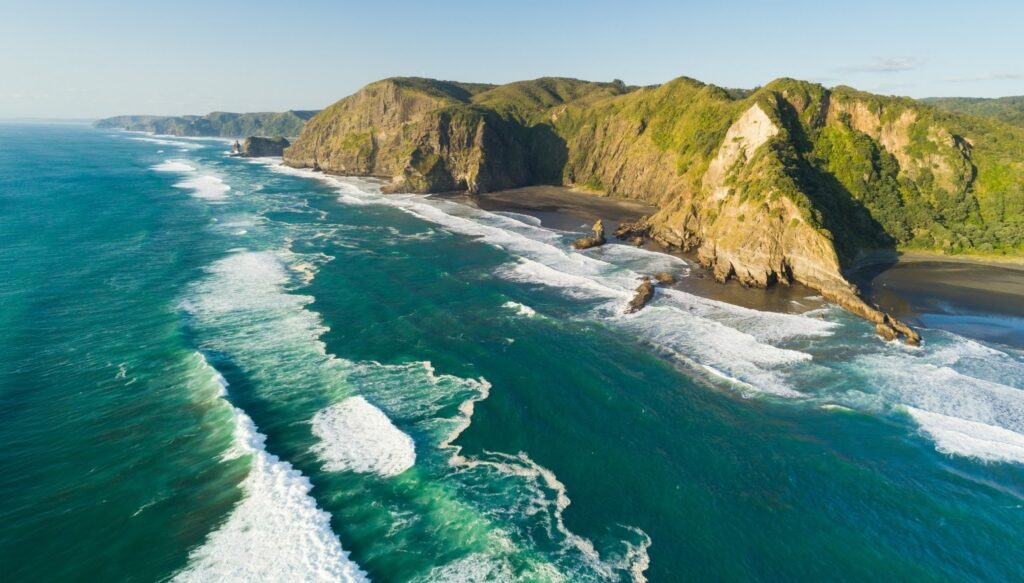 Daily average temperatures in December: High 72°F (22°C) / Low 59°F (15°C)
Travelers looking for stable temperatures with very little rainfall and a whole lot of natural beauty can head to Auckland, New Zealand's largest and most populous urban area.
For those who don't know, New Zealand is separated into the North and South Islands and due to its location near the South Pole, the further north you go, the hotter it will be.
As Auckland is on the North Island, and December is the beginning of summer, it's a great warm place to visit at this time of year.
While most visitors to New Zealand head out to explore the rest of the country, Auckland is a good place to situate yourself if you're visiting the rest of the North Island like the gorgeous ​​Bay of Islands, the epic Lake Taupo and Rotorua or the jaw-dropping Coromandel Peninsula.
Take a hike along coastal paths of the Wattle Bay Loop, go island hopping to Rotoroa or traverse the cliff-tops from Bethells to Muriwai.
Looking for a winery visit?
Take the ferry over to Waiheke and go winery hopping on the bus routes that meet the ferries, great way to spend a day as a solo traveler.
I did just that before Christmas and the spirits were high and the wine free flowing. There is live music and a generally festive atmosphere at all the wineries that makes it a perfect time to visit.
If you're looking to take a break from nature, there's also loads of shopping in Auckland from chain-stores to boutique shops to local farmers markets to high end fashion at the High Street, Chancery Square, Britomart or Ponsonby Road.
Find your ideal hotel in Auckland
Sunshine Coast, Australia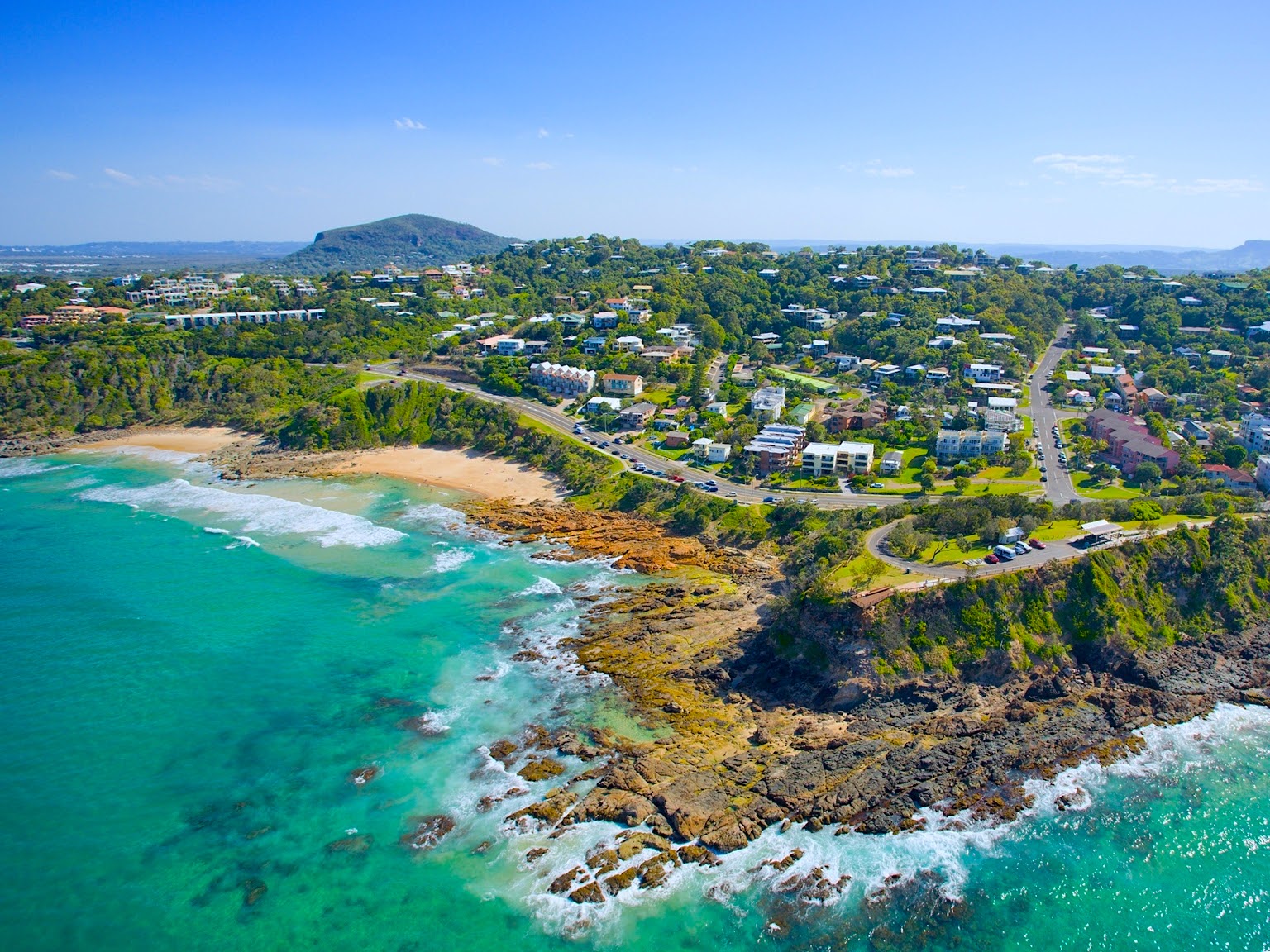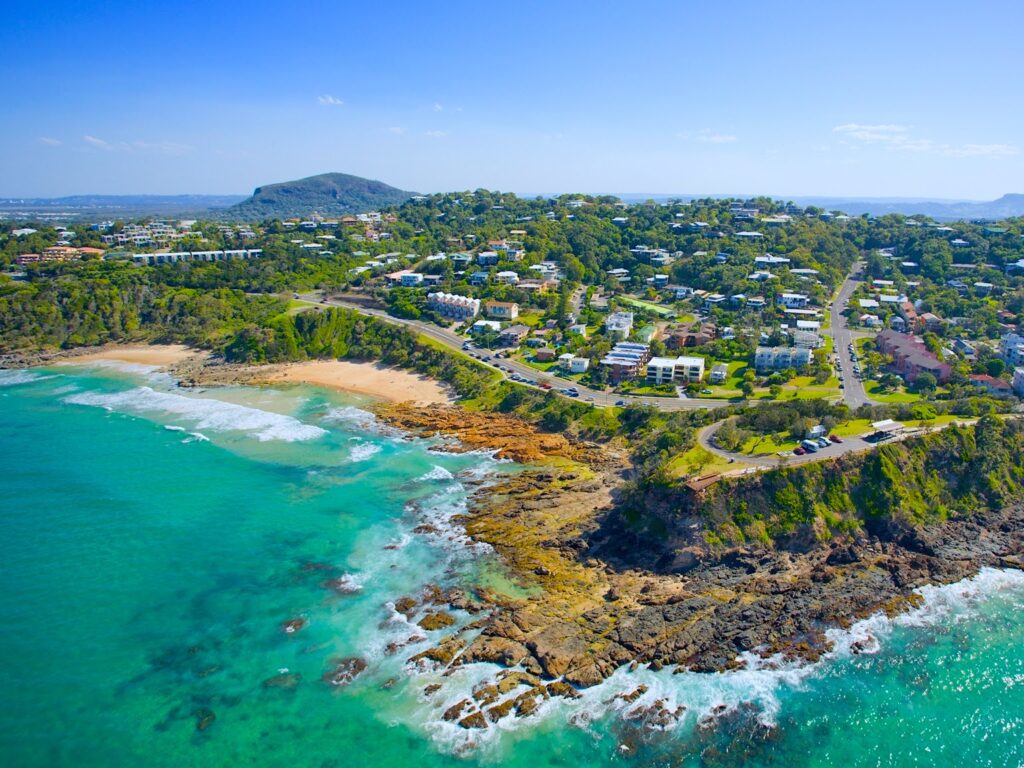 Daily average temperatures in December: High 82°F (28°C) / Low 68°F (20°C)
Australia's easternmost point in the state of Queensland is home to both the Sunshine Coast and the Gold Coast.
They don't call it the Sunshine Coast for nothing as it's most well known for its pristine beaches, scenic drives and unspoiled national parks.
You can find farm-to-table restaurants in Noosa's Hastings Street, world class surf spots galore like Noosa Heads, Mooloolaba and Caloundra, awesome produce at Eumundi Markets, hiking trails like Glass House Mountains, hinterland wineries and of course endless stretches of pristine beaches and crystal clear oceans.
Travel down roughly 100kms to the capital of Queensland, Brisbane for a busy shopping spree and then venture down to the Gold Coast for more beaches, surf, theme parks, shopping, nightlife and hinterland activities.
Find your ideal hotel in the Sunshine Coast
Cape Town, South Africa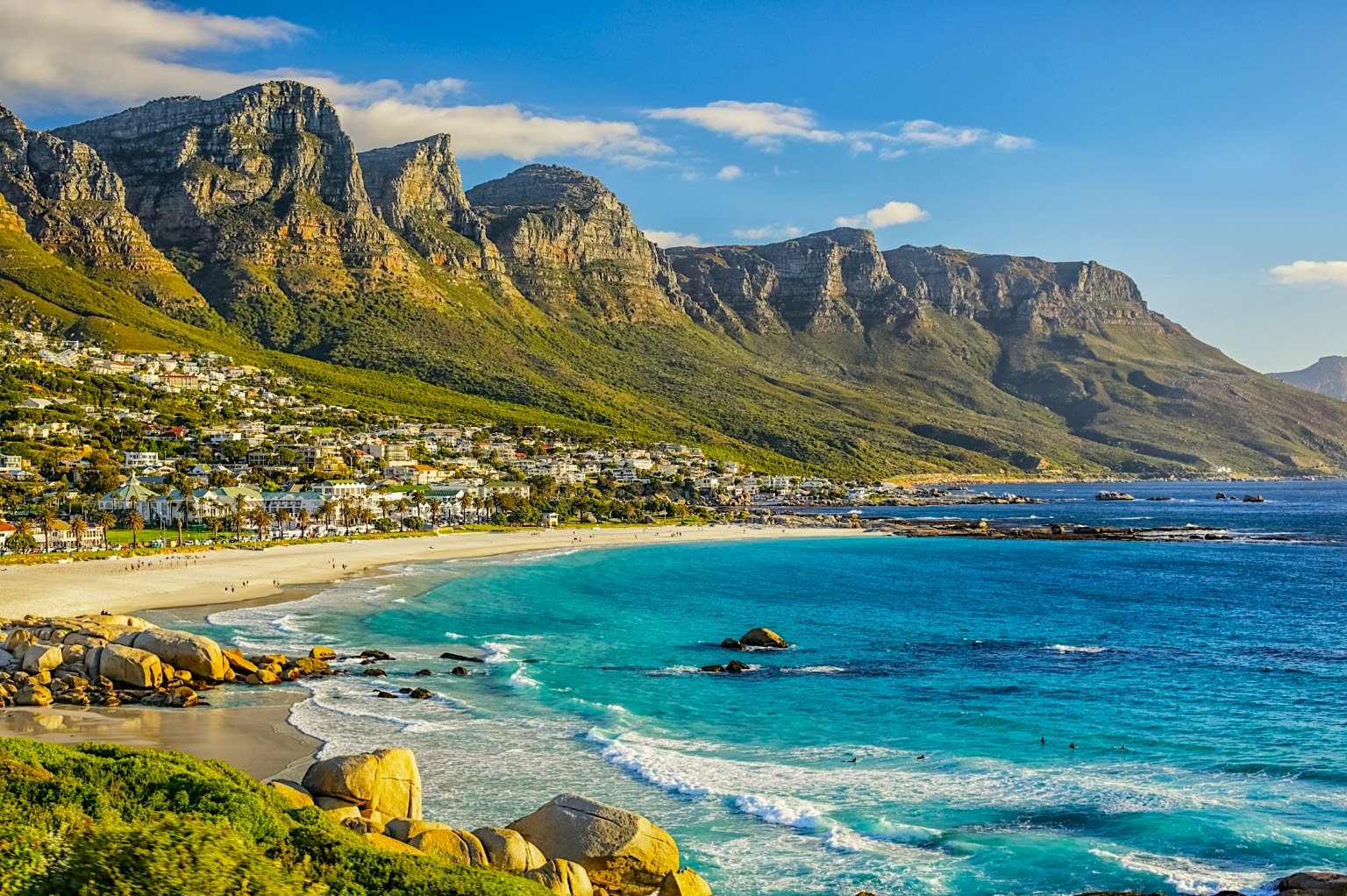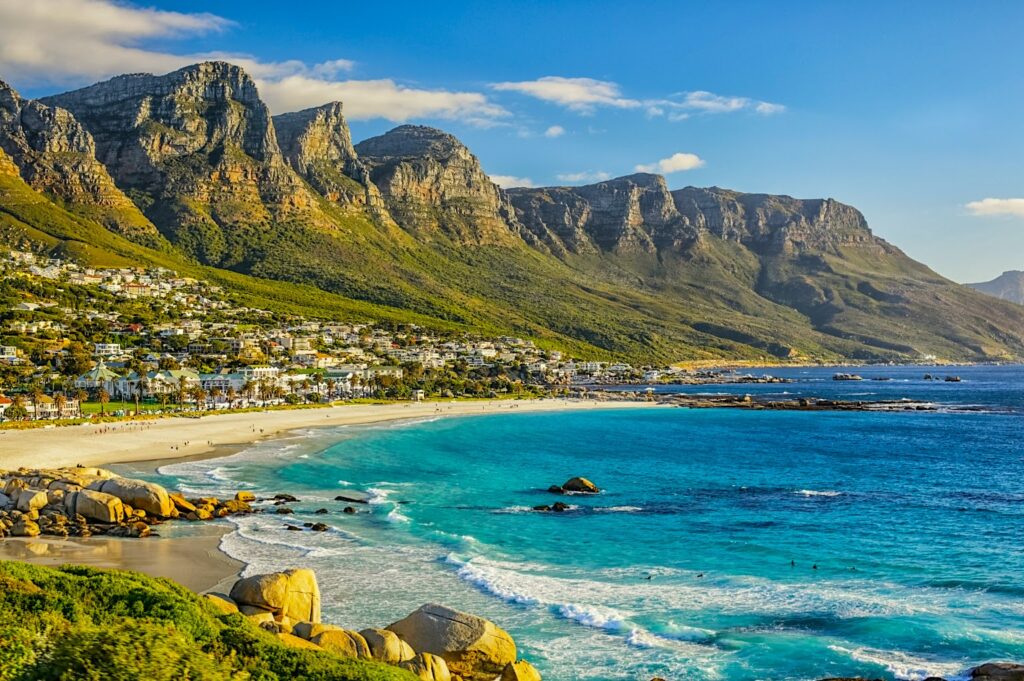 Daily average temperatures in December: High 81°F (27°C) / Low 63°F (17°C)
Cape Town, South Africa is one of the ultimate hot destinations in December, in fact it's the hottest month of the year as well as the busiest.
The beaches are flooded with locals and foreigners seeking sand and sun, especially the popular Camps Bay and Clifton beaches.
Local travelers flock in from Johannesburg and the rest of the country to enjoy the vibrant and electric feeling that only Cape Town can serve up for the holiday season.
While the traffic around the most touristy areas can be heavy, you can venture out up the West Coast to discover some lesser visited areas like Darling or the West Coast National Park.
And of course, you can't visit Cape Town without stopping by the winelands of Stellenbosch and Constantia or venture out even further to Hermanus to experience quaint coastal life.
Pop in to see the penguins at Stony Point Penguin Colony before visiting the Southern tip of Africa at Cape Agulhas.
A visit to the Cape of Good Hope and Tale Mountain are a must while you are in Cape Town. To top your trip off, venture towards the Garden Route following the stunning road that finishes in Plettenberg Bay.
Find your ideal hotel in Cape Town
Dubai, United Arab Emirates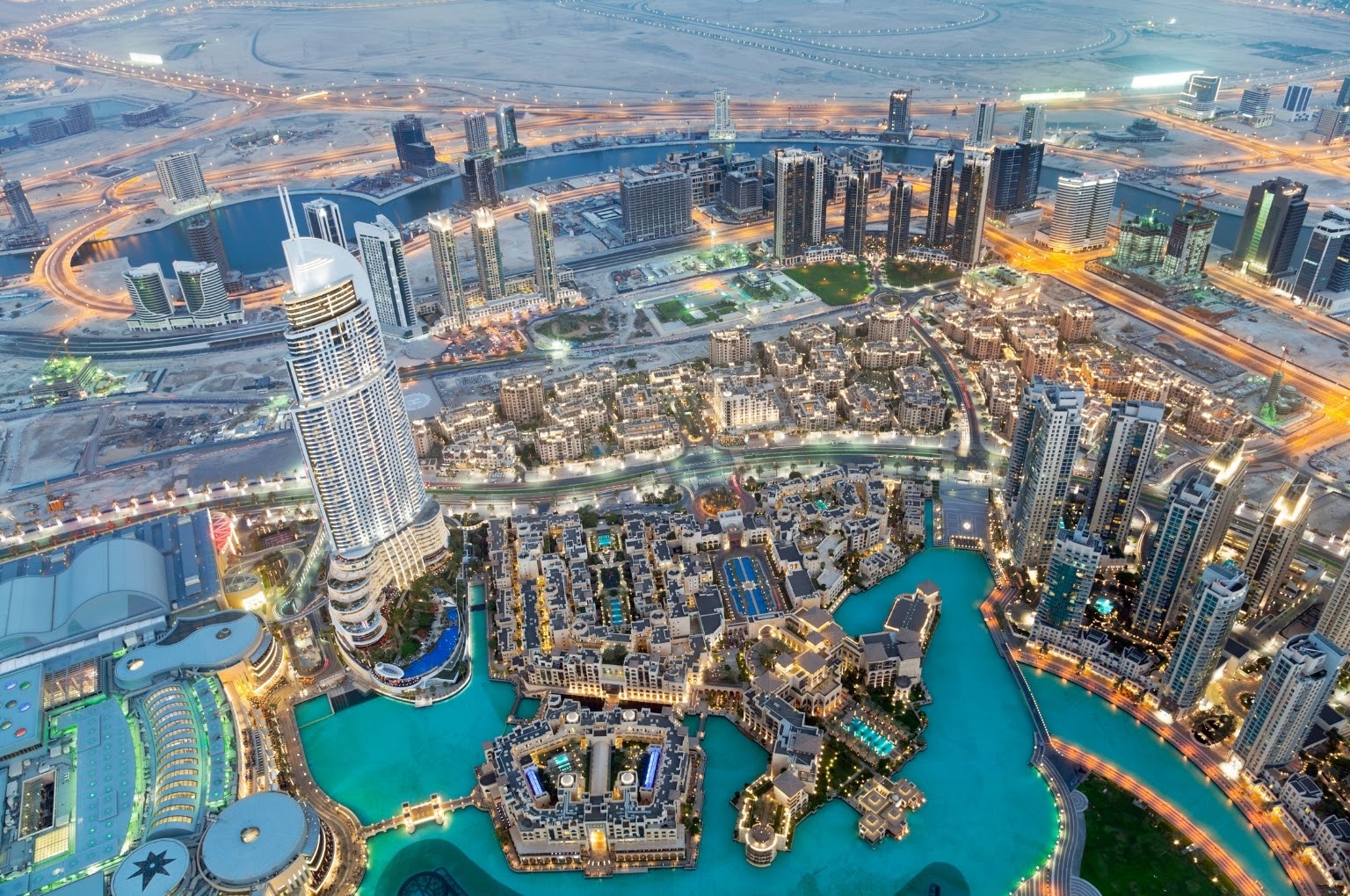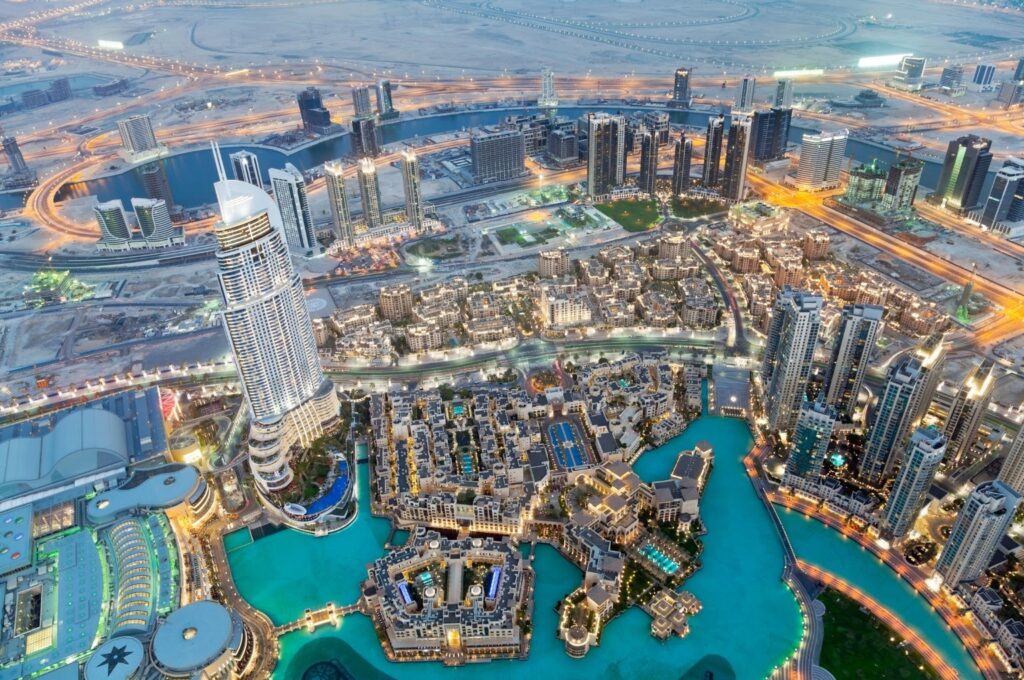 Daily average temperatures in December: High 79°F (26°C) / Low 61°F (16°C)
December is the "cold season" in Dubai, but expect temperatures to be warm by any standards, and for the sun to shine for at least 8 hours a day.
The ocean is also super warm in Dubai in December which makes it a great spot for water sports.
You can explore all the most famous spots in Dubai in both the dry and sunny days as well as the cooler evenings. Even though the UAE is a Muslim country, they understand the need to go all out during the end of year festive season and you can expect malls and shopping areas to be fully decorated.
Pro tip: Take the opportunity of being in Dubai to explore the other Emirates on a day tour. Visit Sheikh Zayed Mosque and the Emirate of Fujeirah on this day tour. Explore Al Ain, the Garden Emirate with a UNESCO-listed palm tree grove on this day tour. Or even venture into the Musandam Peninsula, which is Omani territory, on this full day cruise that promises to spot dolphins.
Dubai is known as being a city of superlatives, so there are crazy light displays, the most spectacular being the light and sound show at the Burj Khalifa during Christmas and New Years.
Apart from the usual activities that Dubai has on offer like hot air balloon rides, camel rides, deep-sea diving and skydiving, there are also a host of festivals during December like the Dubai International Film Festival, Dubai Shopping Festival and the UAE National Day Festival which is celebrated at the beginning of the month.
Find your ideal hotel in Dubai
Los Cabos, Mexico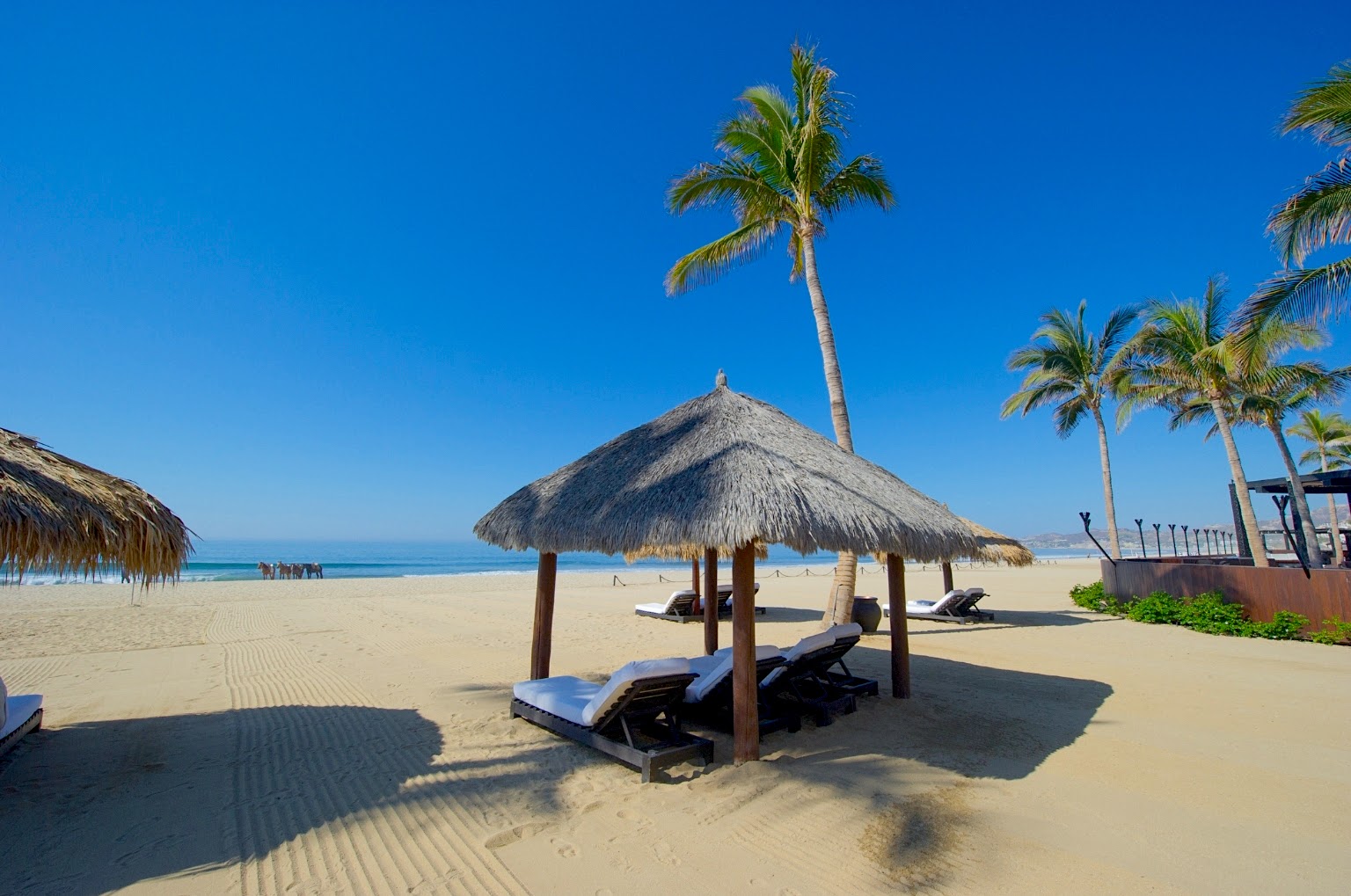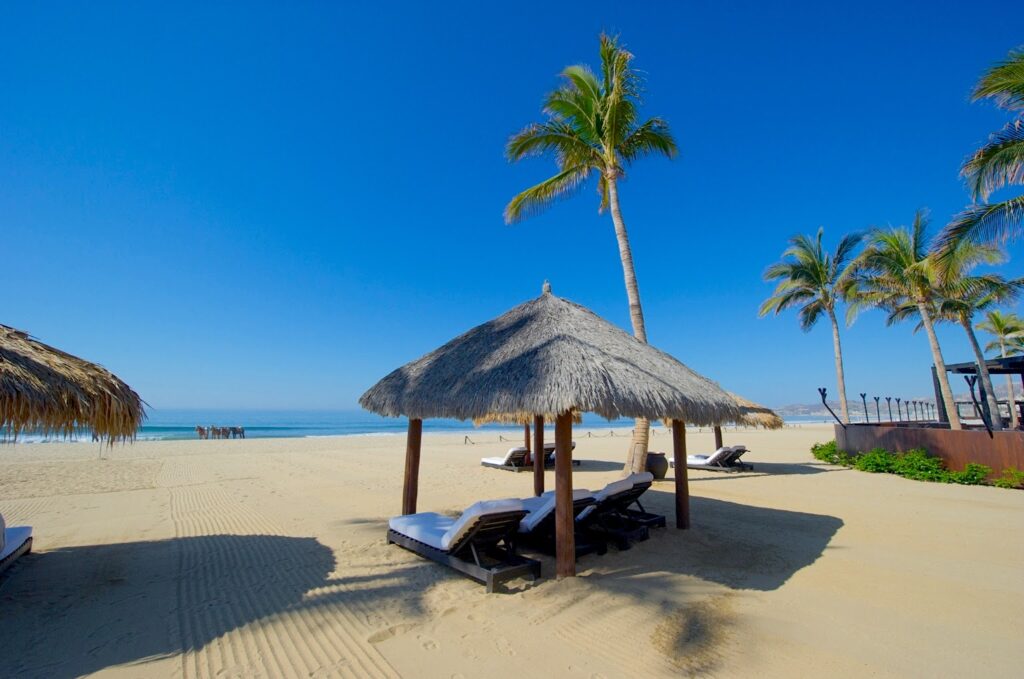 Daily average temperatures in December: High 81°F (27°C) / Low 63°F (17°C)
December is the start of high season in Los Cabos, but the area has not yet reached the raucous craziness of Spring Break.
What you'll get is perfect temperatures both day and night, loads of sunny days, as well as throngs of holiday makers from up north, this makes for a great warm destination in December.
You can see the Humpback Whales, Gray Whales and Whale Sharks in La Paz in December. The beaches will invite you onto their blissful shores and the warm waters will be a refreshing break from the heat of the sun.
Waves also run consistently throughout the year, so you can catch some waves at popular breaks like Old Man's, Zippers, The Rock, Todos Santos or Cerritos. Here are some more of the most popular things to do in Los Cabos.
Pro tip: Hire a car and drive around to Todos Santos (Hotel California), San Jose del Cabo and the endless coastline. Or book yourself into an all inclusive or beach resort and enjoy a true holiday in the sun.
Find your ideal hotel in Los Cabos
Cancun, Mexico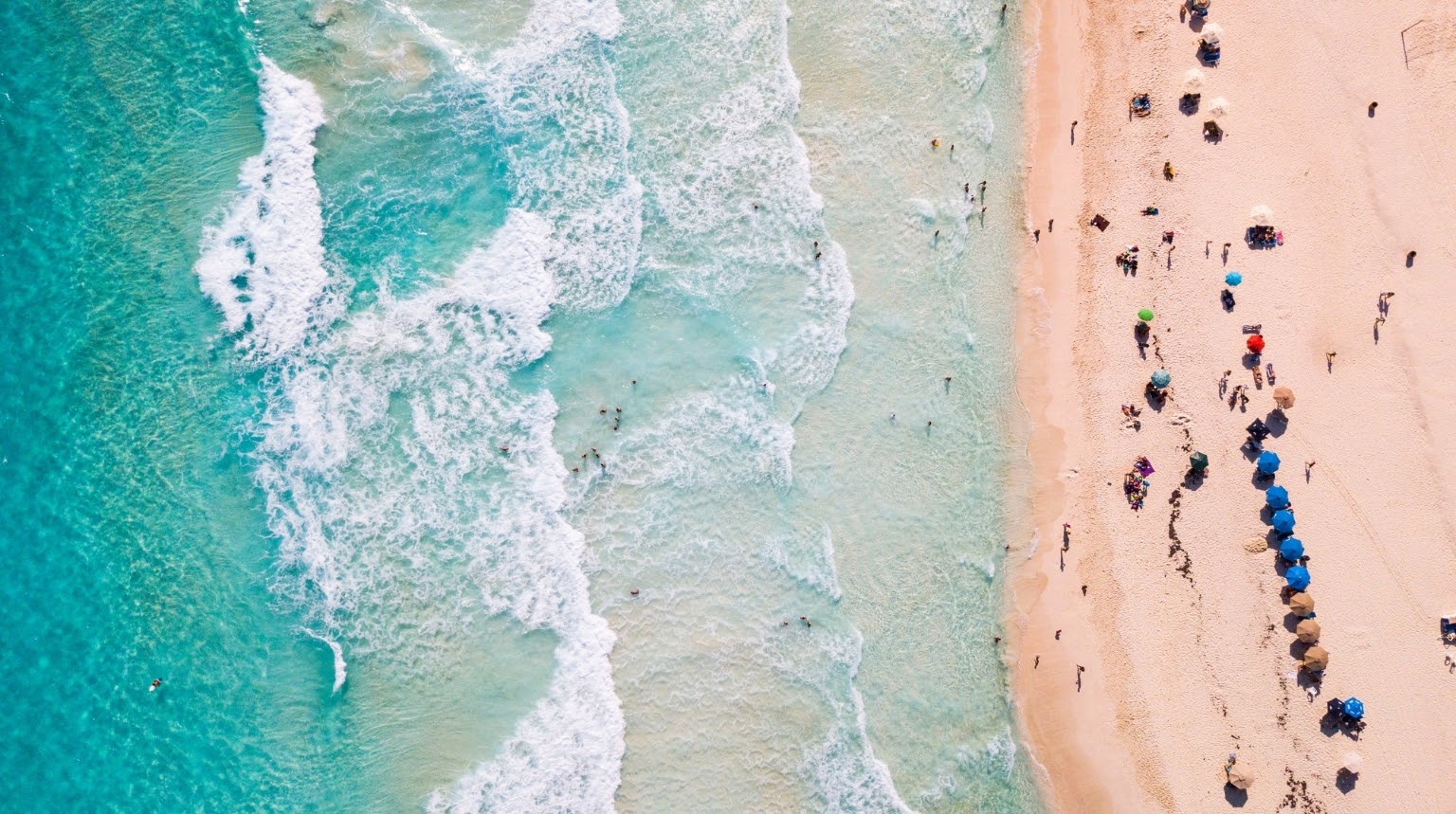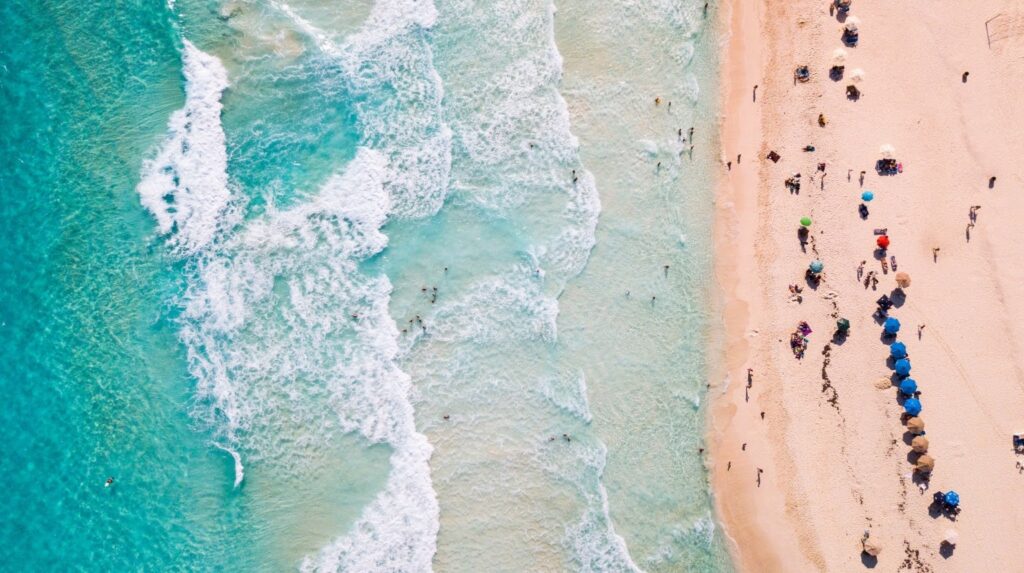 Daily average temperatures in December: High 82°F (28°C) / Low 68°F (20°C)
Not only is December a phenomenal time to visit Cancun due to the warm weather and clear skies, but it's also a month packed with activities.
You can spend the days lazing about on the beach, doing all your favorite water sports like snorkeling and diving, or watch the baby turtles hatching.
Christmas Week is a massive blow out with processions and carols. The most important day isn't actually December 25, but rather the 24th, known as Nochebuena or Holy Night where families gather to eat a traditional midnight dinner.
There's also Mexico's version of April Fool's Day, known as Día de los Santos Inocentes (Day of the Sainted Innocents) on December 28.
There's the Cancun Marathon, known as the Most Beautiful Marathon in the World, the annual Sunset Boat Parade at Jardin del Arte, and of course the massive New Year's Eve celebrations with massive parties and fireworks. Try to make it to Playa del Carmen for an all night celebration.
Find your ideal hotel in Cancun
Phuket, Thailand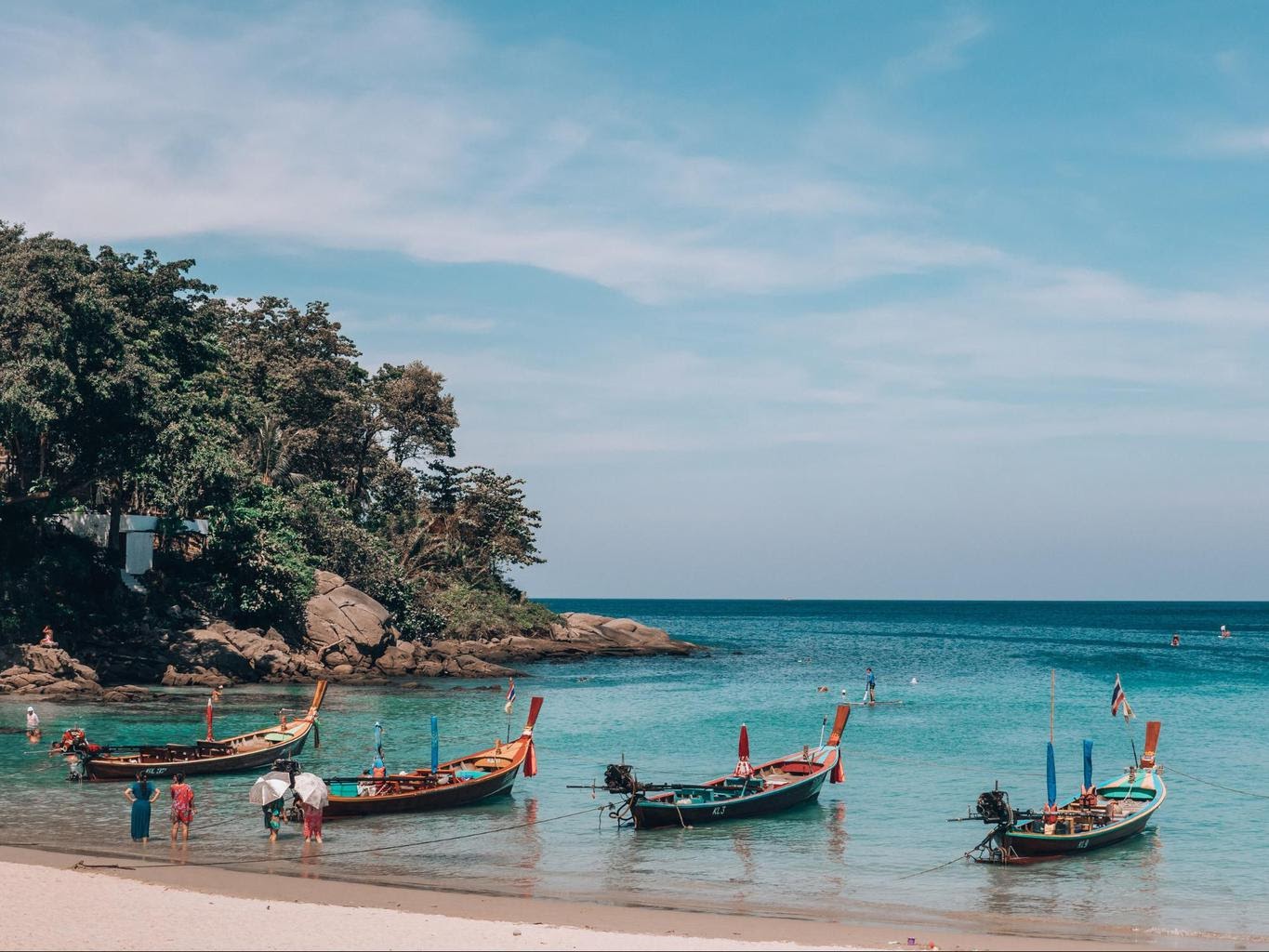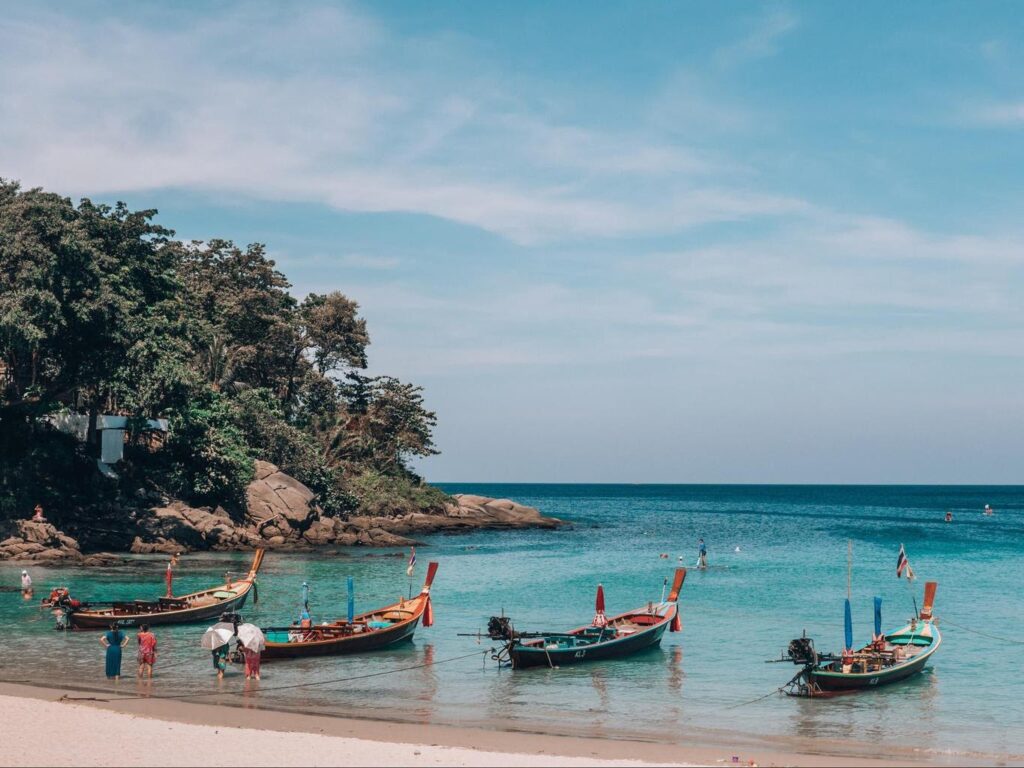 Daily average temperatures in December: High 90°F (32°C) / Low 76°F (24°C)
Apart from a few rainy months during the monsoon season from May to October, Phuket is always a good idea and December sees very hot temperatures, even though it's in the midst of winter.
In fact, December to March is known as the "good weather" period as temperatures are mild and precipitation is at a low. This means that all the tourist spots will be easily accessible, if a bit crowded.
You can enjoy all the best things to do in Phuket from scuba to sailing to lazing around the pristine beaches. Go island hopping, enjoy the free-spirited nightlife or take in the culture in Phuket Old Town.
Pro tip: Patong is where the party is at in Phuket but while that can be a bit roudy, most hotels will put up parties and celebrations and some of the beach clubs will have DJs and music.
Some of the best islands to explore include Koh Yao Noi, Koh Racha, Koh Phi Phi or those in Phang Nga Bay. And we always recommend a visit to Sri Panwa, especially the rooftop bar which has some of the best views of the Andaman Sea.
Find your ideal hotel in Phuket
US Virgin Islands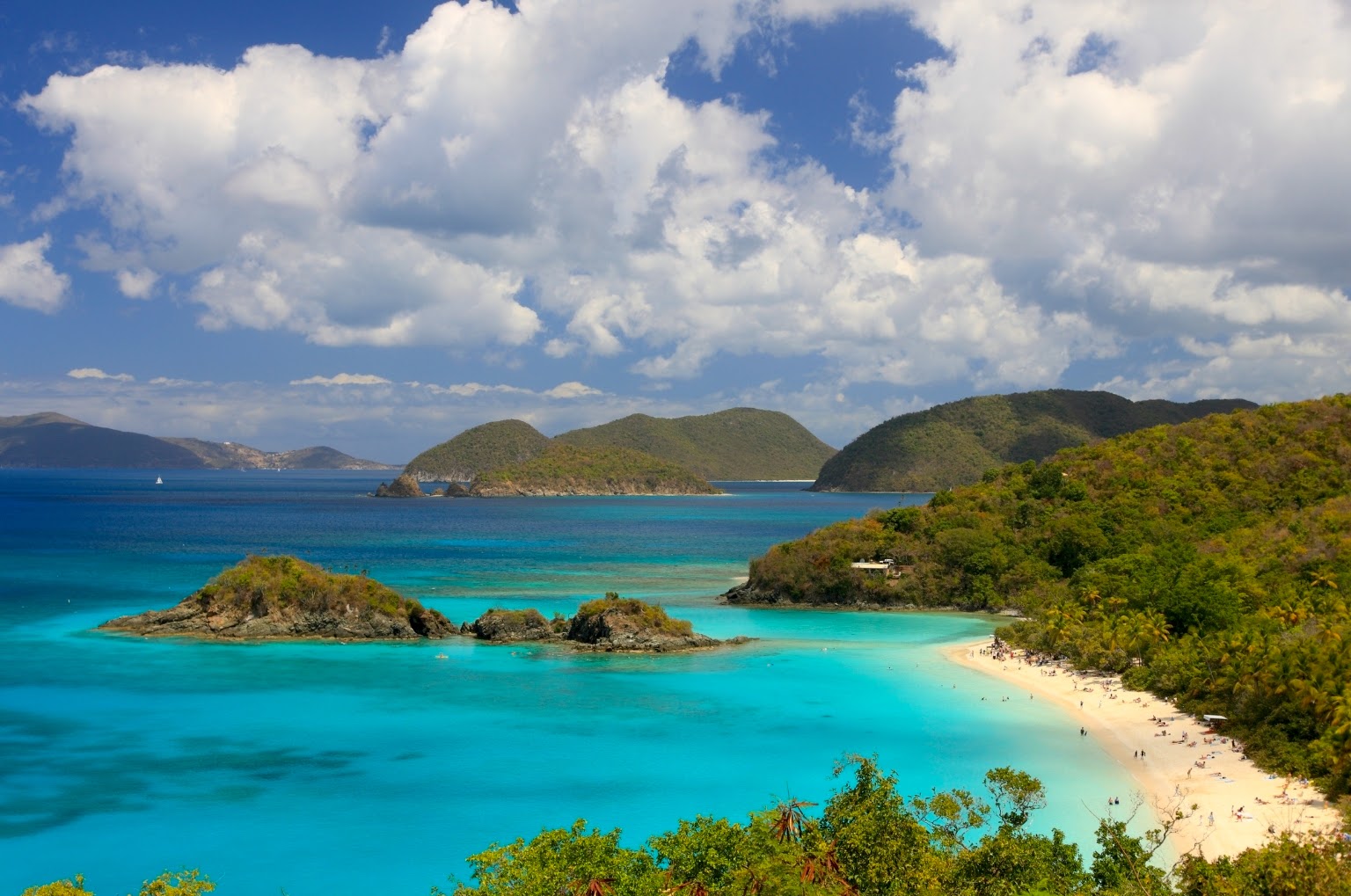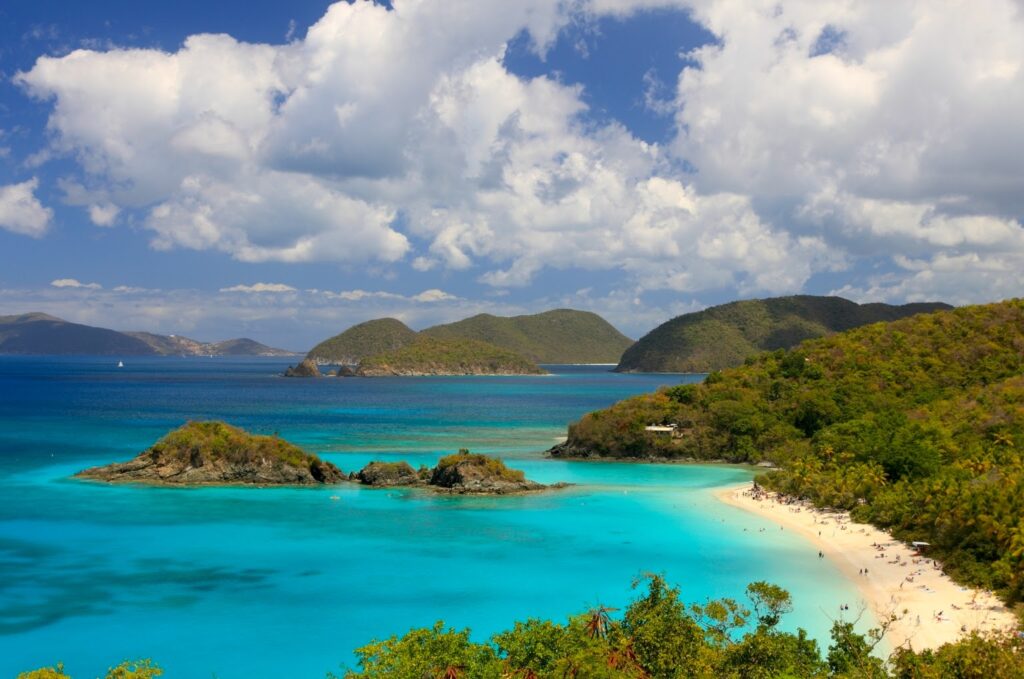 Daily average temperatures in December: High 84°F (29°C) / Low 74°F (23°C)
There is a cluster of four islands (and some 50 smaller islets and cays) in the Caribbean called the US Virgin Islands (USVI).
Situated in the Lesser Antilles, these islands along with the British Virgin Islands are just east of the Greater Antilles which consists of Cuba, Jamaica, the Cayman Islands, Haiti/Dominican Republic and Puerto Rico.
While Water Island is not visited too often, you can make your way to the largest and most popular islands of St Croix, St Thomas and St John.
The Festive season is in full effect in December here and brings through the wonderful "Christmas Winds", which brings through a welcoming evening breeze.
Join the month-long Crucian Carnival for an epic Caribbean party, participate in the annual Christmas Bird Count, and if you're an active vacationer, run the International Marathon on St Croix.
St Thomas is a popular spot for cruises to dock so if you venture beyond the port, you can find glorious natural beauty away from the crowds.
On St John you'll find beautiful snorkeling, white-sand beaches, and hikes through the lush, tropical Virgin Islands National Park.
Find your ideal hotel in the US Virgin Islands
San Juan, Puerto Rico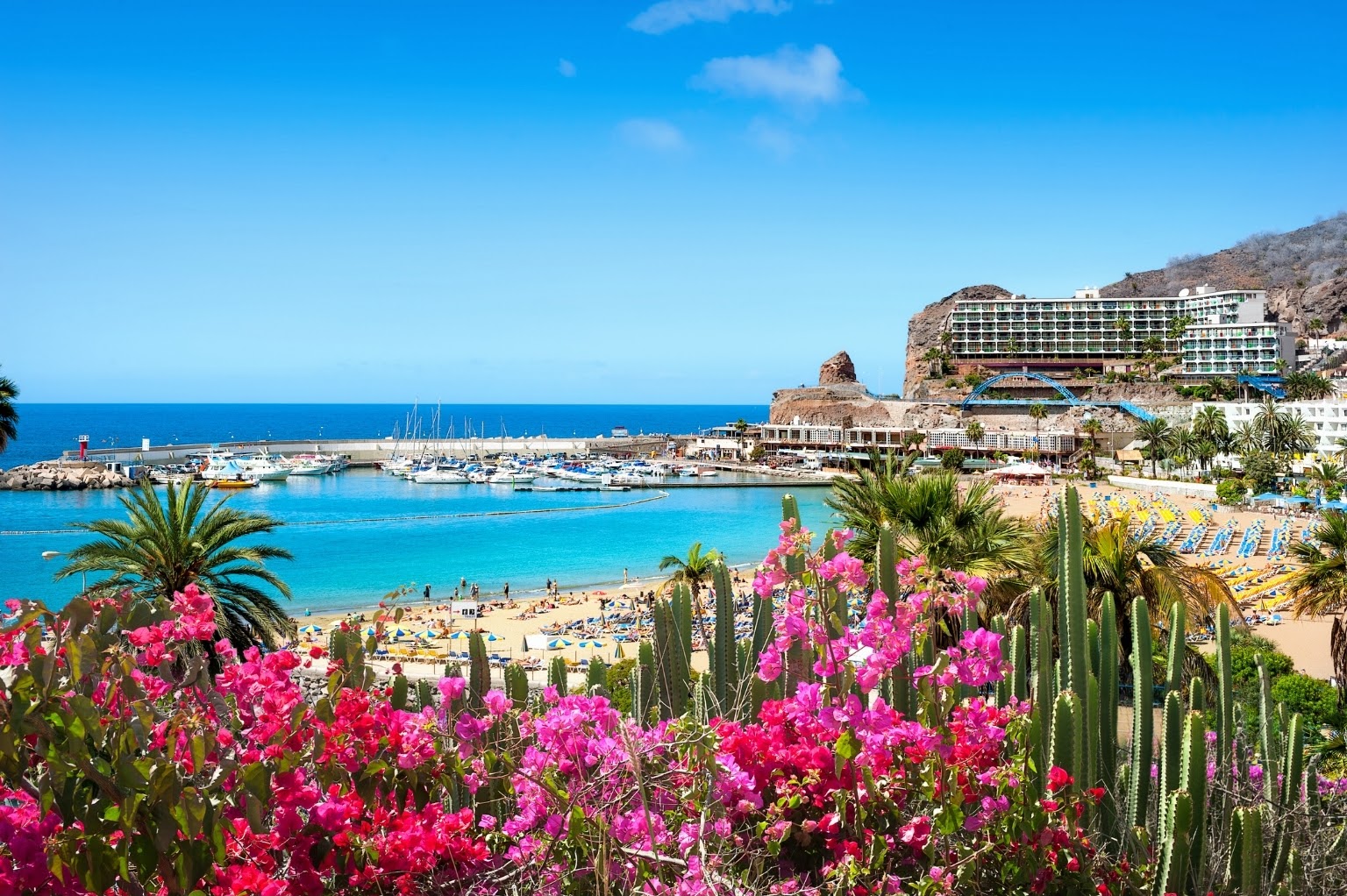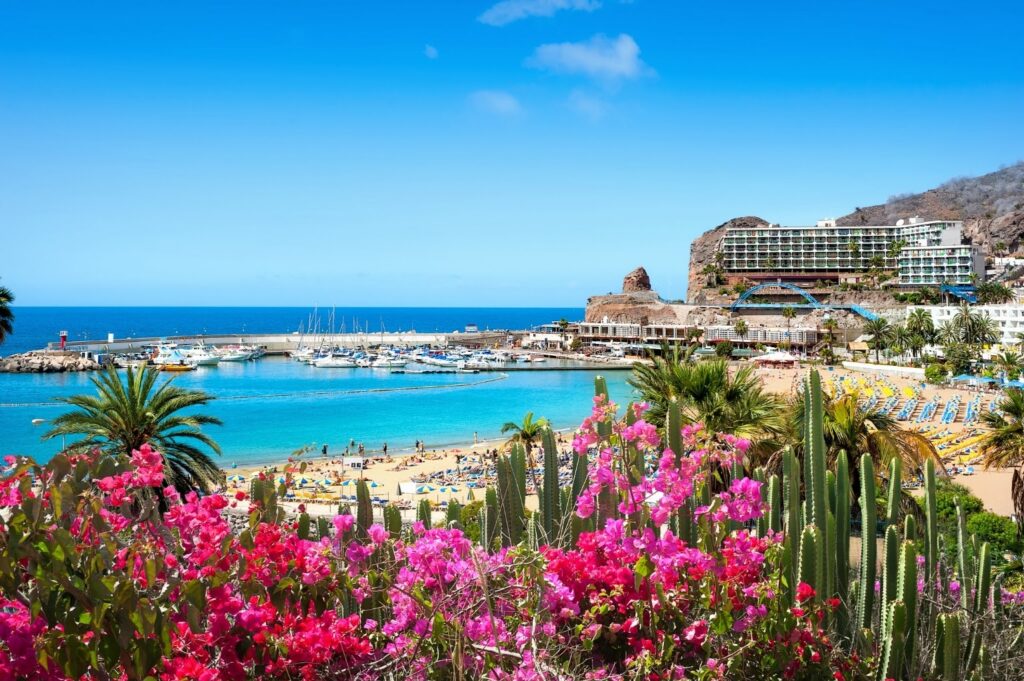 Daily average temperatures in December: High 84°F (29°C) / Low 73°F (23°C)
When looking for warm places in December, there's no better bet than Puerto Rico. This US territory is wonderful almost any time of year, but December brings the festivities, especially the parrandas or street festivals.
Due to its deep history, you will celebrate the Christmas festivities in Puerto Rico like no where on the globe.
With a blend of both Spanish and African traditions, some activities include the San Sebastián Street Festival and the eight-day octavitas celebration, which follows the Epiphany on January 6. So you'll be partying right past the New Year and into January.
Sip your local piña colada in the gateway to the Caribbean at one of the many resorts, experience one of the bioluminescent bays like Laguna Grande in Las Croabas, Fajardo, or hike the only tropical rainforest in the U.S. National Forest System, El Yunque.
Find your ideal hotel in San Juan
Havana, Cuba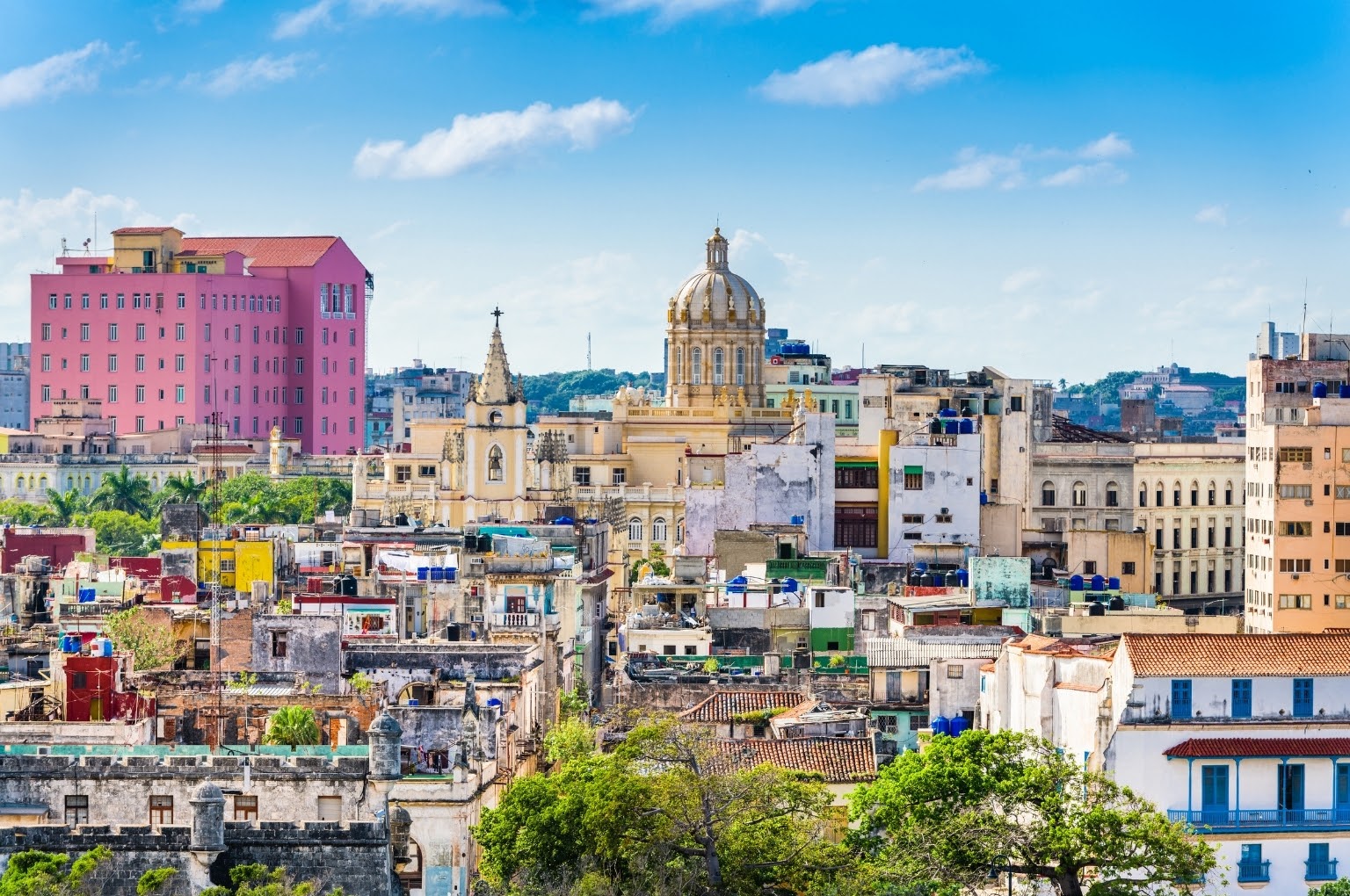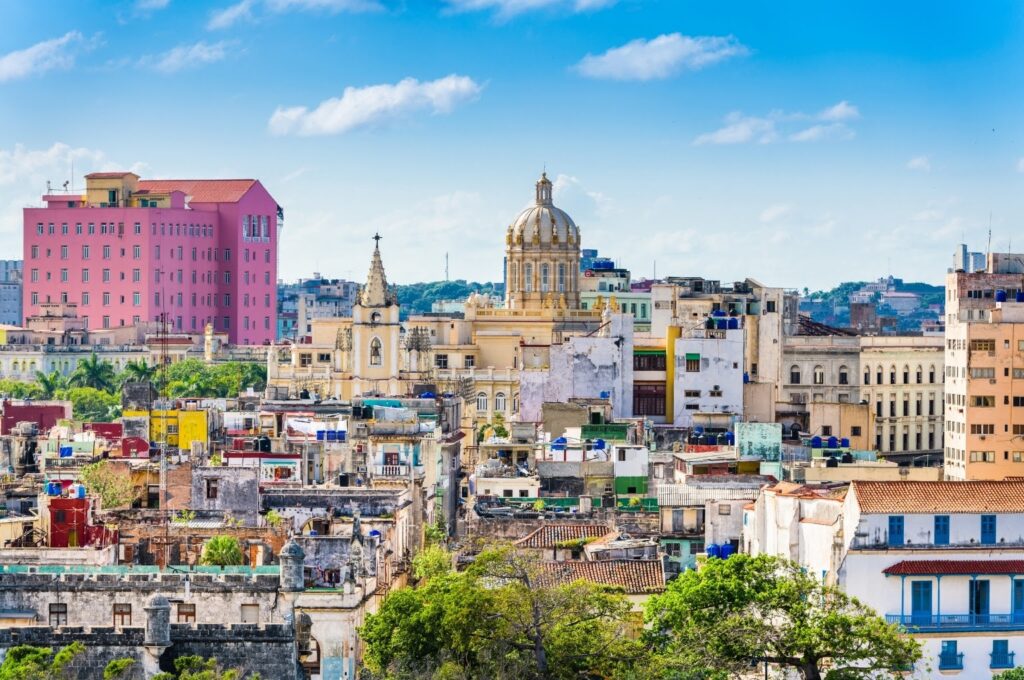 Daily average temperatures in December: High 79°F (26°C) / Low 65°F (18°C)
December is pleasantly warm in Havana and due to the dry temperatures, the country is a very popular warm winter destination.
As this is peak season with tourists flooding in from all over North America and Europe, it can be busy with higher prices so book well ahead.
Prepare to be amazed while experiencing the Christmas Week parranda (party) in Remedios with a huge fireworks display, massive floats and extravagant neon creations.
There's also the Habanos Festival for cigar aficionados and Procesión de los Milagros in San Antonio de las Vegas (southwest of Havana), which is a huge religious procession. You will be able to see a massive pilgrimage to the Santuario de San Lázaro Catholic church.
Cuba is not only a popular warm place in December for the beach, it's also one of the most popular months for birding at spots like the UNESCO biosphere reserve Ciénaga de Zapata, or Pinares de Mayarí.
Join our Women-only tours to Cuba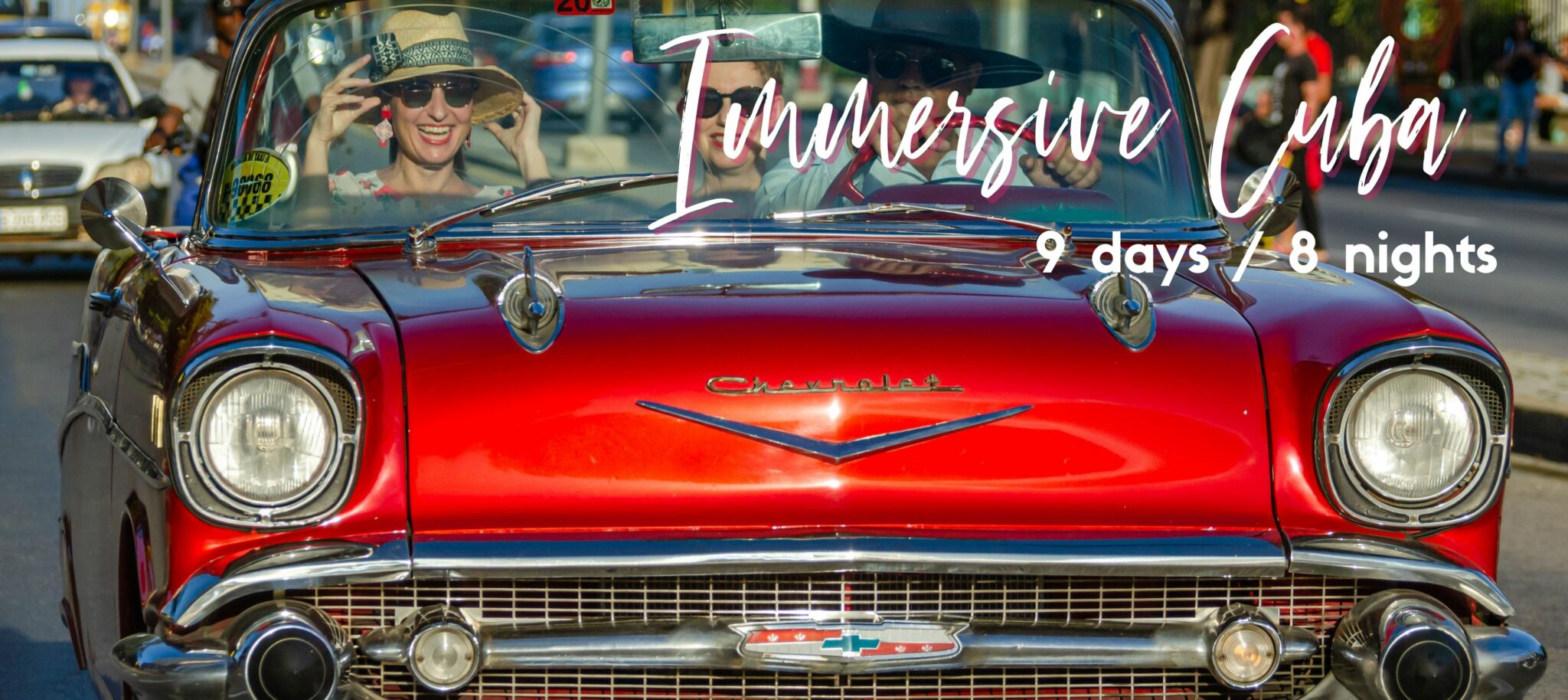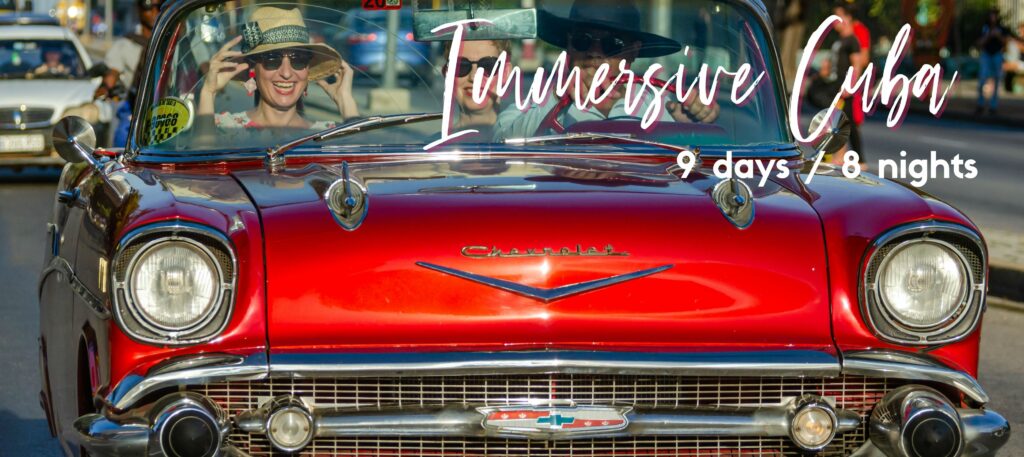 And of course, you can go on epic hikes at Viñales where you can also visit tobacco farms and lear how to roll cigars, the Sierra Escambray, and even the overnight trek through the Sierra Maestra.
But above all, Cuba is for the people, the culture, the salsa nights, the pina coladas and the music and dancing at all hours of the day and night.
Find your ideal hotel in Havana
Fort-de-France, Martinique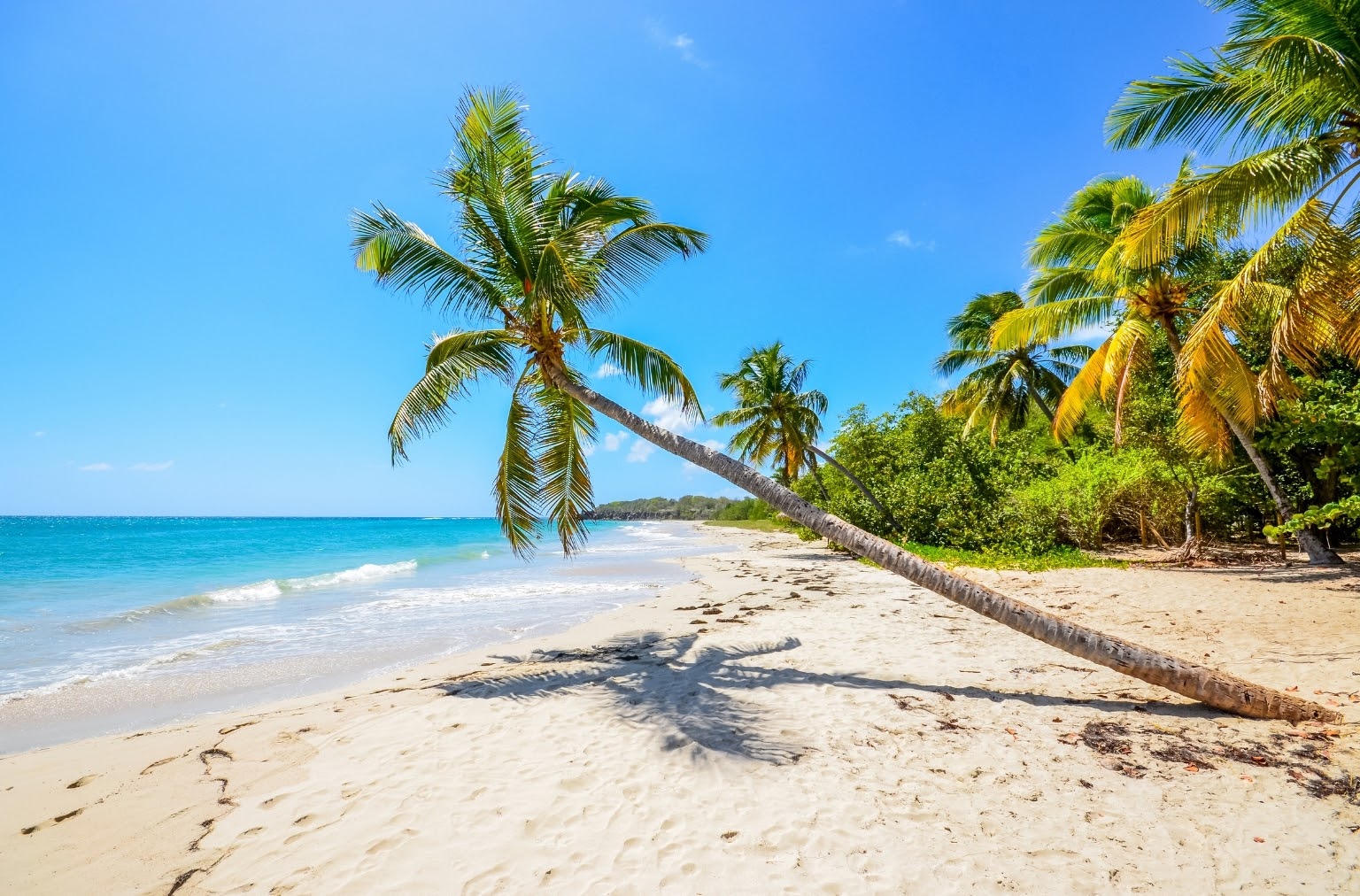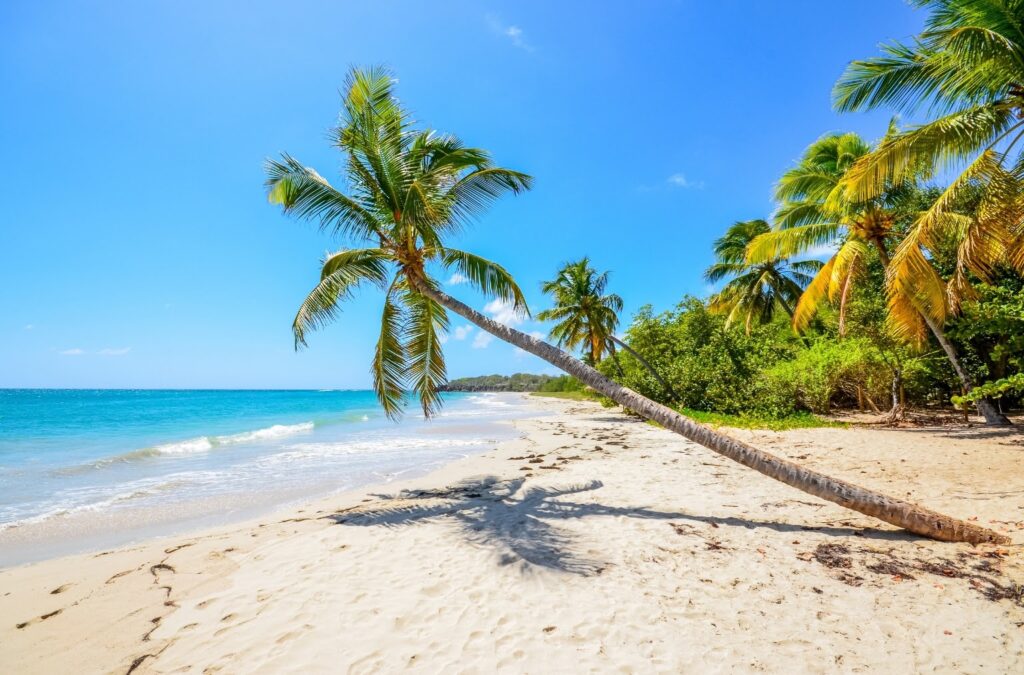 Daily average temperatures in December: High 86°F (30°C) / Low 72°F (22°C)
Martinique is a distinctly French island in the Caribbean and part of the Lesser Antilles. As it is a French territory, you can find an amazing blend of French culture with West Indian influences.
The island itself offers magnificent beaches, dramatic mountain ranges and some unique tropical gardens.
In its capital, Fort-de-France, you can explore the colonial architecture, ornate iron balconies, idyllic beaches, tropical flowers or learn about its interesting past, especially about the pre-Columbian period at the Martinique Museum of Archaeology and Prehistory.
For jaw-dropping scenery, take a drive to Saint-Pierre and gaze at (or even hike) the giant Mount Pelée, an active volcano, which caused havoc in 1902 and again in 1932. Then savor the taste of France in the tropics with the amazing French and Creole cuisine. There are also pretty villages like Sainte-Anne which also has one of the best beaches nearby called Les Salines.
Find your ideal hotel in Fort-de-France
Tenerife, Canary Islands (Spain)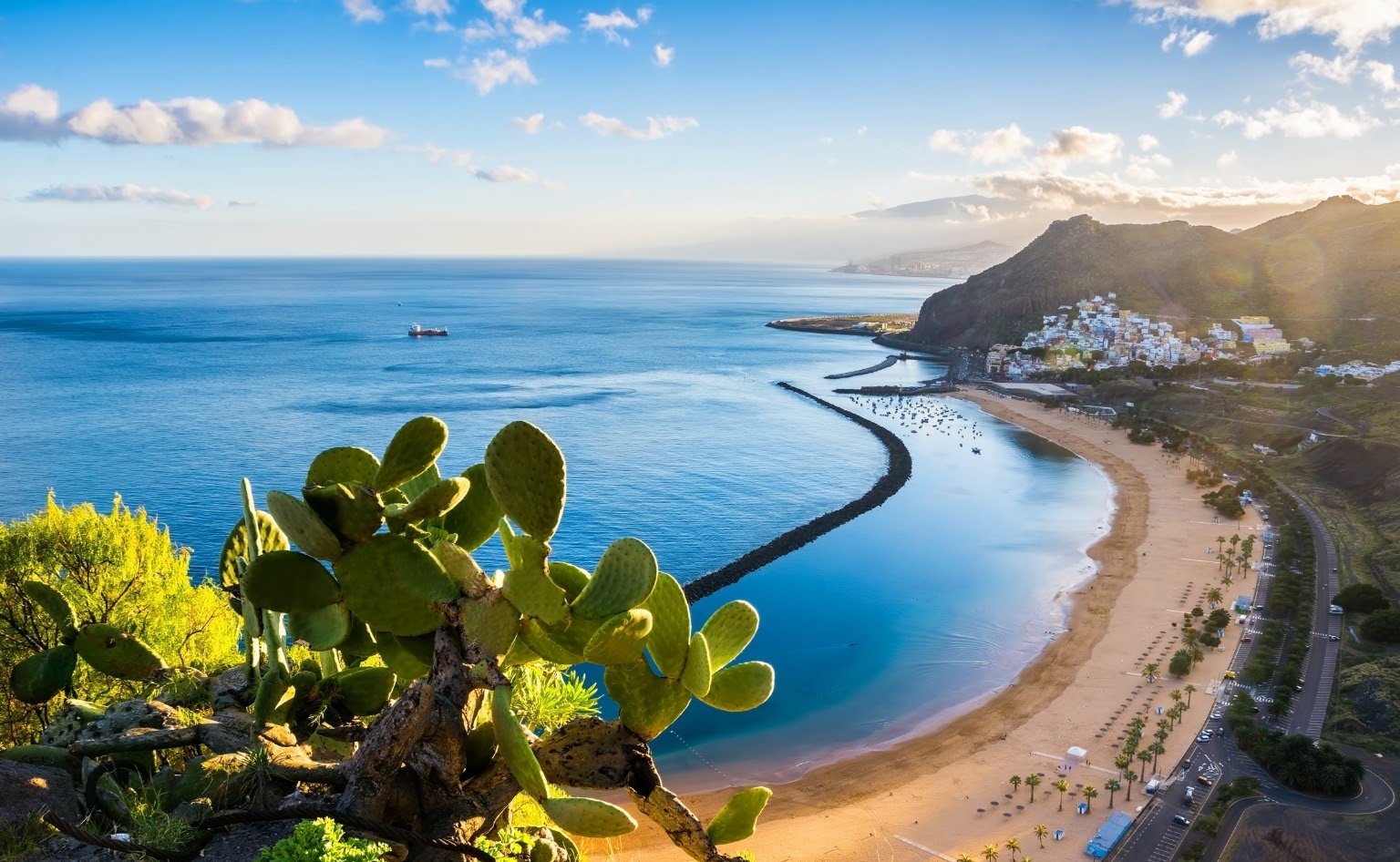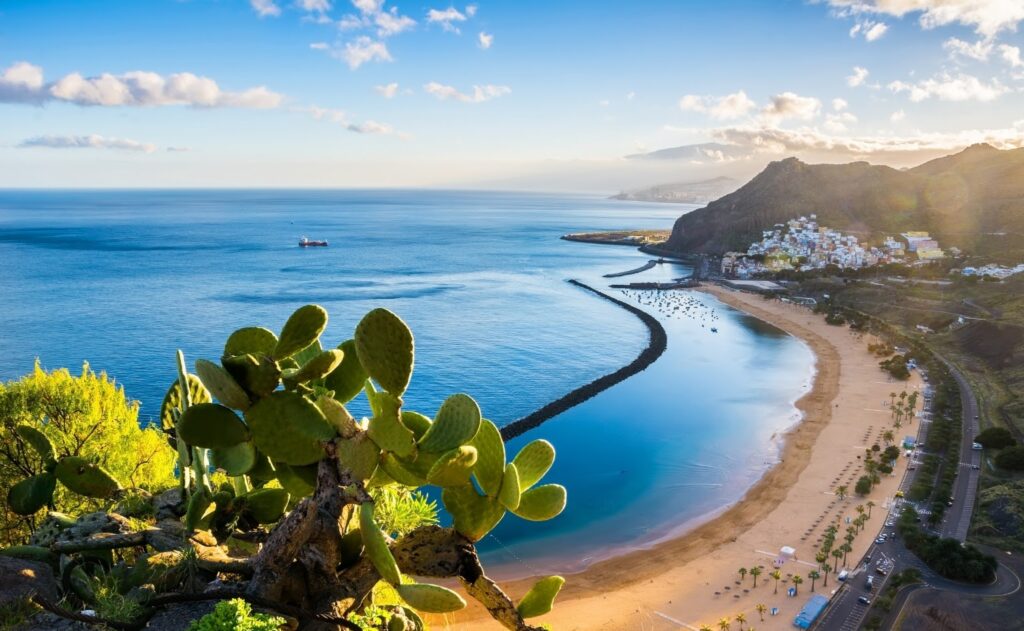 Daily average temperatures in December: High 70°F (21°C) / Low 60°F (16°C)
Tenerife is an autonomous region of Spain, but located in the Canary Islands, just off the coast of Morocco in northwestern Africa. It is therefore a beautiful blend of African sun and Spanish culture and one of the few warm places in Europe in December.
Tenerife is a popular year-round tourist destination where you can find top-tier hotels and resorts frequented by sun-kissed Europeans.
December isn't traditionally a peak month, so you can still find some empty beaches and enjoy the island's well-known black and white-sand beaches and the active volcano Mt. Teide, the tallest mountain in Spain, which has an astronomical observatory.
Tenerife is the perfect warm European destination in December to enjoy warm and soft temperatures with little rainfall and loads of sunshine.
Get some hiking done, watch whales and dolphins at Costa Adeje, or dine at the world-class restaurants.
Stay at luxury hotels like The Ritz-Carlton, Abama, or at adults-only resorts in picturesque villages like Boutique Hotel San Roque in Garachico.
Find your ideal hotel in Tenerife
Negril, Jamaica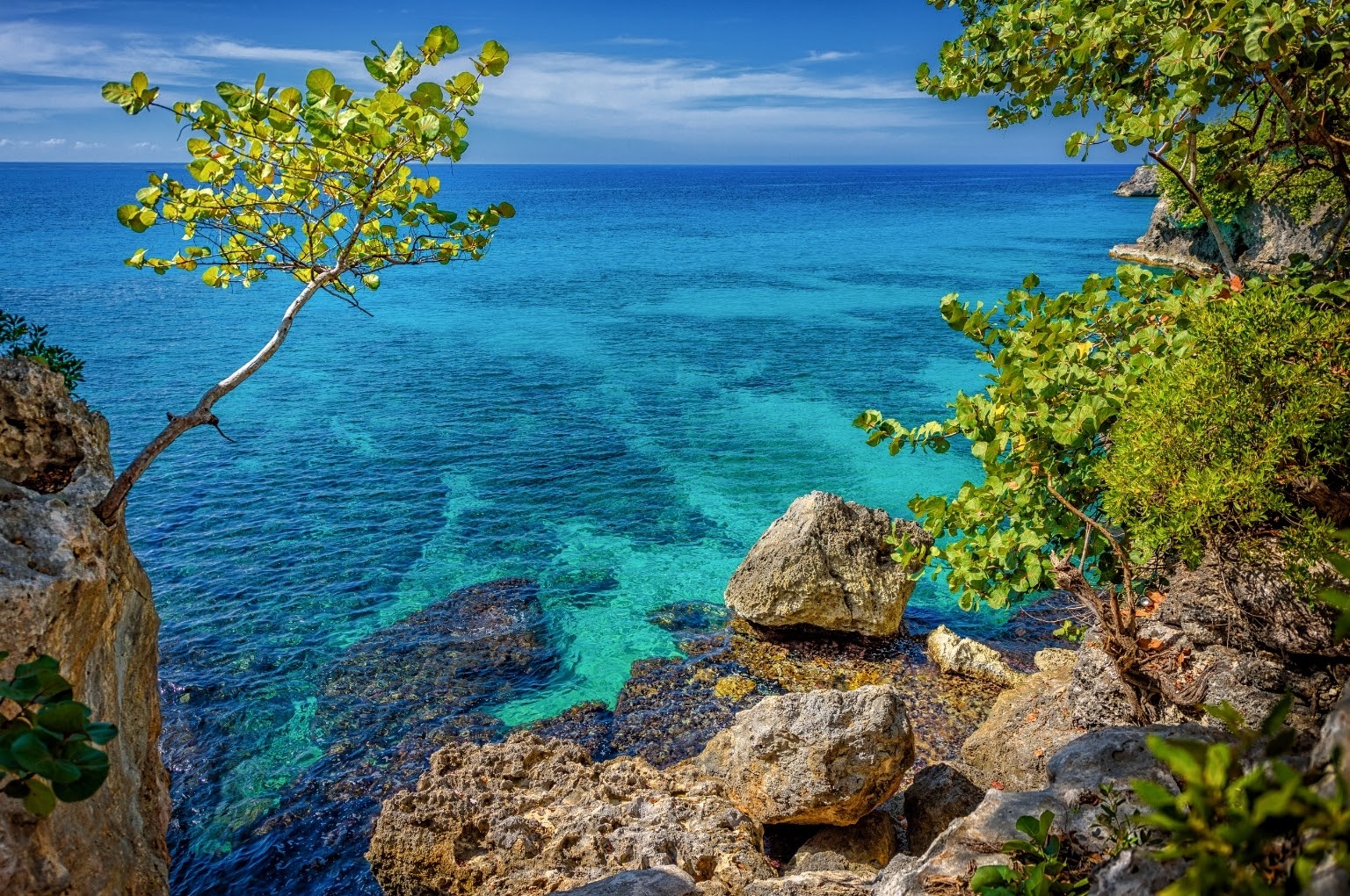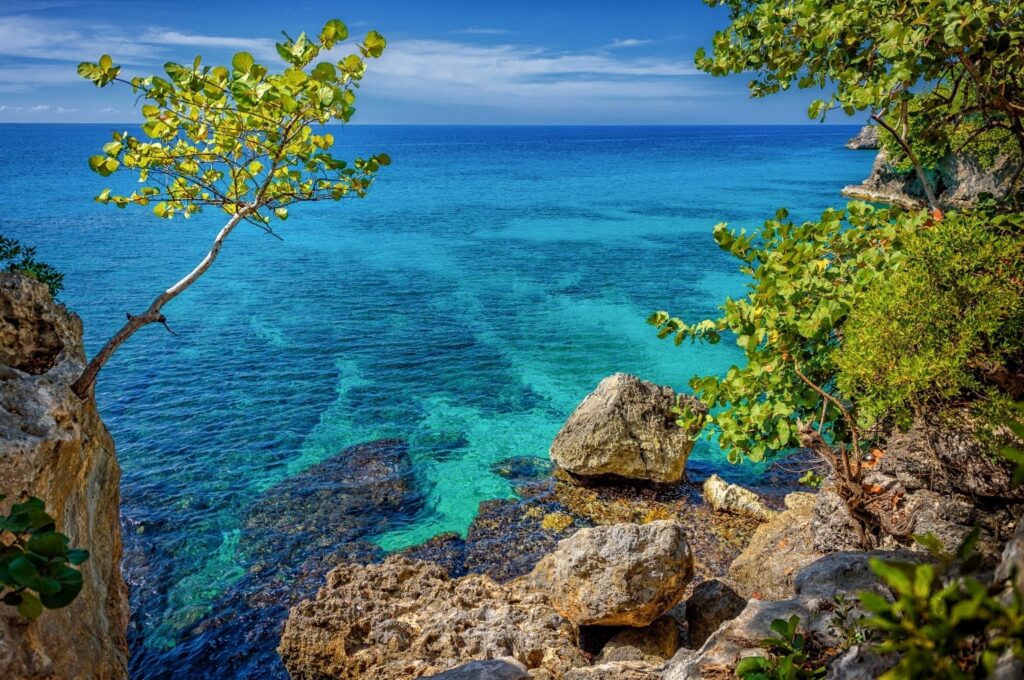 Daily average temperatures in December: High 83°F (28°C) / Low 76°F (24°C)
Peak-season doesn't begin in Jamaica until about mid-December so if you choose to visit at the beginning of the month, you can score some really great deals. Come the middle of the month and you'll see the prices soar.
Take a deep dive not only into the magical blue waters near Negril but also experience the lively Jamaican culture from the mellow Reggae music to the most delicious cuisine including Ackee and codfish, Jerk chicken, Oxtail or Curry.
As Negril is one of the top warm places in December, you'll be able to visit the longest beach in Jamaica called Seven Mile Beach.
The area is a great place to base yourself if you're looking to visit the best waterfalls in the country like Dunn's River, Mayfield and YS Waterfalls. It's a top spot to experience authentic Jamaican culture, as you won't be walled up into a resort city. But we recommend taking day tours as the safety situation in Jamaica is unstable and crime levels are high.
Find your ideal hotel in Negril
Cartagena, Colombia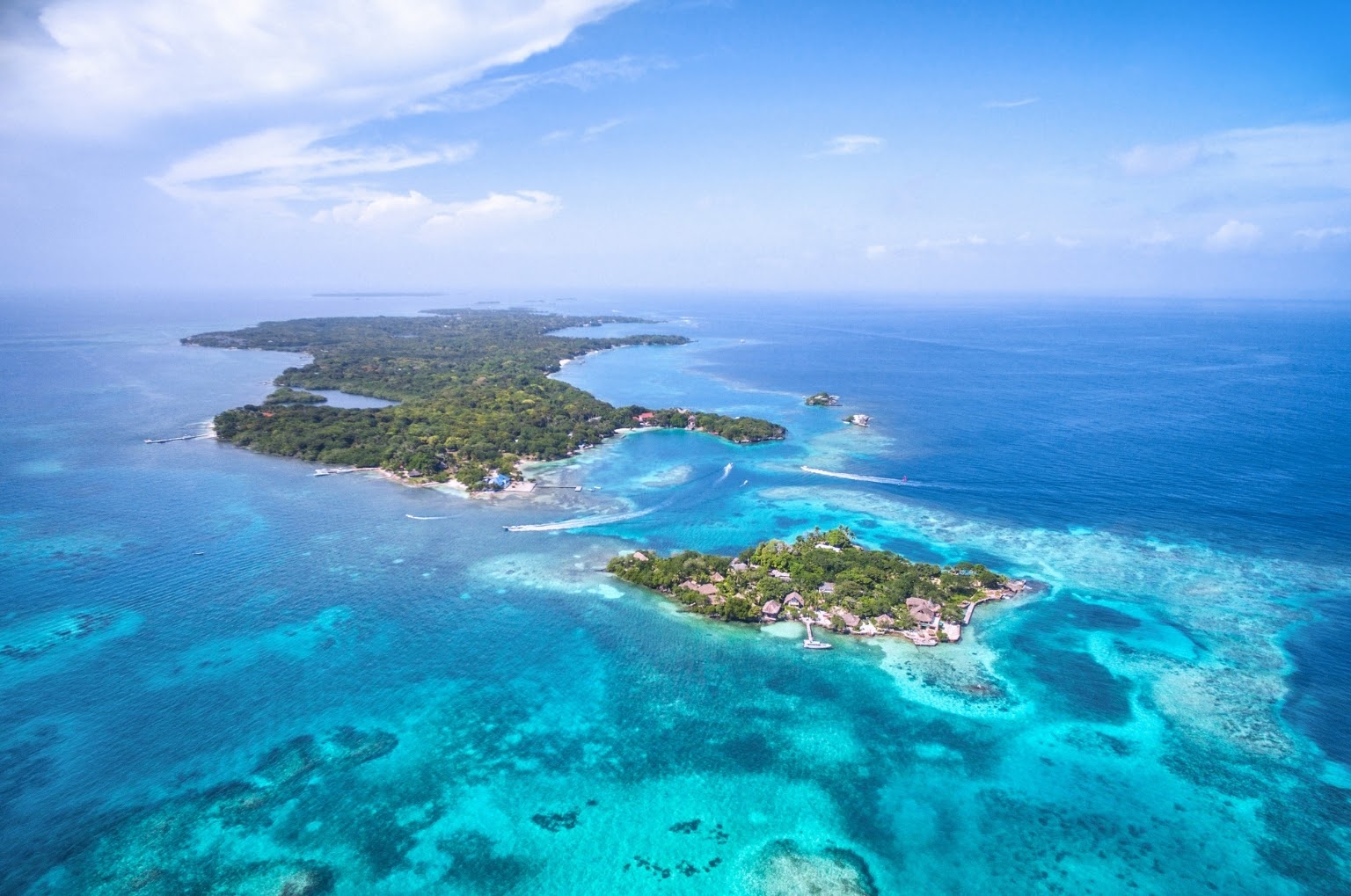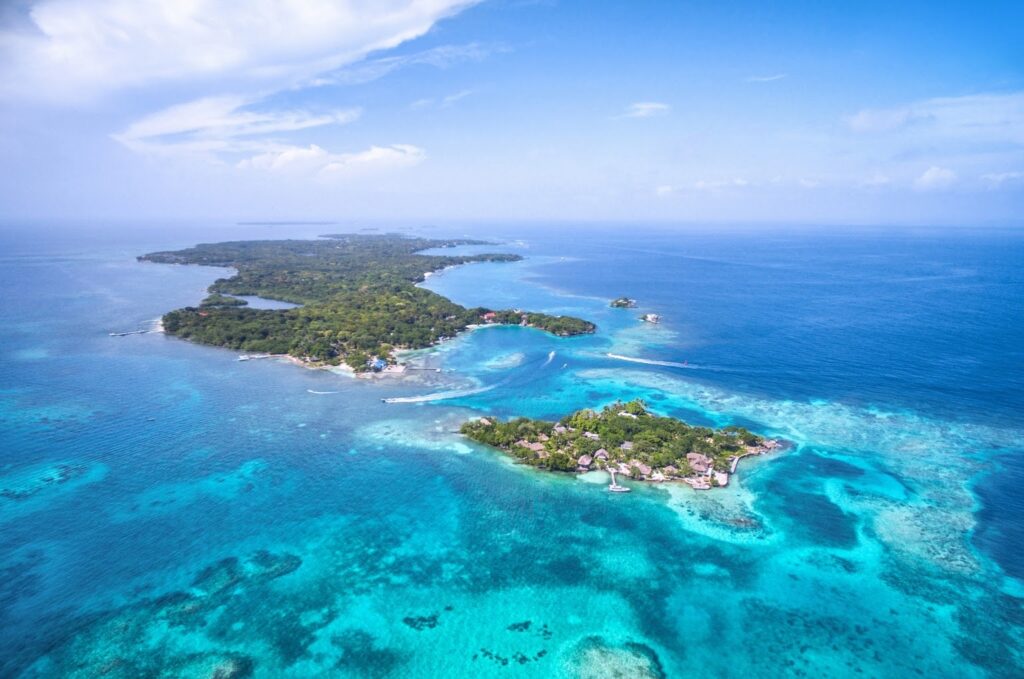 Daily average temperatures in December: High 88°F (31°C) / Low 77°F (25°C)
We don't think anything sounds better than turquoise blue oceans, cobblestone streets of Old Town and a beautifully tropical climate. This is a description of Cartagena, off Colombia's Caribbean coast.
The mainland is a display of colorful colonial buildings and popular beaches while the surrounding islands are exquisite and easily accessible by boat, like the idyllic Isla de Barú or coral reef area of Islas del Rosario.
Take a lazy holiday at Colombia's most frequented destination and experience a cleansing volcanic mud bath at El Totumo, eat the most amazing street food like empanadas and buñuelos among the plazas, try navigating the Mercado de Bazurto wet market, or take lazy sunset drinks at Cafe del Mar.
Find your ideal hotel in Cartagena
Bridgetown, Barbados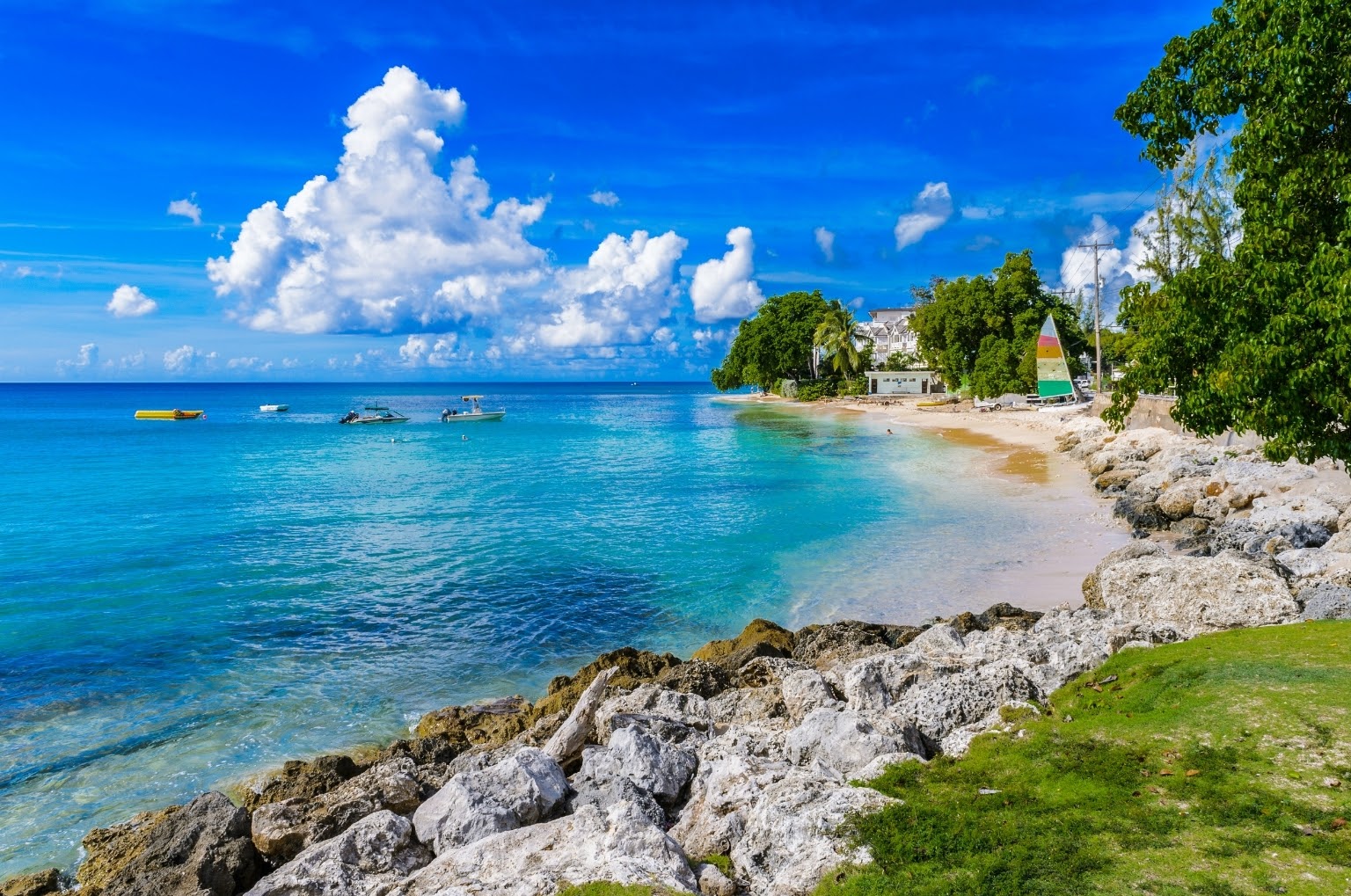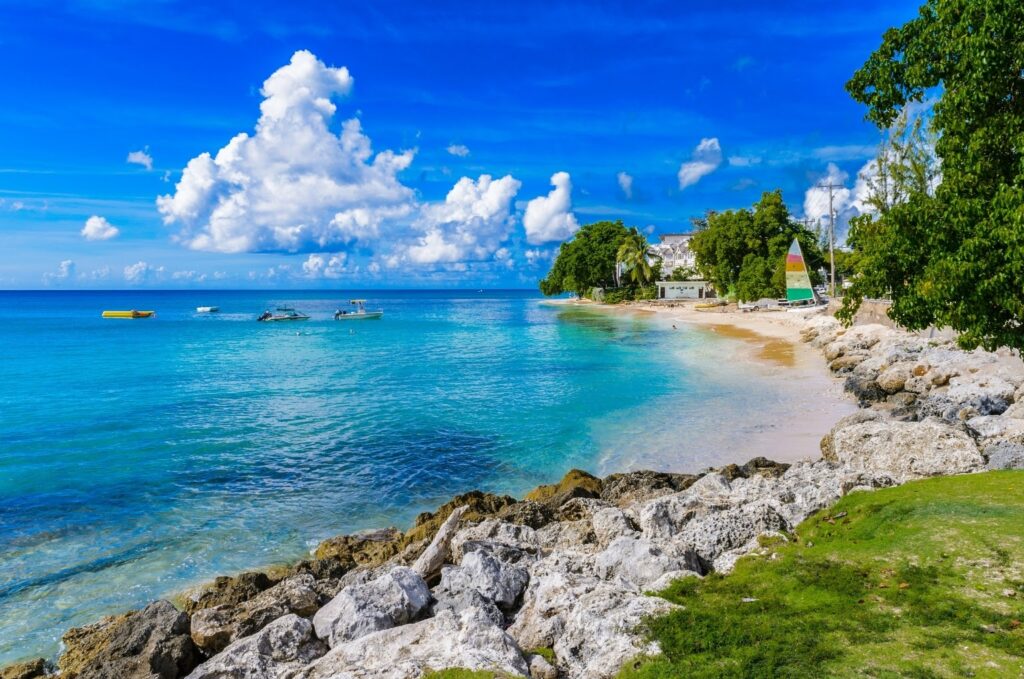 Daily average temperatures in December: High 84°F (29°C) / Low 73°F (23°C)
Visit the birth country of Robyn Fenty, who you may know as world-famous superstar Rihanna.
Tucked away in the Caribbean, Barbados sees both warm weather and waters, many hours of sunshine and a low humidity. So it's definitely one of the best places in December to escape your winter woes.
The country is pumping at just about any time of the year, with activities galore. December is no different. Enjoy the postcard-perfect beaches, peruse the botanical gardens like Andromeda Gardens, or explore Harrison's Cave formation or take a look into the island's history and culture at the 17th-century plantation houses like St. Nicholas Abbey.
You can also join the locals for some high tea and a game of cricket. As the sun sets, there's no better way to enjoy the Caribbean than sipping on the local Mount Gay rum, the world's oldest commercial rum distillery. Barbados is the birthplace of rum after all.
Find your ideal hotel in Bridgetown
Rio De Janeiro, Brazil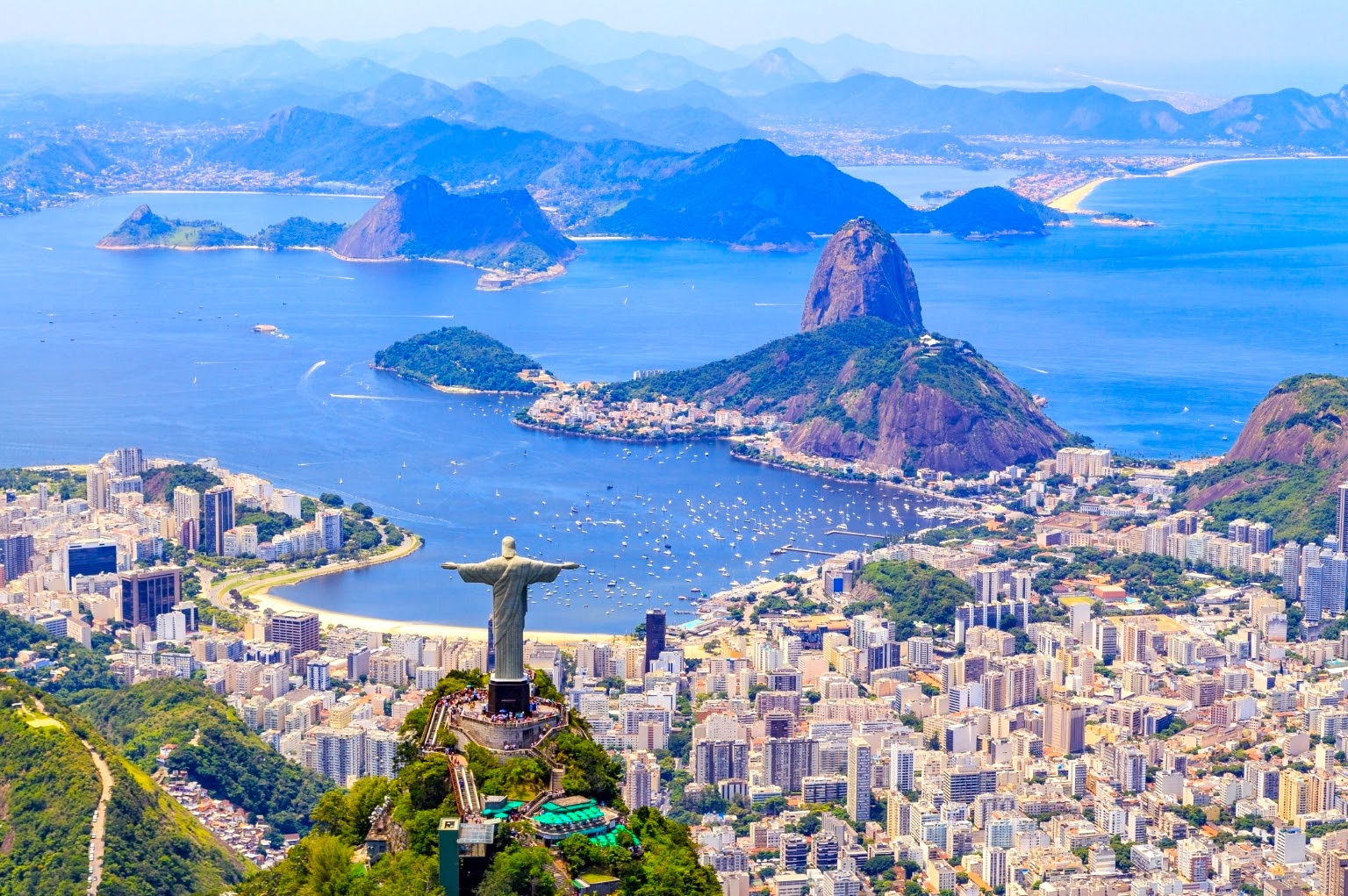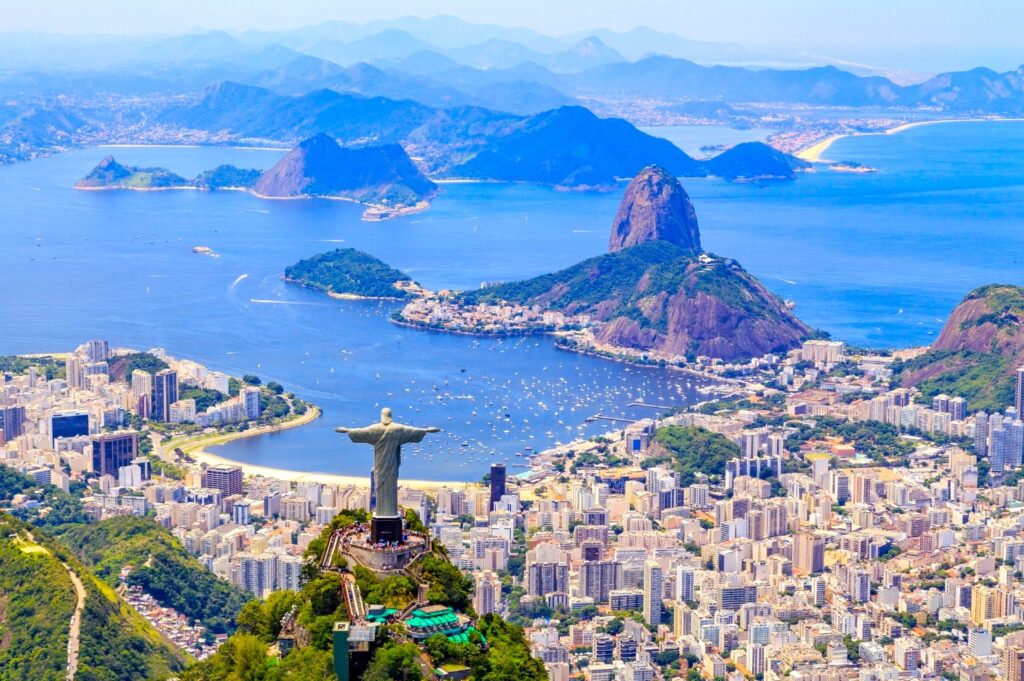 Daily average temperatures in December: High 84°F (29°C) / Low 73°F (23°C)
Despite being the wettest month of the year in Rio De Janeiro, December is pumping with tourists and therefore a very busy month. Mind you, it is a few months before the massive Carnival in February, so the chaos is yet to come.
Cariocas celebrate Christmas on the night of the 24th. So Christmas day is usually spent lazing about on the beach. One of the biggest holiday attractions is at Lagoa, the city's lake, where you can witness an enormous floating tree decked with sparkling lights float at its center.
Relax at the most luxurious resorts along the Copacabana like the Belmond Copacabana Palace or get off your feet and take a samba class as you get into the Brazilian spirit.
Find your ideal hotel in Rio De Janeiro
Praia, Cape Verde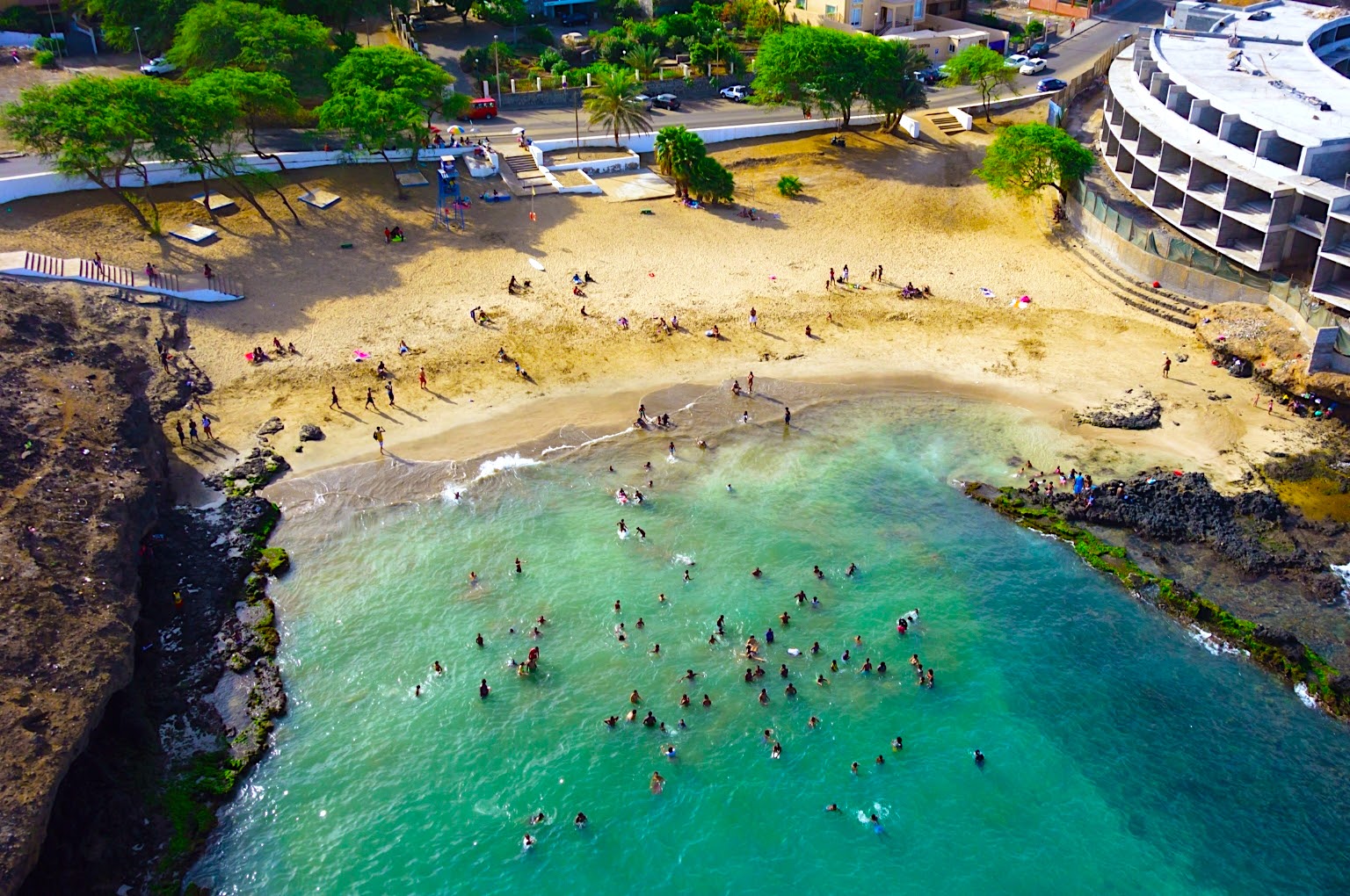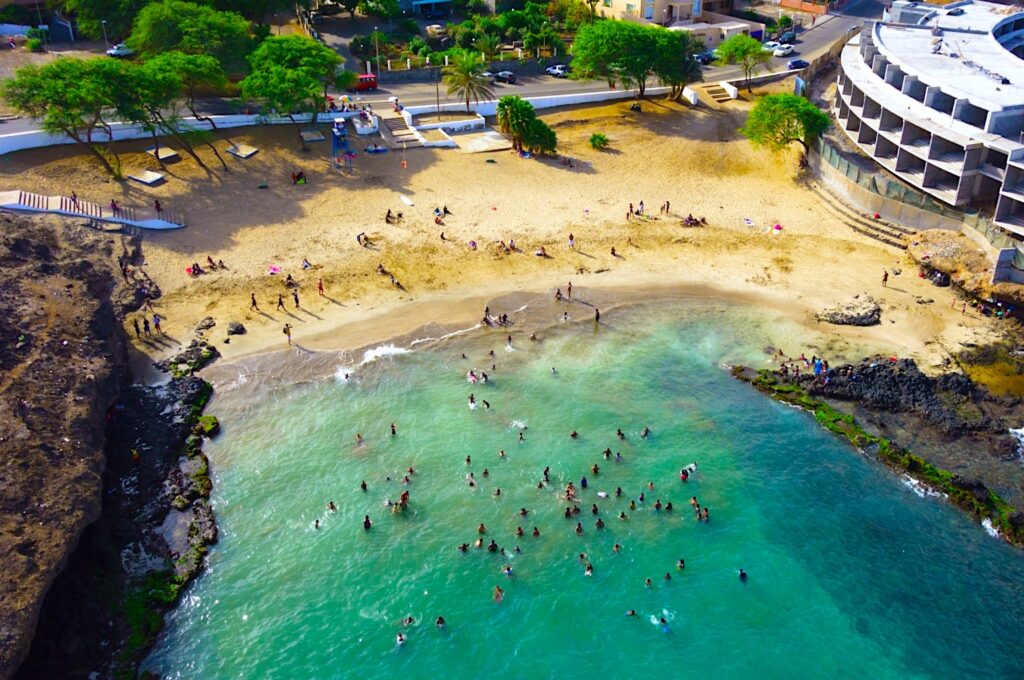 Daily average temperatures in December: High 82°F (28°C) / Low 70°F (21°C)
While Praia is mostly used as a stopover destination to other islands in the region, we would suggest giving it a chance and staying a bit longer.
Being the capital city of Cape Verde (locally Cabo Verde), just off the coast of West Africa, you get the infrastructure along with the gorgeous beaches like Praínha or Quebra Canela. There are also shops and restaurants in the Achada de Santo António quarter.
Known by the locals as "Plateau", Praia is actually built up high and lives up to its nickname and is quite hilly, so you can get your cardio in if you choose to wander around. Or you can just laze about on the beaches in the heat of the day.
From Praia, venture off onto the other islands of Cape Verde for that Robinson Crusoe feeling. Sal and Boa Vista are the two most famous spots and are particularly well known for their picture-perfect beaches and idyllic turquoise-blue waters, diving spots, and water sports activities.
Find your ideal hotel in Praia
Oaxaca, Mexico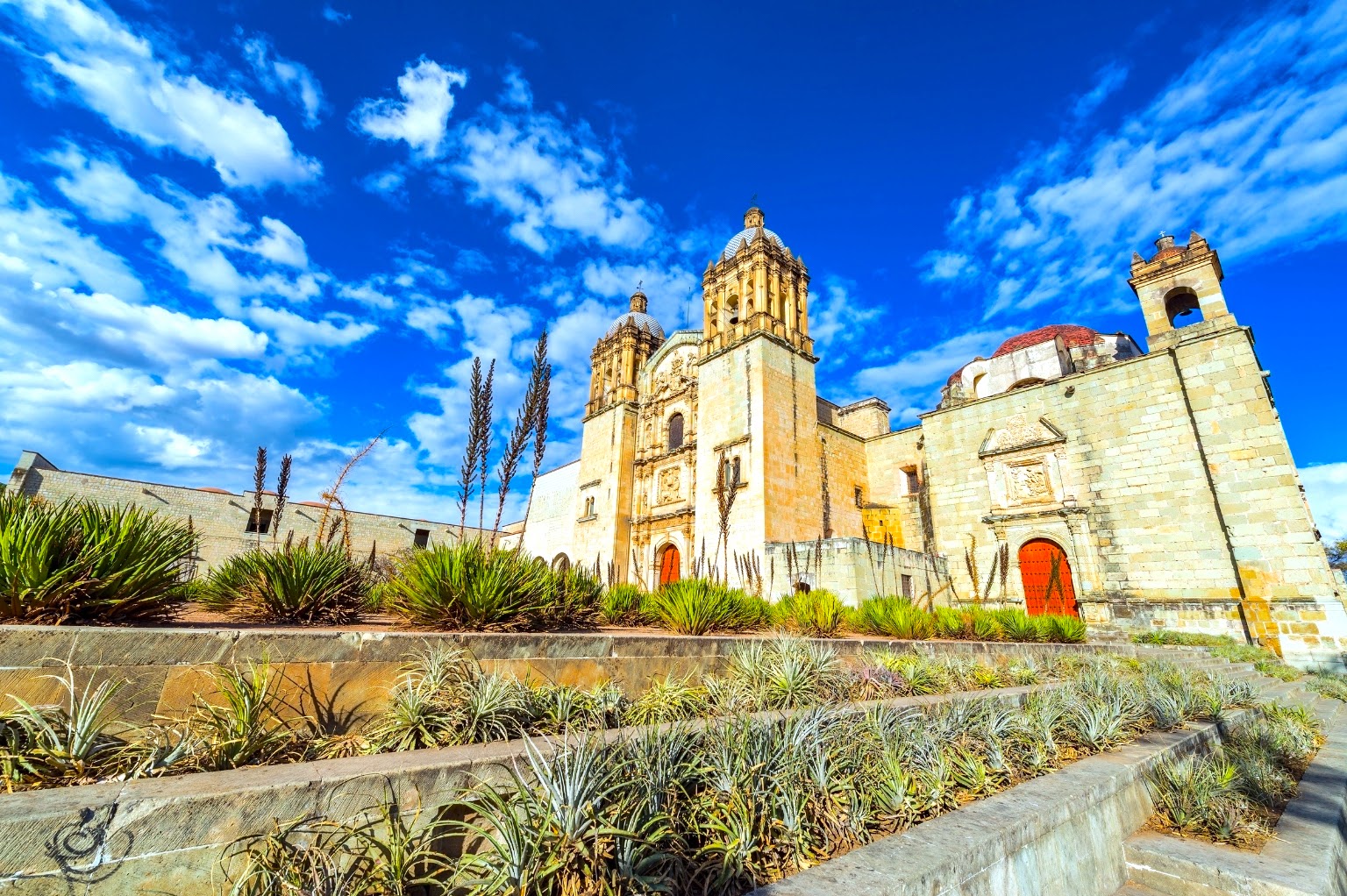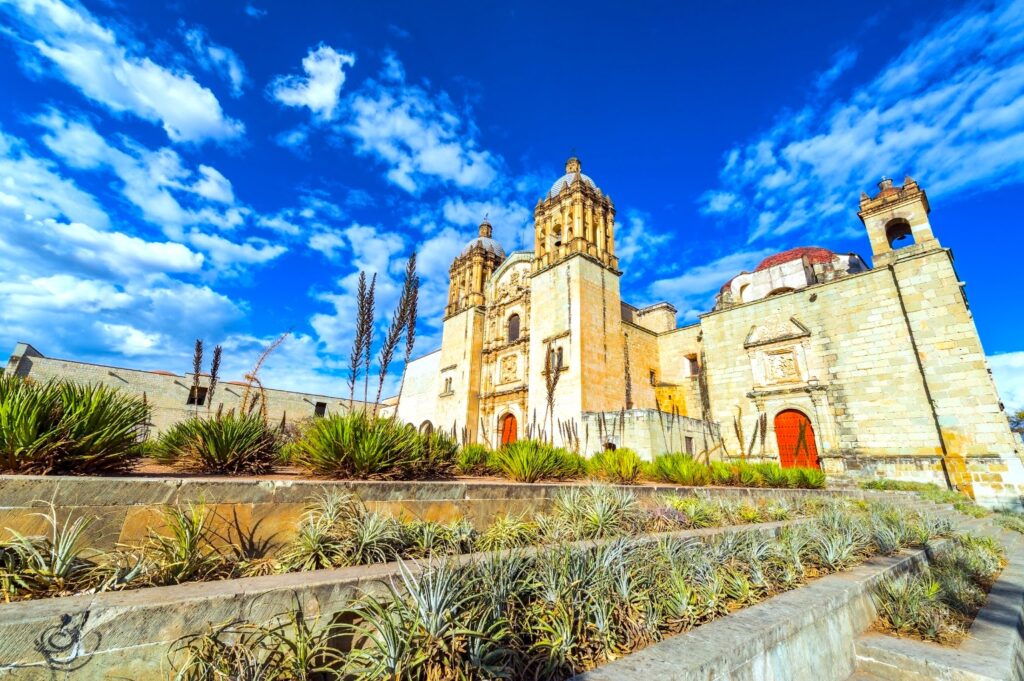 Daily average temperatures in December: High 78°F (26°C) / Low 49°F (9°C)
Skip Cancun and Cabo for a culturally-rich festive season. With temperate days and chilly nights, Oaxaca is the place to be for foodies and culture vultures.
December is Christmas season in Oaxaca and is filled with opportunities to celebrate both religiously and socially. The people of Oaxaca seamlessly combine their religious faith with their indigenous values of community sharing.
Join the fun as the kids dress up like Mary and Joseph and the shepherds, and then make a procession through the streets.
There's the ubiquitous breaking of the piñata, the "Posadas" (religious processions) which start from December 16 and continue to December 24 and the "Calendas", a procession of dancing puppets and people with torches.
And if you love carving pumpkins during Halloween, you'll adore December 23, which is known as "Night of the Radishes" (Noche de los Rábános) where oversized radishes are carved to create scenes that compete for prizes in various categories.
Find your ideal hotel in Oaxaca
Punta Cana, Dominican Republic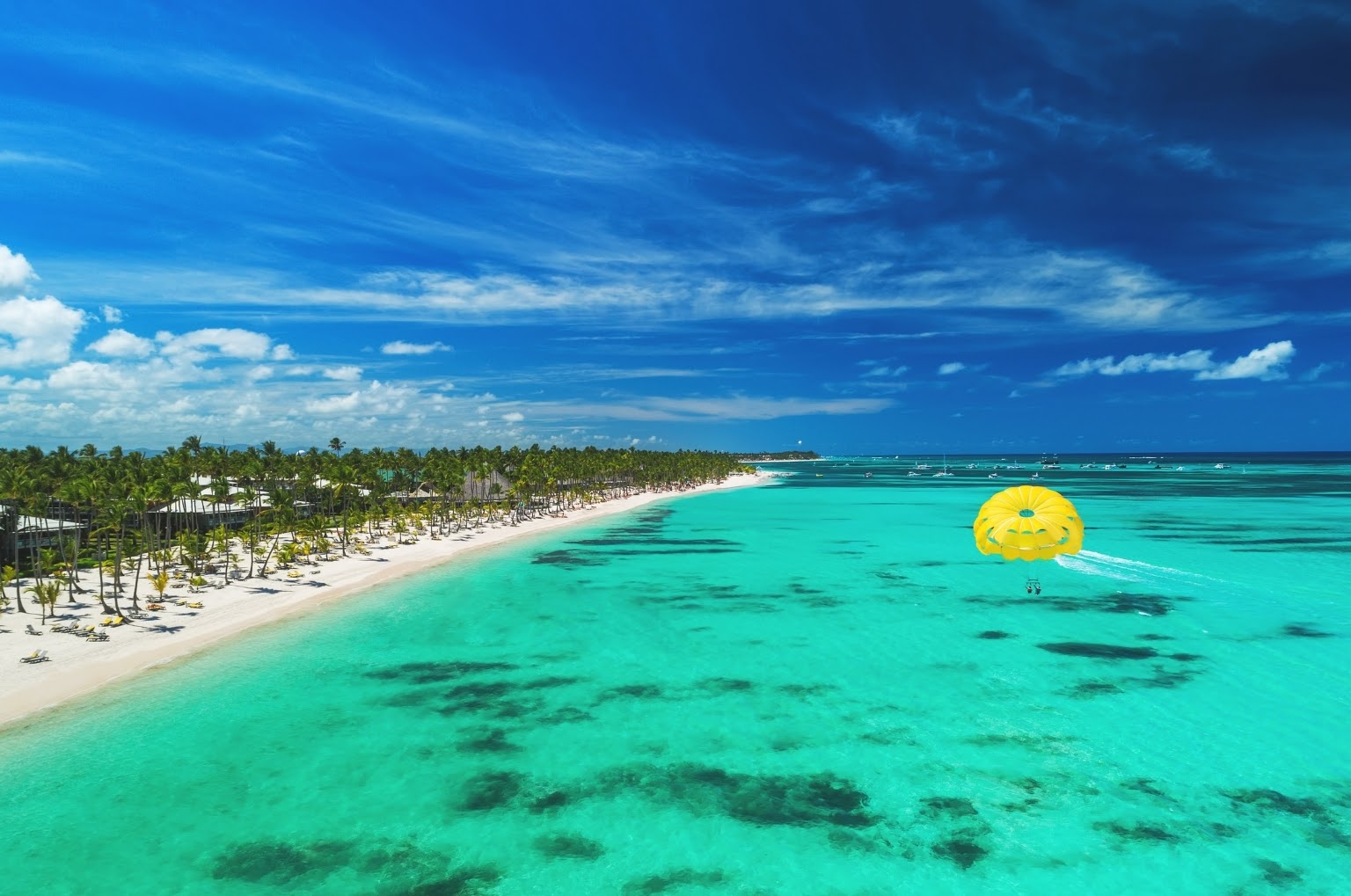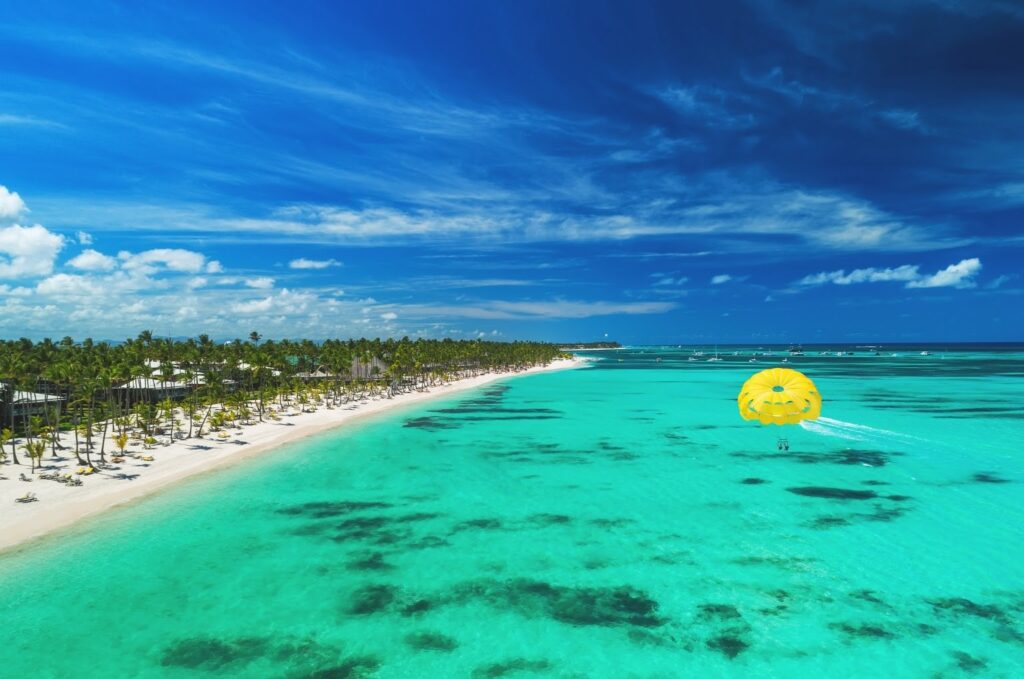 Daily average temperatures in December: High 83°F (28°C) / Low 74°F (23°C)
The weather in the Dominican Republic during December is at its absolute optimum, which means both brilliant snorkeling, diving, and whale watching, but it is also the peak season.
But don't only dive into the waters, take a deep dive into the history and culture of this very unique country, which is a blend of European, African and Taíno elements, where the people are as warm as the weather.
The country shares the island of Hispaniola with Haiti and is pretty small. It only takes around 6 hours to drive from one end to the other. This means you can really get to exploring all the hidden gems with almost no effort.
Base yourself in the resort town of Punta Cana with its 32km stretch of beaches and crystal clear waters along La Costa del Coco (Coconut Coast). Try your hand at zip-lining, windsurfing, kayaking or sailing.
Find your ideal hotel in Punta Cana
Easter Island, Chile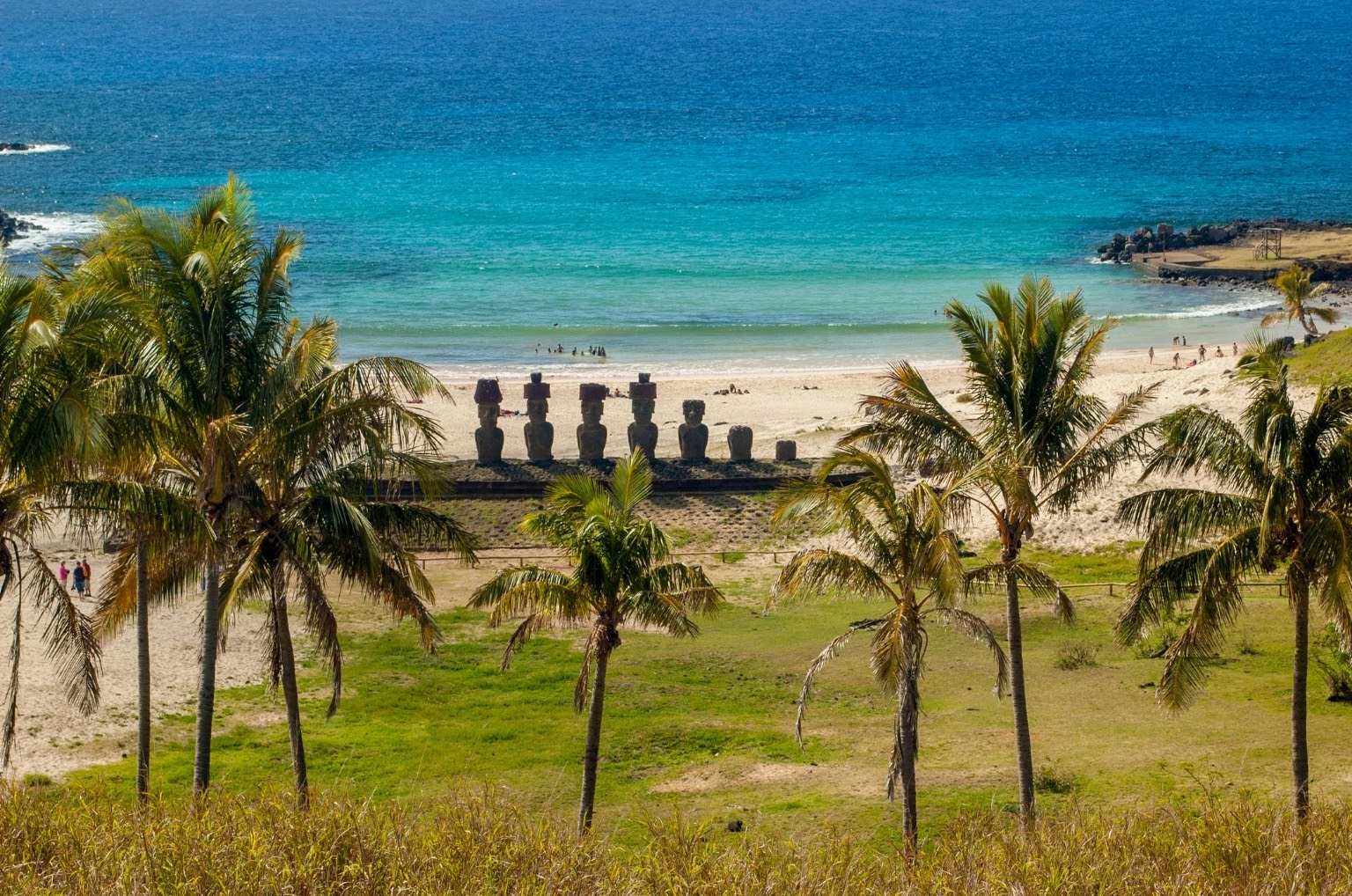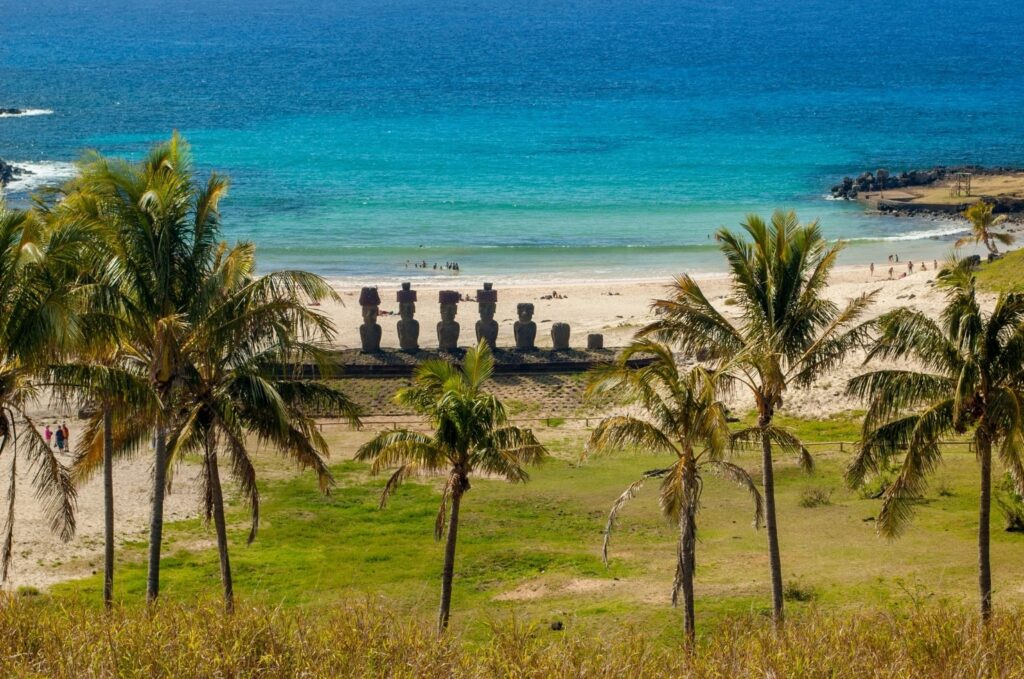 Daily average temperatures in December: High 78°F (25°C) / Low 65°F (18°C)
Easter Island in Chile is a bucket list destination for many avid travelers because of the miraculous Easter Island Heads or Moʻai (pictured above), carved by the Rapa Nui people some time between the years 1250 and 1500.
If you're wondering when the best time to visit Easter Island is, then we suggest you consider December.
December sees a warm climate as it's in the Southern Hemisphere, as well as light crowds, so it's the ideal time to discover the various sites of the island.
Take a saunter along the meandering north-west coastal path to explore the fallen Mo'ai, the gorgeous pastures or the iconic South Pacific scenery.
There are plenty of water sports too including surfing or diving. One of the top diving activities is to go on a guided diving adventure to see the additional Moʻai underneath the water near Hanga Roa.
Find your ideal hotel and experience in Easter Island
Luang Prabang, Laos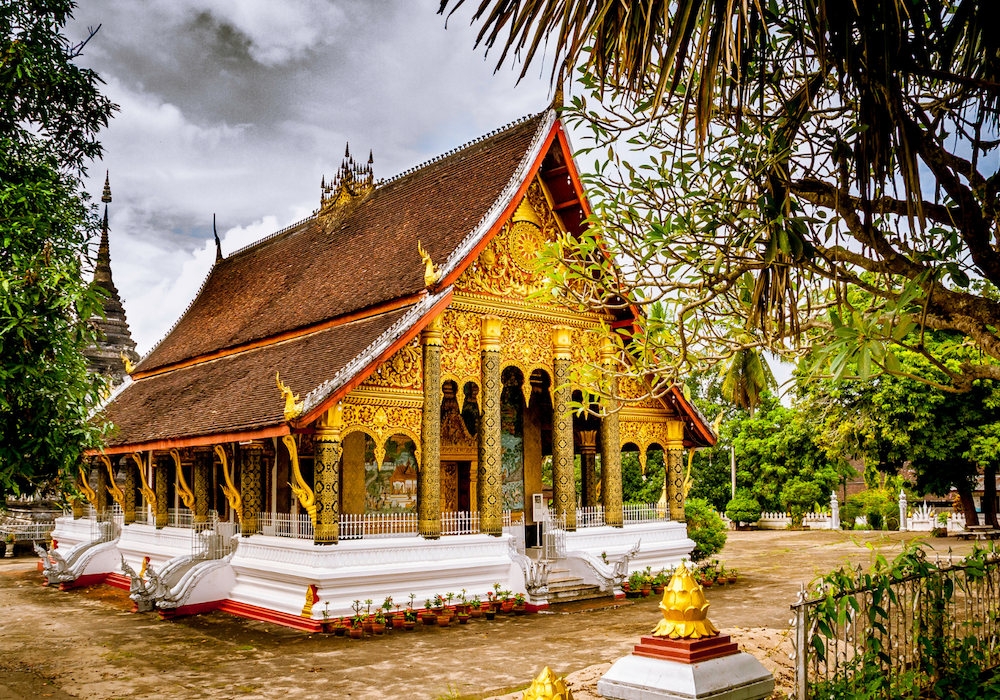 Daily average temperatures in December: High 79°F (26°C) / Low 57°F (14°C)
Laos has two very distinct seasons. The first, and the one we like to avoid, is the hot and wet season between May and October. Our preferred time of travel is through the cooler and drier months of November to April. We aren't fans of being stuck indoors while the monsoons bring days of showers. There are more activities and cultural exploration in the dry season.
December is not only dry and sunny, but there are cool temperatures and blue skies throughout the country. So, Luang Prabang is not only one of the top warm places in December, it is also among the most popular times to travel and the UNESCO listed city center is just at its most stunning then.
Go on one of the infamous hikes, cycle around the area or go spelunking in the caves. Marvel at the incredibly intricate ancient Buddhist temples of Wat Xieng Thong and Wat Mai, go kayaking along the mighty Mekong, trek through the Phousi Mountain or up to the stunning powdery blue Kuang Si Waterfalls, or wander through the Handicraft Night Market.
Luang Prabang is a tiny and very safe town so it an be easily explored on foot over a 2-3 days but it is precisely this coziness that makes it such a great solo warm December destination.
Find your ideal hotel in Luang Prabang
Hoi An, Vietnam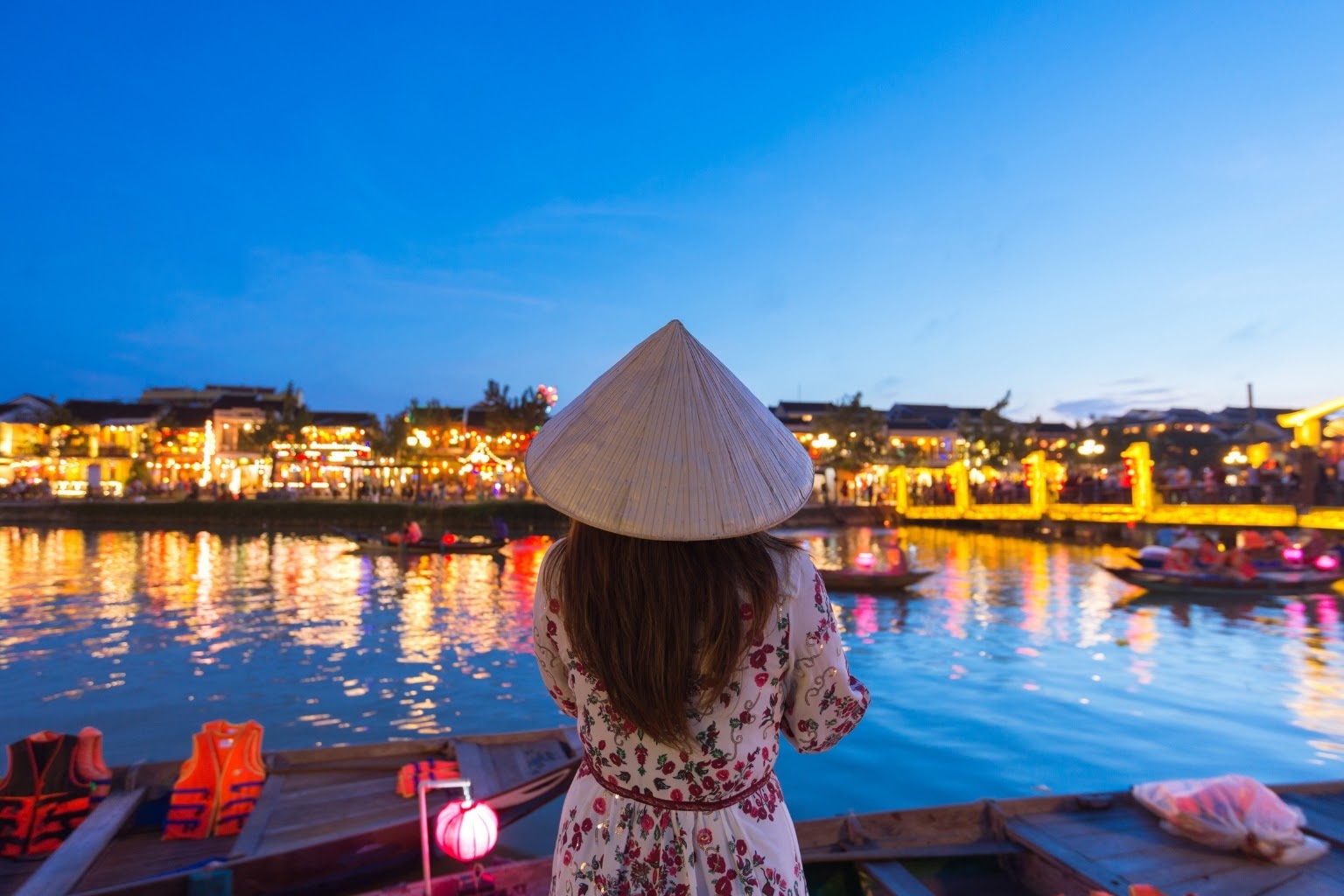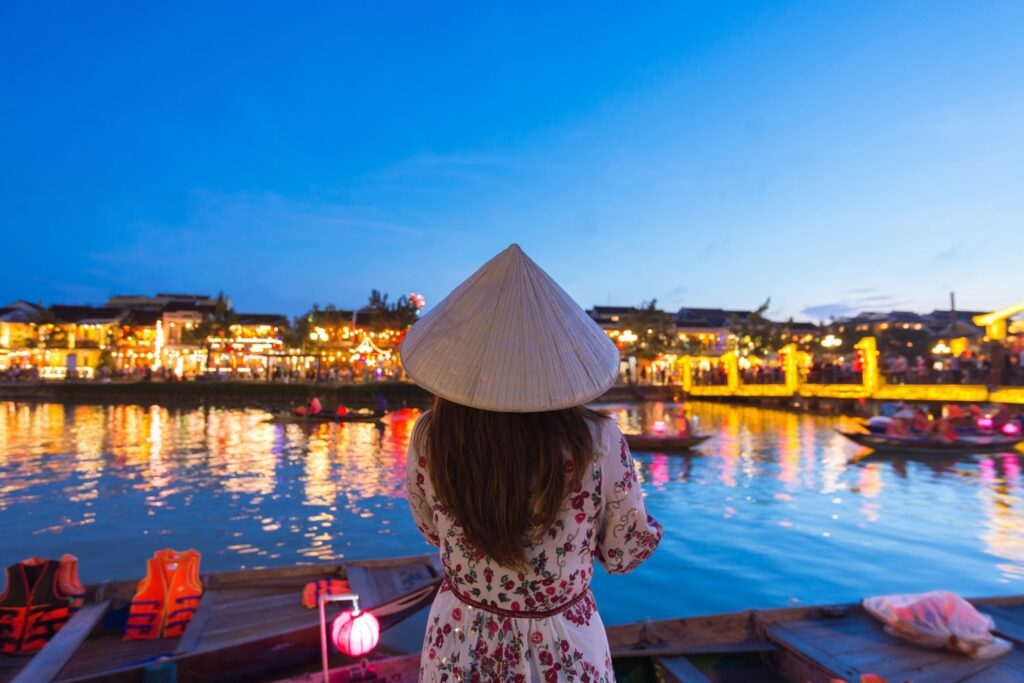 Daily average temperatures in December: High 79°F (26°C) / Low 68°F (20°C)
Vietnam is a long country, spanning a length of about 650 miles (1,050 km) from the border of Cambodia in the south to China in the north and, as such, it goes through two monsoon seasons.
The southern monsoon is from May to September and hits Ho Chi Minh and the northeast monsoon runs from October to April and affects Hanoi in the north. Hoi An is right in the center of the country, so most of the rainy days are between September and January. December is thus warm and usually experiences rain in the early mornings and afternoons.
We have personally explored the entire Central Vietnam, which includes (among other places) the ruins of ancient temples in My Son, the beach resorts of Da Nang, the culturally-rich imperial city of Hue, UNESCO My Son and the lantern-filled streets of Hoi An.
It is an extremely culturally rich area with a deep history, four UNESCO World Heritage Sites and an important past as the center of political influence during the Champa Empire. This is why it's known as the Cultural capital of Vietnam.
Hoi An sees milder temperatures in December, compared to the sweltering heat and monsoons of summer. So it's probably the best time to visit as the heat makes travel a little uncomfortable. It is also one of the quietest times to visit as European travelers stay home with family.
Find your ideal hotel in Hoi An
Galle & Yala, Sri Lanka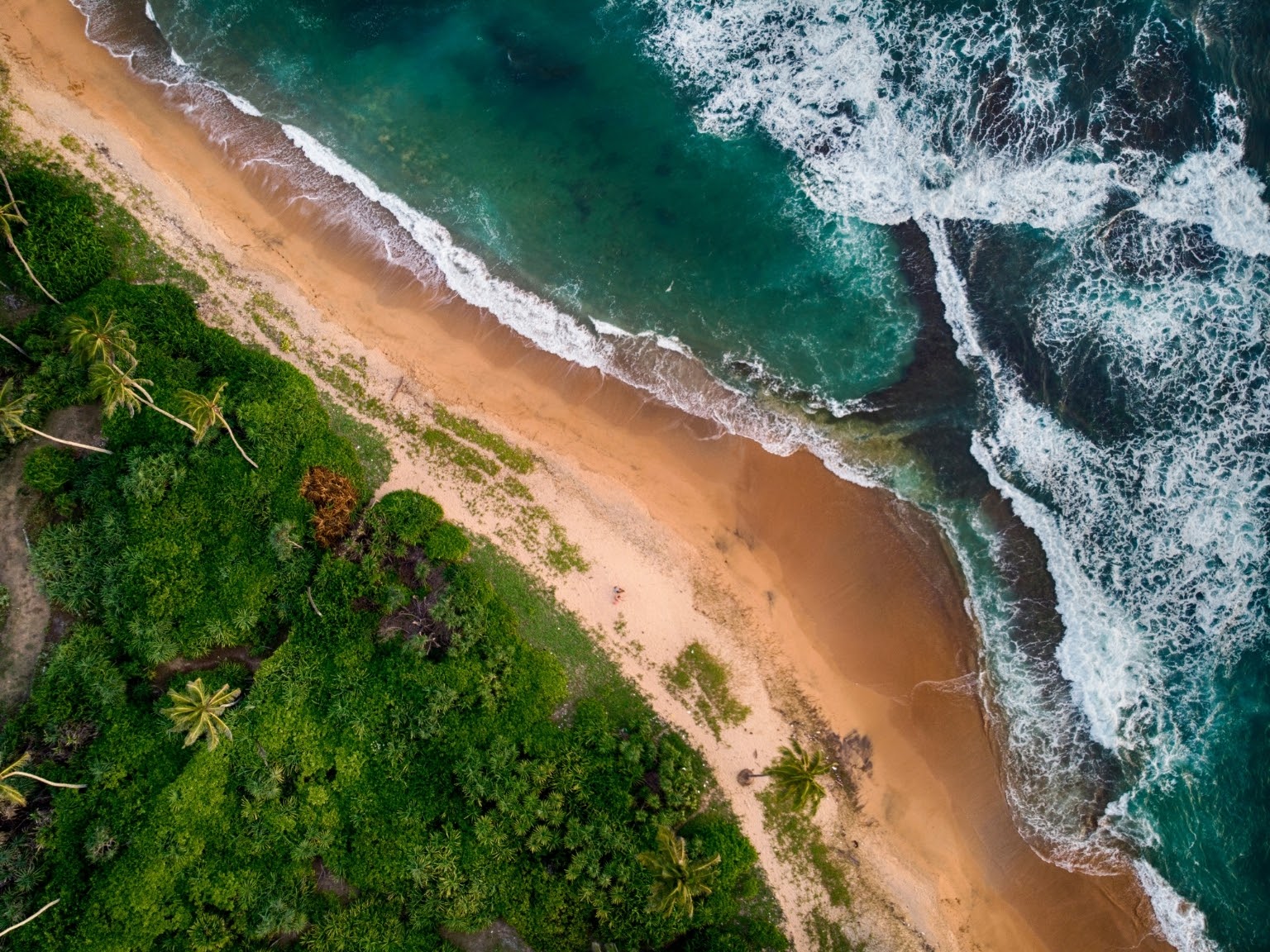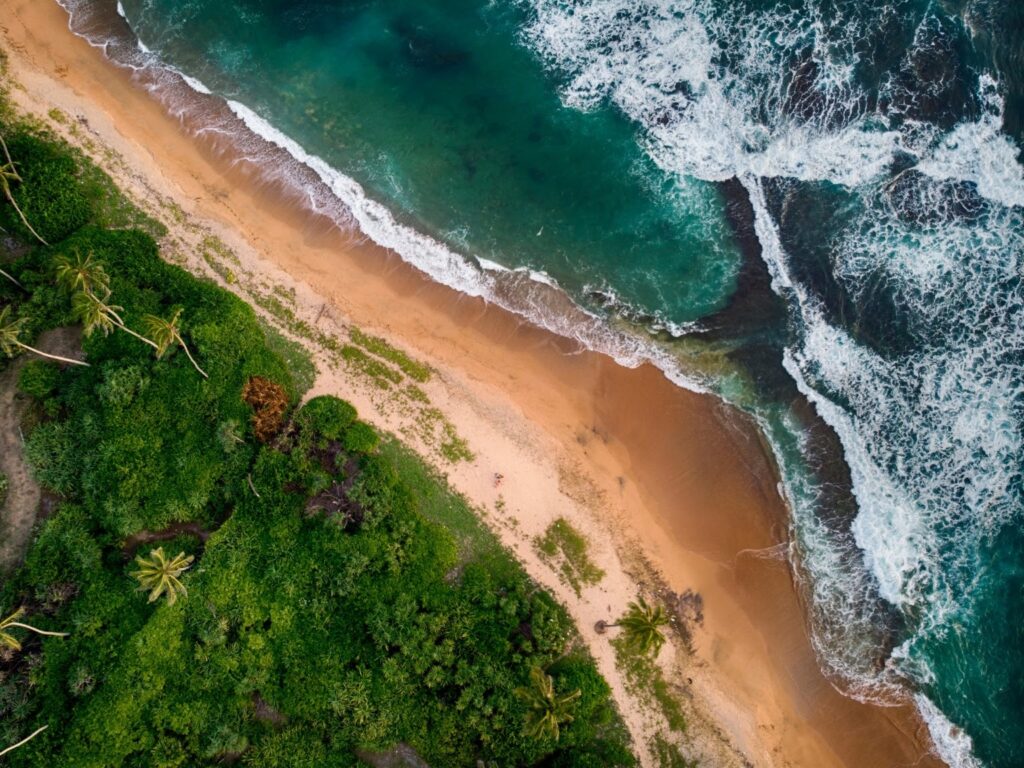 Daily average temperatures in December: High 85°F (29°C) / Low 74°F (23°C)
The drier months of December to April are by far the best time to visit Galle and Yala, in Sri Lanka's south and southeast.
In general Sri Lanka has a lot to offer from its unique Portuguese, Dutch and British colonial history to its beautiful local culture and thus has something for everyone but we like Galle because of its rich heritage and chic vibe. Plus with the recently constructed highway the town is only 2h drive from Colombo
From the Dutch period, you can visit various historical sites like the Dutch Fort and Groote Kerk (the Dutch Reformed Church). There is the natural beauty which allows for slow and relaxing activities from hiking to bike riding and many colonial structures steeped in heritage. Visit the gigantic lagoon for some canoeing or do some mountain biking around magical Unawatuna and Japanese Peace Pagoda.
Travel a bit further north and you'll get to the absolutely miraculous Yala, where you can see 44 mammal species, 215 bird species and even the famous Sri Lankan leopard.
Yala has the highest concentration of leopards in the world. Take a day trip to Yala's Block 1 to see the wildlife or stay longer at Block 5 in one of the luxurious resorts. We would highly recommend a stay at Uga Chena Huts, which has easy access to Block 1.
Find your ideal hotel in Yala
Rajasthan, India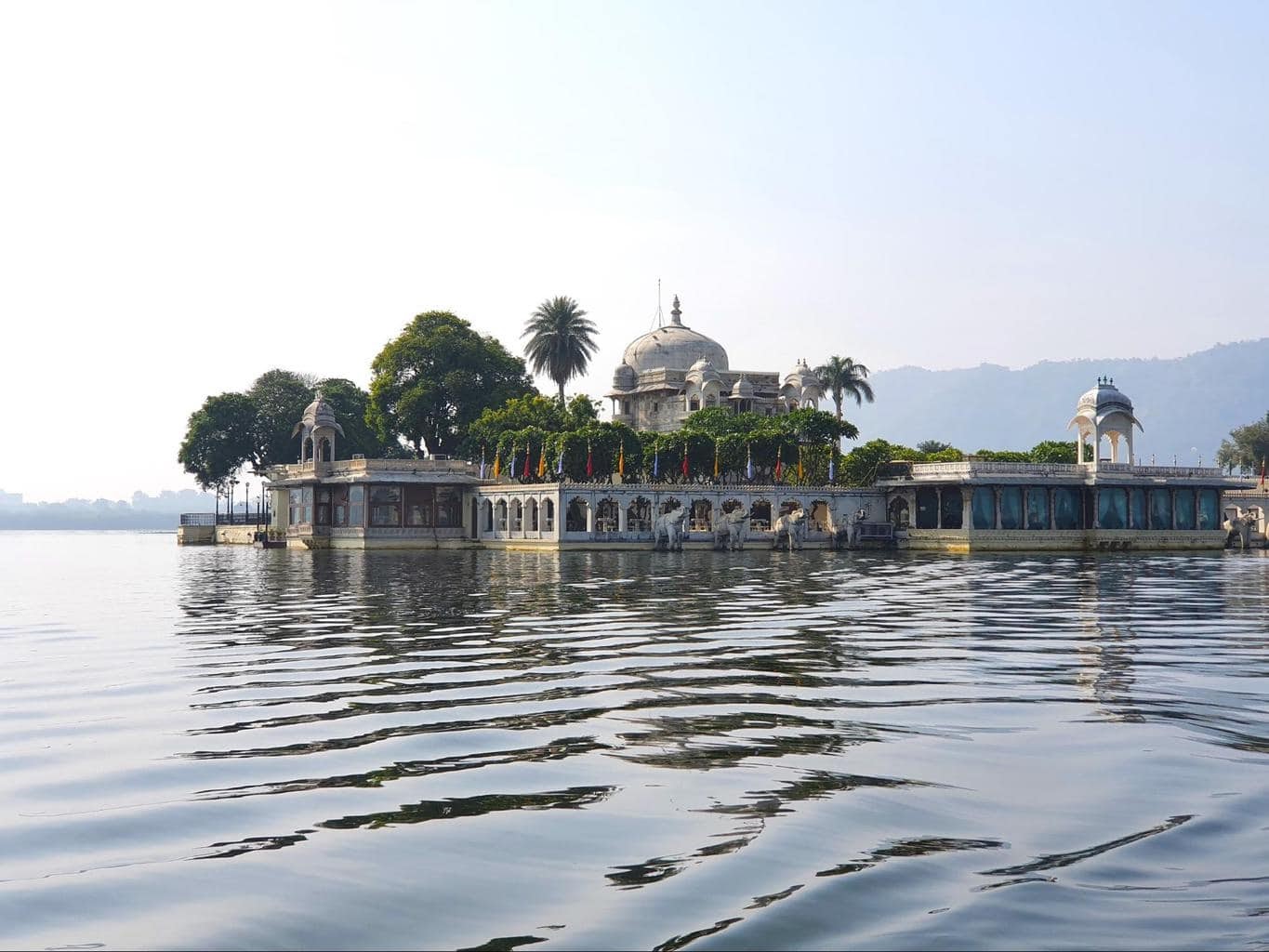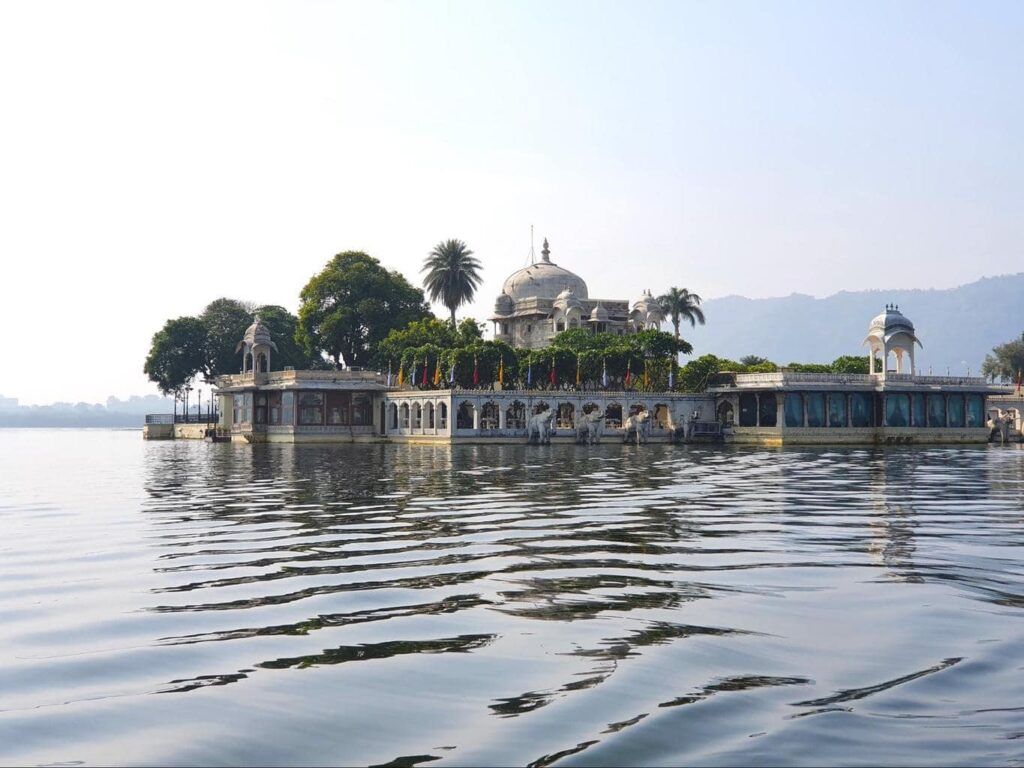 Daily average temperatures in December: High 72-77°F (22-25°C) / Low 52°F (11°C)
The entire state of Rajasthan is a fantastically warm place in December to visit and one of our most favorite parts of India.
The best time to visit Rajasthan is during the cooler months of November to February, the heat during the summer month can be extreme and uncomfortable and the rain closes many roads. Because the monsoon season ends in October, November sees a lot of smoke as a result of the slash and burn agricultural practices making breathing difficult in many urban parts of India, while by December skies have cleared.
Pro tip: While India can be overwhelming to solo female travelers, Rajasthan is tamer and more tourist-friendly. November. andDecember are peak wedding months and it is not unusual to come across celebrations every day or hear the music throughout the city no matter where you stay, you may want to bring earplugs.
First up is Jaipur, known as the Pink City due to the exclusive color of the buildings, particularly the iconic Hawa Mahal. The entire walled city is a complete UNESCO heritage site with major sites that include Amer Fort, Jaipur City Palace, the floating Jal Mahal, Jaigarh Fort, the Panna Meena Ka Kund or Chand Baori stepwell and Nahargarh Fort.
Jodhpur on the other hand is the emblematic Blue City with its blue Brahmin houses surrounding the contrastingly red Royal Mehrangarh Fort. Apart from the houses, there is the Ghanta Ghar clock tower, shopping at Sardar market, the intricate Toorji-Ka-Jhalra stepwell, or even zip-lining around the fort which we did at sunset and it was good fun.
Jaisalmer is another colorful city in Rajasthan known as the Golden City for its sand houses glowing like gold in the desert sunr. Once a thriving city along the Silk Road, Jaisalmer is now mostly visited for the beautiful architecture and the unique desert location along the outskirts of the inhospitable Thar Desert.
White Udaipur is called the City of Lakes, because of the many man-made bodies of water dotting with floating palaces. Most well known for 1983's James Bond Octopussy, Lake Pichola has become an icon of the city with the Taj Lake Palace (Jag Niwas) and Jagmandir, or the Maharana pleasure palace. There isn't a more romantic place than Udaipur, we promise, but even as a solo traveler you will have a great time.
Find your ideal hotel
Siem Reap, Cambodia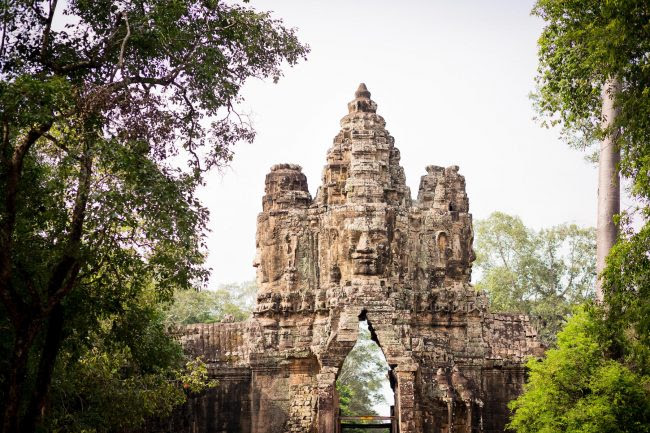 Daily average temperatures in December: High 85°F (29°C) / Low 70°F (21°C)
Cambodia is another bucket list destination and for a good reason. Discover the ancient ruins of one of the most well known treasures in the world, Angkor Wat and feel the electricity as the sun rises behind the glorious structure.
December and January are the peak tourist months to visit Angkor Wat as the weather is generally milder than the summer months and the Mango Showers haven't arrived yet but the festive season is unusually slower and quieter so it amkes for a great time to visit.
Take a guided tour around the large or small circuit, or even both. There's also plenty to do in Siem Reap beyond visiting the various temples like visiting the hip Kandal Village, the infamous Pub Street and Sok San Road (Bar Street), watching an Apsara performance or Phare, The Cambodian Circus, visiting the multitude museums or helping one of the many charities.
Find your ideal hotel in Siem Reap
Muscat, Oman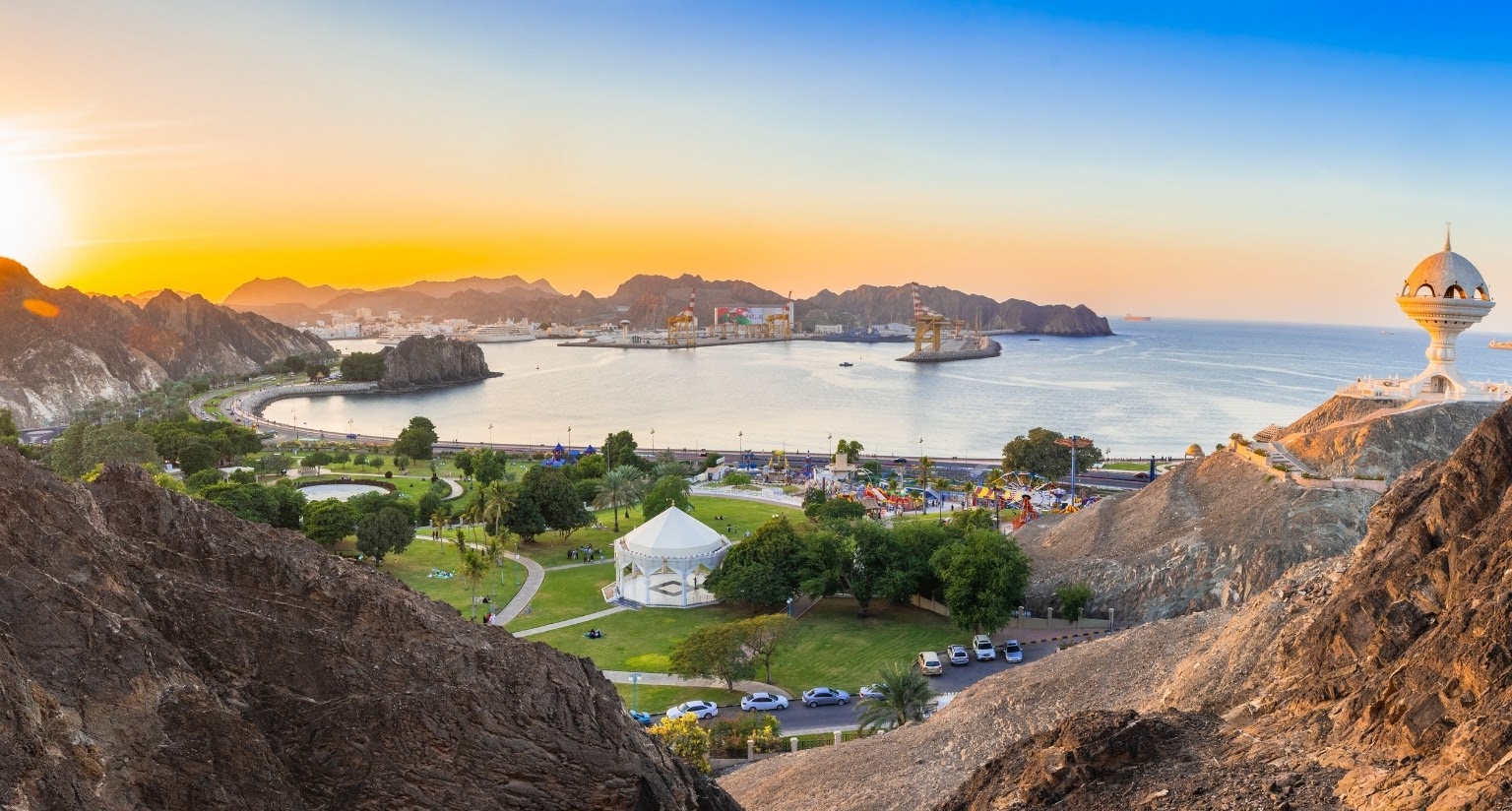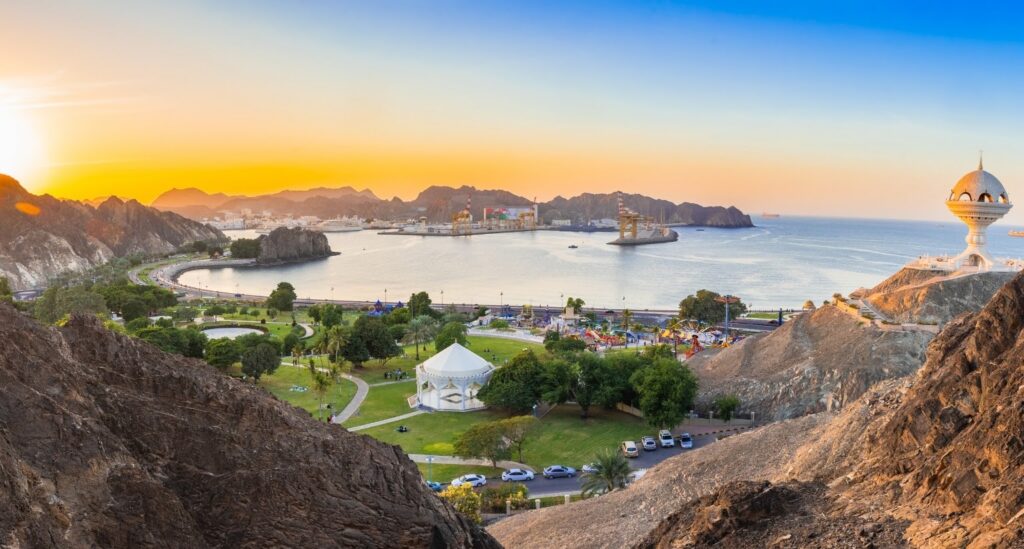 Daily average temperatures in December: High 81°F (27°C) / Low 66°F (20°C)
Take a journey beyond the glitz of Dubai and Abu Dhabi, to the more laid-back and culturally-rich Oman for a great warm December destination.
Muscat is a great place to start. Discover amazing sites like the fabulous Sultan Qaboos Grand Mosque, the various forts that dart the city and the uber luxurious Chedi Muscat which has the longest swimming pool in the Middle East.
The vibey Mutrah is always fun with visits to the Mutrah Corniche, ​​Muttrah Fish Market and Muttrah Souq, and when you've had enough of the city, take a trip to the heritage rich interior and visit UNESCO-listed Bahla fort, Jabreen Castle and the country's most visited and best preserved Nizwa Fort.
You will be spoiled for choice with the many luxury hotels where you'll be treated to true Arabian hospitality.
Find your ideal hotel in Muscat
Atacama Desert, Chile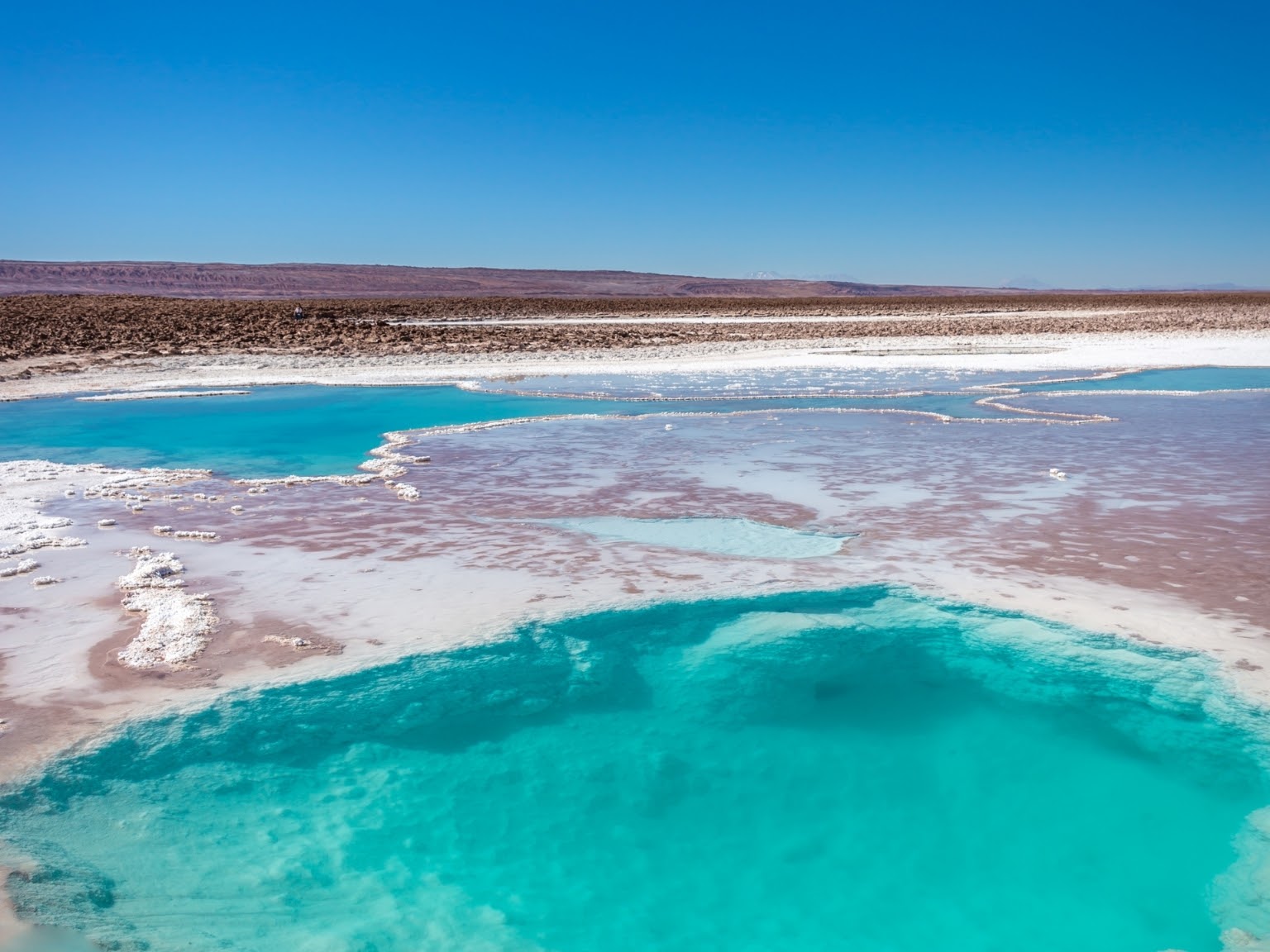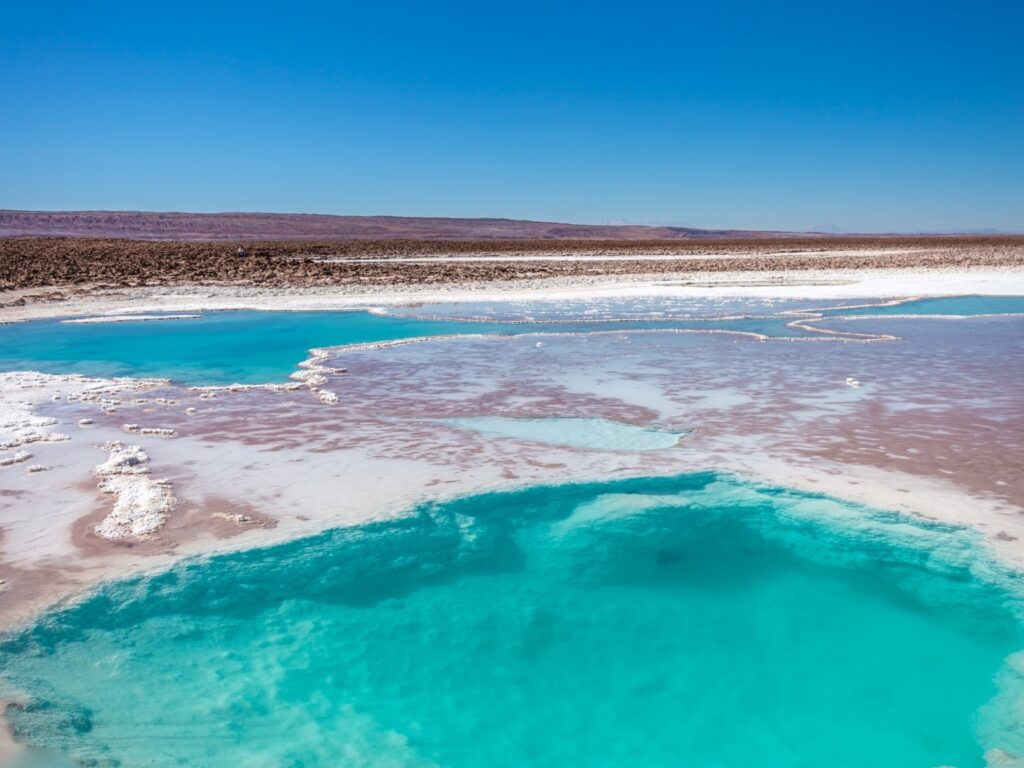 Daily average temperatures in December: High 79°F (26°C) / Low 48°F (9°C)
Known as the driest place on earth, the Atacama Desert is a must for nature lovers. This desert plateau in northern Chile sits just west of the Andes Mountains and covers roughly 1,600km on the Pacific coast. It may be dry, but it's teaming with life.
There is a diverse range of both flora and fauna, with wild alpacas roaming the mountains, but the star of the show is the unique jaw-dropping landscapes of the Valley if the Moon and the vast salt flats, active geysers and intense blue lagoons.
Pro tip: Speaking of stars, Atacama Desert is one of the best places in the world to view the constellations due to the clear skies. Beware the altitude (the geysers are at close to 4,000m above sea level) and the dramatic changes in temperatures from sunny daytime to freezing nights.
The most popular season for visiting the Atacama Desert are the summer months of December, January, and February where temperatures are warm during the day.
Find your ideal hotel in Atacama Desert
Sossusvlei & Etosha, Namibia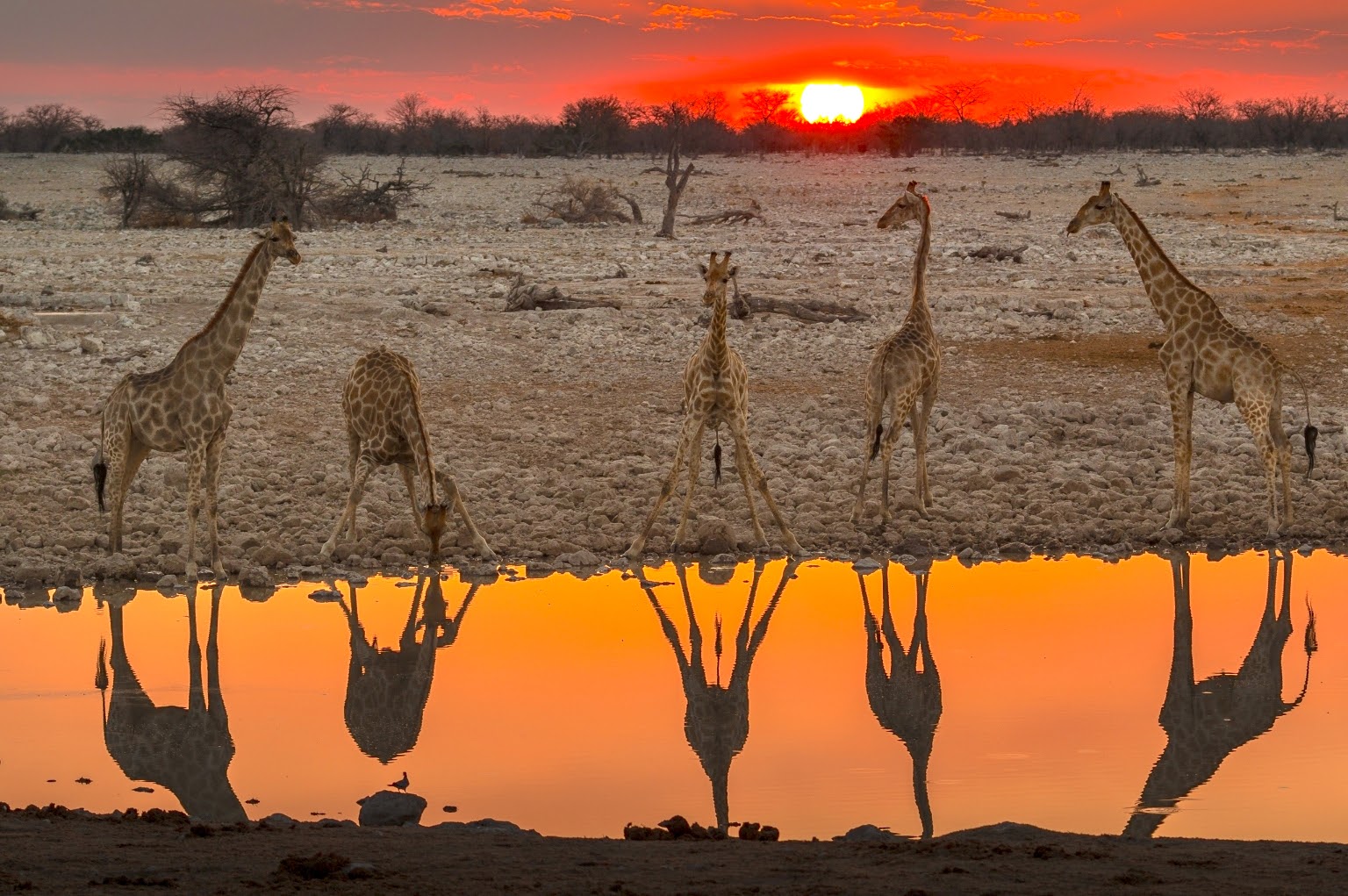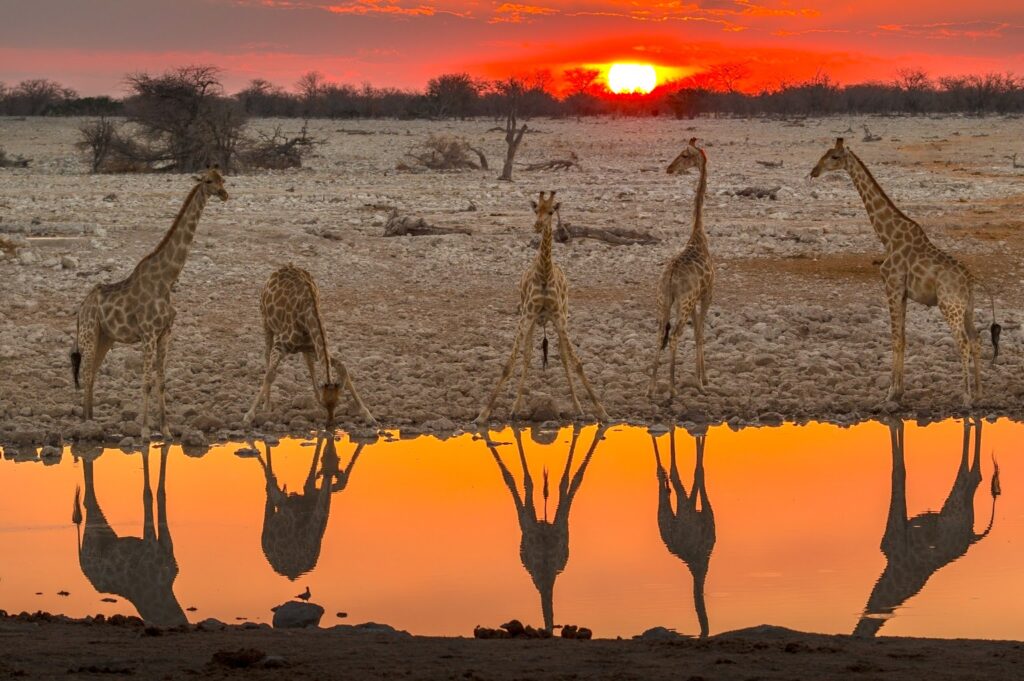 Daily average temperatures in December: High 84°F (29°C) / Low 66°F (19°C)
December in Namibia is slightly humid and generally hot during the day. Nights are cooler and can actually get pretty cold in the desert, but this will depend on where in the country you're based. As it isn't too rainy during December, all the animals will be out in Etosha National Park. So you'll be able to spot all the wildlife from antelopes and giraffes to elephants, rhino, cheetah and a host of migratory birds.
The usually arid Sossusvlei is cooled down a bit by the sporadic summer rains falling over sand dunes, so you can happily visit all the best that this slice of desolate beauty has to offer from the otherworldly Deadvlei or the massive Dune 45 to epic hot air balloon rides. Our recommendation is to stay at a desert location for the night where you can see the clear stars.
Join our Namibia Bucket List Adventure where we stop over at Sossusvlei and Etosha, as well as, Swakopmund, the Skeleton Coast, a visit to the San & Himba Peoples and a stop in Windhoek.
Find your ideal lodge in Sossusvlei & Etosha
Antigua & Atitlan, Guatemala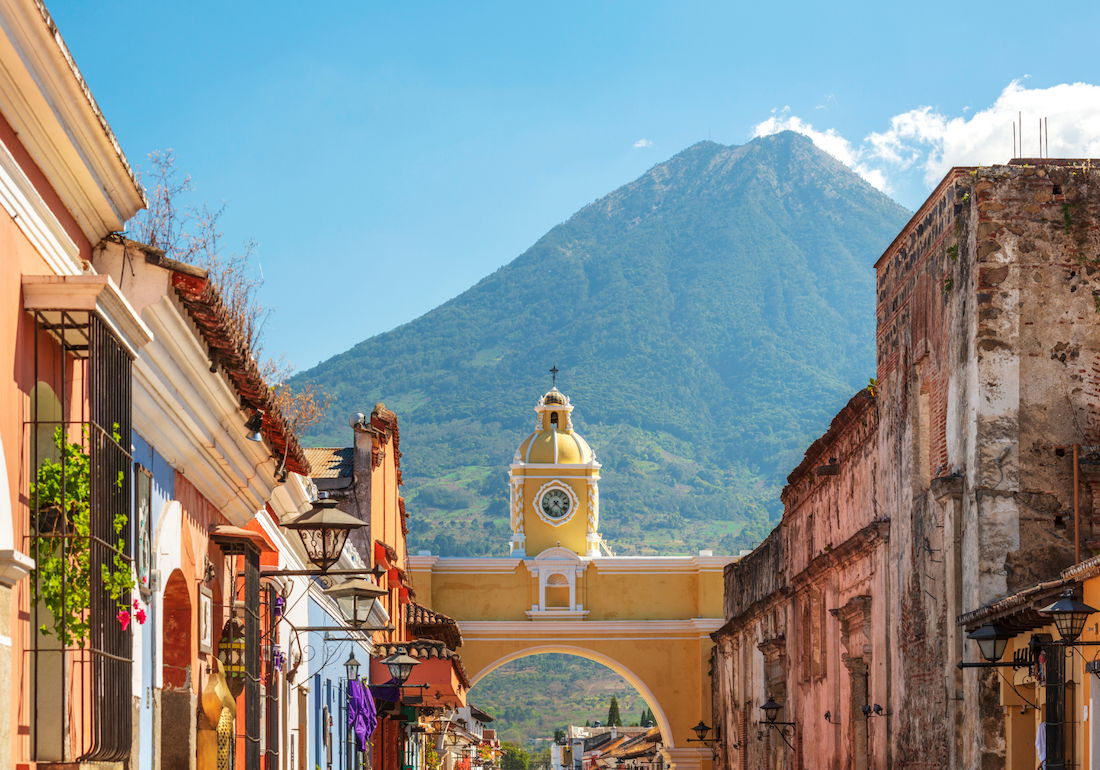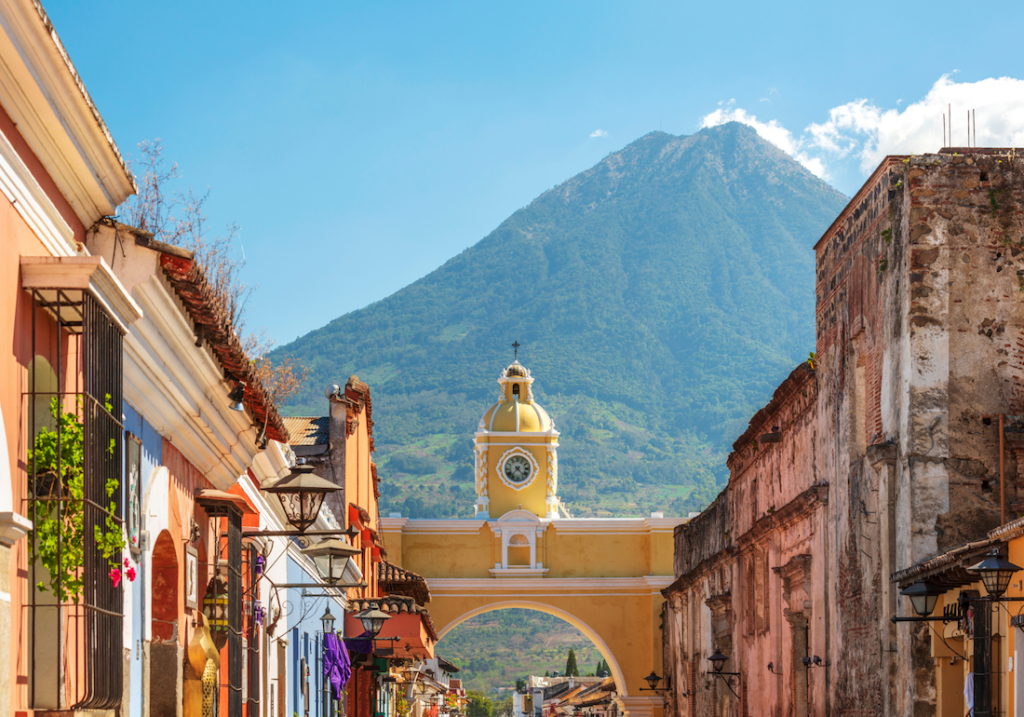 Daily average temperatures in December: High 72°F (22°C) / Low 53°F (12°C)
Antigua Guatemala is not the Caribbean island-nation but rather a small UNESCO-listed city that is most well known for its volcanoes, Spanish colonial buildings, thriving chocolate and coffee culture, artisanship and a heritage-rich past and luckily, a fantastic December warm destination.
You can visit this beautiful destination to explore its many Spanish-time convents and churches as well as important landmarks like Iglesia de la Merced Church and the working convent San Juan del Obispo. Nearby you can visit some very unique spots like Lord of the Rings inspired Hobbitenango, Filadelfia Coffee Resort & Tours and Château DeFay Vineyards.
Pro tip: Make sure to sample all the amazing Guatemalan food, yum!
Hikers and explorers will want to visit the many volcanoes like Volcan de Fuego, Volcan de Agua, Acatenango Volcano and Pacaya Volcano. The outdoor adventures don't end there, with more opportunities for nature at nearby Atitlan Lake, known for its quaint towns along the shores, Santiago Atitlan, San Pedro and San Juan La Laguna.
Find your ideal hotel in Antigua Guatemala
Buenos Aires, Argentina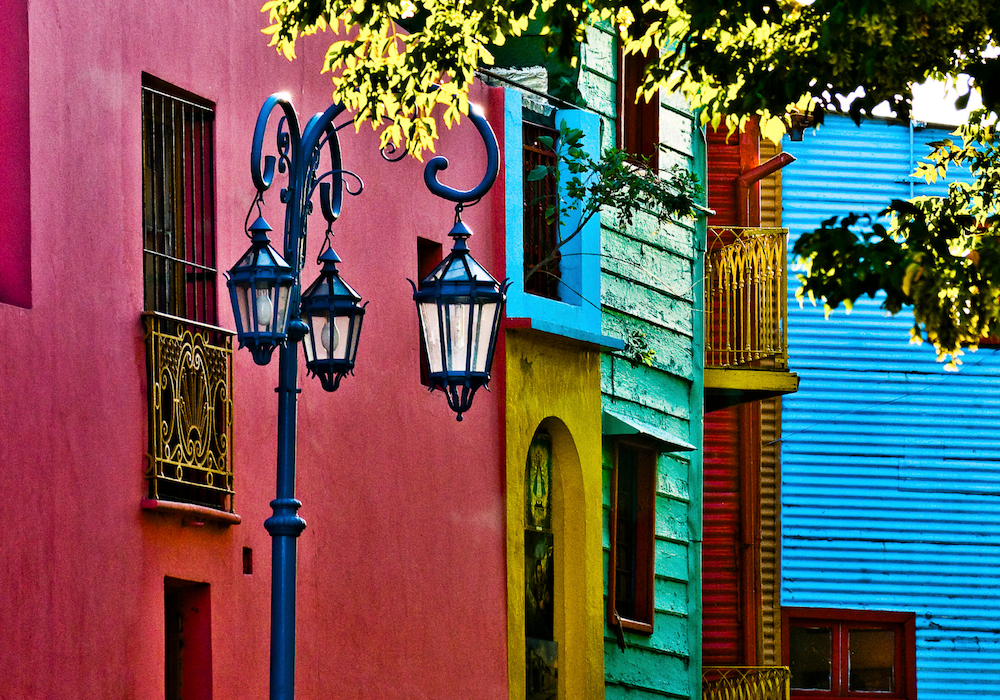 Daily average temperatures in December: High 82°F (28°C) / Low 69°F (21°C)
We are massive fans of Buenos Aires, the capital of Argentina. It's a walkable city with an opulent foodie scene (think pizza, gelato, grilled meats, dulce de leche) and a rich heritage with strong Spanish and Italian influences. Plus December is great month to visit as it is the start of the summer so the city makes for a fantastic December warm destination.
Probably the best thing to do in Buenos Aires is dive into the cultural activities. Many people don't know but there are more theatres in Buenos Aires than any other city outside New York, as well as more bookstores per capita than anywhere else. El Ateneo Grand Splendid, for example, is a theater which was renovated into a bookstore!
There are also museums to explore like Museo Nacional de Bellas Artes and Museo de Arte Hispanoamericano Isaac Fernández Blanco, Baroque architecture like the Iglesia de Nuestra Señora del Pilar, as well as unique sites like Recoleta Cemetery, or Palacio Barolo, which is a homage to the Divine Comedy.
Find your ideal hotel in Buenos Aires
La Ruta de Las Flores, El Salvador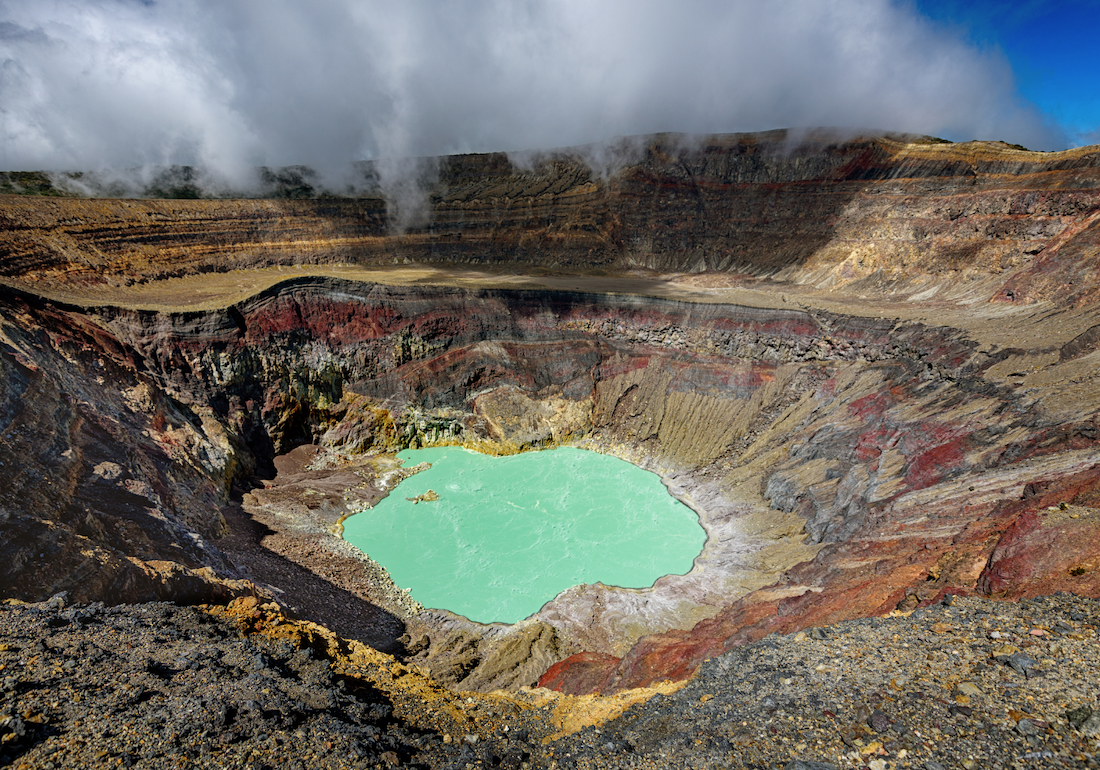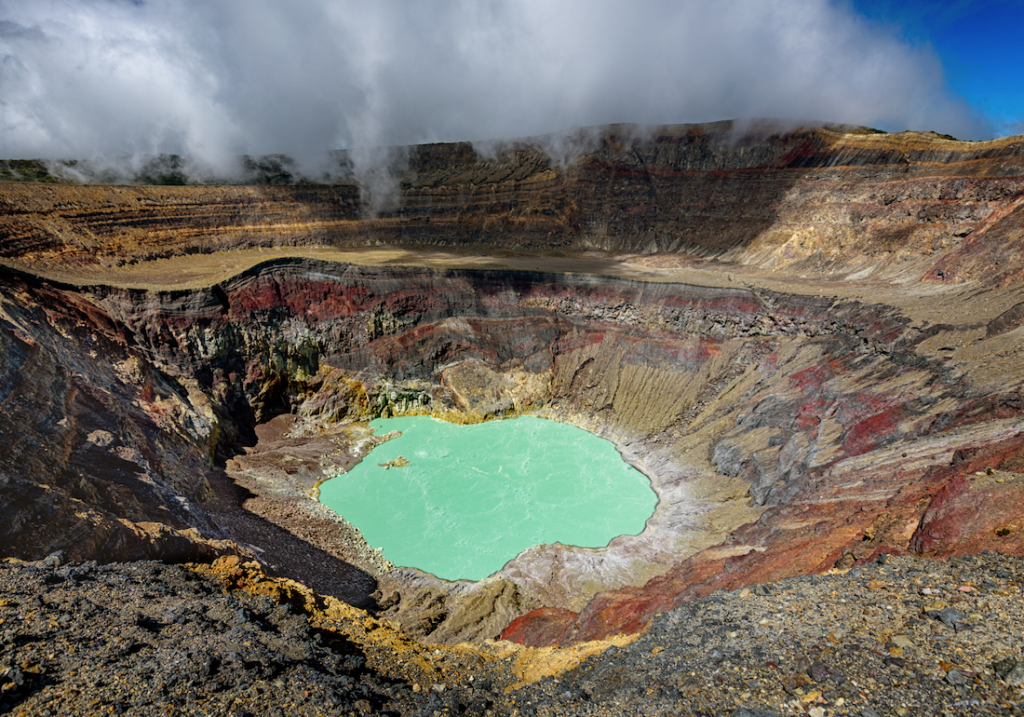 Daily average temperatures in December: High 88°F (31°C) / Low 70°F (21°C)
Adrenaline junkies will love a visit to the Land of Volcanoes or El Salvador. One of the top active volcanoes to hike up is Santa Ana which has been active since the 16th century and last erupted in 2005, its first eruption in more than 100 years.
There is little precipitation during the festive month and even though it's one of the coldest for Salvorian standards, it's a pretty hot month to visit.
After climbing the volcano, head over to La Ruta de Las Flores, which is a beautiful route to explore the country's culture, food, traditions, but most importantly, its coffee. You can find many coffee plantations to sample the beans as well as many well preserved colonial towns.
Do't miss the Mercado de Las Velas market in Nahuizalco, the Weekend Food Fair in Juayua, or ziplining in Apaneca.
During the day, stop at La Libertad for a seafood lunch by the beach, but make sure to leave before darkness as crime is high. The same can be said of San Salvador which you can explore on a half day excursion but we recommend you stay at Suchitoto instead which is a lot safer than you might think.
Find your ideal hotel in El Salvador
Willemstad, Curacao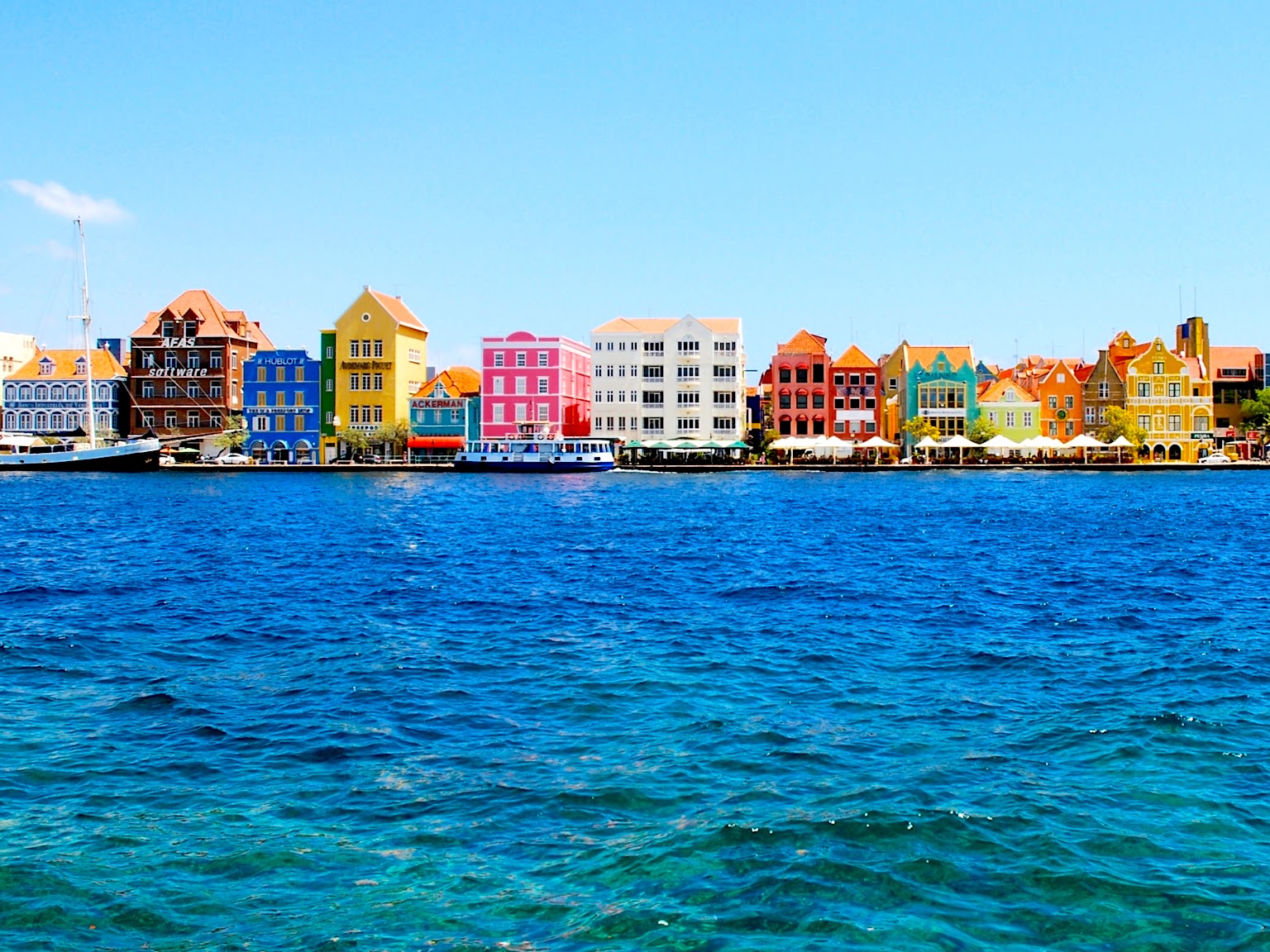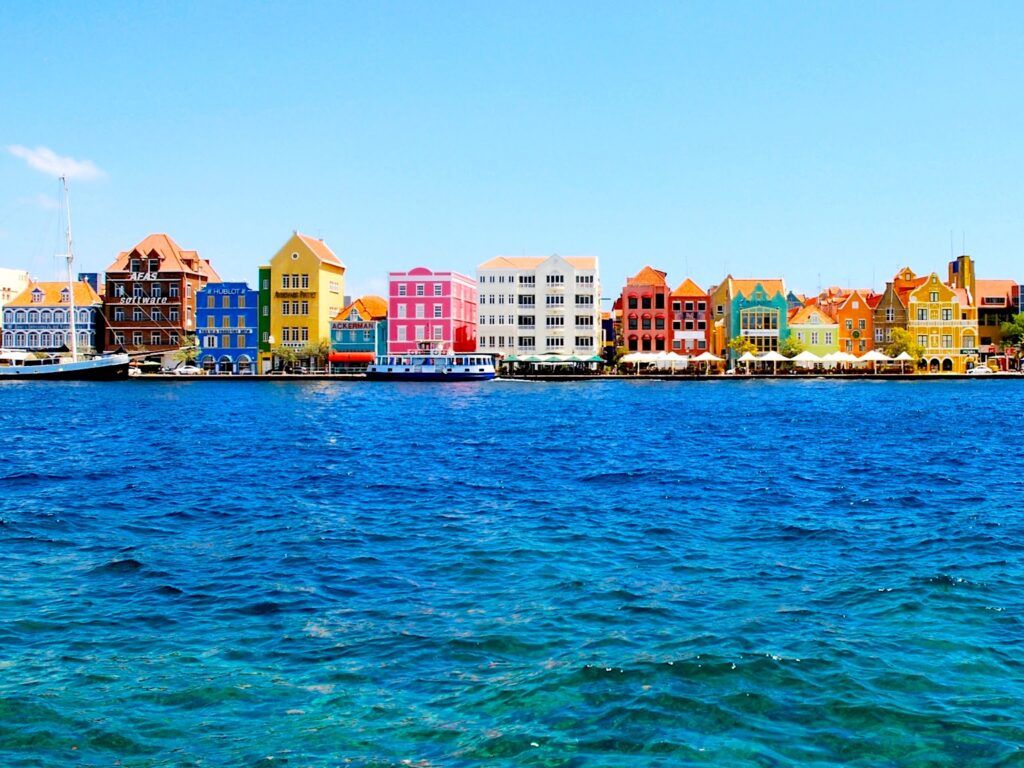 Daily average temperatures in December: High 86°F (30°C) / Low 77°F (25°C)
Curaçao is a Dutch Caribbean island which is definitely off the beaten path for those travelers looking for something offbeat and warm in December.
Willemstad, the capital, is a really unique place especially due to the pastel-colored colonial architecture, the floating Queen Emma Bridge, and the 17th-century Mikvé Israel-Emanuel Synagogue with its sand floor.
There may be some brief showers in the mornings or evenings, but Curaçao is definitely one of the warmest places in December to visit for an idyllic Caribbean feel.
Divers can explore the coral reefs at Blue Bay, and beach bums can relax all day at any of the Caribbean beaches like Playa PortoMari, Cas Abao, Kenepa, Mambo or Playa Lagun. There are also some epic hikes like the trails at Christoffel National Park. Make sure to rent a car as taxis are quite pricey and you'll get to explore much more on wheels.
Find your ideal hotel in Willemstad
Montevideo, Uruguay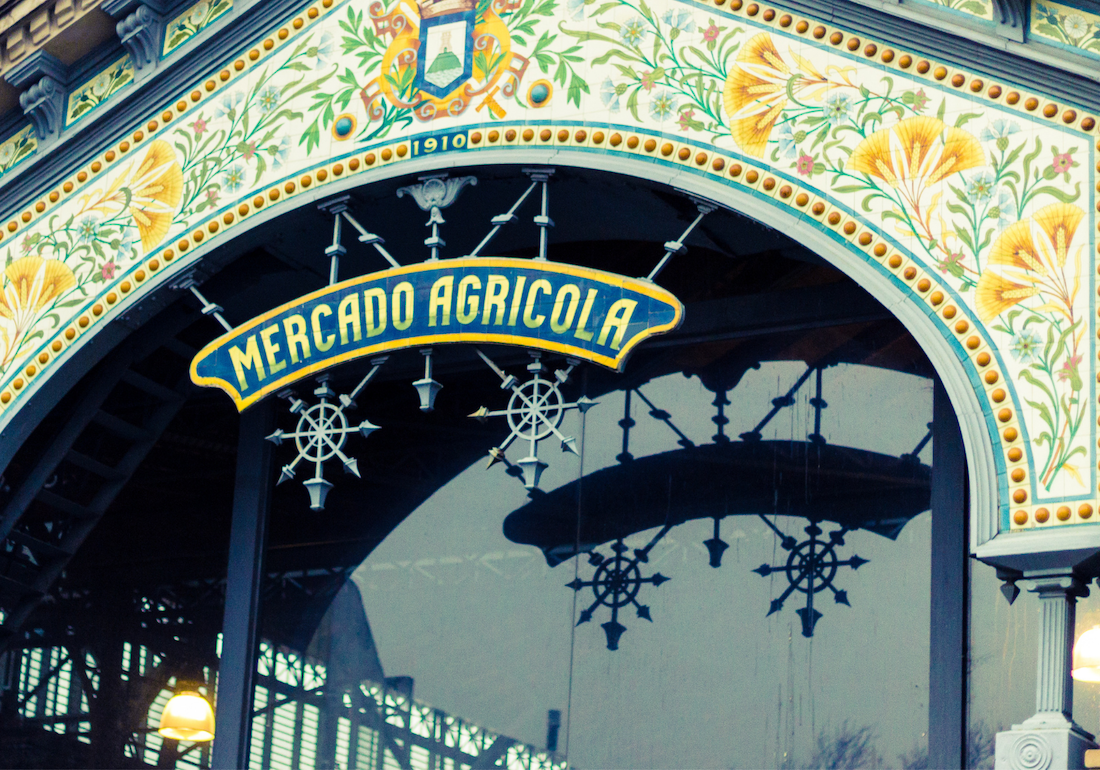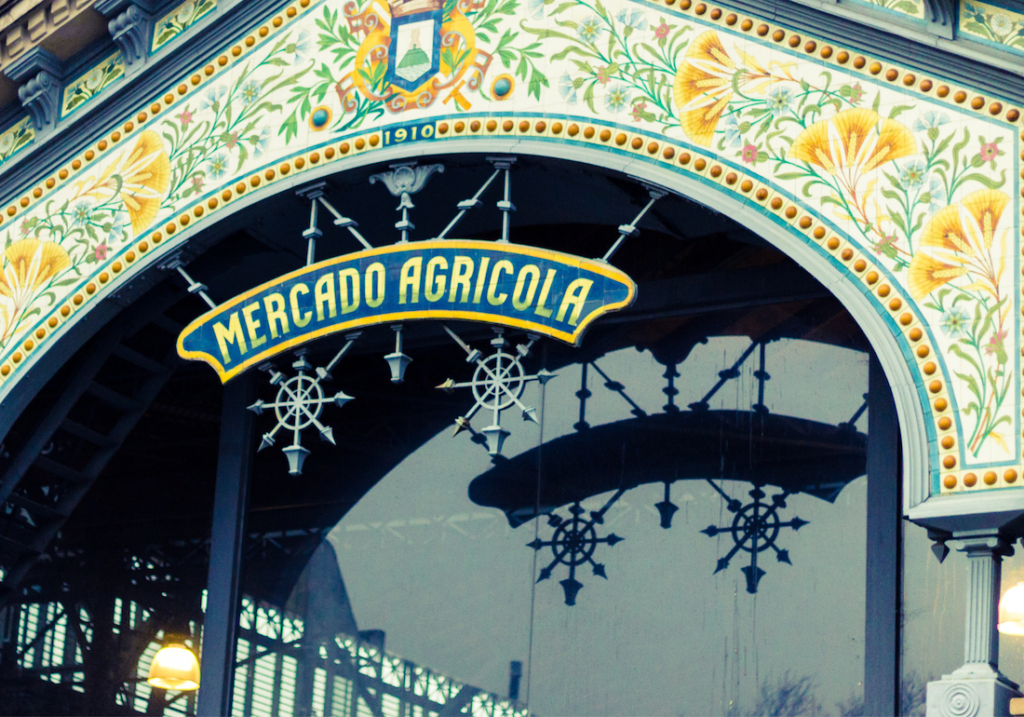 Daily average temperatures in December: High 79°F (26°C) / Low 64°F (18°C)
December is the first month of the summer in Uruguay, which means the weather is moderately hot with no extreme temperatures. The capital of Montevideo is a charming destination that was once home to the Spanish citadel at Plaza de la Independencia.
While away the days among the white-sand beaches of De los Pocitos, tour the art deco buildings of Ciudad Vieja (the old town), take a slow walk along La Rambla or stop by the old port market called Mercado del Puerto which has an enormous selection of steakhouses. If you're brave, try Uruguay's famous yerba maté tea.
Montevideo isn't the only warm place to visit in December in Uruguay, you can and should venture out to explore the country's verdant interior to places like Pueblo Edén or Sierra de las Ánimas. There are also plenty of picturesque beaches like Atlantida or Piriápolis.
Find your ideal hotel in Montevideo
Nosy Be, Madagascar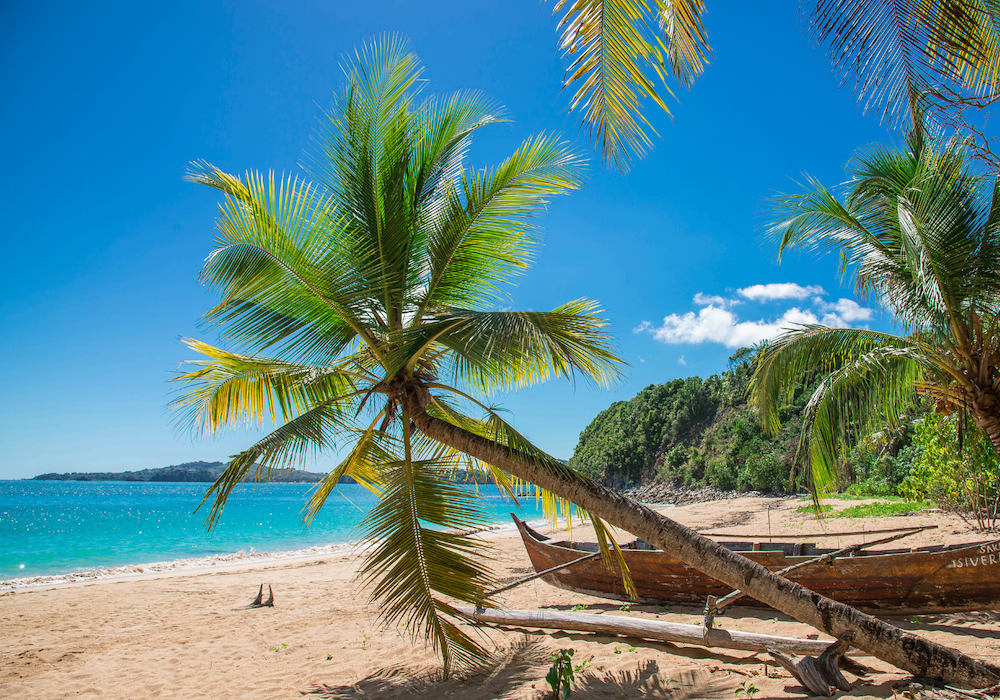 Daily average temperatures in December: High 88°F (31°C) / Low 72°F (22°C)
Nosy Be is the perfect warm December destination you have never heard of before. This island off the north-west coast of Madagascar has pristine white sand beaches and clear waters.
Madagascar is best known for the famous movie and for its endemic wildlife not found anywhere else and Nosy Be has its own selection.
No matter where you go, you will most likely spot wild chameleons slowly moving through the branches and changing color to hide among the foliage and trees. The other endemic animal is the lemur. This kind of monkey abounds in Madagascar and you will be able to spot it in the various parks and reserves. Nothing beats their cute faces and antiques.
You can also visit the capital of Nosy Be, Andoany, also known as Hell-Ville which has French colonial buildings and a covered market. Ramp up your olfactory senses at the 19th-century distillery which is still used to this day to extract essential oils from the native ylang-ylang tree.
Pro tip: The best way to explore Nosy Be is on your own private yatch. Hire a small one with a skipper and enjoy pancakes with Nutella for breakfast, sliced pineapple and freshly caught coconut-milk marinated fish.
Find your ideal hotel in Nosy Be
Conclusion
There are many destinations that are warm in December, especially those that are located in the southern hemisphere or near the Equator, where it is always warm. When choosing, do not just consider the temperatures but also the rain as some of the countries that are within the tropics experience Monsoon rains during the festive year end end season.