Looking to escape the winter blues, but not sure where to go yet? Let our travel experts guide you to the most terrific warm places in February across the world.
From warm spots in the northern hemisphere to literal hot destinations south of the equator, we've included a list of nearly 50 destinations so you can find the right place that suits your unique travel style and interests.
Some locations are obvious, like the Maldives, while others are more under-the-radar and unique. So open up Google Maps and start planning your journey to the warmest places in February to visit for your next winter vacation.
Maldives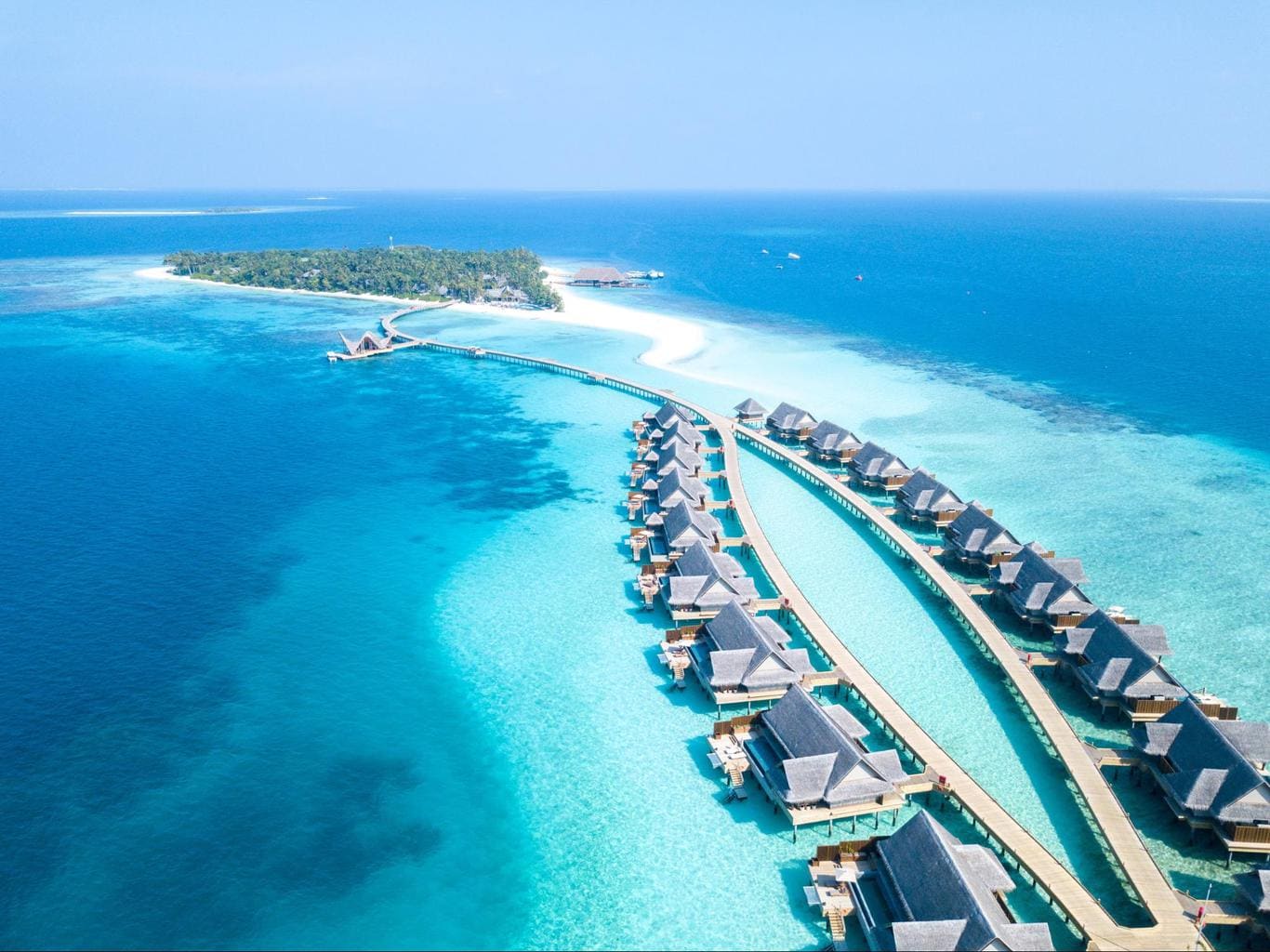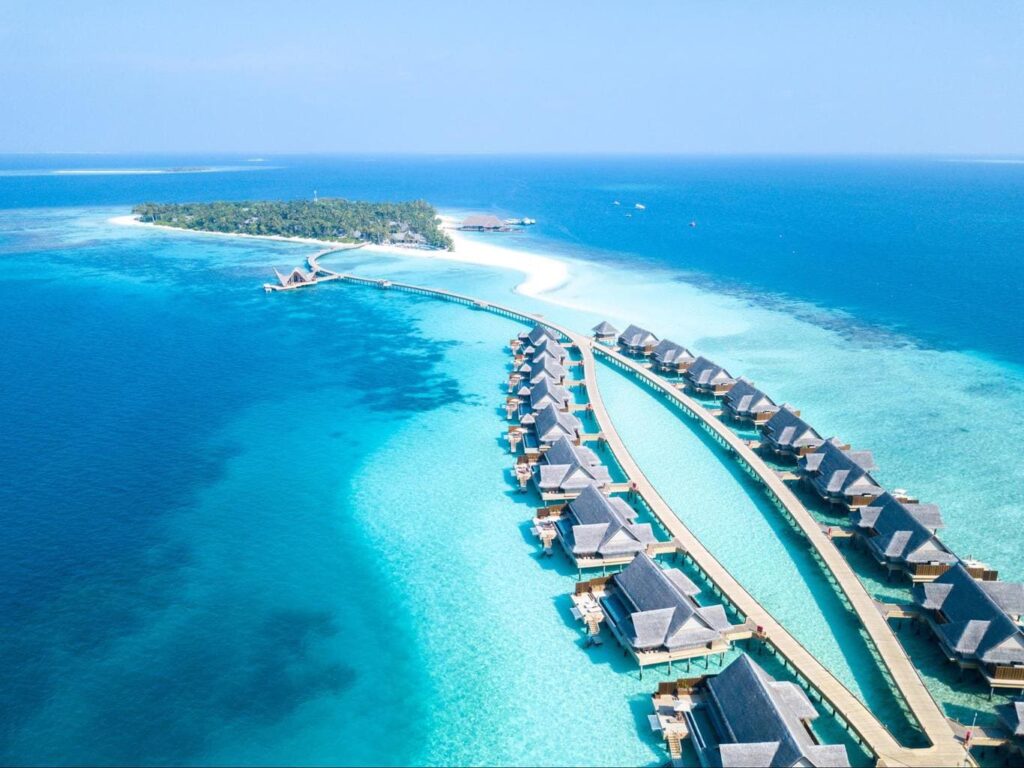 Daily average temperatures in February: High 87°F (31°C) / Low 80°F (27°C)
February is the perfect time to visit the Maldives. The weather is warm, but not too hot, and it's also dry with only a small chance of rain. What you'll find is a blend of island living, luxe resorts, floating villas, idyllic white sand beaches, and all the marine wildlife and water sports you can imagine from scuba to surfing to swimming with manta rays.
It's the perfect destination for honeymooners with top-tier hotels like Gili Lankanfushi, Soneva Fushi or Joali where you can stay in isolated rooms that float over the calm ocean, some containing their own infinity pools. But you definitely don't need a partner to enjoy the Maldives, at Solo Female Travelers we're big advocates of setting a date with yourself!
Some of our solo female travelers are concerned that the Maldives may not be the right place for a solo traveler because they will be surrounded by couples, but many resorts have moved towards solo packages offering butlers for photo sessions and lots of pampering at the spa. Put this together with activities and lots of time to read and relax, and it's the perfect solo vacation.
What's more, several affordable options have popped up recently to stay at local islands. These guest houses act like the backpackers of other countries in that they are more casual and frequented by solo travelers.
Tip: Book a hotel farther away from a local airport and you will be rewarded with an amazing seaplane ride.
If you're looking for a warm destination in February, we rank Maldives at the top of our list. As a bonus, this is a fantastic place to spend Valentines Day, with or without a Valentines Date.
Find your ideal hotel in the Maldives
Oahu, Hawaii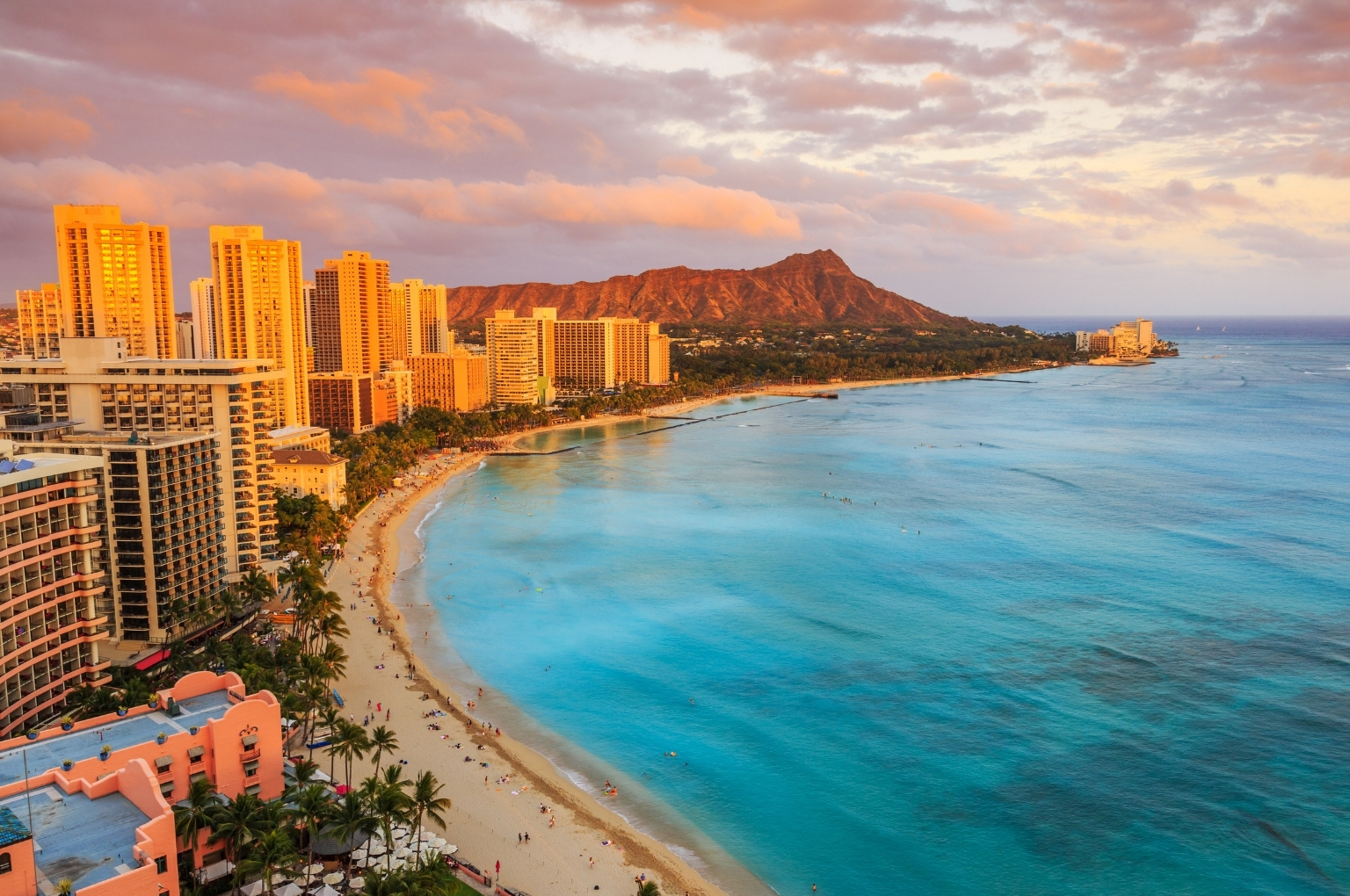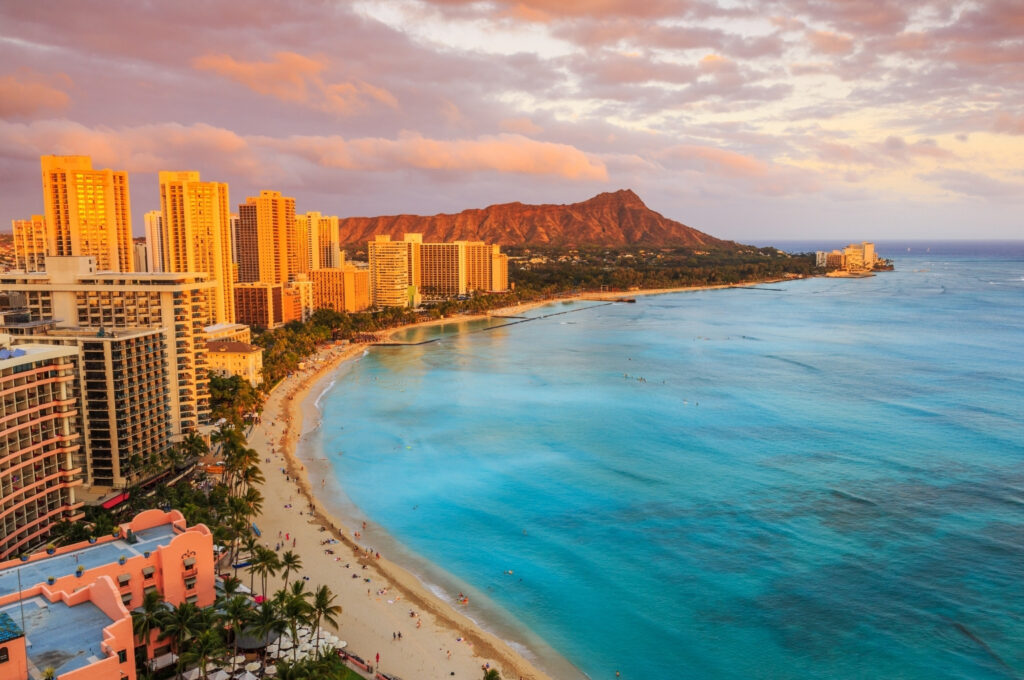 Daily average temperatures in February: High 79°F (26°C) / Low 68°F (20°C)
February in Hawaii is a match made in Heaven. The December/January holiday makers have disappeared, the temperatures are moderate to great and the rain has died down a little from the previous months. Other than the odd romantic couple on Valentine's Day, February is pretty calm.
All you'll need is a light sweater to beat the evening chill during your stroll along the beach, but otherwise it's all bikinis and beach towels. One thing you will have to note is that temperatures do vary from island to island, as well as getting colder when hiking up at higher elevations and altitudes. So if you are planning to hike some of the higher summits, it's advisable to bring along a jacket and even longer pants.
Visit Oahu for that ideal Hawaii feeling of relaxing on the beaches of Honolulu. You'll get a blend of big-city amenities as well as tropical beaches. There's also the Buffalo Big Board Surfing Classic, which isn't filled with a who's who in surfing, but is rather a local event with unique competitions and wonderful festivities on Mahaka beach for the spectators.
Find your ideal hotel in Oahu
Kauai, HI, USA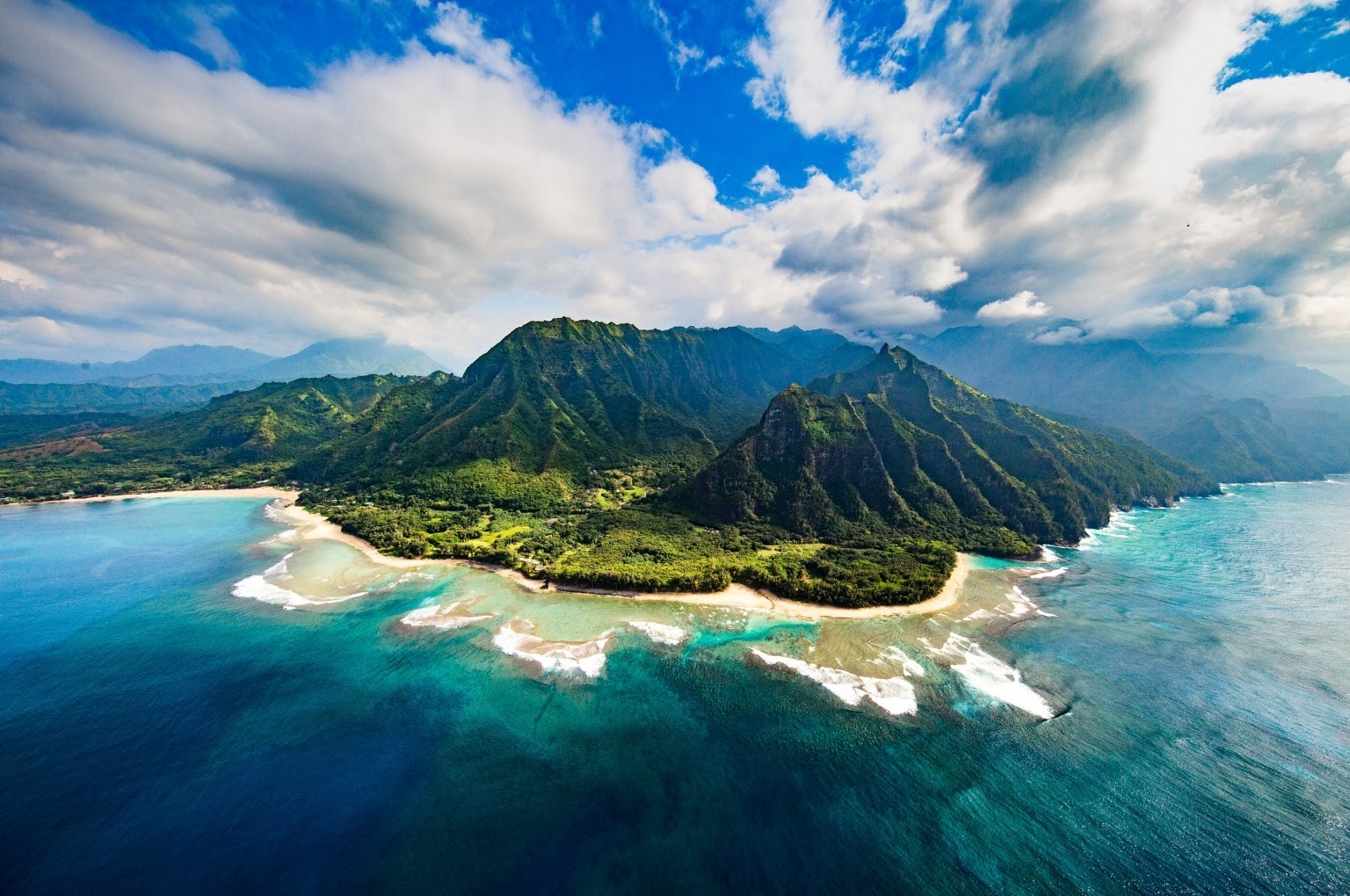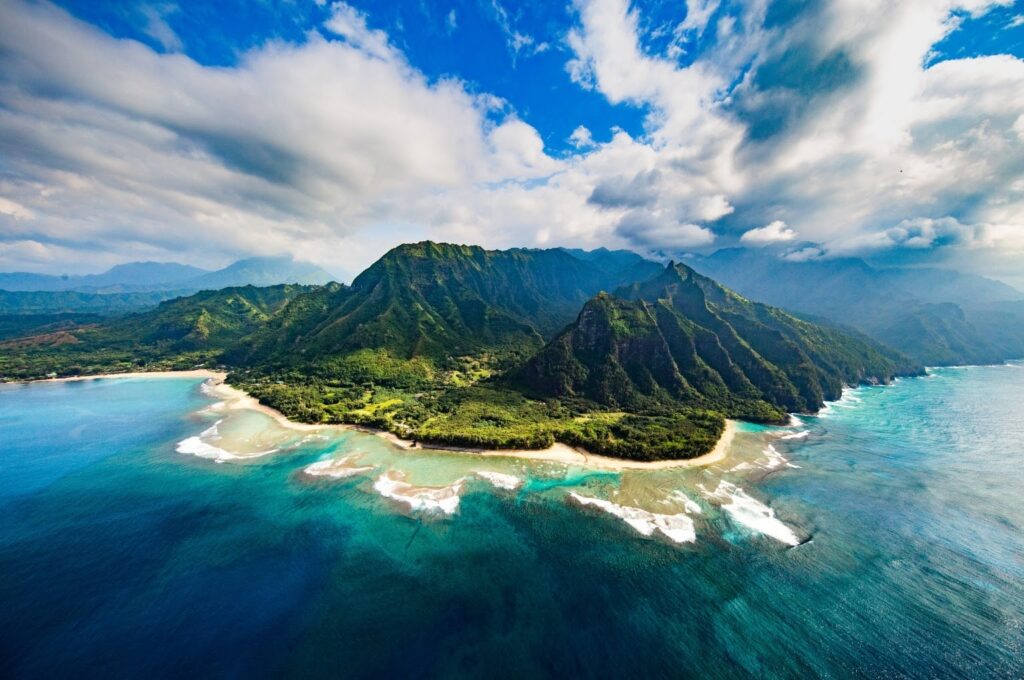 Daily average temperatures in February: High 77°F (25°C) / Low 66°F (19°C)
Kauai is a great February warm destination for nature enthusiasts who want to unplug for a bit and enjoy hikes, beaches and waterfalls.
You can also join the locals in February for the Laupahoehoe Music Festival featuring traditional Hawaiian music or the Waimea Town Celebration which celebrates the history of the island.
Find your ideal hotel in Kauai
Orlando, FL, USA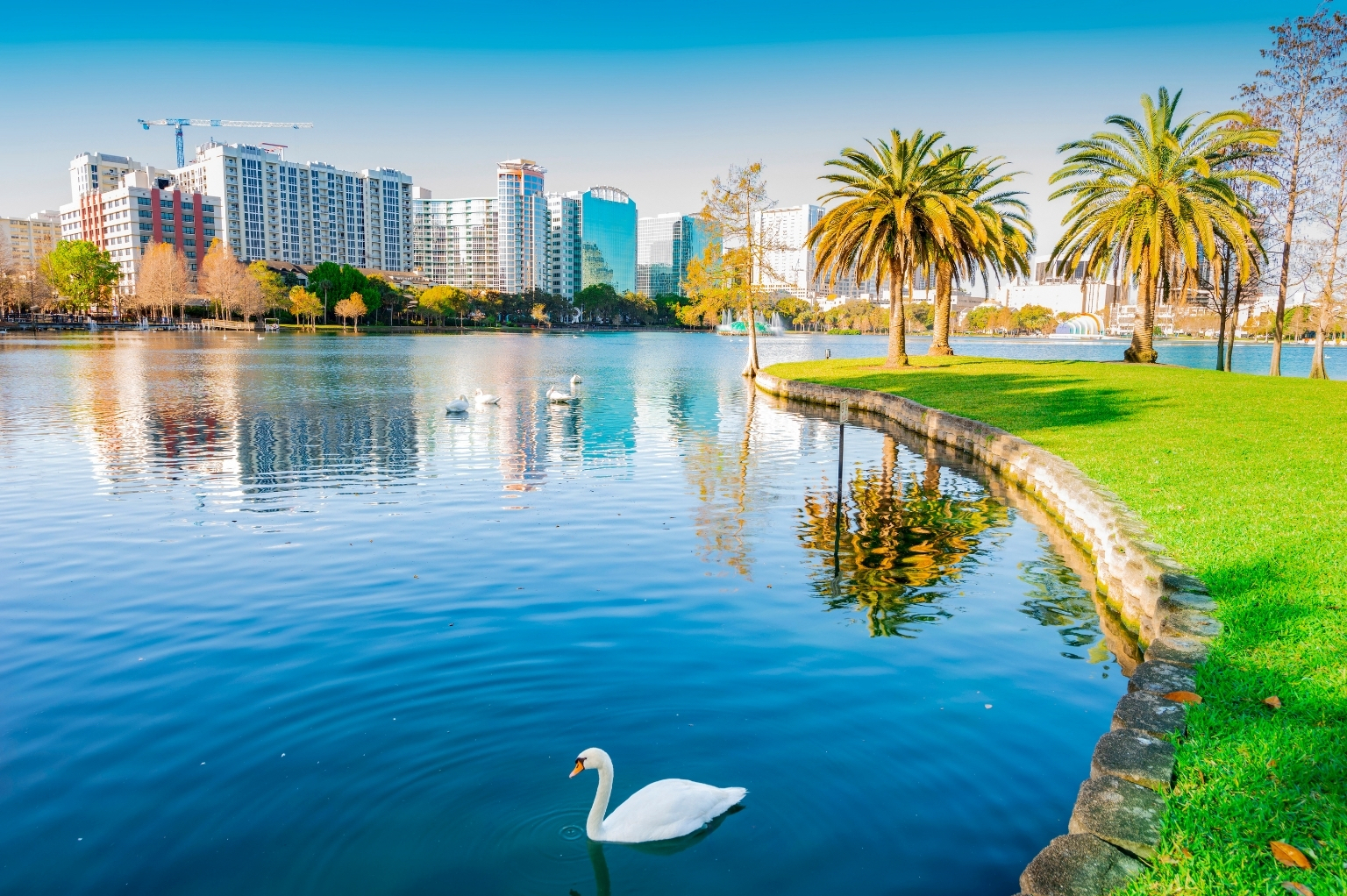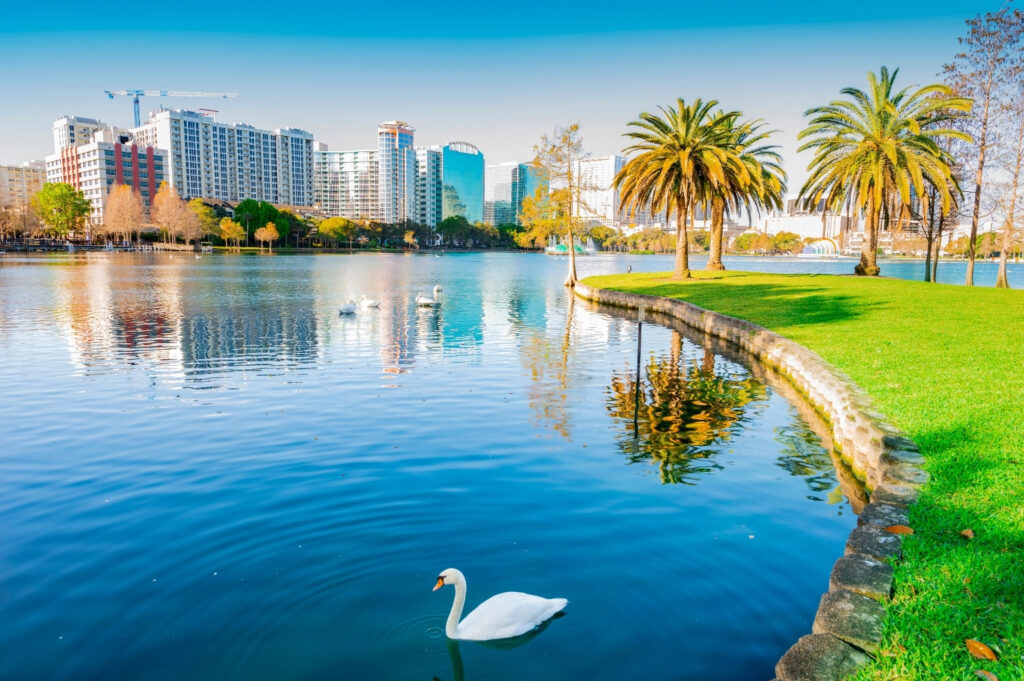 Daily average temperatures in February: High 73°F (23°C) / Low 53°F (12°C)
Even though winter is in full swing in the northern hemisphere, the USA has some great warm places in February you can visit without coming into contact with snow and ice, and Orlando, is one of those places.
Not called "The Beautiful City" for nothing, Orlando is home to beautiful natural springs, swamplands and hiking trails. It can get a little rainy in Orlando in February, but this usually happens in short bursts, so be sure to carry an umbrella with you at all times.
But of course, Orlando is best known as the theme park center of the USA with Walt Disney World Resort, Universal Studios Florida, Epcot, Fun Spot America Theme Parks, Wizarding World of Harry Potter and WonderWorks Orlando to name a few. The crowds have also dies down from the winter vacation and are much more mild than the peak summer seasons.
Find your ideal hotel in Orlando
Miami, FL, USA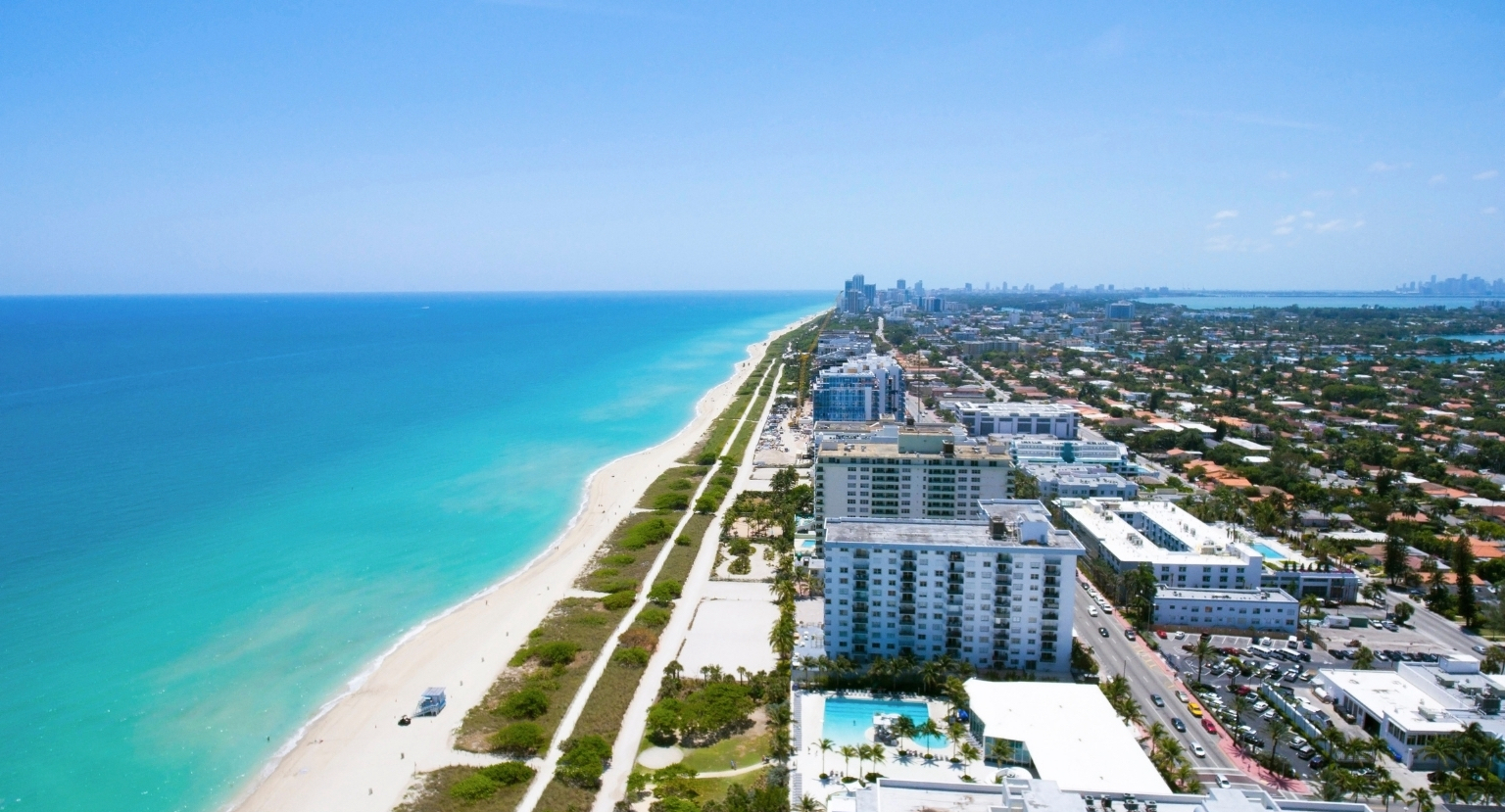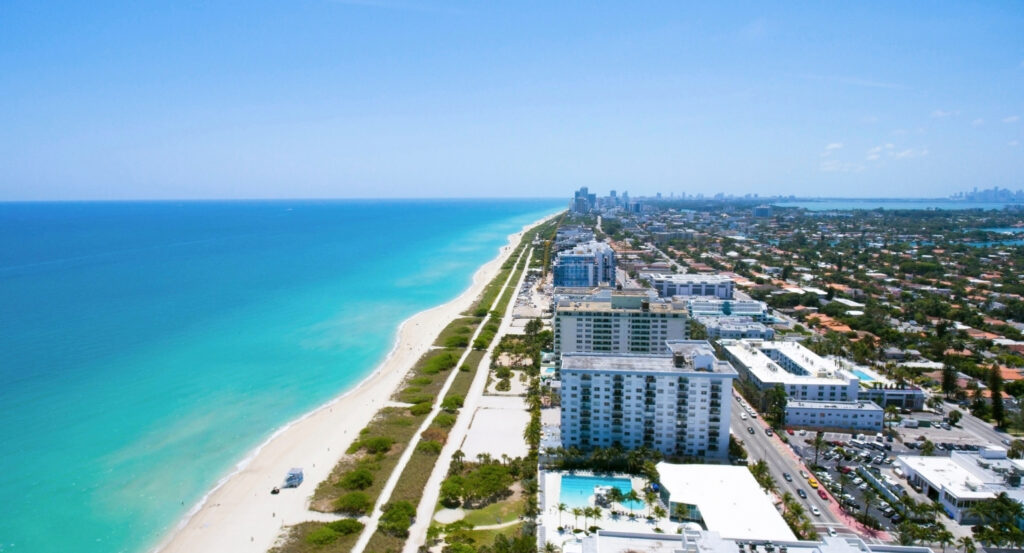 Daily average temperatures in February: High 78°F (26°C) / Low 62°F (17°C)
If you are looking for a warm place to go in February where you will feel as if the summer never left, Miami is your place. Temperatures are balmy, the ocean is tropically warm and you can readily sport that bikini that's been locked up since the beginning of winter.
Not only is it warm, the Magic City offers a treasure trove of events in February like the Coconut Grove Arts Festival, the Miami International Boat Show, South Beach Wine & Food Festival, major concerts, performances and sporting events including the Miami Marathon.
Miami beach is also a hub for the LGBTQA+ community and is a great choice for people in this community to travel and feel not only safe but welcomed. Spend the night cruising the bars and clubs and the days relaxing with your feet in the sand. You'd never think it was winter.
Find your ideal hotel in Miami
Palm Springs, CA, USA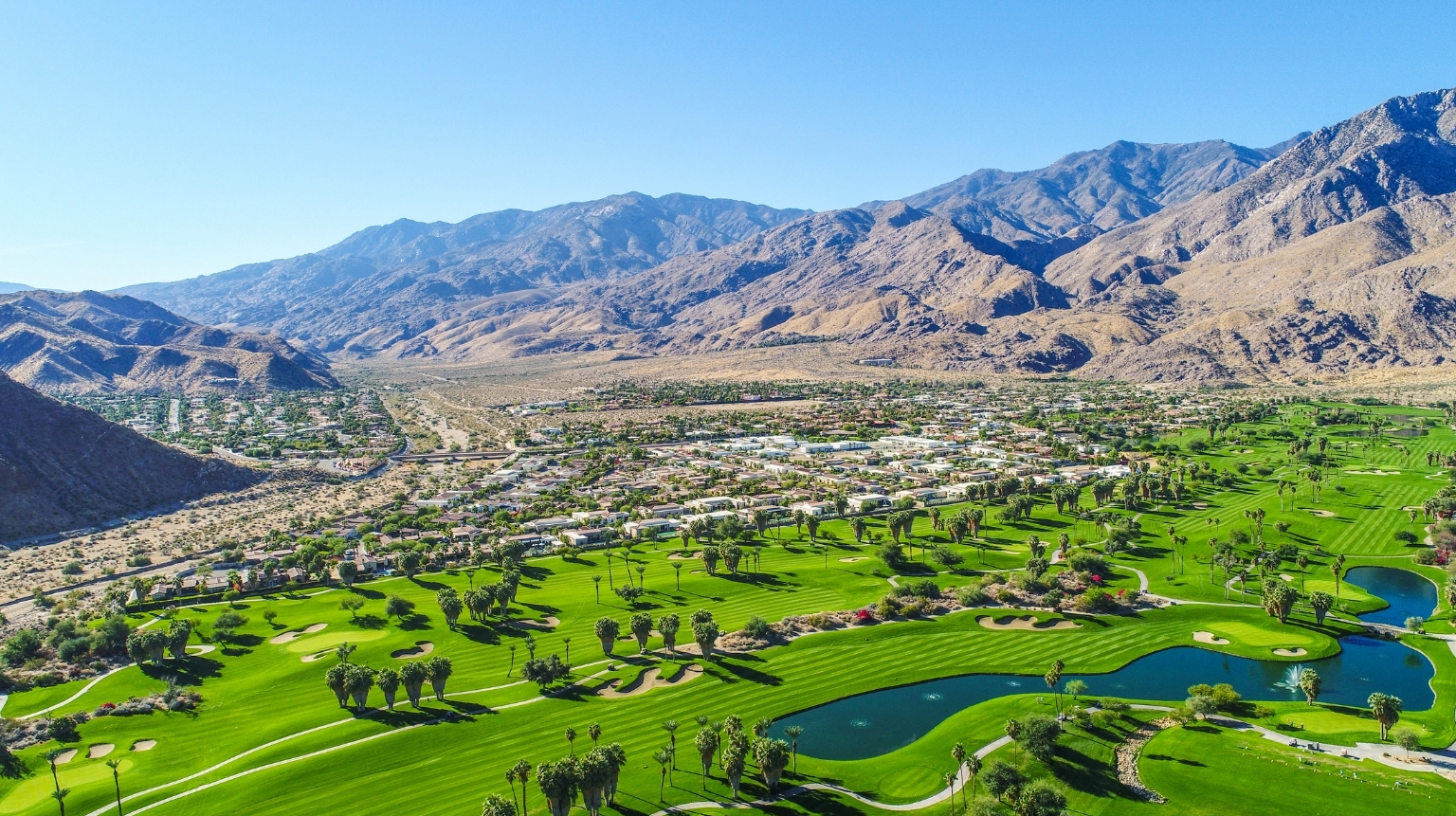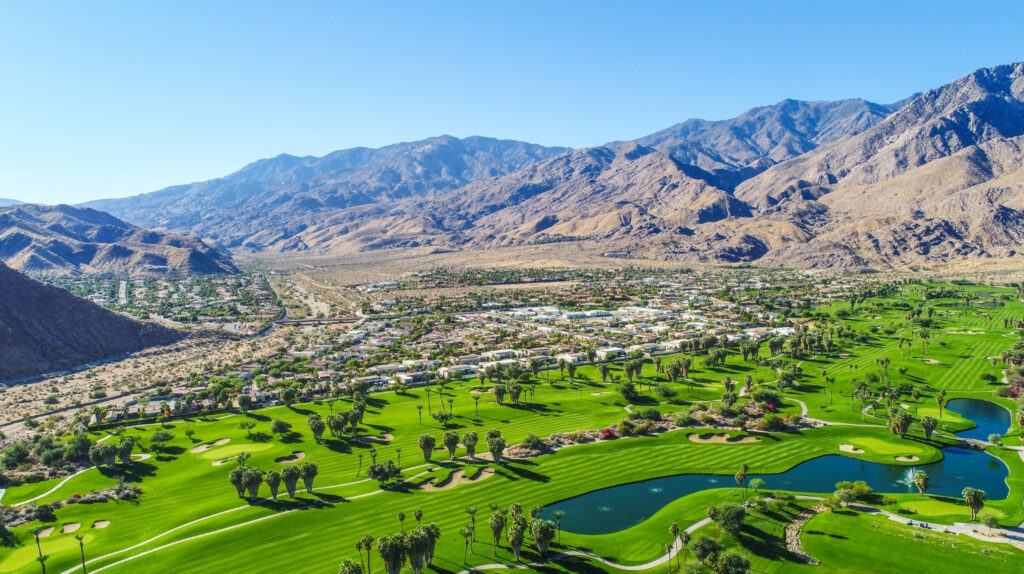 Daily average temperatures in February: High 74°F (23°C) / Low 48°F (9°C)
Winter in Palm Springs is mild, calm and beautiful. As this is the desert, summer can be scorchingly hot and almost unbearable at times so the best time to visit Palm Springs is between January and April.
You can enjoy all the things that Palm Springs is known for from golfing and pampering yourself at the spa to amazing hikes and lounging by the pool. One thing to note is that with the milder temperatures comes the crowds. So like other popular warm places to visit in February, attractions in Palm Springs can be packed and hotel rates may be sky high. A small price to pay for the most perfect weather.
Find your ideal hotel in Palm Springs
Los Angeles, CA, USA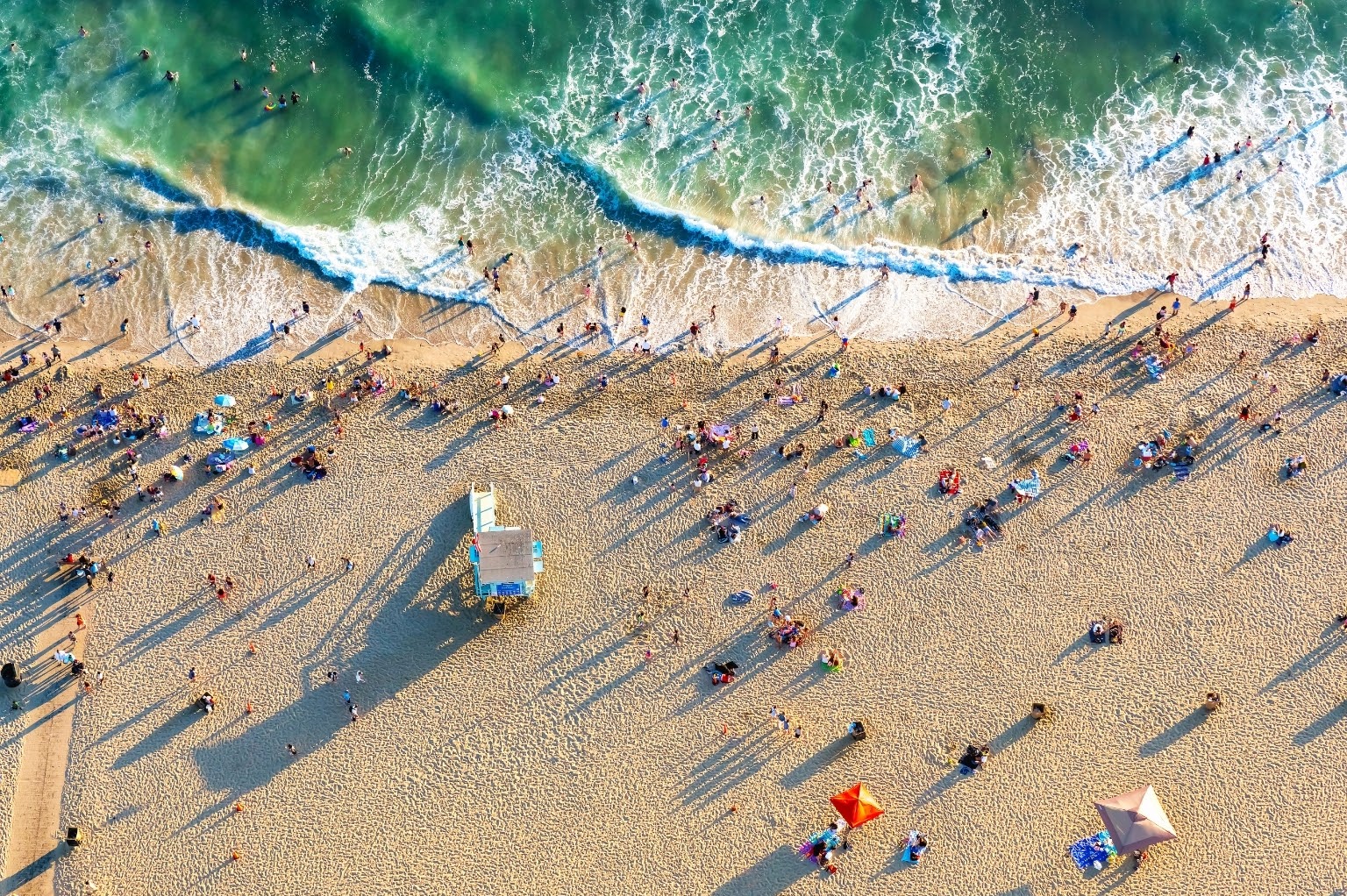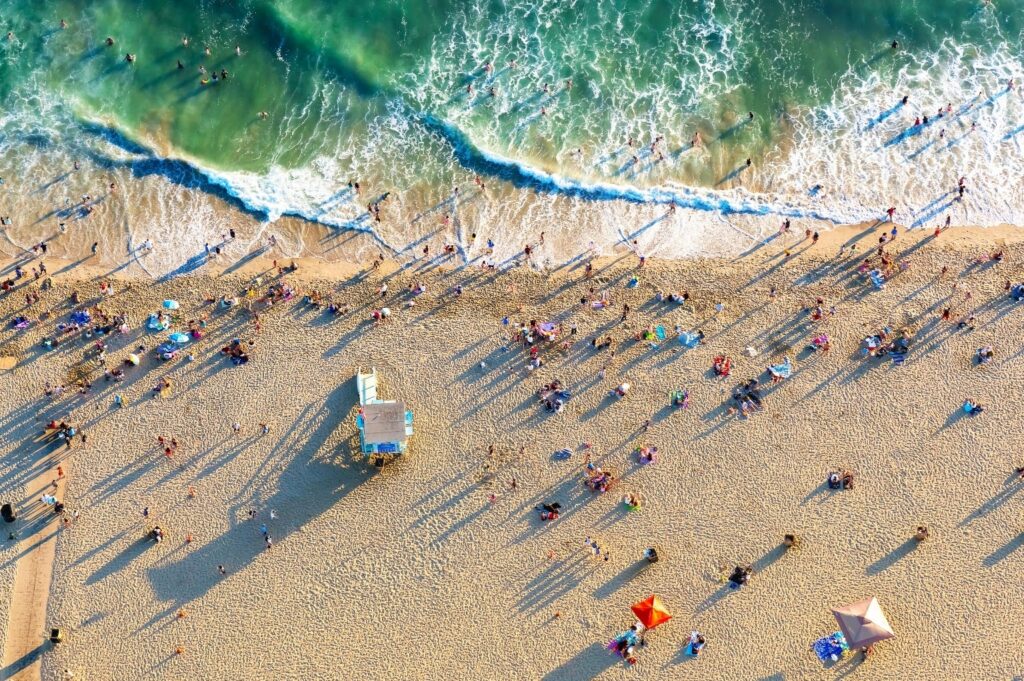 Daily average temperatures in February: High 69°F (21°C) / Low 49°F (10°C)
Another popular destination for warm weather in February is the southern coast of California, mostly Los Angeles, Orange County and San Diego further south. Grab your surfboard and hiking shoes as LA has a lot to offer in winter.
February in Los Angeles and the surrounding cities has a little something for everyone from theme parks like Disneyland Park, Disney California Adventure Park or Universal Studios and museums like the Getty or the LACMA to glorious beaches from Santa Monica to San Clemente and hikes at one of the many national parks.
Visit hip neighborhoods Echo Park and Los Feliz, walk down the Hollywood Walk of Fame or take a mellow drive down the Pacific Coast Highway. No matter what your poison, Los Angeles will cover it.
Find your ideal hotel in Los Angeles
Auckland, New Zealand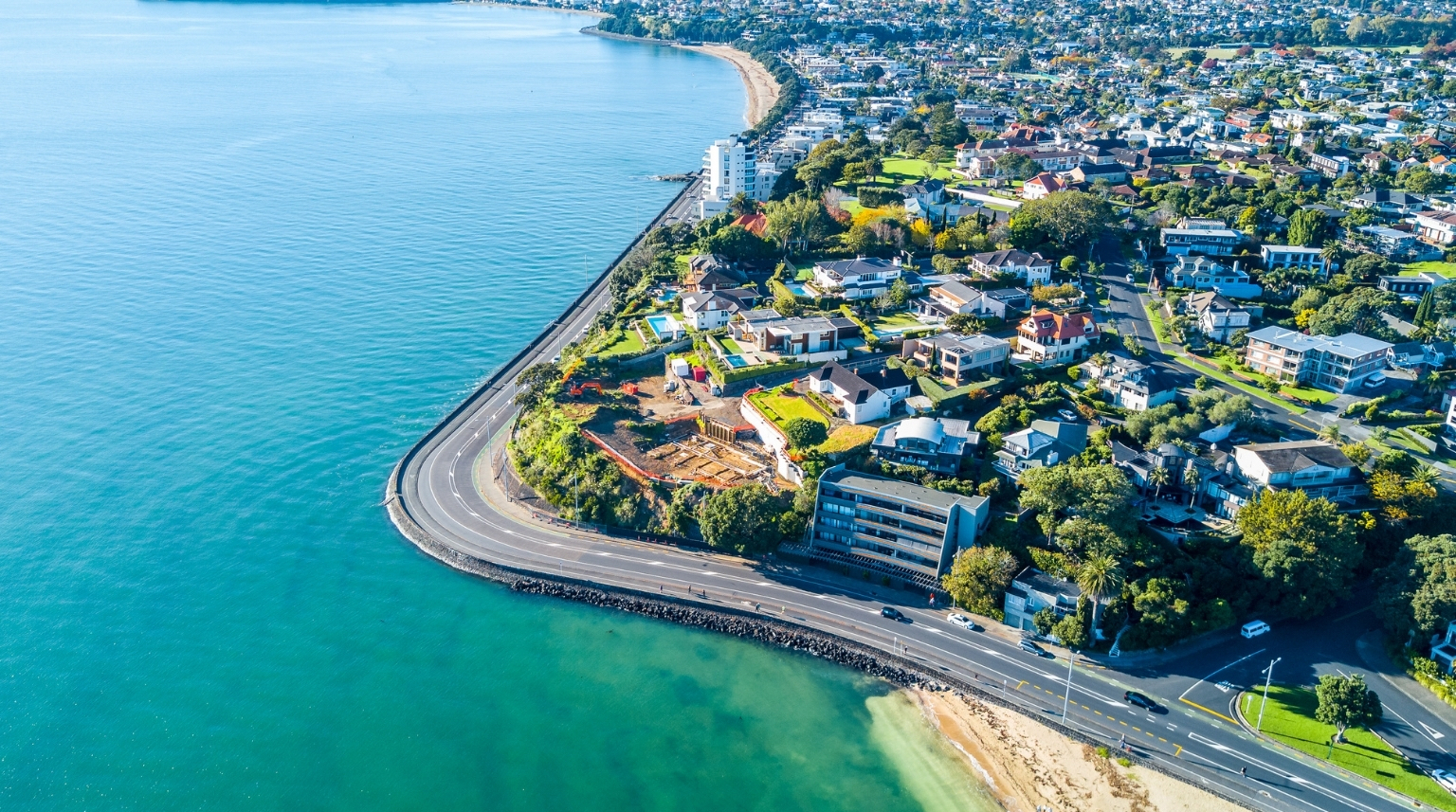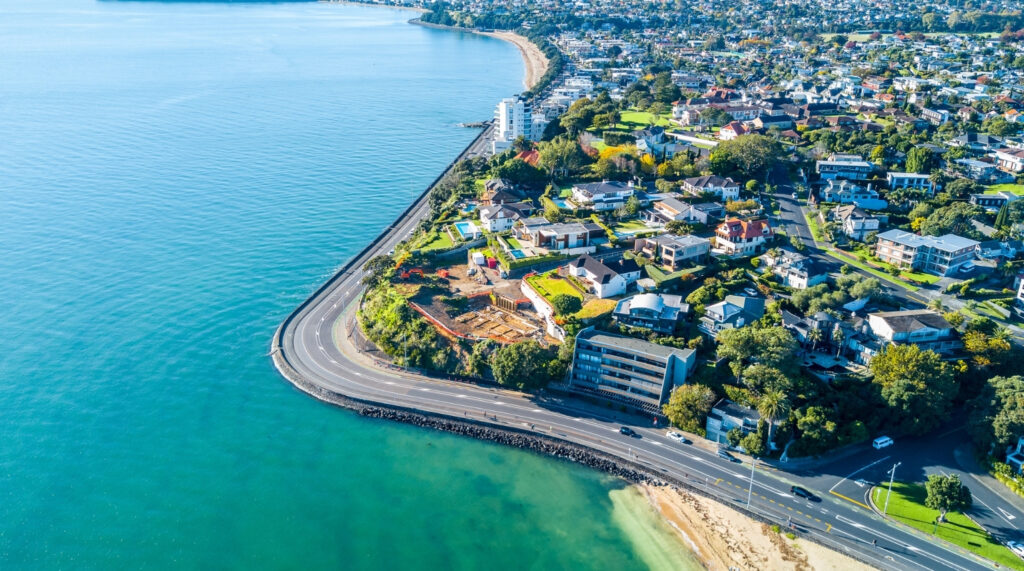 Daily average temperatures in February: High 73°F (23°C) / Low 62°F (17°C)
Auckland is New Zealand's largest and most populous urban area. Situated in the North Island, you can expect relatively stable temperatures with very little rainfall. In fact, February in Auckland sees one of the city's hottest months, as well as it's driest.
It's summer in the southern hemisphere, so expect longer days, a slower pace, and glorious outdoor picnics. Take a hike along coastal paths of the Wattle Bay Loop, go island hopping to Rotoroa or traverse the cliff-tops from Bethells to Muriwai.
Take advantage of your trip to February's warmest places and explore beyond Auckland and into the rest of New Zealand's the North Island where you'll find the stunning Bay of Islands (take a helicopter ride!), the wineries in Waiheke Island just a short ferry ride from the capital, Hawkes Bay and the massive sand dunes in Northland.
Find your ideal hotel in Auckland
Queenstown, New Zealand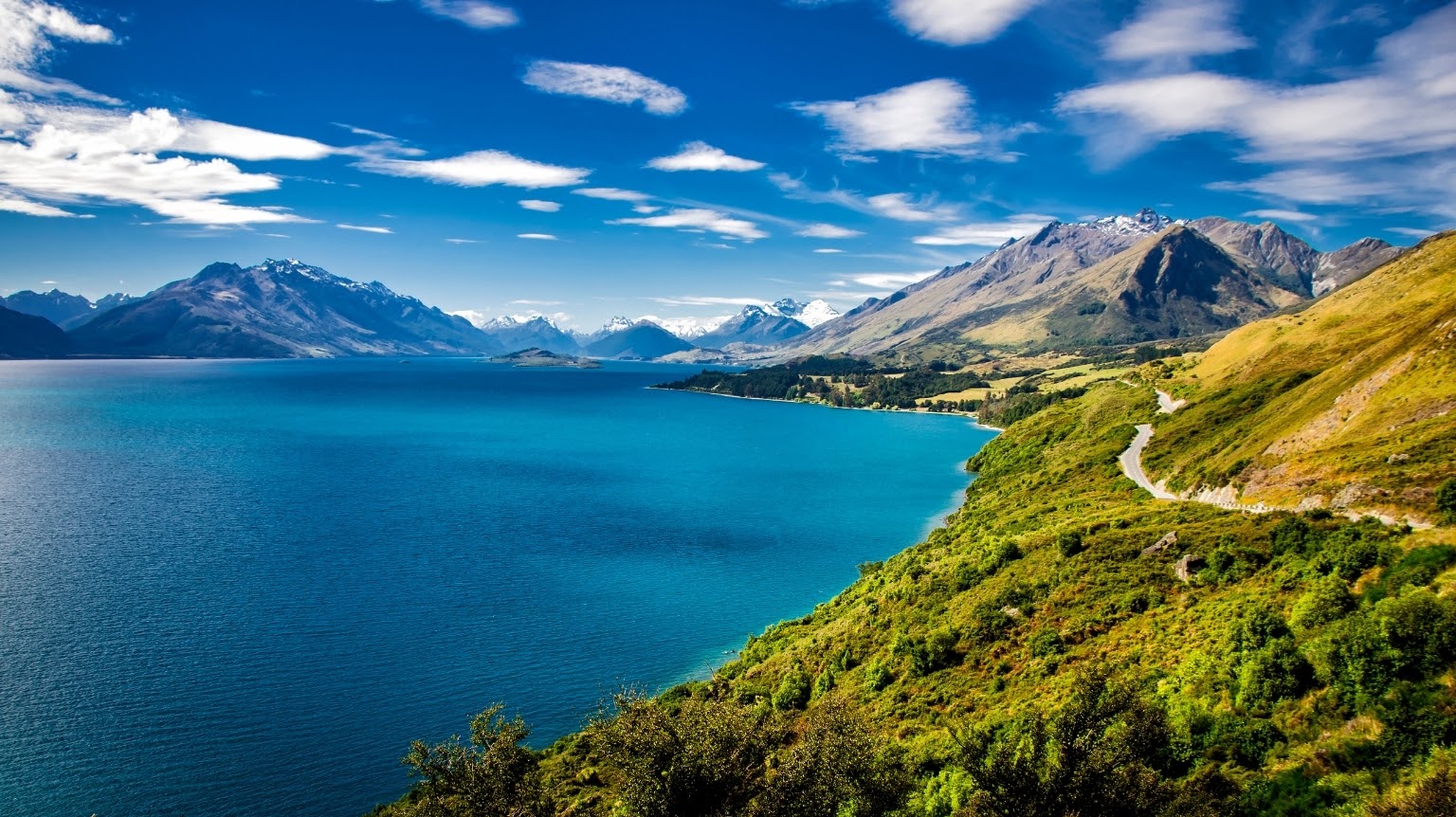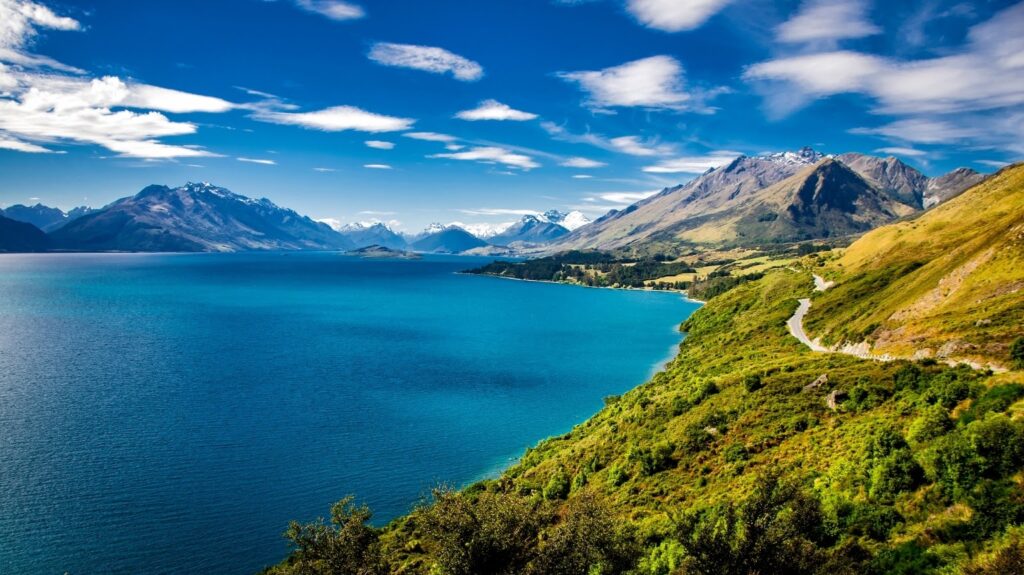 Daily average temperatures in February: High 64°F (18°C) / Low 48°F (9°C)
New Zealand's southern island is a few degrees cooler than the north as it's closer to Antarctica and even though February is still summertime, the climate is usually mild and very enjoyable.
Adventurers, intrepid explorers and wildlife buffs who love mild temperatures will want to take a trip to Queenstown and its surrounding areas in February but do not expect the warmth of other places.
The top thing to do in New Zealand in February is actually absolutely nothing. The beauty of the scenic South Island will enthrall you and take you under its spell and all you need to do is drive around and marvel at your surroundings.
If you are looking for adventurous activities (which is what Queenstown is all about), you can take a stroll or ride along the Wakatipu basin, go bungy jumping at AJ Hackett, take the Shotover River Jet Boat ride, go canyoning or skydiving and many other crazy activities.
The South Island is also most well known for its abundant wildlife which you can see at the wildlife refuge Kiwi Birdlife Park.
If you travel over to the coast to places like Dunedin, there is also year-round whale watching and penguins are abundant including the tiny korora (blue penguin), which is the world's smallest penguin. A drive up to Christchurch has a special activity, swimming with the Hector dolphins at Akaroa Harbour.
Find your ideal hotel in Queenstown
Melbourne, Australia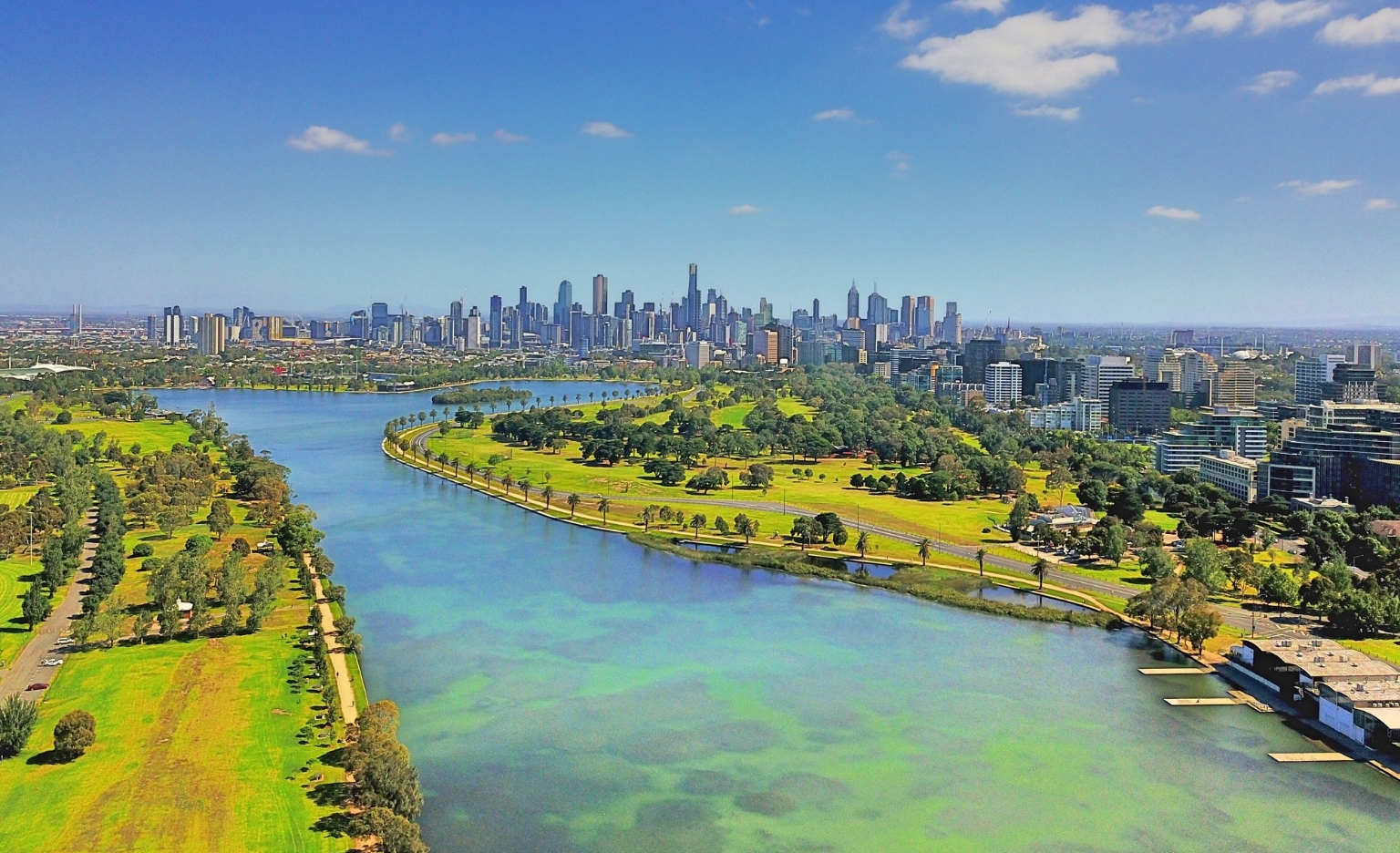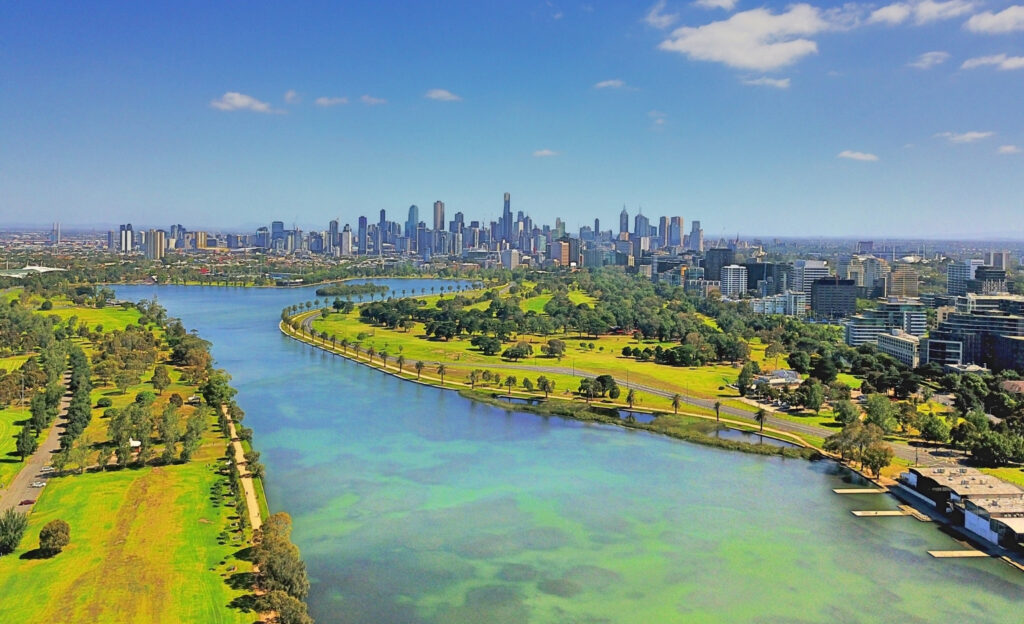 Daily average temperatures in February: High 78°F (26°C) / Low 58°F (14°C)
February is a great time to visit Melbourne. Located on the southeastern Australian coast in the state of Victoria, the city is known as the cultural capital of Australia, with loads of music, art and museums and it is one of the warmest places to visit this time of year.
While the temperatures can be quite high in January, they are starting to be milder in February so expect it to feel a little cooler thanks to the crisp breezes coming up from the southern ocean and Antarctica.
The water remains comfortable, so loads of water sports are on offer along Victoria's almost 2,000-kilometer stretch of coastline. So bring your board, paddle, snorkel or sail gear along for the journey.
Laze away the days with the hipsters at trendy cafes or cocktail bars. And enjoy the laid back Melbournian vibe with awesome street art, a vibrant coffee culture, and street performances. Or get hyped up at one of the sporting events or festivals.
Tip: Don't miss out a visit to Philip Island to see the little penguins.
Find your ideal hotel in Melbourne
Cape Town, South Africa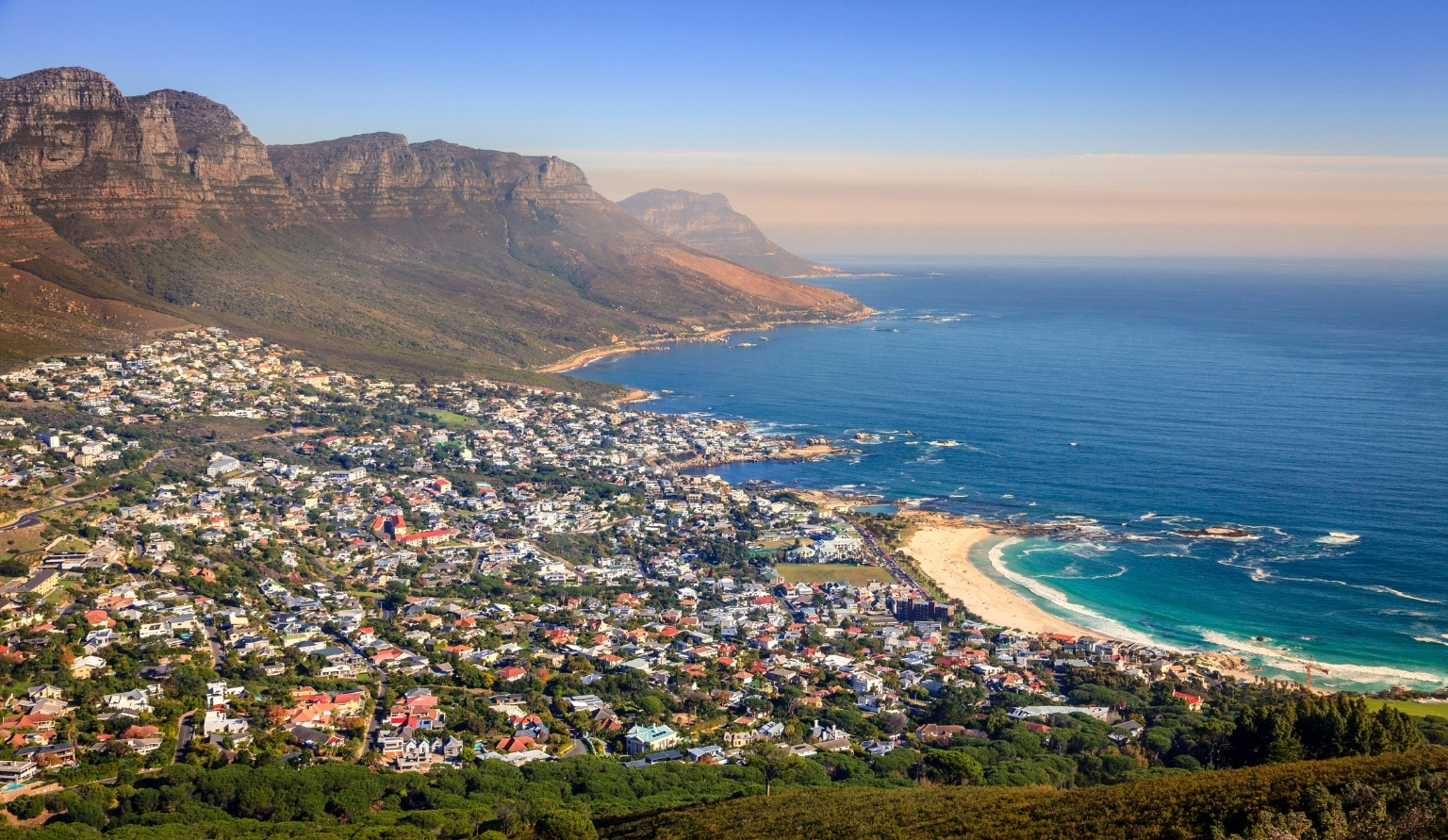 Daily average temperatures in February: High 76°F (24°C) / Low 62°F (17°C)
February is probably the best time to visit Cape Town. Gone are the days of ridiculous traffic from the Johannesburg holiday-makers and the temperatures reach peak heights in this summer month.
However, Cape Tonians say that you can experience four seasons in one day anytime but especially in February, so always carry a jacket with you, especially if you're heading out at night as temperatures can steadily drop.
Hike up Table Mountain or Lion's Head in the morning, surf the beaches of Camps Bay and go SUPing in Clifton in the afternoon and then go do some shopping at the V&A Waterfront as the sun sets.
There are hip cafes, trendy bistros and a vibrant foodie scene in Cape Town where you can sample all of the local treats from Cape Malay cuisine to a very South African braai (BBQ).
Escape for a day trip to the winelands of Stellenbosch and Constantia or venture out even further to Hermanus to experience quaint coastal life. Pop in to see the penguins at Stony Point Penguin Colony before visiting the Southern tip of Africa at Cape Agulhas.
We must say, Cape Town is our favorite warm place to visit in February.
Find your ideal hotel in Cape Town
Cairo, Egypt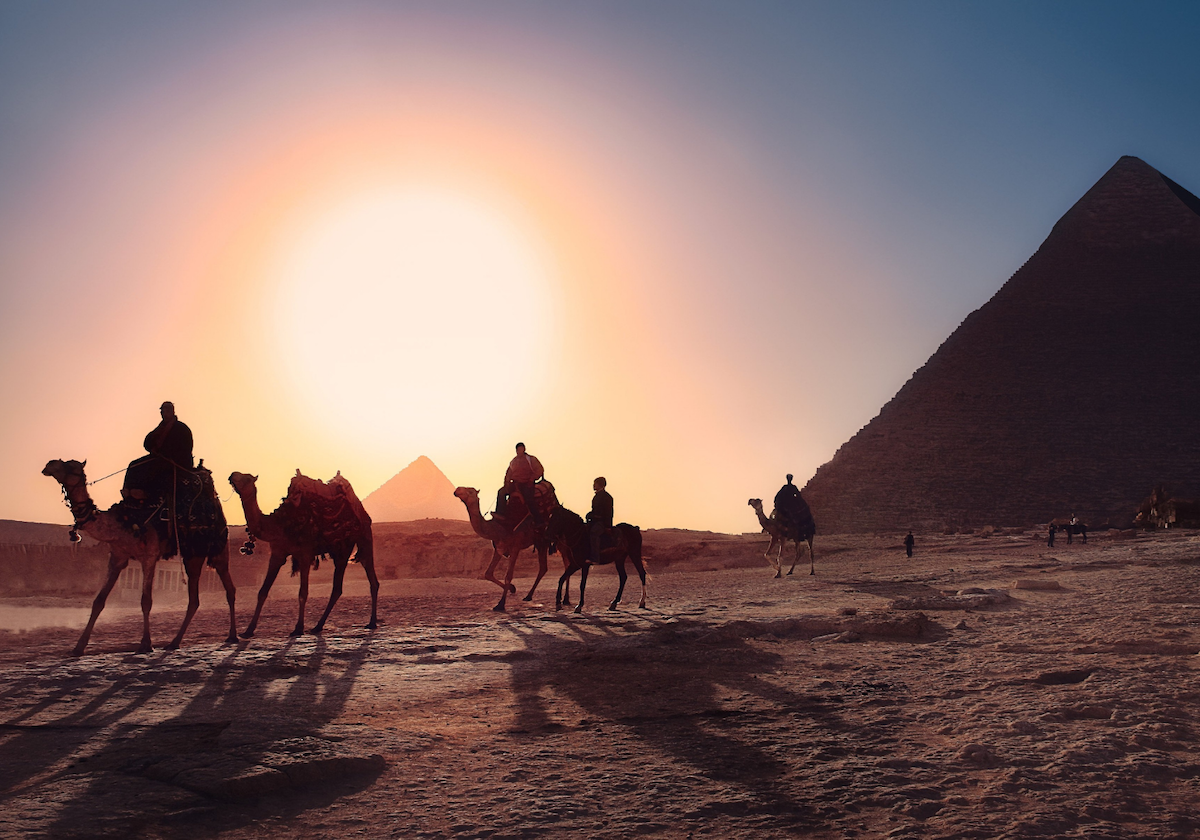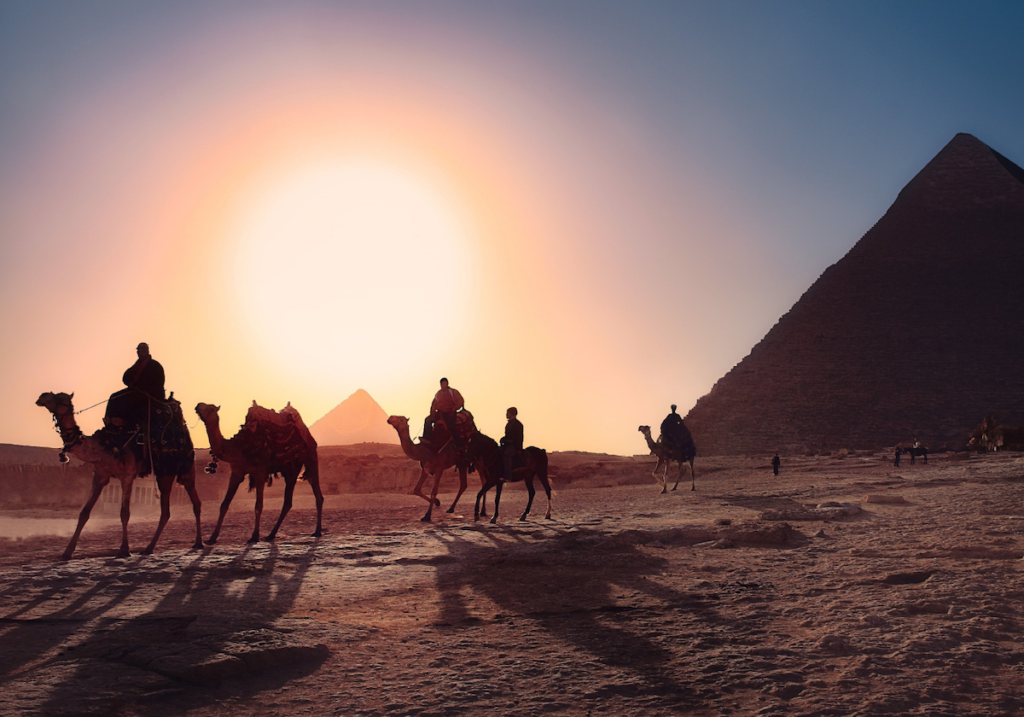 Daily average temperatures in February: High 72°F (22°C) / Low 54°F (12°C)
Cairo is the gateway to Egypt. Located along the mighty Nile River, the capital of Egypt is where you'll find the infamous Giza Necropolis where the pyramids lie. Egypt in general experiences two distinct seasons. May to October is scorchingly hot and November to April is mild and actually quite gorgeous.
February comes just after the coldest months, so the temperatures hover around the low 70s in the day, making it the perfect time to explore the most famous sites and this is why we think it is one of the best of the warm places to visit in February.
Northern Egypt, particularly Cairo and the Nile-Delta region, is cooler than the rest of the country. Venturing off to the coastal cities like Hurghada and Sharm el-Sheikh, you'll find that the temperatures rise around 5 degrees.
It does get chilly at night though, so bring a sweater for the evenings, but precipitation is generally very low.
Due to the beautiful weather in Cairo in February, the city sees a lot of tourists at this time, so while it is one of the best places to visit in February, it will be packed and super busy no matter where you go, small price to pay for the best weather conditions!
Find your ideal hotel in Cairo
Marrakech, Morocco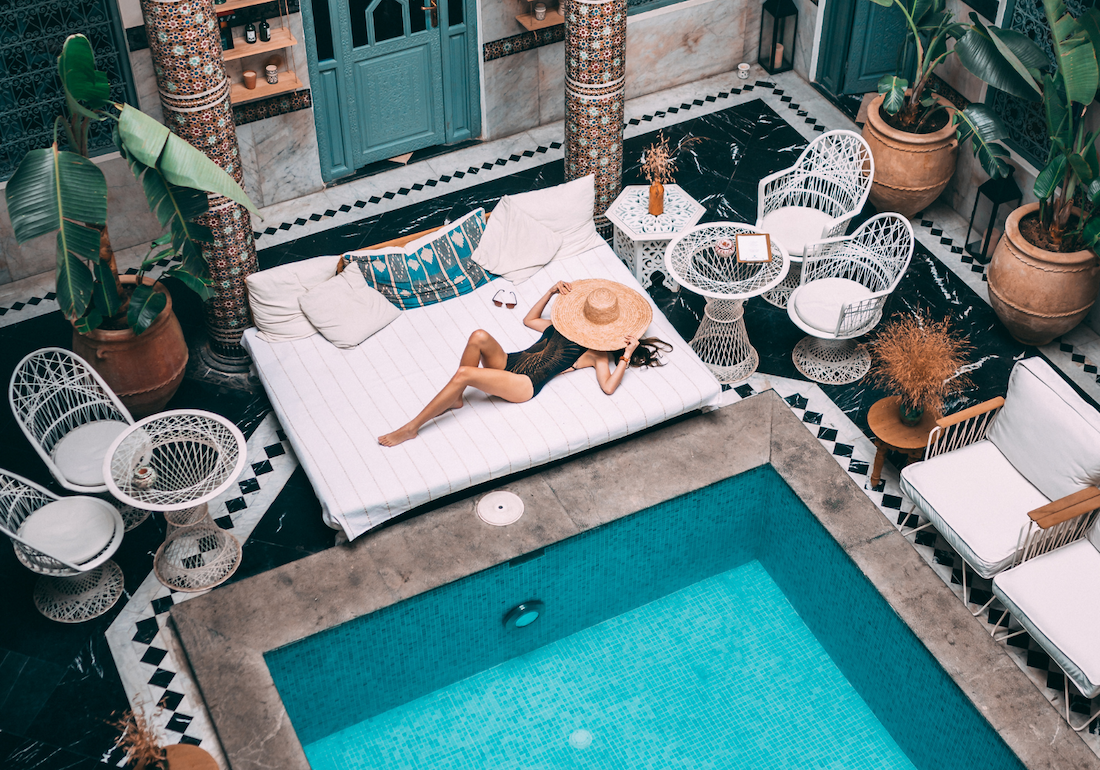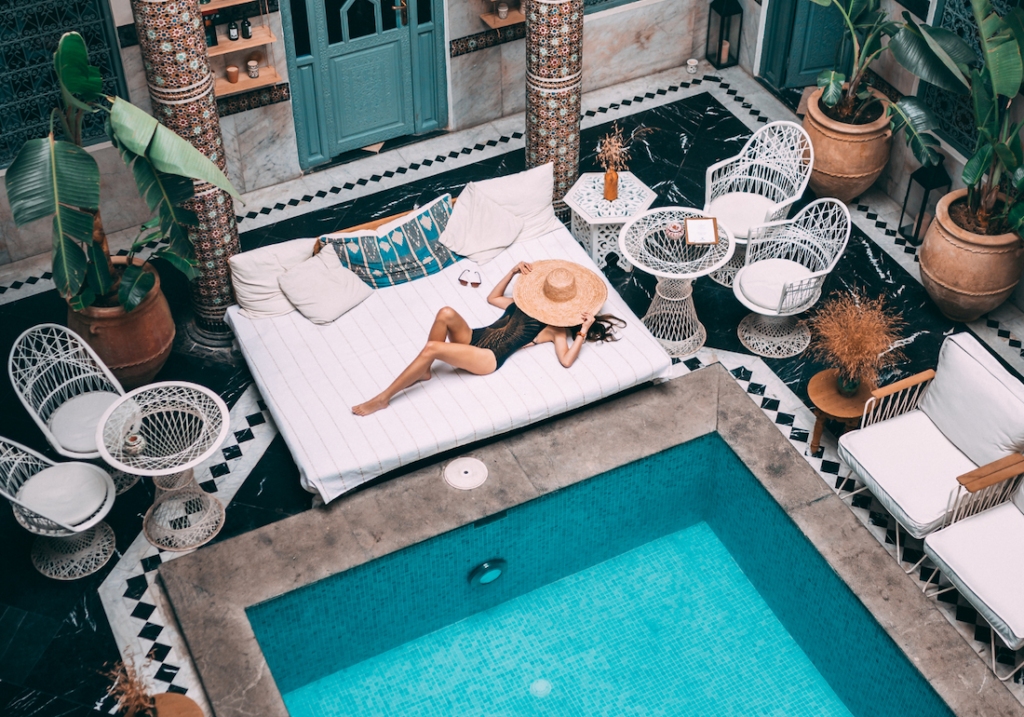 Daily average temperatures in February: High 64°F (18°C) / Low 52°F (11°C)
Very close to Tenerife and located in northwest Africa is the idyllic Marrakech in Morocco. While the temperatures are quite low for warm places in February, they aren't as icy as those in Spain and Portugal to the north and will be a few degrees warmer.
Marrakech is a mix of sounds, flavors, colors and smells that will captivate you and mesmerise you. Sample local foods at Jemaa el-Fna, marvel at the 14th century Ali Ben Youssef Madrasa, get lost (in a good way) at the souks, and visit the beautiful blue Yves Saint Laurent Majorelle Garden.
Marrakech is one of the most mesmerising places in north Africa and one of our favorite February warm destinations.
Take a day trip to Casablanca on the train and peruse the French colonial past as you witness a gorgeous blend of Moorish flavors and European Art Deco culminating in the unique Mauresque architecture. Gasp at the massive Hassan II Mosque with its 210m minaret that protrudes lasers directed toward Mecca.
Venture into Casablanca's history while visiting the Old Medina or Cinema Rialto, witness its cuisine at the Central Market, go upmarket at the Le Relais de Paris, and listen to some live music at Rick's Cafe, inspired by the 1942 classic film. It's also a great place to base yourself if you're looking to take a trip to Tangier up north or Marrakesh to the south.
Find your ideal hotel in Marrakech
Amboseli National Park or Maasai Mara, Kenya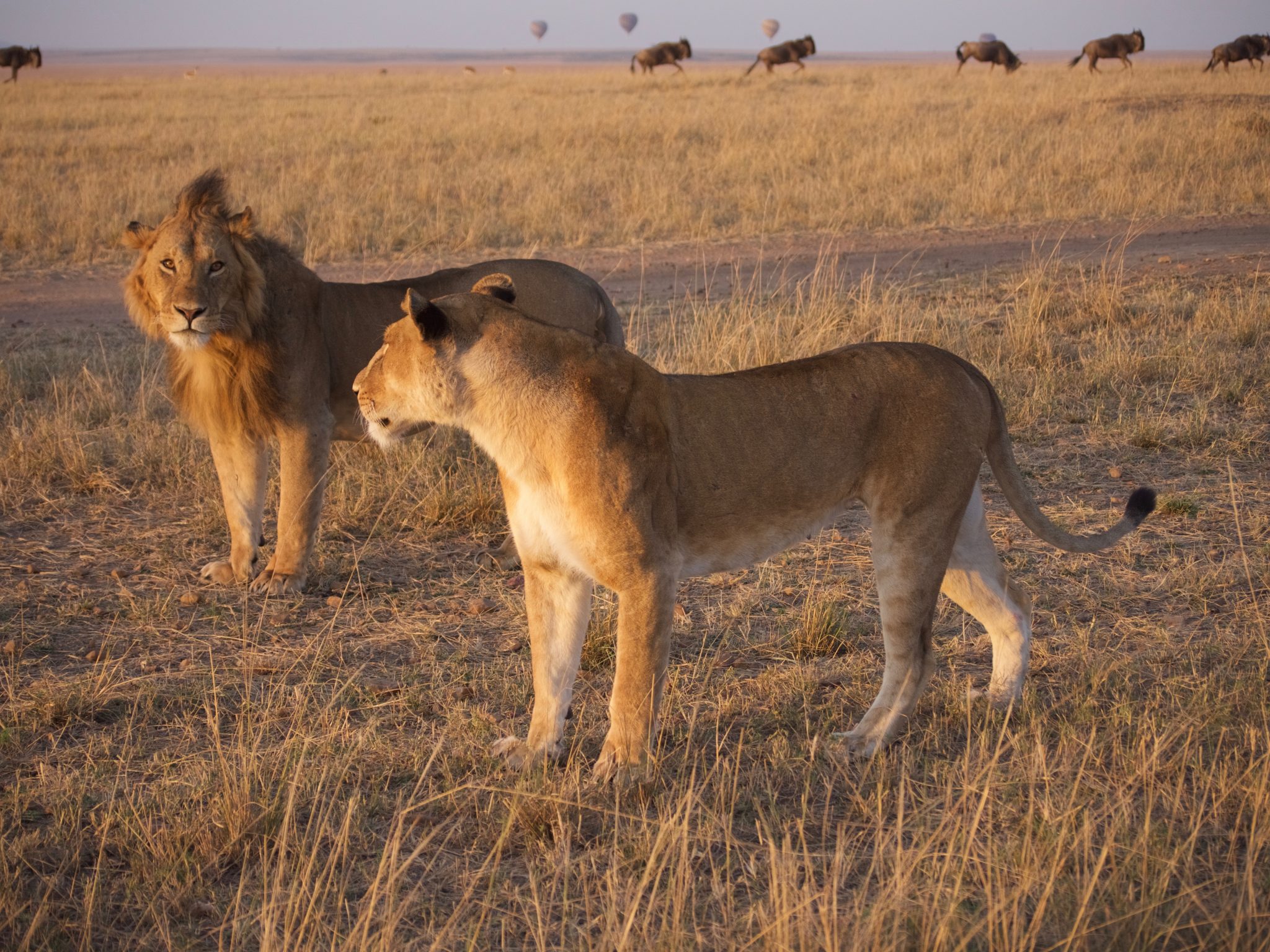 Daily average temperatures in February: High 85°F (29°C) / Low 64°F (18°C)
Another hot place to visit in February in Africa, literally and figuratively, is Kenya. This makes it the perfect time for wildlife spotting at Amboseli National Park or the Maasai Mara National Reserve as the dry season is between June to October and again in January to February.
Less rain means the animals have fewer options to visit to gain sustenance and February is perfect for seeing the little ones being born because it is calving season. The watering holes are therefore packed and full of action and the parents are ready to defend their young against predators, you may even get to see the Big Five!
Birdlife is also boosted at this time of the year as the intra-African and Palaearctic migrants arrive from other parts of the globe. Kenya at large is generally perfect to visit in February as it's relatively dry and cool.
You can explore the cultural hub of Nairobi, trek up to the top of Mount Kenya (second highest peak in Africa after Mount Kilimanjaro in Tanzania), or visit coastal Mombasa to dive and snorkel with whale sharks, manta rays, dolphins and turtles.
Find your ideal hotel in Amboseli National Park
Los Cabos, Mexico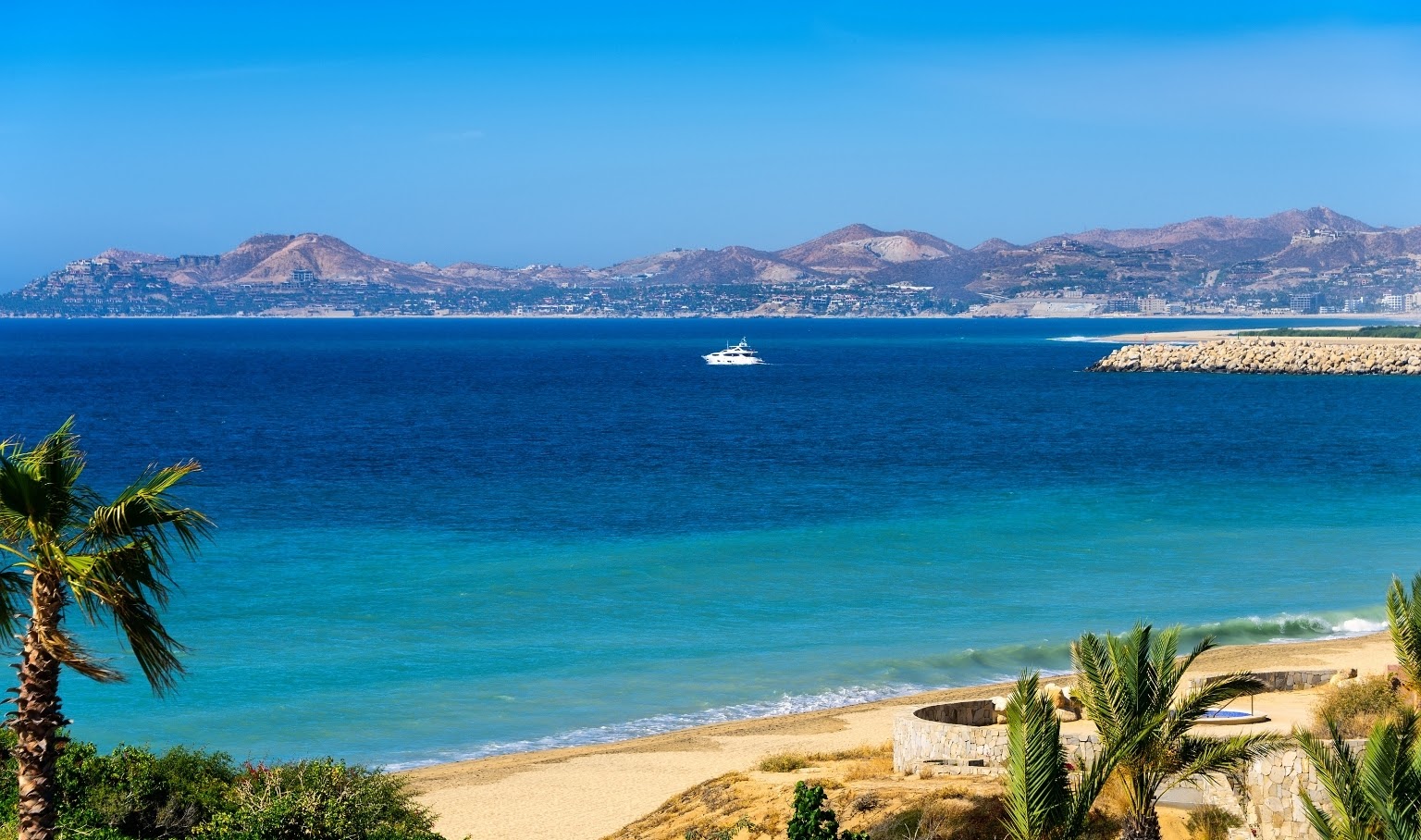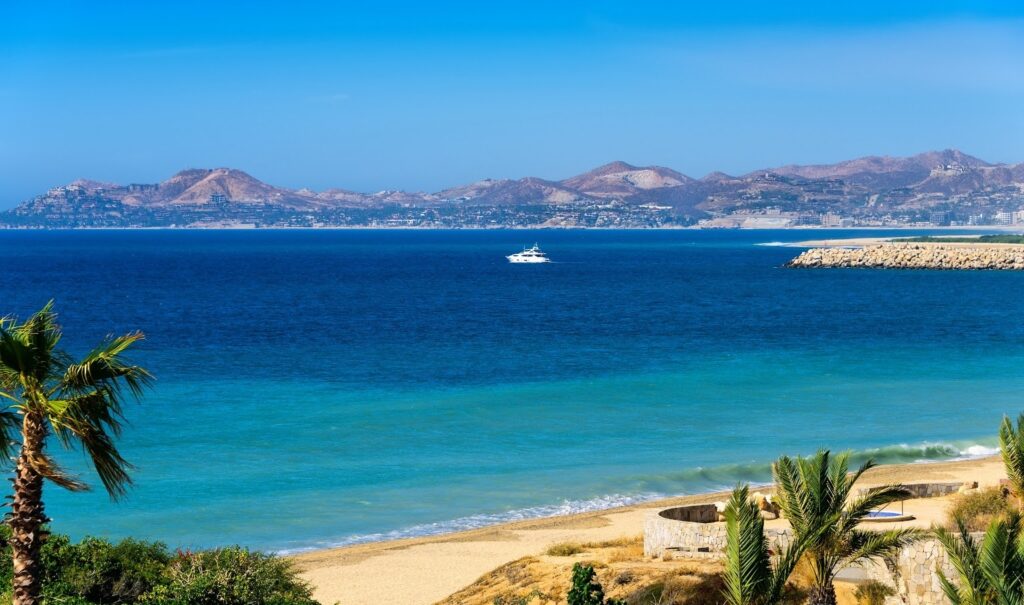 Daily average temperatures in February: High 82°F (28°C) / Low 68°F (20°C)
February in Los Cabos is right in the middle of the high season which lasts from December to April. What you'll get is perfect temperatures both day and night, loads of sunny days but also many travelers, especially traveling families on their winter breaks.
Most probably the best reason to visit Los Cabos in February is if you are a wildlife enthusiast as it's right at the end of whale season. Especially if you travel over to La Paz, you can see Humpback Whales calving, as well as Gray Whales and Whale Sharks migrating through the area. The Humpbacks are particularly playful in February.
The beaches are, of course, inviting even though the water temperatures are a bit colder than summer. Waves also run consistently throughout the year, so you can catch some waves at popular breaks like Old Man's, Zippers, The Rock, Todos Santos or Cerritos. Here are some more of the most popular things to do in Los Cabos.
Los Cabos is one of the most idyllic warm places in February in the Americas and it's just before the raucous crowd heads down from North America and Canada for Spring Break. It's not advisable to come from March to April if you want a quiet getaway as Spring Break draws massive crowds of noisy teens and college students who stay up late at night.
Find your ideal hotel in Los Cabos
Cancun, Mexico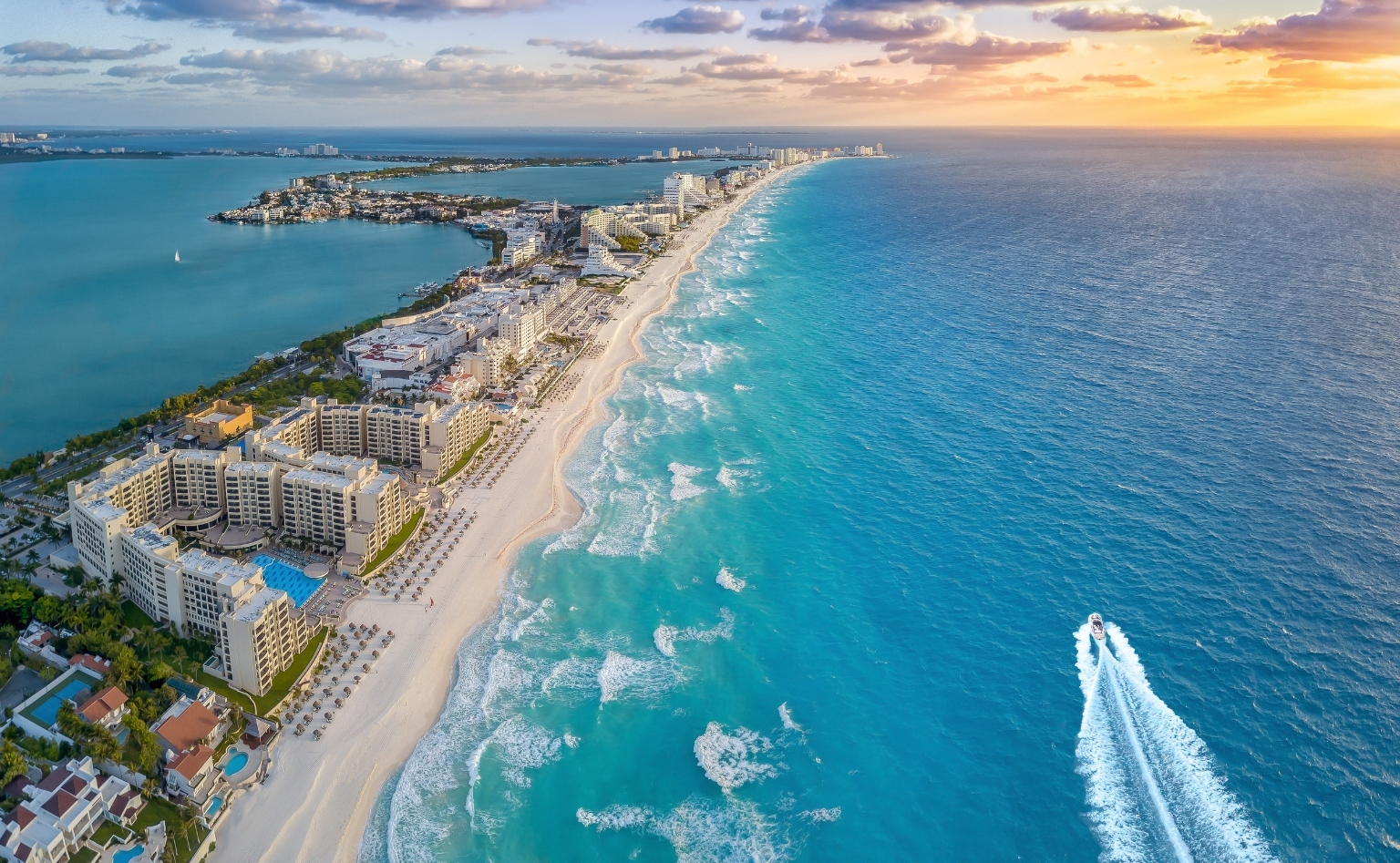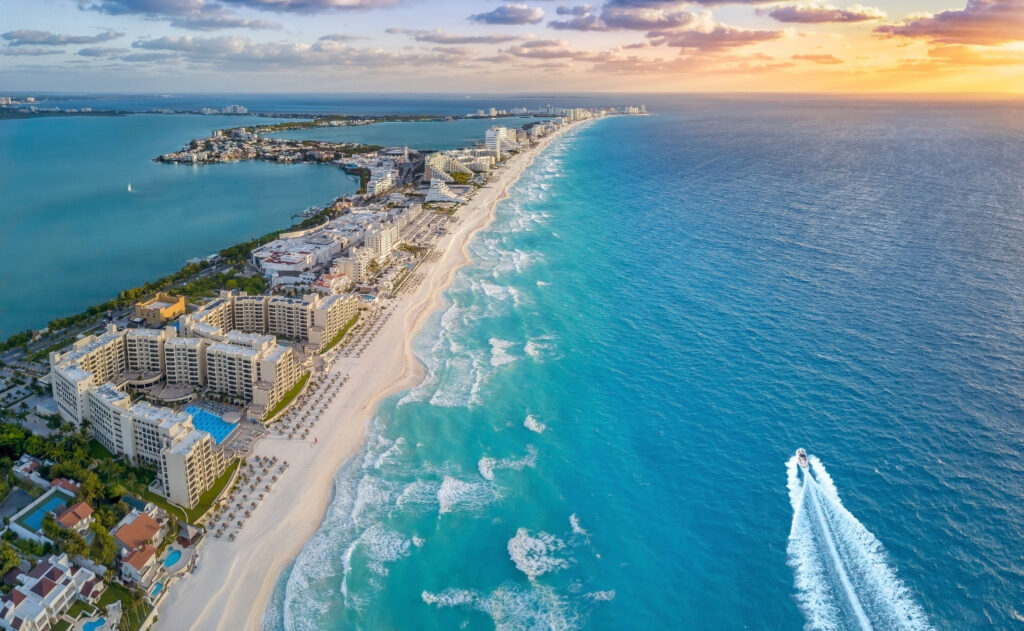 Daily average temperatures in February: High 82°F (28°C) / Low 68°F (20°C)
Over on the other side of the country, Cancun enjoys the same moderate temperatures as Los Cabos. Here too you can explore beautiful white sand beaches, luxurious resorts and sunny days during Cancun's dry season.
Also similar to Los Cabos, February is just before the rowdy crowds of Spring Break enter in their droves, so it's perfect for solo travelers who are not looking for party.
While water temperatures are at their lowest in February, it's still a great time to get some snorkeling or diving in at the reefs and or swimming at the cenotes. Unfortunately, unlike Los Cabos, there will basically be no Whale Sharks or Sea Turtles during this month.
Visit in February to see Mexico uniquely celebrates el Día de la Candelaria (Candlemas) or the vibey parties of Carnaval. A visit to Cancun wouldn't be complete without marveling at the Mayan ruins of Chichen Itza, taking a day trip to Tulum, or checking out MUSA, the underwater art museum.
Find your ideal hotel in Cancun
Phuket, Thailand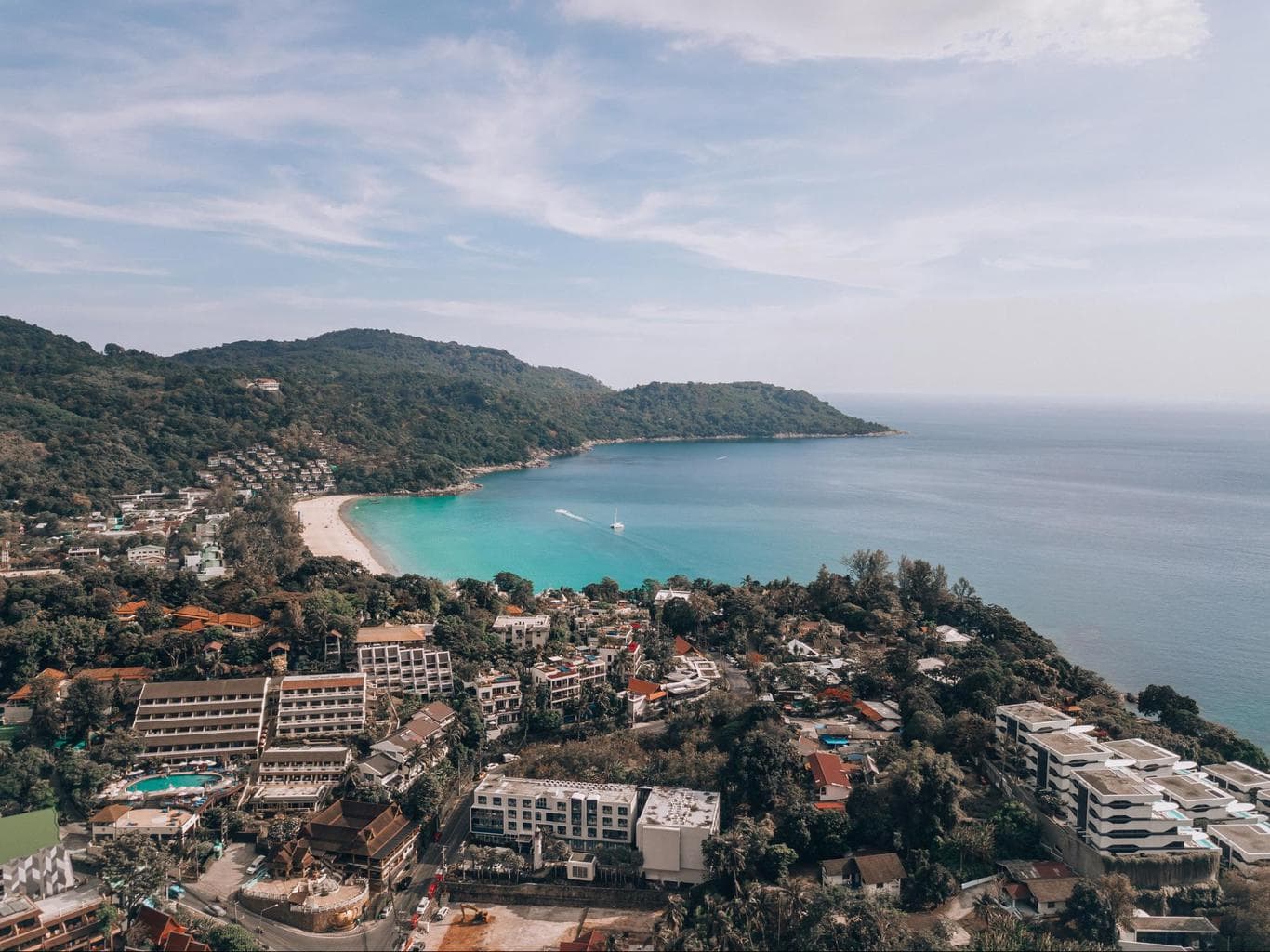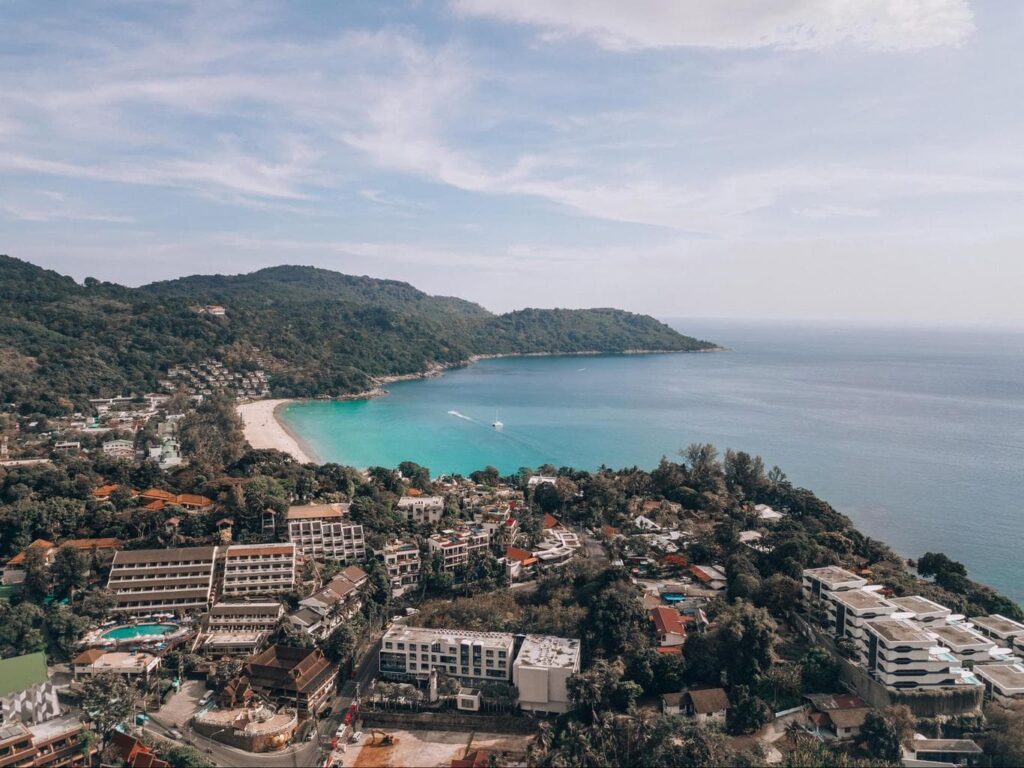 Daily average temperatures in February: High 91°F (33°C) / Low 76°F (24°C)
Phuket is a holiday favorite no matter the month. So, it's not only a warm February destination, but has amazing temperatures throughout the year.
Monsoon season in Phuket lasts from May to October, so you're definitely safe concerning the rain, there may be the occasional drizzle, but nothing serious.
While it may be busy with tourists, February comes right at the end of the high season, so things are dying down a little. This means you can still enjoy all the best things to do in Phuket from lazing about the pristine beaches or island hopping to enjoying the free-spirited nightlife or taking in the culture in Phuket Old Town.
Some of the best islands to explore include Koh Yao Noi, Koh Racha, Koh Phi Phi or those in Phang Nga Bay. And we always recommend a visit to Sri Panwa, especially the rooftop bar which has some of the best views of the Andaman Sea.
Find your ideal hotel in Phuket
Singapore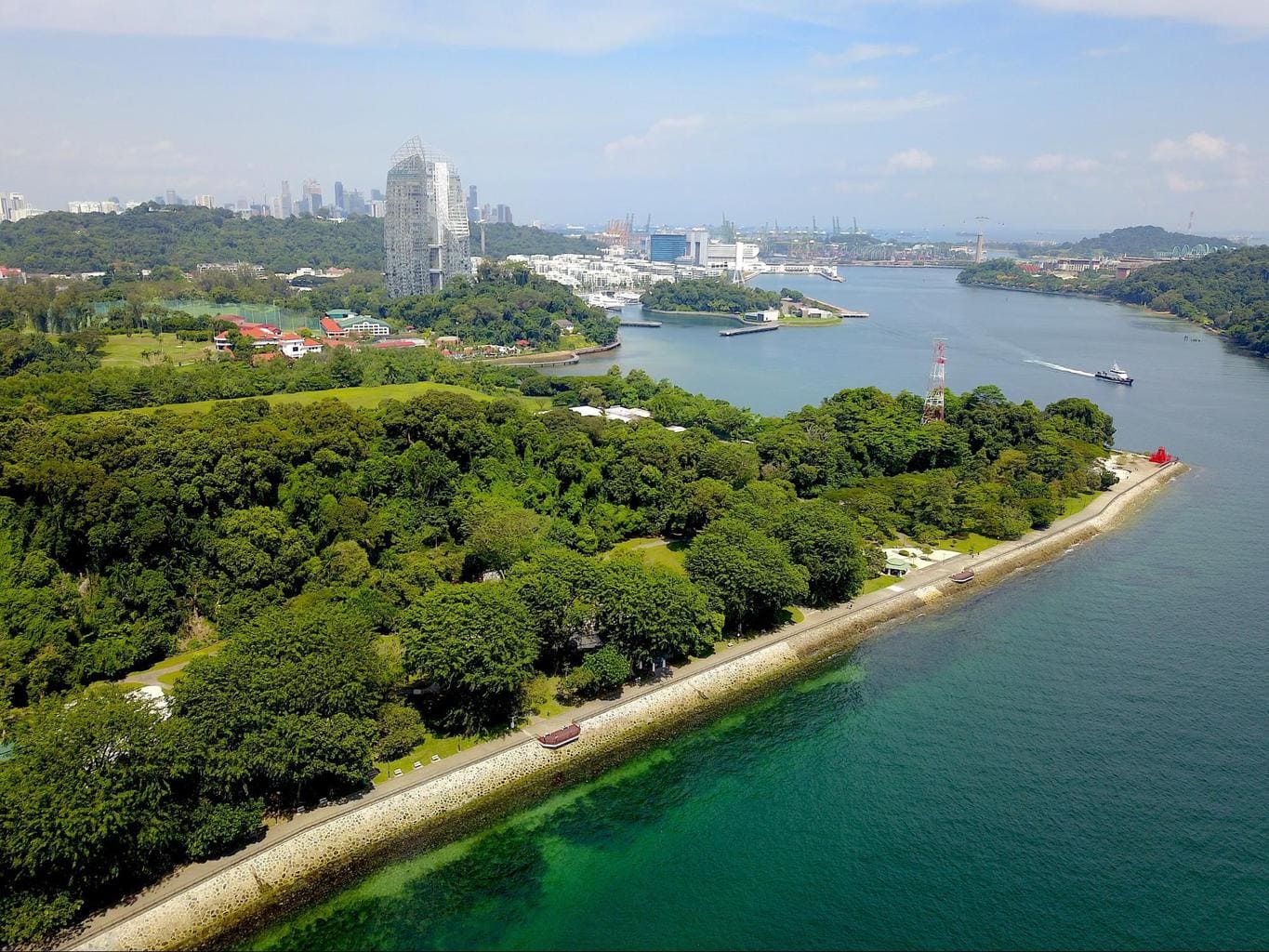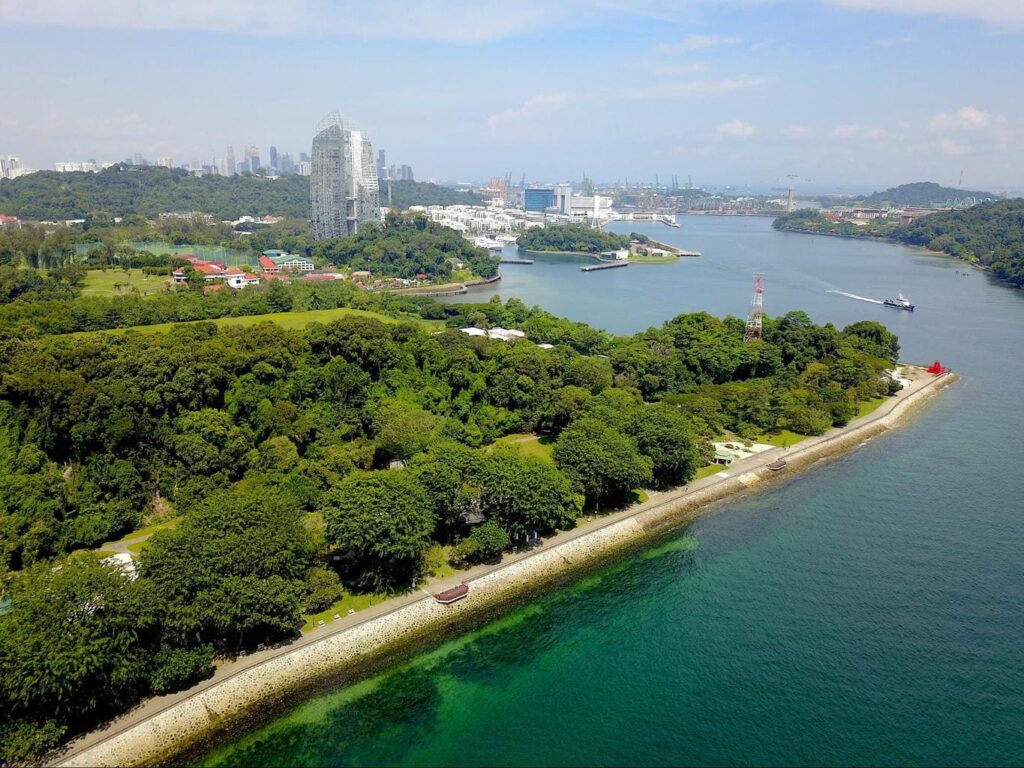 Daily average temperatures in February: High 89°F (32°C) / Low 76°F (24°C)
One of the top warm places in February is definitely the city-state of Singapore. The Northeast Monsoon season comes to an end during this month, so while there is some rain, it's worlds apart from the downpours of the previous month. As the month progresses, you can expect less rain.
February is also Singapore's least humid time of year, which is greatly welcomed in such a tropical equatorial country. The temperatures are still super warm, so exploring the hiking trails and Singapore's parks like MacRitchie Reservoir or Labrador Nature Reserve should be reserved for early morning or late afternoon. As should exploring the outside of Sentosa Island.
The rest of the time you can explore all the most famous sites like Haji Lane, Marina Bay Sands, Gardens by the Bay (especially the temperature controlled Flower Dome), the multitude of museums and art galleries, or the various Hindu and Buddhist temples.
If it does rain, fear not as there are so many indoor activities to do in Singapore when it rains like getting lost in the eccentric Mustafa center. With all the things to do in Singapore, it's unlikely you'll get bored.
Find your ideal hotel in Singapore
US Virgin Islands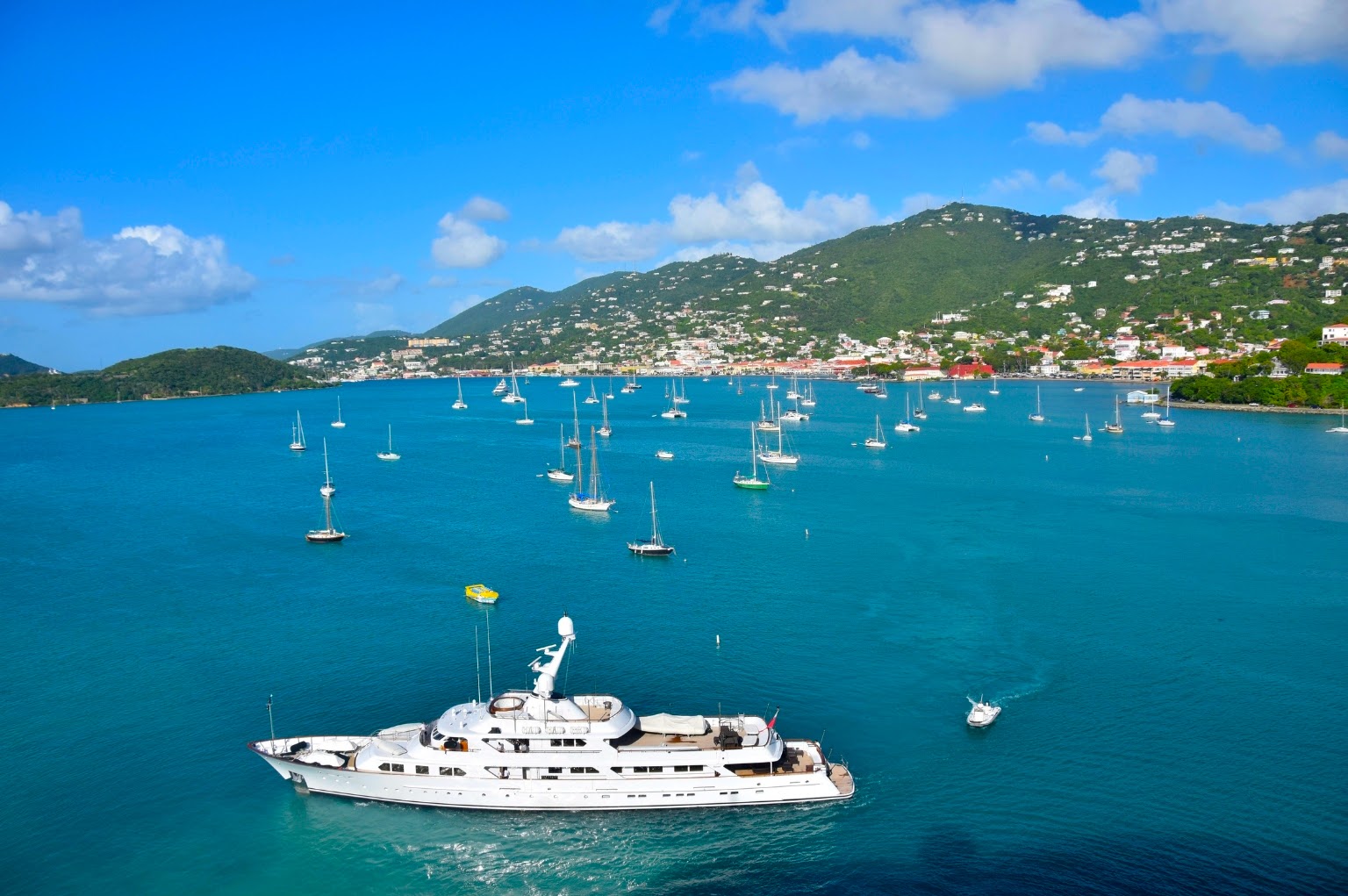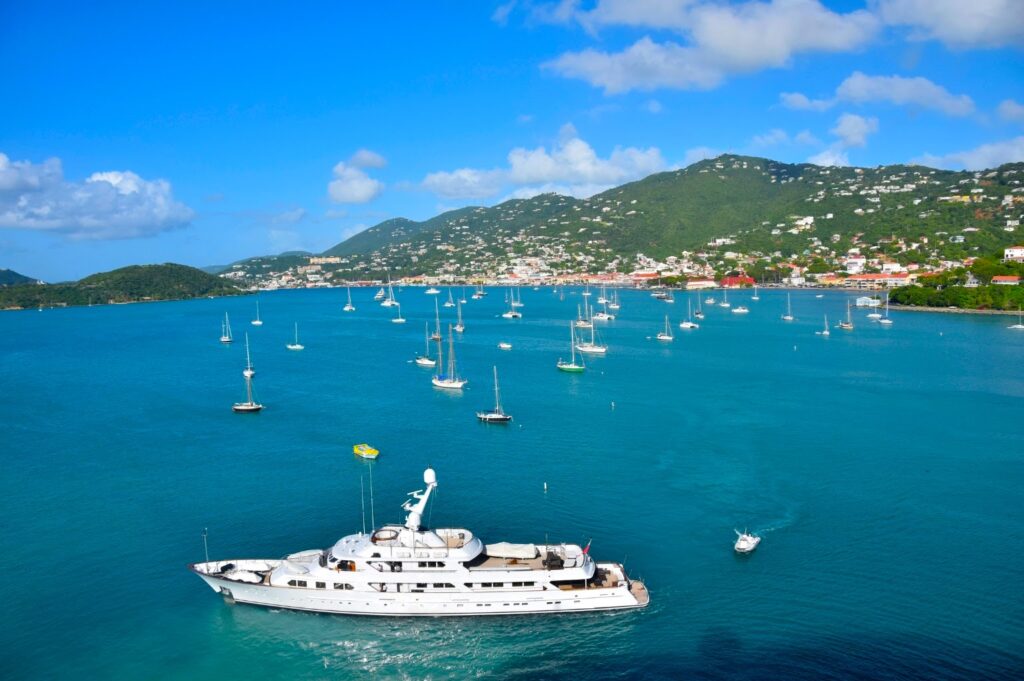 Daily average temperatures in February: High 83°F (28°C) / Low 72°F (22°C)
The US Virgin Islands (USVI), is a cluster of four islands and some 50 smaller islets and cays in the Caribbean. These islands, along with the UK Virgin Islands, are situated in the Lesser Antilles just east of the Greater Antilles which consists of Cuba, Jamaica, the Cayman Islands, Haiti/Dominican Republic and Puerto Rico.
Four of the largest and most popular islands include St Croix, St Thomas, St John and Water Island. While the festive season is in the past, February still sees the "Christmas Winds", which brings through a welcoming evening breeze.
St Croix is a fun place to visit in February with annual events including AgriFest, a local produce and market festival and Mardi Croix, a mini Mardi-Gras. St Thomas is a stopover island for many of the cruise ships, but you can visit some of the off-the-beaten paths among the natural beauty when exploring solo. St John is less touristy where you can do some snorkeling, chill on the white-sand beaches or hike through the lush, tropical Virgin Islands National Park.
Find your ideal hotel in the US Virgin Islands
Tenerife, Spain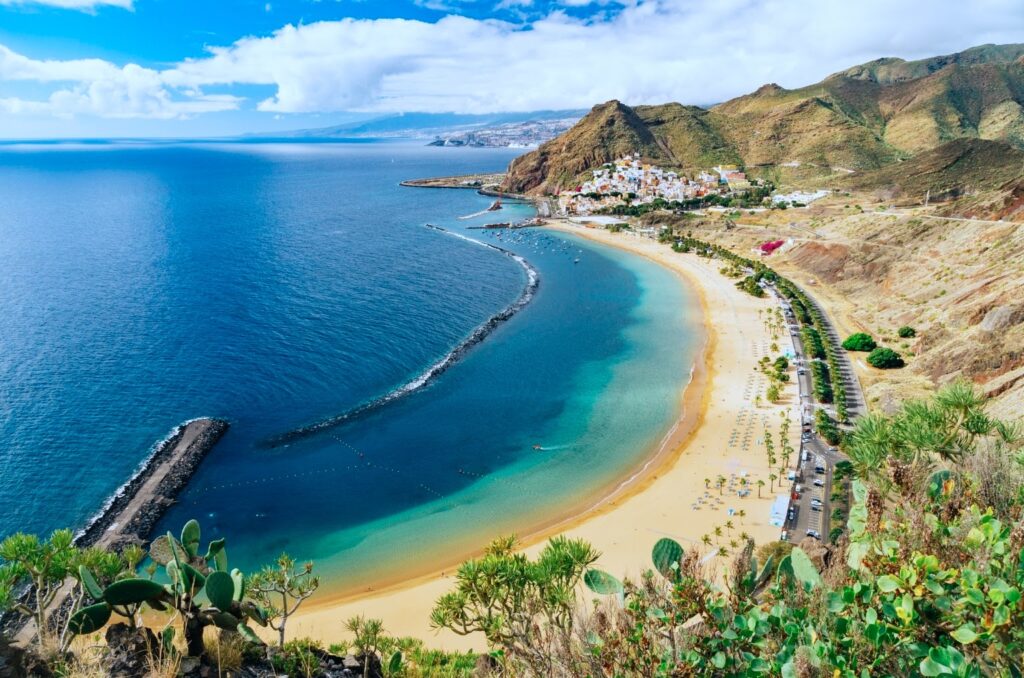 Daily average temperatures in February: High 71°F (22°C) / Low 60°F (16°C)
Tenerife is the largest of the Canary Islands, and is an autonomous region of Spain. It's situated just off the coast of Morocco in northwestern Africa, giving it a beautiful blend of African sun and Spanish culture.
Tenerife is most well-known for both its black and white-sand beaches, its active volcano Mt. Teide with an astronomical observatory and its top-tier hotels and resorts. It's a very popular vacation destination for European families due to its close proximity to the Western part of the continent.
Temperatures in February are mild, so you can explore the beaches by day, get a little hiking done, or do some whale and dolphin watching at Costa Adeje, which lasts the entire year.
While it is a family-friendly destination, there are also world-class restaurants like the Michelin-starred Kazan, luxe hotels including the The Ritz-Carlton, Abama, and adults-only resorts in picturesque villages like Boutique Hotel San Roque in Garachico for those solo travelers looking for a great destination.
Find your ideal hotel in Tenerife
Kingston, Jamaica
Daily average temperatures in February: High 85°F (29°C) / Low 74°F (23°C)
The Caribbean island nation of Jamaica is always a good idea. While hotel rates are lower in November and December, February sees the most magical and idyllic weather conditions.
The entire island of Jamaica is perfect for a winter stopover from the all-inclusive resort cluster in Montego Bay, to the diving and snorkeling sites of Negril.
Take a deep dive not only into the magical blue waters but also the lively culture that Jamaica is famous for. From the enthralling Reggae music to the most delicious cuisine including Ackee and codfish, Jerk chicken, Oxtail or Curry.
Laze back into the unique island rhythm while sipping rum under a thatched-roof hut as you forget about the icy snow storms back at home. Pay your respects to Jamaica's most iconic musician at the Bob Marley Museum in Kingston, explore the most epic waterfalls Dunn's River Falls & Park up north, sample pure Jamaican Blue Mountain Coffee, or rejuvenate yourself at the Blue Hole Mineral Spring.
Find your ideal hotel in Kingston
Bridgetown, Barbados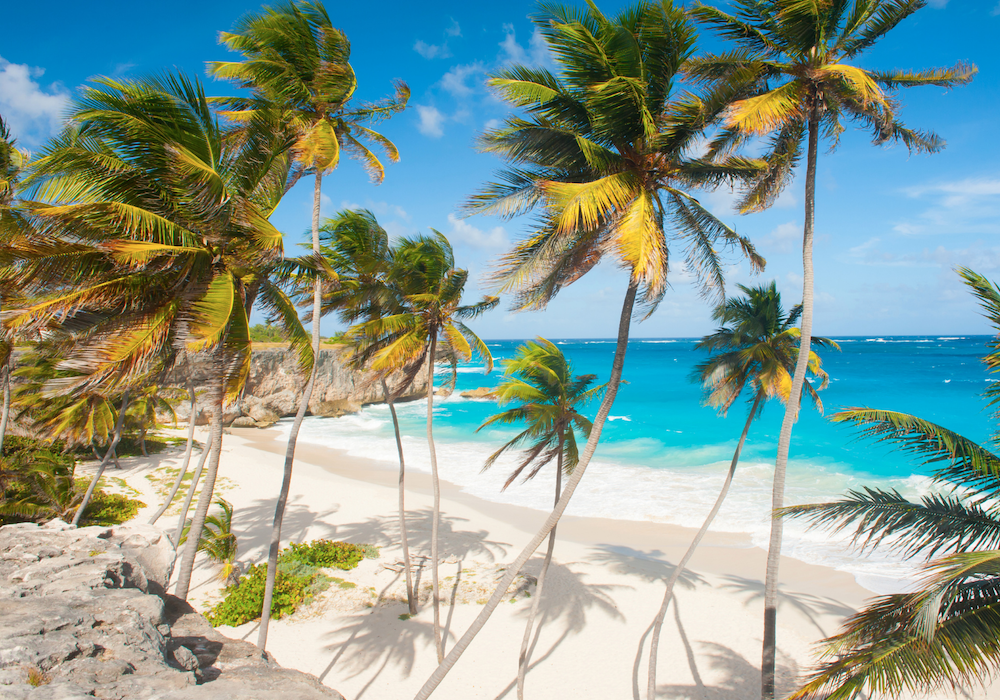 Daily average temperatures in February: High 84°F (29°C) / Low 76°F (24°C)
Barbados is one of the most idyllic spots to spend the month of February. This Caribbean island sees both warm weather and waters with loads of sunshine and low humidity, the temperature is just right for lazy beach days or adventurous water sports.
It's also during the dry season, so you can rest assured that you can spend your days outdoors enjoying all Barbados has to offer. Enjoy the picture-perfect beaches, stroll around the botanical gardens like Andromeda Gardens, or explore Harrison's Cave formation.
Take a look into the island's history and culture by checking out the 17th-century plantation houses like St. Nicholas Abbey or joining the locals for some high tea and a game of cricket. As the sun sets, there's no better way to enjoy the Caribbean than sipping on the local Mount Gay rum, the world's oldest commercial rum distillery.
Find your ideal hotel in Bridgetown
Punta Cana, Dominican Republic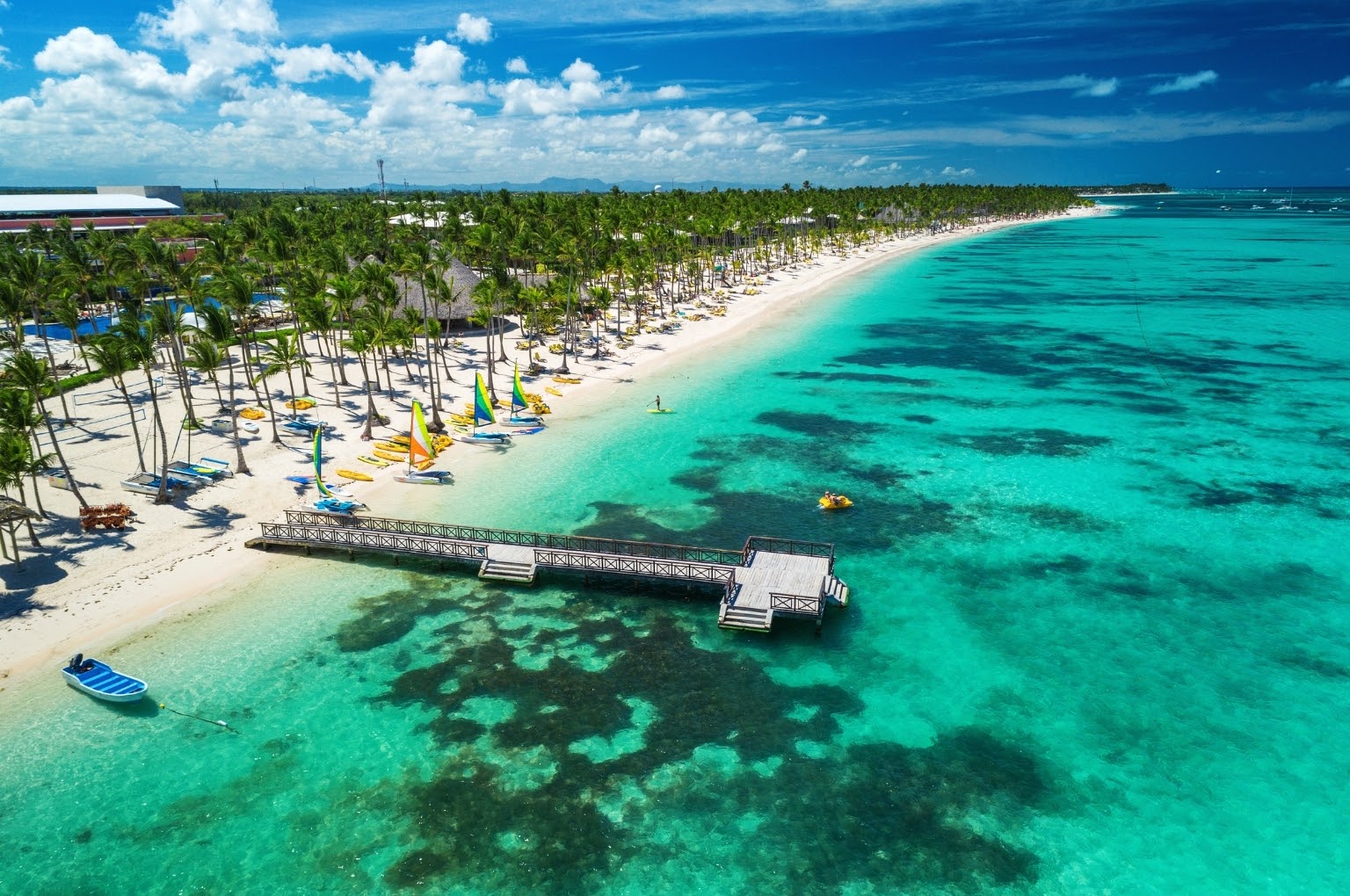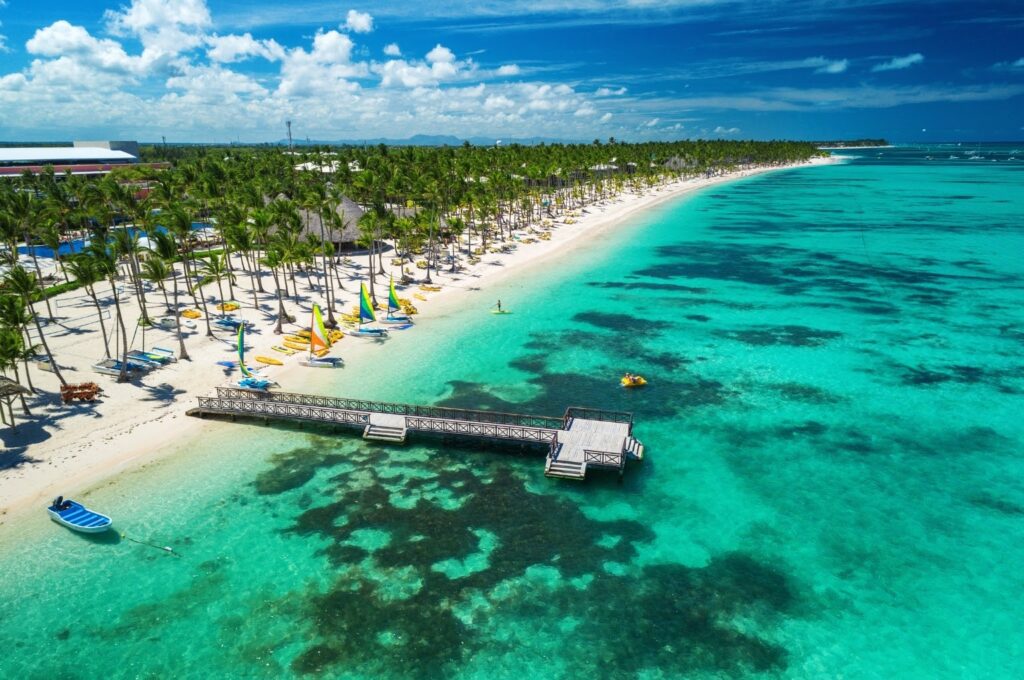 Daily average temperatures in February: High 83°F (28°C) / Low 72°F (22°C)
Sharing the island of Hispaniola with Haiti to the west, the Dominican Republic is a gorgeous Caribbean nation that provides a dry, warm and tropical climate in February. Rainfall is at its lowest of the year during the second month, so you can relax on the beach from sunrise to sunset.
Not only is the weather hot, but the people are infamously warm and friendly too. Dive deep into the history and culture of this very unique country, which is a blend of European, African and Taíno elements.
It only takes around 6 hours to drive from one end of the country to the other, so you can really explore all the hidden gems with almost no effort. But the place where you'll base yourself is most likely the resort town of Punta Cana that boasts a 32km stretch of beaches with crystal clear waters along La Costa del Coco (Coconut Coast). Try your hand at zip-lining, windsurfing, kayaking or sailing.
Find your ideal hotel in Punta Cana
Easter Island, Chile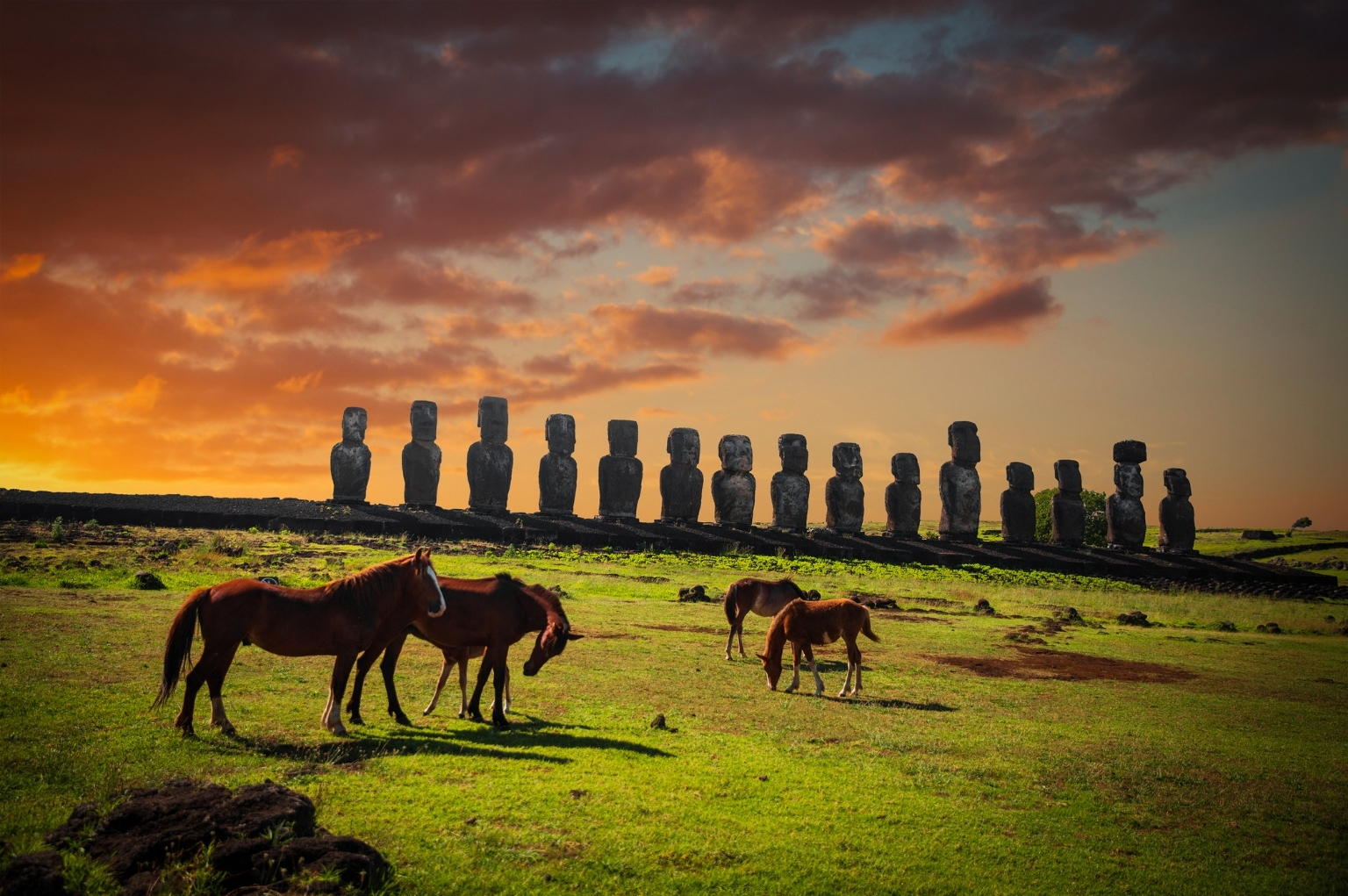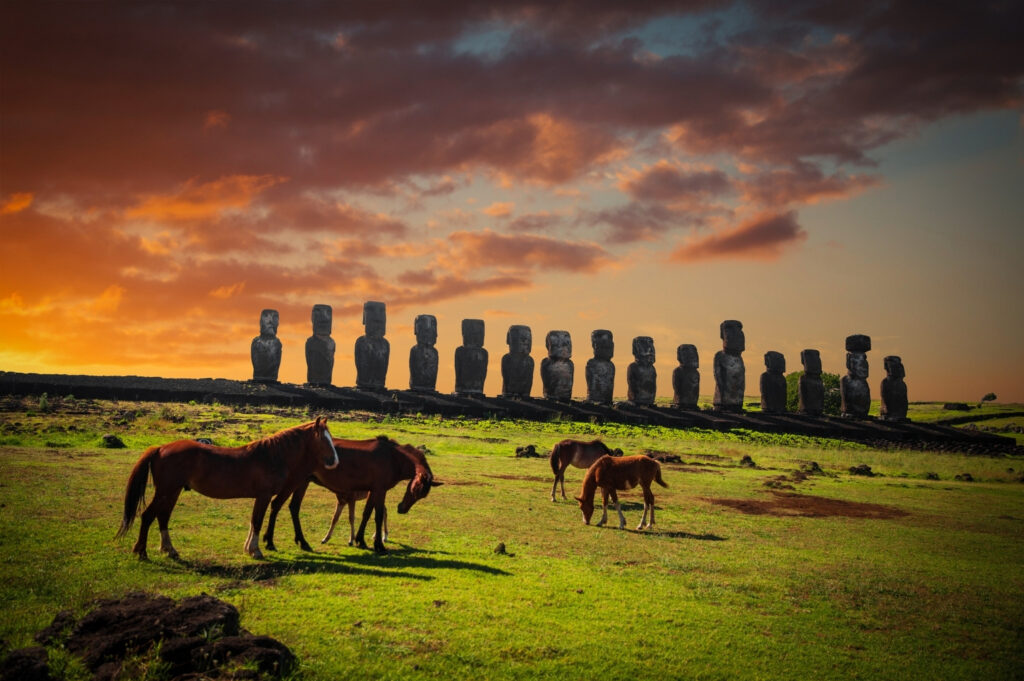 Daily average temperatures in February: High 81°F (27°C) / Low 68°F (20°C)
Another one of the best warm places in February is the iconic Easter Island of Chile. This bucket list destination lies in the middle of the South Pacific Ocean and is most famous for its iconic Easter Island Heads or Moʻai (pictured above), carved by the Rapa Nui people some time between the years 1250 and 1500.
But once you've visited the Heads there is plenty to do, especially if you're a surfer or diver. You can actually be escorted on a guided diving adventure to see the additional Moʻai underneath the water near Hanga Roa.
The weather is nice and balmy as the sweltering heat of summer has finally passed by. So it's a great time to take a slow stroll along the north-west coastal path to explore the fallen Mo'ai, the gorgeous pastures or the jaw-dropping South Pacific scenery.
Find your ideal hotel in Easter Island
Rio De Janeiro, Brazil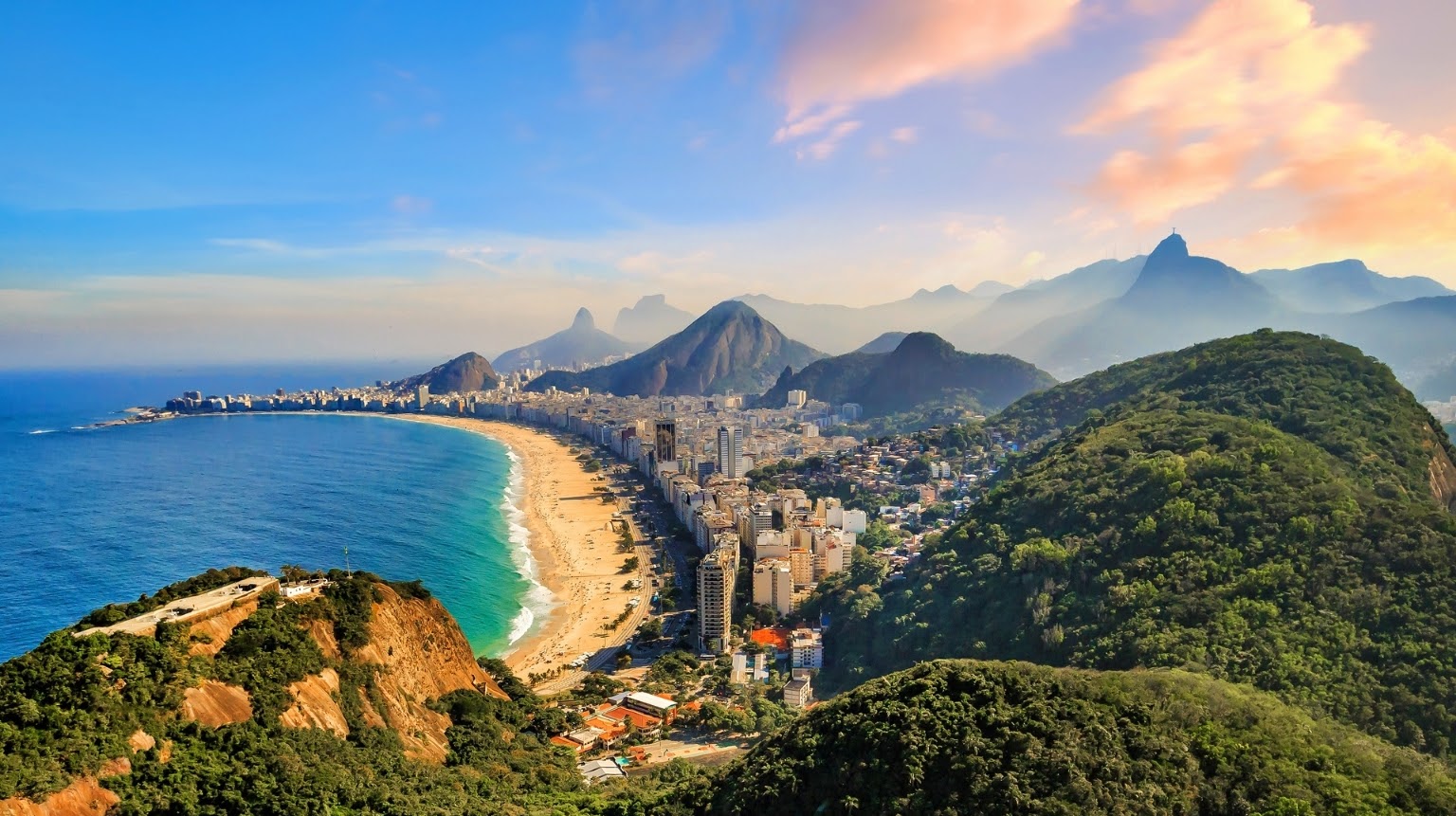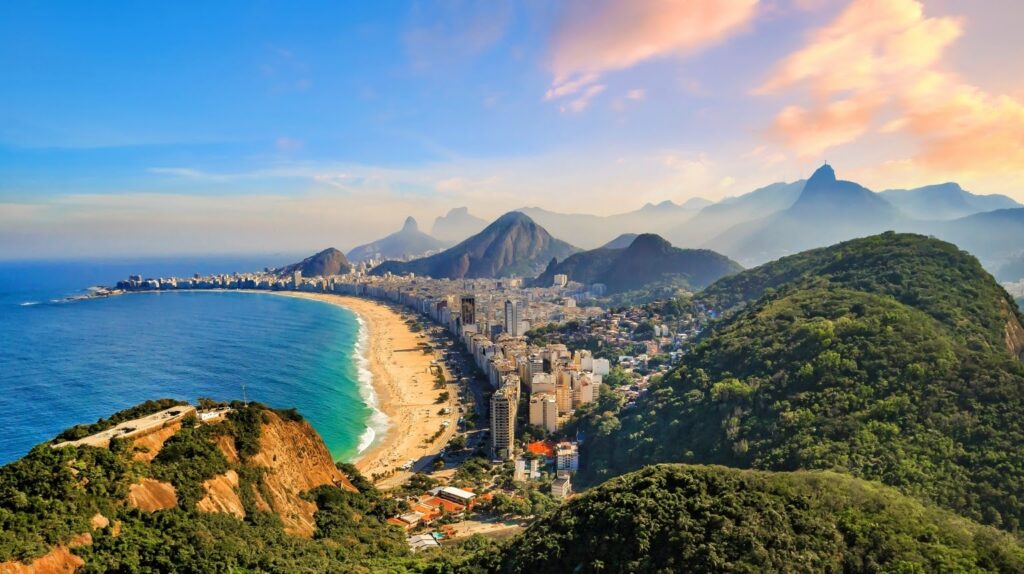 Daily average temperatures in February: High 88°F (31°C) / Low 76°F (24°C)
Only one thing comes to mind when mentioning February in Brazil – Carnival! With the busiest time of the year also comes the most colorful and festive. What you'll get are a host of different parades, street parties and the constant beat of the samba drums.
Although some of the most luxurious resorts along the Copacabana like the Belmond Copacabana Palace or the Ocean Spa Suites offer tranquility and extravagance, now is not really the time for relaxing. Join the biggest party on earth at the Sambadrome as you watch in awe all the marvelous parade floats, sexy samba dancers and extravagant costumes.
Don't think you can escape the festivities elsewhere as the entire country celebrates Carnival throughout the month. Now's your chance to take a samba class as you get into the spirit of the festival.
Find your ideal hotel in Rio De Janeiro
Gokarna & Chennai, India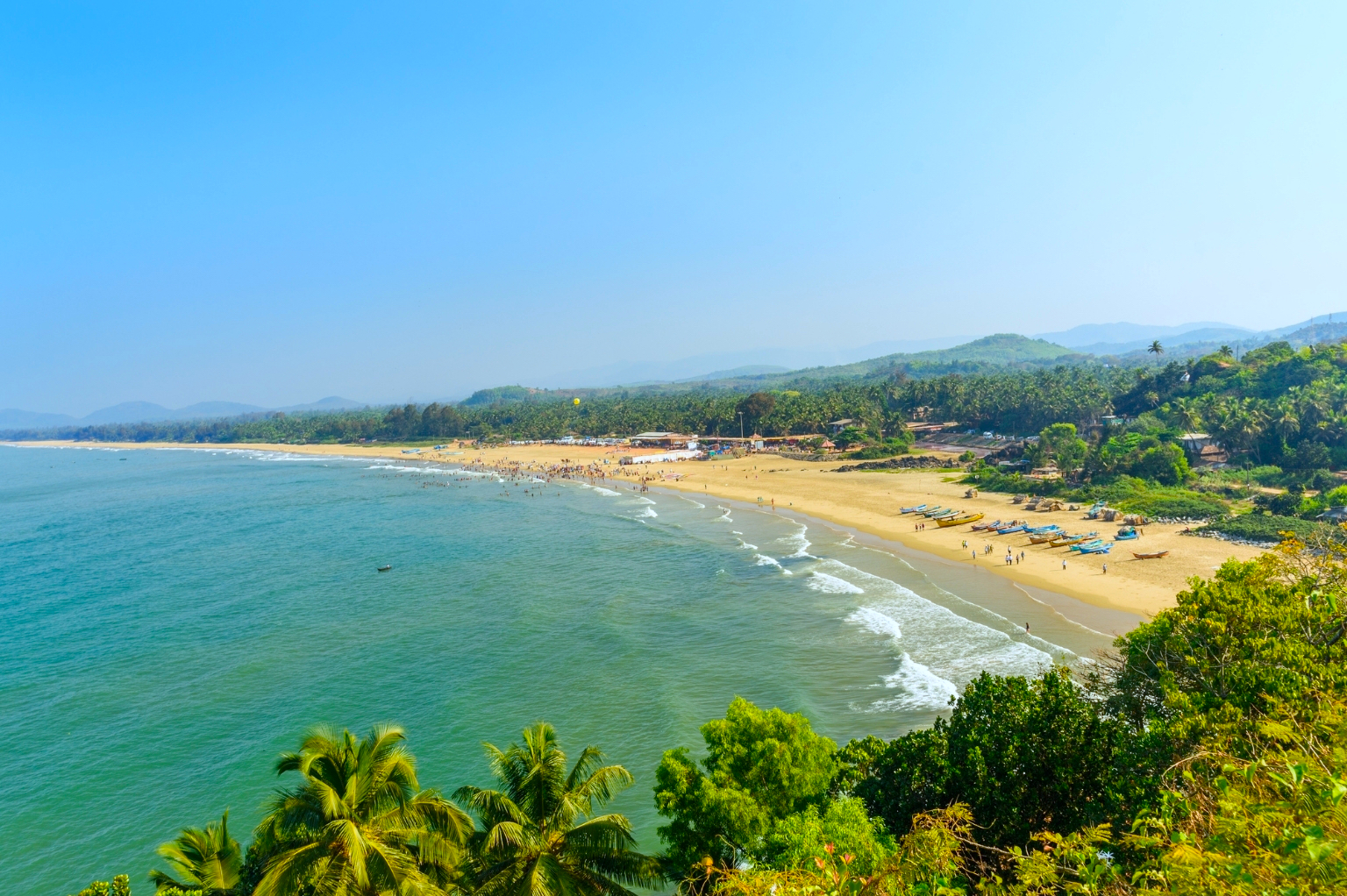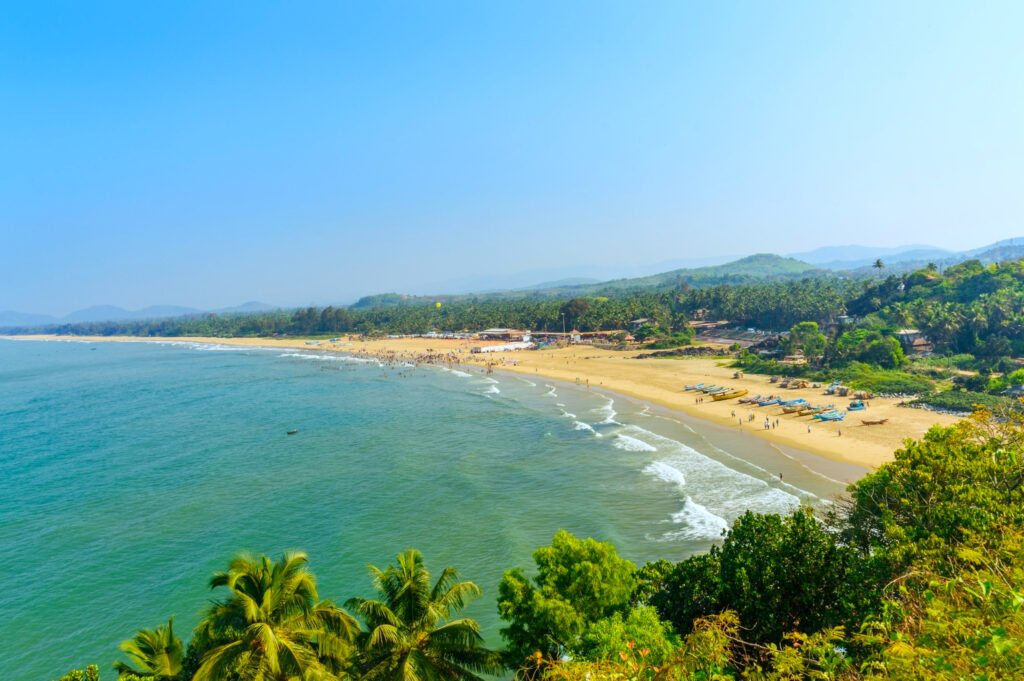 Daily average temperatures in February: High 88°F (31°C) / Low 68°F (20°C)
India is a massive country that extends from the southernmost state of Tamil Nadu to the northernmost states of Jammu and Kashmir close to China and Pakistan. So visiting India in February will have a range of temperatures from highs of 90°F (32°C) in the south to 34°F (1°C) in the north.
There are several amazing warm places in February to visit in India, but we'd like to recommend you go more south and possibly stay by the ocean. The summer months can get a bit extreme in certain places, so it's a great time to experience the south of India without constantly sweating.
While you could go party it up in Goa, a quieter spot to visit is Gokarna just south in the state of Karnataka. While quite busy, this town has some perfect beaches to relax at as well as top-notch hotels like Kahani Paradise, right by the aptly named Paradise.
Over to the east coast, but basically on the same latitude and therefore the same temperatures, is Chennai in Tamil Nadu. There are also some great beaches in Chennai, but the best part about visiting Chennai in February is that you can visit all of the best temples at the Mahabalipuram UNESCO site without absolutely dehydrating.
Find your ideal hotel in Gokarna
Find your ideal hotel in Chennai
Luang Prabang, Laos
Kuang Si Waterfall in Luang Prabang
Daily average temperatures in February: High 90°F (32°C) / Low 59°F (15°C)
Like most of Southeast Asia, Laos has two very distinct seasons, hot and wet in May through October, and cooler and dry from November to April. We prefer the latter option as the rain and monsoon weather can really dampen your time (pun intended) as activities become difficult to accomplish.
February is the perfect time to visit Laos as the weather is still super warm during the day with a milder evening temperature. This means you can explore the country at your leisure, no matter if you're the intrepid type looking to hike, cycle and spelunk or if you're more into the culture and just want to sightsee or laze down the Mekong
What you'll find in Luang Prabang are a plethora of ancient Buddhist temples like Wat Xieng Thong and Wat Mai, great kayaking opportunities along the Mekong, trekking around Phousi Mountain or Kuang Si Waterfalls, or taking a stroll through the Handicraft Night Market.
Find your ideal hotel in Luang Prabang
Hoi An, Vietnam
Hoi An sunset
Daily average temperatures in February: High 79°F (26°C) / Low 68°F (20°C)
If you don't like blistering heat and sweating constantly, then try to make it to Central Vietnam in February. Just like Laos, Vietnam experiences two monsoon seasons depending on where you're heading to. There's the south or southwesterly monsoon from May to September near Ho Chi Minh and the northeast monsoon from October to April around Hanoi.
As Hoi An is right in the center of the country you'll see most of the rainy days between September and January. This means that February is the perfect time to visit Hoi An and the surrounding coastal cities of Da Nang and Hue with the world cultural heritage area of My Son.
Central Vietnam is extremely rich in heritage and history. There are four UNESCO World Heritage Sites and was an important center of political influence during the Champa Empire, so it is the Cultural capital of Vietnam. You can explore the ruins of ancient temples in My Son, the beach resorts of Da Nang, the culturally-rich imperial city of Hue, UNESCO My Son and the lantern-filled streets of Hoi An.
Find your ideal hotel in Hoi An
Galle & Yala, Sri Lanka
Dutch Fort and beaches of Galle
Daily average temperatures in February: High 86°F (30°C) / Low 75°F (24°C)
The best time to travel around Galle and Yala in Sri Lanka is definitely in the drier months which are from December to April. This makes Galle one of the most beautifully warm places in February to visit.
Sri Lanka has a lot to offer due to its very unique Portuguese, Dutch and British colonial history combined with the local culture. You can visit historic sites like the Dutch Fort and Groote Kerk (the Dutch Reformed Church), take a quaint bike ride around the lagoon, or canoe and even mountain bike around magical Unawatuna which is home to the Japanese Peace Pagoda. Funnily enough, the famous historic 5-star seafront hotel Galle Face Hotel is actually in Colombo, the capital and only a 2hr drive up north.
Uga Chena Huts near Yala
Over to the east is the absolutely gorgeous Yala, situated within the Lunugamvehera National Park. This is one of the only spots in South Asia where you can go on safari to see all kinds of wildlife, but the most elusive and prized animal you may get to see is the Sri Lankan leopard. In fact Yala has the highest concentration of leopards in the world!
Originally a hunting grounds for the British elite during colonial times, it is now a protected park with 44 mammal species and 215 bird species. So you can see deer, water buffalo, elephants and more. Go for a day trip to Yala's Block 1 to see the wildlife or stay longer at Block 5 in one of the magically luxe hotels. We would highly recommend a stay at Uga Chena Huts, very close to Block 1 as it really is an out of this world stay.
Find your ideal hotel in Yala
Rajasthan, India
Hawa Mahal in Jaipur, also known as the Pink City, in Rajasthan
Daily average temperatures in February: High 79-84°F (26-29°C) / Low 52°F (11°C)
We have included an entire state and not just one city in this section of warm places in February. The fact is, we couldn't just choose only one spot in India's beautiful Rajasthan as there are so many amazing places to visit during the cooler months of winter.
Generally Rajasthan is best visited when the temperatures are cooler, from November to February, as it can get a bit extreme when the heat arrives. Unlike some Indian states which are very large in length and can therefore vary in temperature, Rajasthan is wider and therefore shares even temperatures throughout. While warm during the day, nights can get pretty cold, so you should prepare for this.
There are four cities we would recommend you visit on your winter journey to Rajasthan – Jaipur, Udaipur, Jodhpur and Jaisalmer. Each is known for its unique features, so you can spend time at one only or visit them all on a massive trip around Rajasthan, depending on your time and budget.
Jaipur is known as the Pink City due to the exclusive color of the architecture, particularly the iconic Hawa Mahal. The entire walled city is in fact a UNESCO heritage site with major sites that include Amer Fort, Jaipur City Palace, the floating Jal Mahal, Jaigarh Fort, the Panna Meena Ka Kund or Chand Baori stepwell and Nahargarh Fort.
Udaipur is the City of Lakes, due to its cluster of man-made lakes. One of the first Hollywood movies set in India was shot here, which is 1983's James Bond Octopussy. Lake Pichola is one of the best with the iconic Taj Lake Palace (Jag Niwas) and Jagmandir, which was the Maharana pleasure palace and is said to be the inspiration for the Taj Mahal.
In contrast to Jaipur's pink, Jodhpur is the emblematic Blue City due to the Brahmin houses that surround the towering red Royal Mehrangarh Fort. After getting all your content for Insta at the various blue houses, take a look at the Ghanta Ghar clock tower, shop at Sardar market, get some more content at Toorji-Ka-Jhalra stepwell, or even zip-line around the fort.
Finally you can visit Jaisalmer or the Golden City, very close to the Pakistani border. Once a thriving city along the Silk Road, Jaisalmer is now visited mostly for its glorious architectural marvels as well as its unique desert location along the outskirts of the inhospitable Thar Desert.
Find your ideal hotel in Jaipur
Find your ideal hotel in Udaipur
Find your ideal hotel in Jodhpur
Find your ideal hotel in Jaisalmer
Siem Reap, Cambodia
Angkor Wat at sunrise in Siem Reap
Daily average temperatures in February: High 91°F (33°C) / Low 73°F (23°C)
There is no other feeling in this world like watching the sun rising behind Angkor Wat. We can personally attest to this, it is a very spiritual moment. You can do exactly this during a visit to Siem Reap as it is one of the most popular warm places in February to visit.
December and January is peak tourist season as the weather is generally milder than the summer months and the Mango Showers haven't arrived yet in April, which is a prelude to the monsoon season. February is therefore an amazing time to visit Siem Reap as the tourists have started to peter out, but it is still busy enough that the entire city is operating at full capacity.
When visiting Siem Reap, it is highly recommended that you get a tour guide from an established company as they are very knowledgeable about the history and have plenty of Cambodian facts. Decide whether you'd like to go on the large or small circuit, or even both. There is plenty to do in Siem Reap beyond visiting the various temples like Angkor Wat, Angkor Thom and Ta Prohm, like visiting the hip Kandal Village, the infamous Pub Street and Sok San Road (Bar Street), watching an Apsara performance or Phare, The Cambodian Circus, and visiting the various museums.
Find your ideal hotel in Siem Reap
Muscat, Oman
Grand Mosque in Muscat
Daily average temperatures in February: High 79°F (26°C) / Low 64°F (18°C)
Oman is the perfect place to visit for some under-the-radar travel for those who like to explore lesser trodden destinations. Beyond its glitzy Middle Eastern neighbours Dubai and Abu Dhabi, Oman has a more laid-back feel with a deep heritage and captivating landscapes. As it's winter, the otherwise blistering hot Middle Eastern country is relatively cool and breezy.
Explore sites like the glamorous Sultan Qaboos Grand Mosque, the bustling Mutrah where you can explore the Mutrah Corniche, ​​Muttrah Fish Market and Muttrah Souq, the various forts that dart the city and end your day of the epic Chedi Muscat for luxe while floating on the longest swimming pool in the Middle East.
Beyond Muscat, go up north to the Musandam Governorate, which is known as the "Norway of Arabia" due to its fjord-like inlets called khors and desolate mountainscapes. You can even go dolphin watching here. Explore Wahiba Sands desert on a 4×4 adventure, which have sand dunes, salt flats and Bedouin desert dwellers. There's even one of the largest canyons in the world called Wadi Ghul, and has been referred to as the "Grand Canyon of Arabia".
Find your ideal hotel in Muscat
Atacama Desert, Chile
Laguna Cejar (salt lake) in Atacama
Daily average temperatures in February: High 75°F (24°C) / Low 41°F (5°C)
The Atacama Desert is a desert plateau in northern Chile, west of the Andes Mountains, that covers roughly 1,600km on the Pacific coast. It's known as the driest place on earth which rarely rains or snows. But just because it's dry, doesn't mean it's lifeless and desolate.
In fact, it's overflowing with life, from the diverse flora and fauna to the small villages at 4,000m above sea level. The unique landscapes are jaw-dropping with the vast salt flats, active geysers and intense blue lagoons by day and the epic star constellations by night.
The most popular season for visiting the Atacama Desert are the summer months of December, January, and February where temperatures are gloriously warm in the day, but can get freezing at night.
Find your ideal hotel in Atacama Desert
Sossusvlei & Etosha, Namibia
Hot air ballooning in Sossusvlei
Daily average temperatures in February: High 82°F (28°C) / Low 63°F (17°C)
While February in Namibia is the wettest, hottest and most humid month in Namibia, it is also the cheapest time to visit the country. By far one of the hottest places in February, Namibia experiences the low season, so while it is trickier to spot wildlife at Etosha National Park, it is birthing season, so if you'll probably see some newborn antelope calves, giraffes and ellies. There are also plenty of migratory birds stopping over.
The summer rains also cool the desert down a bit, so you can explore the arid Sossusvlei. Indeed Sossusvlei is actually a great year-round destination as there are less dramatic changes between the seasons, so your experience will be similar no matter the time of year. Visit the otherworldly Deadvlei or the massive Dune 45 or go for an epic hot air balloon ride over the desert. Stay at a desert location for the night where you can see the stars as clear as you've ever seen them.
Join our Namibia Bucket List Adventure where we stop over at Sossusvlei and Etosha, as well as, Swakopmund, the Skeleton Coast, a visit to the San & Himba Peoples and a stop in Windhoek.
Find your ideal hotel in Sossusvlei
Find your ideal hotel in Etosha
Antigua & Atitlan, Guatemala
Hiking up Pacaya Volcano in Antigua
Daily average temperatures in February: High 75°F (24°C) / Low 54°F (12°C)
Not to be confused with the Caribbean island-nation Antigua and Barbuda, Antigua in Guatemala is a small city surrounded by volcanoes and most well known for its Spanish colonial buildings when it was the country's colonial capital.
Today, Antigua in Guatemala is a UNESCO-listed city known for its thriving chocolate and coffee culture, an artistic flair and a heritage-rich past which can be explored through the many convents, churches and important landmarks such as Iglesia de la Merced Church, working convent San Juan del Obispo. There are also newer places like Hobbitenango, Filadelfia Coffee Resort & Tours and Château DeFay Vineyards.
Hike the many volcanoes that include Volcan de Fuego, Volcan de Agua, Acatenango Volcano and Pacaya Volcano and then do some more outdoor exploring at nearby Atitlan Lake, known for its quaint towns along the shores, Santiago Atitlan, San Pedro and San Juan La Laguna.
Find your ideal hotel in Antigua Guatemala
Crossing the circle in Antarctica
Cruising Antarctica
Daily average temperatures in February: High 33°F (1°C) / Low 10°F (-12°C)
November to March in Antarctica are the summer months and therefore the most hospitable times to visit due to warmer temperatures and up to 24hrs of sunlight. Definitely not one of the warm places in February by any means, it's much easier to visit when the temperatures are higher.
This is a bucket list destination for anyone who is in love with Arctic wildlife, particularly penguins and the new born pups in their natural habitat. Go kayaking along the icebergs, hiking in the snow, cruising among untouched sea ice on a zodiac or check out the Midnight Sun. This will be a once in a lifetime experience for sure.
We have our very own Bucket List Antarctic excursions which you can join. Depart from Ushuaia, through the Drake Passage with shore excursions along the Antarctic Peninsula and South Shetland Islands. After crossing the Antarctic Circle with a toast you head back to the south of Argentina.
Buenos Aires, Argentina
El Ateneo Grand Splendid in Buenos Aires
Daily average temperatures in February: High 82°F (28°C) / Low 68°F (20°C)
Buenos Aires is the capital of Argentina and in our humble opinion one of the most fascinating cities in Latin America. We loved indulging in the opulent food (pizza, gelato, grilled meats, dulce de leche), exploring the rich heritage with strong Spanish but also Italian influences, and learning about the various cultural offerings (there are more theatres than any other city outside New York, more bookstores per capita than anywhere else).
It is a walkable city at any time of the year, but February is perfect to stroll around, day or night, as the weather is fantastic if not a little high when the sun is up. What you get in Buenos Aires is a fantastic example of city life with museums like Museo Nacional de Bellas Artes and Museo de Arte Hispanoamericano Isaac Fernández Blanco, Baroque architecture like the Iglesia de Nuestra Señora del Pilar, as well as exploration at unique sites like Recoleta Cemetery, El Ateneo Grand Splendid or Palacio Barolo, which is a homage to the Divine Comedy.
Find your ideal hotel in Buenos Aires
Cartagena, Colombia
Rosario Island near Cartagena
Daily average temperatures in February: High 88°F (31°C) / Low 75°F (24°C)
Venture off into Colombia's Caribbean coast with the turquoise blue oceans, cobblestone Old Town and a beautifully tropical climate at Cartagena. Stay on the mainland for the colorful colonial buildings and popular beaches or venture off by boat to the idyllic Isla de Barú or coral reef area of Islas del Rosario.
Take a lazy holiday at Colombia's most frequented warm places in February with a volcanic mud bath at El Totumo, dig into some of the best street food like empanadas and buñuelos among the plazas or at the crazy Mercado de Bazurto wet market, or take sunset drinks at Cafe del Mar.
Find your ideal hotel in Cartagena
La Libertad & La Ruta de Las Flores, El Salvador
Weekend Food Fair in Juayua on the Ruta de Las Flores
Daily average temperatures in February: High 84°F (29°C) / Low 68°F (20°C)
When the country El Salvador pops up as a place to visit, the usual questions of safety start to arise. While we wouldn't suggest a visit to the capital of San Salvador, the rest of the country is actually a lot safer than you think and easily accessible to solo female travelers.
Particularly gorgeous destinations any area along the beaches of La Libertad, from the El Tunco to Playa San Diego with the lazy beaches and popular surf retreats.
La Ruta de Las Flores is a wonderful way to discover El Salvador's heritage, culture, food and traditions. This area is basically the country's coffee route, where you can find many coffee plantations to go and sample the black gold. Visit the Mercado de Las Velas market in Nahuizalco, the Weekend Food Fair in Juayua, or go for an adventure and ziplining in Apaneca.
Find your ideal hotel in La Libertad
Havana, Cuba
Beautiful Havana
Daily average temperatures in February: High 81°F (27°C) / Low 64°F (18°C)
February is right in the middle of the dry season in Cuba, so it's the perfect chance to explore the various islands of the country where the northern Caribbean Sea, Gulf of Mexico, and Atlantic Ocean meet.
A popular spot to explore is the capital on the main island, Havana. Old Havana is known for its Spanish colonial architecture from the 16th-century, the iconic National Capitol Building stands out in splendor and the baroque Catedral de San Cristóbal and Plaza Vieja, show a glimpse into the country's past.
Grab a cigar and hop into a vintage car as you cruise your way into the culture, history, sights, sounds and especially tastes of this vibrant city. Then make your way into the thriving night scene with a daiquiri as you salsa the night away where people will happily be dancing in the streets.
Find your ideal hotel in Havana
Willemstad, Curacao
Willemstad Town in Curacao
Daily average temperatures in February: High 86°F (30°C) / Low 75°F (24°C)
You may have never heard of this Dutch Caribbean island before, which makes it the perfect under-the-radar destination for those looking for a break from the crowds. The capital of Willemstad is known for its pastel-colored colonial architecture, the floating Queen Emma Bridge, as well as the 17th-century Mikvé Israel-Emanuel Synagogue with its sand floor.
You can do some diving along the coral reefs at Blue Bay or laze about at any of the idyllic Caribbean beaches like Playa PortoMari, Cas Abao, Kenepa, Mambo or Playa Lagun. Wake up early for a hike along the Christoffel National Park, or explore the ocean with a day out diving among the reefs.
Find your ideal hotel in Willemstad
Montevideo, Uruguay
Coastline and unspoiled beaches of Montevideo
Daily average temperatures in February: High 81°F (27°C) / Low 66°F (19°C)
Montevideo is the capital of Uruguay and a charmingly warm destination in February, very similar to its neighbor Buenos Aires in Argentina. Once home to the Spanish citadel at Plaza de la Independencia, you can laze about the fluffy white-sand beaches of De los Pocitos, explore art deco buildings of Ciudad Vieja (the old town), stroll along La Rambla, stop by the old port market at Mercado del Puerto with a copious amount of steakhouses, or try some of Uruguay's traditional drink, yerba maté tea.
There are so many great day trips to take from Montevideo where you get to explore Uruguay's verdant interior like Pueblo Edén or Sierra de las Ánimas and picturesque beaches like Atlantida or Piriápolis.
Find your ideal hotel in Montevideo
Tsingy De Bemaraha & Morondava, Madagascar
Visit the lemurs in Madagascar
Daily average temperatures in February: High 90°F (32°C) / Low 73°F (23°C)
Madagascar is a massive island off the east coast of Africa which seems to be a missing puzzle piece to Mozambique's coastline. In fact, if you don't count Australia as an island (as it's a continent) then Madagascar is the fourth largest island in the world after Greenland, New Guinea and Borneo.
Due to its location in the Indian Ocean and isolated state for about 88 million years, many of its plants and animals are unique to the island. The most stand-out of which are the baobab trees and lemurs.
While many spots are popular to visit, we would suggest going to the Tsingy De Bemaraha National Park, a UNESCO World Heritage Site, if you only had one place to explore. It's most well-known for its limestone formations but also has 11 species of lemur including the fat-tailed dwarf lemur, decken's sifaka, Cleese's woolly lemur, grey mouse lemur, red-fronted brown lemur, and Sambirano lesser bamboo lemur.
If you base yourself in Morondava you can also visit Baobab Avenue, the most accessible place to see the beautiful trees and to get to Tsingy. It does take 13 hours though unless you can fork out for a chartered plane!
Find your ideal hotel in Morondava