The United States is a vast and expansive country where winter temperatures fluctuate from tropical in the south to downright icy in the north. There are also several tropical islands where summertime is year round.
This means that there are always warm places in December to visit in the US, and endless possibilities for escaping the cold.
Whether you're looking for a warm destination away from US winter temperatures or for a vacation in the US during the traditional northern hemisphere winter months, we've got you covered with this list of warm places in December in the USA.
Firstly, it's worth noting that most of the warm winter destinations in the USA are located in the southern part of the country closer to the Mexico border or the Gulf of Mexico.
In addition to that, there are also several tropical islands in the Caribbean and Pacific Ocean which are US territories and enjoy warm temperatures all year round. If you ever wanted to spend a warm Christmas in the USA, you won't be short of options.
In this list you'll find a few of the standard and much loved winter US destinations, and some lesser known places that you may have never heard of.
Oahu, Hawaii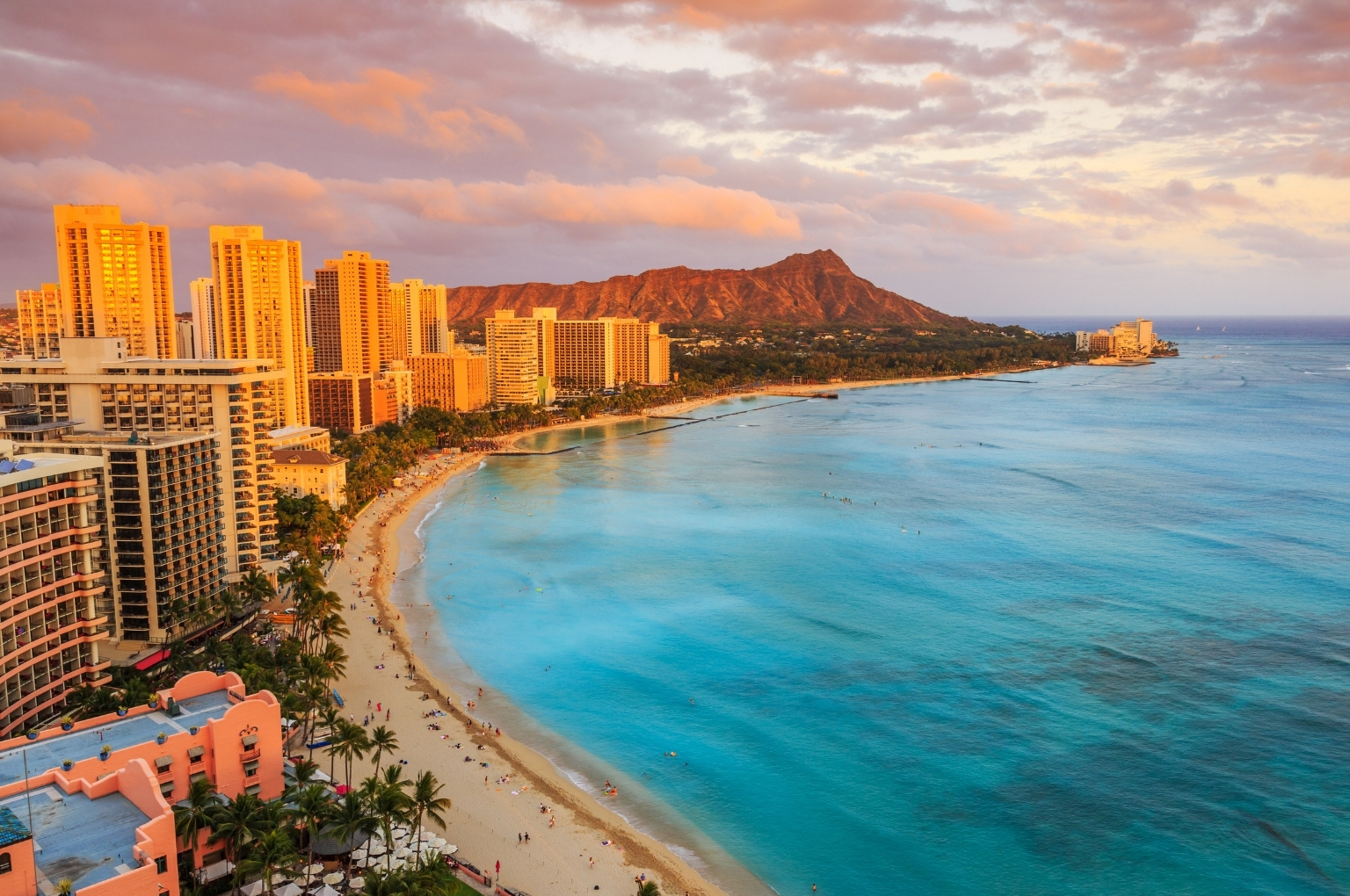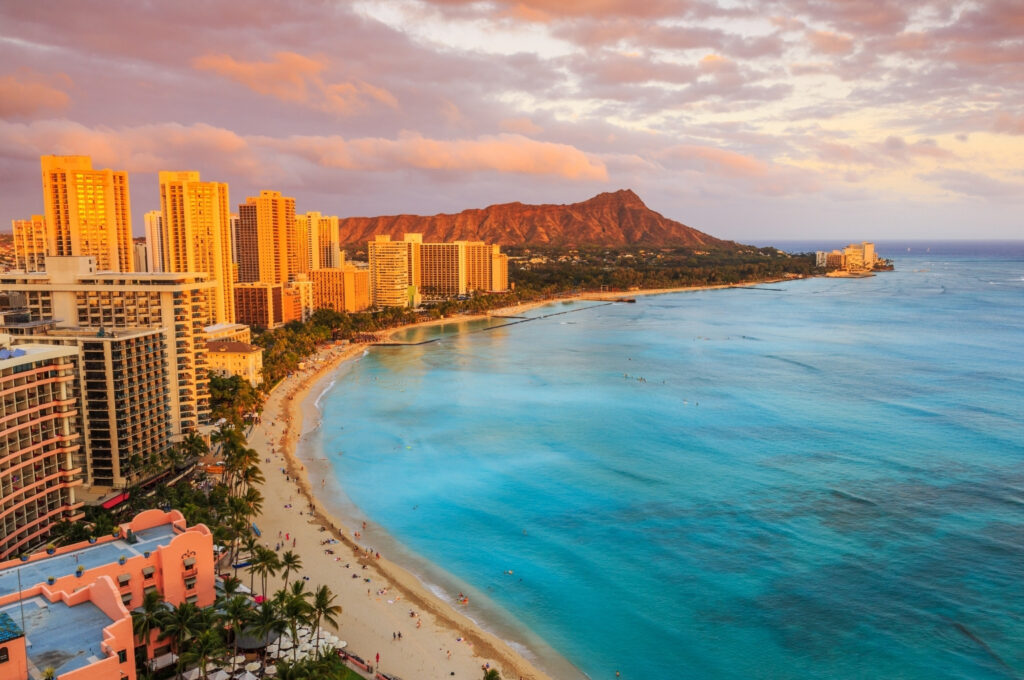 Daily average temperatures in December: High 79°F (26°C) / Low 66°F (19°C)
Have you ever wondered how Santa visits warm climate areas? Wonder no more as you can see him paddle into the Outrigger Waikiki Resort every year by kayak or surfboard!
You'll completely forget that it's even winter as you feast on fish tacos with your feet buried deep in the sand. Due to the tropical weather in December you'll have multiple chances to explore the warm waters, from snorkeling to whale watching.
In terms of events, take a glimpse into Oahu's past with the annual Pearl Harbor Remembrance Day and witness the beautiful Honolulu City Lights festival which includes tree lighting, parades and an Electric Light Parade down King Street.
And of course, there's the infamous surfing spots and events including the Vans Triple Crown of Surfing competition.
Find your ideal hotel in Waikiki
Kauai, Hawaii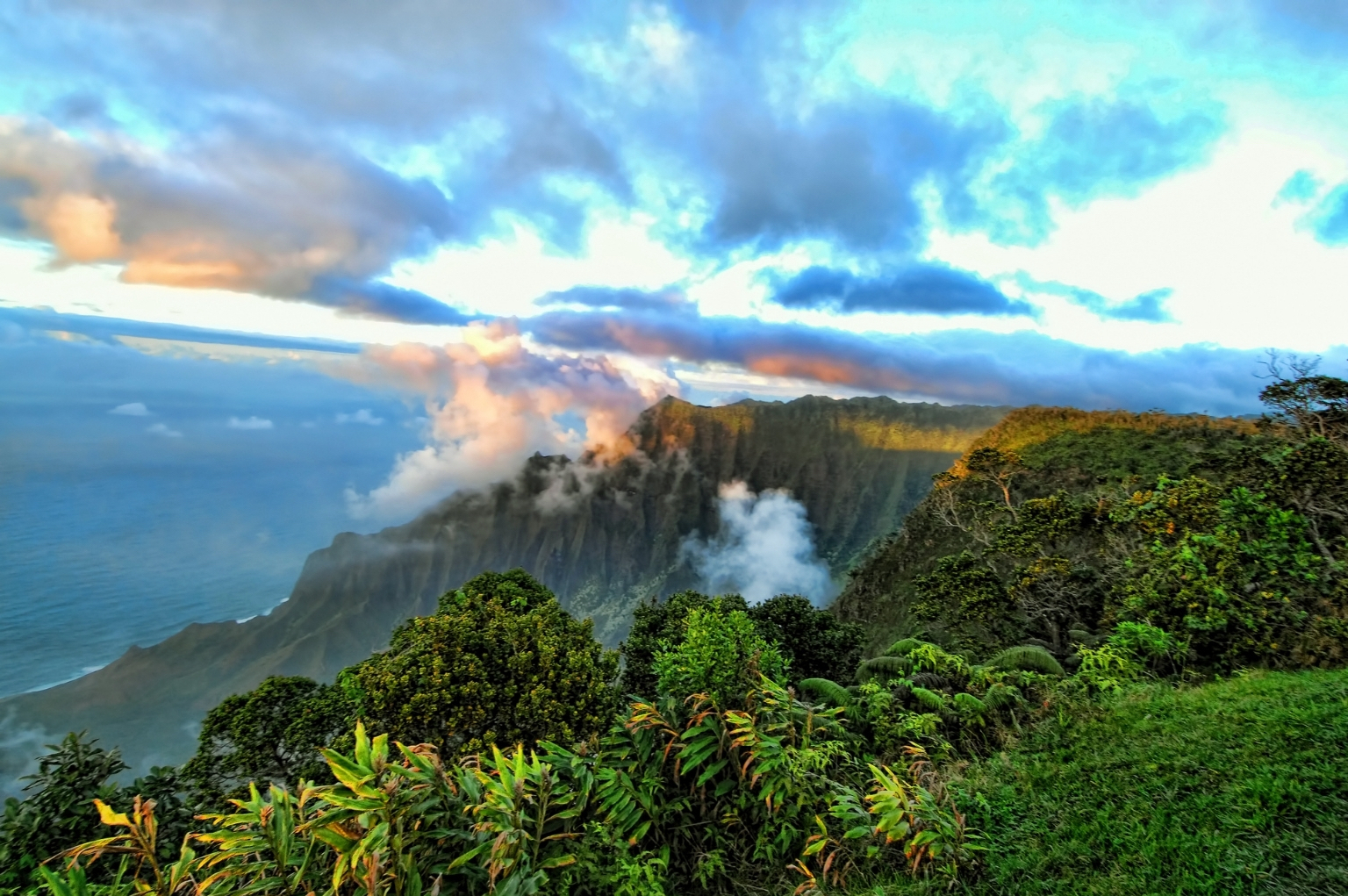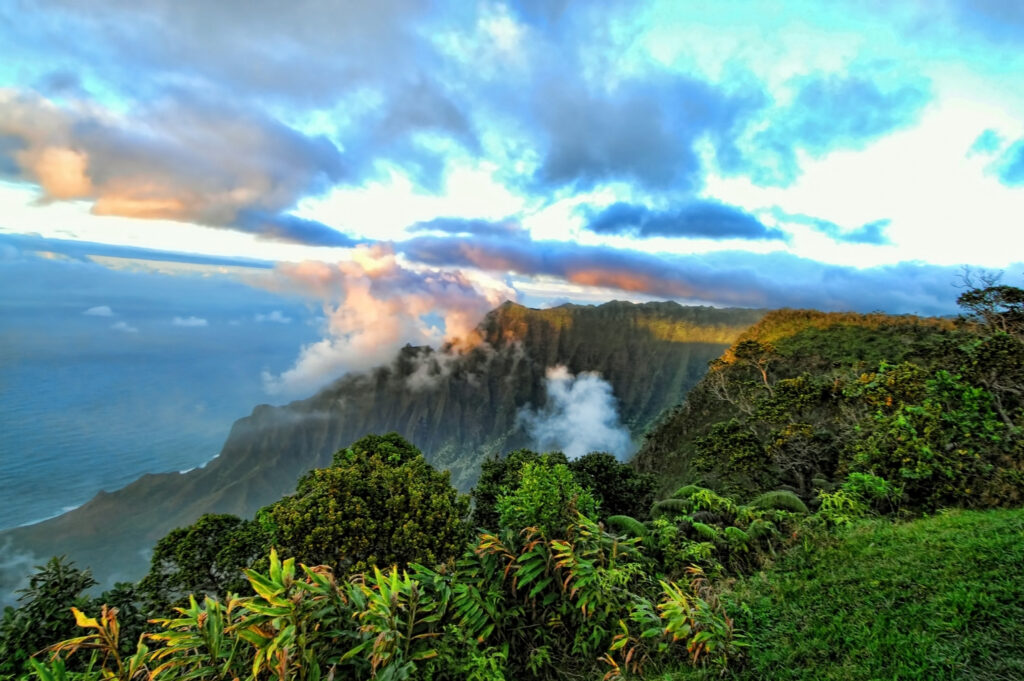 Daily average temperatures in December: High 72°F (22°C) / Low 55°F (13°C)
A bit further north and a couple of degrees cooler than Oahu, Kauai is another great option for those looking for a warm place in December in the USA.
While Oahu is more touristy and Hawaii's gateway to the outside world, Kauai, known as the Garden Isle, is a better option for outdoor enthusiasts and for its more rugged and green look.
Kauai is a hiker's paradise with sites like Hanakoa Valley, Napali Coast State Wilderness Park, Kalalau Valley or Manawaiopuna Falls. There are waves all over the island too, so you can either learn to surf in the south or join the pros up north. December is also the beginning of humpback season, so you can see the gentle giants begin their migratory path.
Find your idea hotel in Kauai
Los Angeles, California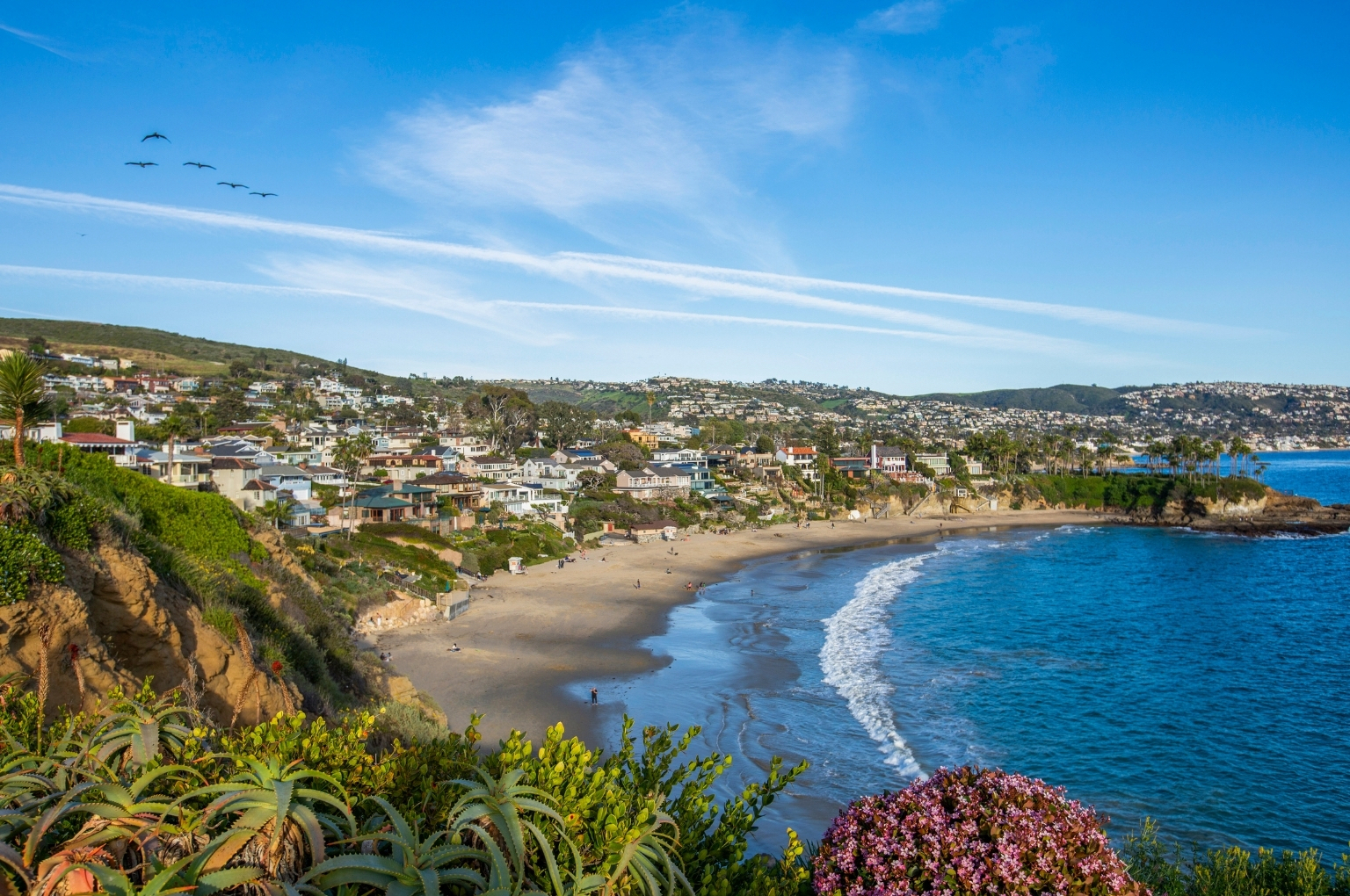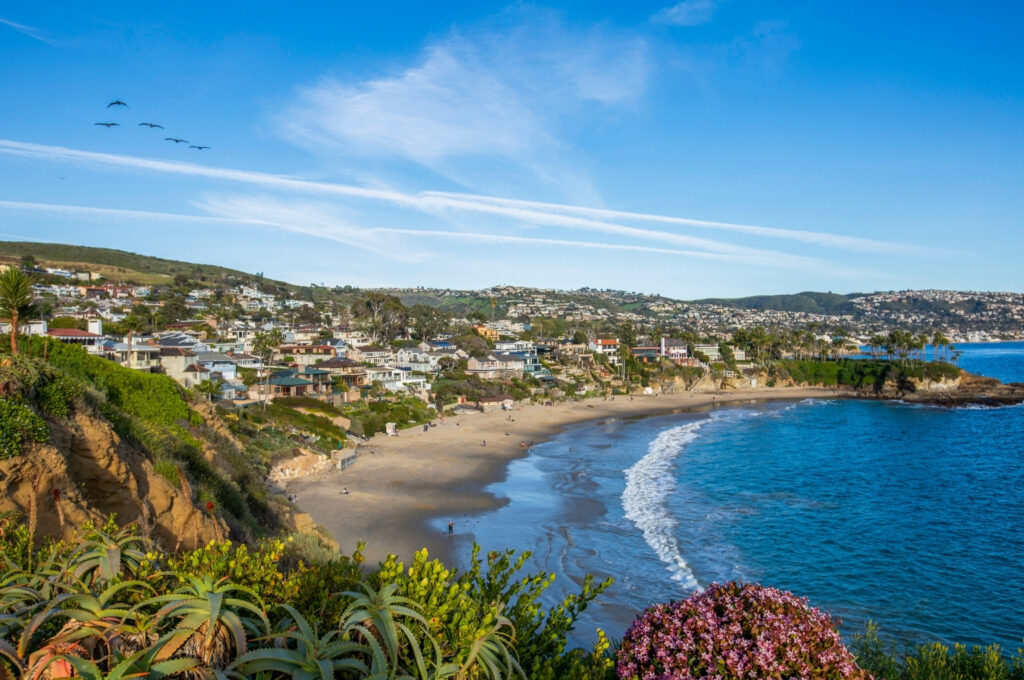 Daily average temperatures in December: High 67°F (19°C) / Low 51°F (11°C)
If you're chasing an endless summer but are unable to leave mainland USA, California is always a good option. The closer to Mexico you get, the warmer the temperature stays, and a good place to start is Los Angeles and Orange County for sand, surf and sun.
Temperatures won't be as warm as in other tropical destinations, but they're warm enough that you don't need a winter jacket.
While Los Angeles is most well known for its gloss and excess around Rodeo Drive, Hollywood Hills and Bel Air, it's a sprawling city that runs all the way to the coast. So beyond the film industry and celebrity enclaves there are also hip or gentrified areas like Loz Feliz, Echo Park and Silverlake.
Towards the ocean you have famous beaches like Venice, Santa Monica, Malibu and Manhattan, and further down in the OC there's Huntington, Laguna and Newport. You can attend a Christmas Concert at Walt Disney Concert Hall, drive down the infamous Altadena's Christmas Tree Lane, watch the Clippers or Lakers shoot hoops, or attend one of several parades.
And if you really miss the snow, you can actually ski or snowboarding in the morning at Mount Baldy and then surf in the afternoon in less than an hour's drive. And of course, there's always Disneyland Park, Disney California Adventure Park or Universal Studios to keep you entertained.
Look for a place to stay near the beaches and you'll have the full holiday experience, and all the summer vibes and laid-back feel you need.
Find your ideal hotel in Los Angeles
San Diego, California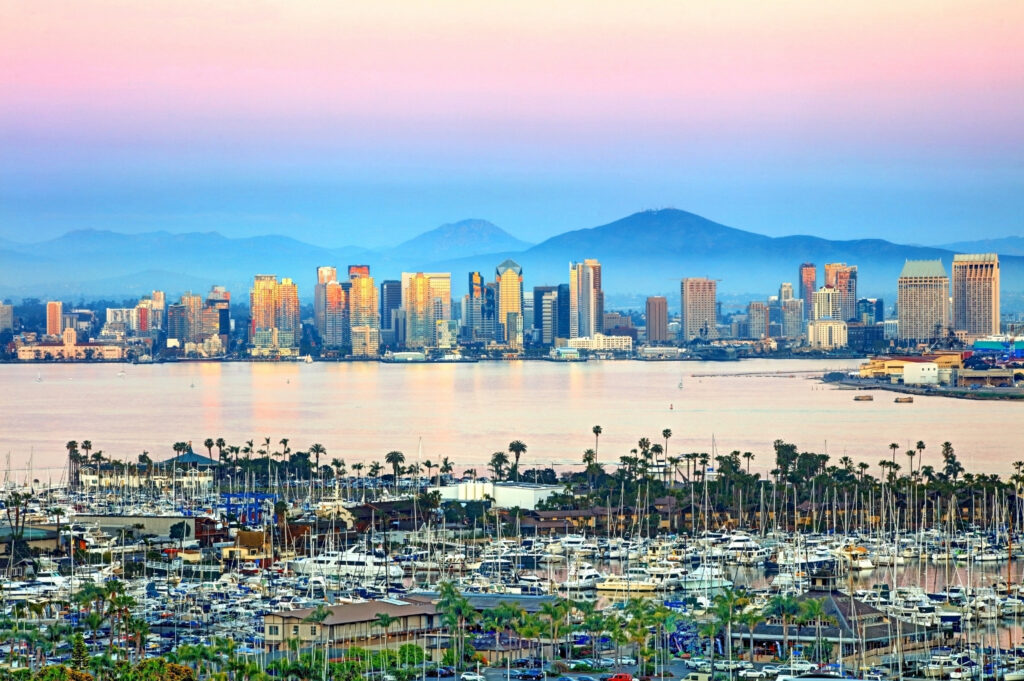 Daily average temperatures in December: High 65°F (18°C) / Low 49°F (9°C)
Venturing further south along the California coast, San Diego has an incredible year-round climate. On the border of Mexico's Tijuana, it enjoys similar temperatures, making it one of the best warm places in December in the USA.
Just like the City of Angels, San Diego offers sunshine, beaches and ocean, but at a slower pace. Winter sees the migration of California grey whales as they move from Alaska to the Baja Peninsula, and for Christmas, San Diego has its own Parade of Lights.
For the outdoor adventurer you can hike Torrey Pines State Park near La Jolla. Those more inclined to historical sites can go on a slow stroll through ​​Old Town, visit the Museums in Balboa Park or chow down at Liberty Station if you're a foodie.
Death Valley National Park, California + Nevada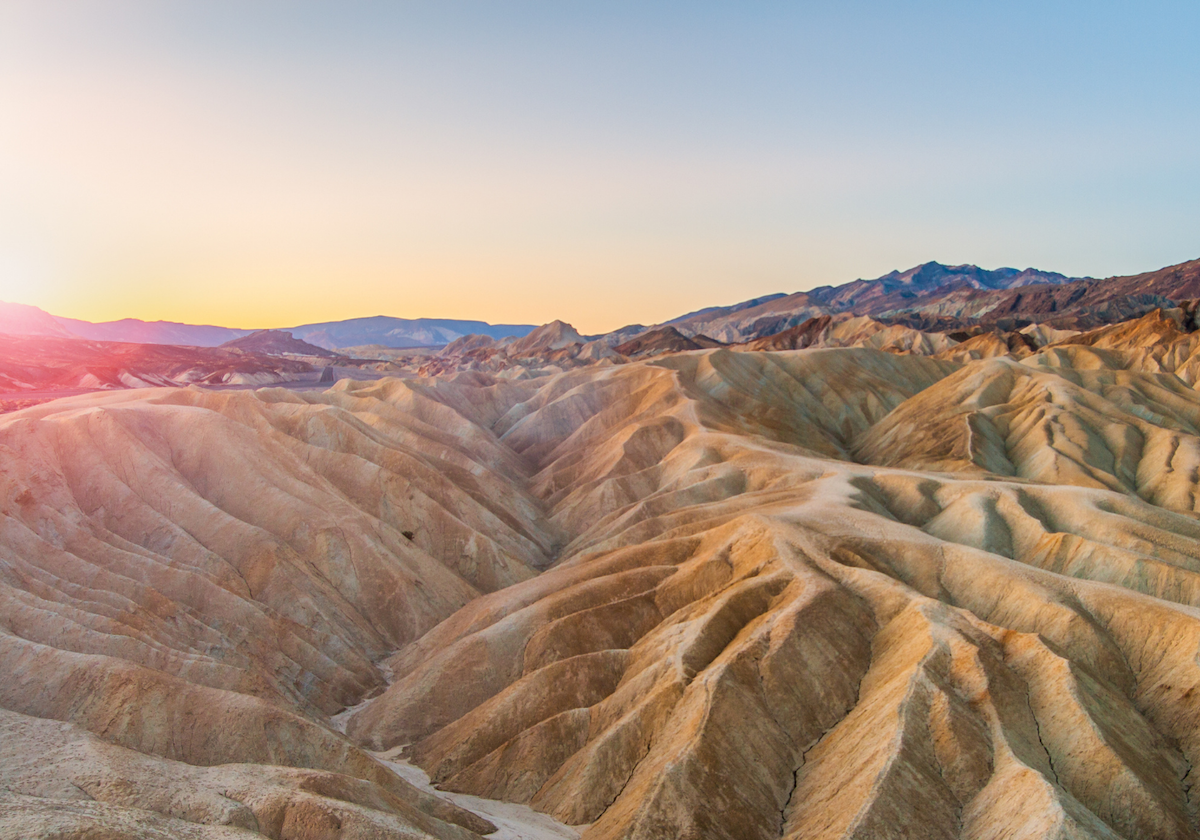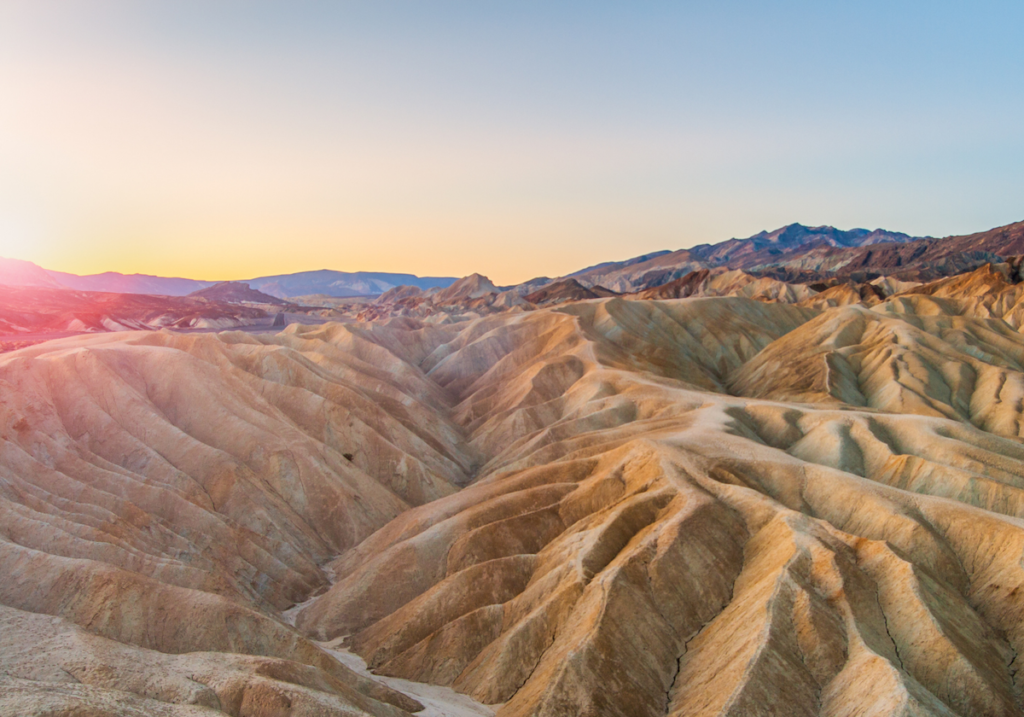 Daily average temperatures in December: High 65°F (18°C) / Low 38°F (3°C)
The name isn't the most inviting, but if you're in love with nature and want to see some of the most epic geographical formations, winter is the best time to visit this miraculous place.
Why is winter the best time of the year to visit Death Valley? Because in the summer it's the hottest place in the USA (even the world), reaching record-breaking temperatures of 134°F (57°C). So December (or winter in general) is the safest and most pleasant time to visit Death Valley National Park.
The park is shared partly by California and Nevada, so you can pick the destination that suits you best. Sites you don't want to miss include Zabriskie Point at sunrise, drop 282 feet below sea level at Badwater Basin, look out into Ubehebe with its 600-foot-deep crater, or gaze at Artist's Palette for a surreal splash of color.
Las Vegas, Nevada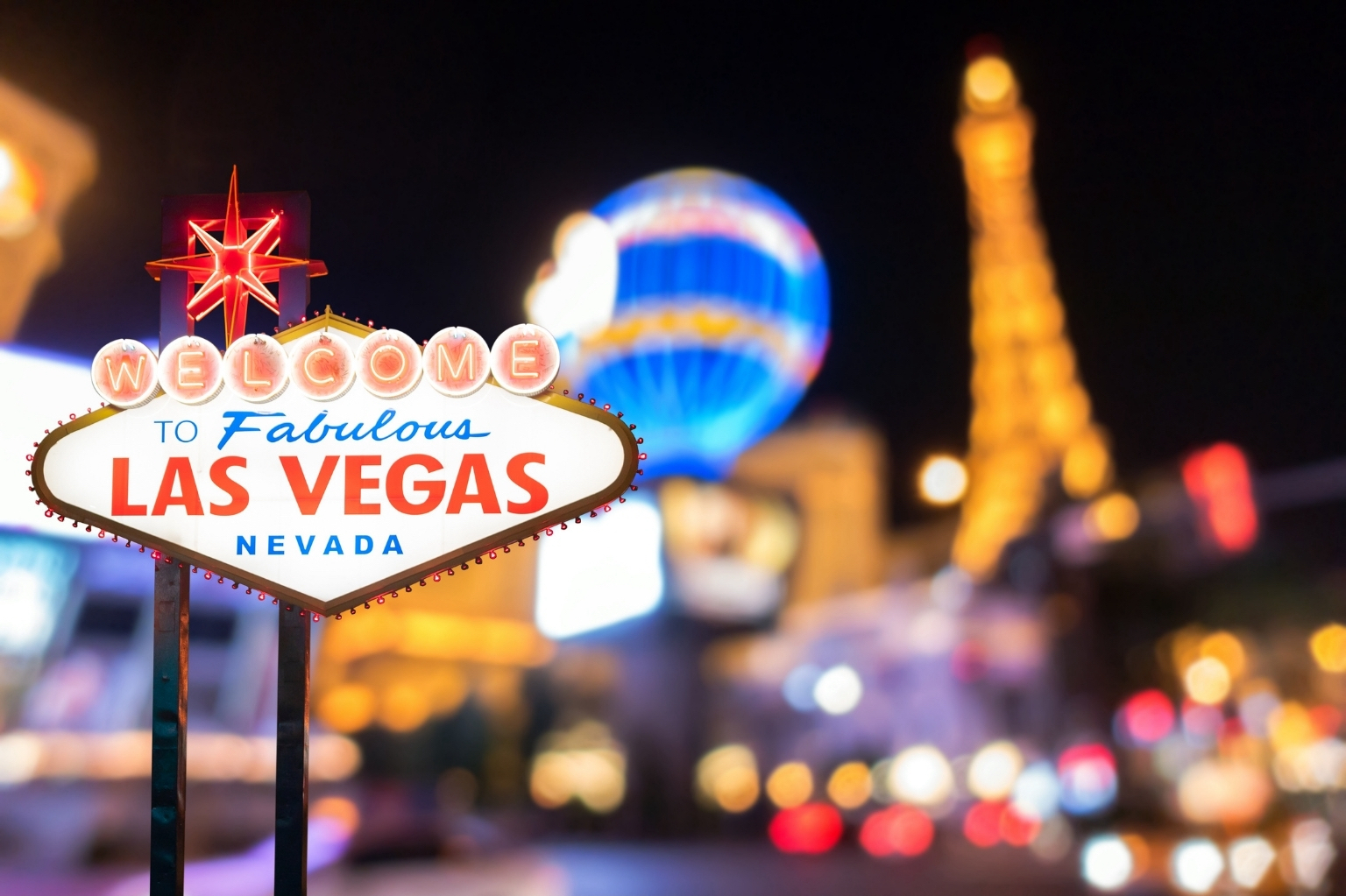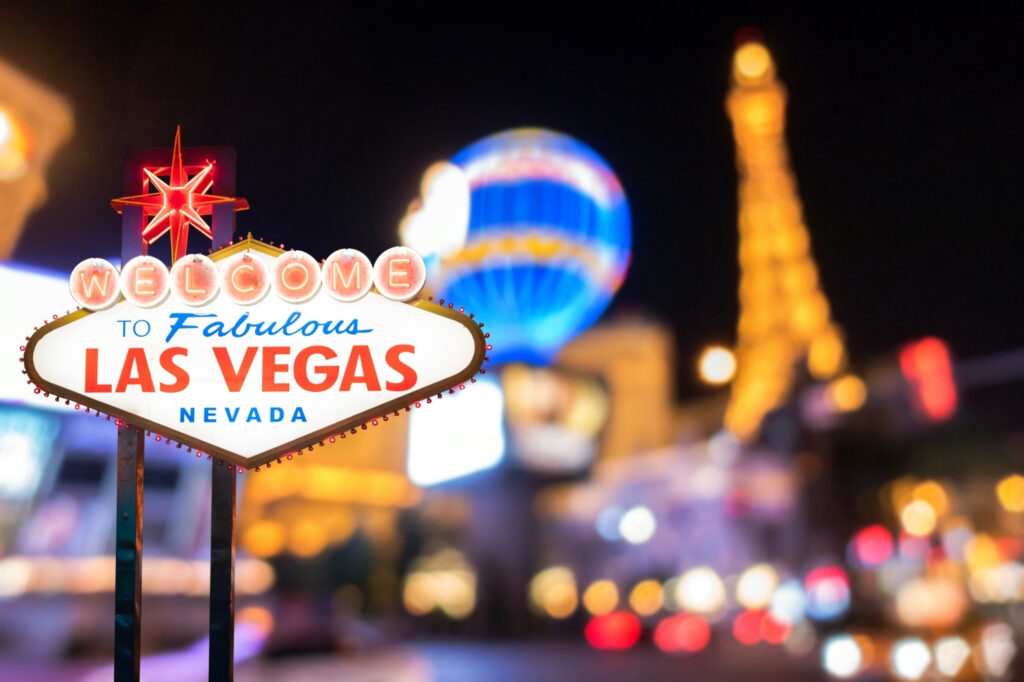 Daily average temperatures in December: High 57°F (14°C) / Low 39°F (4°C)
It's always a good time to visit Las Vegas, no matter the month of the year. Sin City never sleeps, and while it can be a little colder in winter than the other places in this list, it's not unbearable, and daytime temperatures can be pretty warm when the sun is shinning.
Don't expect to be chilling by your hotel's pool in December in Las Vegas, but if you're coming for the shows, entertainment, gambling in a casino or relaxing in your glossy hotel, you won't even notice the cold. Additionally, outdoor activities in the area will be more comfortable when temperatures hover around the 50°F than attempting them during summer.
Walking the Vegas strip at night in December is perfectly fine if you bring a coat as the energy from the people and the buzzing bright lights provide an added source of heat.
If you like the outdoors, pop over to Grand Canyon West in Arizona and escape the City of Lights, as it's only a quick 2 hour drive. While it can snow, the West Rim is usually around 10-15 degrees warmer than the South or North Rims.
Find your ideal hotel in The Strip
Phoenix, Arizona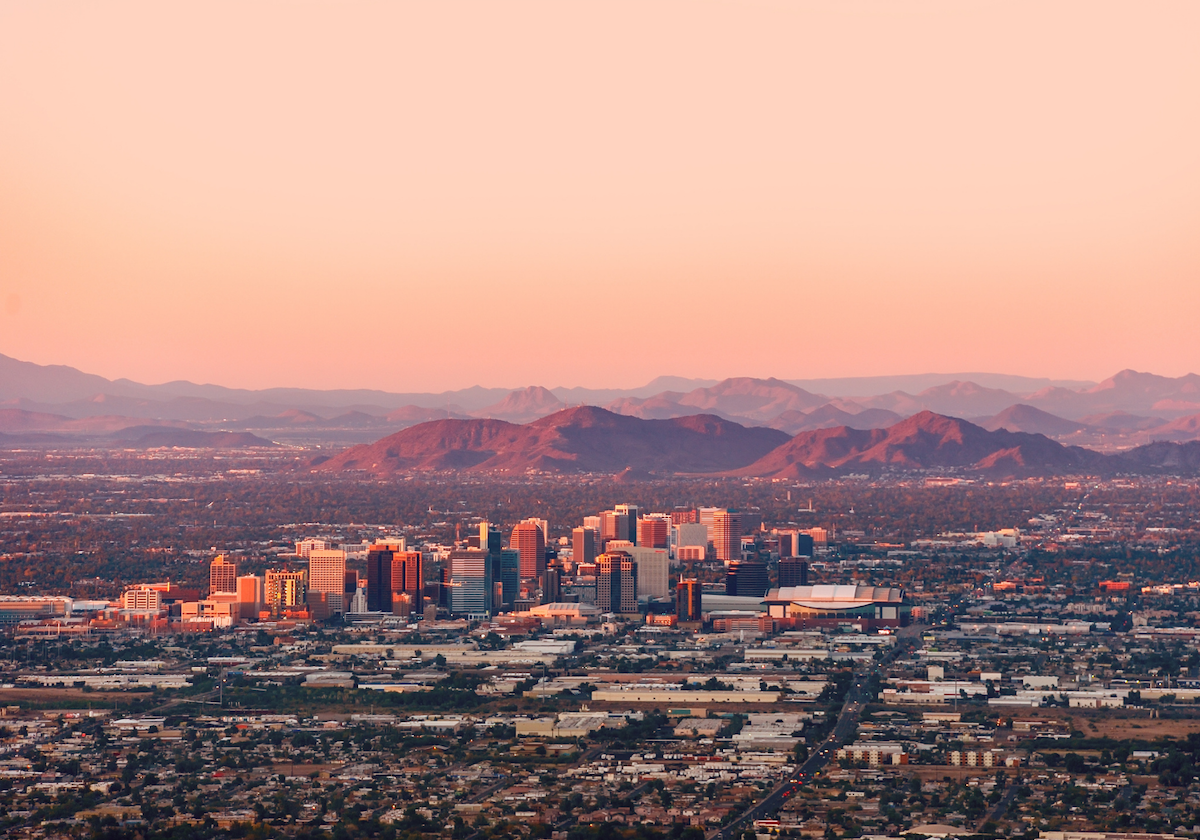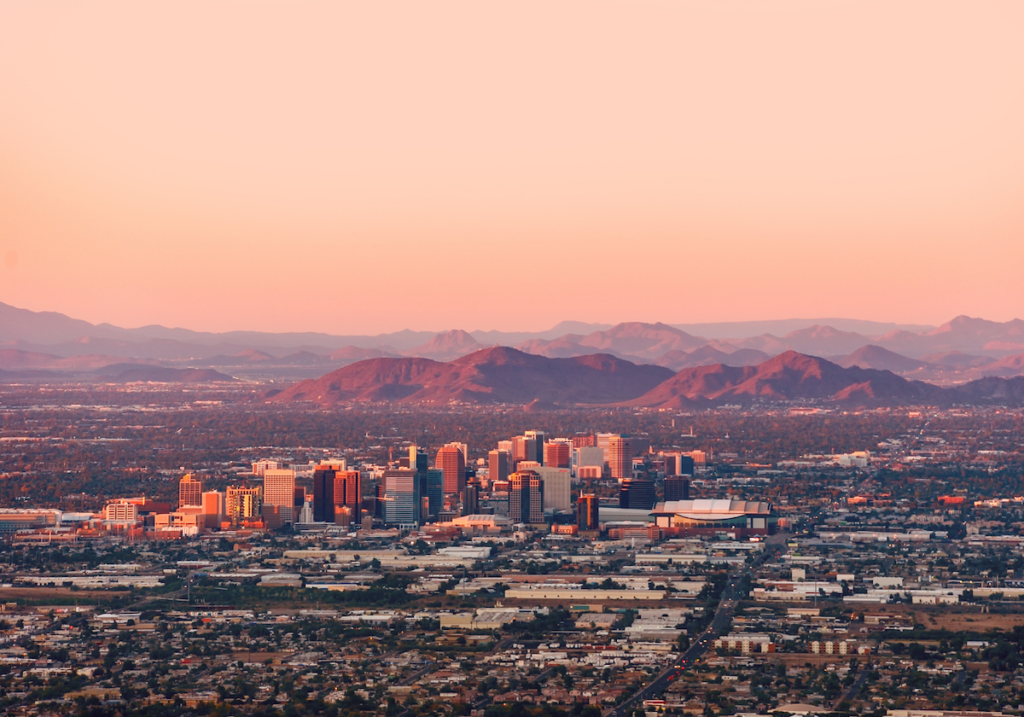 Daily average temperatures in December: High 66°F (19°C) / Low 45°F (7°C)
Whether you're traveling from Vegas via the Grand Canyon or you're just looking for another warm place in the USA to travel to in December, Phoenix offers great temperatures and loads to do.
The entire city lights up at the end of the year with shows, parades and concerts like Glendale Glitters, Alice Cooper's Annual Christmas Pudding Fundraiser, ZooLights at Phoenix Zoo, Lights of the World and A Winnie the Pooh Christmas Tail.
The Desert Botanical Gardens known as Las Noches de las Luminarias is spectacular year round, but during December there are over 8,000 flickering luminaria bags floating around. There are also a number of hiking trails along the South Mountain Park and Preserve, Phoenix Mountains Preserve, Papago Park and further up north in Sedona.
Pop into nearby Scottsdale for luxurious spa resorts, golf courses and honkytonk eats in Old Town. Then venture a little south to Tempe, known for its concerts and exhibitions at the Tempe Center for the Arts in the historic downtown area along the Salt River.
Find your ideal hotel in Phoenix
Tucson, Arizona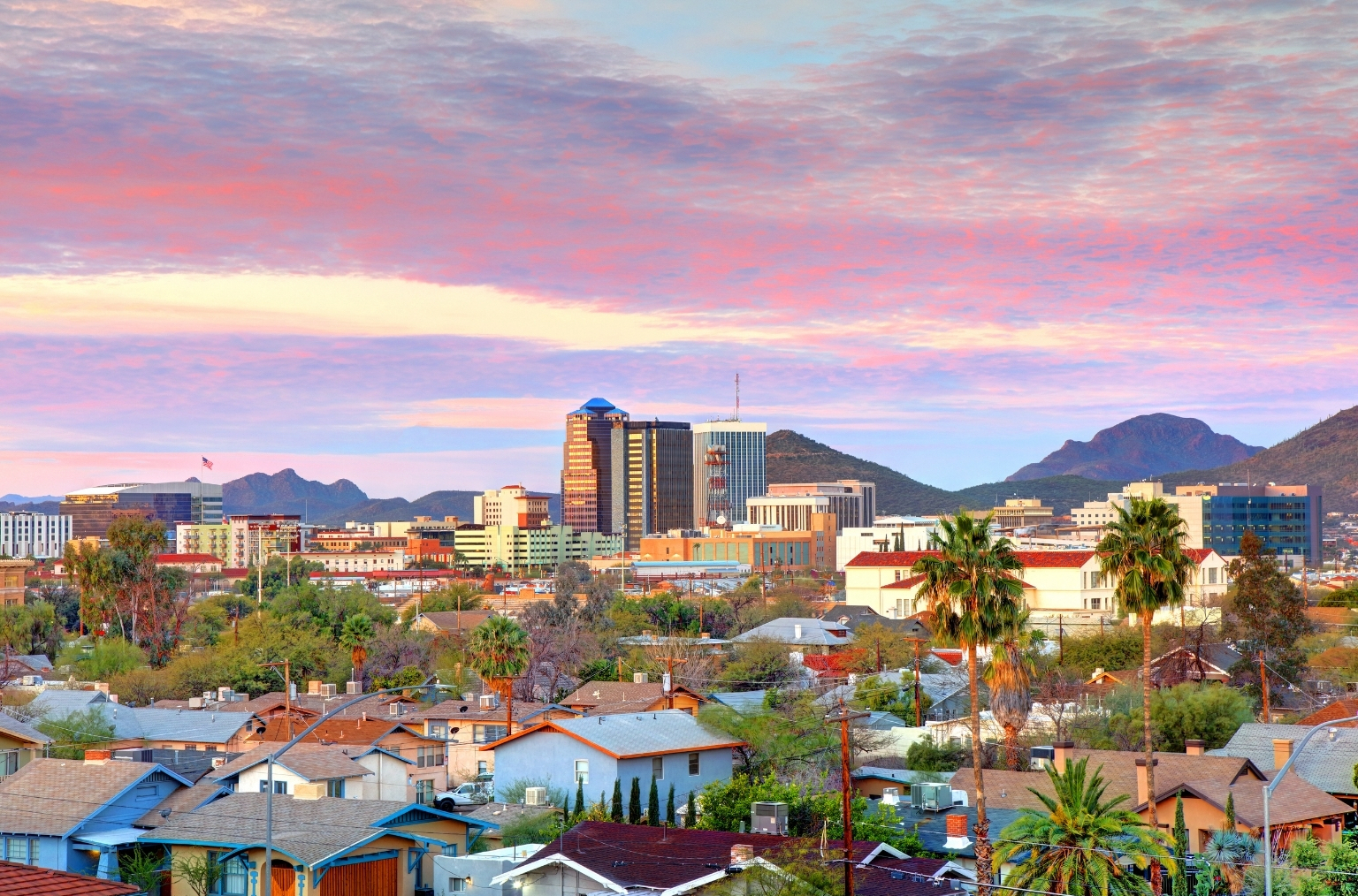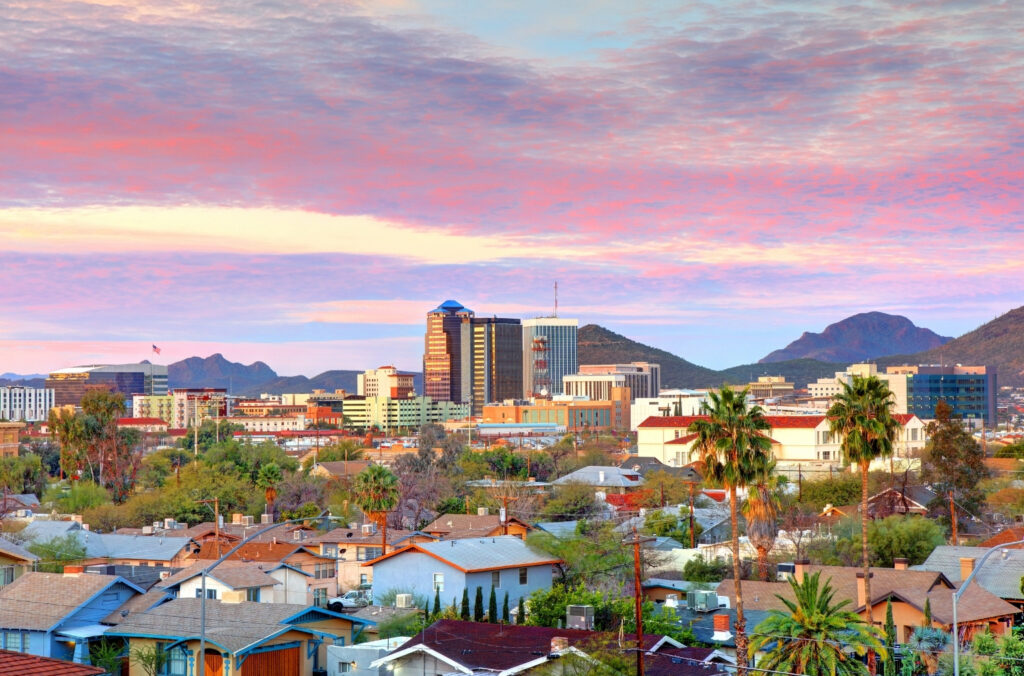 Daily average temperatures in December: High 66°F (19°C) / Low 42°F (6°C)
Venturing towards the Mexico border in Arizona, you'll come across another warm place in December in the USA which thrives with holiday festivities. Tucson delivers some amazing holiday activities like browsing around the Oro Valley Marketplace that has an annual tree lighting ceremony.
The Winter Street Fair is a massive arts and shopping event, the Winterhaven Festival of Lights will leave you in jaw-dropping amazement, Luminaria Nights at the Tucson Botanical Gardens is magical and the Sonoran Desert at Tohono Chul Park transforms into an epic display of lights.
There is music with the Christmas at San Xavier Annual Concert, and museums galore if you're interested in arts and history.
Find your ideal hotel in Tucson
Yuma, Arizona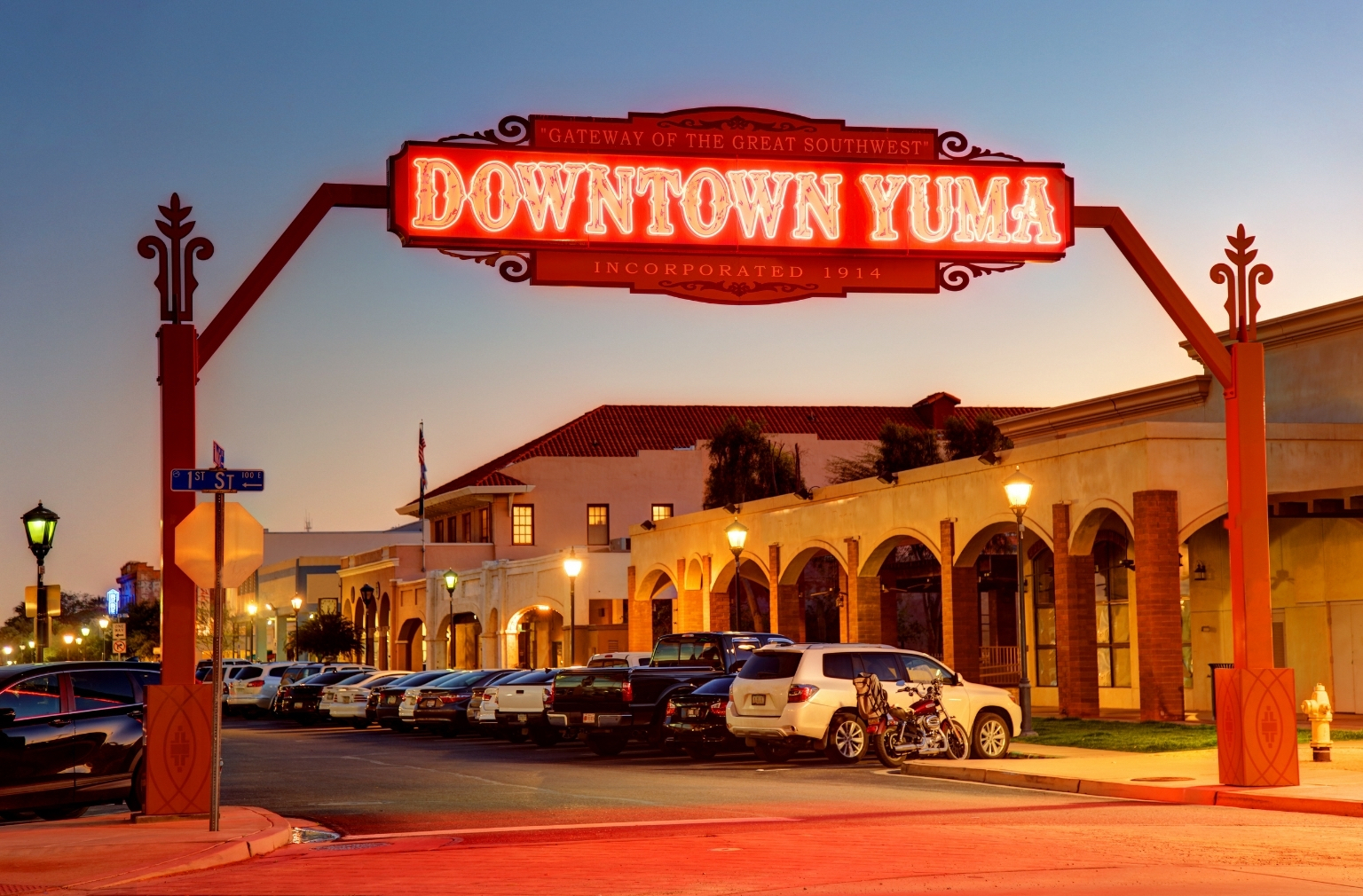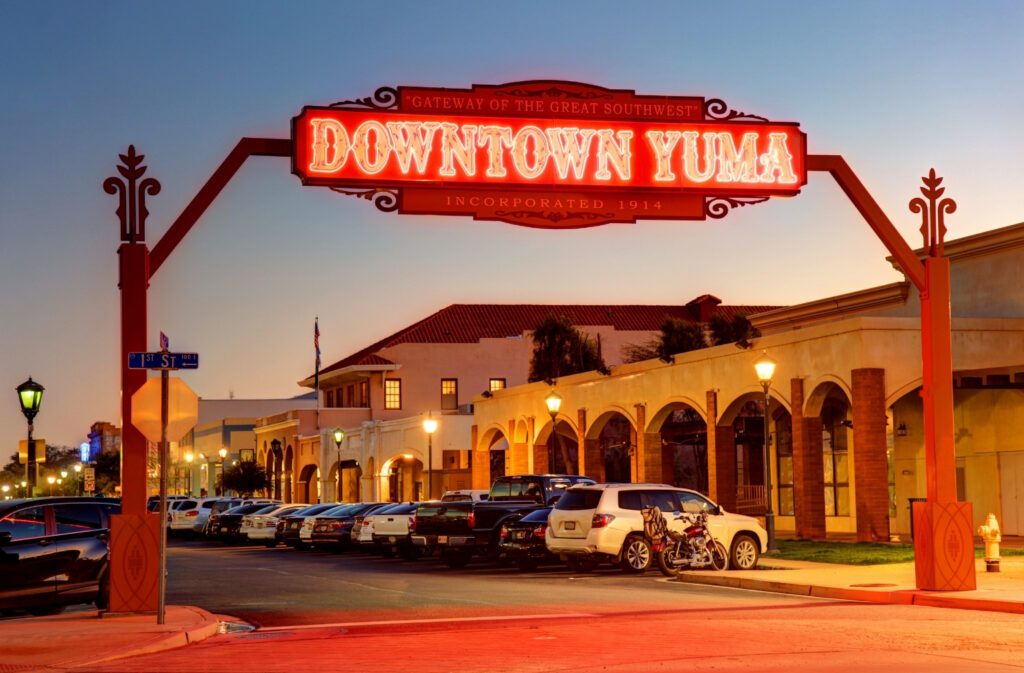 Daily average temperatures in December: High 69°F (21°C) / Low 46°F (8°C)
The final place we'd suggest for warm weather in December in Arizona is Yuma, right on the border of Mexico and California.
It's a sunny location to enjoy Arizona's Best Historic Main Street Community. It's so sunny here that it was actually named as the sunniest place on earth by the Guinness Book of World Records.
Find your ideal hotel in Yuma
Austin, Texas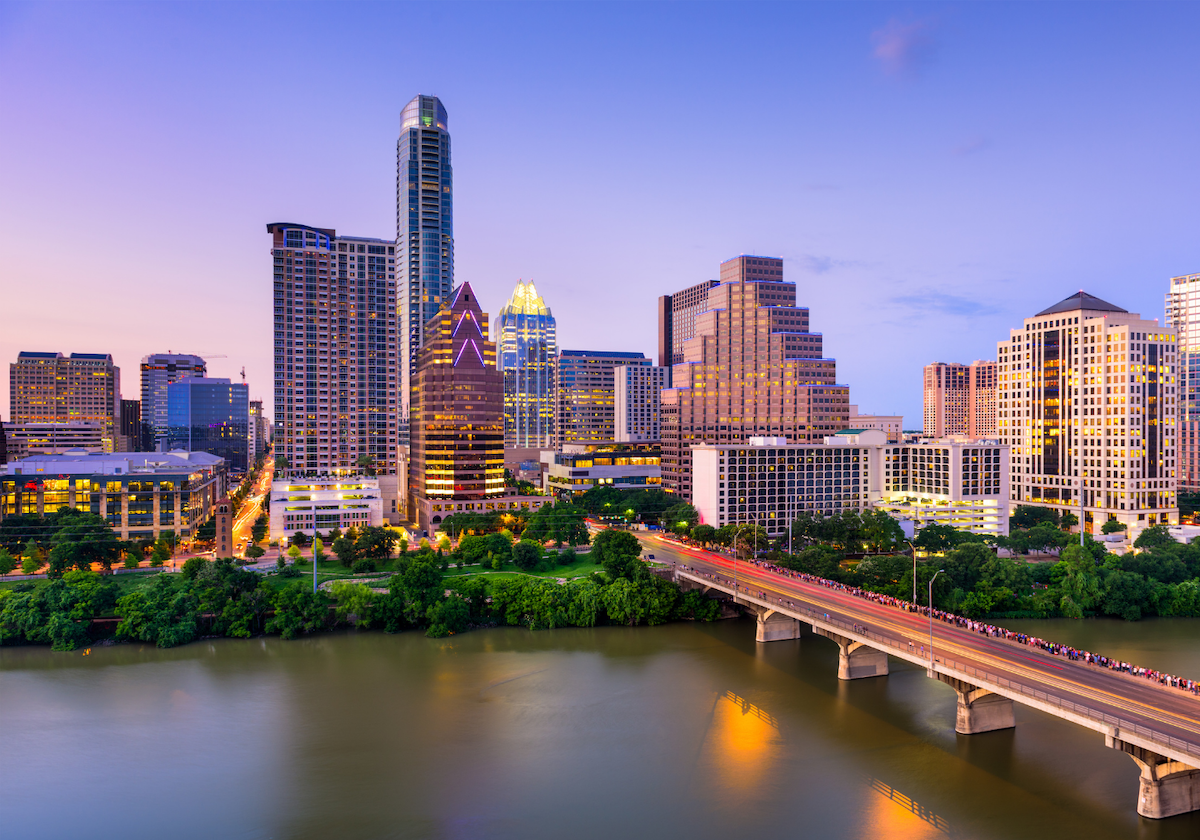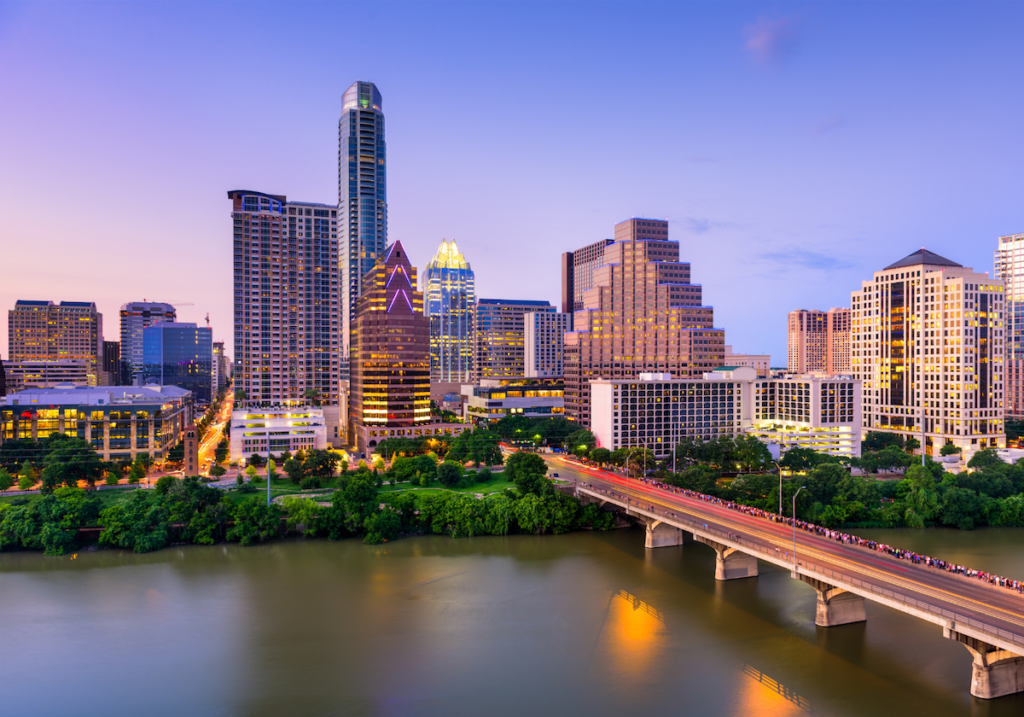 Daily average temperatures in December: High 63°F (17°C) / Low 42°F (6°C)
Going more inland, we arrive in the capital of the Lone Star State, Austin. Austin is a hotspot for music lovers with festivals like Austin City Limits (October) and South By Southwest (March). In December there are also some great music events like Songs Under the Stars: A Rockin' Holiday Concert or Scholz Jingle Jam.
The city is all about supporting local and indie vendors and December is no different. Find the perfect holiday gifts at Blue Genie Art Bazaar, take the annual Downtown Austin Holiday Stroll, take a drive-thru holiday extravaganza along Peppermint Parkway, or experience the festive light shows at Lakeway Trail of Lights or Austin Trail of Lights.
Other nearby established holiday events include Christmas on Mercer Street in Dripping Springs, Light Up the Lake in Round Rock, Pfestival of Lights in Pflugerville and Lost Pines Christmas or Bastrop River of Lights in Bastrop.
Find your ideal hotel in Austin
San Antonio, Texas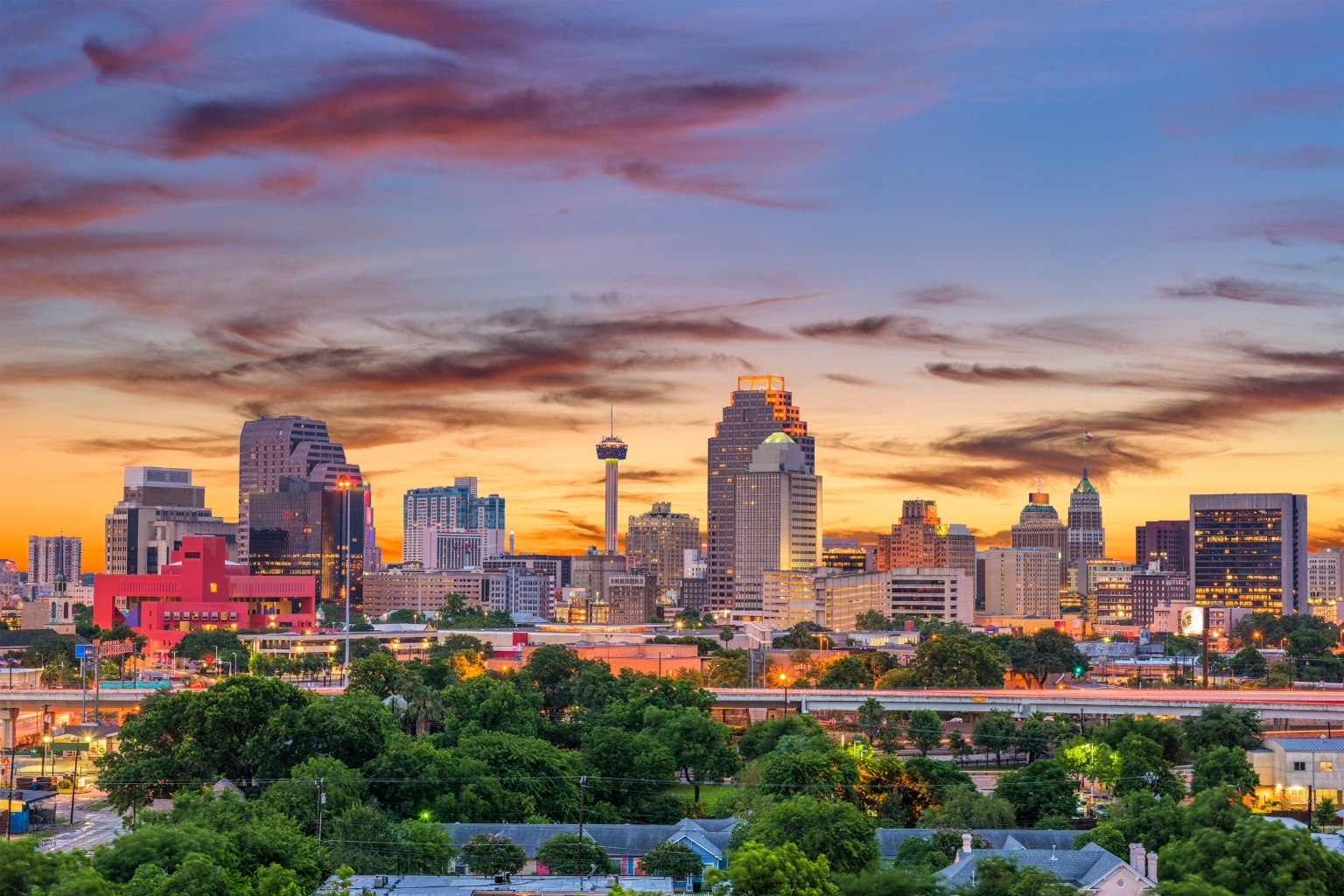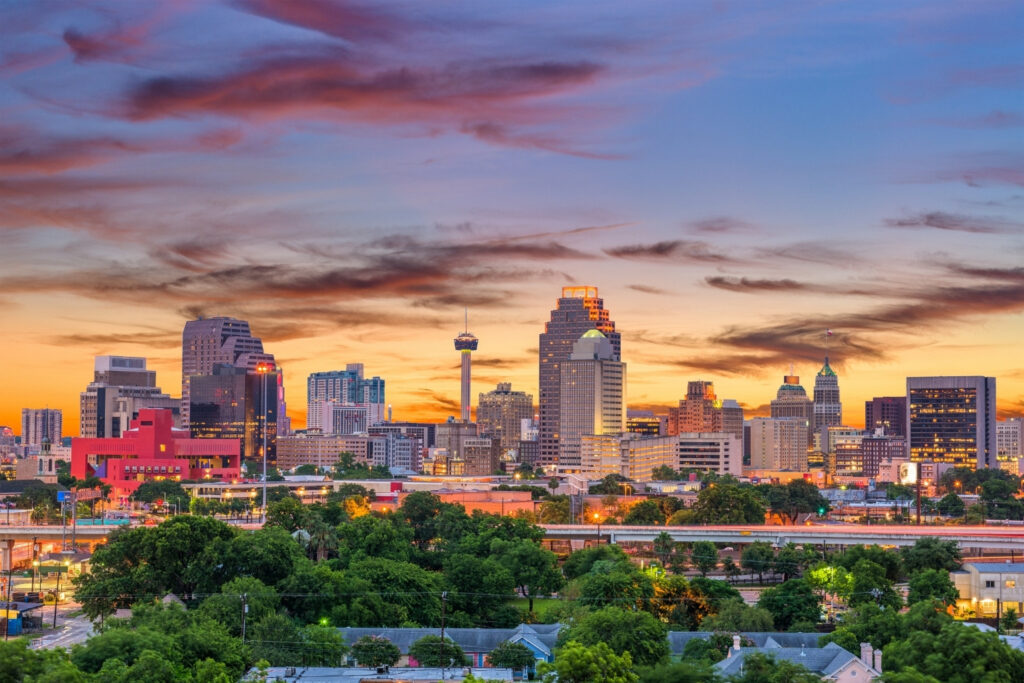 Daily average temperatures in December: High 64°F (18°C) / Low 41°F (5°C)
San Antonio is probably most well known for its famous historic site, the Alamo, where Texans fought for independence from Mexico. There are impressive Spanish colonial missions and a very unique food scene that includes local favorites like Tex-Mex, BBQ and farm-to-market produce.
The year-round popularity of the San Antonio Riverwalk makes it a very walkable destination, especially in December with its Holiday Lights extravaganza. Take a trip up the 750-ft Tower of the Americas at HemisFair Park then go back down to ride the Mission Trail.
Attend the Light the Way Festival, get your fun fix at Six Flags Fiesta or ride Santa's Railroad at San Antonio Transportation Museum. While the Natural Bridge Caverns is gorgeous at any time of the year, in December it gets extra magical with Christmas at the Caverns.
Find your ideal hotel in San Antonio
Houston & Galveston Island, Texas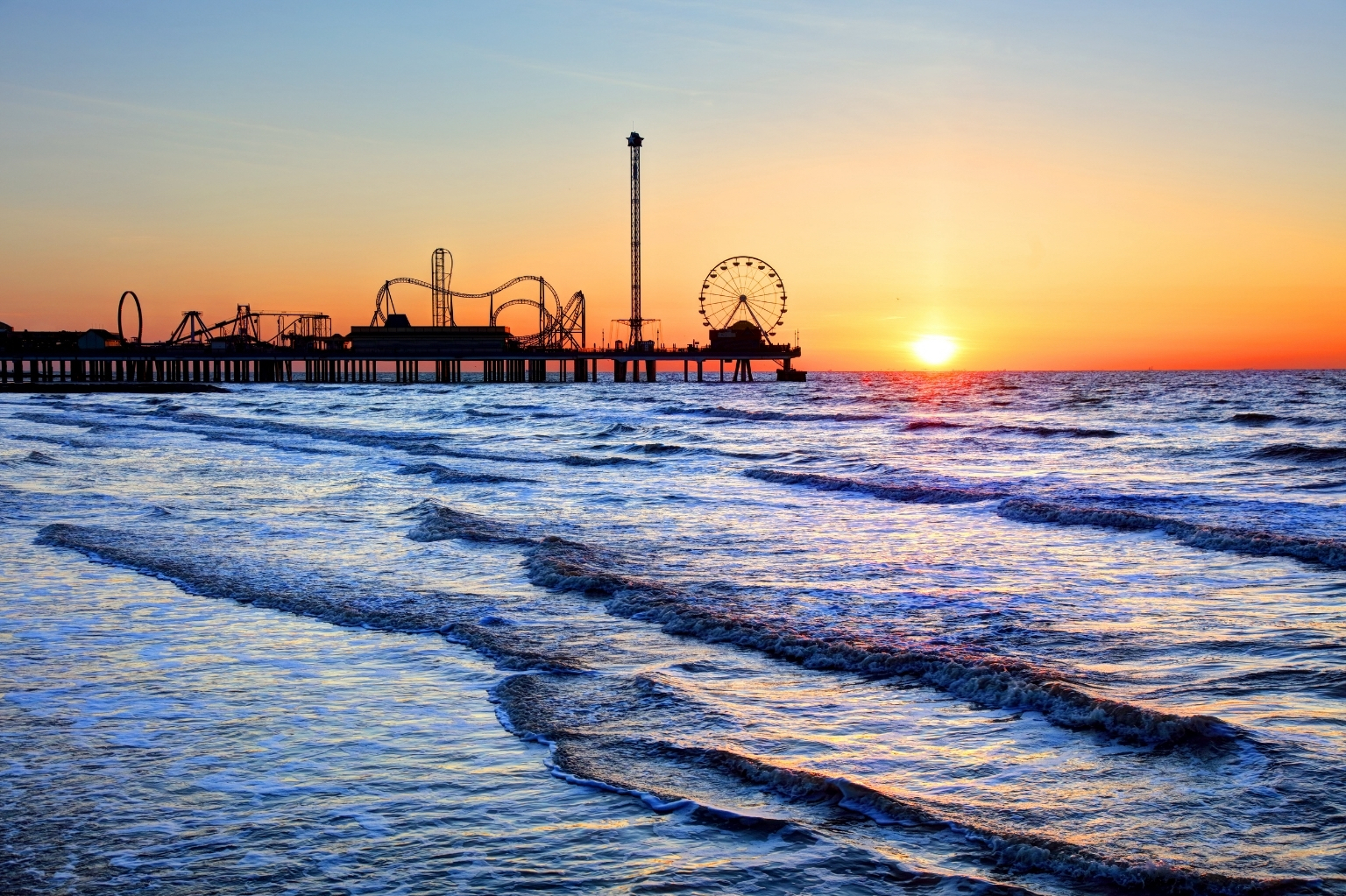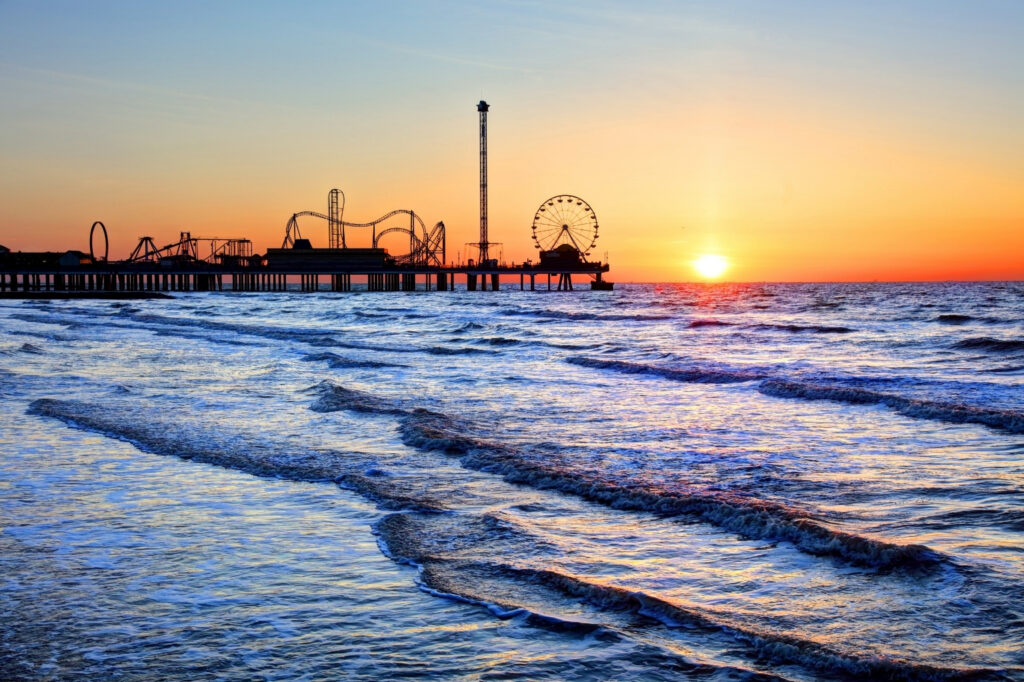 Daily average temperatures in December: High 64°F (18°C) / Low 52°F (11°C)
Another southern city in Texas you can try for warm December weather is Houston. Known as the international hub for space exploration and the home to the NASA International Space Station, Houston offers much more than rocket ships.
Houston brings on the holiday charm with brilliant Christmas markets like the German Christmas Market & Festival in Tomball, the one-day only Holiday on 19th Street with boutique stores, carolers and live music, and even ice skating in warm temperatures at Discovery Green Park.
And of course, no town in December in the USA could be complete without a multitude of lights shows. The top ones to visit in Houston include Zoo Lights at the Houston Zoo, Sugar Land Holiday Lights at Sugar Land Skeeters and Magical Winter Lights in La Marque.
If you're visiting for a few days, make sure to venture south to Galveston Island for an under-the-radar warm December destination in Texas. The Island offers beautiful beaches to stroll along in comfortable temperatures, the Galveston Island Historic Pleasure Pier with rides, and the epic 50-day Winter Wonder Island.
Find your ideal hotel in Galveston Island
New Orleans, Louisiana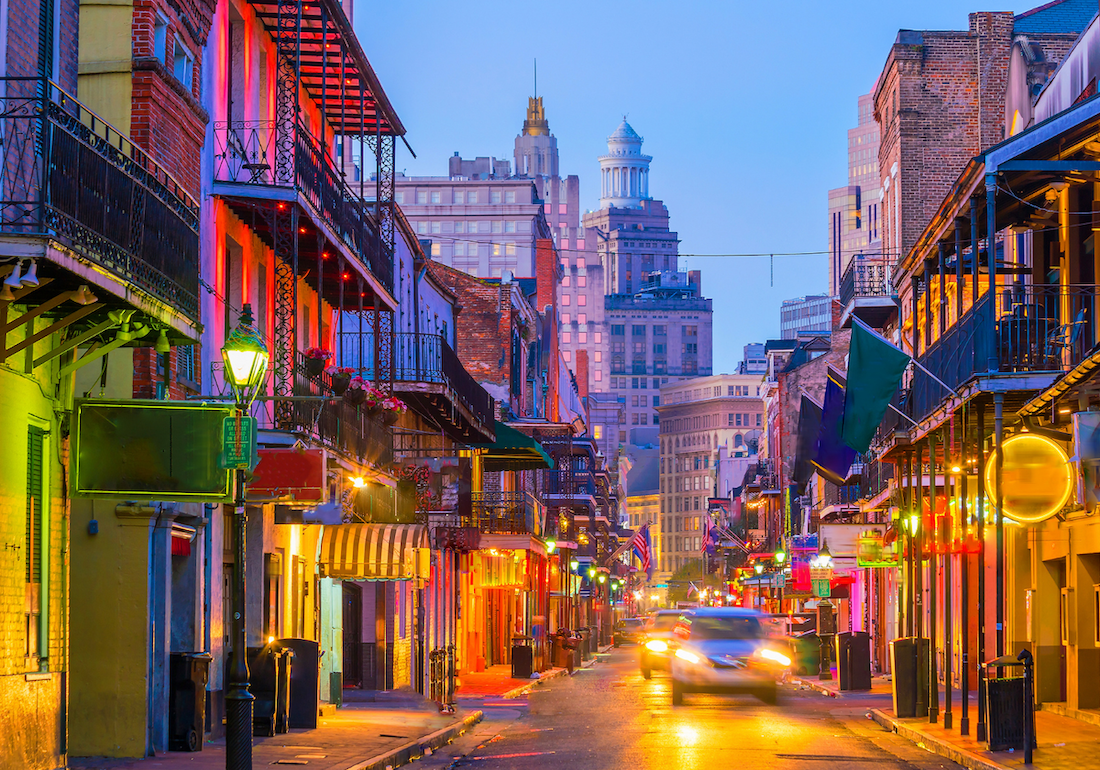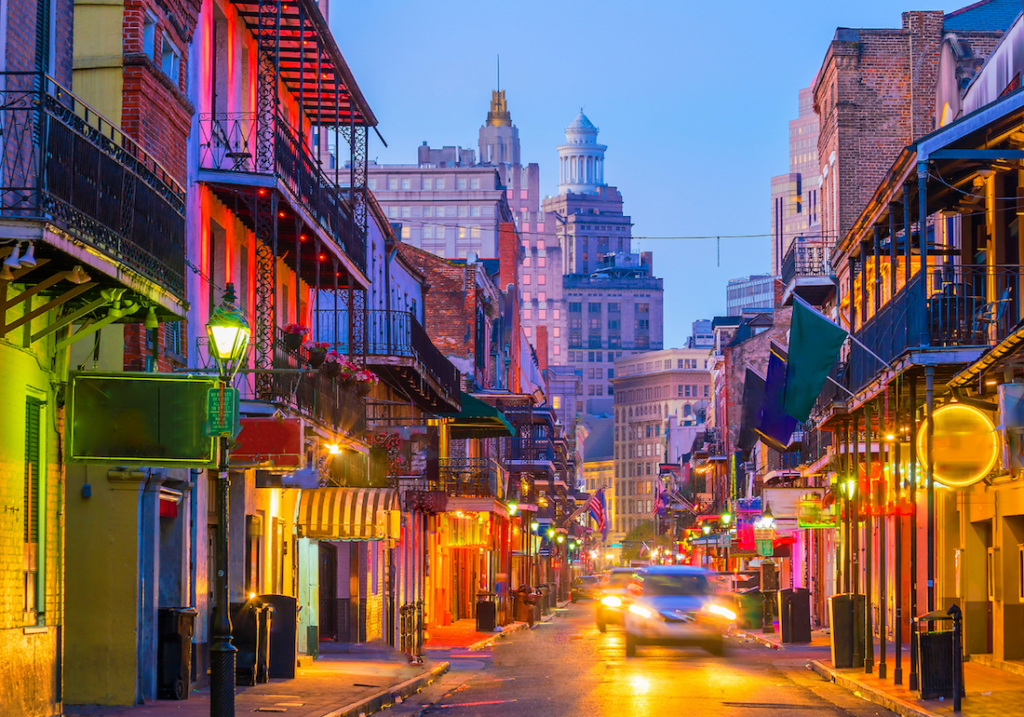 Daily average temperatures in December: High 64°F (18°C) / Low 47°F (8°C)
Leaving the Lone Star state, you can cross over to The Big Easy for a slower-paced Creole winter in New Orleans. The raucousness of Mardi Gras has passed, along with the heat and humidity of the summer. What you get instead is a beautifully temperate festive season with slow rides down the Mississippi, vintage streetcar rides, and Christmas parades starting with the explosive Krewe of Jingle.
Savor the local Creole dishes, drink the night away at a jazz bar or listen to the beautiful carolers in Jackson Square. Take high tea at one of the French Quarter hotels or witness some super high tech displays at LUNA Fête in Lafayette Square.
Find your ideal hotel in New Orleans
Savannah, Georgia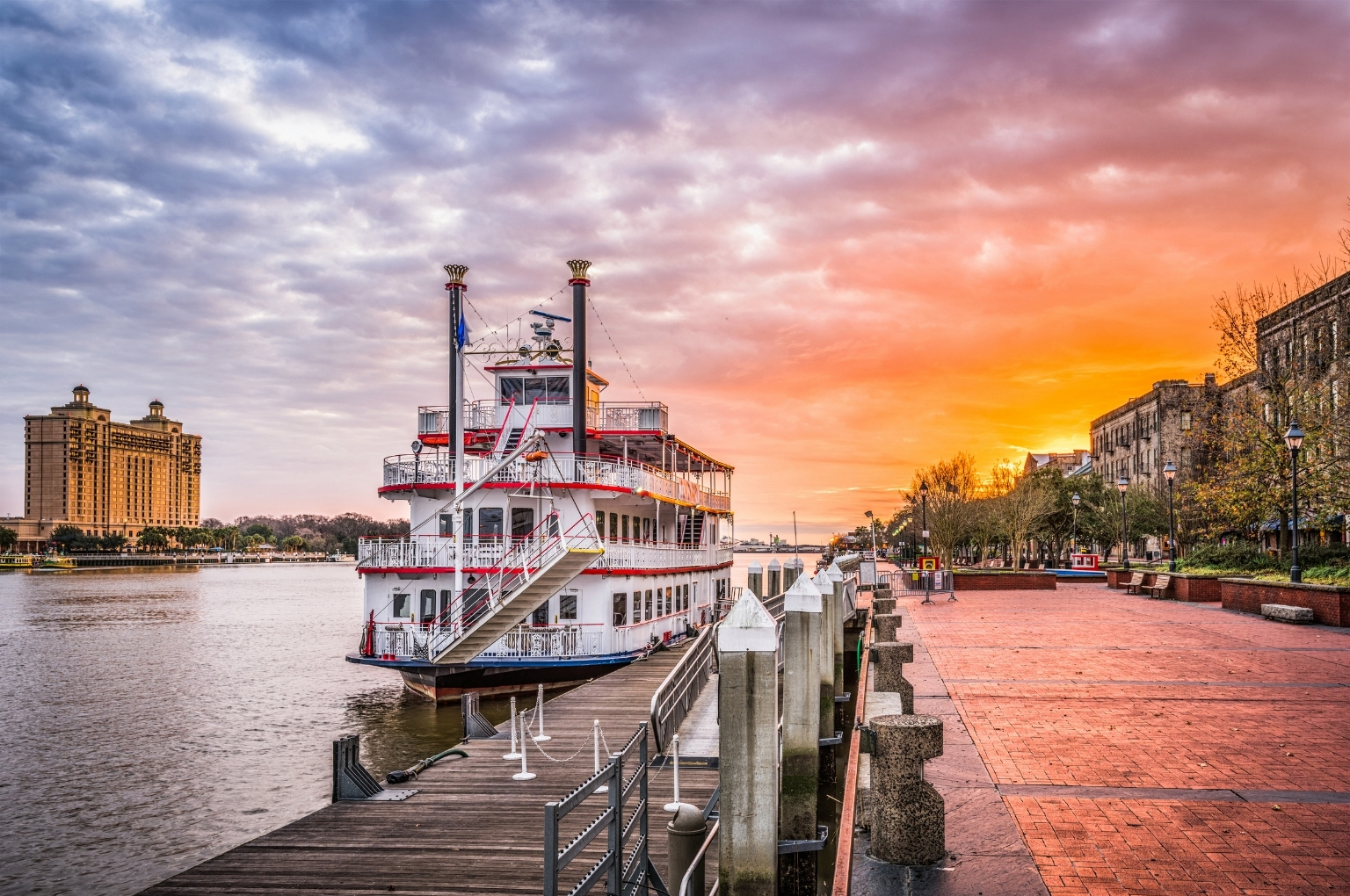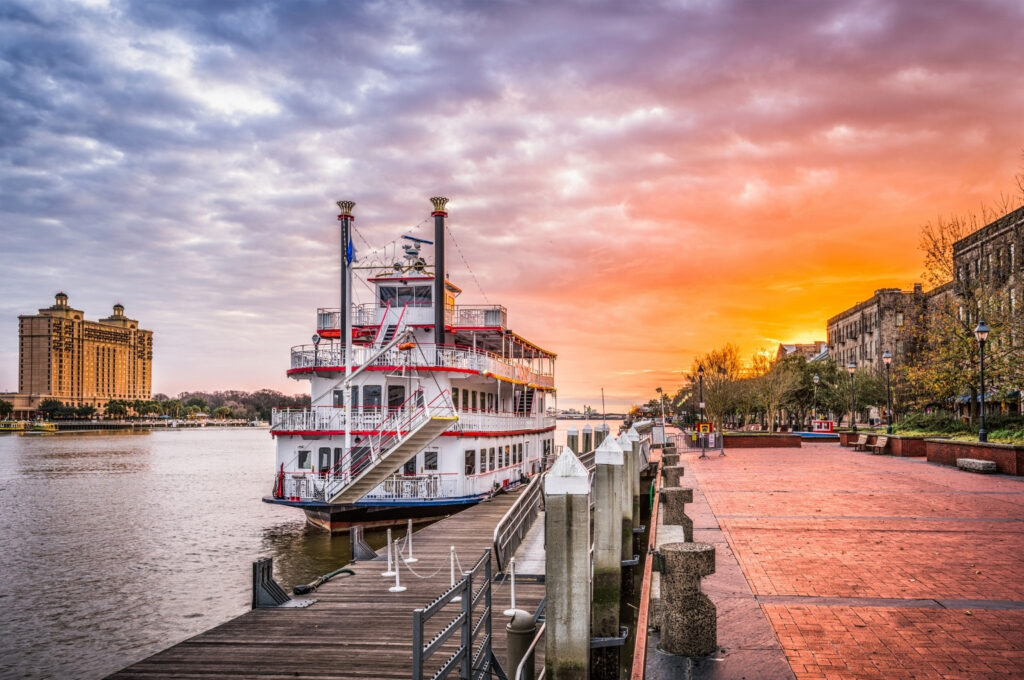 Daily average temperatures in December: High 62°F (17°C) / Low 41°F (5°C)
Savannah really turns on the festive charm in December, and this idyllic Southern town is the perfect spot for holiday cheer. The cobblestone streets are lined with holiday decorations which you can view as you make your way around town in a horse-drawn carriage. And then there are riverside cruises that invite a lazy breezy perspective of the city.
Take a stroll around the streets as you witness antebellum architecture, pristinely kept lawns and an invitation into Southern history. Visit the country's oldest African-American church, the First African Baptist Church, loads of museums ranging from maritime to the arts, or frolic in the Coastal Georgia Botanical Gardens or Forsyth Park.
As temperatures are moderate, you can even head to nearby Tybee Island to spot the dolphins (yup, even in December). See why Savannah is called the "Hostess City of the South" as you are welcomed into this gorgeous coastal city.
Find your ideal hotel in Savannah
Charleston, South Carolina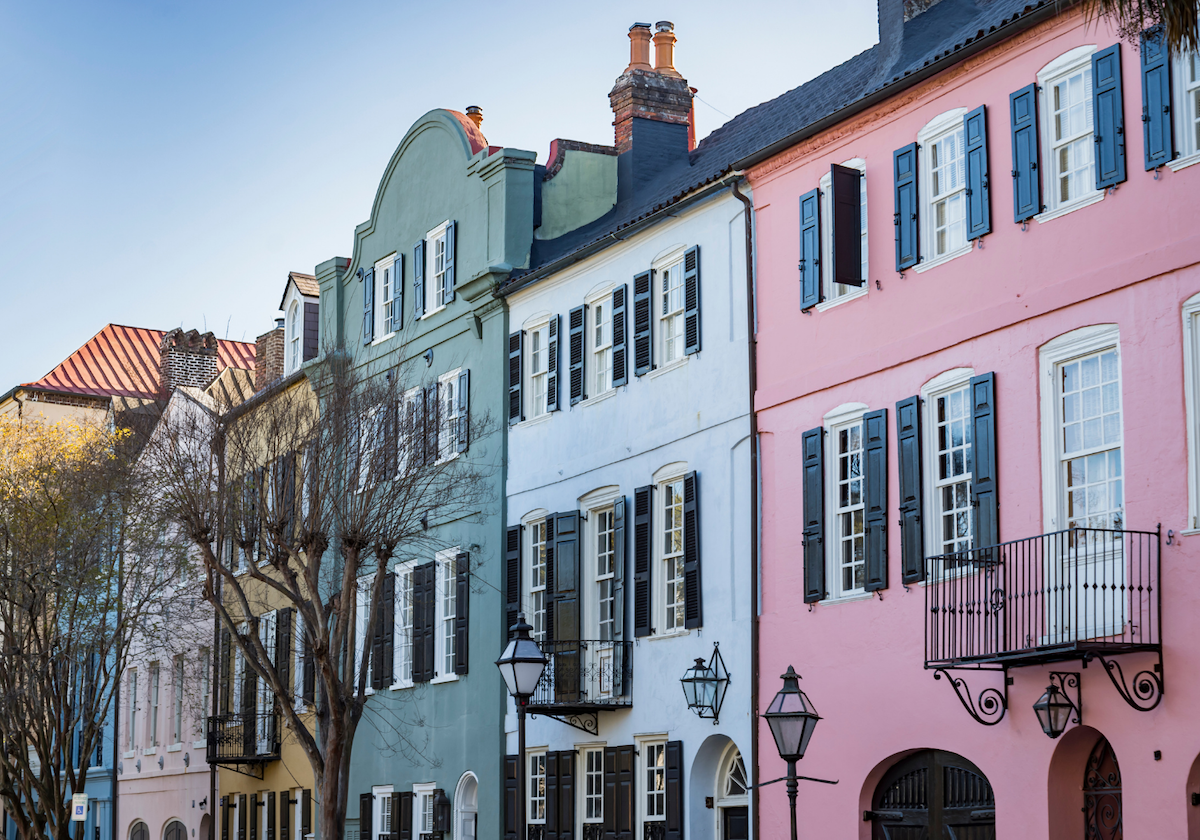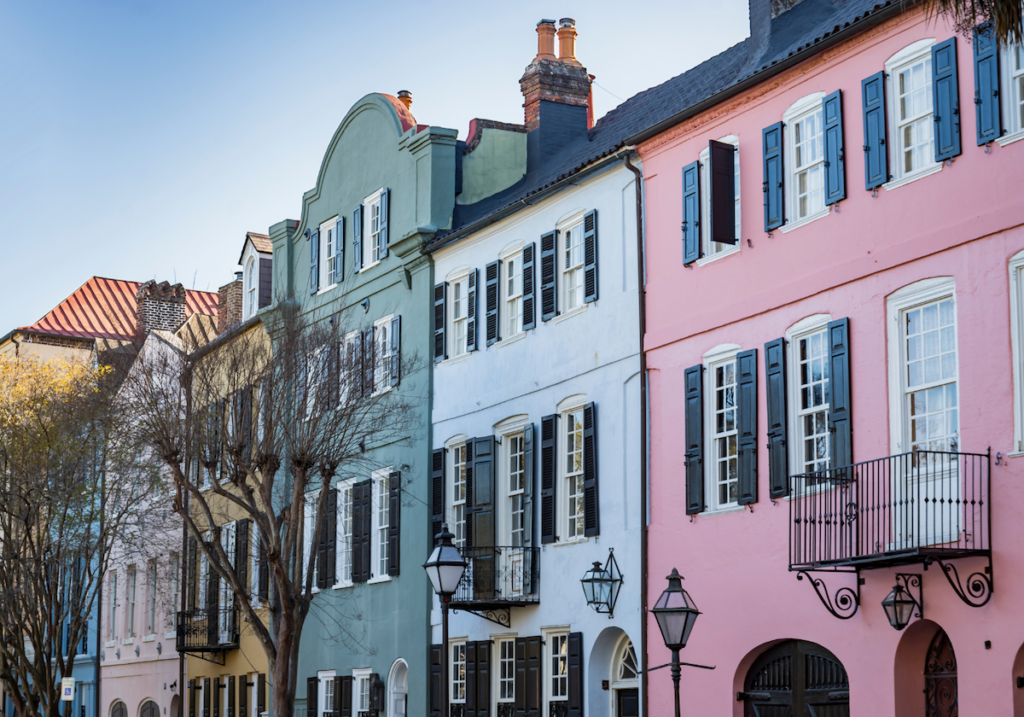 Daily average temperatures in December: High 62°F (17°C) / Low 40°F (4°C)
Much like Savannah, Charleston offers antebellum mansions and pastel-hued French architecture, as well as lazy cruises down the many rivers that branch out from the Harbor. Charleston really is a city that has it all, including mild temperatures in December.
There are plenty of things to do in the Holy City year-round from horse-drawn carriage rides in the Historic District to walking tours along the cobblestone streets.
In December the city is lit up with various events that include a drive-thru exhibit in James Island County Park called the Festival of Lights, the Grand Illumination Dinner at Middleton Place or the Mount Pleasant Tree Lighting & Christmas Light Parade. And of course, you can visit Santa at the Children's Village at Magnolia Plantation.
If things do get a bit chilly, heat things up at the Yorktown Countdown which brings in the New Year on a giant boat in Charleston Harbor. The historic vessel, the USS Yorktown, was used in both World War II and Vietnam, so it carries a lot of history. The Holiday Market at Marion Square sees a tree lighting ceremony, a holiday farmer's market, and a chance to visit Santa.
Find your ideal hotel in Charleston
Beaufort, South Carolina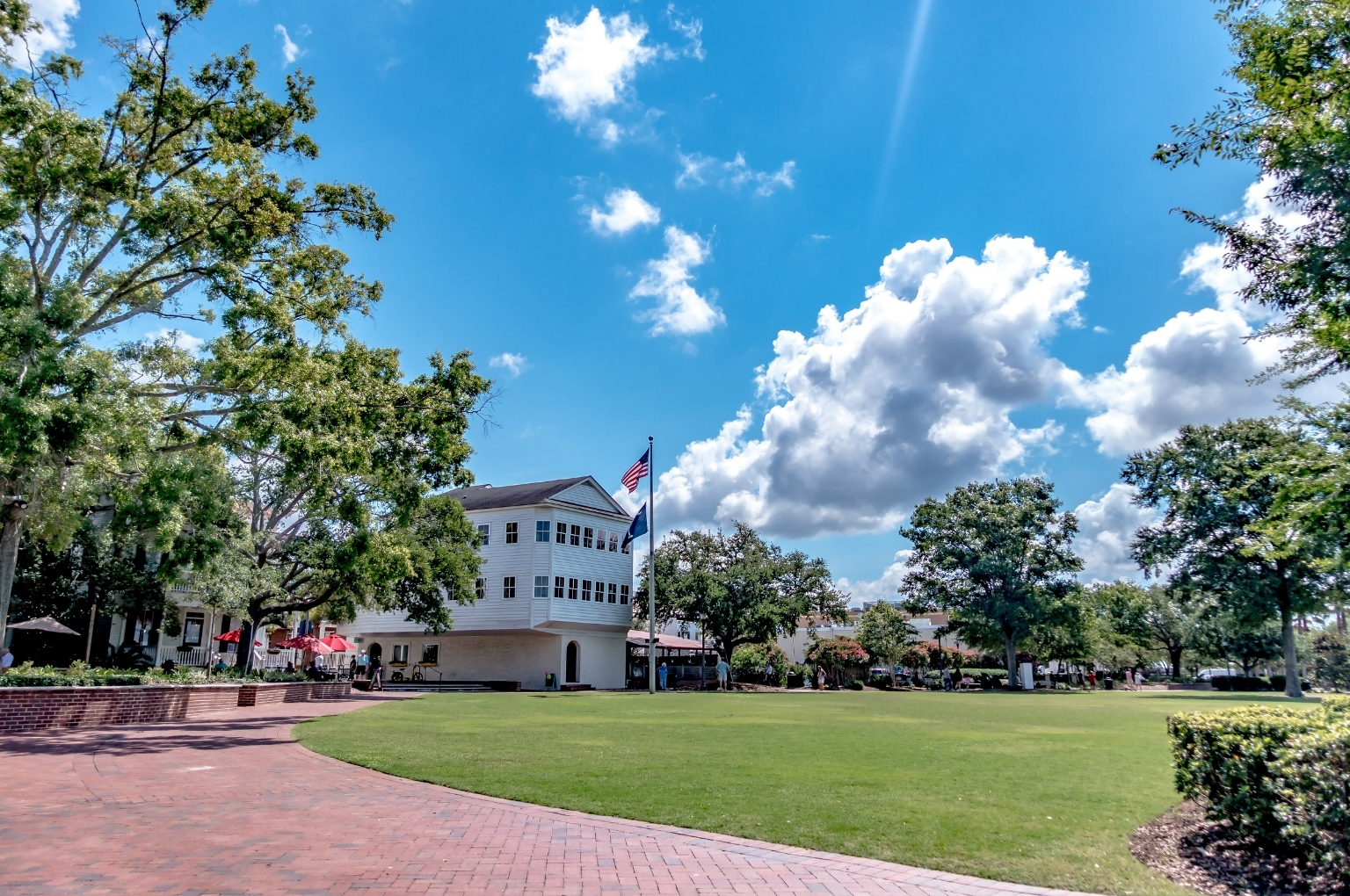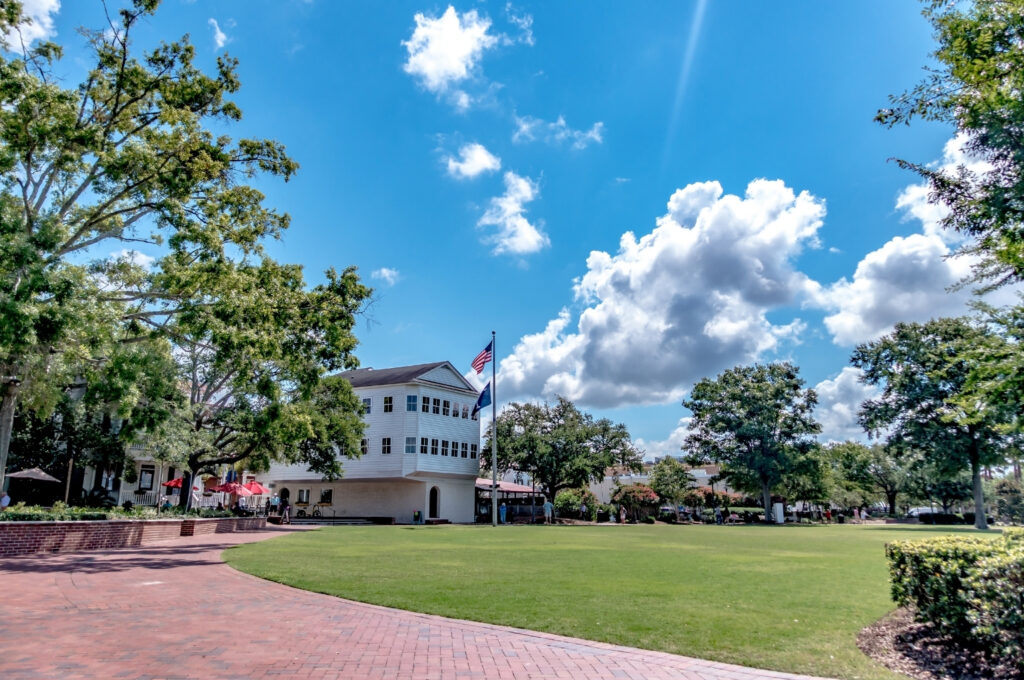 Daily average temperatures in December: High 60°F (16°C) / Low 41°F (5°C)
Further south on the map, one of the beautifully warm places in December in the USA is Beaufort, South Carolina. If you're a film junkie, the name will sound familiar as this is the home to Forrest Gump. Even though Gump calls Greenbow Alabama his home, this is a fictionalised town, and his beautiful antebellum house is actually in Yemassee, just north of Beaufort.
Experience those idyllic scenes where Forrest and Jenny grew up and then join the friendly locals for an intimate, slow-paced holiday season. Explore the gorgeous beaches of Hunting Island State Park, kayak down the salt marsh or the ACE basin, visit the quaint Hilton Head Island or venture along the Spanish Moss Trail.
December in Beaufort is a tad slower, so unlike the other over-the-top festivities, it concentrates more on family, community and relaxation over the holidays.
Find your ideal hotel in Beaufort
Tampa, Florida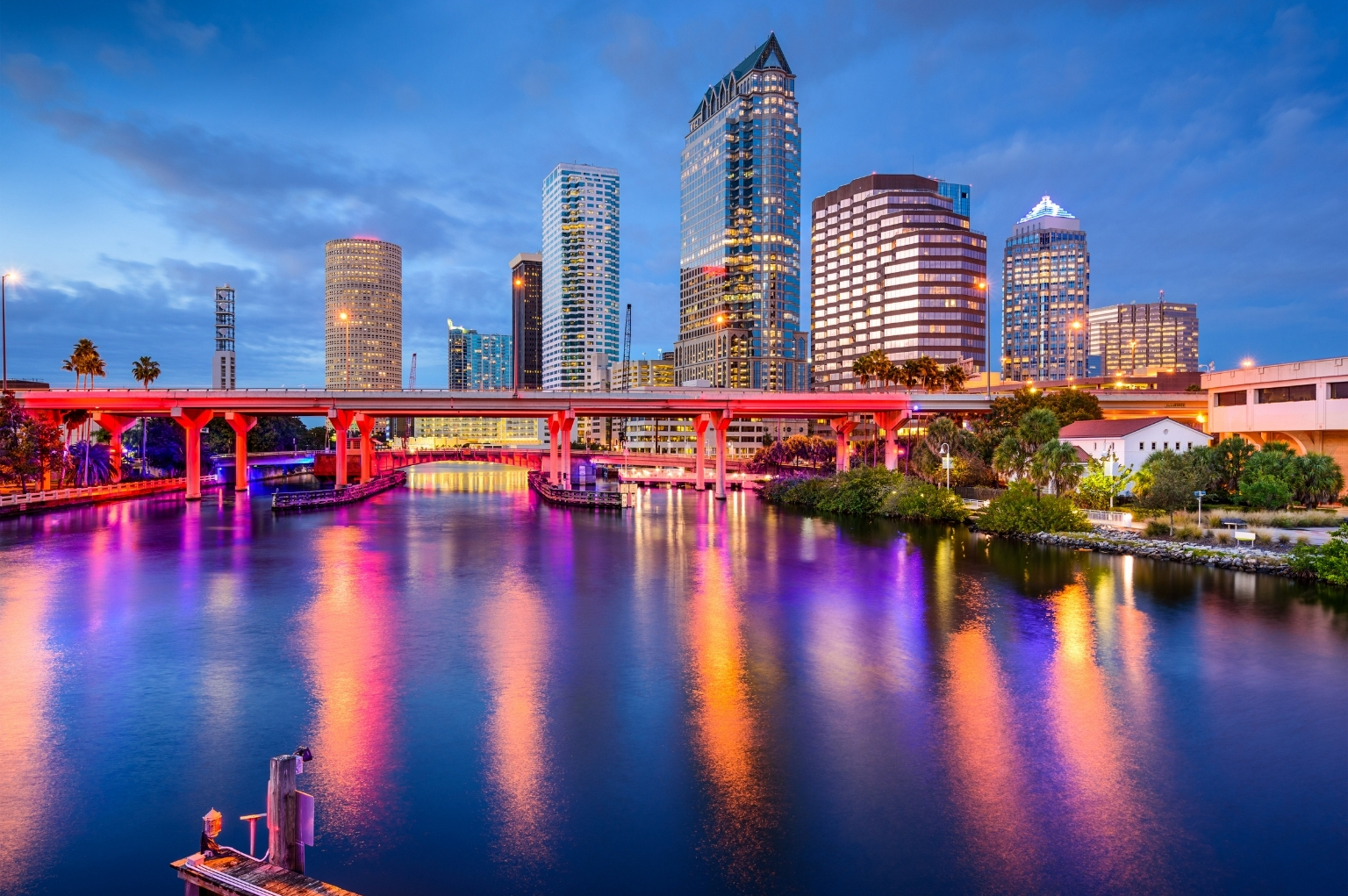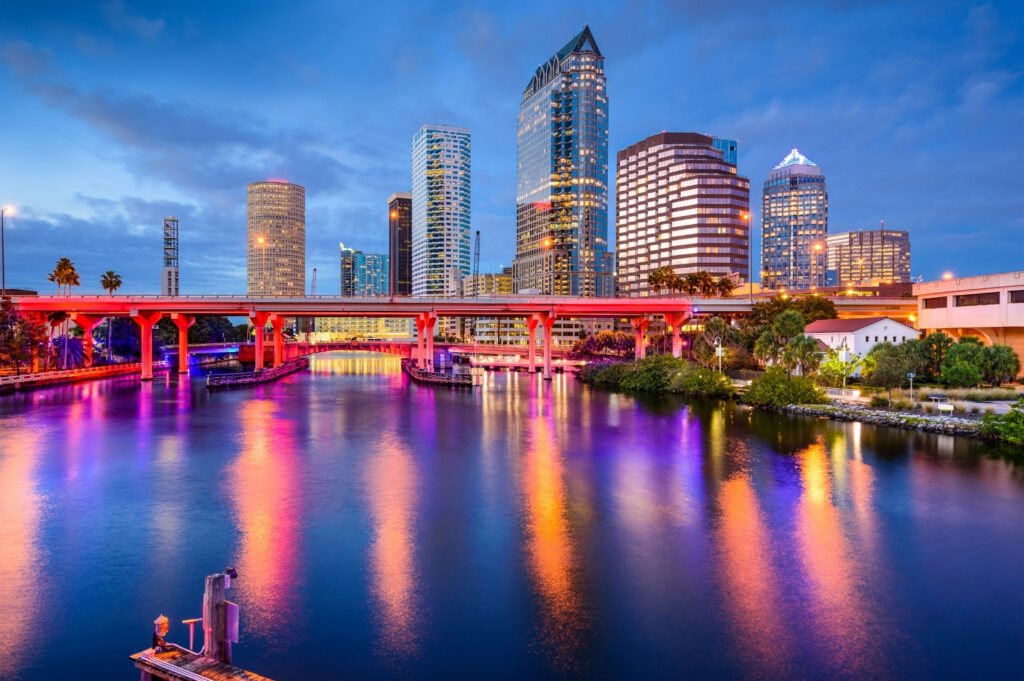 Daily average temperatures in December: High 72°F (22°C) / Low 57°F (14°C)
Heading further South and crossing through Georgia, you'll arrive at our final US state that's warm in December: Florida. Just like southern California, Florida is a literal hotspot for travelers seeking warmer climates in the US winter. It shares the same latitude as Mexico's Baja California, so you know it's going to be bright and balmy.
Tampa is a family destination packed with activities, day and night. There's Busch Gardens, a 335-acre Africa-inspired theme park that's filled with infamous roller coasters, over 2,000 animals, fun live shows and a special Christmas Town during the holidays. But even if you're visiting solo, don't let this deter you from having a great time and releasing your inner child.
Take scenic strolls along the Tampa Riverwalk, witness local and international animals at ZooTampa at Lowry Park, take a dive at Clearwater Beach, or catch Tampa's Pirate Water Taxi through the city's waterways downtown. You can even experience winter in the heat with a visit to the Winter Village at Curtis Hixon Park or the epic Snowcat Ridge Alpine Snow Park.
Take a ride outside of the city center to the other cities in the Tampa Bay area like St. Petersburg, which is famous for its Snow Fest, Dunedin's beaches and mangroves, or eat authentic Greek food at one of the eateries that line waterfront on Dodecanese Boulevard in Tarpon Springs. Drive a little further and you can swim with the manatees in Crystal River.
Find your ideal hotel in Tampa
Orlando, Florida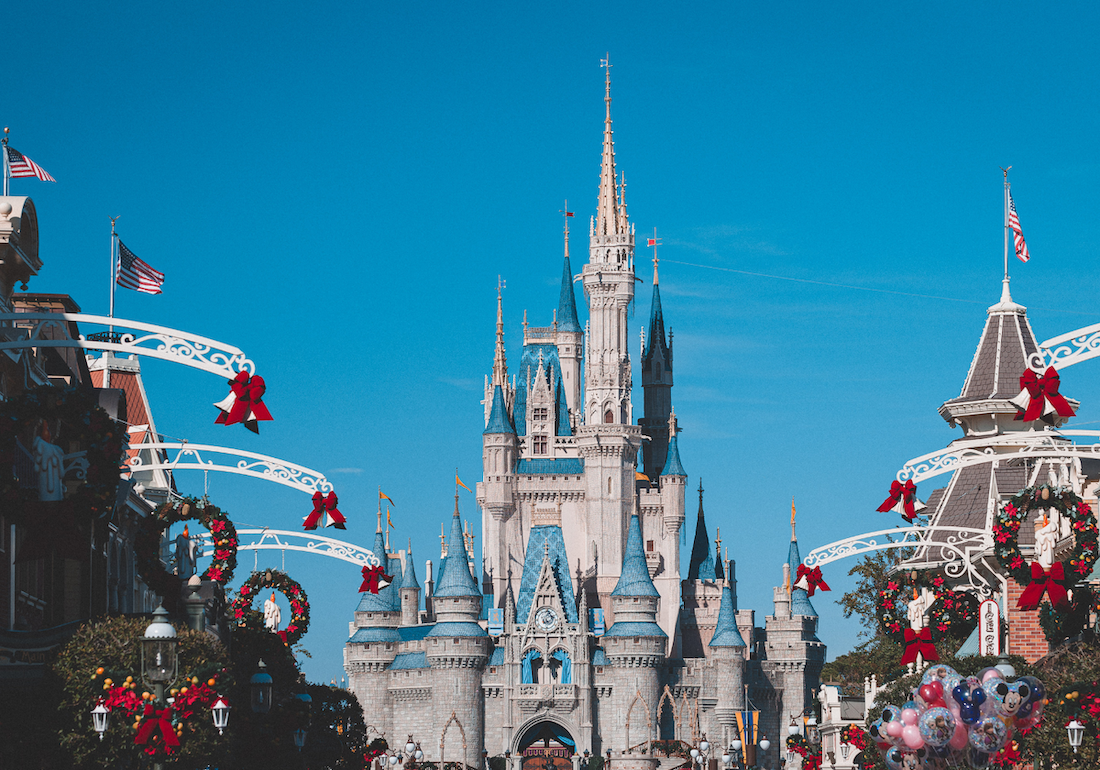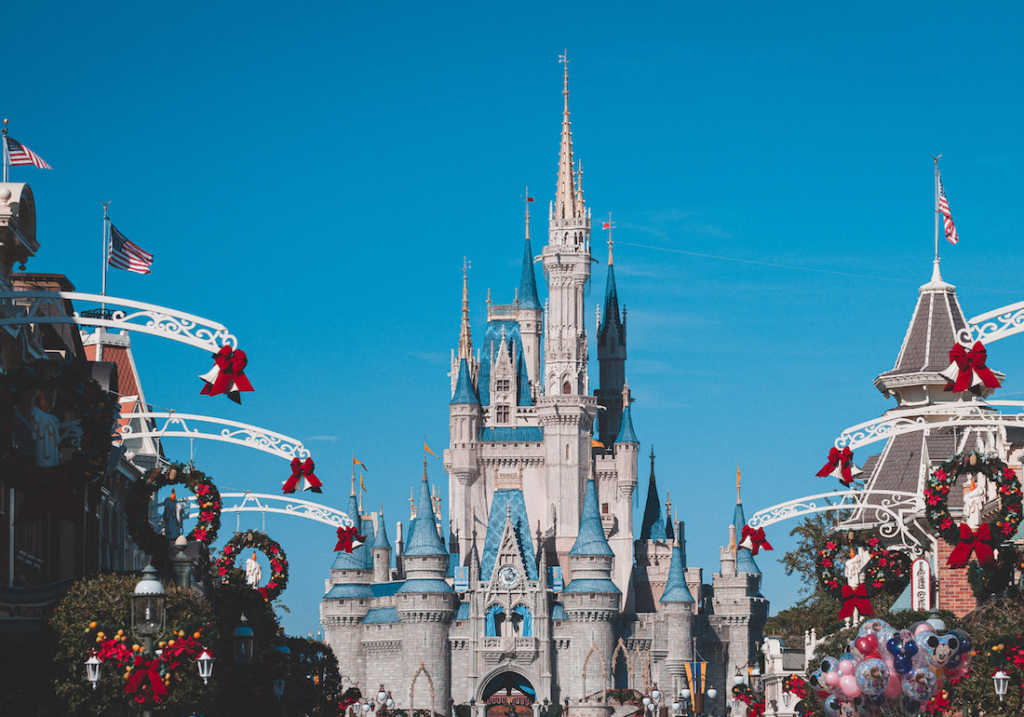 Daily average temperatures in December: High 72°F (22°C) / Low 54°F (12°C)
Probably the most obvious of the warm places in December in the USA is Orlando, Florida. Orlando is home to basically every theme park you can dream of, from Walt Disney World Resort to Universal Studios Florida, from Epcot to Fun Spot America Theme Parks. You can visit the Wizarding World of Harry Potter in the morning and move over to WonderWorks Orlando in the afternoon.
The best part about visiting in December is that the festivities are in full force with festive decorations throughout all the theme parks. Some even have their own annual holiday events like the Epcot International Festival of the Holidays.
Enjoying an amusement park alone is a great idea because you won't have to make any concessions or compromises, and nobody cares if you are alone or not, as friends and families split to make the most of the rides and wait time anyway. You may even find that single riders get called to the front of the queues, though it's still a good idea to bring your favorite music to listen to or an audiobook if the lines are long.
While there are some unusual and cool things to do in Orlando, the main reason you'd visit is for the thrill of the theme parks in the amazingly mild temperatures.
Miami, Florida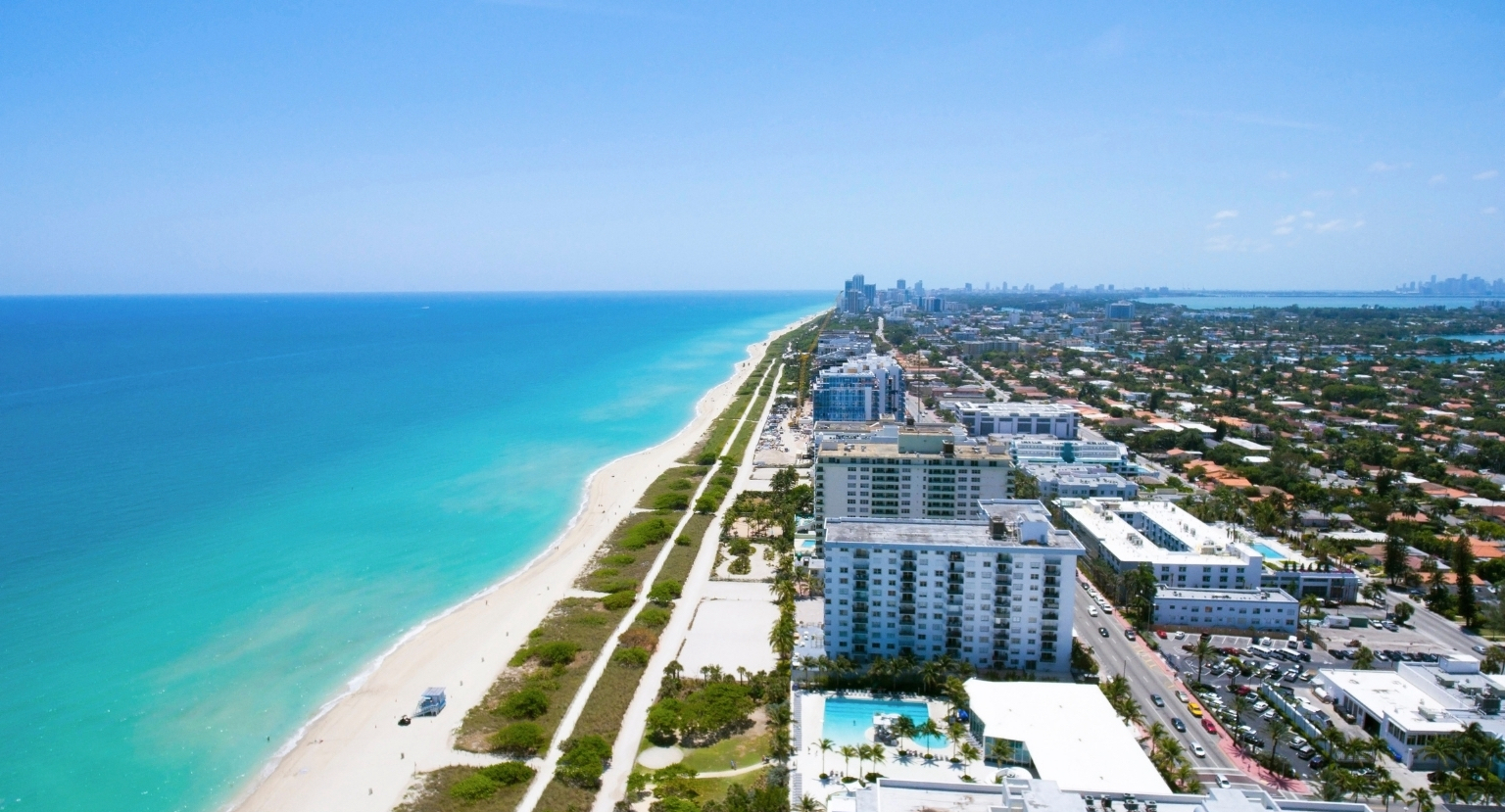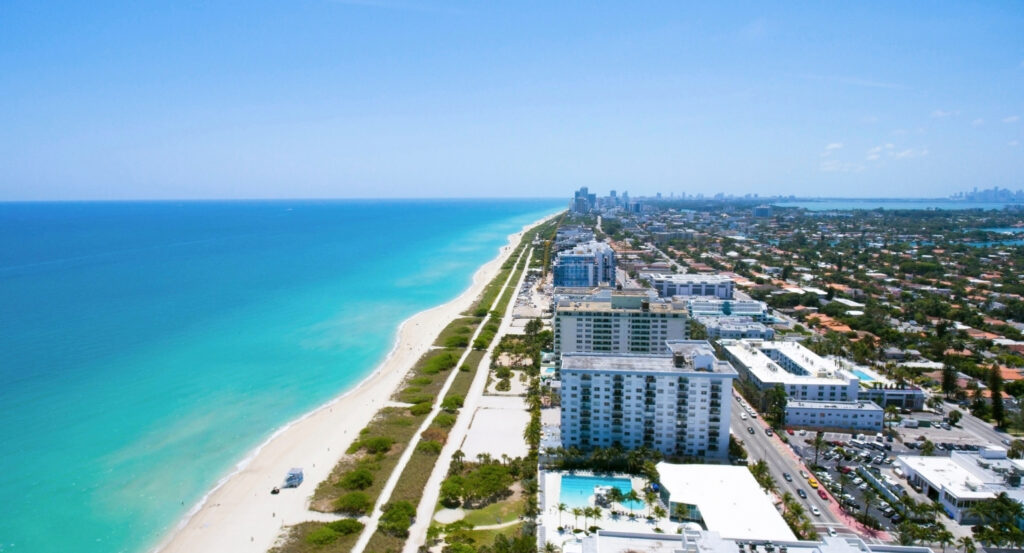 Daily average temperatures in December: High 78°F (26°C) / Low 63°F (17°C)
Probably the hottest place in December in the USA is Miami, Florida. If you're looking for an endless summer, this is the place to be while the rest of the country is frozen; get ready to build a sandman instead of a snowman as you'll be spending a lot of your time on the beach.
Beyond the sand and sea, Miami knows how to bring the festive party with Nights of Lights at Pinecrest Gardens, Bright Lights Miami at Virginia Key Beach Park, or the annual Zoo Lights at Zoo Miami in South Dade. As Miami is a melting pot of cultures expect for something different like the Luminosa Chinese Lantern Festival, explore Miami's Cuban roots in Little Havana, or get highbrow and check out the Art Basel Fair at Miami Beach.
Special holiday concerts are always playing, and there's a thriving night scene, glorious food, amazing architecture and beaches for days. While Orlando is fun for families, Miami is more for the younger crowd or LGBTQI+ travelers looking for a warm place to call home in December.
Find your ideal hotel in Miami
Key West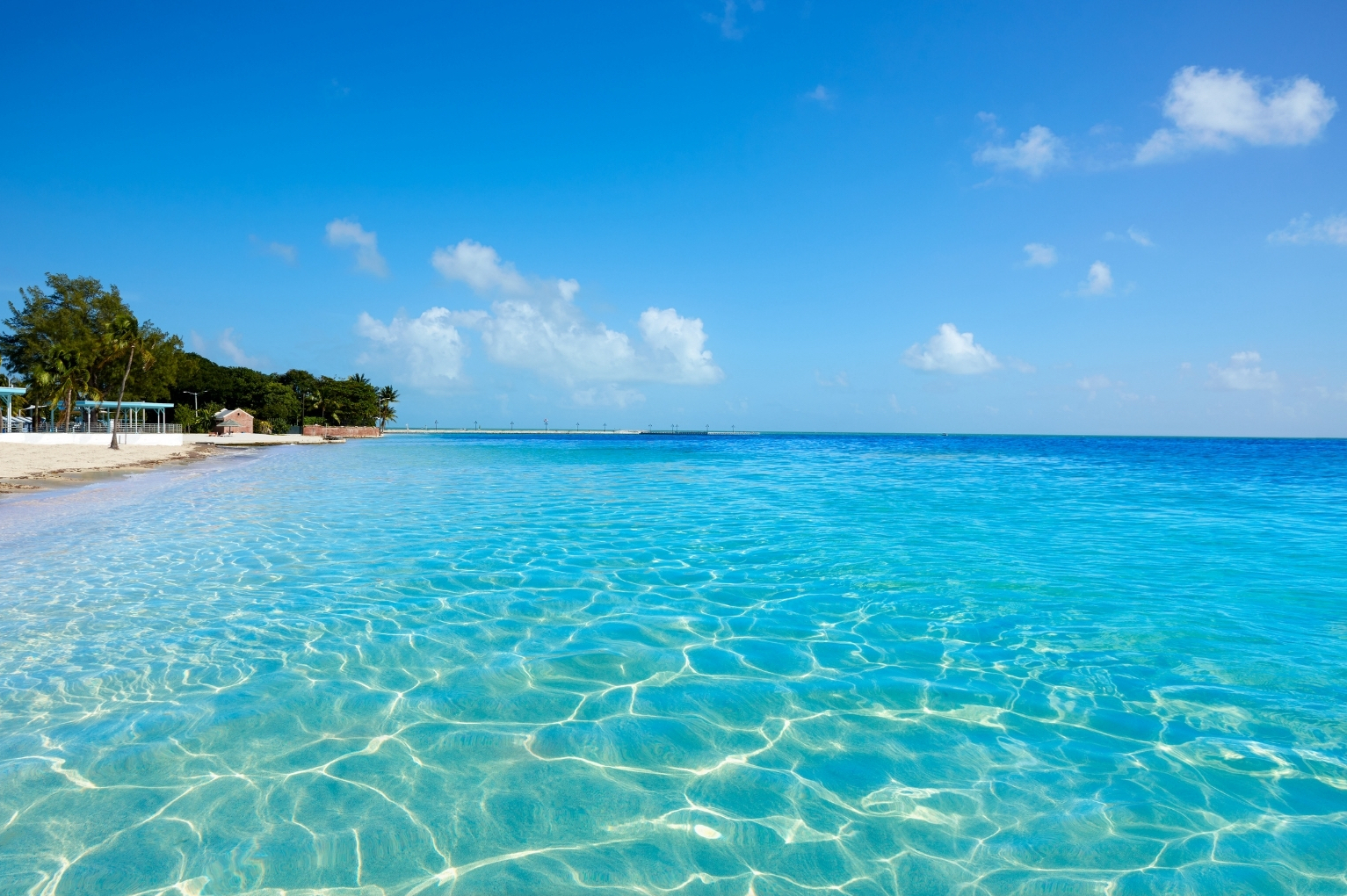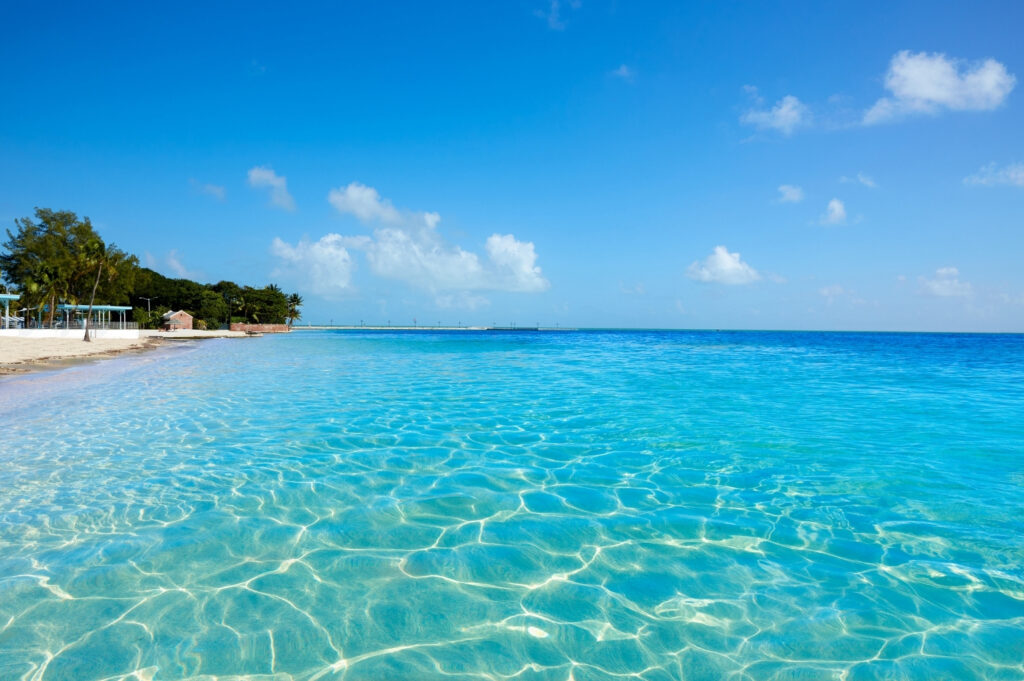 Daily average temperatures in December: High 78°F (26°C) / Low 63°F (17°C)
From Miami, you could also pop over to Key West (3 hour drive south). Known for its incredible cuisine, fishing, diving, and sunset cruises, this is a laid back place which sits at the end of a much more colorful "red carpet" of coral keys or small islands that collectively form the Florida Keys.
Set on the southernmost point in the continental US, Key West looks and feels as though it should belong in the Bahamas. So you'd be forgiven if you thought you'd just stepped foot in the Caribbean!
Most people travel to down a margarita and feast on its delicious key lime pie under the shade of palm trees, though Key West has an incredibly fascinating history, and there are plenty of historic and cultural sites, including Old Town, Hemingway Home and Museum (legendary American author Ernest Hemingway lived here for nearly 10 years), Harry S. Truman Little White House, and the Key West Lighthouse.
From here, you can also arrange to catch the ferry that runs to Fort Jefferson which sits lonely in the Dry Tortugas. The fort is the largest brick masonry structure in the Americas and can be visited via day trips or an overnight camping adventure.
Find your ideal hotel in Key West
Puerto Rico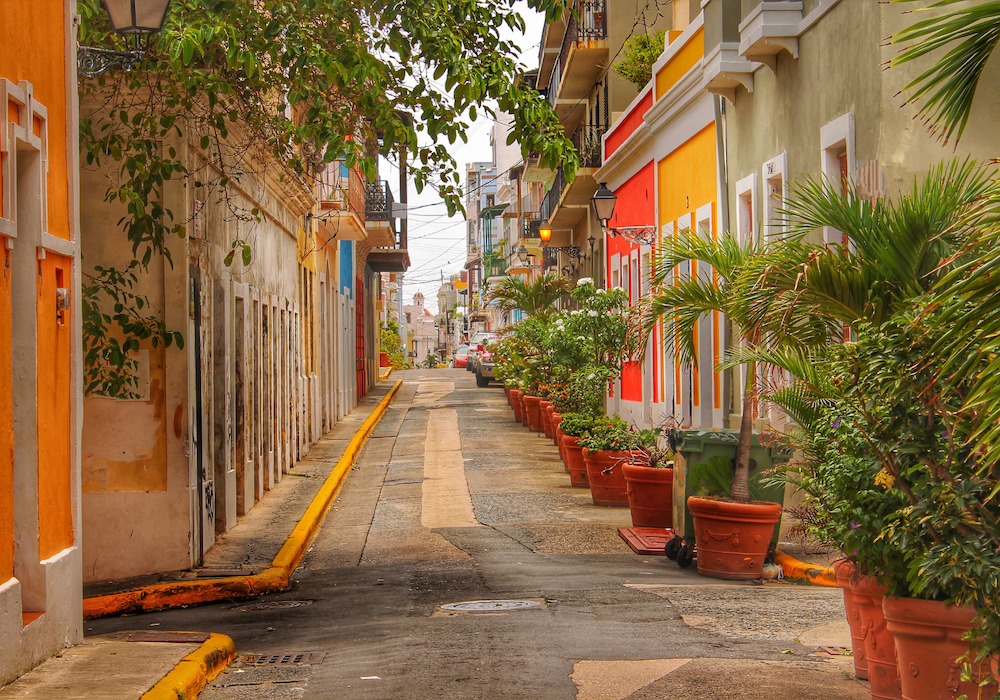 Daily average temperatures in December: High 84°F (29°C) / Low 73°F (23°C)
An idyllic warm place in December in the USA is Puerto Rico. This US territory is filled with glorious beaches, high temperatures day and night, a flamboyant culture and unique history.
One of the best parts about visiting Puerto Rico in December is joining one of the parrandas or street festivals. Puerto Rico celebrates the holidays like no other, and festivities blend both Spanish and African traditions.
Don't miss the San Sebastián Street Festival and the eight-day octavitas celebration, which follows the Epiphany on January 6. That's right, we recommend visiting in December, but staying long enough to party right past the New Year and into January.
Sip your local piña colada in the gateway to the Caribbean at one of the many resorts, experience one of the bioluminescent bays like Laguna Grande in Las Croabas, Fajardo, or hike the only tropical rainforest in the U.S. National Forest System, El Yunque.
Find your ideal hotel in San Juan, Puerto Rico
St. Croix, US Virgin Islands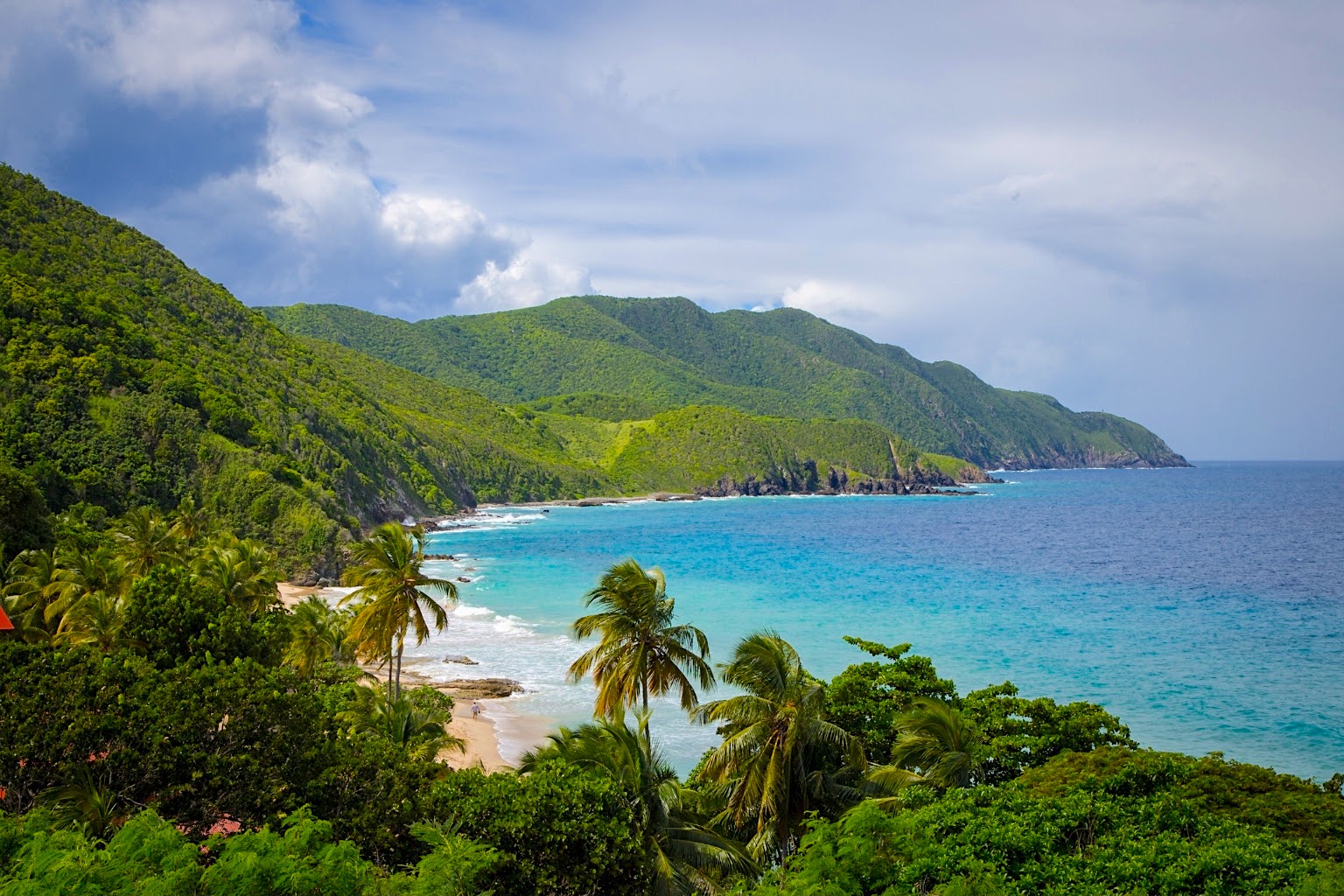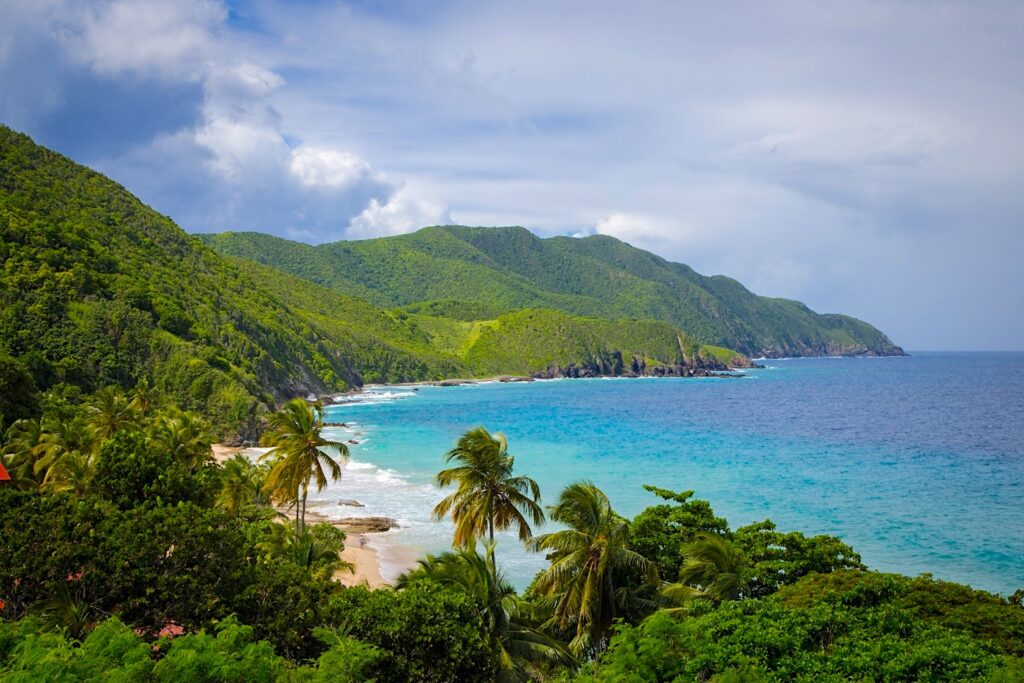 Daily average temperatures in December: High 82°F (28°C) / Low 72°F (22°C)
Just south-east of Puerto Rico is the largest of the US Virgin Islands (USVI), St Croix, which boasts an interesting cultural blend and multi-layered history. While the temperatures are super hot, this time of year also brings the "Christmas Winds" which is a welcoming tropical breeze.
Join the month-long Crucian Carnival for an epic Caribbean party, participate in the annual Christmas Bird Count, and if you're an active vacationer, run the International Marathon. Otherwise, just take an easy vacation strolling the beaches and digging into the local cuisine.
Find your ideal hotel in St. Croix
St Thomas, US Virgin Islands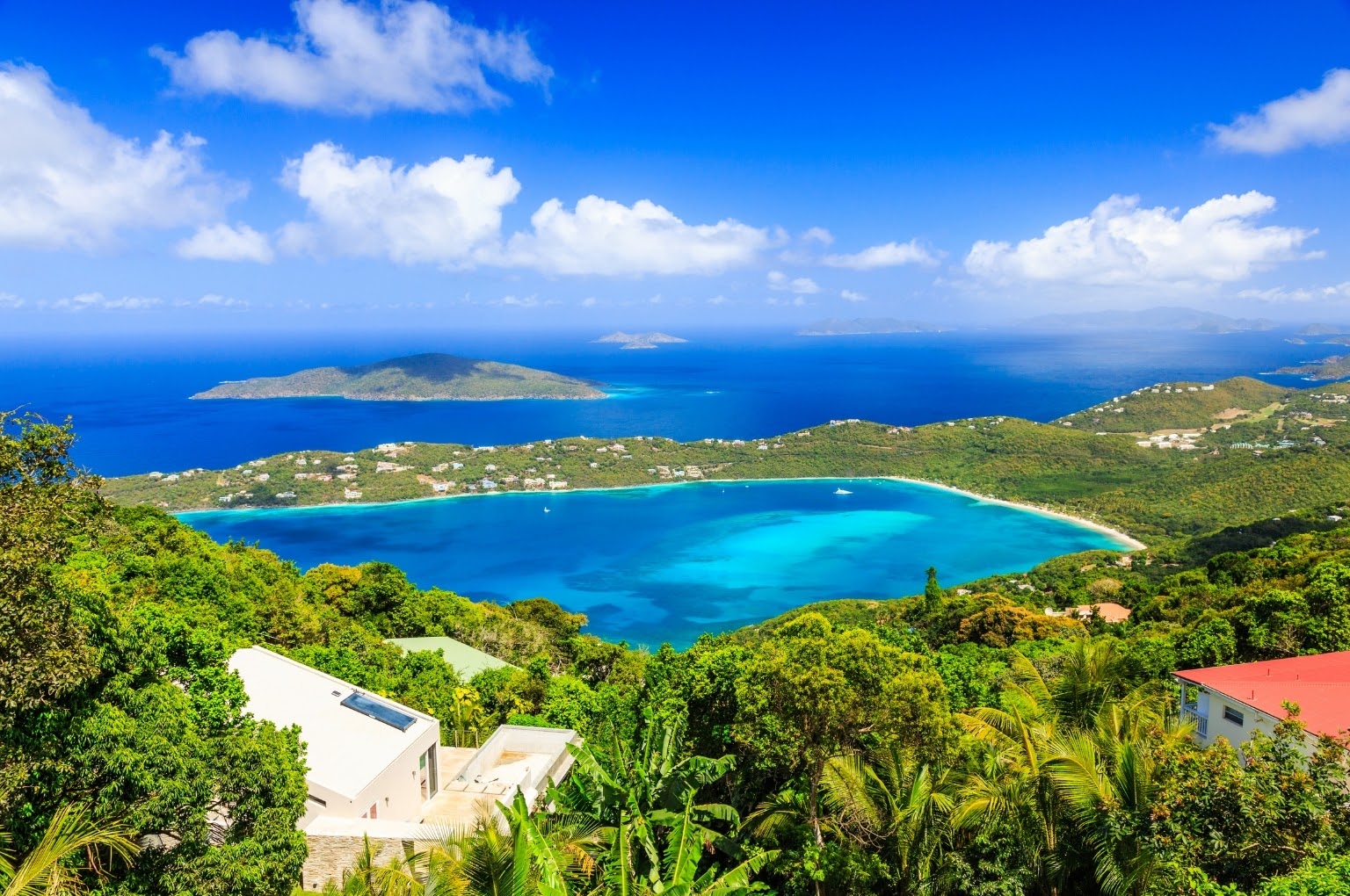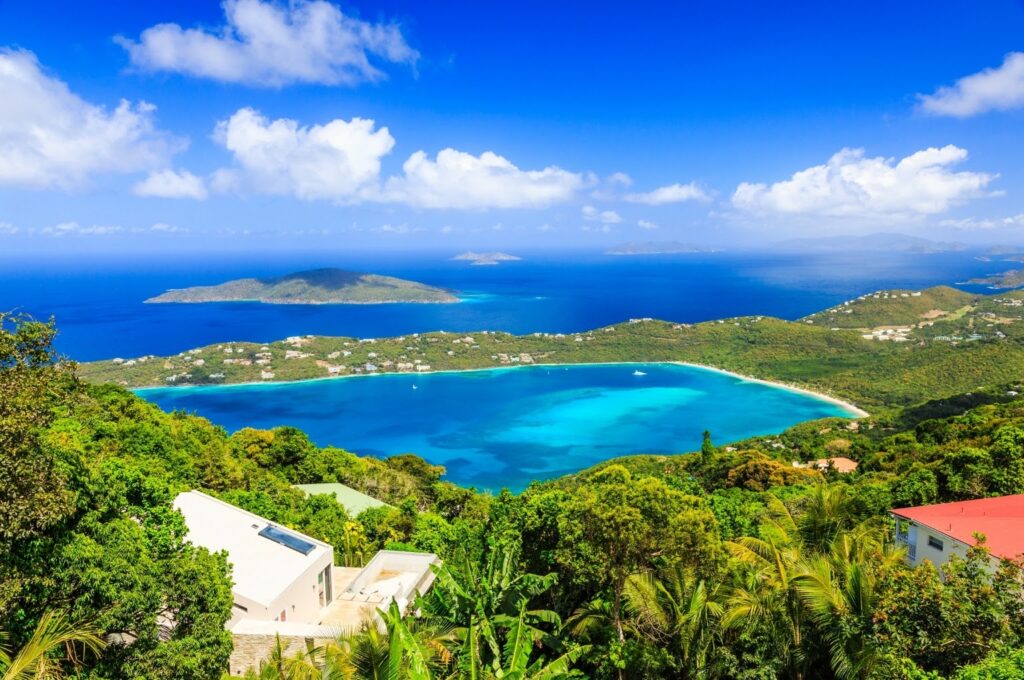 Daily average temperatures in December: High 84°F (29°C) / Low 75°F (24°C)
Take a trip just north of St Croix to St Thomas, one of the most popular of the USVI. Though keep in mind that the island is also a regular stopover of many cruises, so it can get a little busy near the port.
December is actually the start of the tourist season at St Thomas, so the rains are low and the visitors are just starting to trickle in. It's covered in glorious natural beauty when you get away from the crowds.
Find your ideal hotel in St. Thomas
St John, US Virgin Islands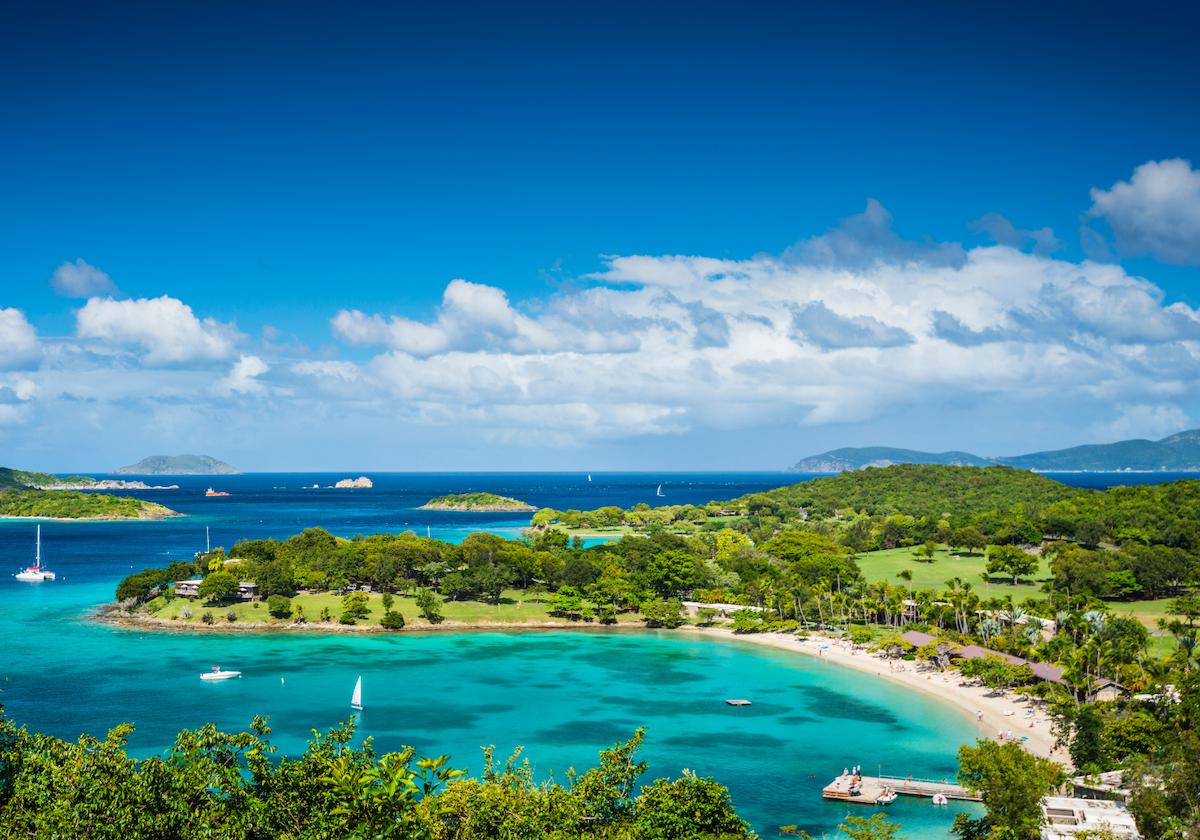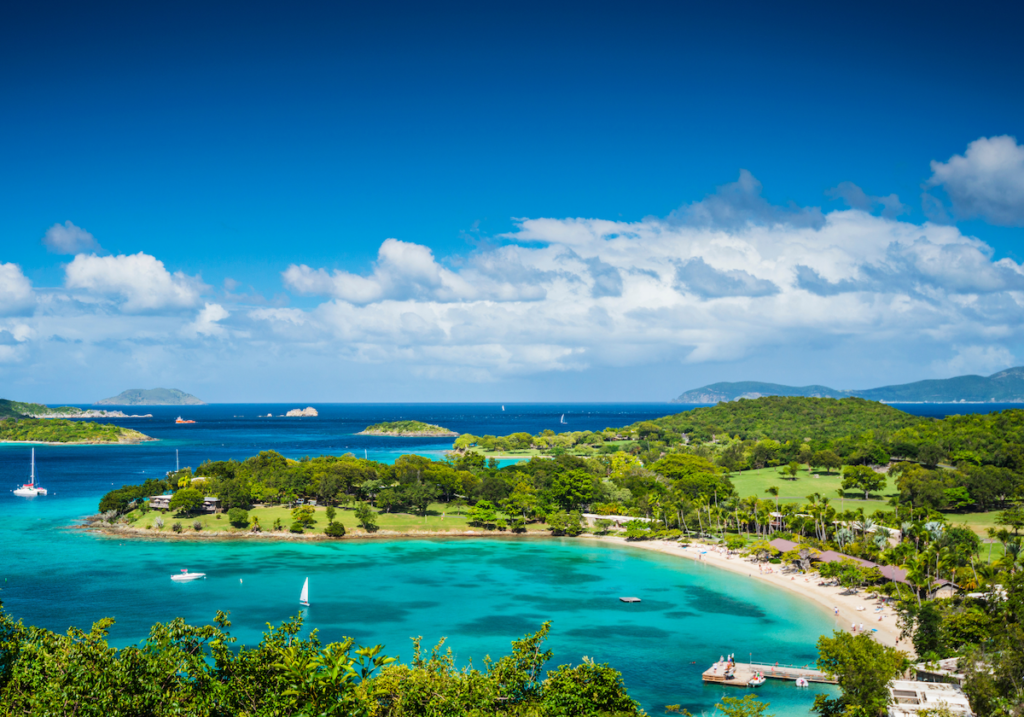 Daily average temperatures in December: High 79°F (26°C) / Low 68°F (20°C)
The island just east of St Thomas is St John, the second smallest of the four USVI. There are no direct charters to St John, so you'll have to go via St Thomas. But this additional travel means less tourists and a calmer vibe.
On St John you'll find beautiful snorkeling spots, white-sand beaches, and hikes through the lush, tropical Virgin Islands National Park. There's no better way to relax in December in the USA than a sunny Caribbean holiday.
Find your ideal hotel in St. John
Tumon Bay, Guam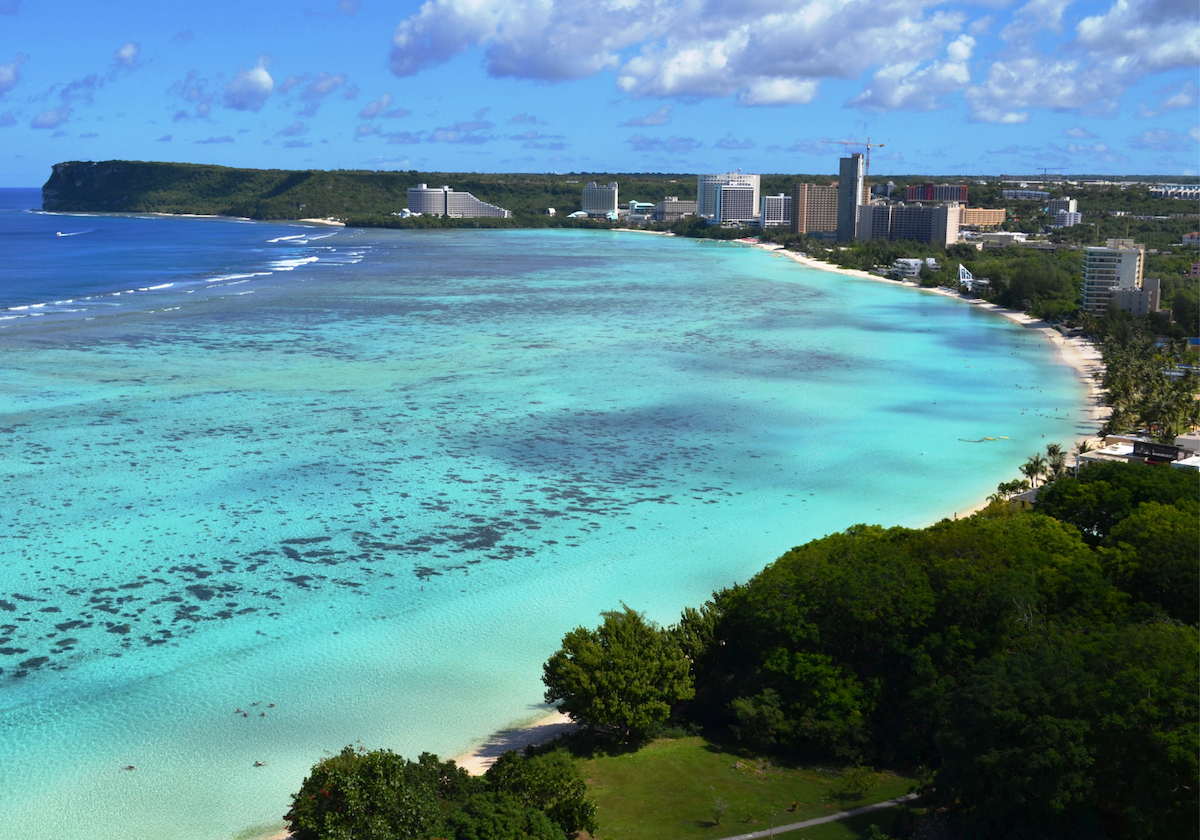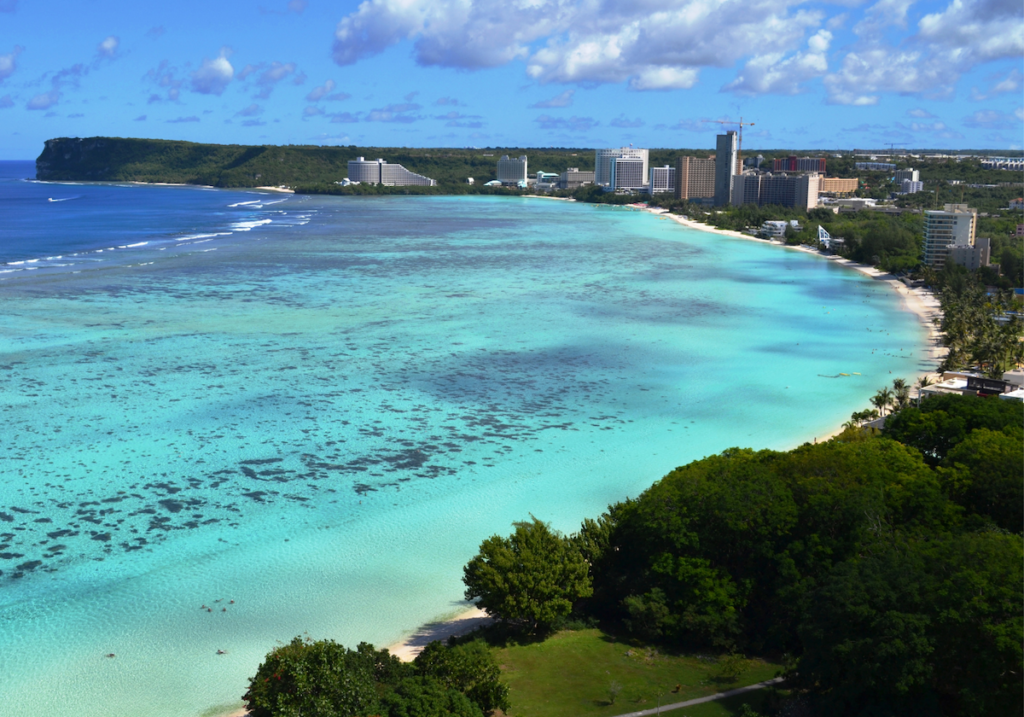 Daily average temperatures in December: High 88°F (31°C) / Low 79°F (26°C)
The furthest place you can visit without leaving the US is Guam. Situated in the North Pacific Ocean and closer to the Philippines, Guam is a US island territory in Micronesia. It's in the Western Pacific, with the shortest distance from mainland US being 7,195 miles (11,579 km).
For this reason, most visitors are travelers coming in from Central, South or Southeast Asia, who can then claim they've been to the US. This makes Guam a great idea for a vacation if you're a US citizen living abroad.
The weather in Guam in December is actually super hot and tropical, and the rainy season has passed.
Fun fact: Guam is the highest consumer of Spam and also hosts one of the largest US navy bases. Unlike mainland US, you don't need an ESTA to travel to Guam if you are not a US citizen as Guam has a special visa program whereby 40 nationalities are exempt from getting an ESTA to visit. Here are some amazing facts about Guam if you're interested in learning more about it.
There are plenty of things to do in Guam which includes cultural excursions to visit the Chamorro people, lazing about in one of the many upscale hotels, learning about its very unique history or doing any of the multitude of water sports available.
As a result of centuries as a Spanish colony, Chamorro people are fiercely Christian and so Christmas is celebrated with lots of parties and big family celebrations. It wouldn't be hard to get an invitation if you are around closer to Christmas.
Find your ideal hotel in Guam
America Samoa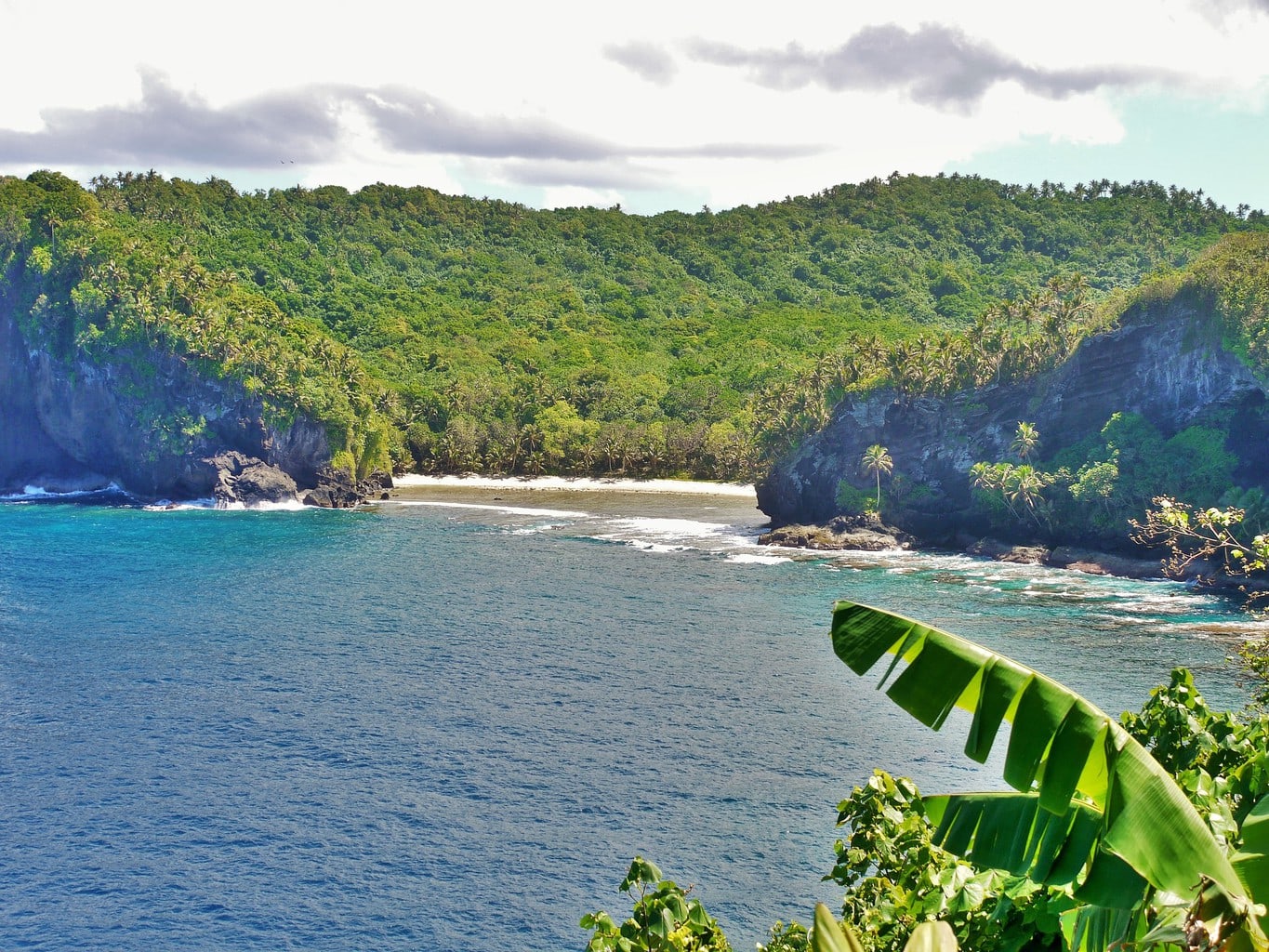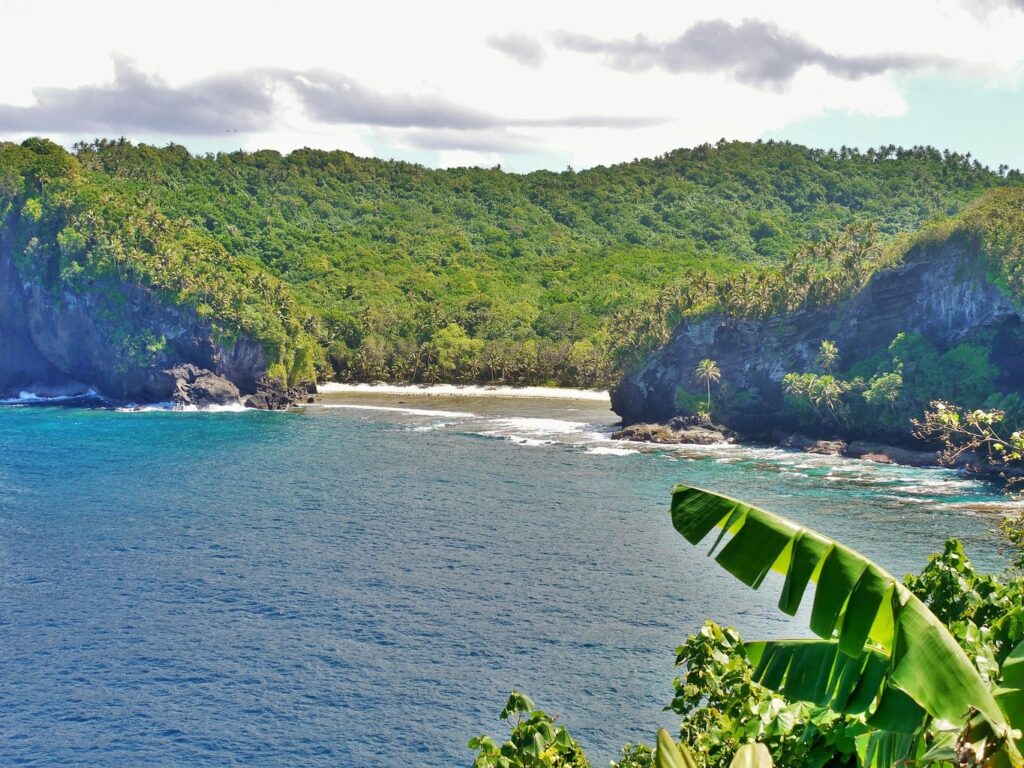 Daily average temperatures in December: High 87°F (31°C) / Low 78°F (26°C)
The last of the US territories you can visit for a tropical US vacation in December is American Samoa.
When I visited, I met a family who had taken their children to American Samoa because it was the furthest place in the US they could go without a passport. You can get there on a twice weekly flight via Hawaii with United Airlines.
Not to be confused with its neighbour the Independent State of Samoa, American Samoa consists of 7 South Pacific islands and atolls. It's closer to Fiji and Australia than the trip to mainland USA, so be ready for a 5,794 mile-long (9,324 km) flight from the mainland (read this post if you're flying solo for the first time).
The draw-dropping beauty of the Fagatele Bay National Marine Sanctuary is a big draw for visiting American Samoa. The natural harbor of the capital Pago Pago is surrounded by massive Rainmaker Mountain with its volcanic peaks.
Fun fact: American Samoa is the last place in the US for the sun set, and is also only a 30 min flight from Samoa yet a full day behind.
Find your ideal hotel in American Samoa
A lot of the activities in American Samoa include visiting the pristine beaches and we recommend booking a car ahead of time because there aren't many. If you visit, be sure to learn about the legend of the ​​Turtle and Shark along the shores of Vaitogi.