South Korea is a wonderful country for solo female travelers in search of a wellness getaway and has become a leading wellness, mindfulness and beauty destination that fuses age old traditions with modern techniques and learnings.
In this article, we have rounded up some of the best wellness retreats and temple stays in the country including day spas in the capital of Seoul and retreats across the country. You will find modern wellness centers as well as temples offering soul healing Buddhist retreats.
Day spas in Seoul
Seoul is considered by many as one of the greatest beauty capitals in the world.
Koreans are known for their specialized techniques and natural ingredients used in skin care and anti-aging treatments.
These treatments have become part of the culture and DNA of Korean people and what better way to immerse yourself in their wellness culture than by having a day treatment at one of these life changing spas and wellness centers.
Sulwhasoo
The Sulwhasoo Dosan flagship store is a place that encapsulates the essence of Asian wisdom as passed down from one generation to the next as "eternal beauty".
This is so much more than just a beauty boutique where you can find products rarely stocked outside South Korea. It also has a VIP lounge for clients to enjoy Korean tea and delicacies, a culture lounge where visitors can take cultural and beauty classes and a spa.
The Sulwhasoo Spa has amazing views of Dosan Park and offers premium anti-aging care with Sulwhasoo's skin care products, local ingredients such as jade and white porcelain and Asian traditional techniques.
Pro tip: If you didn't have time to make an appointment for a treatment, walk-in facials are available and you can buy the products used from the store.
Cimer Spa in Paradise City
Paradise City is a resort city with an exceptional and fun spa called Cimer.
The spa is a beautifully designed K-style spot with plenty of Instagrammable spots and a mix of European and Korean aesthetics. Don't miss out on the jjimjilbang (sex-segregated bath house) that is so characteristic of South Korean wellness culture.
Cimer spa also has Aqua Spa Zone, a gorgeous water plaza inspired by the Piazza San Marco and waters of Venice. Here, you can have moments of full relaxation and wellness in hidden spaces like a water cave or an infinity pool.
The stylish healing room and recreational facility offer special themed content for each season and the Aqua Spa Zone has an indoor and outdoor space with loungers and various pools.
Another cool spot to immerse in Korean culture and relieve your fatigue in the same complex is the Jjimjil Spa, which contains a steam room, a relaxation room, a foot bath spa, and a community room. The experience is a must on your trip to South Korea because they pair it with premium Korean food and drinks after your treatment.
Spa 1899 Donginbi
Spa 1899 Donginbi offers care programs for inner and outer beauty based on Korean traditional techniques such as Circulation Therapy and ingredients like Red Ginseng. This is the place to enjoy the benefits of this beloved Korean ingredient revered by centuries as the ultimate in wellness.
The spa offers three main programs to choose from; Single care, with restorative treatments that deliver Red Ginseng's concentrated energy to specific areas of the body; Multicare, with customized package programs for every visitor; Fullcare, which is the ultimate spa package delivering the potent and pure benefits of Red Ginseng that has grown patiently for 6 years.
Herbal therapy in Seoul
Herbal therapy has recently become more mainstream and is now available across Seoul in the form of tea ceremonies, tea houses and more.
Tea therapy
Tea Therapy is a unique wellness spot in Seoul that blends the traditional Korean tea culture with the modern coffee culture. It operates as a cafe, health and beauty clinic, and as a school.
The owner is a certified Oriental Medicine doctor and all the brews are created using traditional herbs, with a focus on achieving a perfect balance between flavor and aroma. The most famous teas are the Weight Loss blend and the Stress-Free blend.
Visit this hip tea / coffee spot if you're in Seoul, and enjoy a moment of calm and relaxation using the foot baths located outside the cafe. There are 3 basins where you can soak your feet in either hot or cold water.
Seoul K Medi Center
The Seoul K Medi Center promotes oriental medicine as a landmark of Korea. Seoul has become an oriental medicine wellness tourist destination, and this is a perfect example of a place you can visit to experience Korean culture and health philosophy at the same time.
There are a few activities and experiences you can do while visiting this center. If you're rooting for a moment of relaxation, have a herbal foot bath with enriching ingredients for your skin. If you want a more educational and cultural experience, visit the Herb Medicine Museum. Finally, if you want the full package focused oriental medicine, try the Bojewon Oriental Medicine Experience.
The center also offers classes to learn more about Korean culture and wellness, such as herbal medicine tea, herbal medicine dessert, handmade fruit syrup, and herbal medicine lunch box.
Lastly, if you want to get a unique souvenir, head to the Oriental medicine cafe or Promotion hall of oriental medicine products.
Dragon Hill Spa
Described by the New York Times as a "cultural staple of the Korean bathing lifestyle", Dragon Hill Spa offers everything for the ultimate Korean wellness experience with a side of fun, as the neon signs at the entrance give away.
Dragon Hill Spa has facials, saunas, rooms aerated with crystal salts, bathhouses, massages, and much more. There is even an arcade and a cinema, so you could technically spend an entire day there and never get bored.
Best of all? The spa is located in the heart of downtown Seoul, so you can go there after a shopping spree and recharge with your friends.
This huge spa has lots of different zones; a sauna, a traditional charcoal kiln, a crystal sun salt room, an ice room, a pyramid meditation room, a nephrite jade energy room, and many more. Room hop at leisure and find your healing.
Top the experience with a visit to the Royal Orchid Spa, where you can enjoy a variety of treatments for the skin, the body, your feet, or even your nails.
Donguibogam Village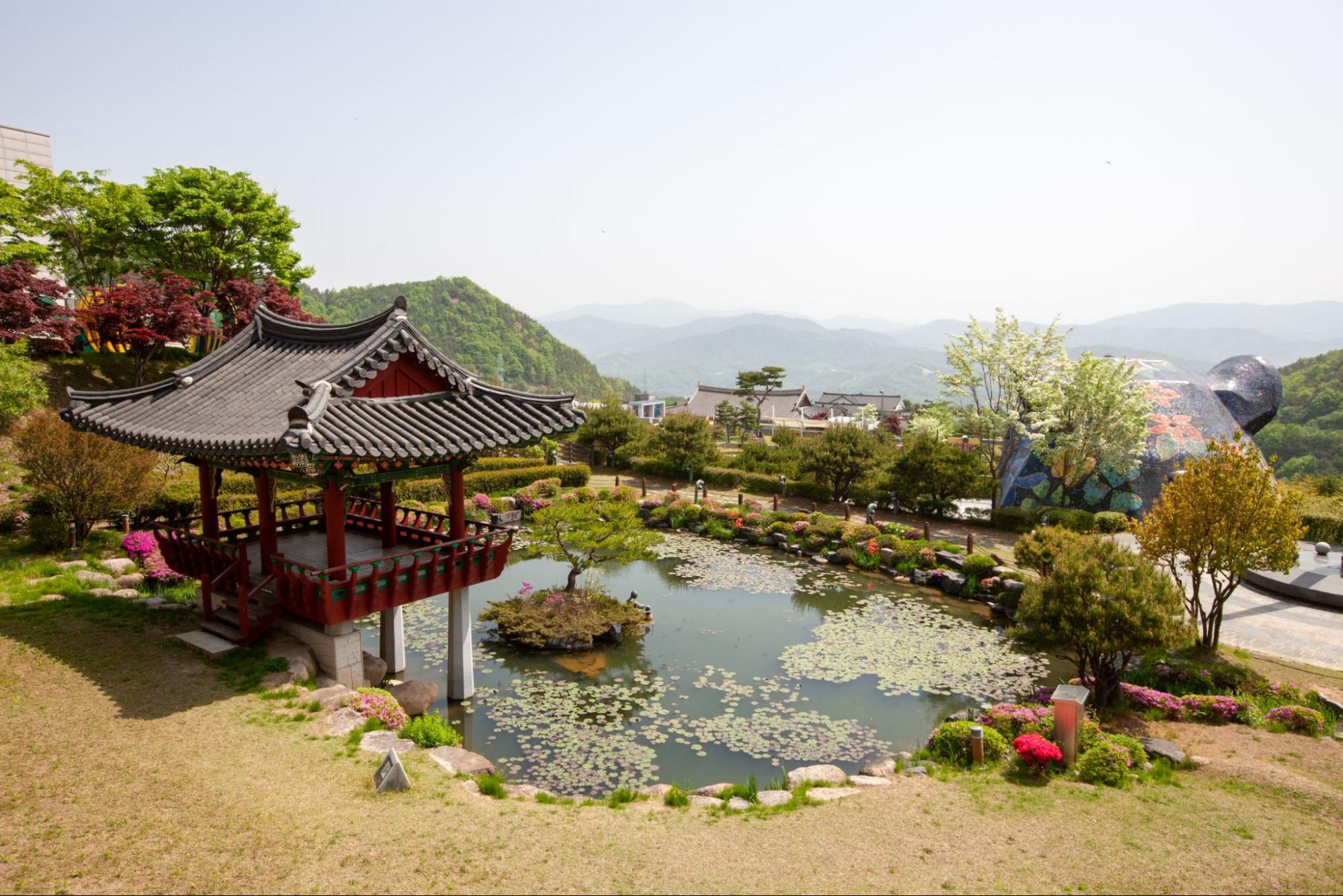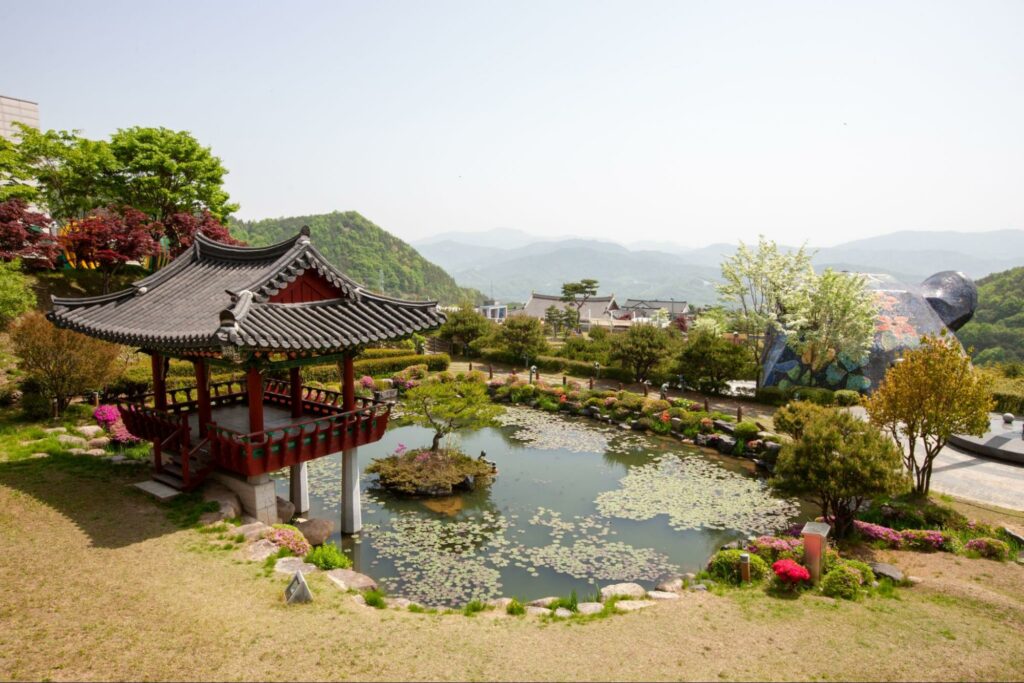 This Oriental Medicine theme park is a fabulous getaway to learn more about ancient wellness and beauty practices that are secret to South Koreans' beautiful skin.
The village is located in the forests and surrounded by the lush greenery that will kickstart your mindful relaxation and wellbeing journey thanks to the age-old tradition of growing medicinal herbs.
Complement your journey with a visit to the Museum of Korean Medicine where you can learn more about the benefits of Korean herbs and go on walks through the marked trails to take it all in.
Pro tip: Donguibogam Village has three huge stones that are full of positive energy: "Guigamseok," "Seokgyeong" and "Bokseokjeong." These are said to radiate health, luck and other positive energy and are the reason for many visitors to the area. Meditate near the rocks to absorb all their energy.
Forest Resom and The Have9 Healing Spa
Forest Resom is a stunning forest spa resort that is the ultimate in a luxury wellness escape.
The expansive spa complex is located in a 1,000 year old forest and offers both villas and hotel rooms. The nature is stunning but most visitors come for the wellness facilities.
Forest Resom has indoor and outdoor facilities with multiple rooms, a traditional Korean jimjill, relaxation rooms, saunas and outdoor pool areas. The infinity pool and private cabanas area as well as the outdoor aromatherapy pools have incredible views over the valley and forests around.
The resort has several eateries to satisfy any foodie and a variety of outdoor nature activities including hikes and walking trails, as well as beautiful spots to read and relax while you take all of nature's energy in.
Fun fact: The resort has been featured in Korean dramas Can't Lose/Hate to Lose/ Can't Live With Losing, My Secret Hotel and Secret Garden.
Chuidasun Resort Jeju
Chuidasun Resort is an all-inclusive paradise of tea lovers and solo female travelers looking for peace, mindfulness and calm. The resort has rooms specifically designed for solo travelers with sea views and discounted rates for travelers without a travel buddy.
The resort offers many different kinds of meditation classes, various styles of yoga, static inyoga and sound meditation among others. It focuses her practice on the concept of "drunkenness" or focusing on one object.
Beomeosa Temple Stay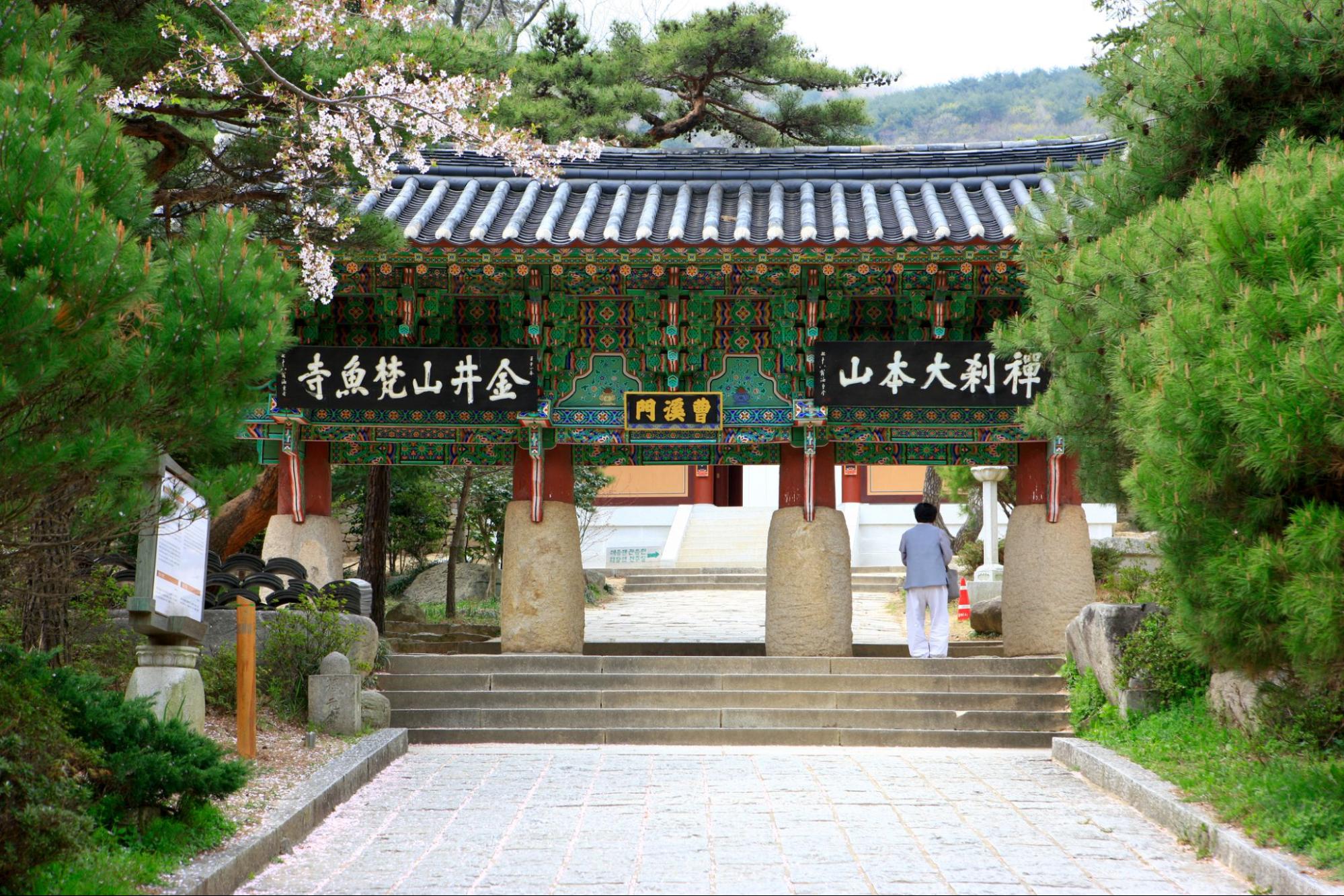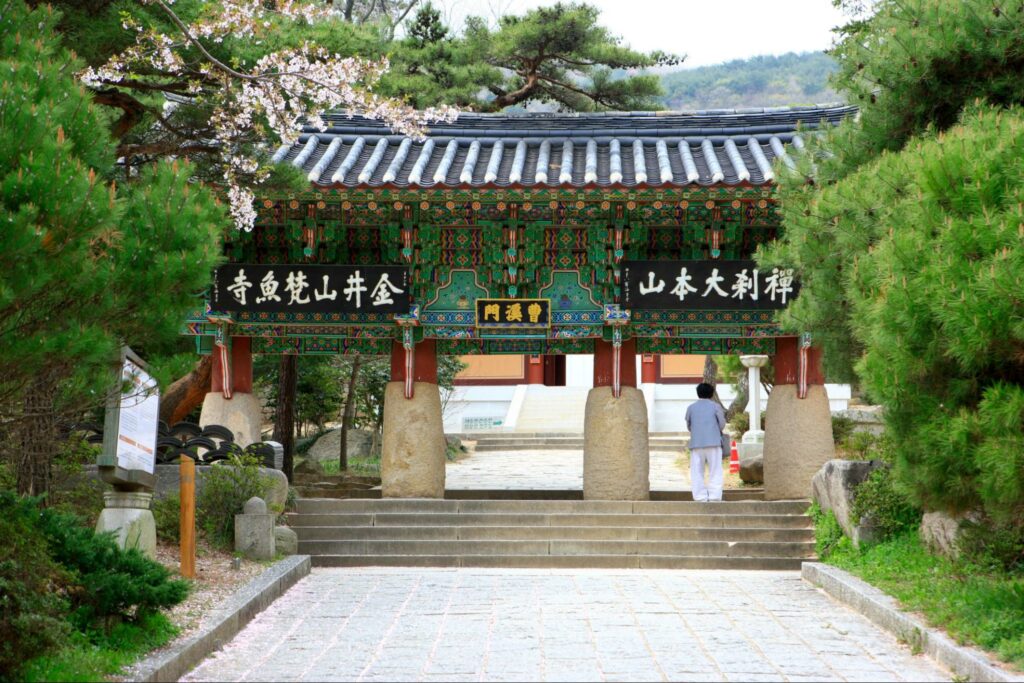 Beomeosa Temple was founded in the 7th century during the reign of Silla King Munmu and is a traditional Buddhism zen temple where visitors can experience a templestay in peace, quiet and meditation.
The traditional templestay program includes meditation sessions, Buddhist Beads Threading, lotus lantern making workshops, bowing meditation practice, formal Buddhist meal service and tea ceremonies.
The daily program starts at 3,40am for the Experience templestay and at 6,20am for the Relaxation templestay and includes communal dorm accommodation and a uniform to wear at the temple. Programs for 2 days and 1 night cost around $80 per person.
Jinkwansa Temple stay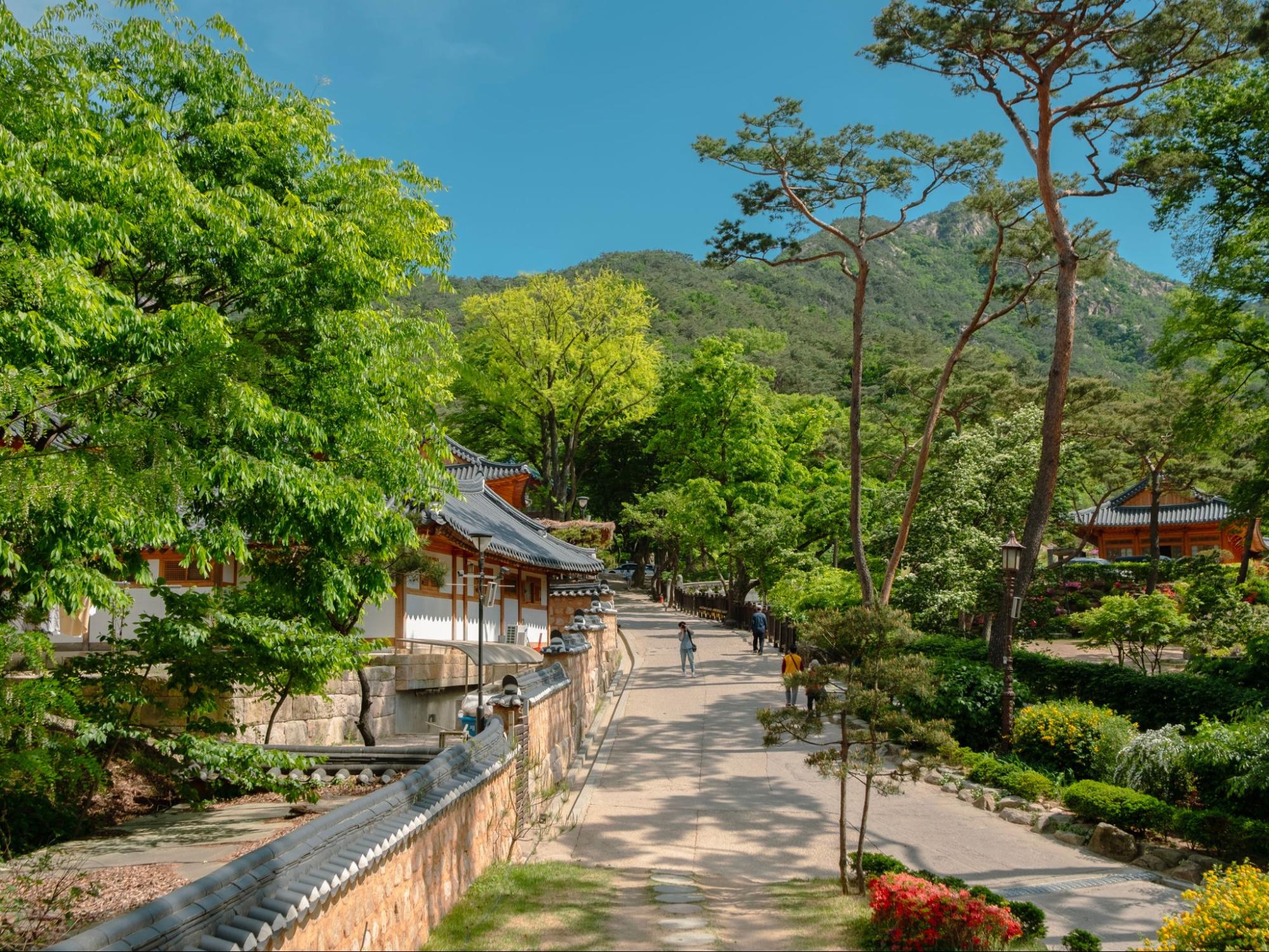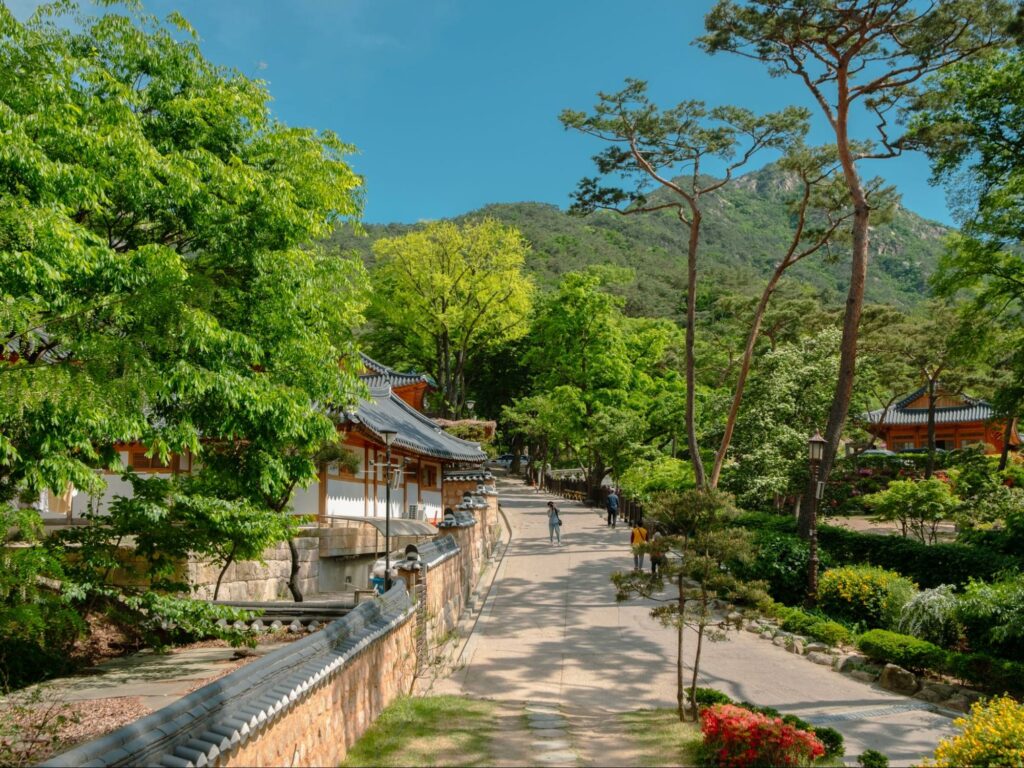 Located near Seoul, Jinkwansa Temple is more than 1,000 years old and is known for its all female nun order. The nuns are famous worldwide for their temple food which is made with elaborate dishes made with ingredients that are prepared using various techniques.
The temple is the go-to destination for temple foodies and focuses on what we eat as a means to heal and define our character. Jinkwansa offers mindfulness and meditation programs, also online, via Zoom calls.
You can visit Jinkwansa Temple for the day or for an extended period of time. Besides traditional Buddhist practices, the temple also offers a cultural experiential program that includes learning about ritual etiquette or lotus lantern making.
Baekyangsa Temple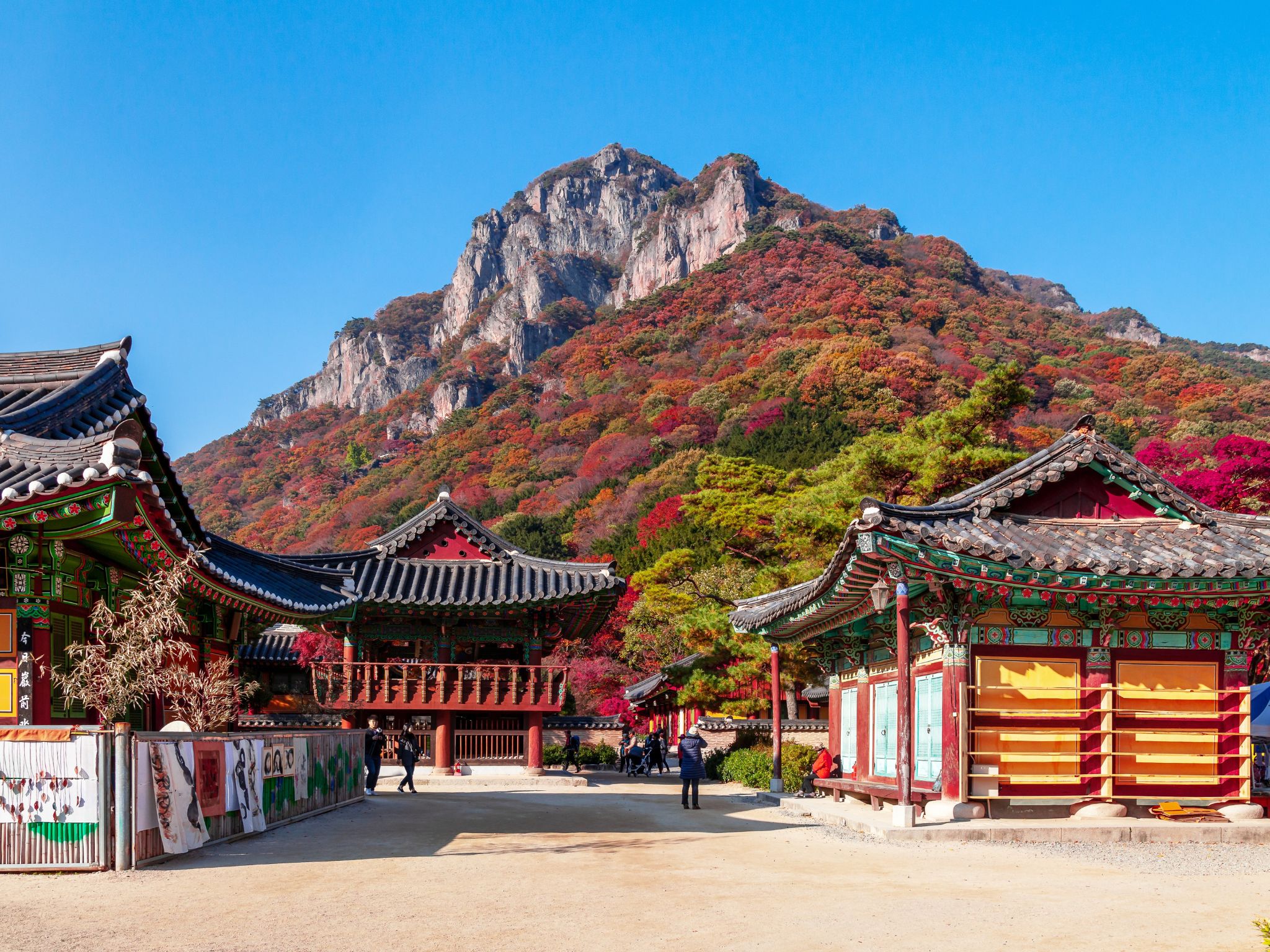 Baekyangsa Temple is a temple in Bukhamyeon City, where chef Jeong Kwang prepares simple yet exquisite temple dishes.
In addition to participating in meditation and tea ceremonies, Baekyang Temple visitors learn about the spiritual aspects of food from Kwang. The site became famous by an episode of the Netflix documentary series Chef's Table season 3.
Baekyangsa Temple offers a special opportunity for visitors to be taught naturally and to discover their true selves. You can practice a walking meditation that uses all five senses to look inward and discover who you really are, in the middle of the woods. The program also offers formal Zen meditation followed by a cup of tea and conversation with a monk.
Guinsa Temple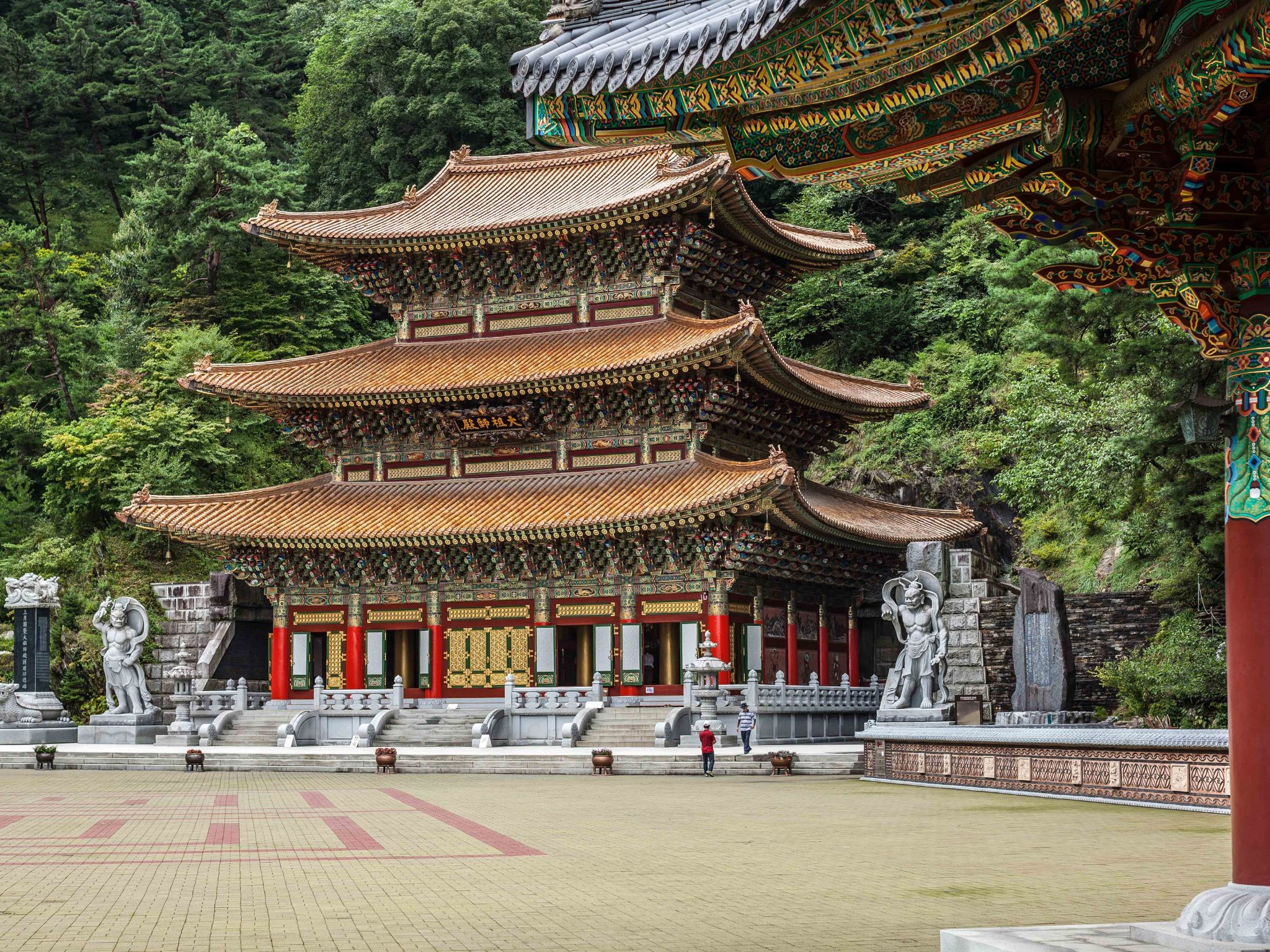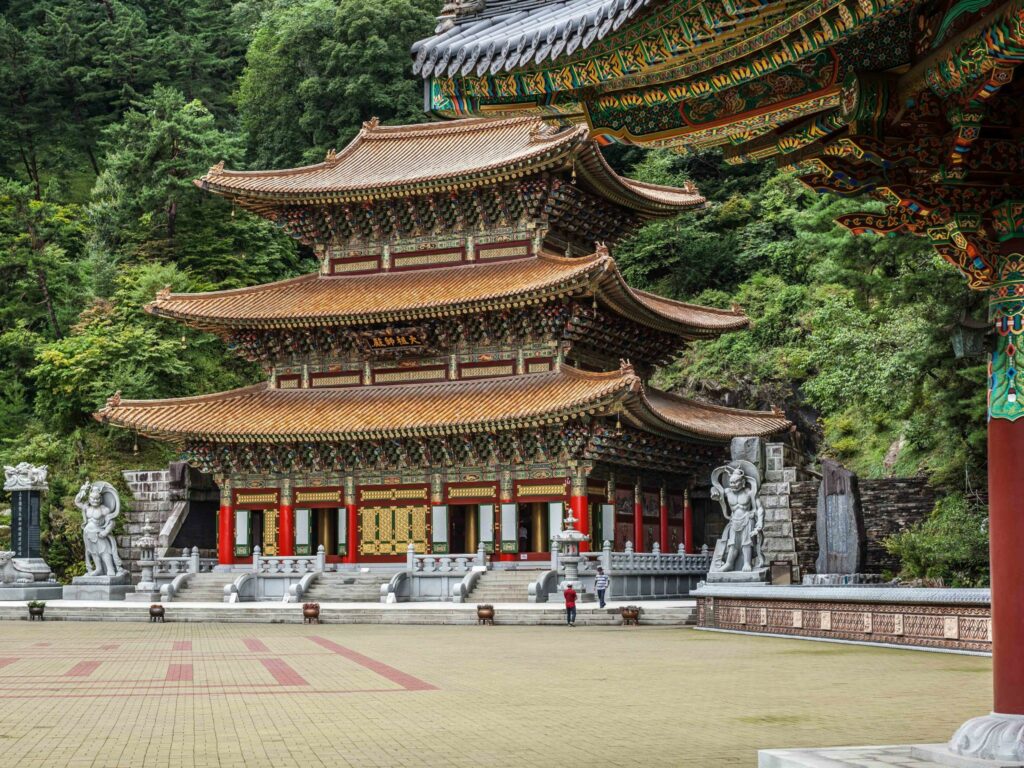 Located in the heart of Sobaeksan National Park, Guinsa Temple temple means "protect mercy" and is an oasis of natural beauty.
It has over 30 magnificent buildings located in rugged terrain that integrate the temple into the surrounding landscape of dense forests and towering mountains.