South Korea is a wonderful destination for solo female travelers; It is safe, packed full of unique experiences, ready for the wellness-lover, and it is a beautiful country with a rich culture.
The country is known as the "Land of the Morning Calm", but look no further than its capital, Seoul, for a sensory journey that fuses avant garde design with tradition, in a city that never sleeps.
In such a contrast between old and new, tradition and modernity, cultural preservation and openness, Koreans have always been very focused on aesthetics. Beauty plays an important role in Korean culture, so it should come as no surprise that there are so many beautiful places in South Korea, both in nature as well as in man-made structures.
We've narrowed down a long list of beautiful places in South Korea to the ones you can't miss out on.
This article has been written in collaboration with the Korean National Tourism Organization and based on our experience visiting South Korea.
Cheongsando Island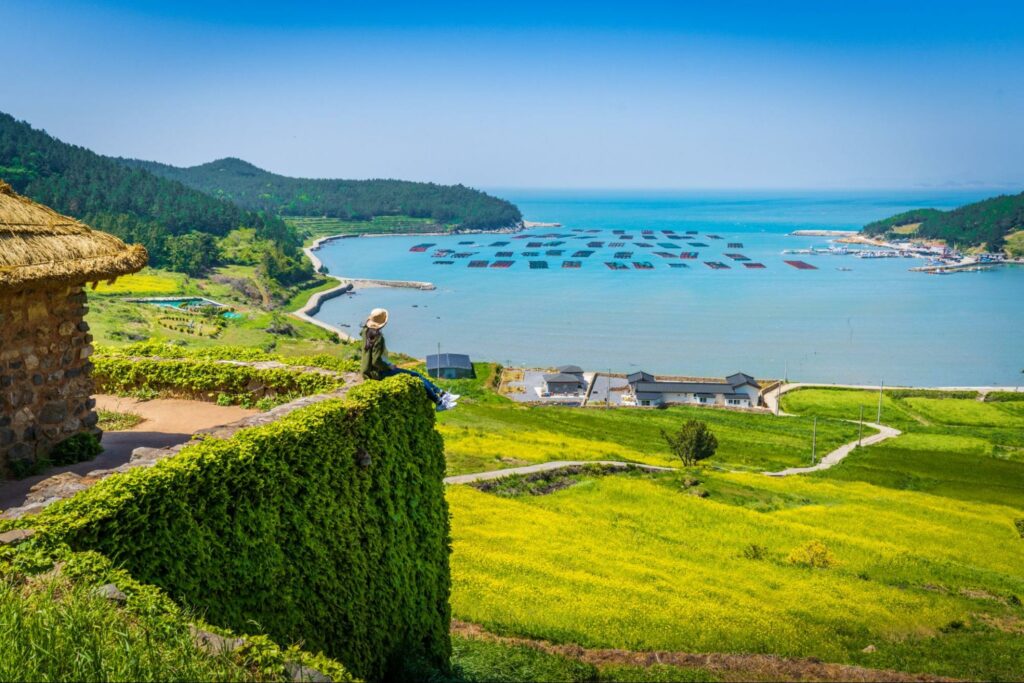 This small island offers some of the most beautiful scenery in the country and is intent on turning visitors into mindful travelers.
Cheongsando Island became part of Dadohaehaesang National Park in 1981 and was designated the first Asian Cittaslow or slow city in 2007. CNN recognized it as one of must-visit Korean islands. Rumor says the slower visitors walk through the island, the more beautiful the island is.
A fascinating site in Cheongsando Island is the valuable agricultural asset of Gudeuljangnon terraced rice paddies.
Pro tip: Don't miss some of the islands pretty beaches of Jiri Beach (지리해수욕장) and Sinheung Beach.
Cheongsando Island is located 19 km away from Wando in Jeollanam-do, and is the southernmost island in Dadohae. The island borders Geomundo Island in the east, Soando Island in the west, Jejudo Island in the south, and Sinjido Island in the north.
Purple Island
This magical island has more than 1,000 years of history and is both naturally and artificially purple.
The island gets its Purple Island nickname from the deep blue-violet flowers called bluebells (Hyacinthoides non-scripta), which naturally grow on it.
In 2015, public and private efforts came together to make Banwol and Bakji Islands a land preserved in purple and merged under the "Purple Island" banner.
The color is a symbol of physical, spiritual and mental healing, and served as a way to preserve the islands through tourism.
A Purple Bridge was built, asta chrysanthemums, magnolia lilies and a lavender garden were planted, and Purple Island became famous worldwide as one of the most beautiful places to visit in South Korea.
Between August 2020 and July 2021, in the middle of the COVID pandemic, the island received 200,000 tourists. But the island's appeal does not end with its color.
Purple Island and its surroundings are designated as a UNESCO World Natural Heritage Site, which adds to the existing Shinandadohae Biosphere Reserve, with its Shinandadohae National Park, and the Korean Mudflats Provincial Park.
The island is packed with natural and cultural wonders with an atmosphere of relaxation and wellness. Some of the top attractions are the mud plains, the Dang forest, the Dullegil Island Trail, the purple bridge and the purple garden.
Busan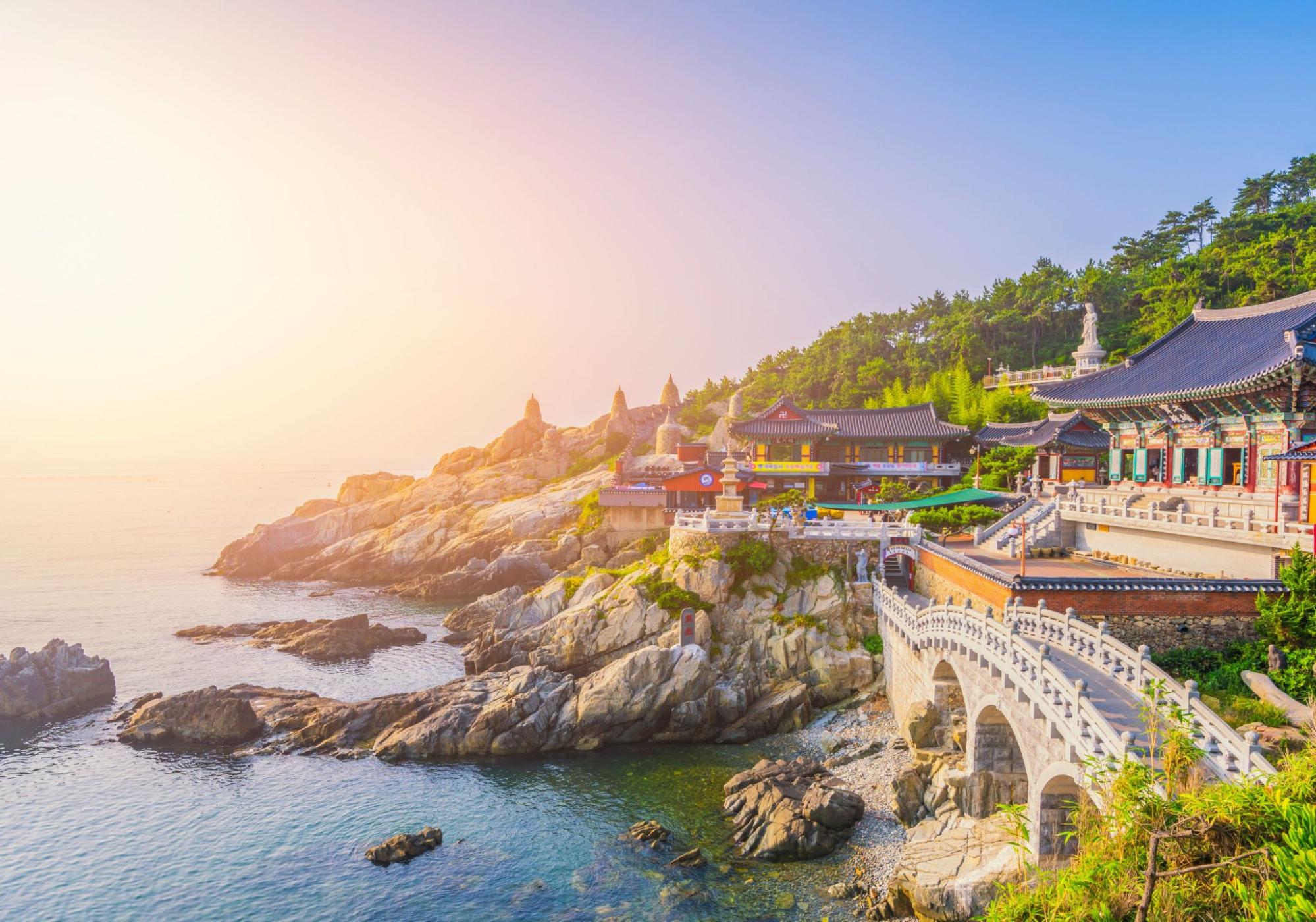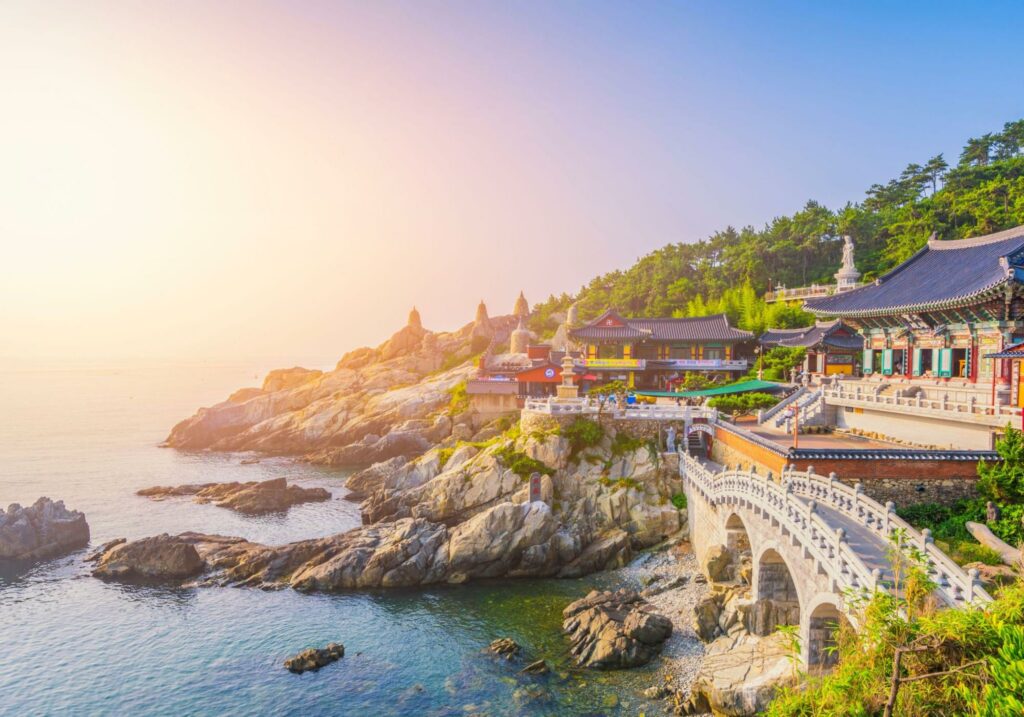 Busan is the second largest city in South Korea and has a wide array of cultural and natural attractions, which is why it has become a booming tourist destination in recent years, both with locals and foreigners alike.
Solo female travelers to Busan love that the city has so much to offer, from thrilling experiences and attractions to its many beautiful places, starting with the colorful pastel painted houses, and that it is safe and easy to get around.
This beautiful port is located in the southern part of the peninsula and is the perfect mix between a big city and a charming village.
In Busan, you'll find stunning beaches, cool coffee shops, friendly markets, secret breweries, and lots of Korean traditional cultural sites such as historic temples like the sea facing Haedong Yonggung Temple.
Pro tip: Don't miss the tasty seafood on the buzzling beaches of the city and foodie sites like Jagalchi Fish Market and Gwangbokdong food street.
Here are some of the top attractions to visit while you're in Busan: Busan Tower, Kim Jae Sun gallery, Haeundae Beach, Haedong Yonggung Temple, Cimer Spa hot springs (which is one of the best wellness destinations in South Korea), Nampodong Market (great for finding souvenirs!), and a hike to Taejongdae.
Dongdaemun Design Plaza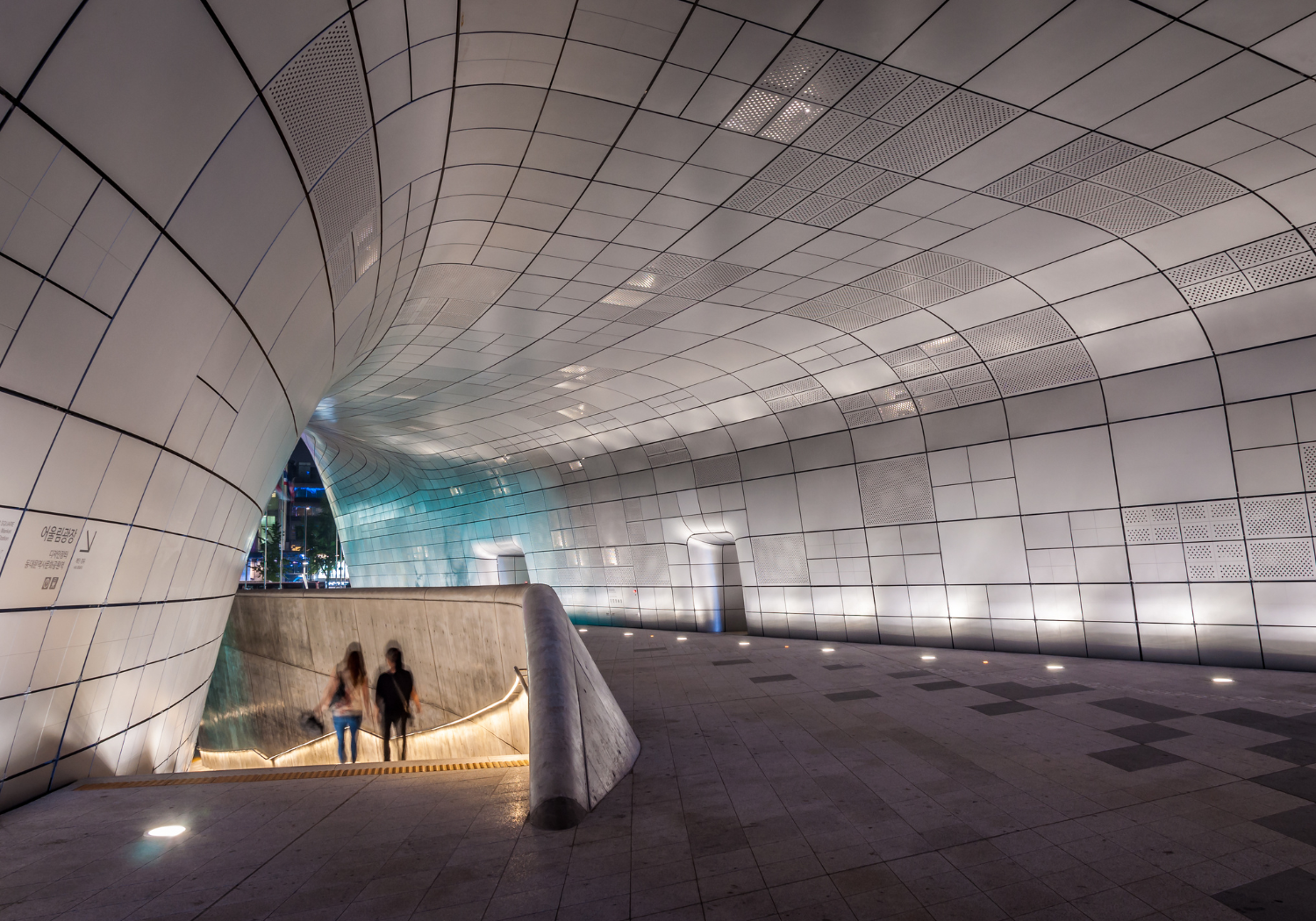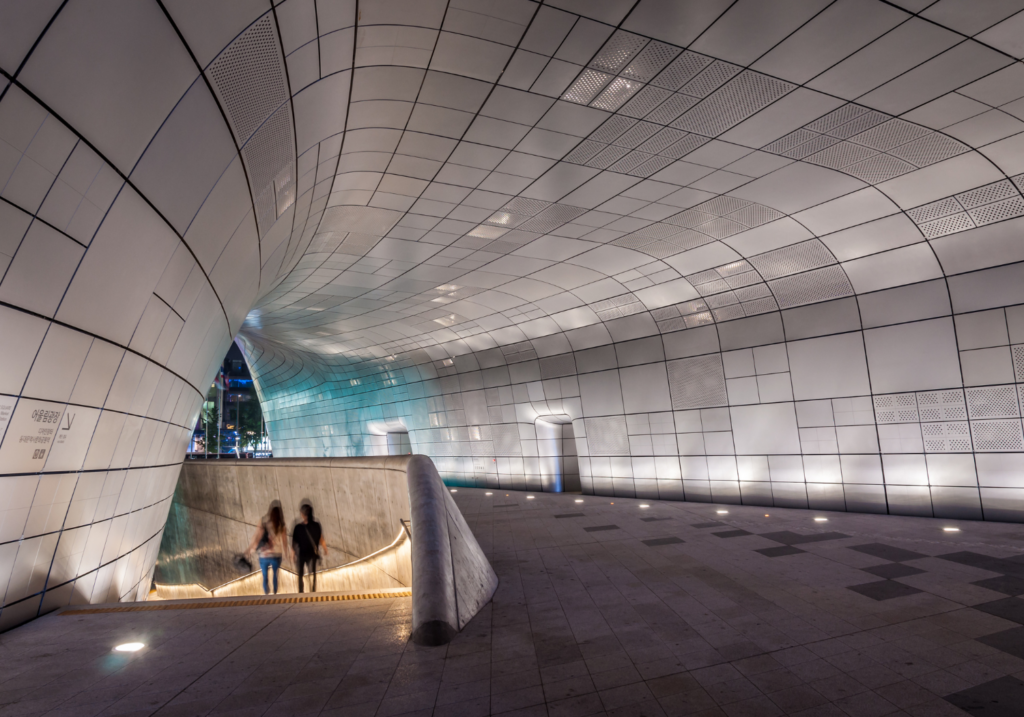 This neuro futuristic complex in central Seoul has become a cultural hub in the area of Dongdaemun, a historic district of Seoul that is known for its 24-hour shopping and cafes.
The Dongdaemun Design Plaza (DDP) is an iconic building designed by the late Zaha Hadid, which contains unique elements made of metal cladding, 45,000 aluminum trays with a mix of perforation and pixel patterns.
The landmark has become a hub for fashionistas and Instagram influencers who spend hours taking photos on its walkable rooftop park and the many photogenic corners. We've included it in this list of beautiful places in South Korea because of its architectural value; you can't walk past it and not spend time discovering its every round angle.
The building houses large global exhibition spaces, futuristic retail stores, and restored parts of the Seoul fortress. This architectural wonder has hosted many national and international events like art exhibitions, fashion shows, forums, and conferences.
Pro tip: The DDP is connected to Seoul Subway via Dongdaemun History & Culture Park Station on Line 2, 4, and 5 and it is a great starting point for a night of shopping.
Jinhae (during cherry blossom season)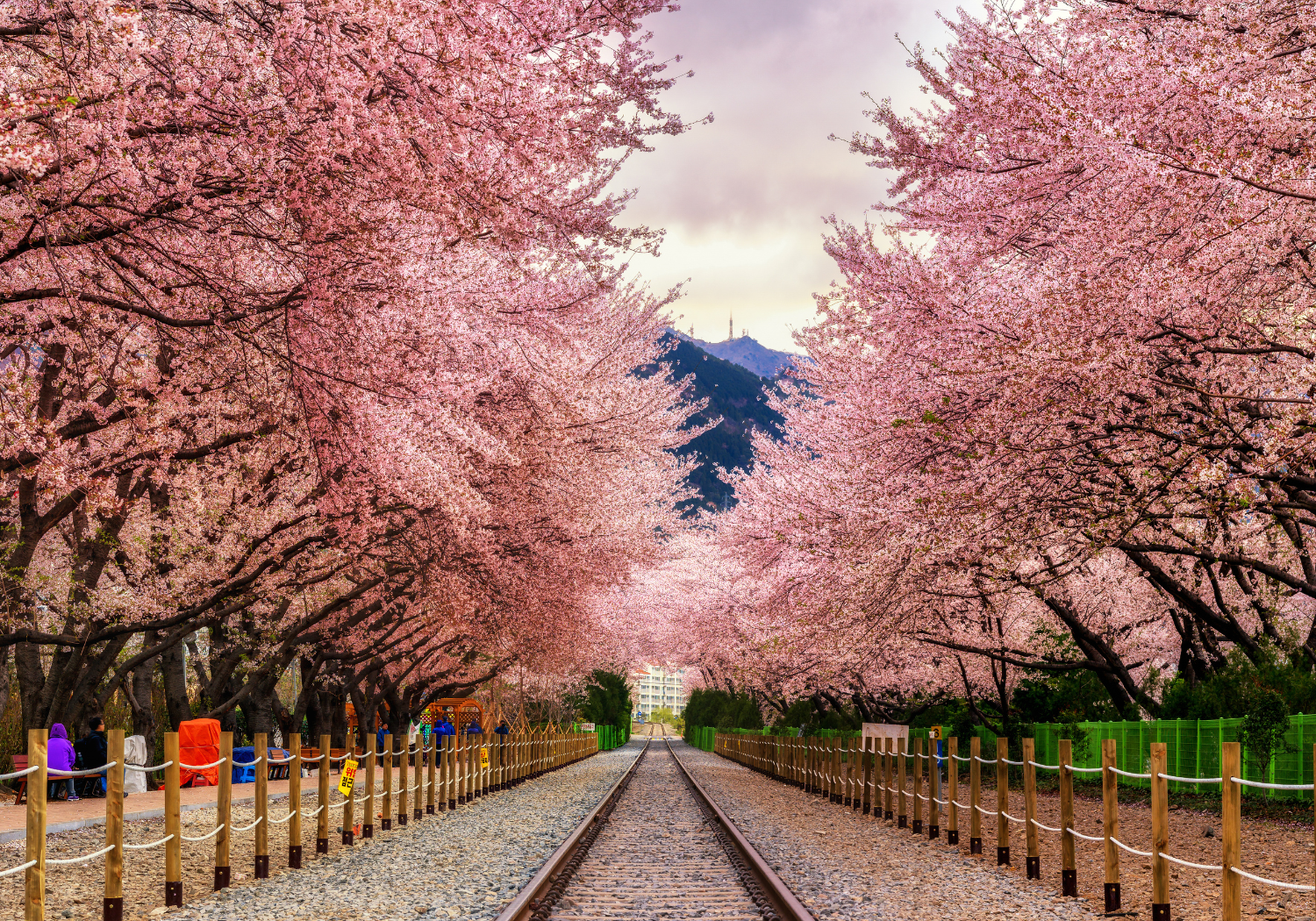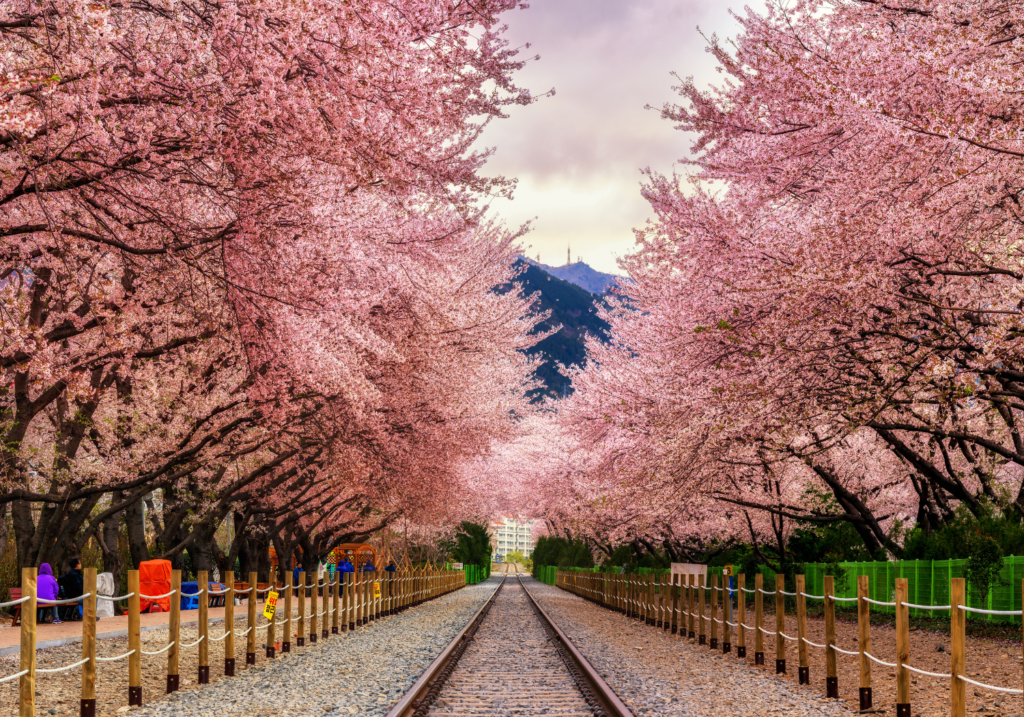 Jingae is a quiet charming coastal city home to the largest cherry blossom festival in the country.
If you're traveling in South Korea during April, you can't miss out on the Jinhae Gunhangje Cherry Blossom Festival to experience the most beautiful place in South Korea and the ultimate beauty of springtime in the country.
Jinhae offers quite a natural show every year when around 340,000 cherry trees burst into an ocean of pale pink blossoms. This region in Korea has one of the biggest concentrations of cherry blossom trees in the world.
Pro tip: Because of the city's warm weather, the festival starts early around the first week of April and lasts 10 days. So plan accordingly.
In Jinhae, there are two top spots to see the cherry blossoms bloom. Yeojwacheon Bridge (also called Romance Bridge) is a wooden bridge where you'll be dazzled by a view of beautiful cherry blossoms and their reflections on the surface of the stream. The bridge was a shooting location for the popular K-drama "Romance" in 2002.
The other is Gyeonghwa Station, the most popular place to see the cherry blossoms in Jinhae because it has its own Cherry Blossom Road. This spot offers beautiful scenery and lots of Instagrammable spots for fab photos.
Pro tip: Don't miss trying delicious drinks and snacks with cherry blossom flavor offered across the city.
Jinhae is about a 3 hour train ride or 4.5 hours bus ride from Seoul so is best explored as an overnight trip from the capital.
Jogyesa Temple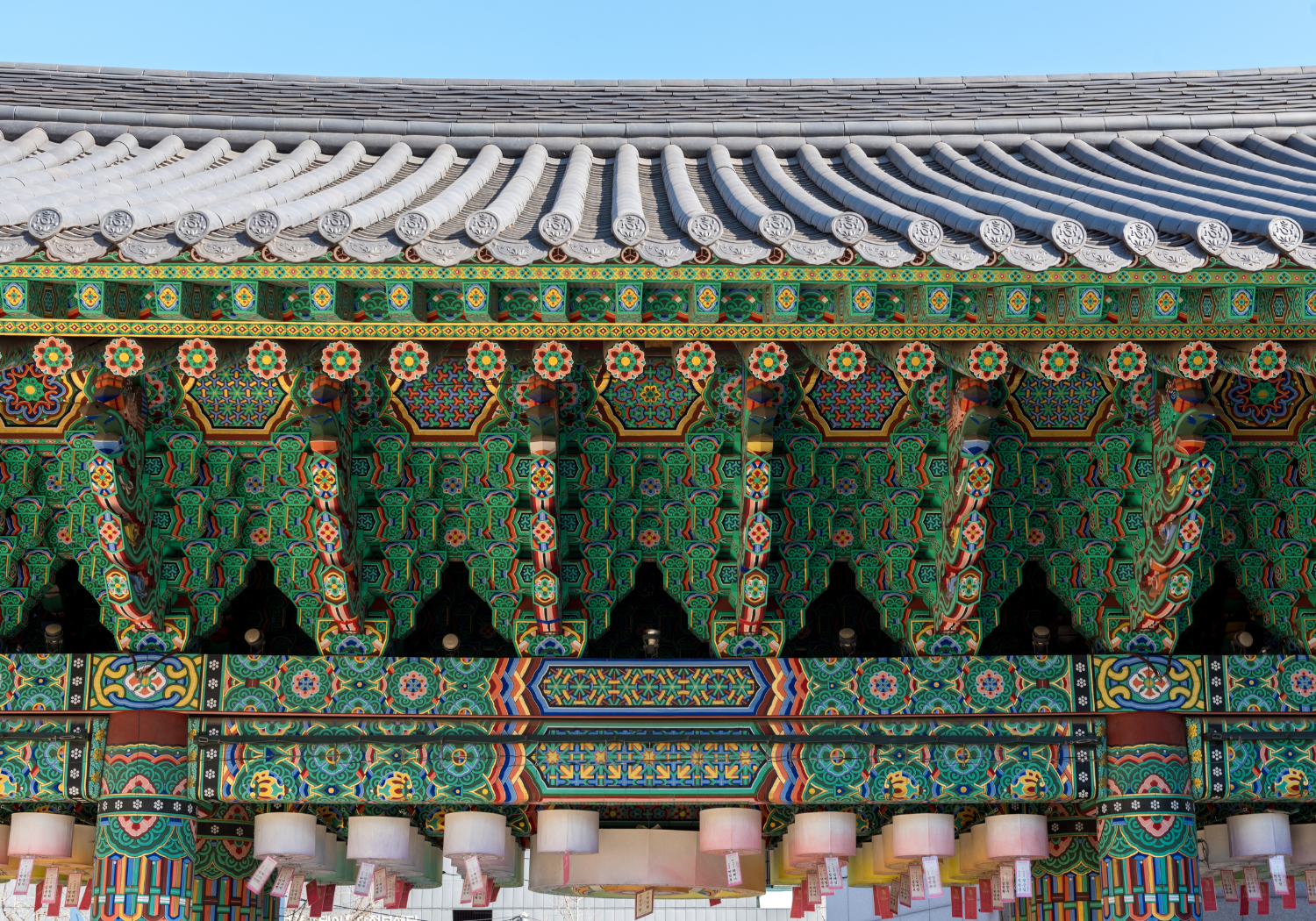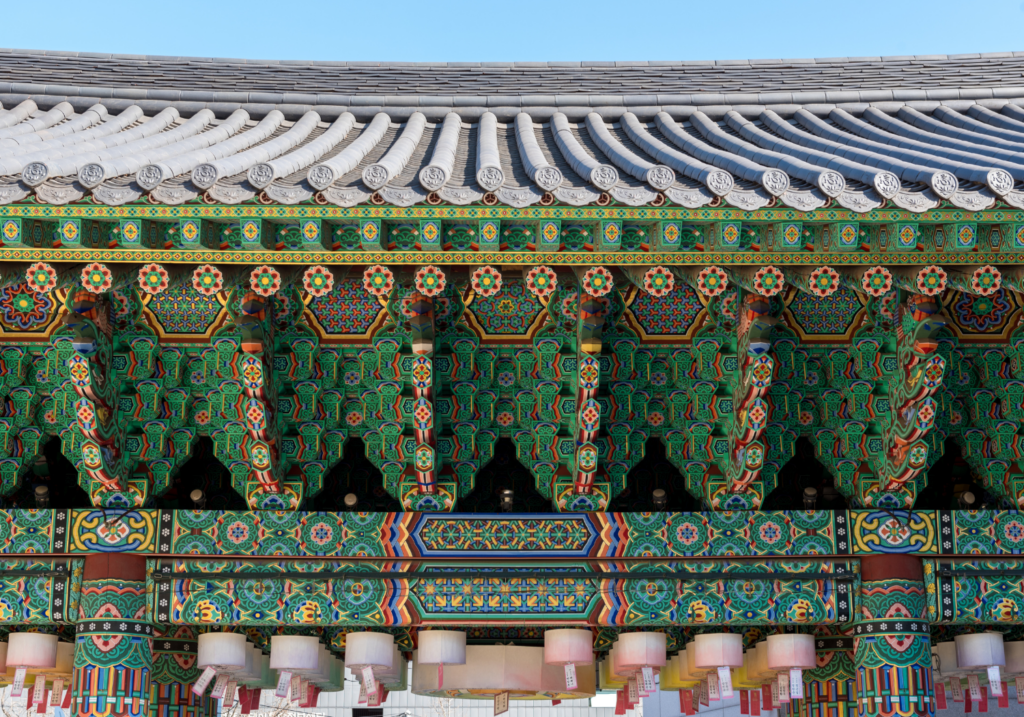 Jogyesa Temple is the center of Korean Buddhism. The temple was built in the 14th century during the Goryeo period but was destroyed in a fire and rebuilt as Gakwangsa Temple in 1910.
Jogyesa remains the largest building in Seoul and is a spectacular and colorful sight that is no doubt one of the most beautiful places in the country. It still plays a key role in Korean Buddhism as the head of the Jogye order and hosts many Buddhist events such as rituals, lectures, and ceremonies.
The stunning temple is an escape from the big city and a place to find calmness and stillness in the middle of a crowded metropolis.
Pro tip: For those looking for an extra dose of calm, mindfulness and meditation, Jogyesa also offers templestays for less than $40 a night.
Jogyesa Temple is located in the heart of Seoul near Insa-dong and is open all year long with free admission.
Naganeupseong Folk Village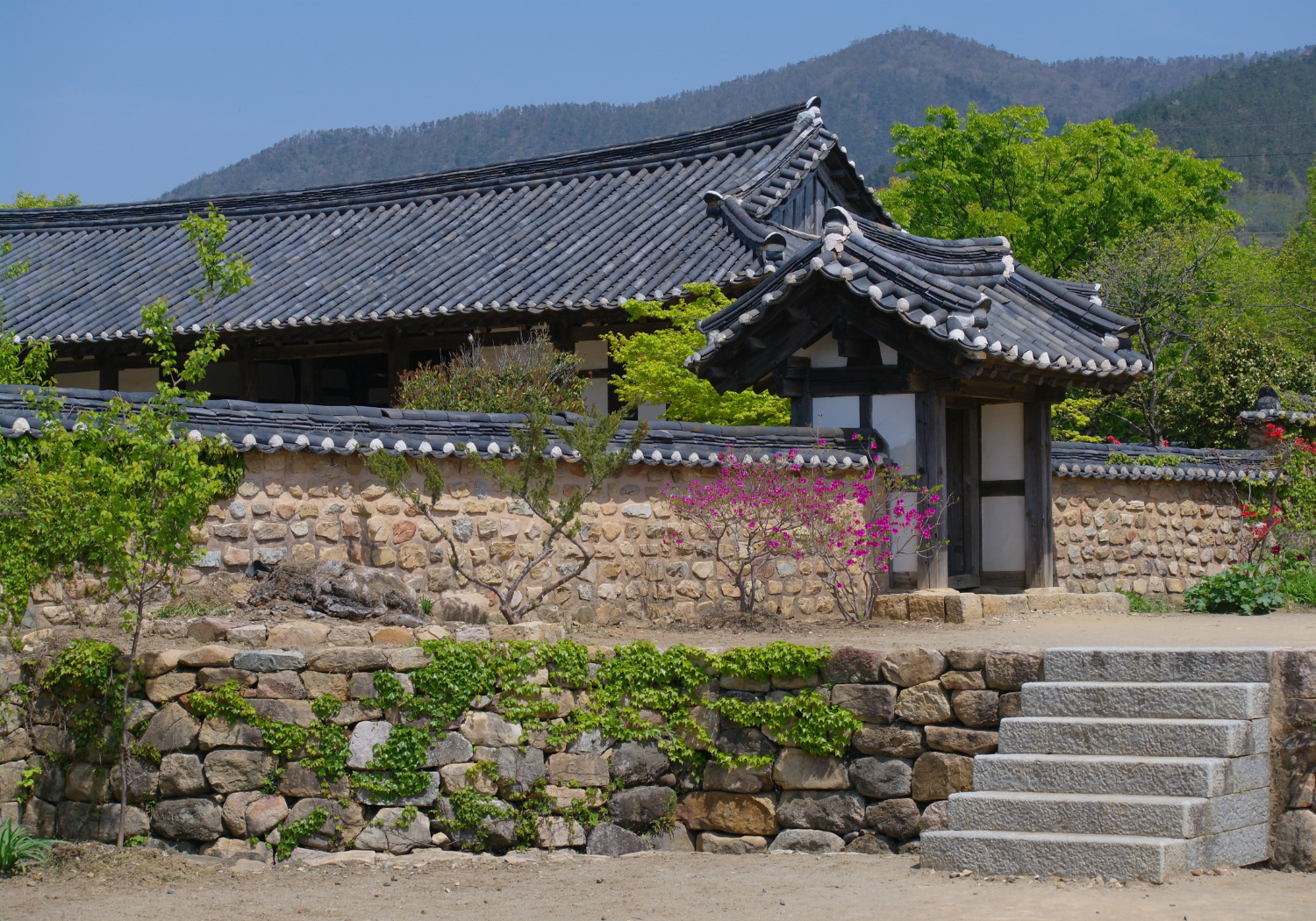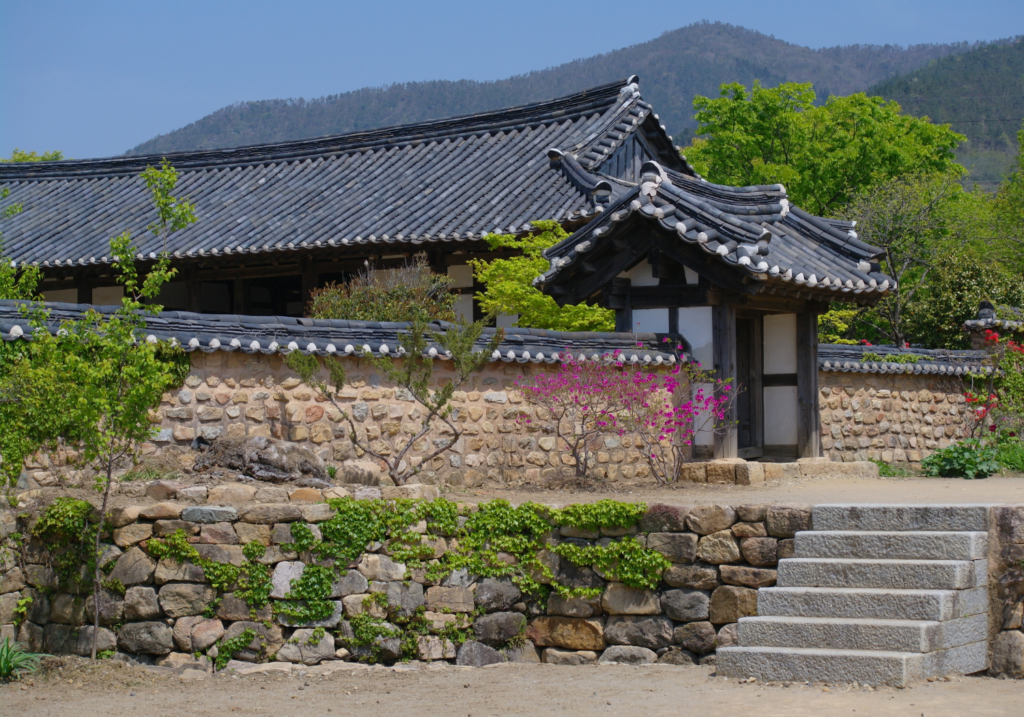 Naganeupseong Folk Village is a Korean historic village located in Nagan-myeon, South Korea that has a well-preserved wall and is a picturesque spot for visitors to learn more about traditional Korean folk customs.
At Naganeupseong, you can learn about silk-farming, Hanji (Korean Traditional Paper), tofu and fermented soy bean making, Gayageum (traditional Korean music), traditional tea ceremonies, and more.
The village has lots of charming inns if you want to stay overnight, as well as typical restaurants and souvenir shops.
Gyeongbokgung Palace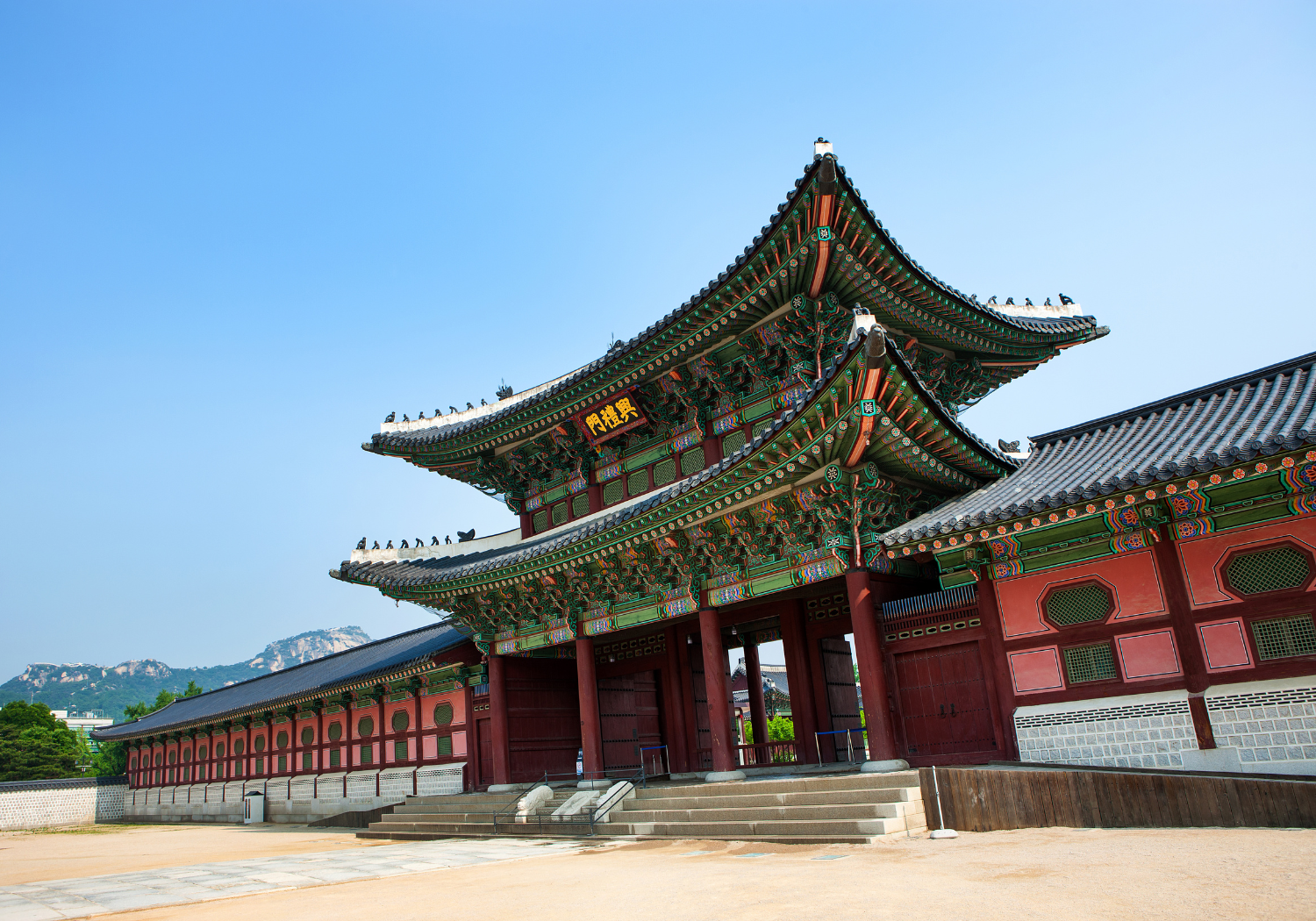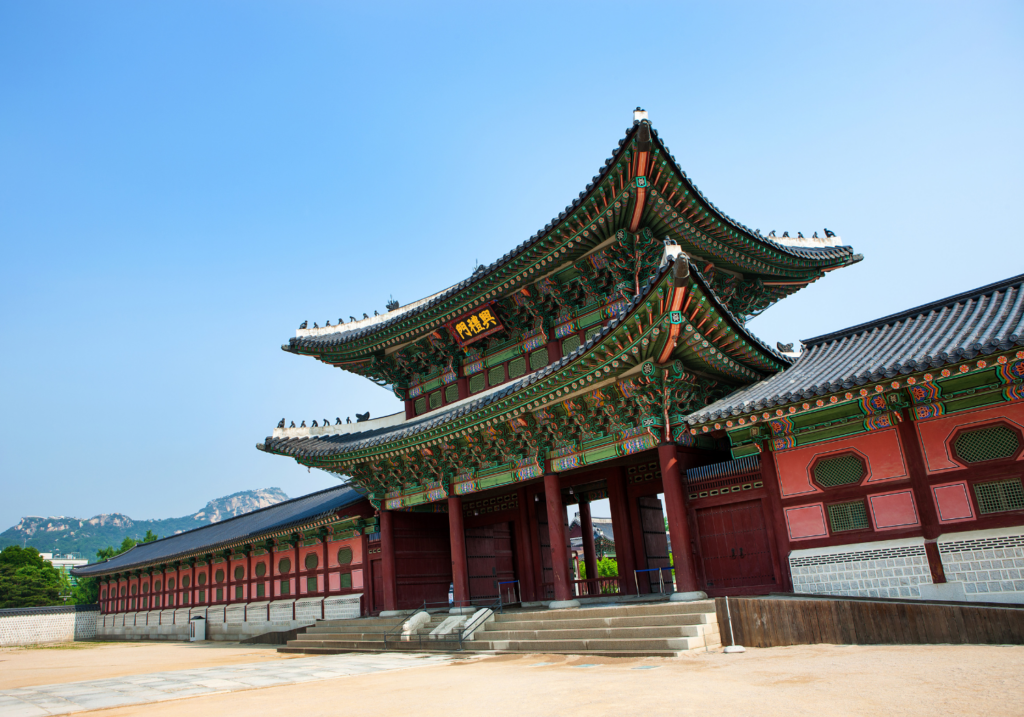 Gyeongbokgung Palace is the largest of the Five Grand Palaces built by the Joseon dynasty, and one of the most beautiful sites to visit in South Korea.
Gyeongbokgung served as the home of Kings of the Joseon dynasty, the Kings' households, as well as the government of Joseon. The complex was once destroyed by a fire during the 16th century but was later restored during the reign of King Gojong (1852-1919).
Surprisingly, the most characteristic buildings of the Joseon dynasty, the Gyeonghoeru Pavilion and the pond around Hyangwonjeong Pavilion, have remained intact.
Other cultural sites you can visit within the premises of the complex are The National Palace Museum of Korea, located just outside of Heungnyemun Gate, and the National Folk Museum, located on the eastern side of Hyangwonjeong Pavilion.
Pro tip: The Palace is closed on Tuesdays and the admission fee is 3,000 won per adult. Book a walking tour of the palace for insider knowledge and to make the most of your visit. Or better yet, book an unforgettable Hanbok traditional dress photoshoot in the palace grounds and get free entry.
Bulguksa Temple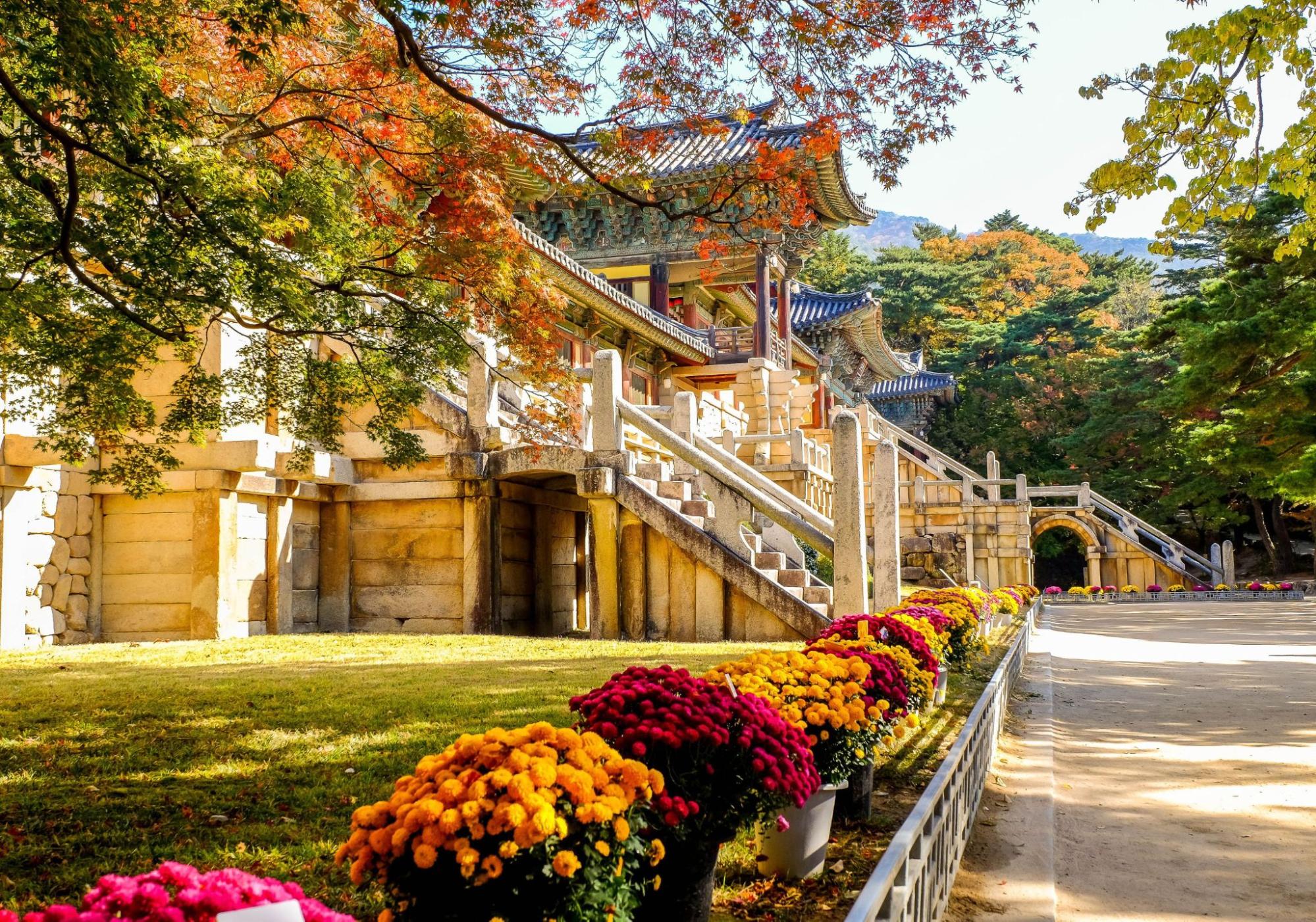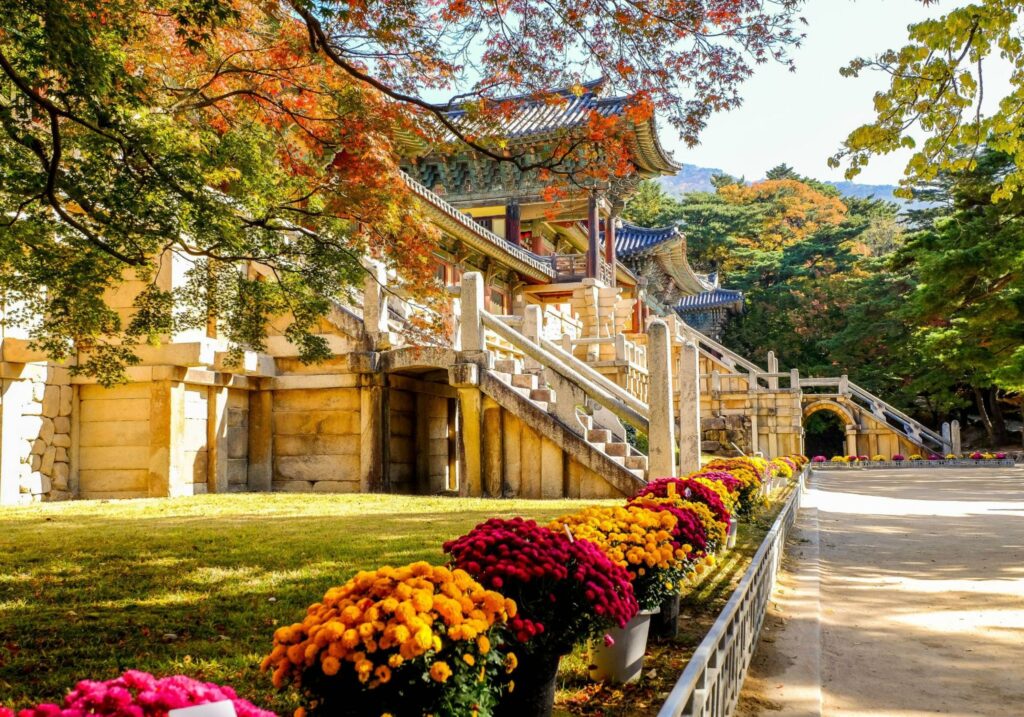 The Temple of Bulguksa was built in 774 and together with the Seokguram Grotto form a religious architectural complex that is recognized as a UNESCO World Heritage Site.
This Buddhist temple complex contains various wooden buildings on raised stone terraces and the temple grounds were designed to represent the land of Buddha, and are divided into three areas: Birojeon (the Vairocana Buddha Hall), Daeungjeon (the Hall of Great Enlightenment) and Geungnakjeon (the Hall of Supreme Bliss).
Some beautiful sites within the complex are the stone terraces, bridges and the two pagodas facing the Daeungjeon, which attest to the fine masonry work of the Silla Dynasty. According to UNESCO, "Bulguksa Temple represents the Buddhist utopia taking its form in the terrestrial world".
Bukchon Hanok Village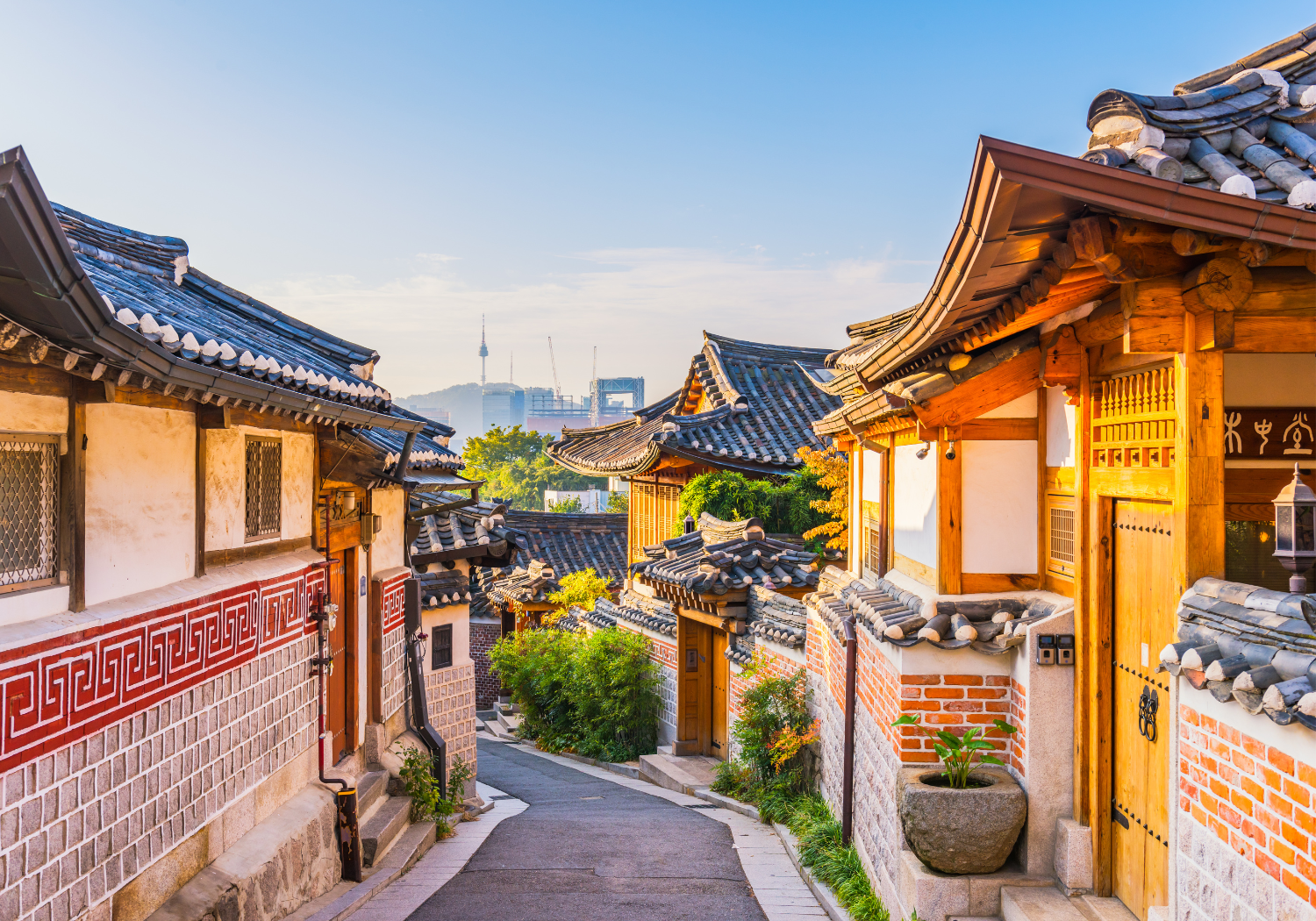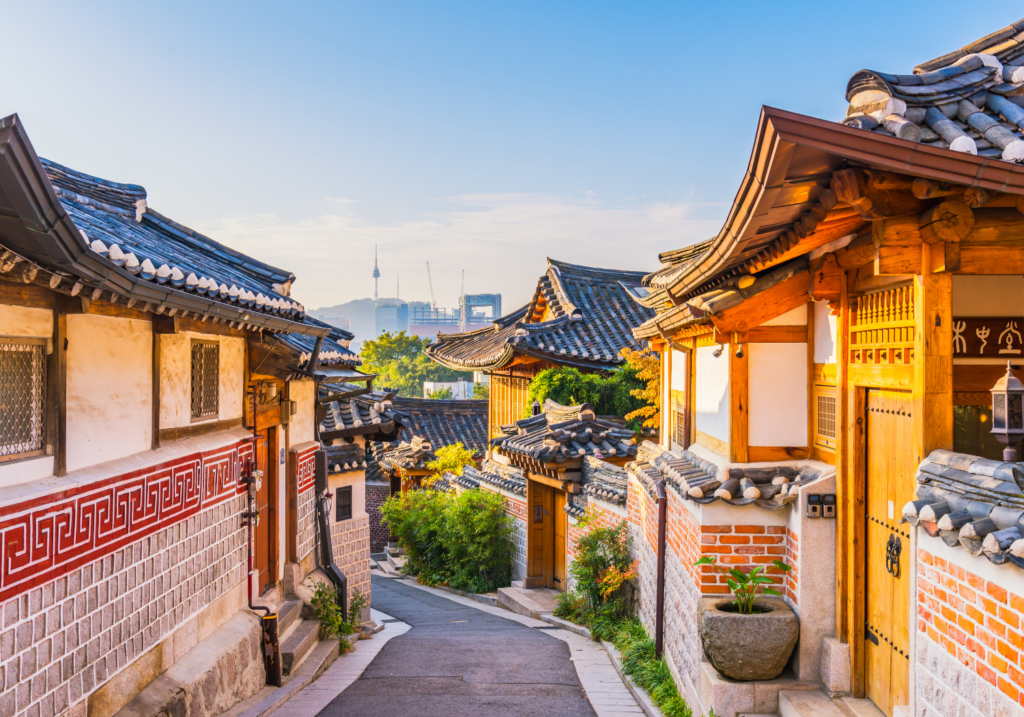 Bukchon Hanok Village is a picturesque village with beautiful architecture that is home to hundreds of traditional houses (hanok) that date back to the Joseon dynasty and it is one of the most Instagrammable and beautiful places in Seoul.
Bukchon means "northern village", and comes from the location of the place which is north of two remarkable Seoul landmarks, Cheonggyecheon Stream and Jongno.
This is an amazing place for solo female travelers to immerse themselves in local Korean culture through the quaint streets, the cultural centers, guesthouses, restaurants and tea houses.
In Bukchon Hanok Village can find both traditional places as well as trendy spots like cafes, workshops, and museums which give the area a hip vibe.
Look out for the Bukchon Traditional Culture Center, Seoul Intangible Cultural Heritage Center, Donglim Knot Museum where you can learn more about how knot tying became a part of tradition and decoration in South Korea, the Korean folk Gahoe Museum, and the Bukchon Asian Art Museum from where you can have panoramic views of the entire Bukchon Hanok Village.
Pro tip: The village is closed to tourists on Sundays, and you should book in advance if you wish to do a walking tour. Better yet, book a walking tour wearing a traditional Hanbok and a professional photoshoot for a truly beautiful and memorable experience.
Wolji pond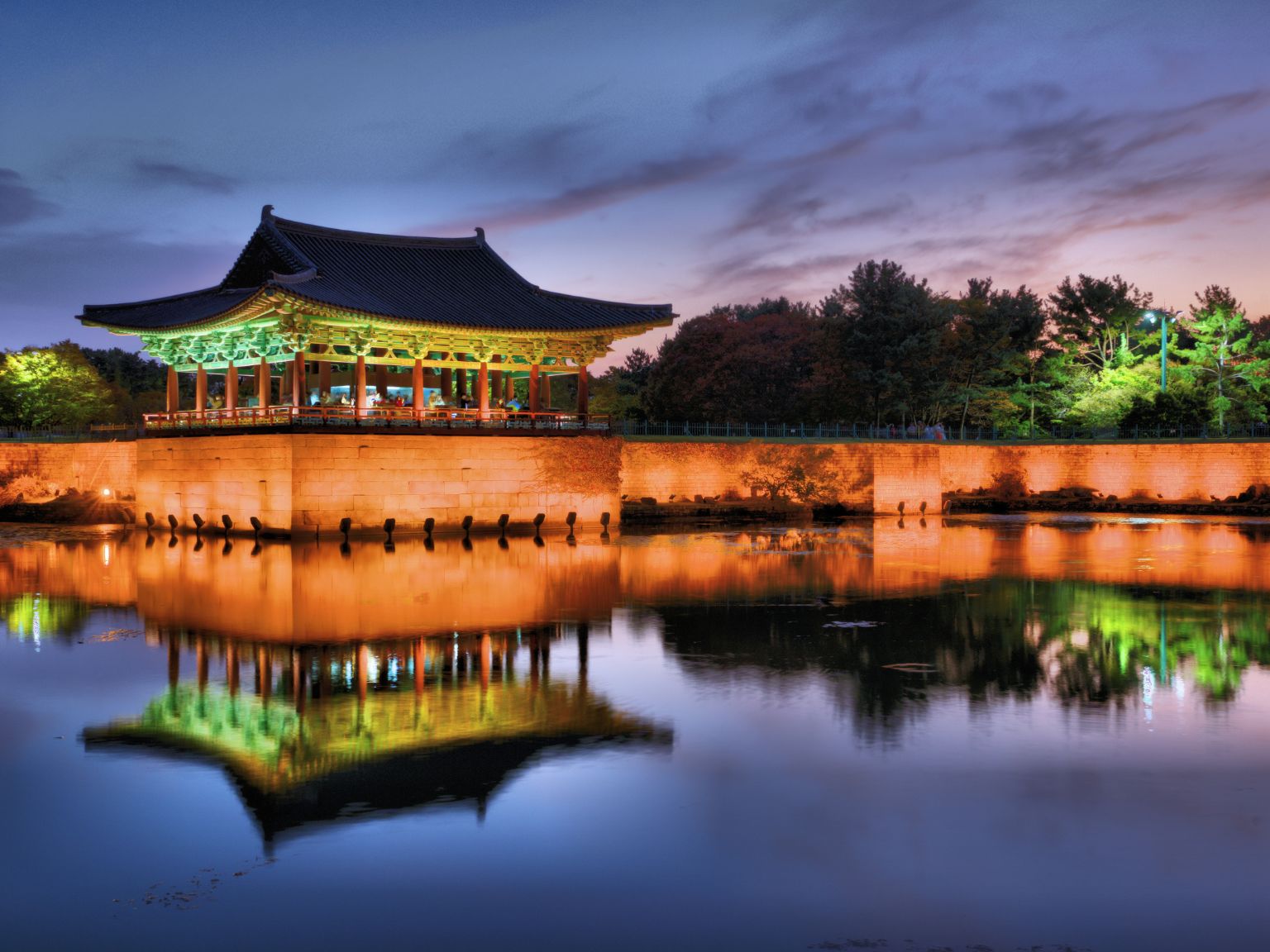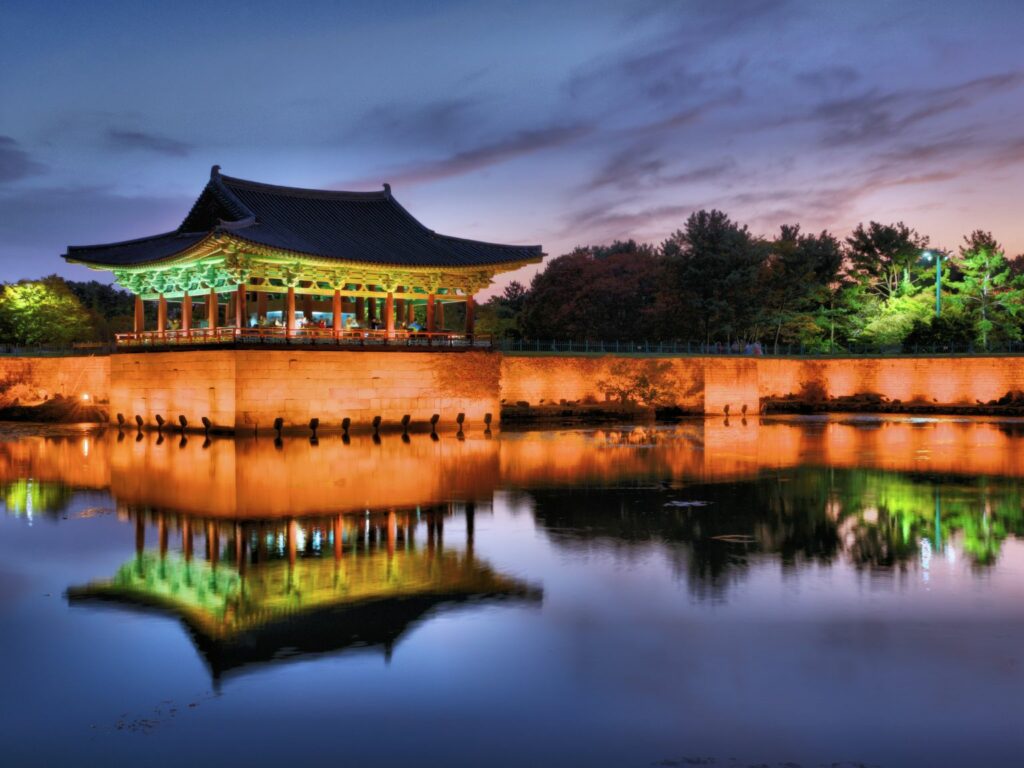 Wolji pond, formerly Anapji pond, is an artificial pond in Gyeongju National Park, South Korea. The name Anapji Pond means "Goose and Duck Pond".
The area of Wolji pond was a pleasure garden to commemorate the unification of the Korean Peninsula under the Silla Dynasty. Many relics and artifacts were rediscovered only when the pond was drained for repair in 1975.
Wolji pond is a stunning site to take a stroll, especially from June to early August when beautiful lotus blossoms fill the horizon of this pond. Come at night when the area is lit and the structures reflect on the water.
Goyang International Flower Festival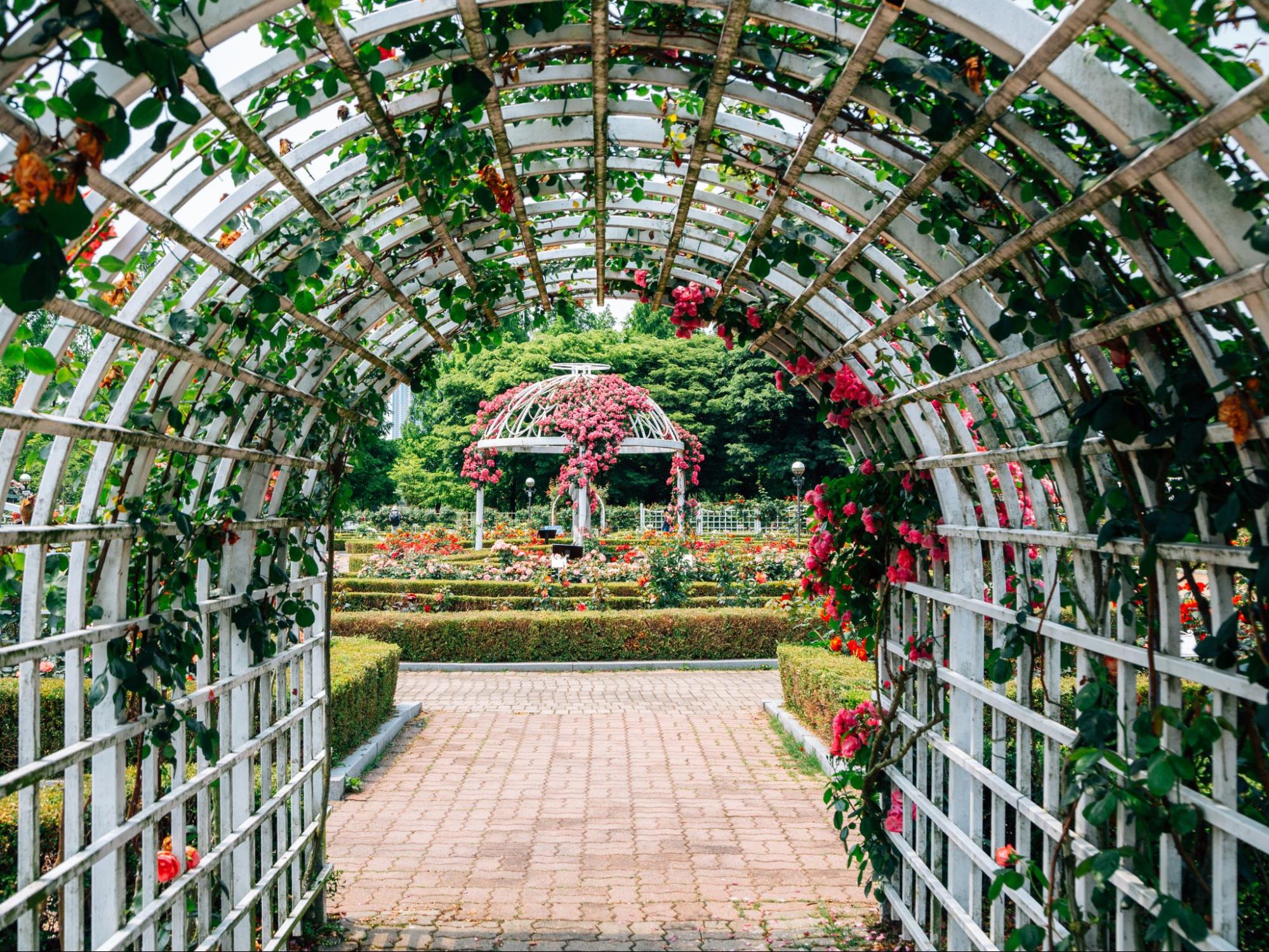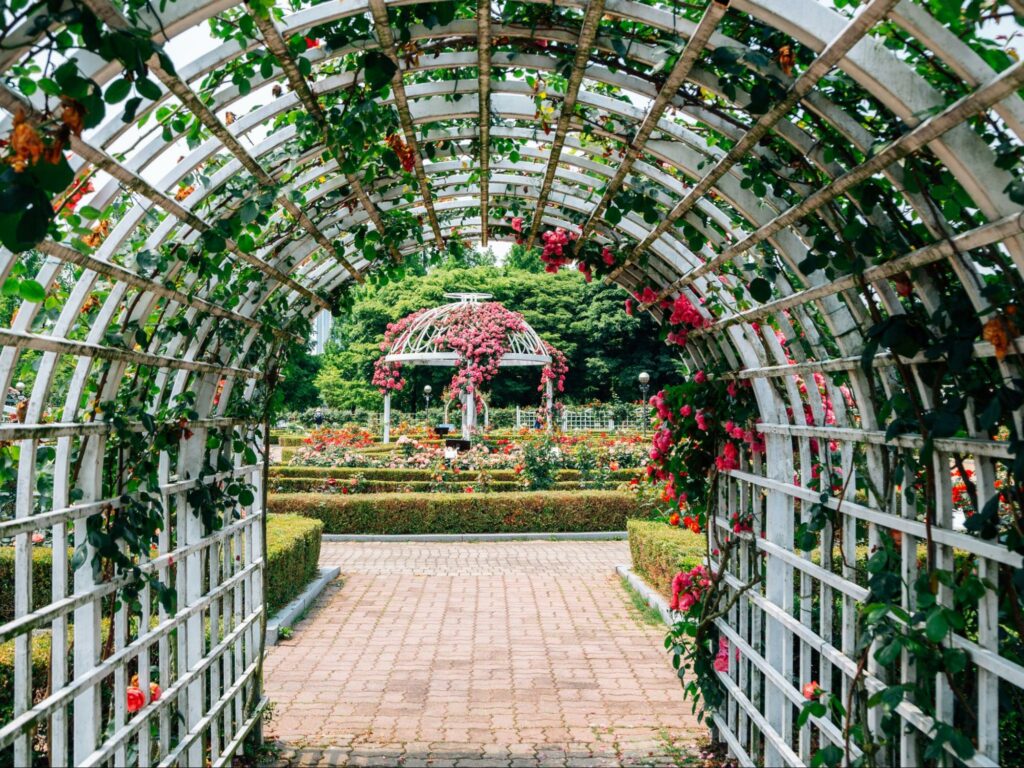 In keeping with the theme of Korean festivals, the Goyang International Flower Festival is a beautiful festival held in Goyang, a city in the Ilsan district that borders northwest Seoul and is close to Gimpo Airport.
As the name suggests, it's not only a local event, but an international festival in which about 300 companies from all over the world participate. From floral carpets to floral sculptures, everything imaginable is made of flowers.
In addition to all the sculptures, there are also many indoor and outdoor exhibits that enlighten festival-goers with information about rare plants, as well as performances and cultural events that promote Korean culture, history and fashion.
Jeju Island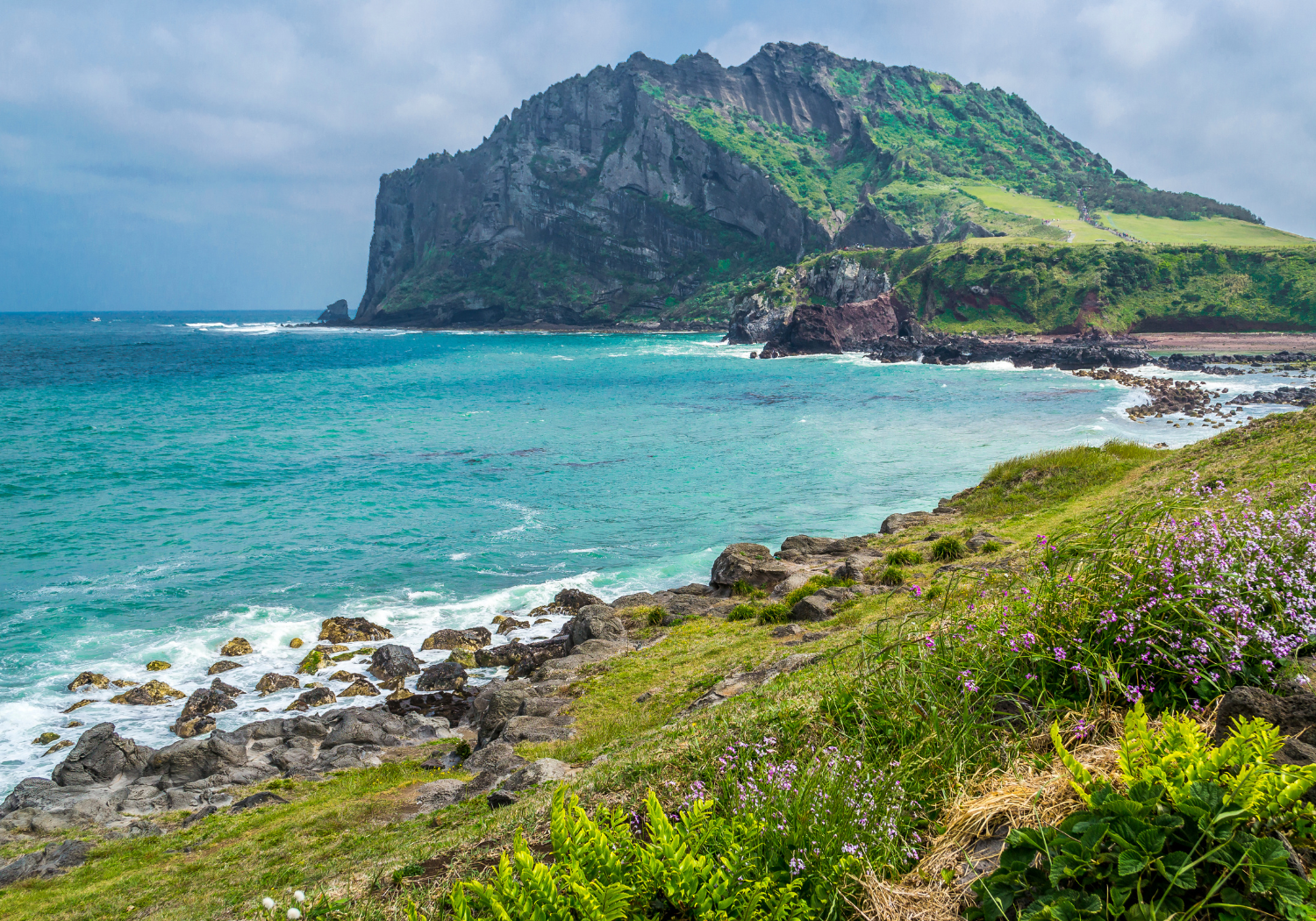 Jeju-do, Korea's largest island, has become a favorite holiday destination by both locals and tourists thanks to its most distinctive natural wonder: Halla-san, the tallest mountain in the country. Halla-san is a volcanic mountain that makes up most of Jeju and stands at 1,950 m.
For solo female travelers, Jeju Island has everything for an awesome holiday: beautiful beaches, lush countryside and seaside hotels designed for rest and relaxation, great food and a safe environment.
If you like to stay active, Jeju has a lot to offer. Hike Mt. Halla-san or climb Seongsan Ilchulbong, a stunning tuff rock jutting out of the sea, to watch the sunrise over Crater Ridge.
For a less challenging nature experience, have a stroll in one of the Jeju Olle trails and admire the countryside, rugged coastlines, and cottage-style homes made of black lava rock. The trails cover 425 km in 26 routes and are wonderful.
For ocean lovers out there, dive into the blue waters to see colorful corals as the sun sets, and taste Jeju's unique cuisine, including seafood caught by haneyo, South Korea's female freedivers.